With this beautiful weather, we're all looking forward to spending lots of time in our gardens and outdoor spaces. It doesn't matter if you have a large garden, a tiny balcony or an urban garden like mine – there's one designer item that will elevate your outdoor space – the Lutyens bench.
Advertising Feature
My own garden is my pride and joy. The space has been transformed from a dark and overgrown patch into a beautiful garden filled with flowers and herbs. My garden makeover has made an appearance in two interior magazines Real Homes & Good Homes. Needless to say lots of hard work has gone into the space to turn it into what you see today. This Spring I'm looking for ways to update my space with new outdoor furniture. And a beautiful piece has caught my interior stylist expert eye – the Lutyens bench.
Main Image | james_coviello
In this post, I'm the history behind this iconic garden bench as well as my styling tips on how to add this bench in your garden. In collaboration with garden furniture specialists Jo Alexander.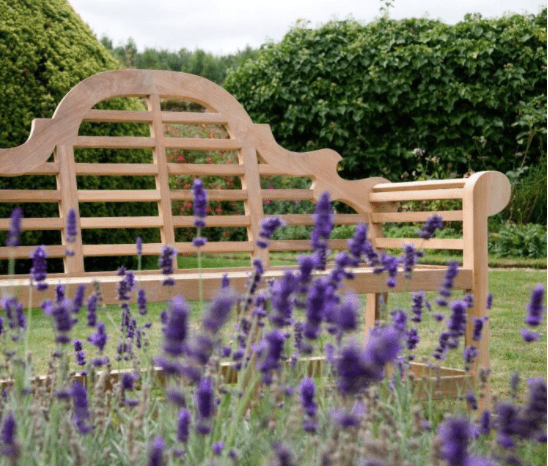 The Lutyens Legacy
The man behind this bench was Sir Edwin Landseer Lutyens, an Edwardian English architect, known for his imaginative use of traditional architectural styles. He designed English country houses, war memorials and public buildings.
Lutyen was surely the greatest British architect of the twentieth (or of any other) century

Gavin Stamp, Architectural historian
Born in 1869, Lutyens played an instrumental role in designing and building New Delhi in India including the India Gate and Rashtrapati Bhavan. He's most famous for his early work designing private houses in an Arts and Crafts style including Munstead Wood, Tigbourne Court, Orchards and Goddards in Surrey, Deanery Garden and Folly Farm in Berkshire, Overstrand Hall in Norfolk and Le Bois des Moutiers in France.
Have you seen some of these houses and their gardens? They are utterly stunning.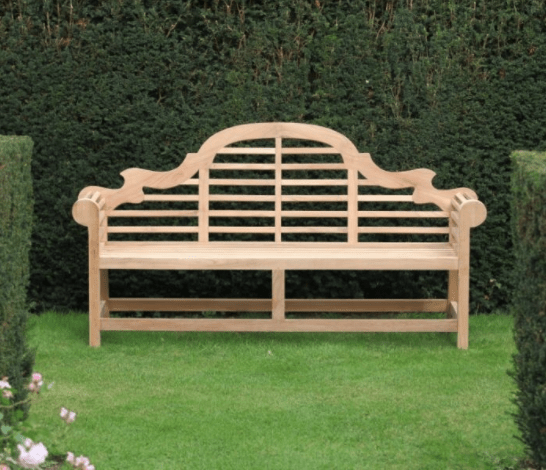 Through his work Lutyens met the horticulturist Gertrude Jekyll and he branched out into landscape gardening. He's credited with developing the quintessential 'English country garden' style – a blend of the formal and informal, with plentiful terraces, stairs and pathways broken up by heavy use of shrubberies and herbaceous borders.
This is when the Lutyens bench was first formed – at the end of the 19th century. This hundred-year-old bench is now seen as iconic classic and remains a popular choices in Britain.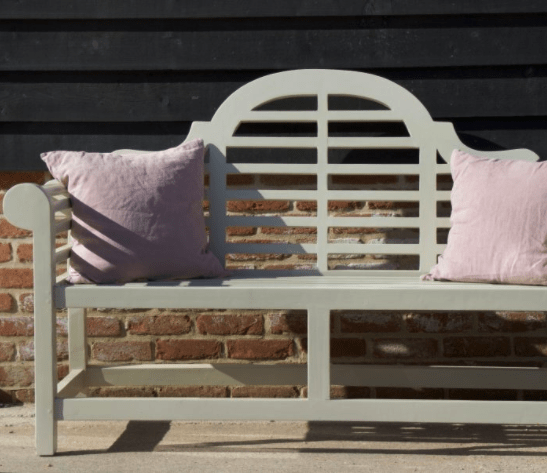 Treat your garden to a Lutyen bench this spring
Your garden is your haven – it's an escape from pressures of life, a tranquil place to relax with family. If you're looking for a garden bench that is chic but timeless in style, then you'll want a Lutyens bench.
With its' elegant scrolled arms and lattice backrest, the Chinoiserie design of the Lutyens bench will never go out of style. It's instantly recognizable by its rounded armrests and intricately curved backrest mixes modern looks with traditional styling.
Give your bench a lick of paint to complement the natural colours in your flower boarders.
As this bench is easy to move around your garden, you can positioned where ever you need. It's ideal for garden parties providing lots of extra seating, alfresco dining or just for a spot of sunbathing.
It's sturdy design makes it ideal for busy gardens. Originally made in English oak, the Lutyens bench from Jo Alexander are made in sustainable teak. These are benches built to withstand sun, wind, rain, frost and snow.
Style Your Lutyens Bench With These Beautiful Garden Accessories
If you want to use the your Lutyens bench like an outdoor sofa, then pile on lots of cushions. Keep a cosy throw close to hand to snuggle under when the summer nights draw to an end. Own a small garden? Then treat yourself to a Skillet so you cook food outside while chilling on your bench. Use tealights to illuminate your garden past sunset.
Shop The Look
Clockwise: Tripod Skillet, £39.00. Kota Coloured T Light (set of four) £24.00. Round Folding Side Table, £110.00. Cotton Throw in Light Pink, £25.00. Scatter Cushion in Light Pink, £34.50.all from Jo Alexander.
The Best Lutyens Benches Spotted On Instagram
Just check out the hashtag #lutyensbench on Instagram for styling inspiration. There are literally 1000s of ideas on how to style your Lutyens bench into your garden.
These images spotted on instagram show the Lutyens bench can slot into any garden space. And it can look modern or classic depending on how you paint it, styling or where you place it.
Main Image: Image | james_coviello Clockwise from top: Stephen Dick | m_marzewska | Debby Tenquist | Rich Keenan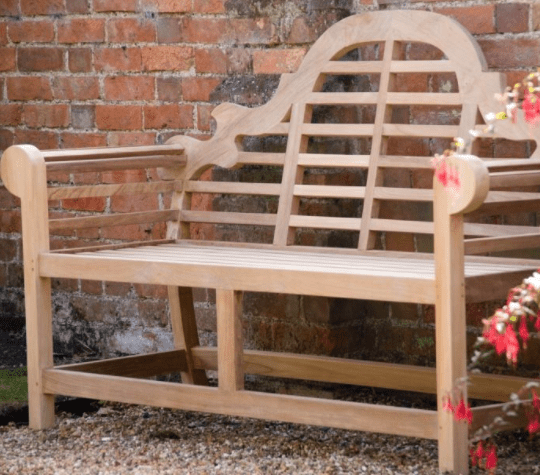 Shop for your Ludyens bench at Jo Alexander
Founded in 1999, Jo Alexander is an environmentally conscious company. Their Ludyens benches are made from sustainable plantation teak or from reclaimed sources. Each piece is meticulously built using traditional mortis-and-tenon joinery.
Jo Alexander stock two sizes of Lutyens garden bench: one 196cm in width (£545) designed for up to four to five people,. And another slightly smaller bench – at 166cm – which sits up to three people which comes unpainted (£445) and painted (£575). Made in A-grade plantation timbers, the benches come pre-assembled so you can instantly add them to your garden. For more information, click here.
You May Also Like
GORGEOUS GARDEN PAINT IDEAS FOR SUMMER / AD
CREATE A MAGICAL GARDEN ROOM / AD
TRY THESE 8 PRETTY GARDEN LIGHTING IDEAS
PIN THESE IMAGES TO SAVE FOR LATER