With summer just around the corner, now is the ideal time to vamp your outdoor space with these gorgeous garden paint ideas.
And to get you in the DIY mood, I've got a special 20% off discount code when ordering online thanks to exterior paint specialists – Protek. That way you can paint your garden in any shade whatever your budget! Use this code: PWSMAXKLMN20 to get 20% off online with Protek who has a huge selection of outdoor paints for you to pick from.
I share more home decor ideas & advice on my instagram (35K followers) so make sure to follow me!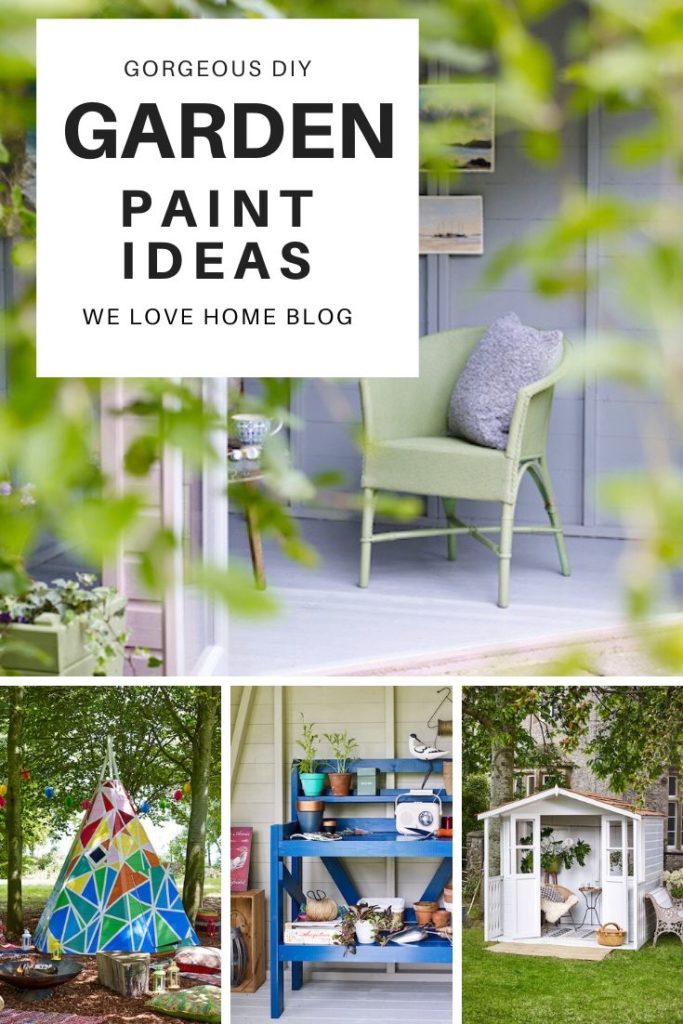 Give your potting shed a new look with a painted workbench and metallic paint pots
Gorgeous Garden Paint Ideas For Summer
Painting your garden is a simple and affordable way to add a good splash of colour to your outdoor space. Spring is the best time to paint your garden that way you're ready for when that sunny weather hits our shores.
But where do you start when picking garden paint colours? It's a tricky one – as different colours look different in sunny or dark gardens! That's why I asked garden paint experts Protek to give us the lowdown on the best colours for your garden in this post.
When Summer arrives, I want you to be colour confident, decorating your outdoor space in the coolest paint shades for the year ahead.
And to inspire you to pick up a paint brush and get creative, I'm sharing a whole host of gorgeous garden paint DIY projects for you to try. I mean..just take a look at the AMAZING painted wigwam above! It's so good, I want to cry.
Come explore garden paint colours with me…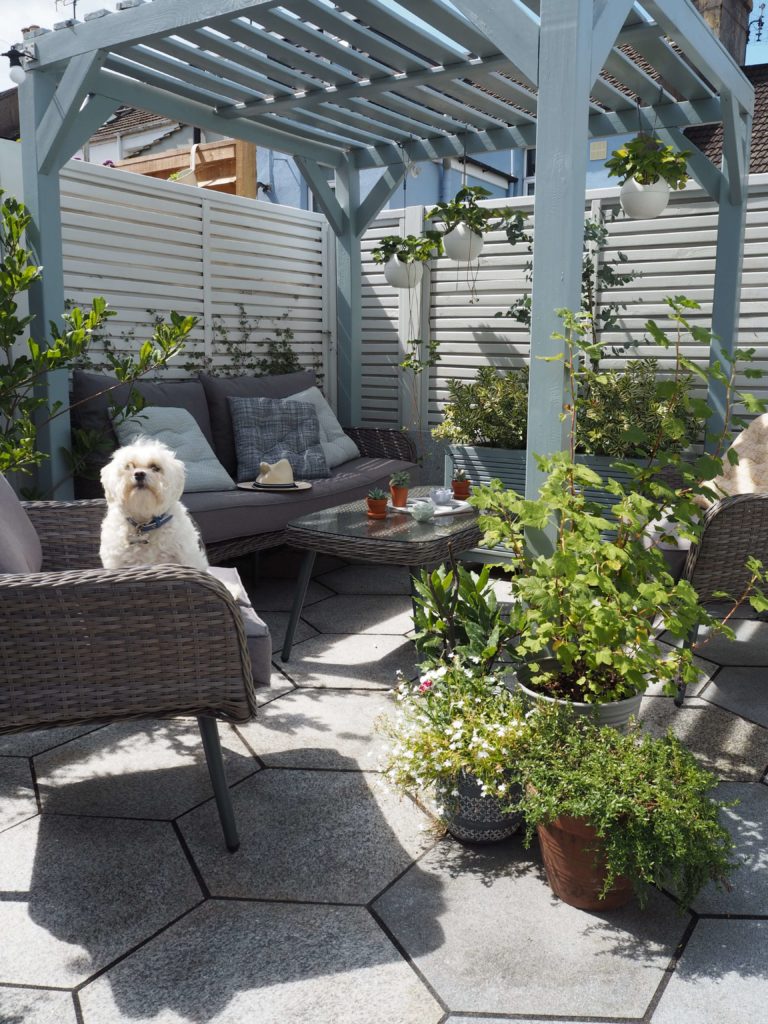 Why Paint Your Garden?
I've been lucky enough to own two outdoor spaces over the years. My first was a decked roof terrace that overlooked a river which I painted in harmonious seaside shades. My current garden is a hidden urban oasis in the middle of Brighton. With both projects – colour was always the starting point for my garden design.
I spent a long time considering what colours to choose – from soft blues, to pastel pinks to brilliant whites because each time colour has had a transformative effect on my garden.
My passion for outdoor rainbow hues was inspired by many trips to Morocco. Have you been? It's my favourite place for garden inspiration.
On the outskirts of Marrakech, there is a world-famous garden owned by fashion designer Yves St Lauren, called Jardin Majorelle. It's a magical place filled with tropical plants, and every surface has been painted in a riot of blues, red, pinks and ochre yellows – shades that complement the giant cactus plants, the potted aloe veras and gently leaning palm trees.
This magical courtyard garden was a huge source of inspiration for my own home.
Inspired, I wanted to give my garden a colourful makeover (with a UK twist). My exterior walls were painted in a bright peppermint shade. The wooden fencing was given a lick of off-white paint to help bounce sunlight into the area. For my pagoda, I choose a eye-candy shade of teal. All my planters are either painted in calming sky blues or lilac shades to draw attention to my planting.
This is my garden below…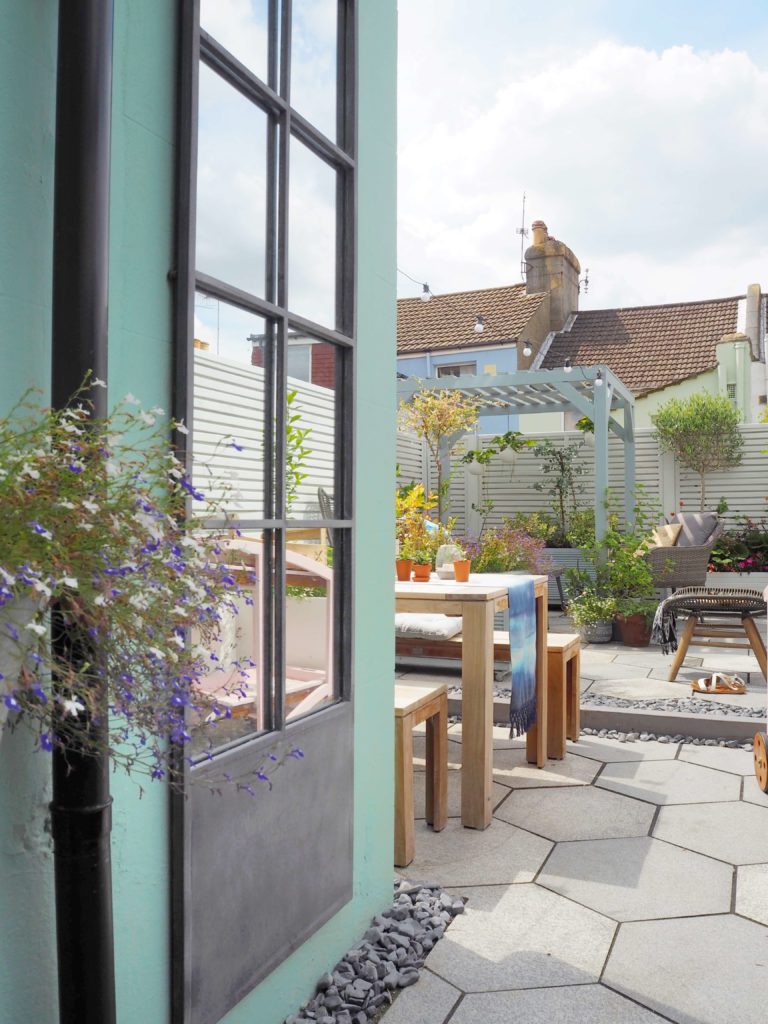 Get The Look – My Garden Paints
Winter Sky – my planters were painted in this soft lavender colour which is a very pretty pastel shade which is very much on trend for Summer 2020
China Clay – perfect for fences as it creates a classic all-white backdrop and it bounces light around my garden too
Mendip Mist a soft shade blue/green that I used on my furniture & pergola to bring the look together
By painting my garden in colourful shades has turned my urban patio into an extension of my interior home style filled with calming colours. I've learned that with a simple can of paint, you can transform dull-looking furniture or your shed into an eye-catching feature.
Can you see why I'm a huge advocate of painting your outdoor space? It's transformative. Affordable. And very creative.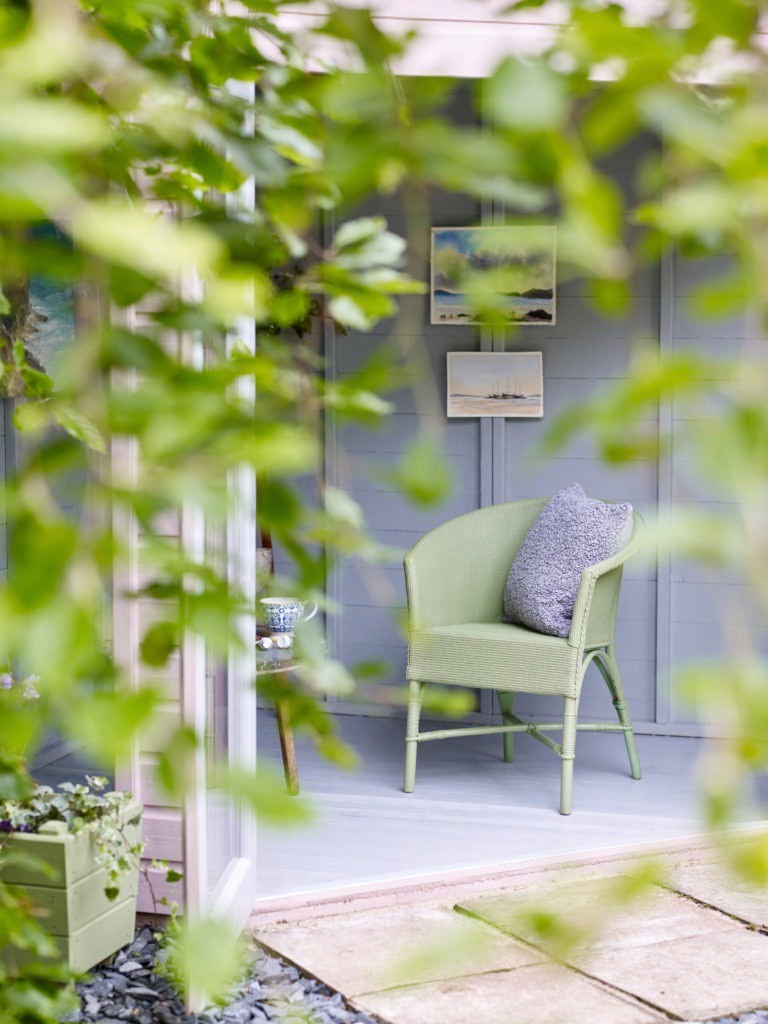 Painting the interior of your shed will turn it into a garden retreat
Picking The Perfect Garden Paint Shade
When choosing a paint colour for your shed, patio wall or plant pots think about the overall impression you want to create in your garden.
Ask yourself:
What gardens do you admire – and what colours are they made up of mostly?
Where do you spend most of your time in your outdoor space?
What colours have you used inside your home?
Do you feel relaxed by a cool colour palette or the warm colours of the Mediterranean?
These questions will help you choose a colour scheme for your outdoor space – and build up a picture of what shades you want to use in your garden. And, if you get stuck, then take inspiration from your favourite plants and flowers, and choose garden shades that work with them.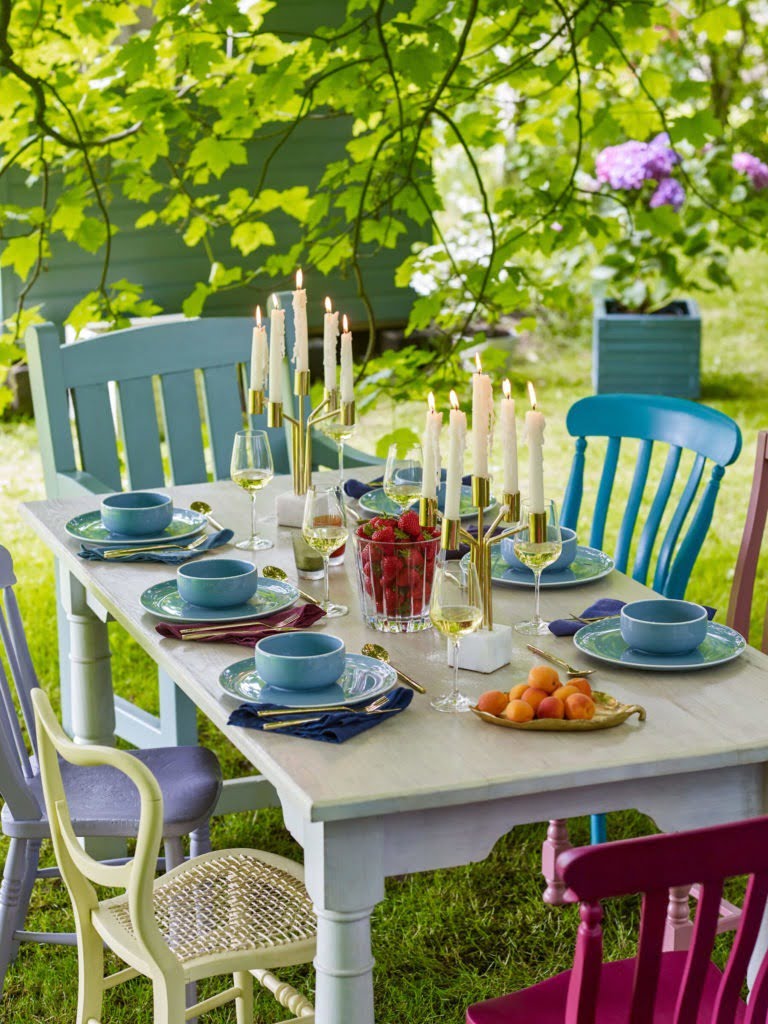 Introduce a rainbow of colours to outdoor entertaining by painting chairs in different colours
Using Paint To Blur The Lines Between Inside / Outside Living
When painting your garden, choose a range of paint colours that complements your interior. This will allow your home to flow from inside right out into the garden – creating that inside / out feeling.
In my own garden, I've picked out whites and blues which complement the greys and whites of my kitchen and living area that lead off onto my garden. While working at my dining table, I look out onto my white fences, blue planters and pink accessories so it feel likes outdoor garden room to me.
For a cohesive look, bring a colour from inside your home to your garden. For example, if you have lots of lilac in your home, then think about adding that colour to outdoors by painting a feature wall or your fencing in the same tone.
Once you have painted your fences, shed and plant pots, you can moved onto your flower beds. Try painting garden structures like trellising, an arbour or an obelisk in fun tones – then tuck into a blooming border for a hit of colour.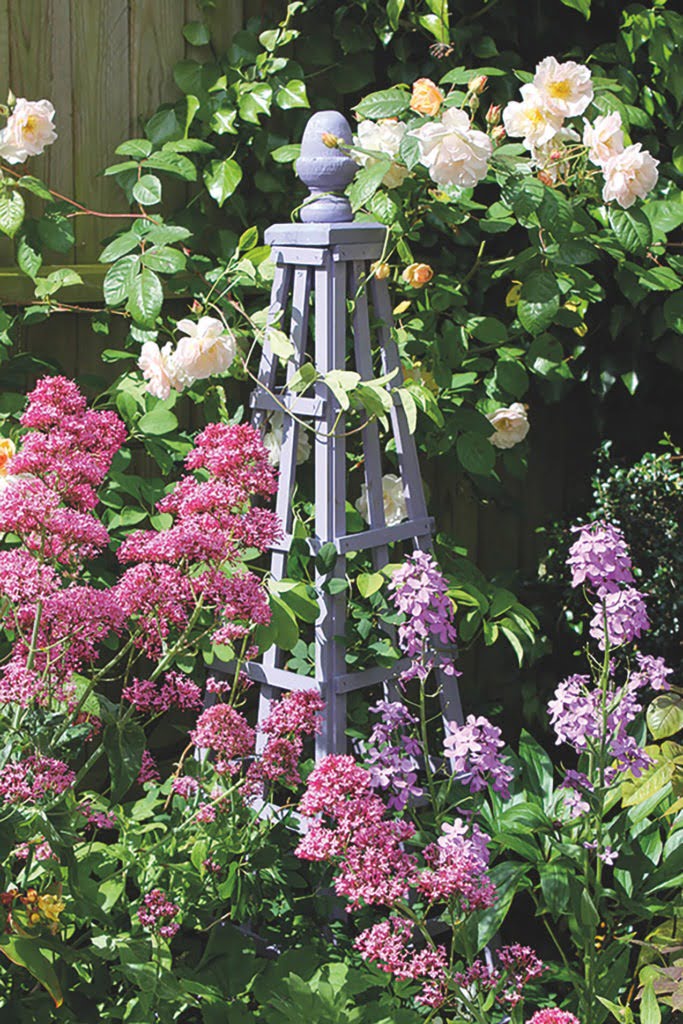 Paint in sumptuous shades of peacock green, purple, dark red and mustard yellow to compliment your foliage. Like sparkling jewels, these colours will draw the eye and create focal points within your planting.
If you have a patio or terrace (or you're living in a rented home) then you'll need to use your imagination to add colour to your outdoor space. One clever trick is to paint ladders then lean up against your exterior walls. On the rungs, hang trailing plant or herbs to create an instant garden. It's a quick and easy way to update a space.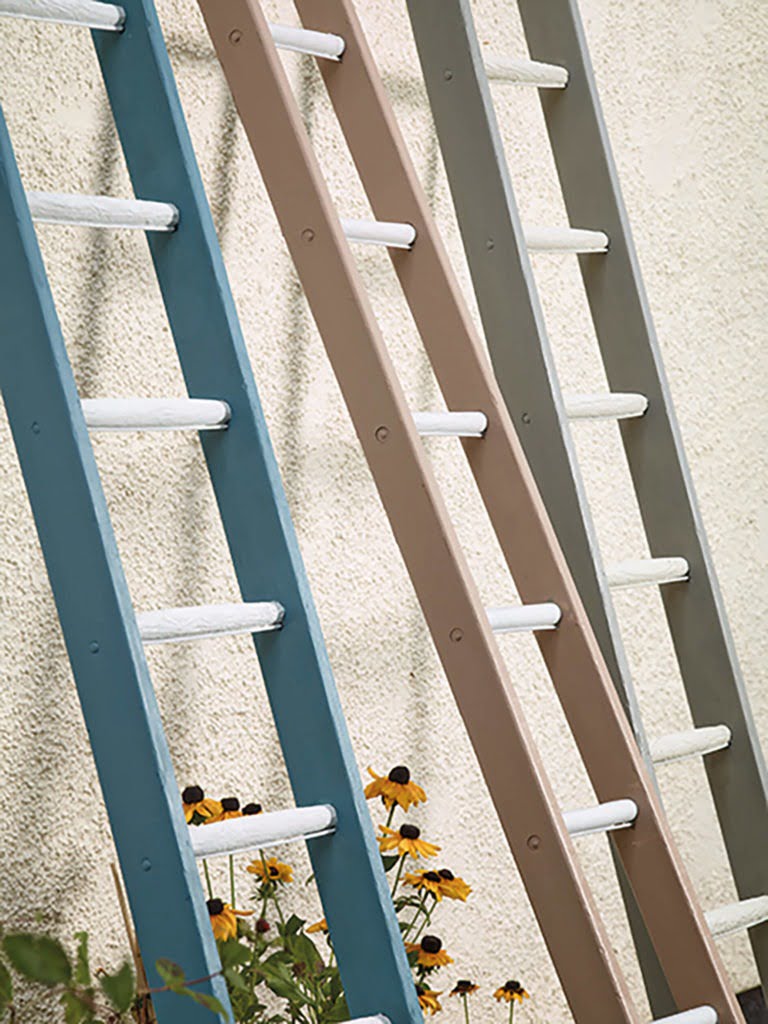 HOT TIP: Painting your patio set will protect the wood throughout the summer. The Royal Superior Wood Finish by Protek is a high performing wood stain that creates a colourful coating to protect against mould, fungus and all types of weather. If your wooden furniture is not looking its best, just sand back – paint. It's as simple as that.
Once you start comparing your garden fences to interior walls, and your outdoor furniture to your living room sofa, and your plant pots to accessories – you'll want to start painting everything!
What Garden Paint Shades To Choose?
What colours you choose can have a huge impact on the overall design – adding much needed injection of colour and style to your outdoor space. It can cheer up a gloomy garden – or create contrast in a courtyard or turn a yawn-inducing area into a fun-loving entertaining space.
Not sure what tone to go for? Don't stress as I've picked out some beauties below for you:
Best Paint Colours For Dark Gardens
North-facing gardens get a bad reputation for being dark and gloomy. But not if you're clever with garden paint. You can use colour to cheat summer even if you only get an hour of daylight in your garden.
Lemon Yellow – a wonderfully rich and gentle creamy lemon shade that is both vibrant and soft. Ideal for brightening dark corners in your garden.
Lime White – a gentle off-white with a touch of green that will tonally work with your planting and foliage.
Cornflower Blue – this wood stain and protect paint is a waterproof wood stain that can be applied to planed and sawn timber and will brighten any trellis or fence panel. This vibrant blue looks amazing next to hyacinths and delphinium blues. Paint your trellis or fence panel in this shade to bring instant sunshine to north-facing gardens.
Best Paint Colours For Sunny Gardens
If your garden gets lots of sun, then this is your chance to go wild with colour. With a sunny garden, you can afford to pick stronger colours in your design. Choose vibrant paint shades to breath life into dull-looking corners.
Flamingo Pink – this popping pink colour will remind you of fun inflatables found hanging poolside. Great colour for a feature wall.
Giddy Green – a light, bright Jade colour is a hot pick for your garden. Use in blocks of colour to create the perfect backdrop for pots of flowers
Passionate Plum – make specifically for the RHS Hampton Court Flower Show, this juicy colour is ideal for vamping up fences.
HOT TIP: Always start with tester pots and paint areas of your garden. Take your time to look at the colours in different lights to see if they work. And don't worry about waste, as you can use the leftover testers on smaller DIY projects which you can dot around your garden.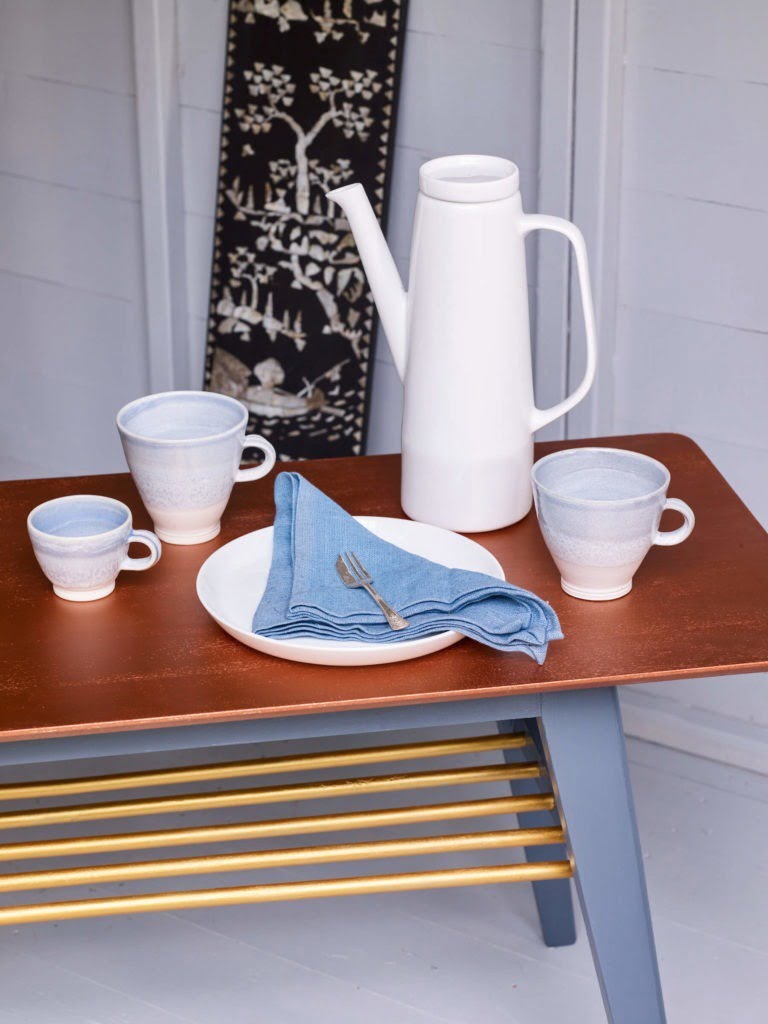 Add Sparkle To Your Greenery With Metallics
Looking to modernise your garden? You can't go wrong with metallic paints. Gold, silver and bronze are brilliant colours to bring glitz to your garden. Use strategically by painting plant pots, lanterns or your outdoor metal furniture for a glam look.
The Best Metallic Garden Paint Shades
Copper – bring a warm glow to your garden, perk up plant pots and outdoor coffee tables with this shade.
Bronze – this subtle bronze metallic paint looks fabulous on outdoor wood. It has a natural glint that gently changes colour when reflecting daylight.
Silver – modern and glamorous, this shimmering silver will bring positive vibes to your garden. Layer up your coats to increases the shimmer factor.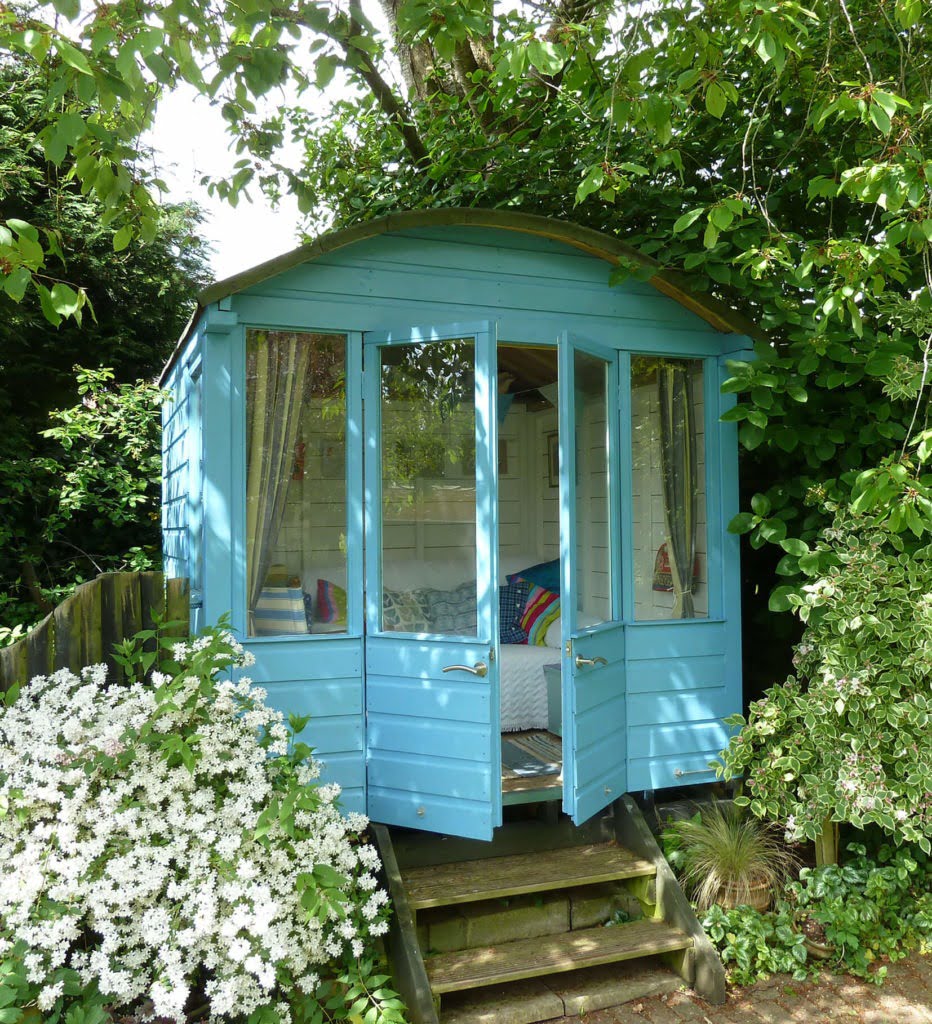 Live by the sea? Then paint your shed in shades of blue to echo the coast
Not Sure Where to Start? Try Painting Your Garden Shed
Nothing's more British than the beloved shed! We love them. And…they're a fabulous starting point for adding a block of colour to your garden.
Have a think what you are going to use your shed for – is it going to be a reading nook, a man-cave, your hobby space, an artist's studio or even a teenage hangout for your kids. Choose your paint colours to set the right mood.
Painting your shed in a shocking colour (like hot pink or electric blue) will draw the eye to the building, making a feature in your garden. But if you want to create a calming space – like a artist's studio or a reading nook – then use pastel tones or shades of grey.
Painting your shed will add so much personality and character to your garden. And it's easy to update when you fancy a change. Once you have tried out your colour ideas on your shed, there will be no stopping you when it comes to painting the rest of your garden.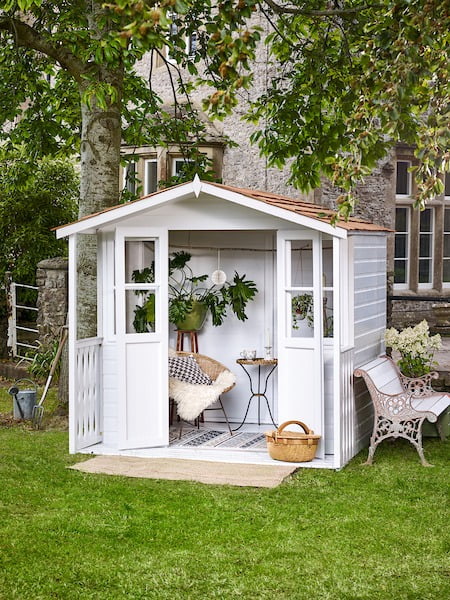 Are you feeling inspired?
I love how colour has transformed my own outdoor space. I'm already planning what shades I want to add when I next have a free weekend. And I really hope this post has inspired you to paint your fencing, furniture and garden accessories. If you're planning some garden DIY – then don't forget to use the special 20% off discount code >> PWSMAXKLMN20 to get 20% off online at Protek. Happy shopping!
I'd love to hear from you – so please let me know which idea you love the most in the comment box below.
Have a great week.
** This was sponsored post. All thoughts and comments are my own.