** Sponsored Post**
When planning a kitchen makeover – there is one trick to make your kitchen lighter and brighter – daylight!
When planning a re-design, it's easy to get excited over units, fittings and appliances but completely forget about daylight. This is silly really, when natural light can make a room feel bigger and brighter.
When it came to my own kitchen makeover, my builder came up with an ingenious idea to allow more light into my room. Let me show you what this trick was – along with lots of 'before' and 'after' photos of my kitchen (as I know you love them 🙂 )

Did you know that natural daylight has a huge impact on the overall look and feel of a room? Letting more light in can transform a dark and dingy space, making it feel fresher, brighter and bigger.
Daylight is the good stuff that design-lovers lust after.
My old kitchen layout made for a dark and gloomy room.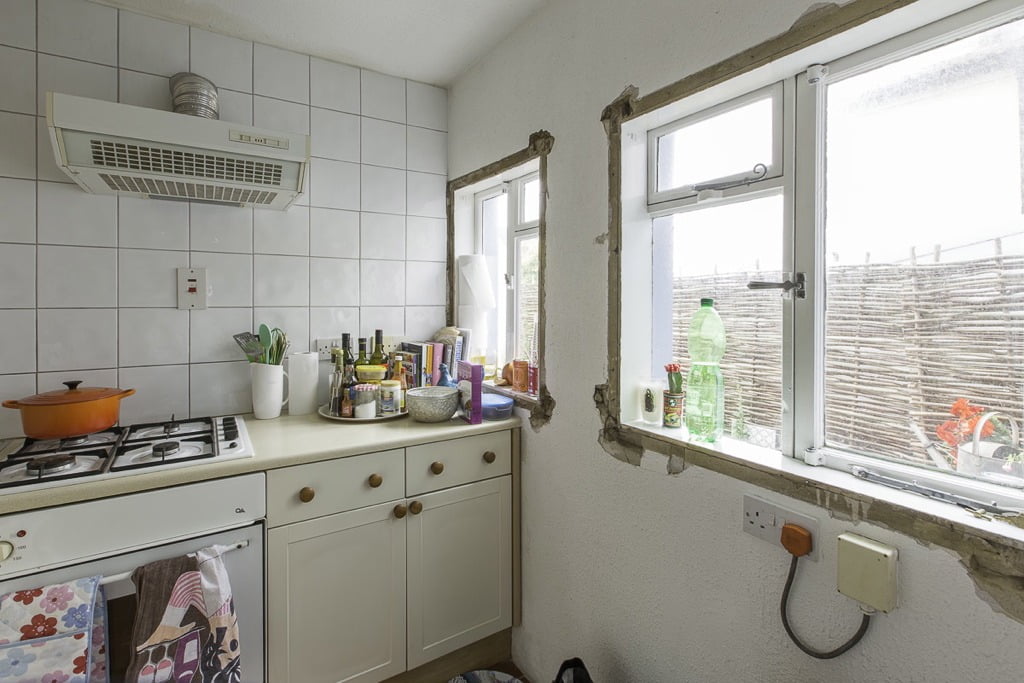 BEFORE
How horrifying is my old kitchen? I can't even stand to look at that extractor WHICH NEVER WORKED. The room was dark and dank. The thin metal window frames acted as a conductor, taking heat out of the room. One didn't close properly anyway so the kitchen was so cold.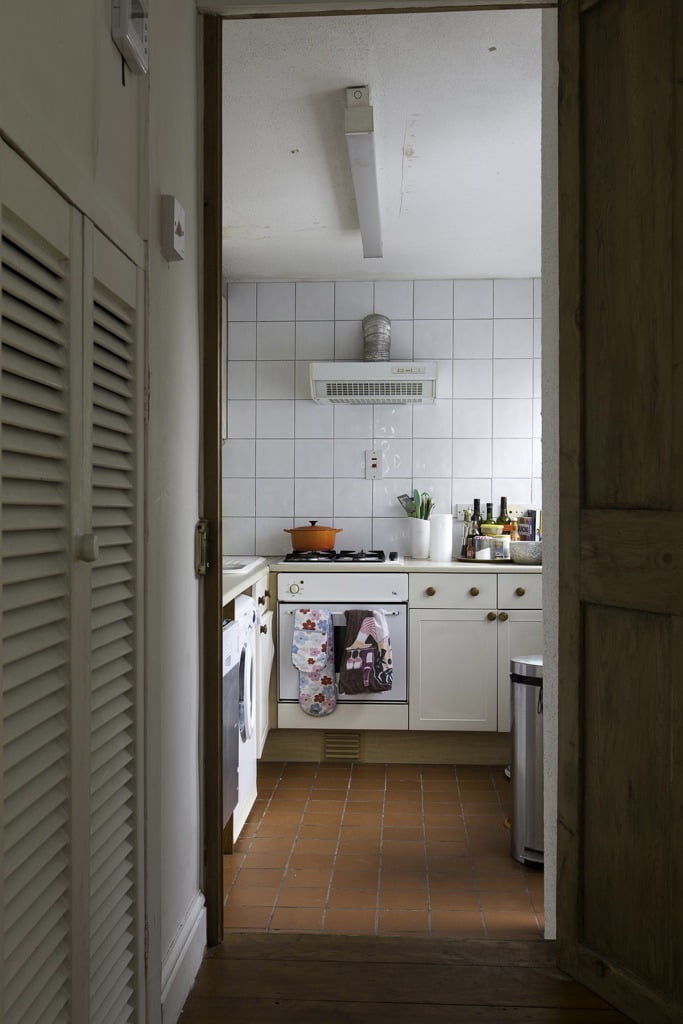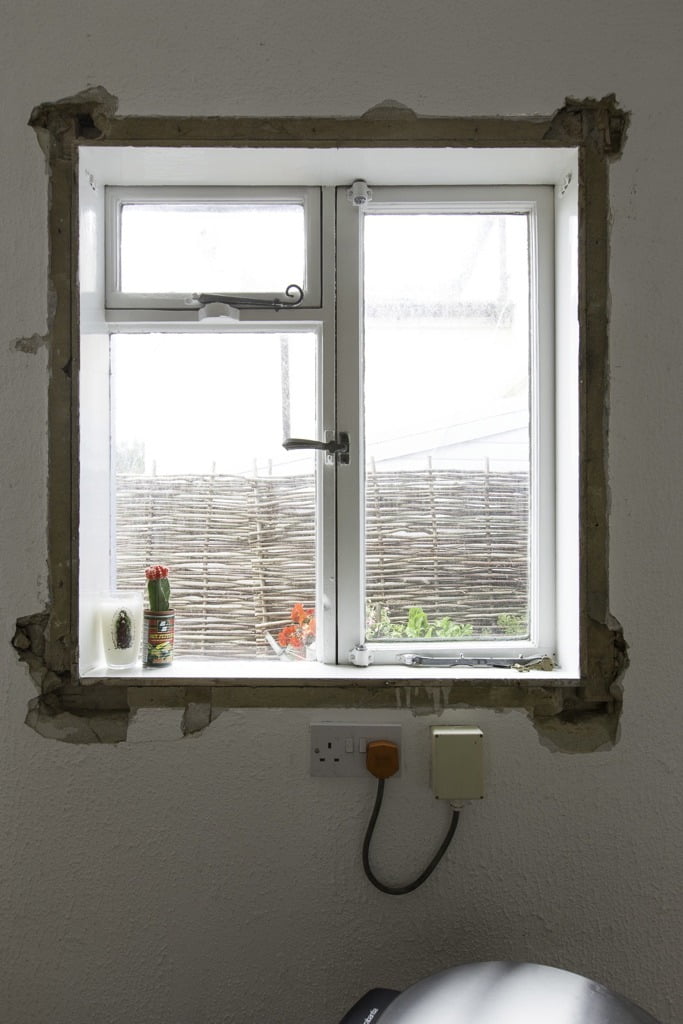 My two windows overlooked the side return of my garden – giving me a lovely view of my fence and my neighbour's conservatory. Even though the sun creeps around my house, this room was very cold most the time.
I cannot tell you how many mornings I accidentally stepped on a slug that was crawling across the kitchen floor escaping from my overgrown garden. It was that damp in here. The windows were one of the major causes of this issue.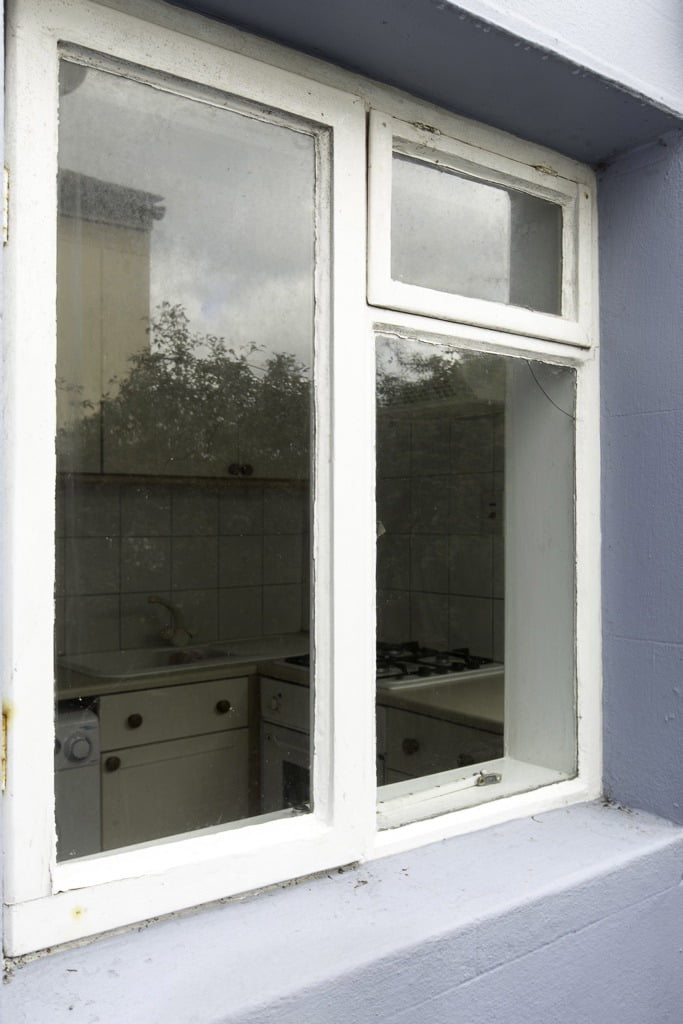 It had always been on my list to replace the windows as part of my kitchen redesign.
I ordered in my windows but had a small disaster. I measured one of them wrong so it was too small for one of the windows.
This is why you call in the professionals when it comes to your windows! Learn from my mistakes.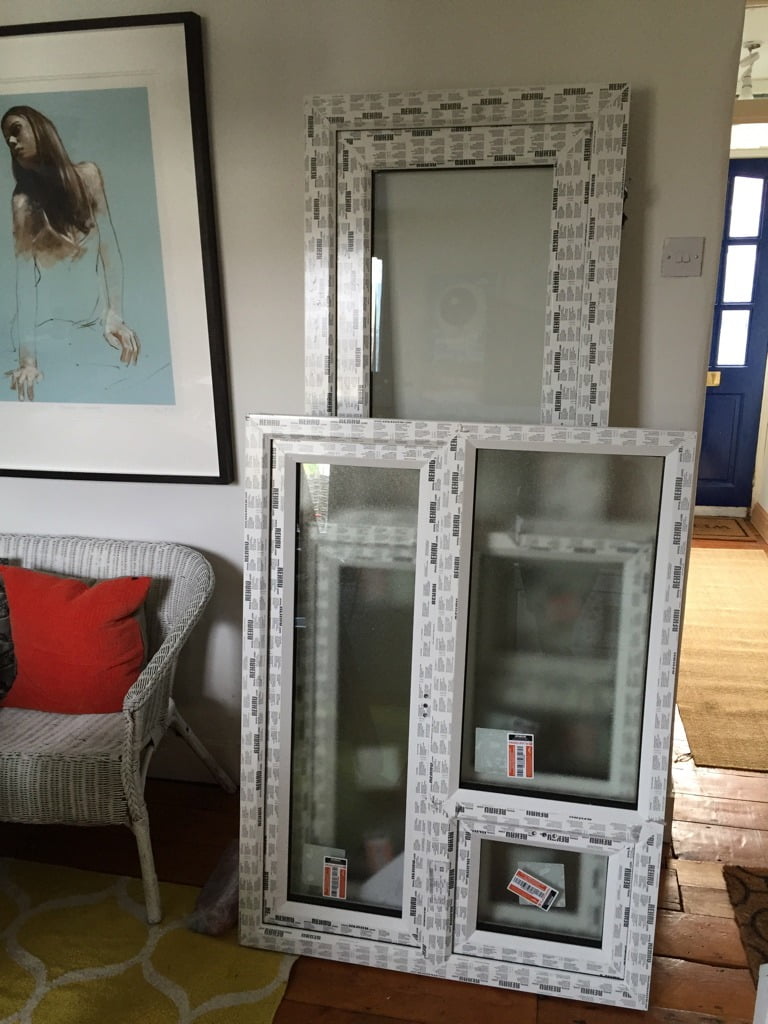 Hooray for my builder
It was my builder who was doing all the renovations on my home, who suggested I blocked up the smaller of my two windows on the side….and put in a new one at the end of my kitchen – which would frame my garden. It's not like this idea hadn't crossed my mind but I had thought that I had to put in a RSJ (also known as a steel support) across the back of my house. Something I thought it was out totally of my budget.
My builder explained that I didn't have to do that. Putting in the window cost me nothing extra than a few hours labour and some bricks. What we decided to do was block in the smaller of my windows – to give me more wall space for art or shelving.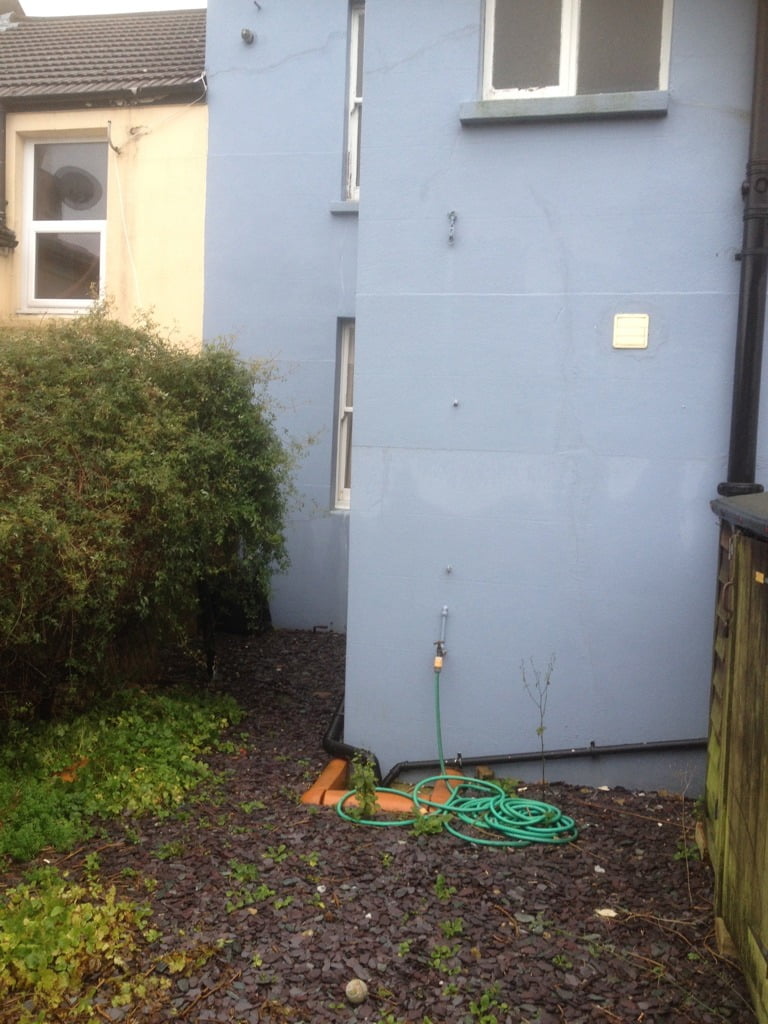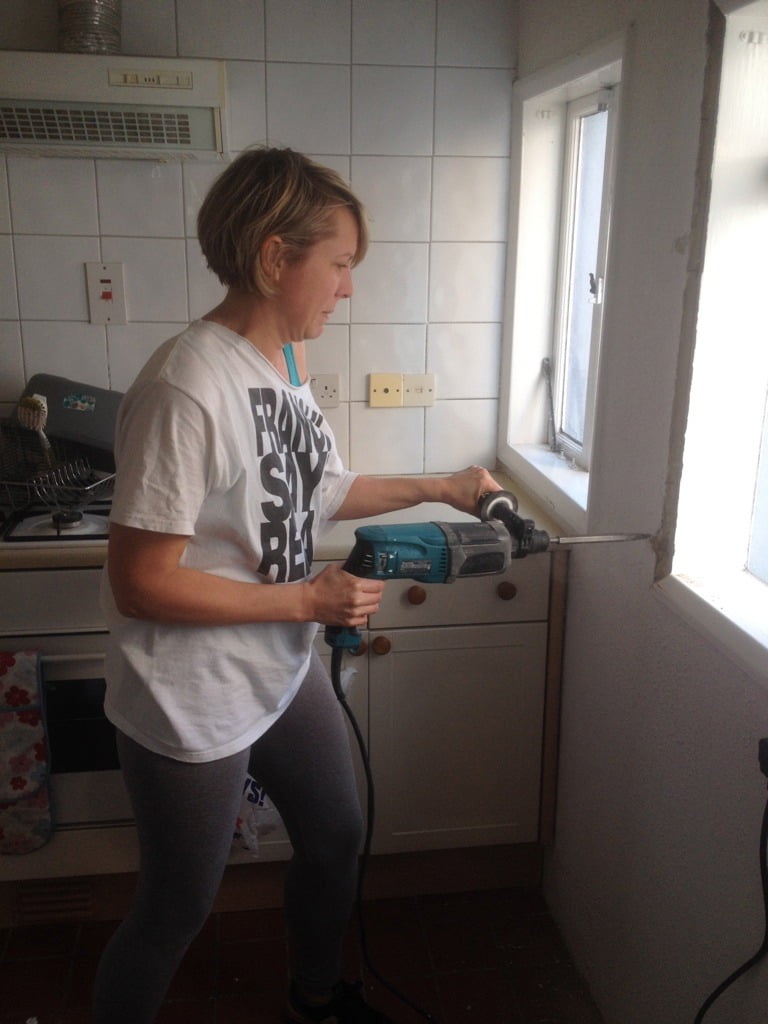 I hacked out the old windows with a fancy drill. Just look at the concentration on my face.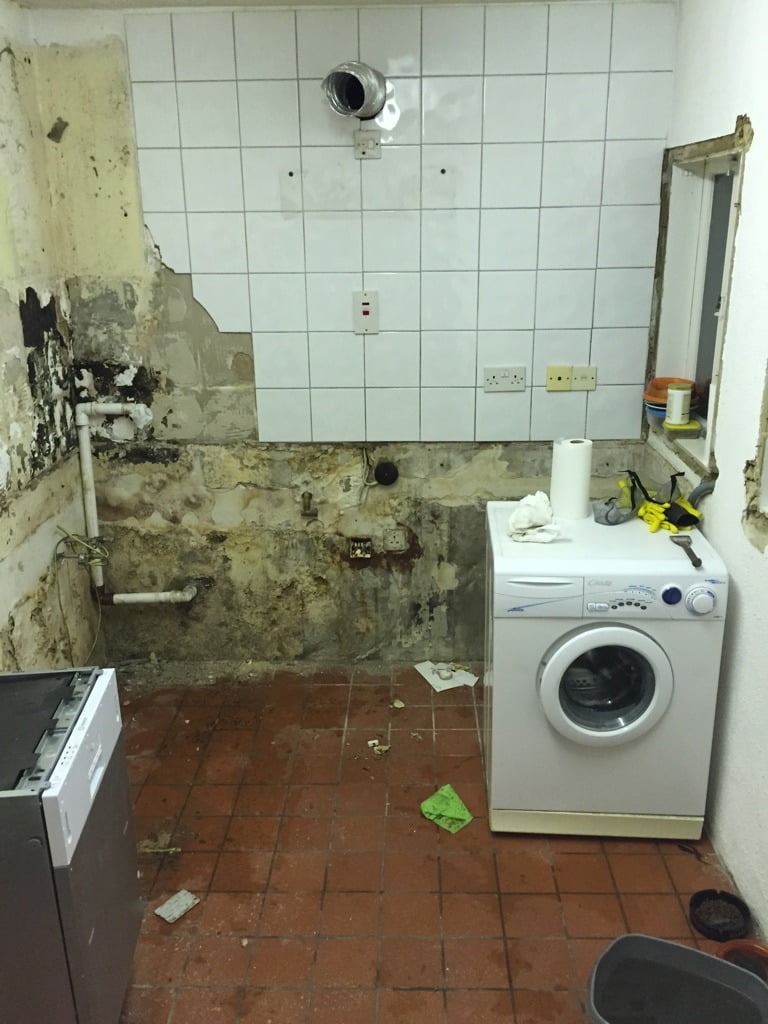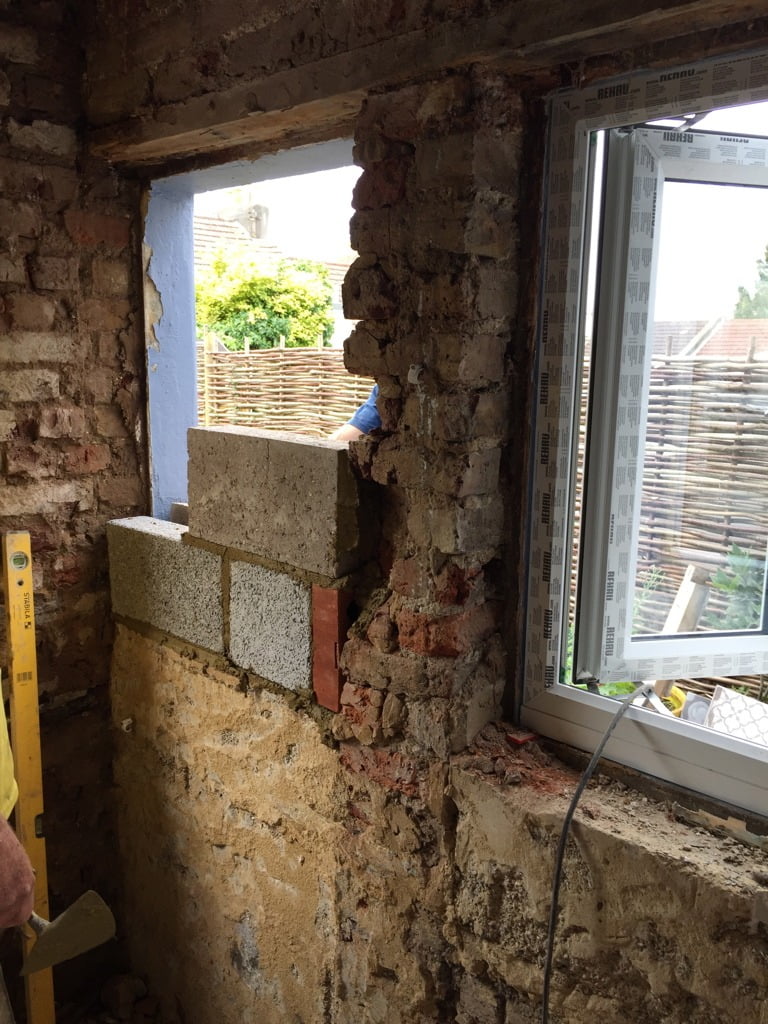 AFTER
The difference this strategically placed window has made to the overall feel of my kitchen is seriously insane. As you walk into the room, light floods into the space from all angles. The sunlight keeps this room warm even in winter.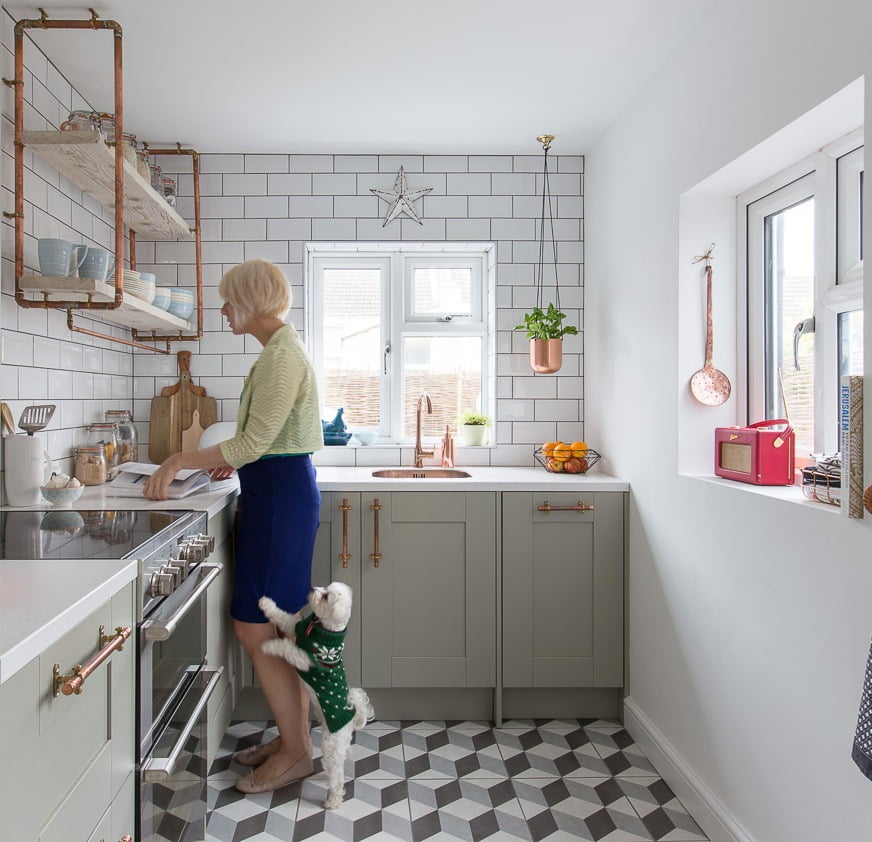 I'm a big cheerleader for uPVC windows at the back of my home. Draught-proof, sturdy and safe. Now, I enjoy a lovely view over my garden when I wash up. I have more light in my kitchen, which in turn makes the space feel bigger.
After the success of this window makeover, I turned my attention to other areas of my home. In my bathroom, I replaced the window with a modern one with a thinner frame. Now this room is so much brighter – you can see the difference here in my bathroom makeover post. In my dining room, I replaced a sash window with a large glazed door. In my living room and bedroom, I restored my sash windows (and even did videos on it) so that I could dress them neatly with blinds – again letting more light into my home.
Looks like can't stop banging on about light with all these blog posts! But at least you can see how highly I rate it when designing my own home. If you want more window ideas, I've found the Design Lookbook by Network VEKA so helpful. Lots of my blogging friends have talked about their own projects on there including Jen from LoveChicLiving and Kimberly from Swoonworthy.
My one kitchen trick to make your space feel lighter and brighter…
When planning your kitchen makeover, don't discount moving a window. The impact on your room can be huge, transforming the space. In my case, I budgeted for new windows (around £800 for two windows and a back door).
My tip: When planning your kitchen, don't just reply on your kitchen designer. Call in a few builders too, and ask what is possible with your space. They may surprise with what they suggest. A new window has revolutionised my kitchen.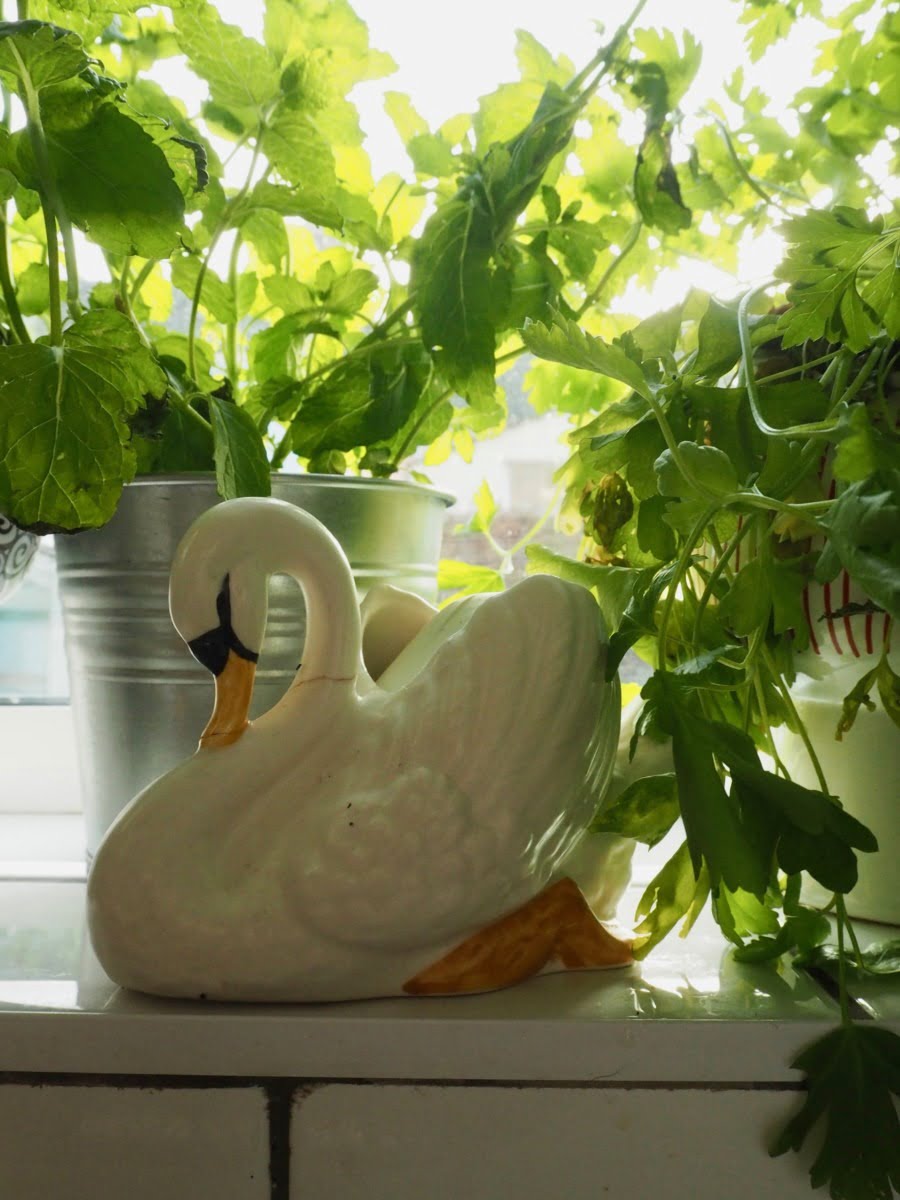 Anyway, back to my kitchen.
This area has become one of my favourite spots in my home. I'm a dedicated indoor gardener these days – creating a mini greenhouse in my window, filling it with growing salad and fresh herbs.
Next on my list is having the garden renovated so I can enjoy an improved view over my back garden. As I write, I've got a decorator in to paint the back of the house to match the front. Obviously, I'm going to be blogging about that here.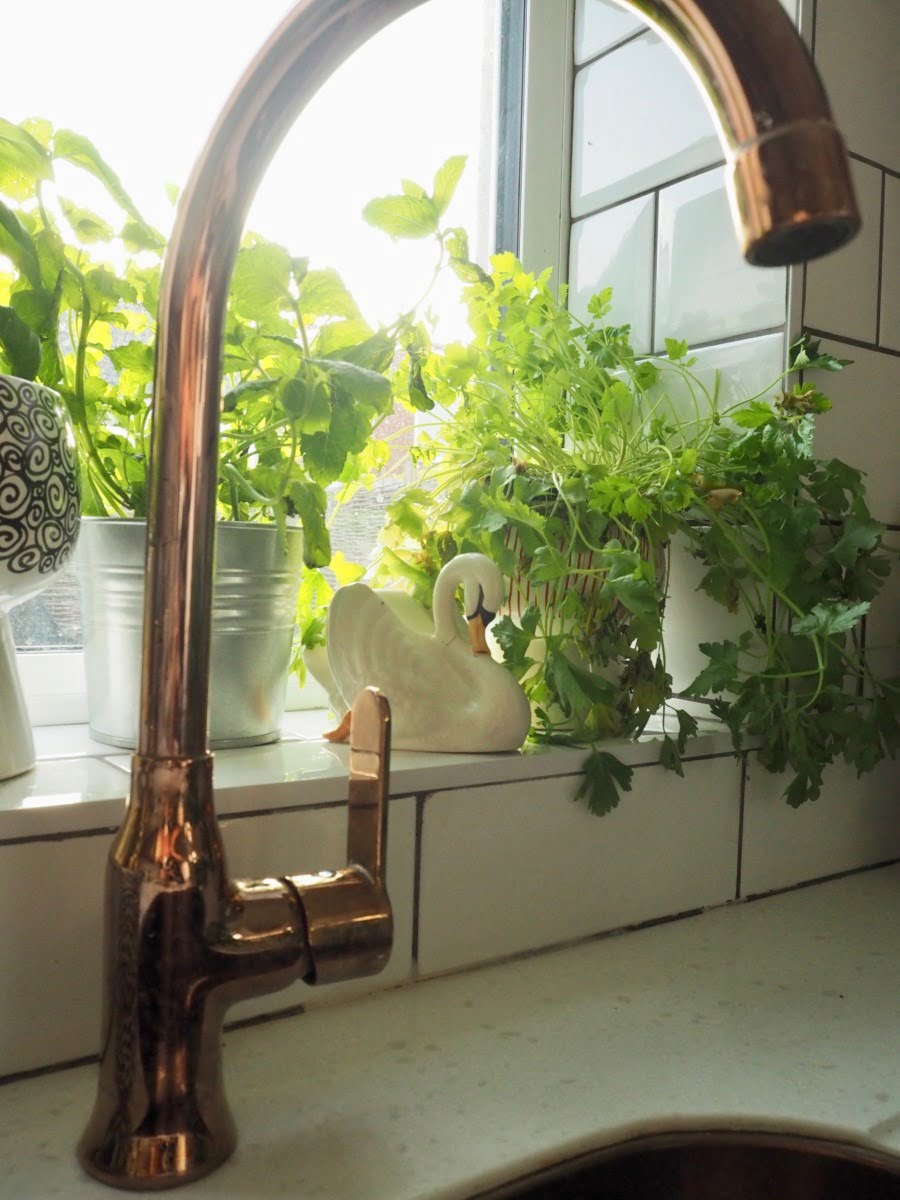 Do you have any suggestions on how to make your kitchen lighter and brighter? Why not share your tips in the comments box below. I'd love to hear from you.
EXCITING NEWS: This image below has been shortlisted out by Pinterest for an award for Best Kitchen Design >>>> Don't let it slip by – save it to your Pinterest boards for safe keeping.
You May Also Like
5 easy ways to switch up your kitchen with Brabantia
6 essential design ideas that every small kitchen needs
Essential Style Tips For Small Kitchens