Enjoy Summer for longer and make the most of every ray of sunshine with these 8 ideas on how to create an outdoor garden room. From paint, to furniture to accessories – this post has got it covered.
In collaboration with Protek Wood Stain.
This Summer, I've enjoyed sunny days relaxing/snoozing in my urban courtyard garden. I've really made the most of my outdoor space. From April until the end of September, I feel like the footprint of my house doubles as my garden feels like an outdoor room.
Are you loving this beautiful Summer as much as me? I gave my garden a huge makeover two years ago, and now it feels like I'm reaping the rewards of all my hardwork. You can see the start of huge that project here.
And that leads nicely into what I'm sharing today. In this post, I'm giving you my 8 style ideas on how to create an outdoor garden room in your home. It doesn't matter what size your garden is because there are ideas below for spaces big and small. The only thing that will limit you is your imagination!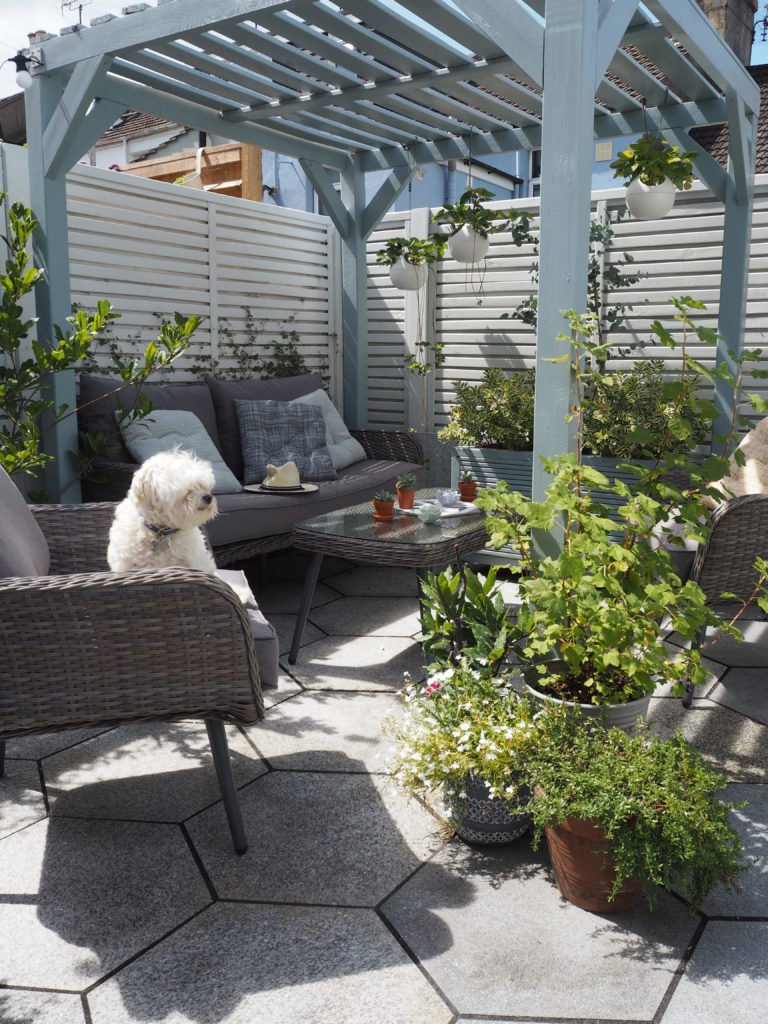 8 TIPS TO CREATING AN OUTDOOR GARDEN ROOM
Gardens can be unforgotten spaces, left to fester in the winter months and then they can need a lots of work to come alive again in the Spring. We can start to think of our gardens as areas that need lots of work and not much fun.
But that simply isn't true. To get more use of your garden – you need to start thinking of it as an extra room in your home, not a bit added on at the outside. Where you can relax in the mornings, chill out at lunch time and party into the evening.
From now on, fences are no longer fences – they're walls! You can light up your garden just like you would your living room. And choose outdoor furniture that has the look and feel of indoor furniture. All with the idea to make the most of precious outdoor space.
Here's my 8 top design tricks for creating an outdoor garden room. Let me know in the comment box below what you think. I'd love to know.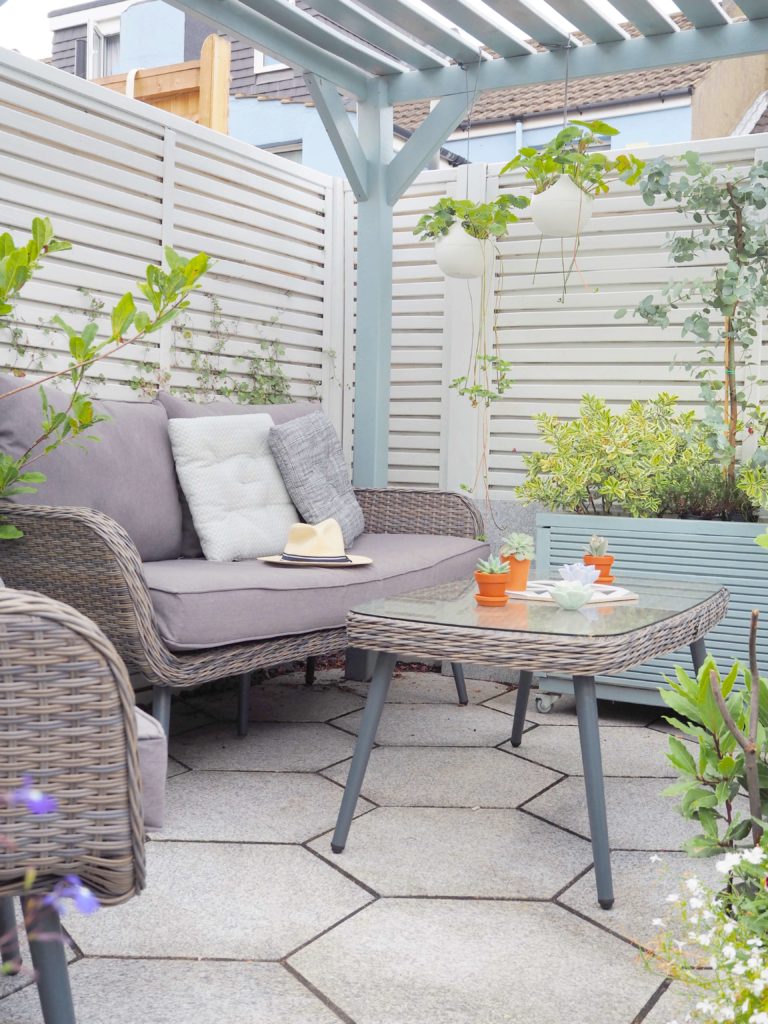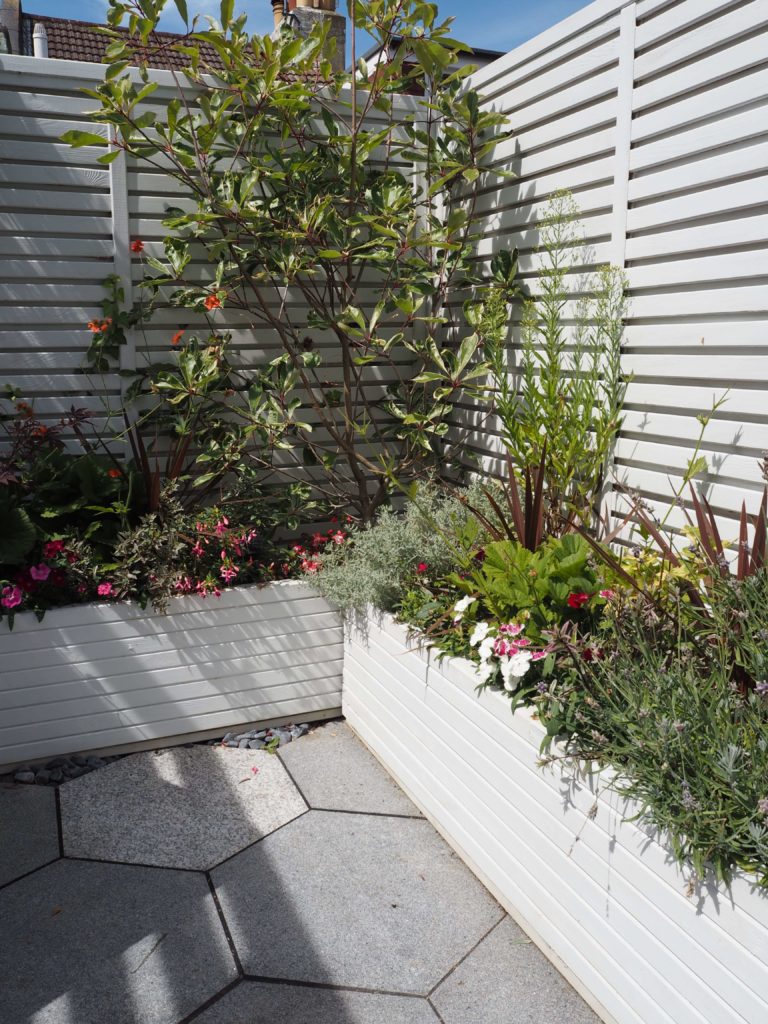 1. Paint Your Fences And Walls
Painting your fences (and external walls) can have a transformative look on your garden. Fences look so stylish when painted in shades to match the tone and colours of your gardens. Now, when I see unpainted fences – they look unfinished to me now.
Go for colour. I choose Protek Wood Stain paint as I loved their range of summery shades and the coverage of the paint was really good too.
Adding colour to your garden with paint is an easy way to freshen up your fencing especially if it is starting to look a bit tatty. Plus, painting the wood has benefits too, protecting it against the elements. I used Royal Exterior in my garden, and two coats gave an intense colour and full water-repellent protection.
Two years ago, I painted my fences white to make my small garden feel light and bright. My fencing still looks good today. Over the past year, I have been adding more colour with baby blues, pinks and lilacs garden shades to my pots and planters.
Painting exterior walls in bright shades is an easy way to bring an interior trend to your garden, making it feel like an outdoor room. Green is harmonious with your planting. Wooden fences can be given a facelift with paint. Or you could go dark and dramatic by painting your fencing black and grey – the options are endless.
Looking for paint colour inspo? This post is a round up of my fave blogger's gardens.
Once you have painted your fences – you could paint your plant pots and dot them around to add more colour during the winter months when you garden maybe lacking colour.
Or you could painting your windows and sills in a contrasting shades? All these ideas are a fab way to create an outdoor garden room!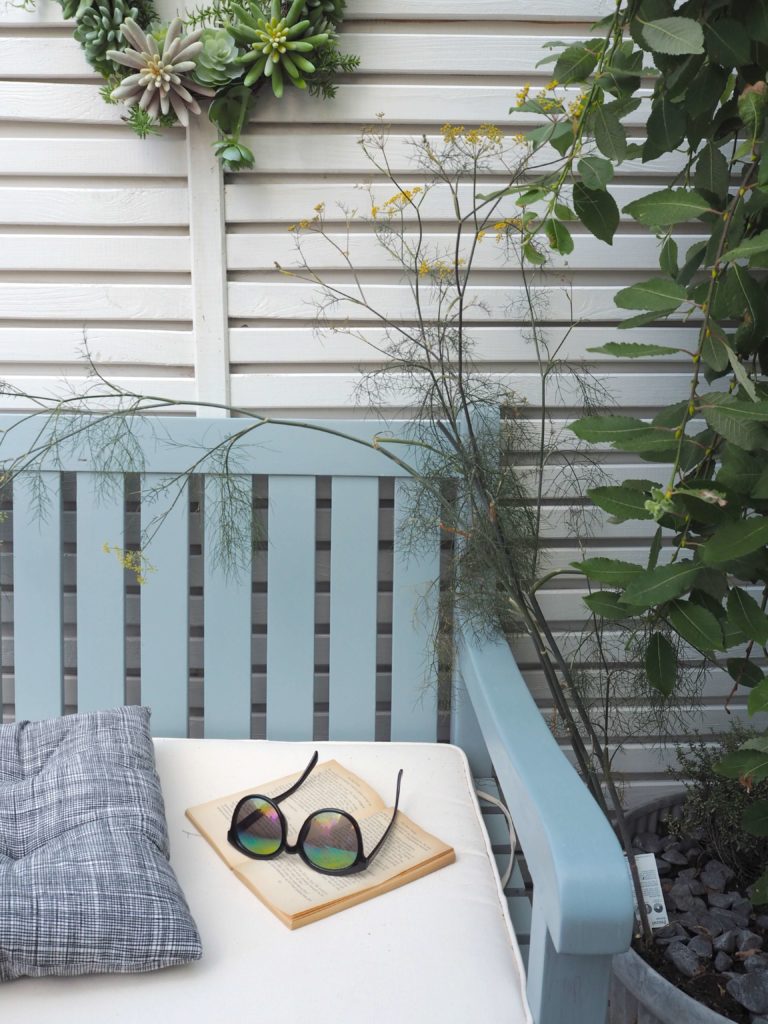 2. Using Your Garden For Longer
We all want to know how to use our gardens for longer. Think about investing in elements that will encourage you to hang outside from the first thing, long into the evening.
During the Summer, you'll want to entertain friends in your garden. So, what about installing a film projector in your garden to create an outdoor cinema?
Or you could make a mini bar to serve up drinks to guests. I've got an outdoor bar cart which that is a DIY project of mine – see it here. I've filled it with cocktail making things so that I can mix up a drink or two in my garden.
Inflatable hot tubs are not that expensive any more and are super fun on hot days (much better than a paddling pool)
In winter, you'll want warm ways to enjoy your garden. My friend made an outdoor Sauna in her garden which she uses all year long. If you want a cosy feeling, a wood burner is another way to keep you warm outside. Just imagine you could be watching Christmas movies in your garden on your projector while toasting marshmallows on your fire pit.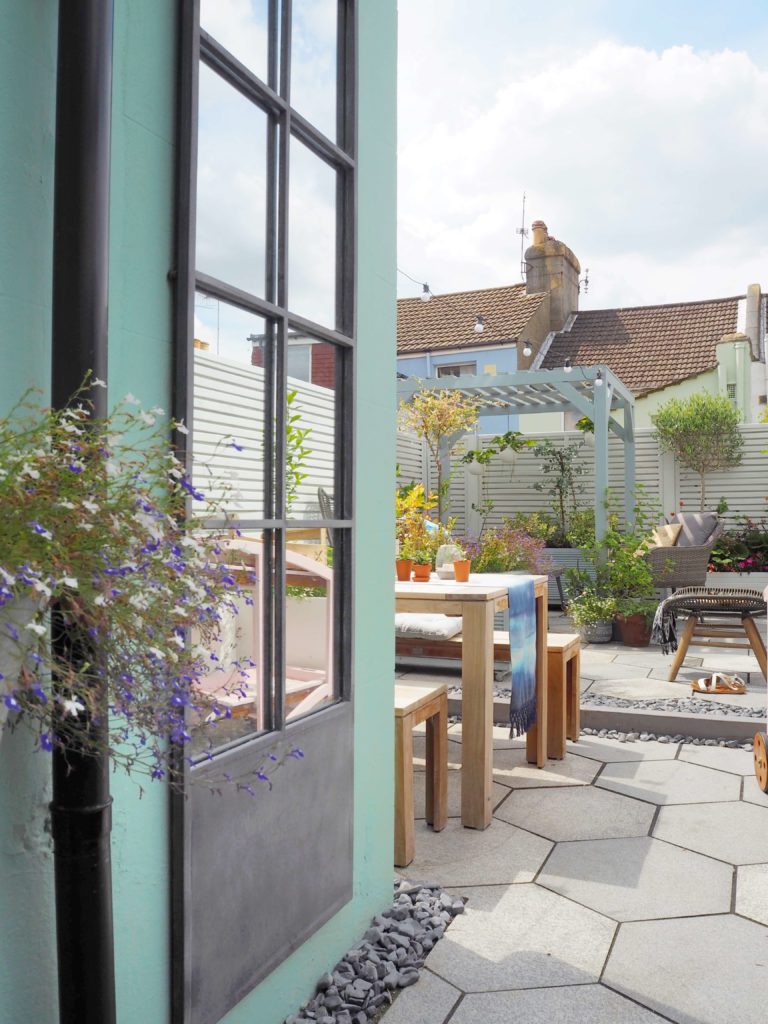 3. Decorate Your Outdoor Garden Room and Bring The Indoors Out
We are always talking about how to bring the outdoors in. But how about bringing the indoors out? What do I mean? Well, style your garden with items you would usually find inside.
Hang plant pots, mirrors, shelving, plates to your fences and walls. You could create an outdoor macramé plant holders for your hanging baskets. Create a gallery wall outside by hanging items like vintage plates, outdoor clocks or even rugs.
In my own garden, I have an outdoor mirror to make the small narrow L-shaped part of my garden feel bigger.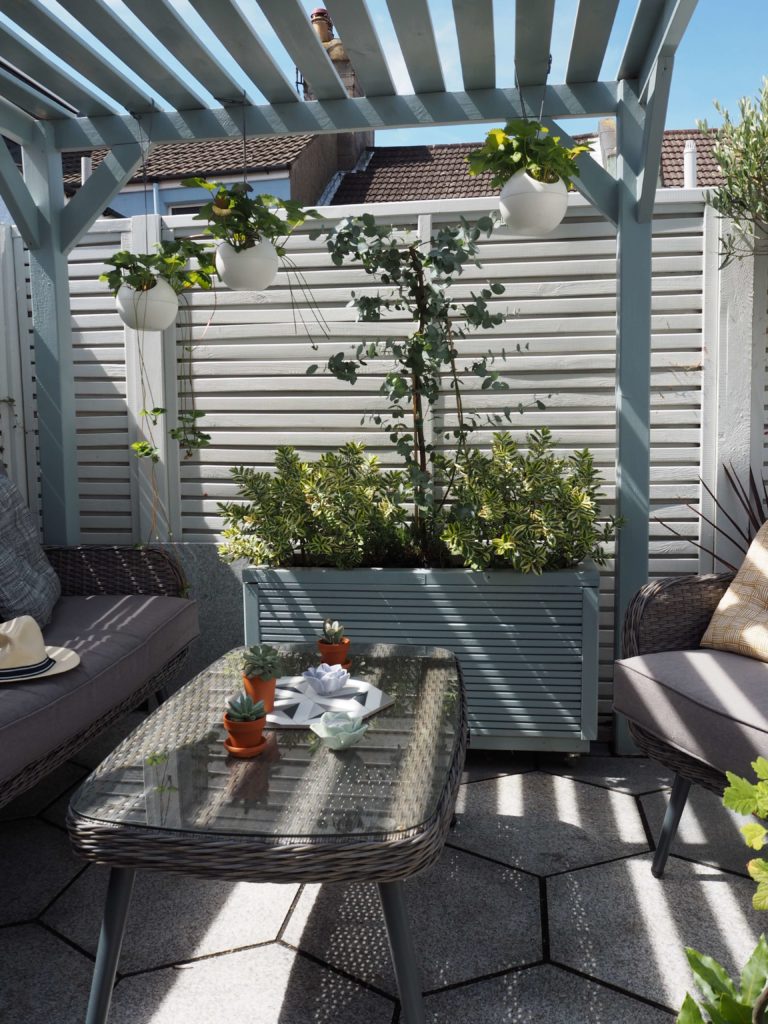 4. Invest In Modular Furniture
Flexible modular furniture is key to make the most of your outdoor space. Look out for benches that tuck under tables, storage coffee tables or recliner chairs that fold out the way when not in use.
My garden has a smart sofa seat set and coffee table under the pergola. Then dining table with benches for when I eat outside. Then a couple of extra benches that chase the sun as it moves around my garden.
SHOPPING IDEAS
FOR YOUR OUTDOOR GARDEN ROOM

5. Look Out For Waterproof Fabrics
One way to really make your space look and feel like and outdoor garden room is with soft furnishings. Waterproof fabrics are ideal for cushions covers. Look for ones in bright shades to add an accent colour to your garden.
A waterproof rug will hide any ugly paving and it also helps to zone a corner of your garden. Alternatively you can stencil old decking to add a pattern using paint. I've seen this ideas lots on Instagram on both old 1980s paving and on sun bleached decking. Choose a stencil with a geometric design for a modern look.
For next Summer, I'm thinking of hanging outdoor garden curtains for even more privacy.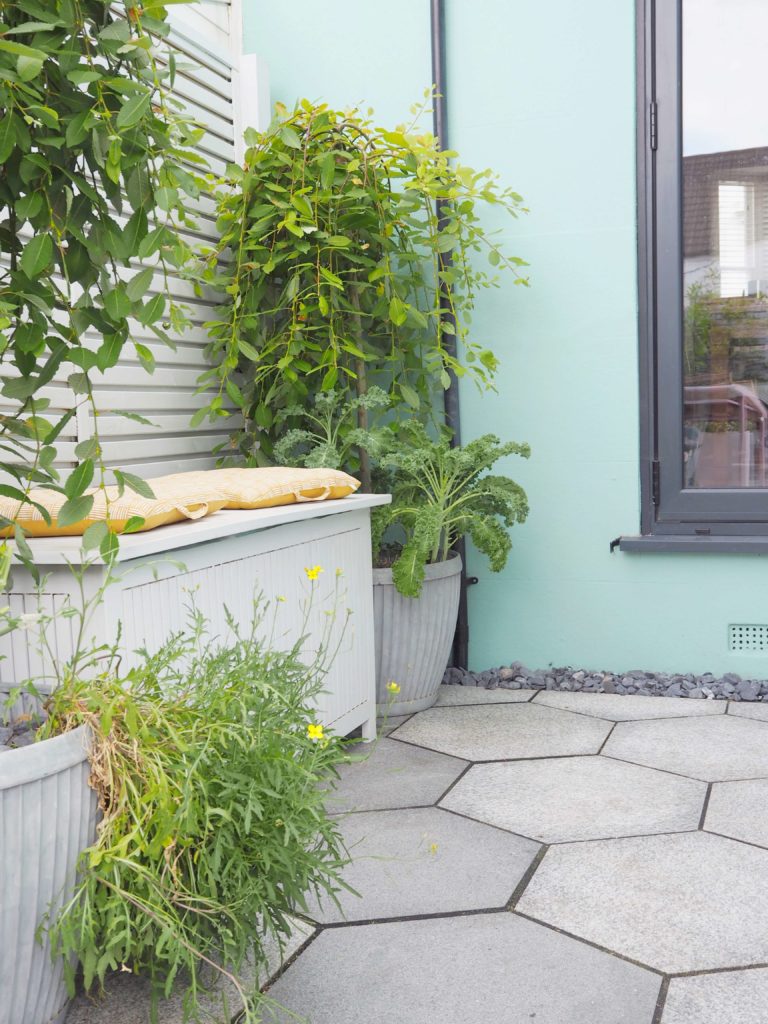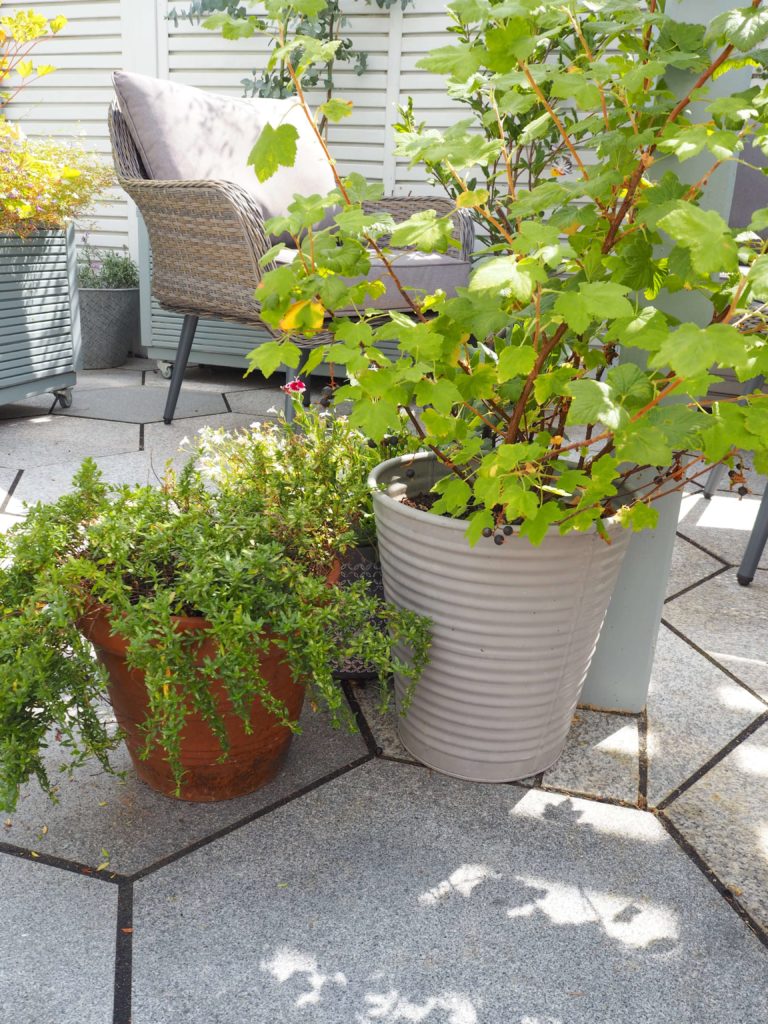 6. Zone Areas Of Your Garden
When it comes to your outdoor space, you need to get clever and 'zone' areas of your garden to make the most of every corner. Don't be tempted to push all your planting up to the edges of your garden, instead using planters to create corners in your garden.
It sounds crazy to divide up a small garden but by creating lots of different sitting areas in my garden, and section off areas has created 'rooms' in my outdoor space.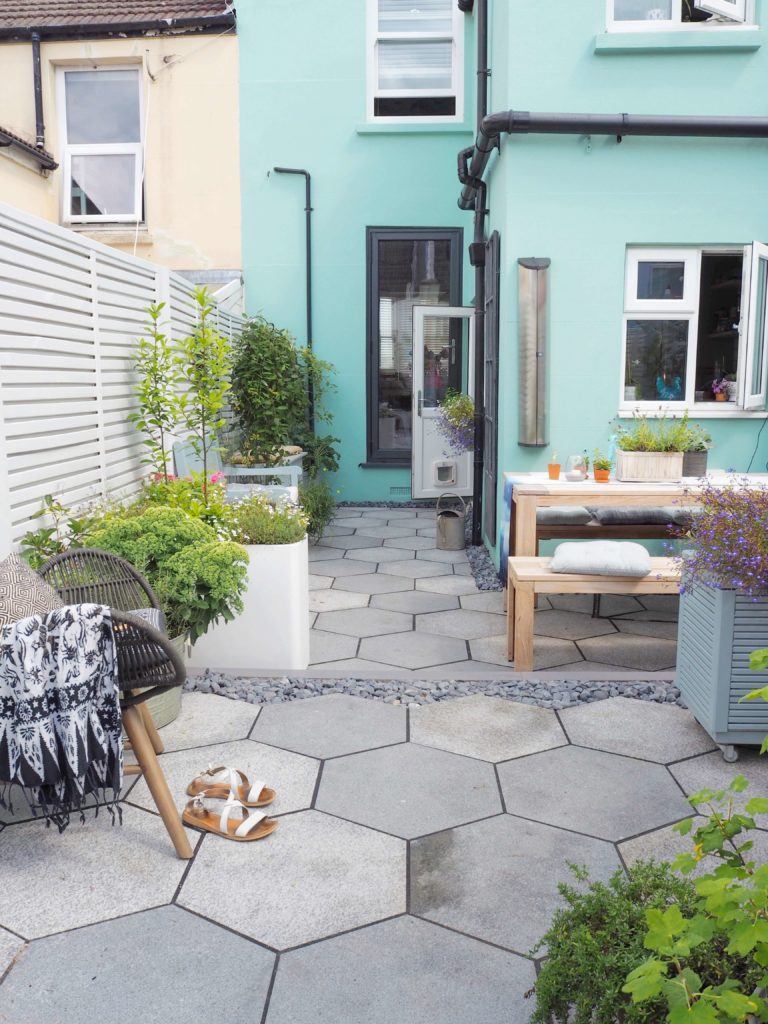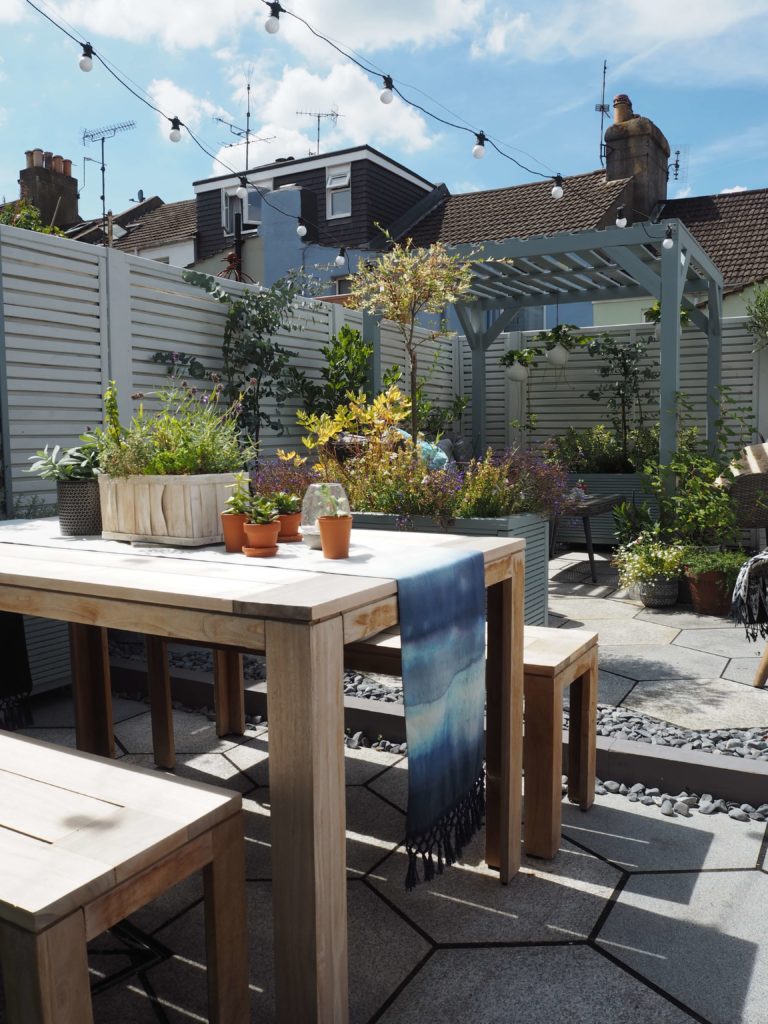 7. Light Up Your Garden
Festoon lighting above acts like a central light above your garden to create the feeling of an outdoor space. Use solar powered lighting to be able to use your garden into the night for twinkly feel.
Think of placing solar lights in planters and posts which will draw attention to corners of your garden that you want to highlight.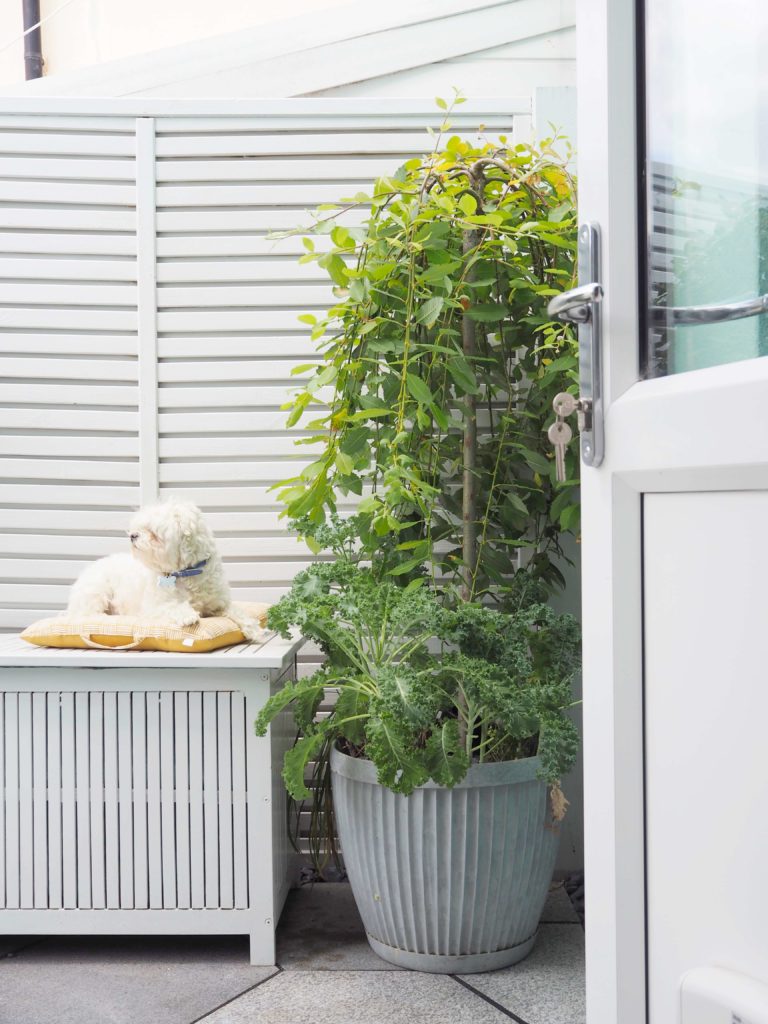 8. Outdoor Storage
Hide away ugly but essential garden things. A folding washing line, Wind up portable hose. Everything should be tucked out of sight to make your garden summer ready.
And always make sure you have plenty of waterproof storage for cushions and throws in the winter months.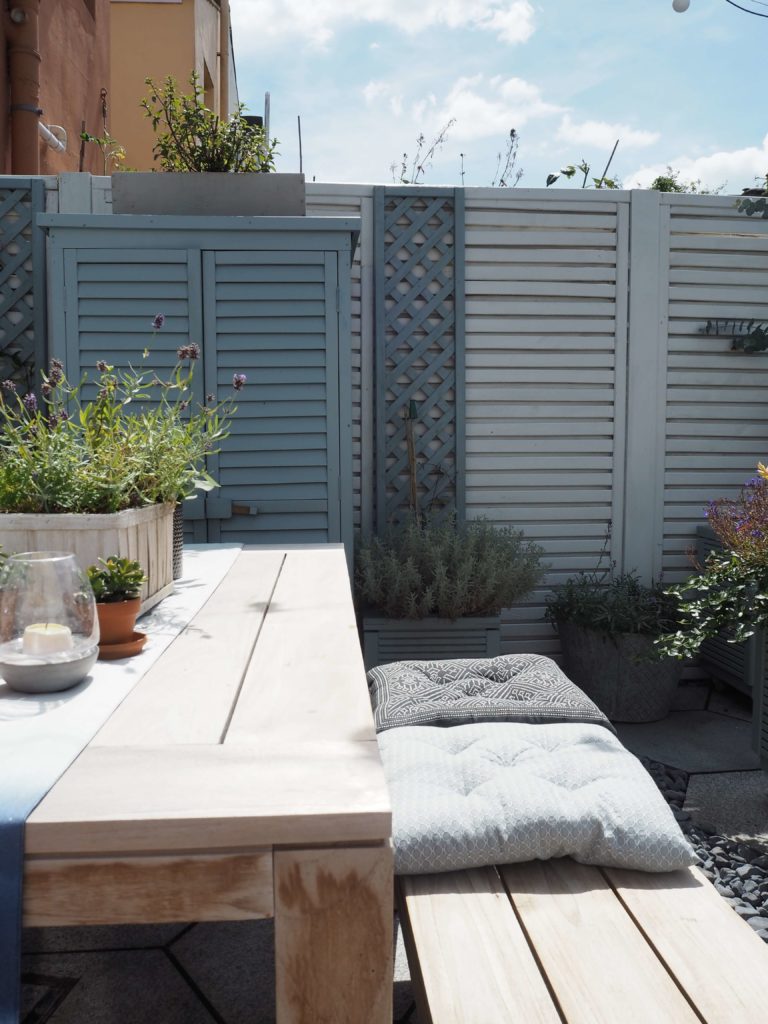 Shop My Garden
Paint: Protek Wood Stain|Gardener: Thea Pitcher 07757 337081 | Paving: CED Stone | Fencing and Pergola: Grange | Planters: Rowlinson and Crocus Hanging Planters: Elho | Lighting: Lights4Fun | Furniture | Sofa Set Next | Storage box and shed: Mano Mano | Table & Benches: Out and Out Original | Accessories | British Colour Standard, Habitat, Oliver Bonas and H&M.
How To Create An Outdoor Garden Room – 8 Tips & Tricks
Has this post encouraged you to create an outdoor garden room? I bet you are ready to paint your fences and wall, fill your garden with lights and zone your space to create mini rooms into your outdoor space.
If you are looking for more garden inspo, I have a very popular Pinterest board that focuses on outdoor garden room which you can see here.
You May Also Like
Outdoor Furniture For Small Gardens
How To Make The Most Of Outdoor Living