Summer is here and there is no better way to enjoy these long hot days then with a cocktail (or two) in the garden. Today, I've gathered 5 great ideas for styling an outdoor bar cart if you are thinking of hosting a garden party.
There's everything you need in this post to kick start your Summer – from a DIY outdoor bar cart, to the perfect cocktail and all the accessories you need to make a delicious G'n'T.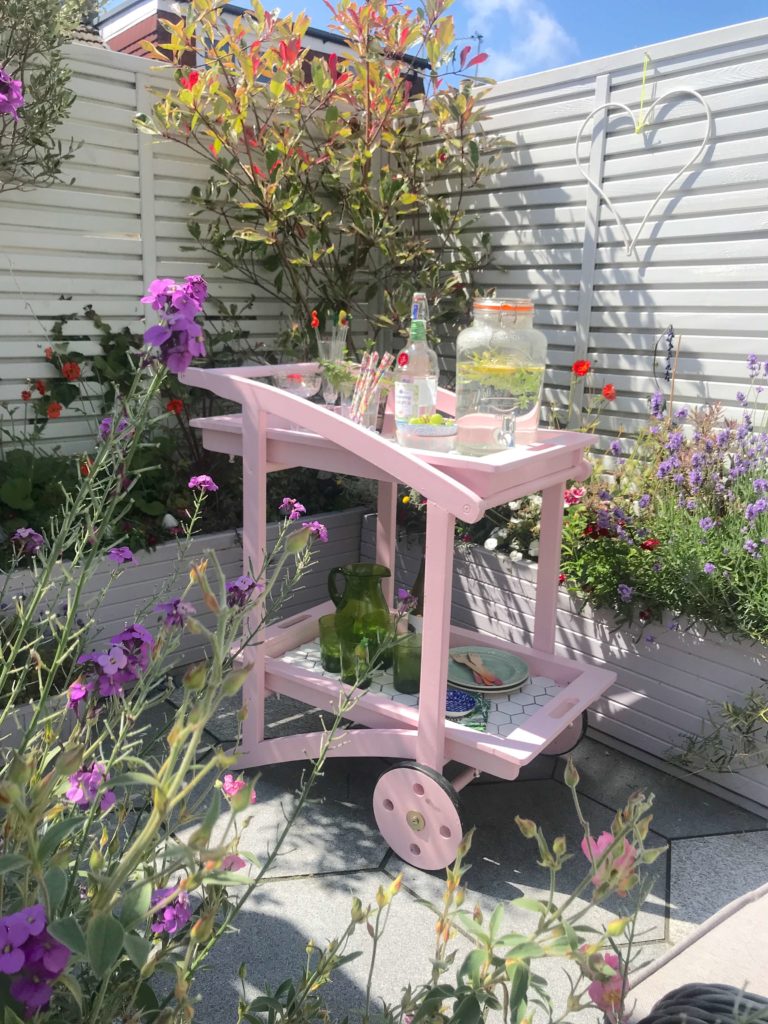 1. Make A DIY Outdoor Bar Cart
It doesn't matter what the size of your garden, you can squeeze in an outdoor bar cart in your space. I did a lot of research on this and discovered that outdoor bar carts can be a little pricey! That's why I made mine. This one above is actually a garden plotting trolley from George At Asda that was £49.
Made from teak, it has space to stand lots of drinks, plates and small bowls of nibbles. The top and bottom are made from sunken trays that can be lifted off – ideal for carrying drinks around the garden. The sturdy wheels mean you can move your outdoor space when you have garden parties.
I painted over the wood in 'Confetti' pink paint by Little Greene Paint Company. I chose the Eggshell finish which is designed to be hard wearing on exterior woodwork for a longer lasting look.
To give it a designer edge, I used Gorilla glue to stick on white hexagonal tiles to the top and bottom trays. My advice? Use smaller tiles because water can drain through the cracks, just in case it rains.
What do you think?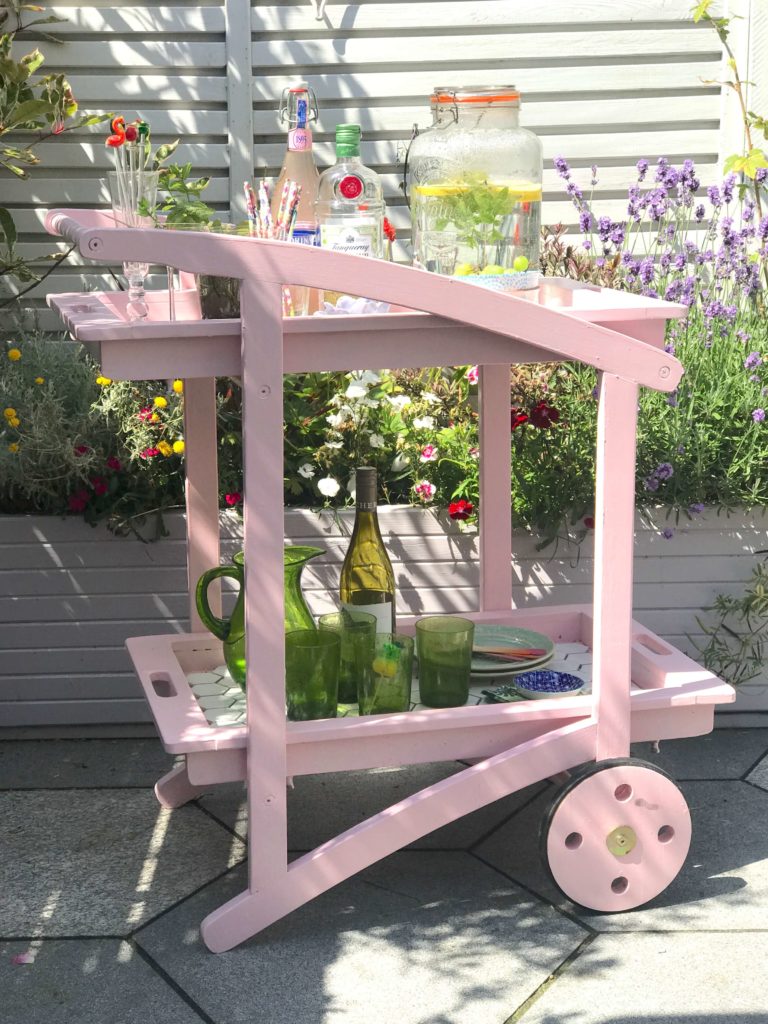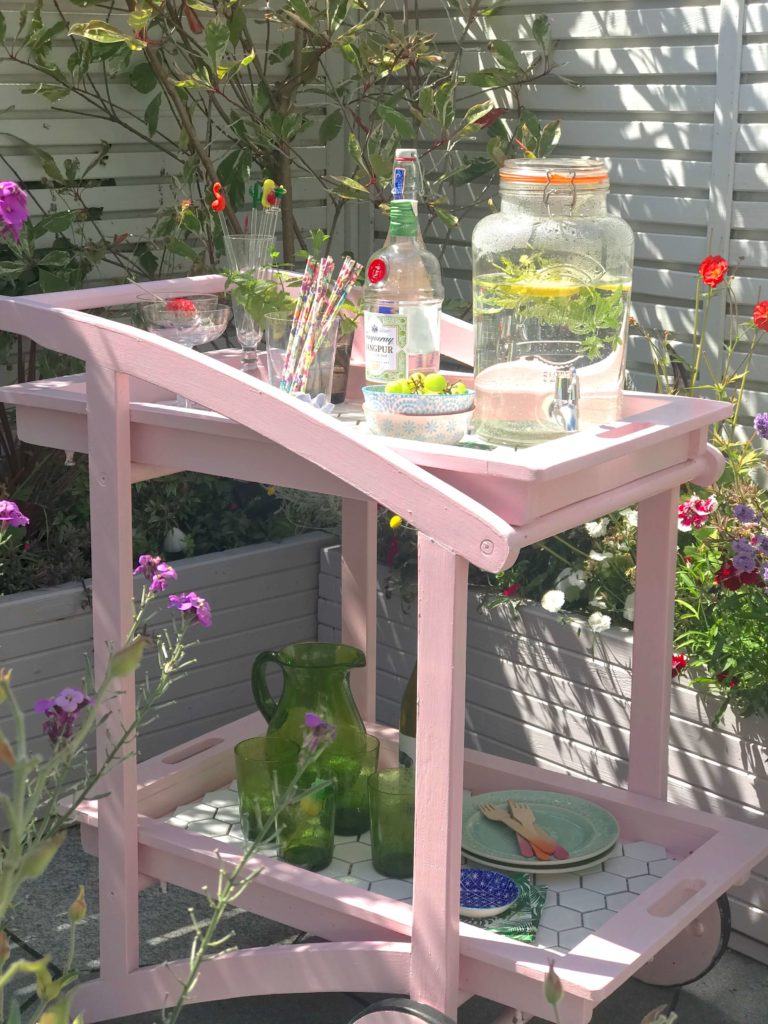 2. Treat Yourself To A Retro Drinks Jar
For glassware with a difference, this retro drinks dispenser is ideal for serving your homemade cocktails and cool drinks. Mine was a gift from my friends for my birthday but you can pick them up for less that £20.
The large drinks jar can hold enough water to keep everyone hydrated on hot days. And it means you won't be running back and forth to the kitchen to get everyone cool drinks. I filled mine with slices of lemon and springs of mint grown in my garden and lots of ice.
With the twisty tap at the bottom, guests can just help themselves to water which will give your garden party a laid-back feel. Ideal for alfresco entertaining.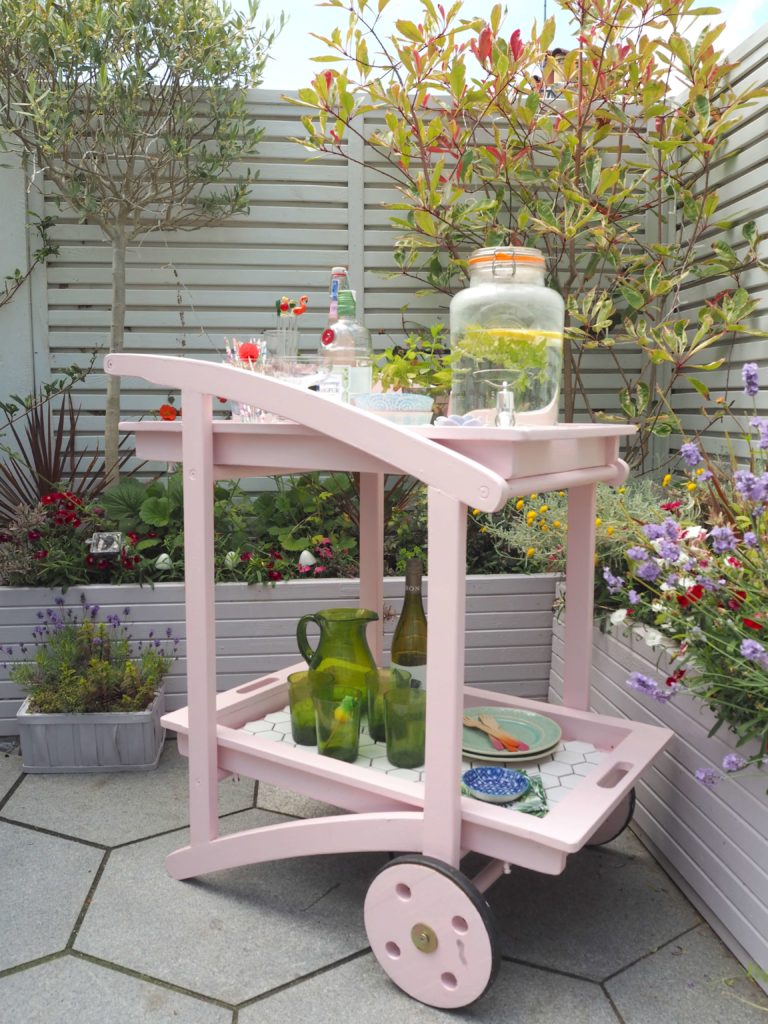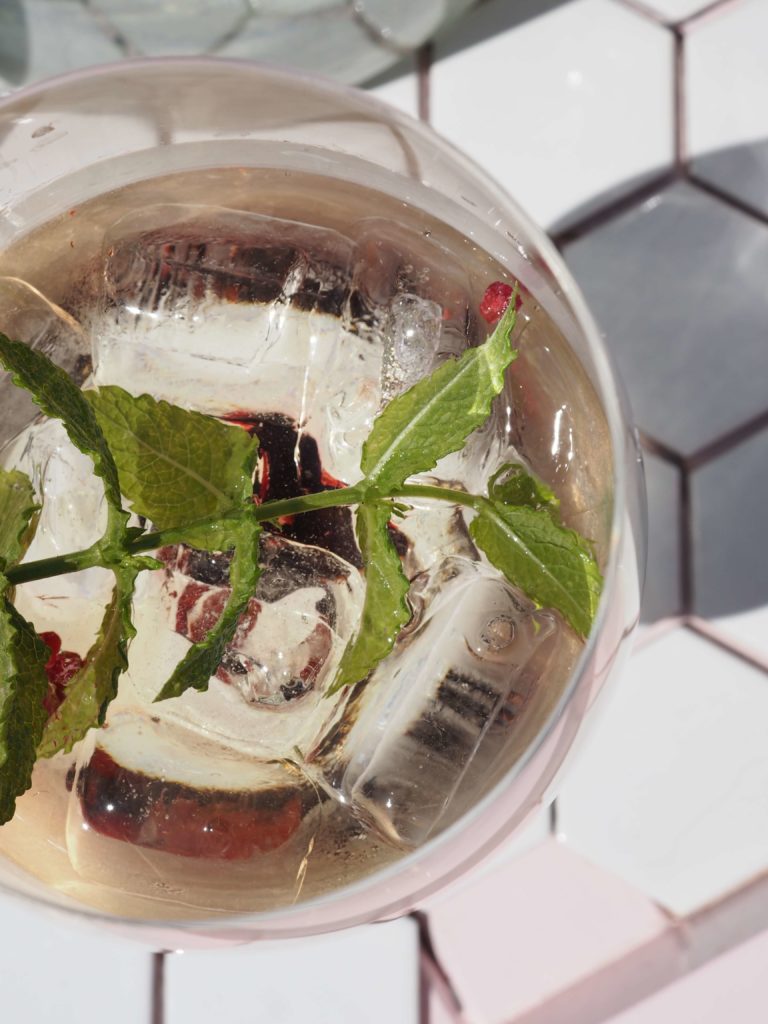 3. Learn How To Make Botanical Cocktails
If you fancy yourself as a bit of a mixologist, then impress your friends with your homemade cocktails decorated with real flowers.
One cute idea is to serve drinks with edible flowers floating on top. Lavender, Honeysuckle, Pansies and Primroses are all easy to grow and taste delicious too. You could sprinkle them on top of your garden salads too for the full effect. For a list of edible flowers, click HERE.
Choose spirits in pretty bottles and look out for retro mixers (the pink one above is grapefruit lemonade). When it comes to a making a simple tipple, there is nothing like an afternoon Gin and Tonic. When serving your G'n'T pour over frozen berries and a sprig of rosemary to subtly flavour your drink with botanical herbs. Trust me, guest will love it.
For seasonal non-alcoholic drinks, you can't beat fresh lemonade. Make by squeezed lemons into a jug, pour in fizzy water and a squeeze of honey and mix. It's the most refreshing drink on balmy summer evenings. Serve with slices of citrus for a fruity finish.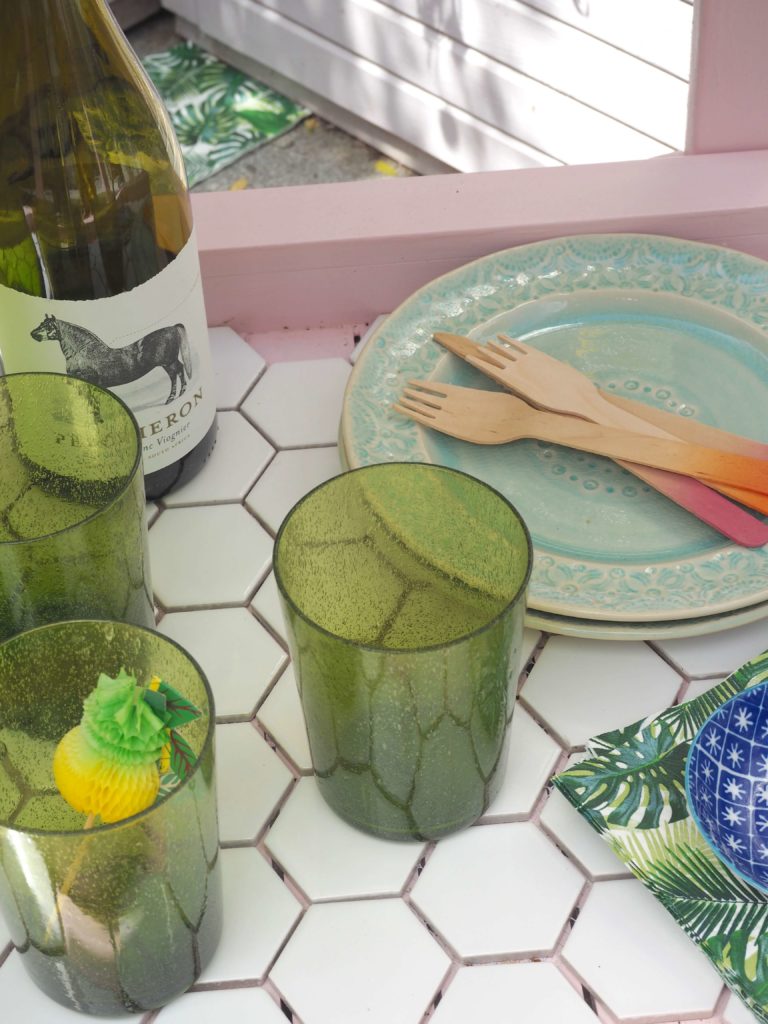 4. Look Out For Chic Picnicware
Don't want to use your fancy glasses outside? No problem! One great idea, especially if you have paving like me, is to fill your outdoor bar cart with stylish non-breakable picnicware. Paper straws, wooden ombre cutlery, colourful paper plates for nibbles and funky napkins will make your bar cart look the bomb.
My go-to for summertime picnic accessories is Talking Tables who specialise in fun outdoor tableware including my palm napkins and floral straws. Their Tropical Festa collection is a collection of palm themed accessories for complete Summer vibes.
5. Collect Retro Glasses
One of the talking points of my outdoor bar cart were my colourful choice of glassware. I'm in love with my original 1960s Champagne saucer glasses which I found in a charity shop for £1. For similar Oliver Bonas has colourful versions or LSA International have plain glass ones.
For soft drinks, it's always handy to have a water jug and glasses. My green set is from British Colour Standard – take a look at their brightly eco-friendly coloured ranges which can be found in every colour of the rainbow.
Fill your outdoor bar cart with lots of glasses in different shapes so that you have a vessel for every drink imaginable. One thing my bar cart is missing is a ice bucket. I used small finger bowls for ice as well as drinks garnishes, snacks and straws as frankly, I don't have the space for an ice bucket in my tiny home! Just improvise 🙂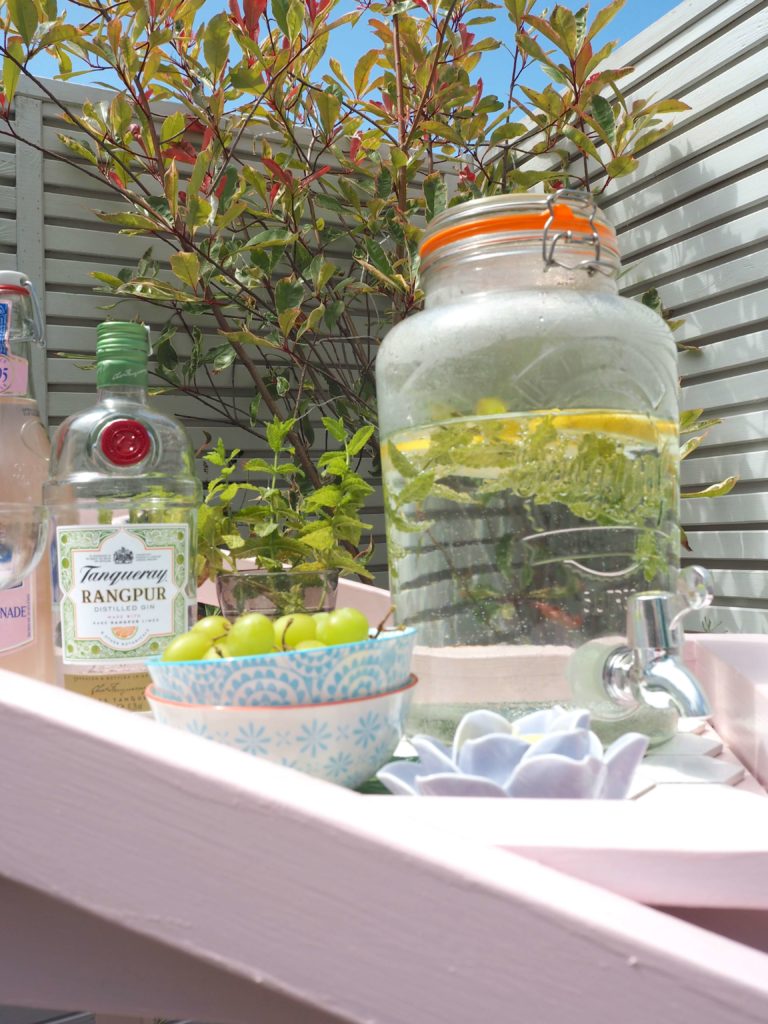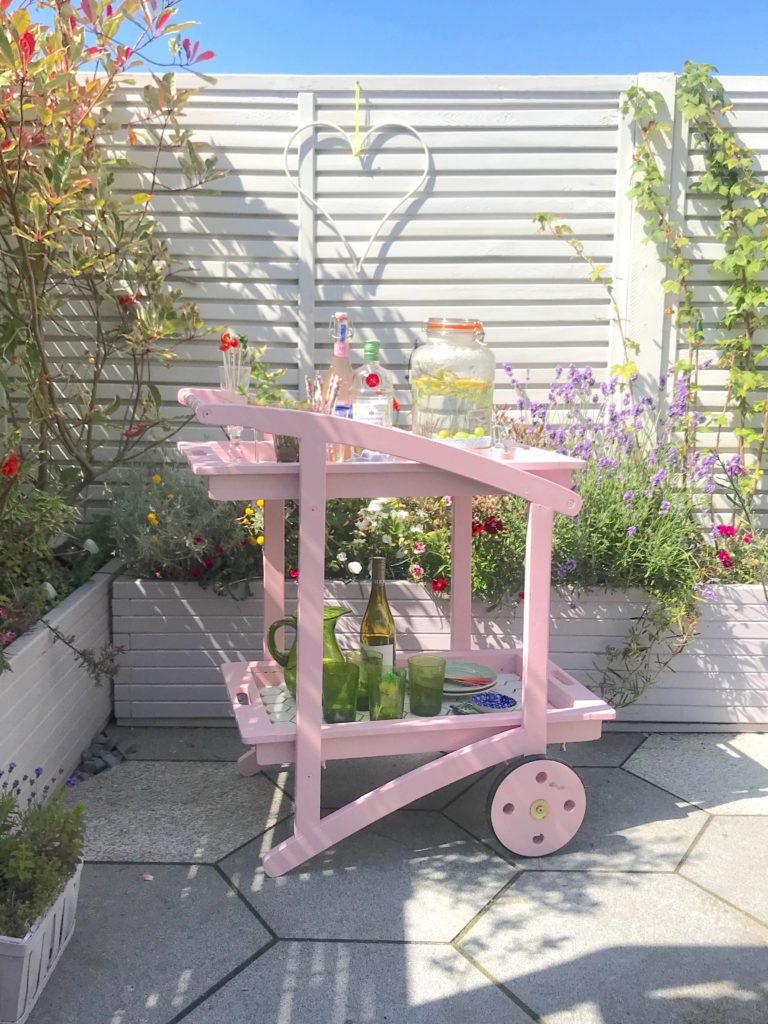 There you are – there are my 5 great ideas for styling an outdoor bar cart – from cocktails, to a DIY bar cart to quirky cocktails – all style in my garden.
I hope you like this post. If you want to discover more about my garden makeover, click on one of the links below. Have a great day.
Love Maxine
You May Also Like
Alfresco Dining Ideas For Your Garden
Clever Ideas For Small Gardens