Summer is best time of year – the weather, the lovely long days – and most of all, I get to wear all my favourite summer outfits. In the warmer weather, I feel I look my fashion best. Today, I'm sharing my 7 favourite Summer outfits as inspiration for you if you are looking to freshen up your wardrobe.
Instagram is a great space to showcase my fashion taste, and recently I joined a fashion hashtag called #femininefriyay with one of my blogging friends, Kat from Life At Number 63. Each Friday, we post picture of summer outfits that we have enjoyed wearing that week. The inspiration is to encourage everyone to be more playful with our wardrobes.
I've always tried to be ethical with my clothing choices by buy vintage, second hand and from charity shops. My love for vintage clothes is well know on this blog, and I love a second hand bargain which I try to mix with affordable high street buys. Ebay is my new best friend 🙂
Two months ago, I decide to only buy new clothes that I know I will wear over and over. This has made me re-look at my existing clothes and styling some of my old favourites new ways, reinventing my wardrobe.
It's hard to describe my style as I tend to be a magpie when it comes to clothes. I love playing around with colour combinations, patterns and styles to make my wardrobe work harder.
My 7 Favourite Summer Outfits
Below are my 7 favourite Summer outfits that I have loved wearing these past month. Some are for work, some are for play but there is a mix of colours and styles which I hope you'll love.
Scroll down to the bottom of the post, as I'd love to know your thoughts in the comments box.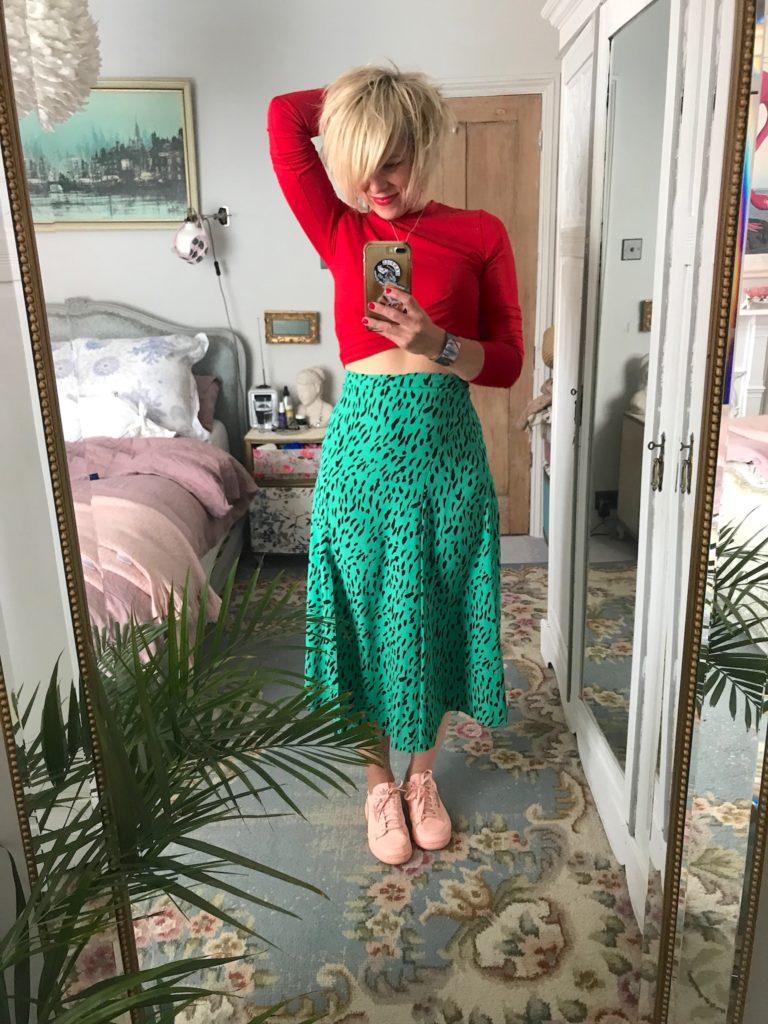 1. Midi Skirt For London Press Shows
This outfit makes me so happy. I call this my watermelon look! The skirt is this season Primark – although I think it is sold out now – sorry. It was £8. I've paired it with cotton cropped top from H&M [£5.99] and my peach sneaks by Adidas [£45]
I first wore this to the Spring Summer press shows in June. The trainers are so comfy which is essential when heading up to London. I tend to walk miles and miles. I'd love to buy more midi-skirts as they are very flattering and smart for work and play. You could team this skirt with a band T or a crisp white shirt depending on your vibe.
This skirt will keep you going right through to Autumn too.
2. Maxi Dress For A Festival
This outfit made me feel a little bit famous! I was luckily to get VIP tickets to All Points East (my friend works there) and the security guards mistook me for a singer and kept asking me to head towards the stage. We found this so hilarious as I'm totally tone deaf and can't sing.
My summers are mostly spent in a field at festivals. Are you a festival lover, like me? From experience for day festivals, you need to wear something cool and comfy that you can wear all day long. My dress is a cotton number I found in a Thailand market for £6. I've found similar on ASOS if you like the look. Choose one in a statement print for festival vibes.
Boots are a great idea for festivals My Hudson boots were an eBay find. I bloody love them. They are worth £160 but I snapped them up for £15. Always have a shop around on eBay before making expensive purchases as you never know.
The accessories are from a charity shop. I've been on the hunt for a festival bag for years, I've finally found it with this fringed suede number picked up from my trip to Morocco (you can read all about that trip HERE).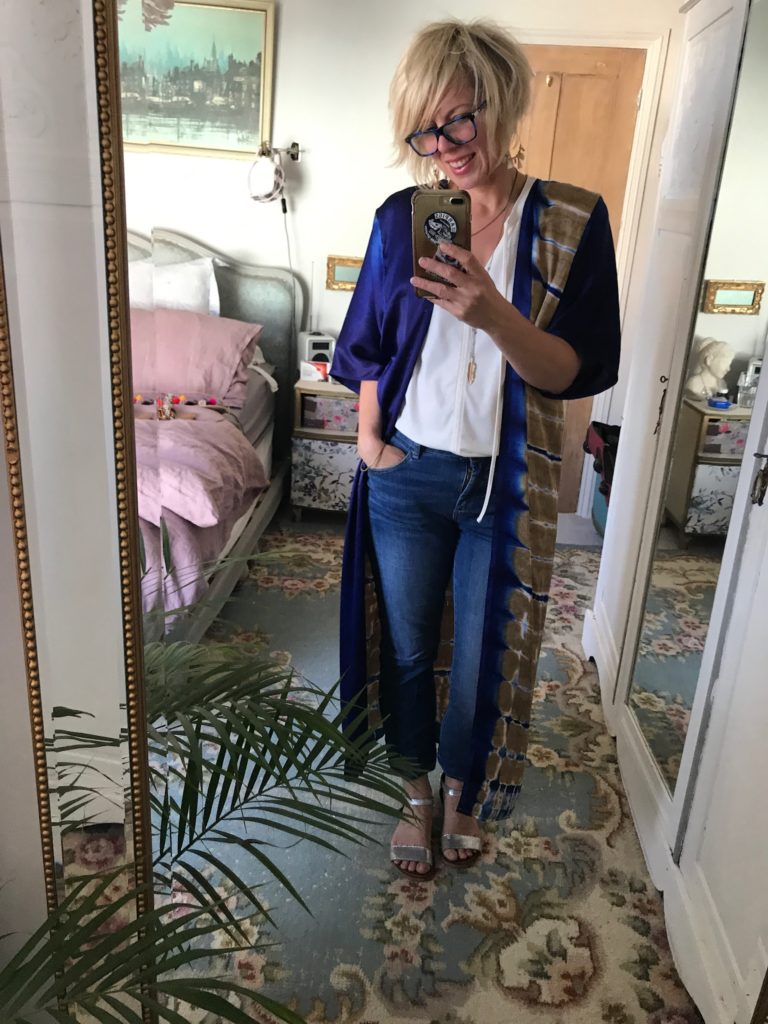 3. Kaftan For Lunch With Friends
Long, silk kaftan was a holiday buy from Miss Hiriketiya a little fashion boutique in the exquisit The Salt House in Sri Lanka. I've been dying to wear it as soon as the weather got hot hot hot.
I own a few kaftans which I pop into my bag because I like a layer just in case it gets cooler when I'm out and about around town. The weather in Brighton can be really windy at times, so a nice throw on kaftan is the perfect layer.
I slung it over a white cotton embroidered shirt that I bought from local Brighton vintage shore All About Audrey. This top is divine. I think it is original 1970s and it was a bargain at £25. She has lots more on-line if you take a look.
This was the perfect to meet friends in town. You can totally dress it up and down so it is worthy investment piece. The shell earrings are from Next [current] and since I got them, I have worn them nearly every day.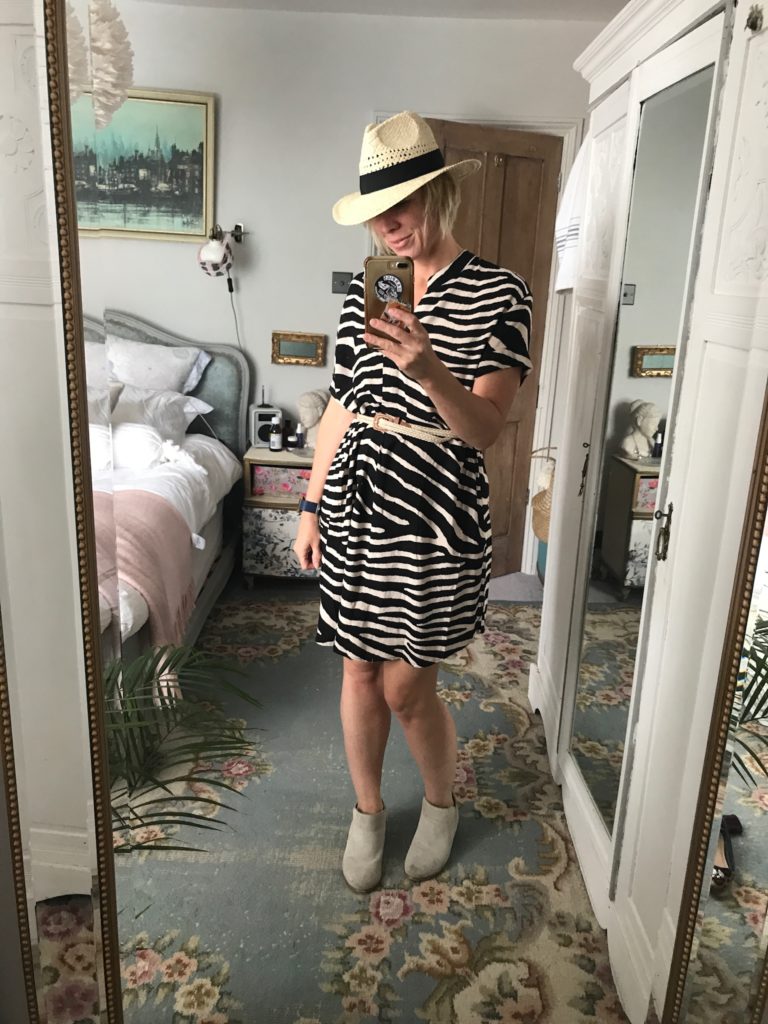 4. Animal Prints For My Workshop
Did you know I run interior styling workshops called Secret Styling Club? At these workshops, I'm presenting to large groups and having my photo taken lots so it is important to look chic.
This H&M dress is perfect for this type of event. The on-trend animal print caught my eye instantly (it also comes in a palm print which is rather lovely too). It was a totally affordable £8.99 but I had to go a size up buying a UK14 to get the looser fit. I've loved wearing it so much, I also bought it in black as it is so versatile. I can imagine wearing this in winter with boots and tights.
To cinch it in, I used a vintage woven leather belt, The boots are old Urban Outfitters that I have had for years. You can't beat a pair of ankle boots to elevate a dress.
Finally, the hat! I buy a new straw one each year from Primark. But it is from the Men's section as I like it to look over-sized. A hat is ideal to stop me my face burning in the heat, plus it gives a bit of glam to an inexpensive dress.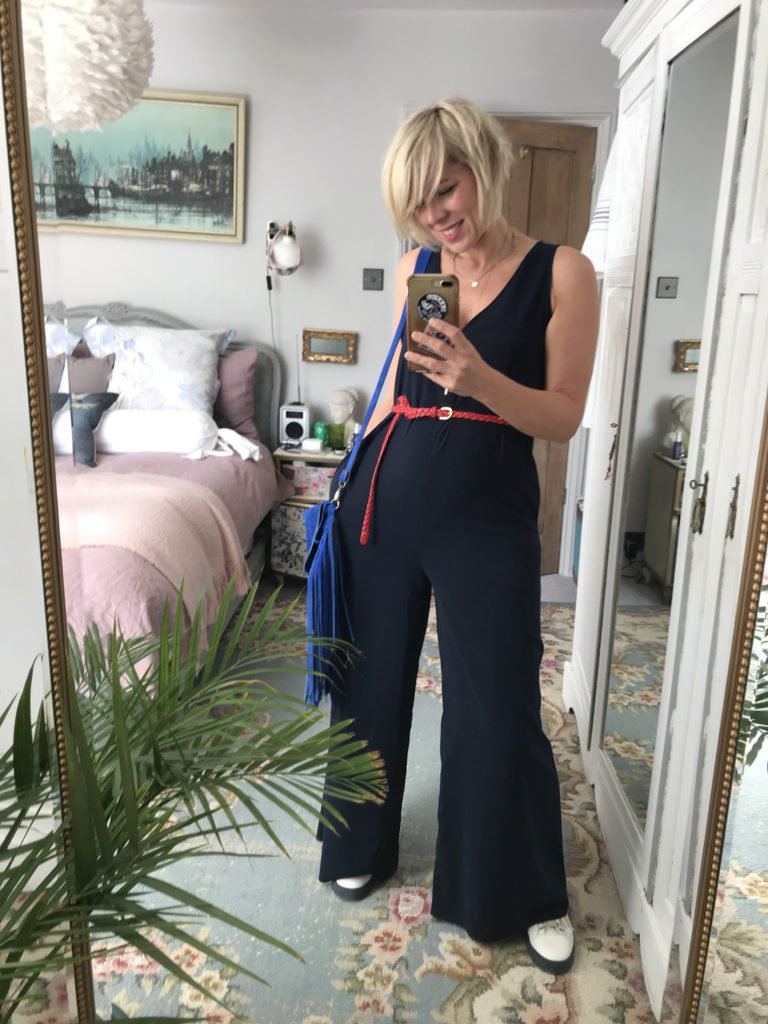 5. Jumpsuit For Meetings
I have a problem, I can't walk past a charity shop without popping in for a rummage. My most favourite clothes have been found in them. Take this awesome jumpsuit. This is actually a COS number which I found in a British Heart Foundation charity shop for just £15. I had to sew the pocket up but it was worth it as it was brand new.
As I'm 'pear shaped' I need to pull my waist in to flatter my figure. That's why I love a good belt. This vintage red one gives this jumpsuit a nautical style (hello sailor!). The blue fringe handbag in a pop of blue is another Moroccan buy. I can honestly say a jumpsuit suits most body types AND they make you look like a Rock Star.
If you like this look, try pairing your jumpsuit with red sandals. Or you could ditch the belt and wear the jumpsuit loose and airy for this hot weather.
The trainers are last season Marks & Spencer. Their shoes have been amazing the last couple of years but their trainers are out of this world. The look like very expensive Veja trainers that I have seen all the fashion bloggers on instagram wearing.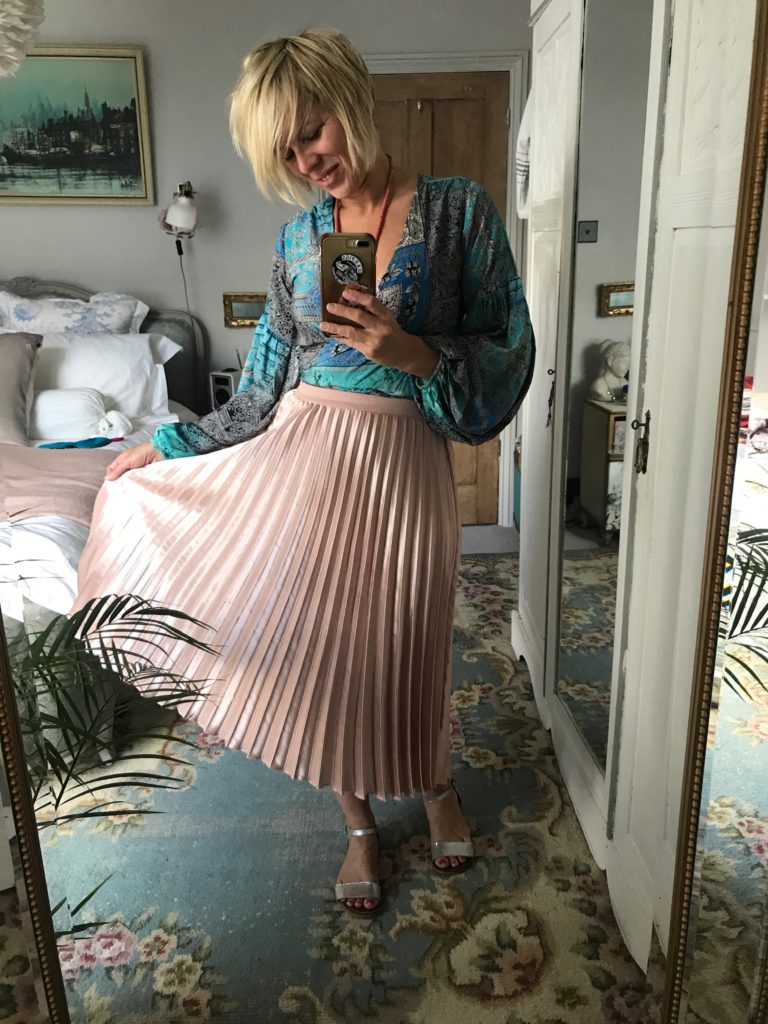 6. Pleated Skirt For Styling A Photoshoot
As an interior stylist, I get invited into beautiful homes which I style for magazine shoots. I need a summer outfit that I can move about in while carrying props from room to room, and looks cute too.
This skirt was a bargain buy from Primark (again) for £13. It has a velvety finish which is soft to touch. I'm not a huge fan of weather head to toe high street. I've worn it with a bell sleeve top found in All About Audrey (£25). This top is made from Indian silk and I love the ethnic print in this pretty baby blue shade.
I've teamed it with my trusty silver sandals. And my hippy beaded necklace. When it comes to shoes, I think metallics like silver and gold (and white) go with everything. If you buy one in each of these colourways, you'll be sorted all Summer long.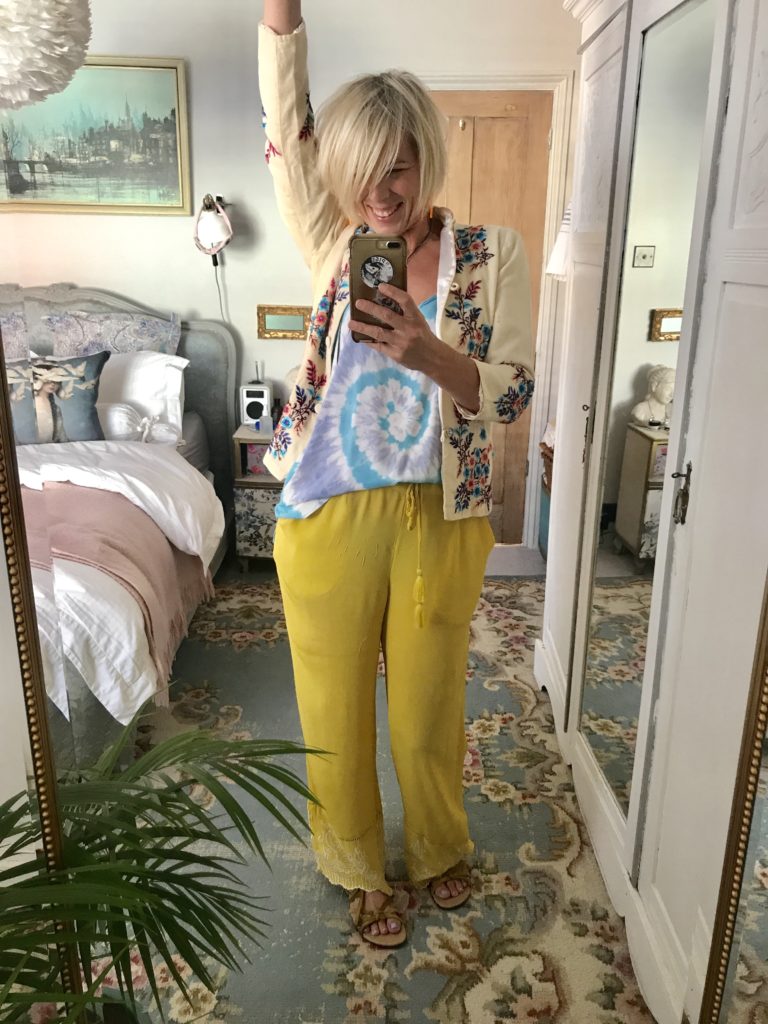 7. Trousers For Drinks On Brighton Beach
This is my latest outfit that I have pulled together only last week. It's a summer look that is a mix of old, older and even ancient items which I have styled together in a new way.
Let's start with the yellow trousers which are Marks and Spencer from a few years ago. I love the embroidery on the ankles and the tassel ties. I've never worn these trousers with my Next velvet sandals before.
I'm a huge fan of tie dye – it's such a fun, hippy-dippy print. This top is a buy from Thailand but I'm sure you'll be able to get one from eBay easily.
The jacket is a one of my most treasured items. I bought it over 20 years ago in a charity shop, and I wear it to death throughout the summer. Moth's did attack is recently but I managed to save it by shoving in the freezer (I feel I need to write a whole post on Moths!)
This sunny combination with so much colour, and mix prints made me so so happy.
7 Favourite Summer Outfits
These are my fun favourite summer outfits that make me smile inside and out. I've enjoyed playing around with clothes old and new, which has made my summer wardrobe work harder.
Are you feeling inspired to fun with your fashion this summer please give the #femininefriyay hashtag a try and we'll make sure to take a look 🙂
You May Also Like
Ethical Fashion Looks You'll Love This Summer
Why You'll Love Living In Brighton
How To Style A Messy Blonde Bob