I'm very excited, nervous and extremely proud to be sharing my first every fashion shoot on my blog today. I worked with eco-clothing brand Vildnis and style photographer Hannah Sherlock to shoot 3 ethical fashion looks you'll love to wear this Summer.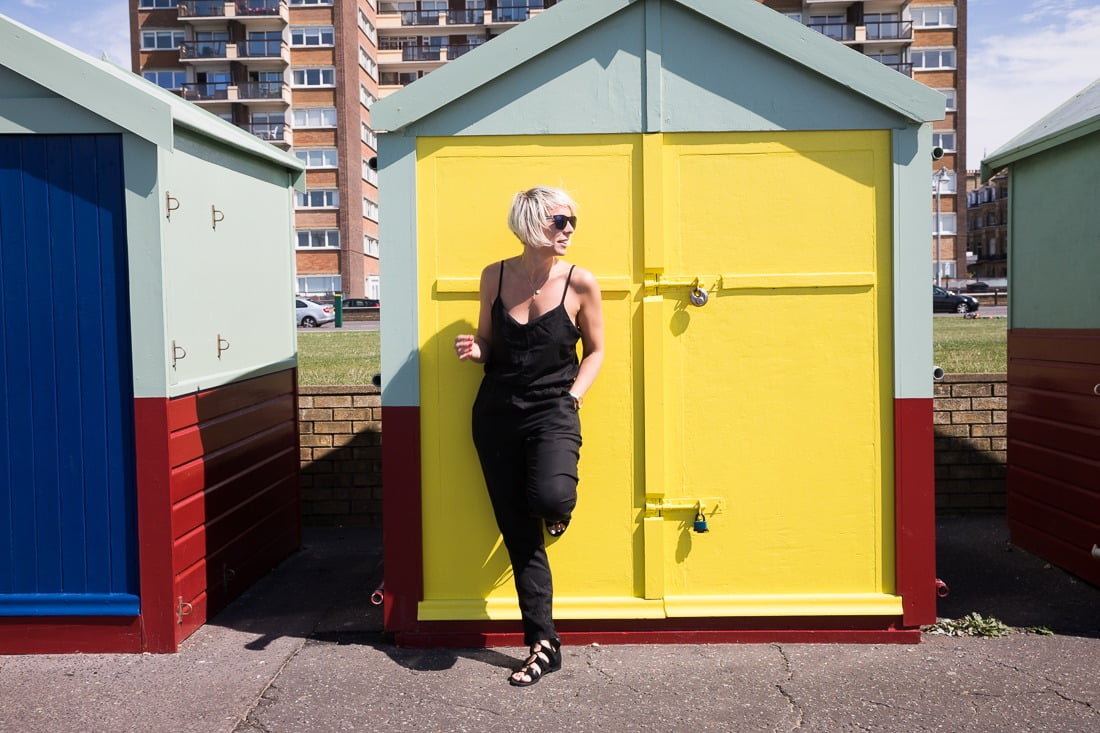 As much as interiors is my life, I want my blog to chat about all things I'm passionate about – which included my love of fashion and love of clothes. Hannah and I did this photo shoot on a sunny Friday afternoon with Brighton beach huts as out backdrop. I had so much fun modelling and styling these 3 outfits.
I've worn vintage clothes for ever, and I know something well-made will stand the test of time. When I've wanted something new to wear, I've struggled to find sustainable clothing that had a great ethos, and looked good too.
That is why Vildnis are so me.
As a fashion brand they responsibility for the conditions of their workers and the impact making their clothes has on the environment.  You can tell from the paired-back styling, Ulla, has Scandinavian connection which runs through their capsule collection. What I love best is this is sustainable fashion that doesn't compromise on style. Just Take A Look.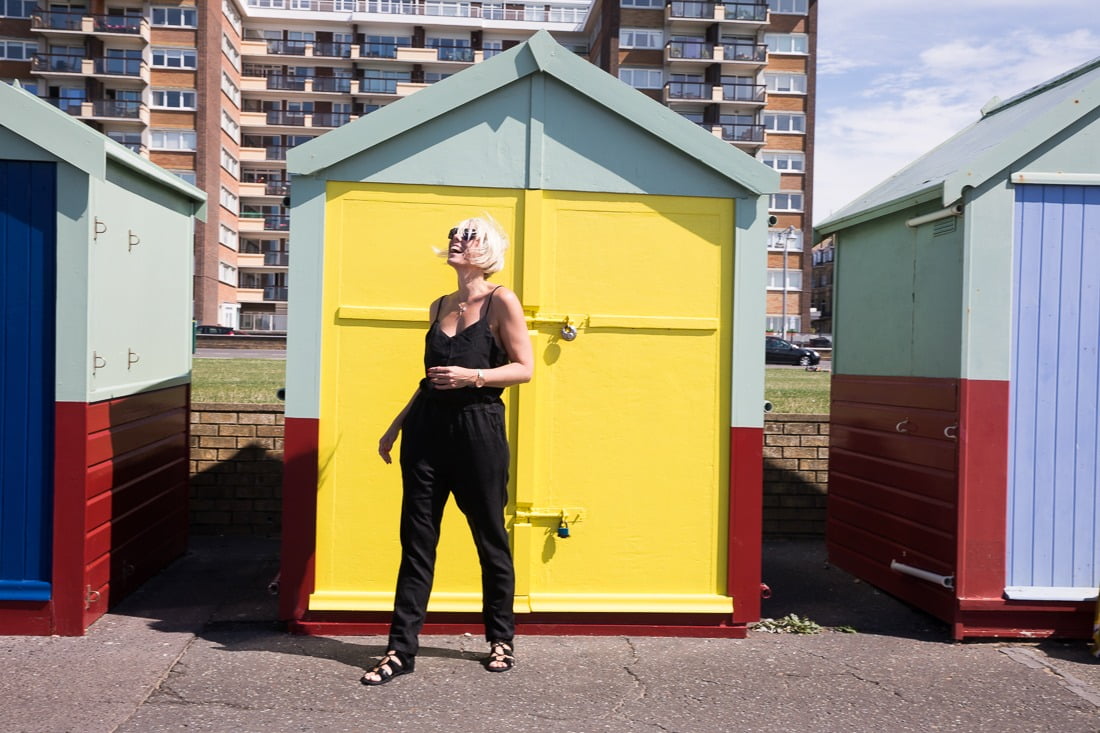 The Perfect Jumpsuit
A relaxed slouchy jumpsuit is one of my wardrobe staples. I pack at least one , sometimes three, every time I go on holiday. They look achingly cool on a night out. But are also ideal when I'm rushing around town for meetings. And I love slip on a jumpsuit for a lazy Sunday afternoon walk along the seafront.
That is why I had to shoot the Guincho Jumpsuit (£85). This little black beauty has been causing a storm on Instagram.
Made from woven tencel, this jumpsuit hangs so well and would flatter any body shape – even a big bum like mine. I've loved wearing it with my (second-hand) Urban Outfitter Gladiator sandals and my Orla Kiely eco-shopper.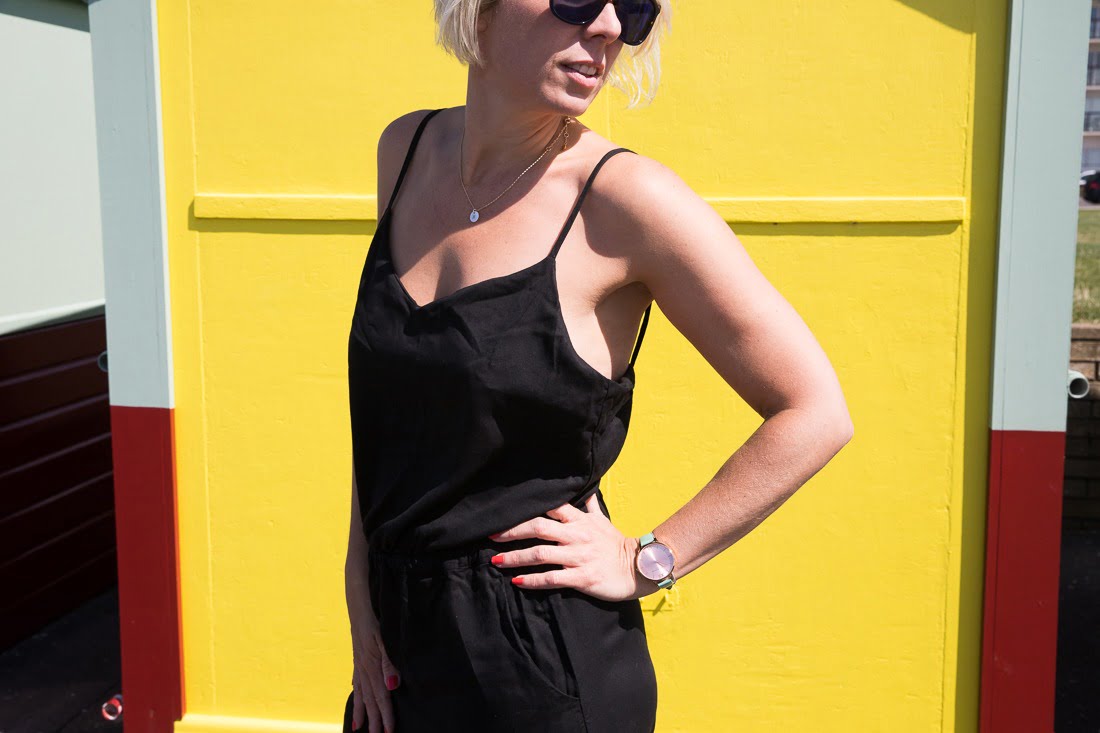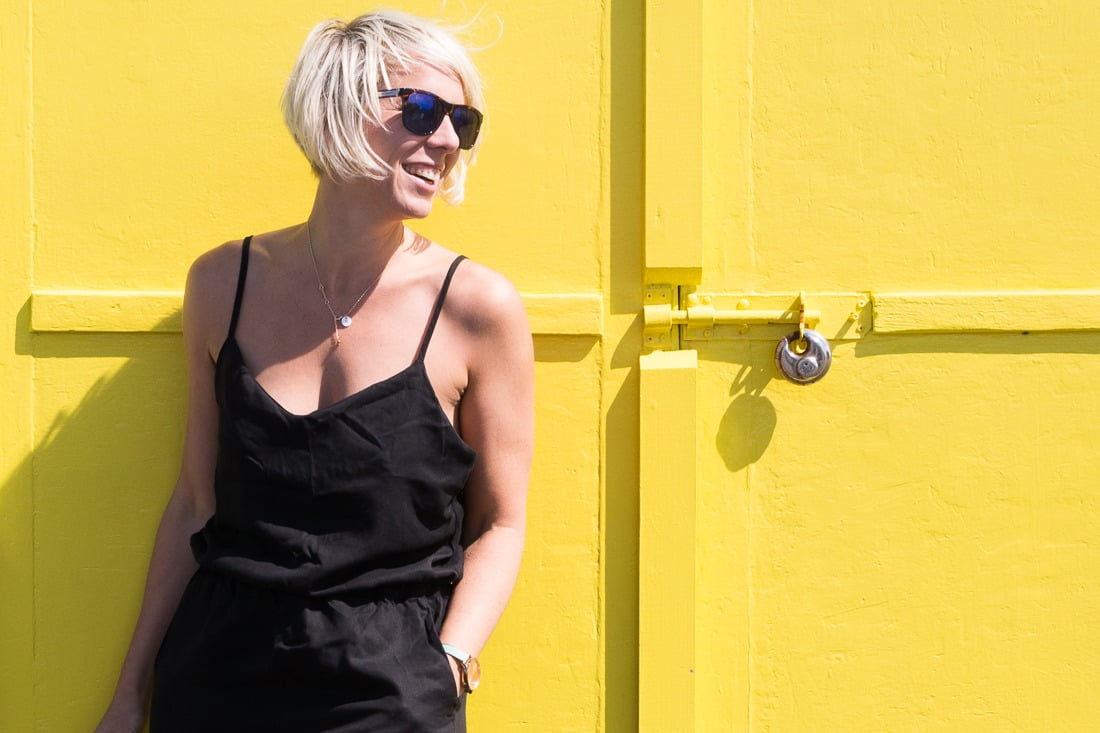 What Ethical about this look?
Made from a low impact materials – Tencel – is made from wood pulp in a closed-loop system that reuses water and chemicals.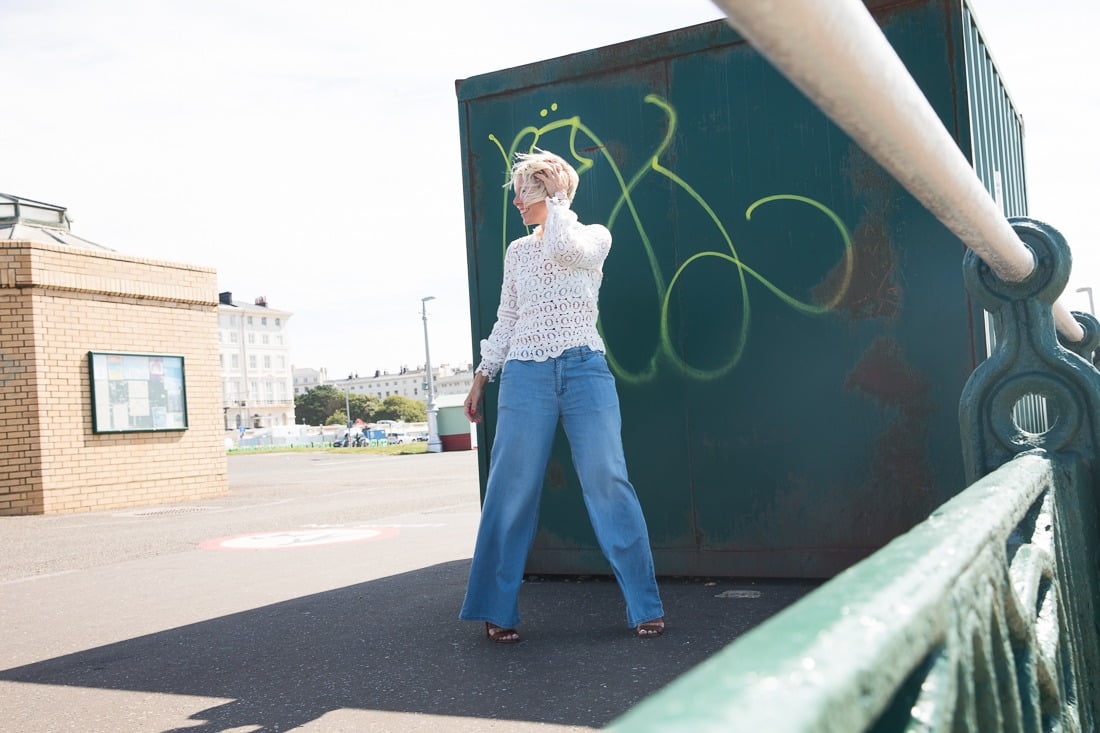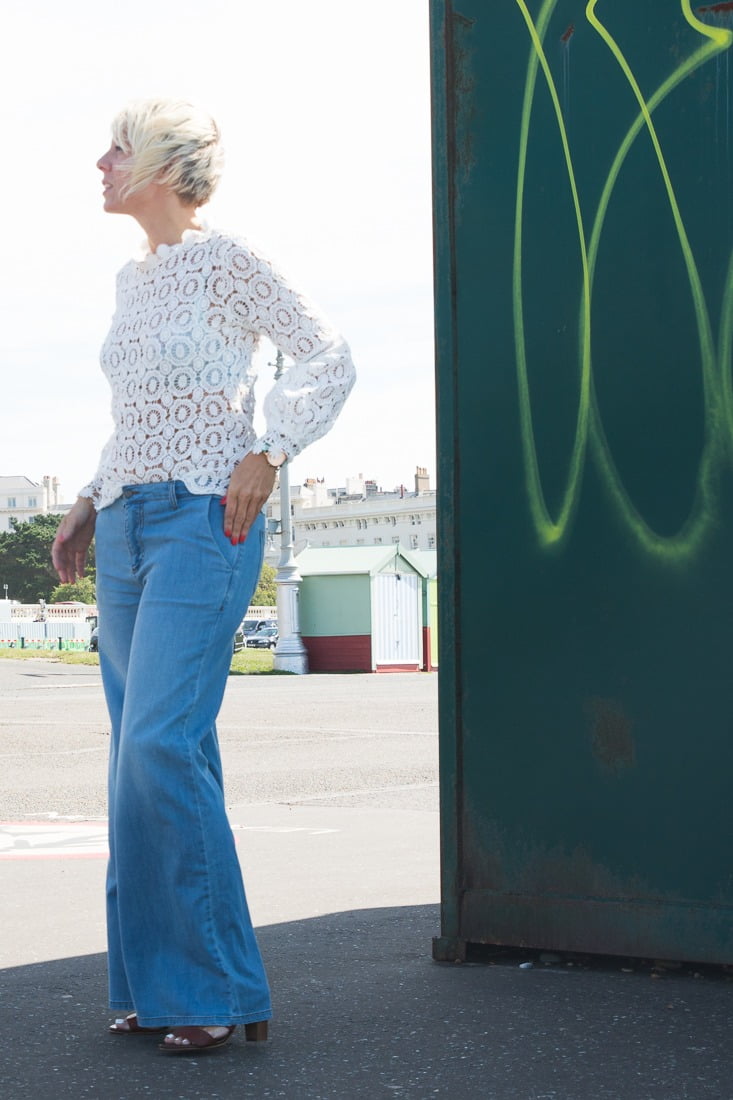 The Retro Jean
I never thought I'd see myself in flares but these Kenting jeans talked me into it! The denim is super soft and – oh my – they are so comfortable to hang out all day in. The pocket stitch 'V' detail on the pockets gives them an edge.
At £68 they are cheaper than some jeans I've seen on the high street. They have a durable quality to them so they look and feel that they are made to last.
I wanted to make these jeans look soft and pretty – which is more my style. I teamed them with a Victorian style lace top (vintage) and a pair of stacked tan heals (pre-loved). I'm dying to wear this look out on a date.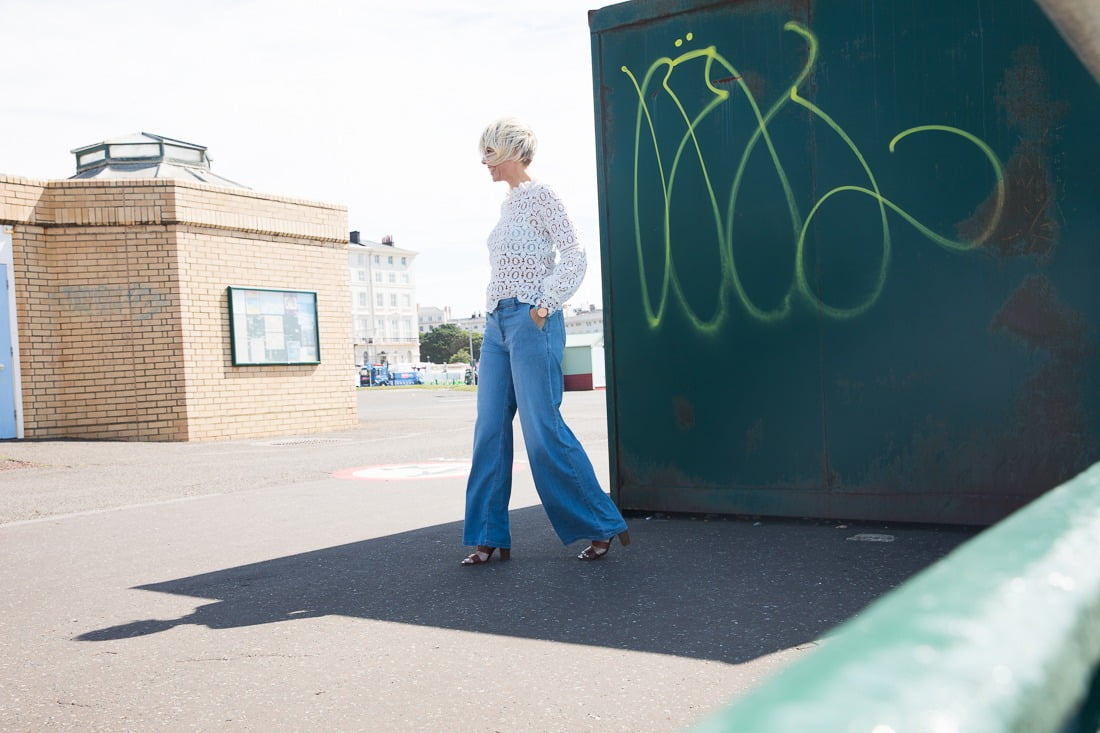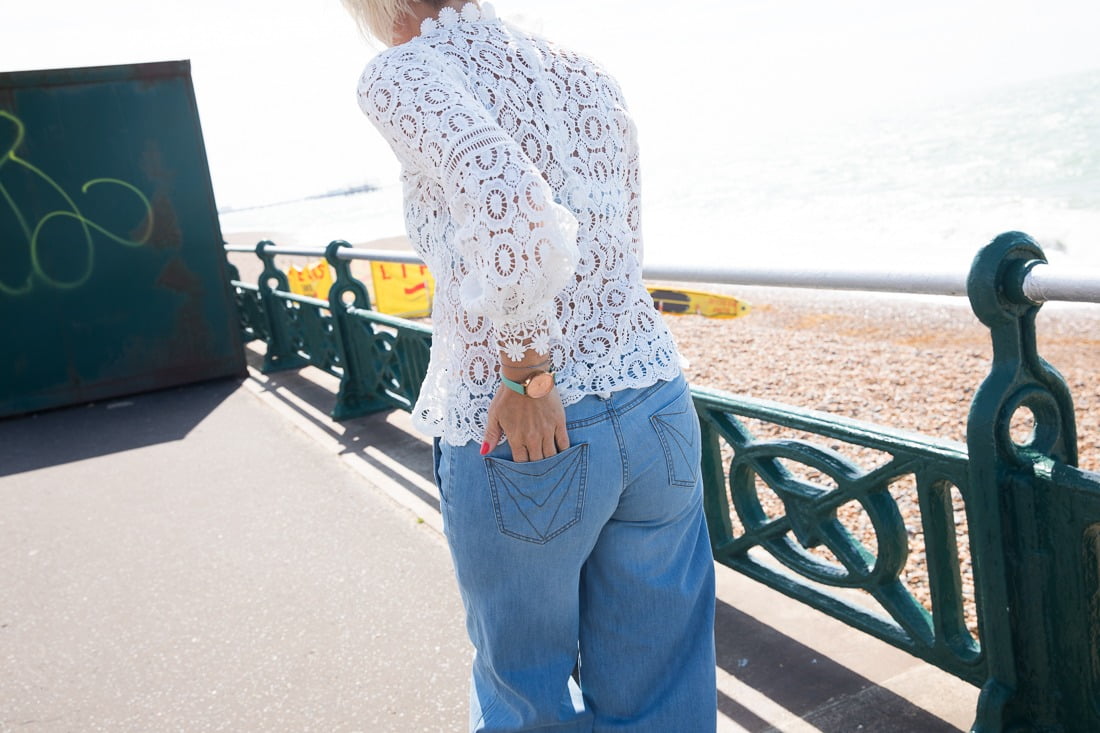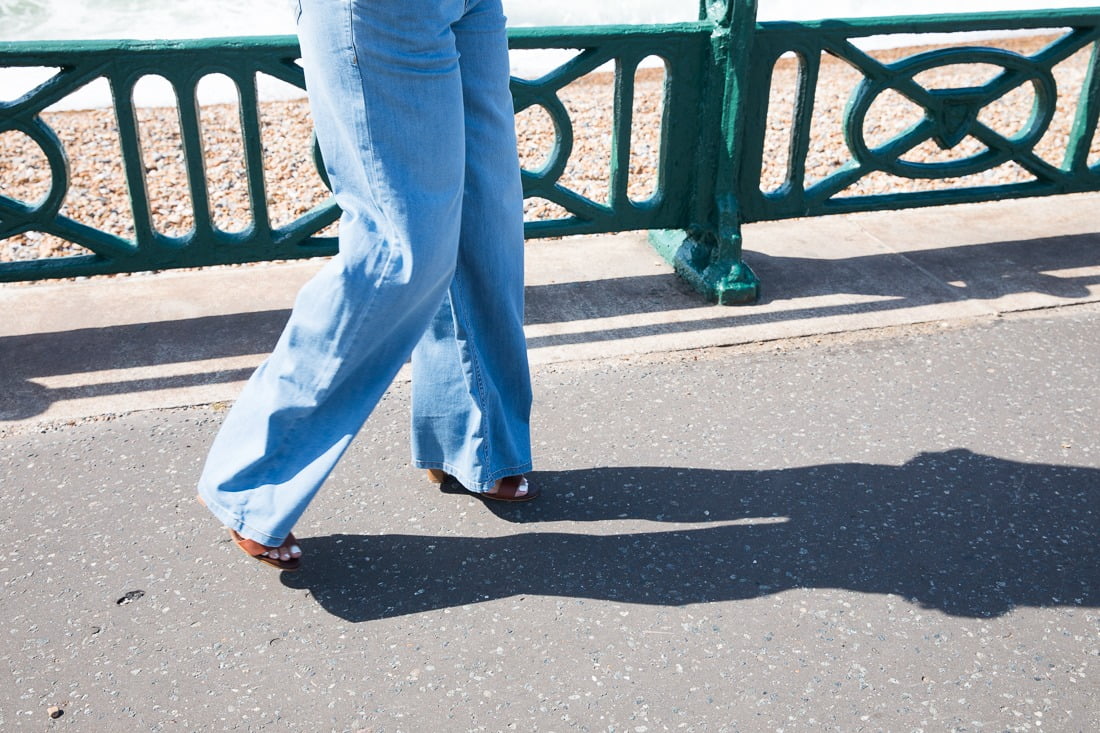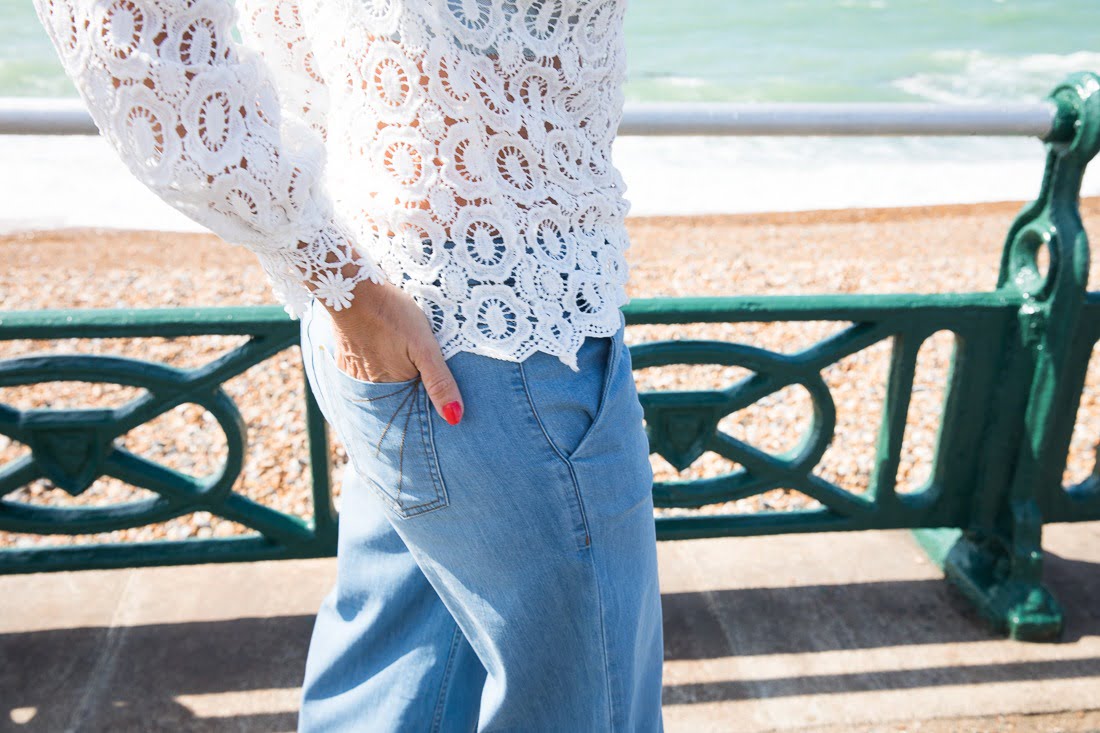 What Ethical about this look?
The jeans are made from organic cotton and elastane denim. Organic cotton is grown using natural fertilizers instead of pesticides.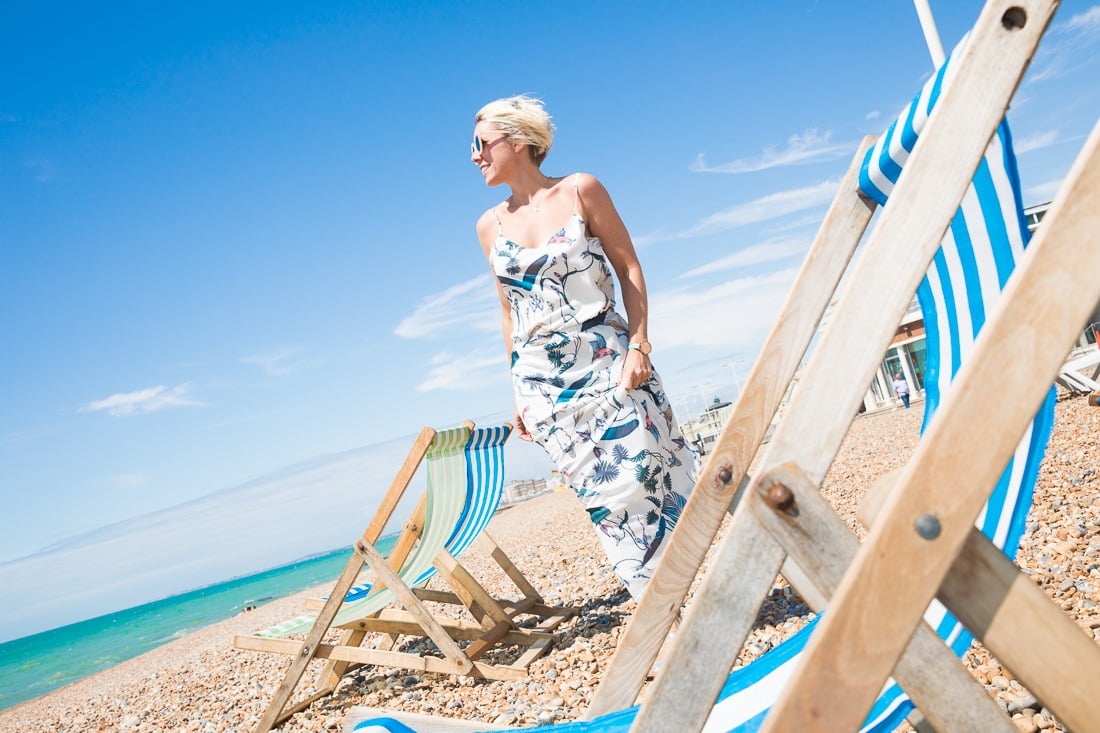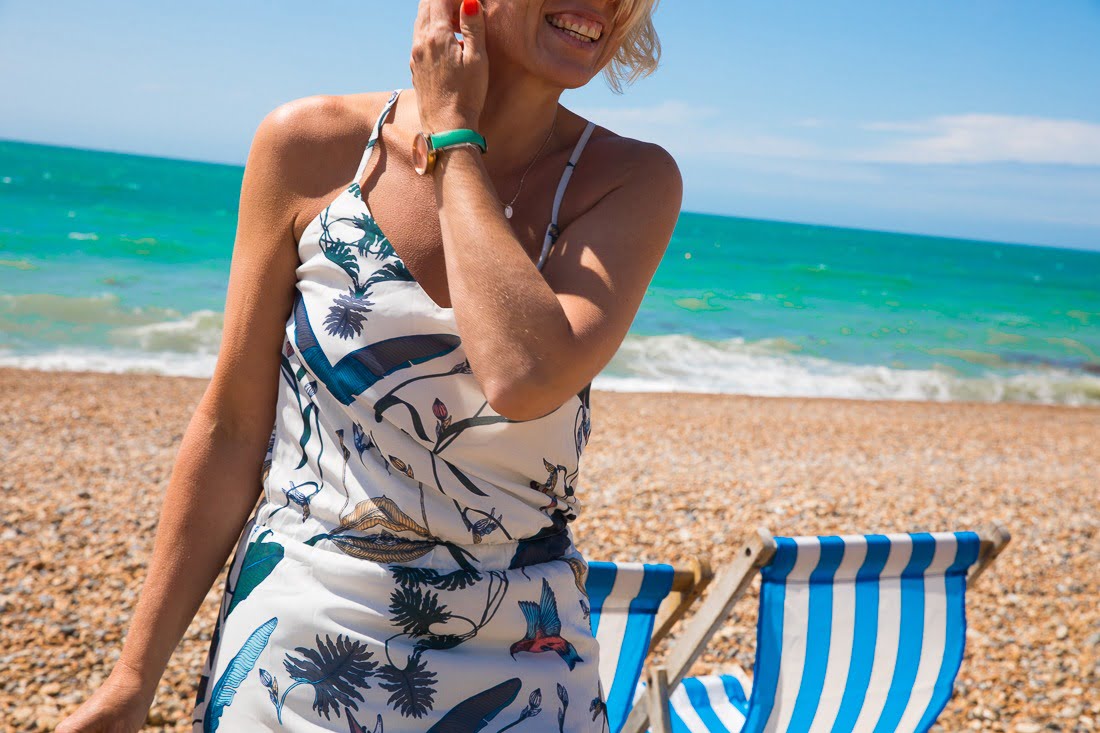 The Maxi Summer Dress
When it comes to summer parties, like wedding or birthdays, I always struggle with wearing something that looks dressed up but not to dressed up that I feel self-conscious. I love the all-over print of this Toruguero maxi dress (£90) which is in my favourite colour mix of blues with pops of pink.
The low V-neck stops it makes it feel really racy/sexy while the relaxed fit gives it a laid-back look. I've gone for a relaxed daytime look with silver sandals from Morocco and a pink pair of sunnies (you earn a gold star if you can spot Brighton's Pier reflected in them!). I would be tempted to team it with a denim jacket for the evening.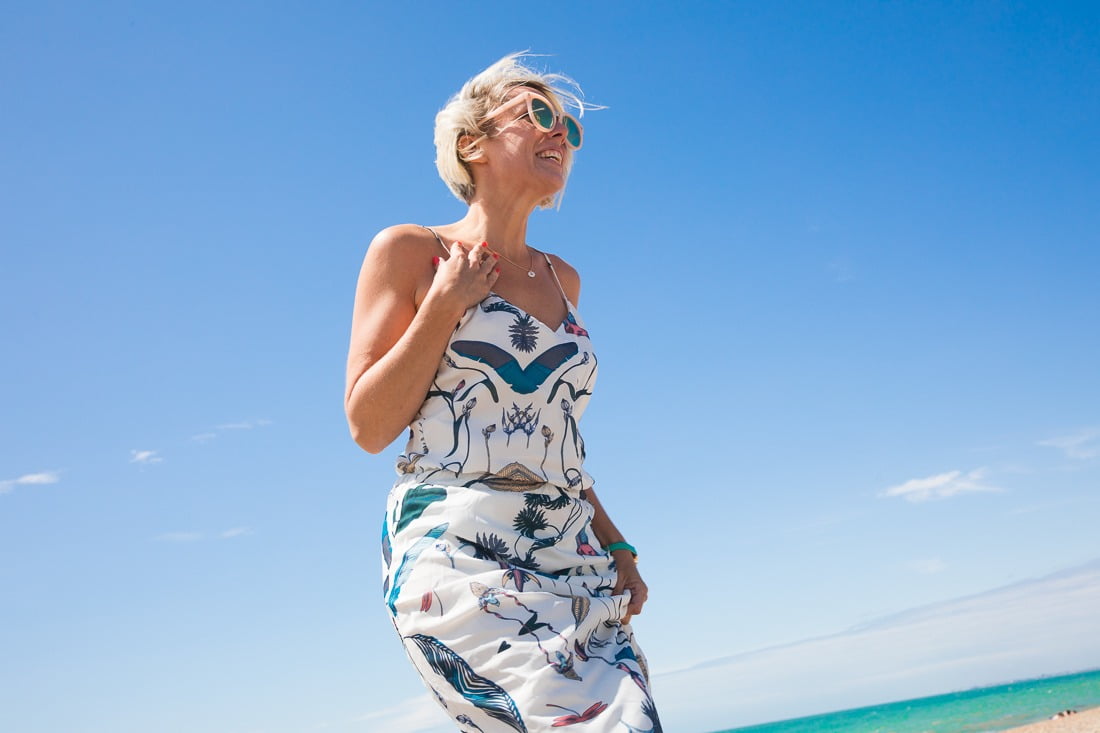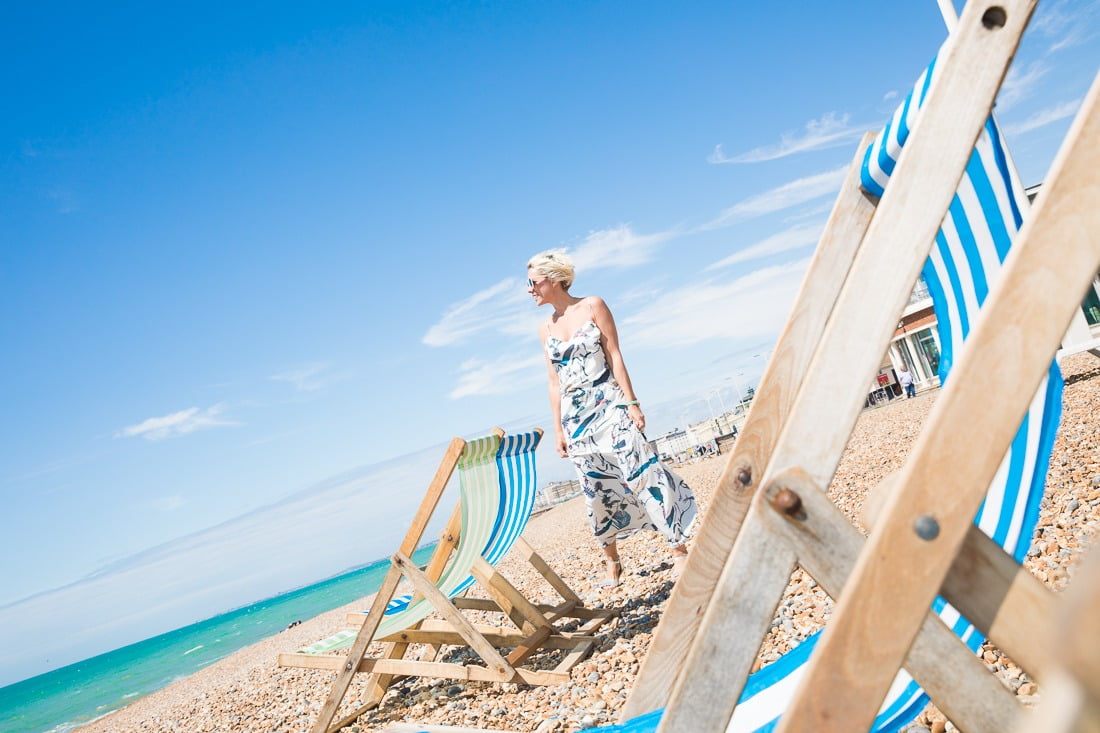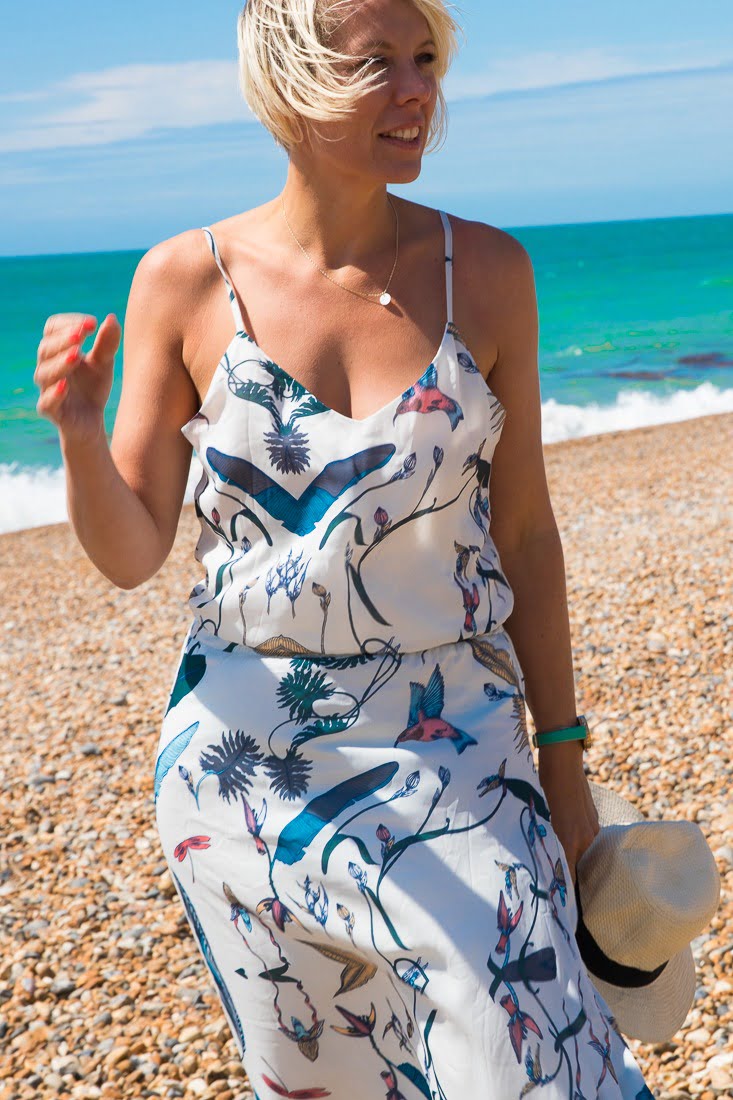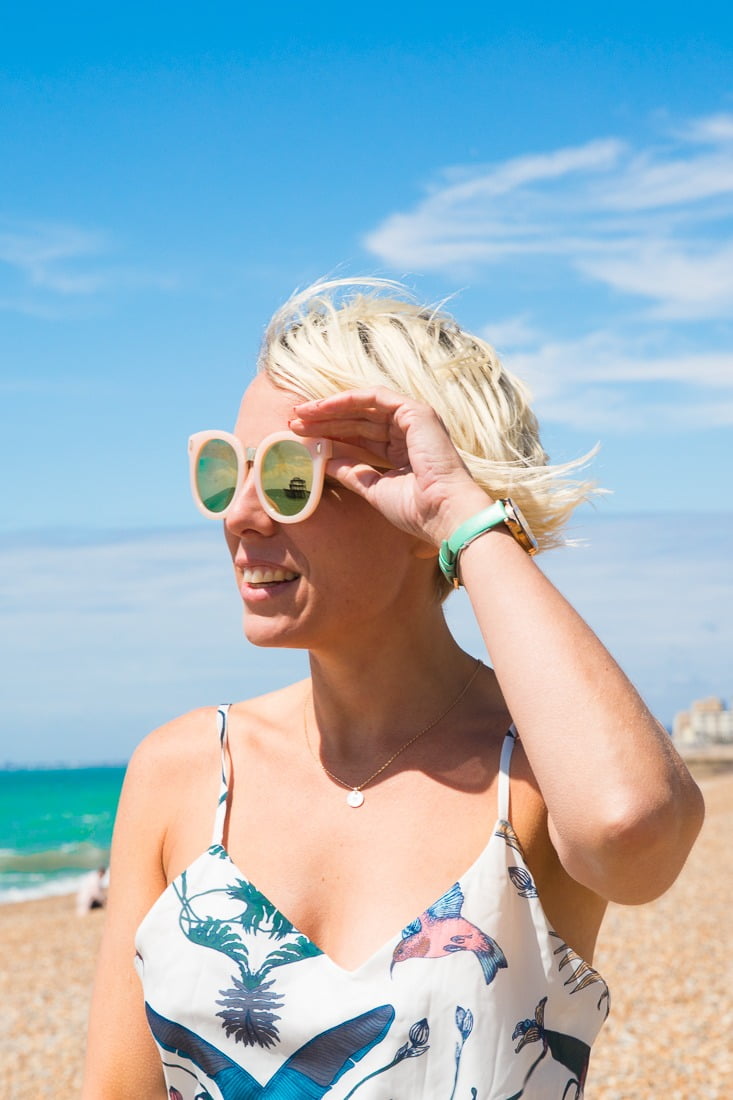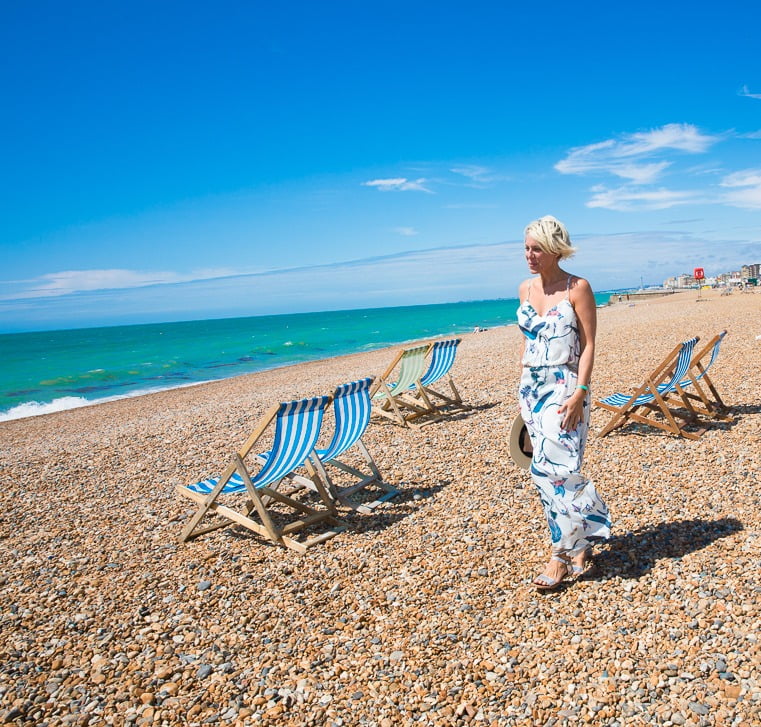 What Ethical about this look?
The design is digitally printed which has a low environmental impact. And the sheer lining and the soft chiffon fabric overlay are made from recycled plastic bottles. Reusing plastic bottles to make polyester reduces the amount of waste that goes into landfills or the ocean.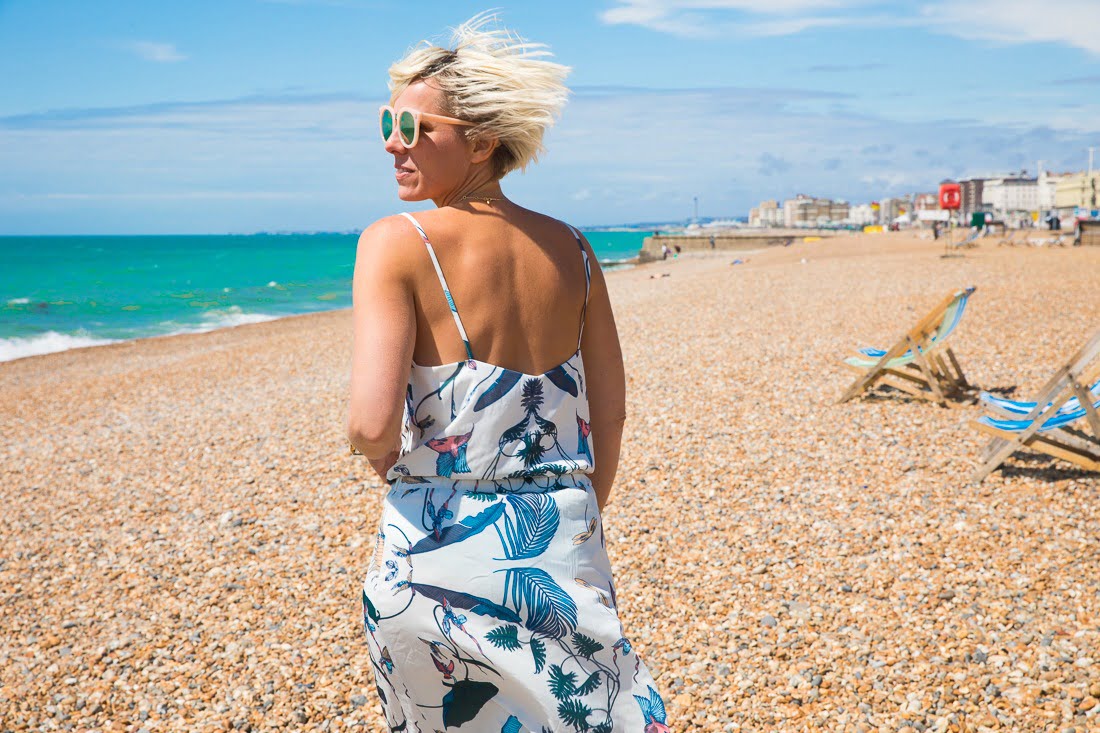 I'm chuffed to bits that my first fashion shoot is with a brand that is trying to reinvent the fashion industry. A huge thank you to Hannah who made me look like far cooler than I am. Her photos are amazing!
What do you think of this post? I hope you love it as much as me. Over the next few months, I'm going to be brave and branch out writing more posts like this which cover everything I love from clothes to food to my home, of course. I'm in the middle of writing a post about how to be happy and content in your 40s, as well as tips on setting up for first shoot for your blog. I hope you will come with me on this blogging journey as I share more of me with more of you.
Love
Maxine x
Photo Credits to Hannah Sherlock // Instagram // Miss MiniScram
** Disclaimer. This is a collaborative post. All opinions are mine. Please seek permission before using any of the images above.