Looking for inspiration on how to decorate your little ones bedroom? You've come to the right place. Today, I'm sharing my cool decorating for gender neutral kids' bedrooms! I've got three room schemes that your little ones will love as much as you.
This post is in collaboration with Happy Beds.
Decorating Ideas For Gender Neutral Kids' Bedrooms
In 2019, gender neutral kids' bedrooms are becoming more and more popular. Why? Well, it could be that you have siblings sharing a bedroom or you don't know the sex of your baby ahead of time or you want a decor that will last. Or maybe want to avoid stereotypical decorating gendered colours of pink and blue.
Whatever your reason, there are lots of ways to decorate a gender neutral kids' bedrooms that any boy or girl (or both) would love. Today, I'm sharing 3 cool bedroom looks that will totally win you over!
Look 1/ For Little Explorers…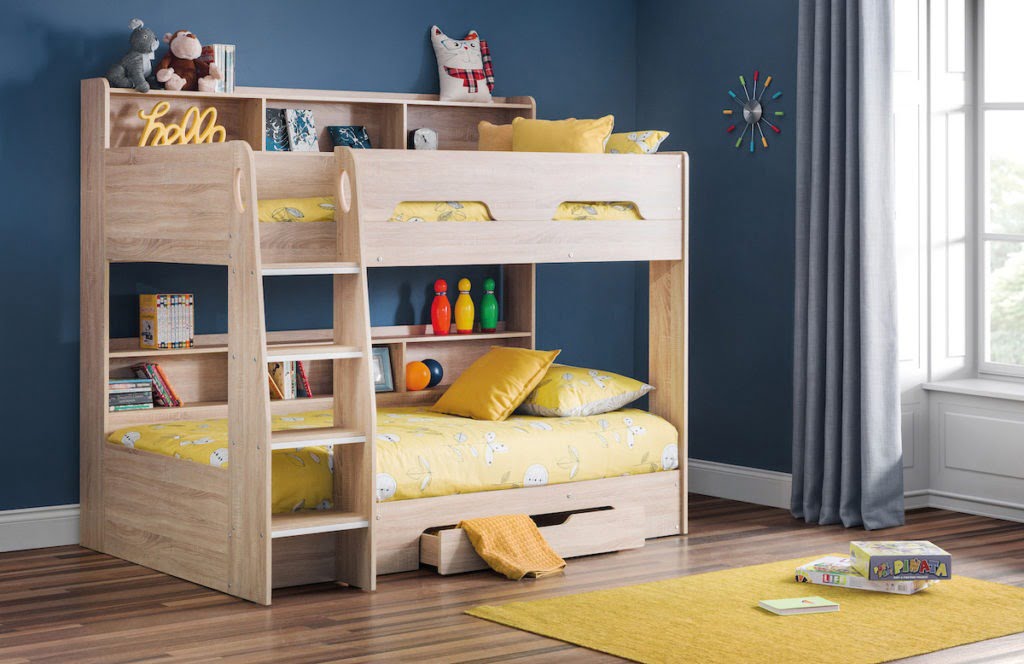 With gender neutral kids' bedrooms, colour is key! Avoid baby pinks and blue and instead go for a more varied colour pallet inspired by the colours of a rainbow. Dark walls look great in adult spaces, and can look edgy and cool in kids' rooms too. By being more open with your colours means you can shop for accessories in any shop (not those just aimed at children).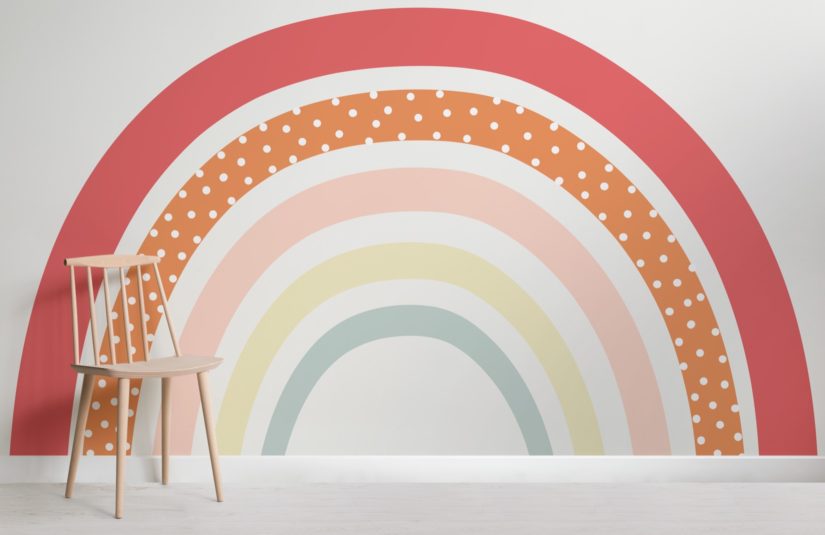 If you want to add character to the decor, wall decals are the thing you're looking for. Either cute drawings, quotes or even the alphabet will personalise your child's decor. This rainbow ticks all the boxes for a gender neutral kids' bedroom
Fill your walls with a bright mural like this beautiful rainbow. The curved shape will make a bold statement in an all-white room. Just imagine white furniture, painted floorboards and this WOW mural adding a splash of colour. And when you're little one is all grown up, you can peel it off and start again.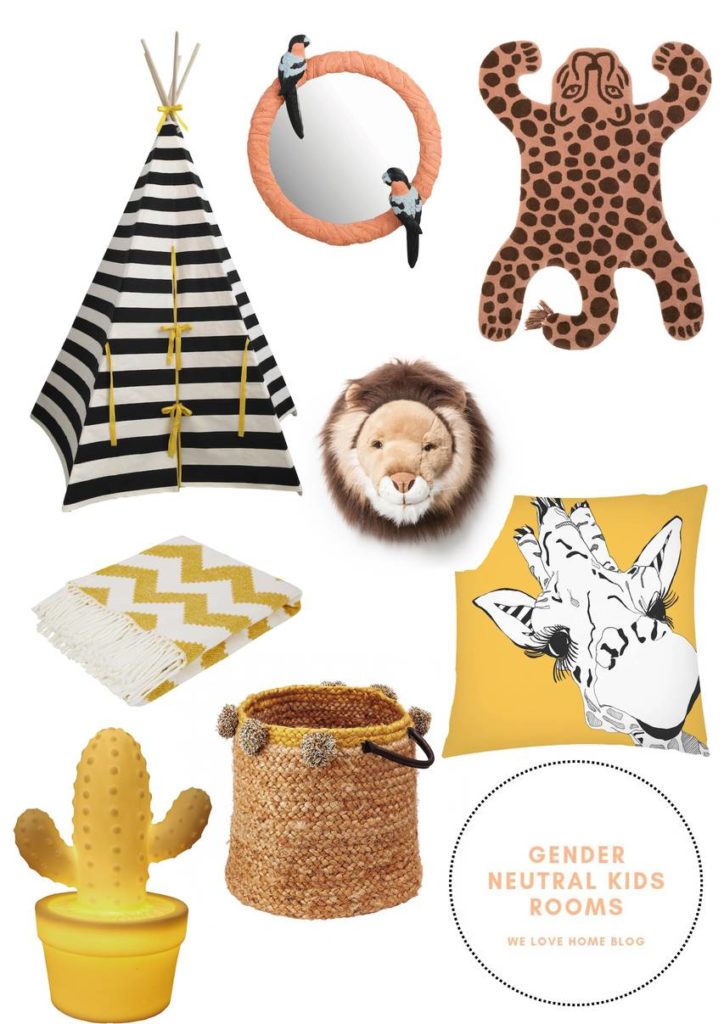 Shop The Look
Parrot mirror and rug both Amara. Zig Zag Throw and basket, both TK Maxx. Tiger face and Striped tent, both Cuckooland.co.uk. Cactus light, Getting Personal. Giraffe cushions, Art Wow.
When dressing your gender neutral kids' bedroom, look for a mix of fun storage solutions, cute lighting and animal themed motifs. This cute striped tent is perfect for rainy days when the bedroom becomes the playground. My favourite item is furry lion for the wall. Your little one think they have entered Africa with this cute decor scheme.
Look 2/ For Treehouse Adventurers…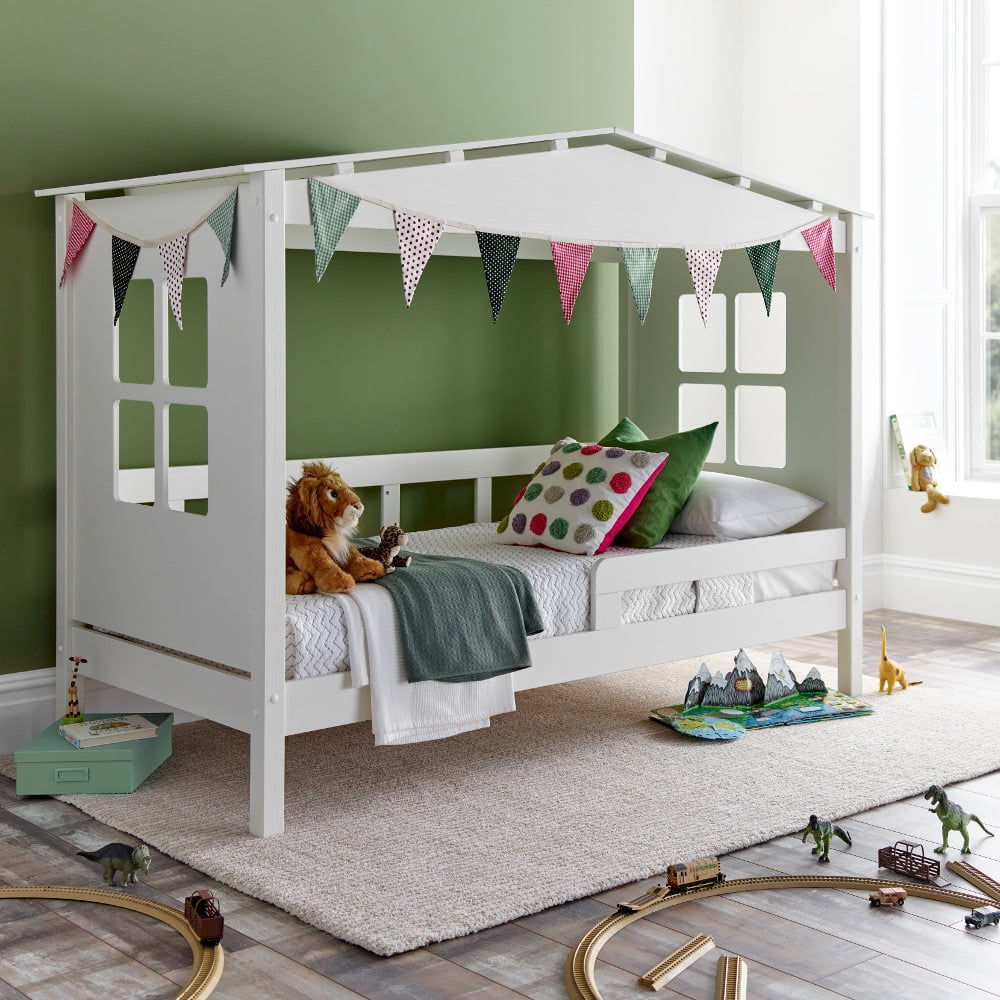 Green is a great colour for kids' rooms. The shade encourages creativity, calmness and relaxation – what a better wall colour for your child's bedroom. If you want a bedroom that acts as a playroom too, then a house-shaped bed is just the ticket. Hang some fairy lights around the edges for night time sparkle. Your kids will love having their own indoor playhouse or treehouse.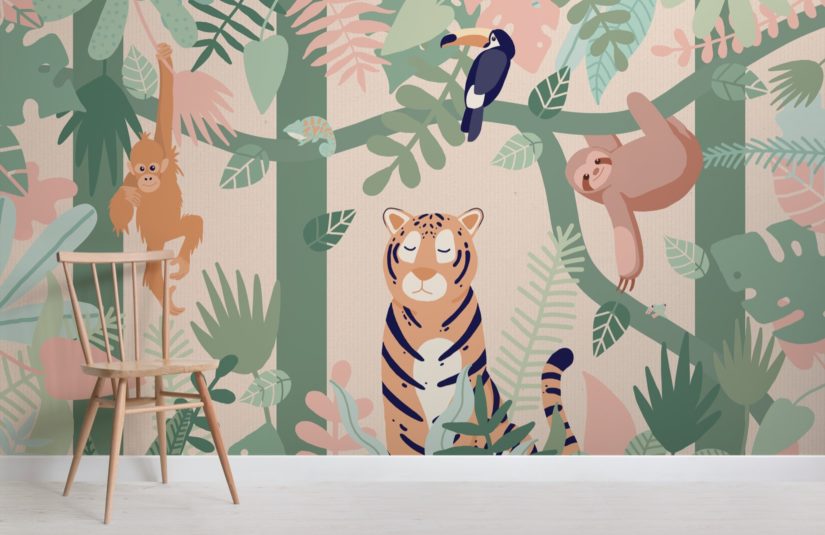 Loving the playful nature of this wallpaper (just look at that tiger's face!). The pinks, oranges and leafy greens of this print with the cute characters are ideal for a child who loves to play.
Tropical prints have been a big interiors trend for grown-ups for at least two years which means that you'll find a huge range of accessories on the high street at fab prices.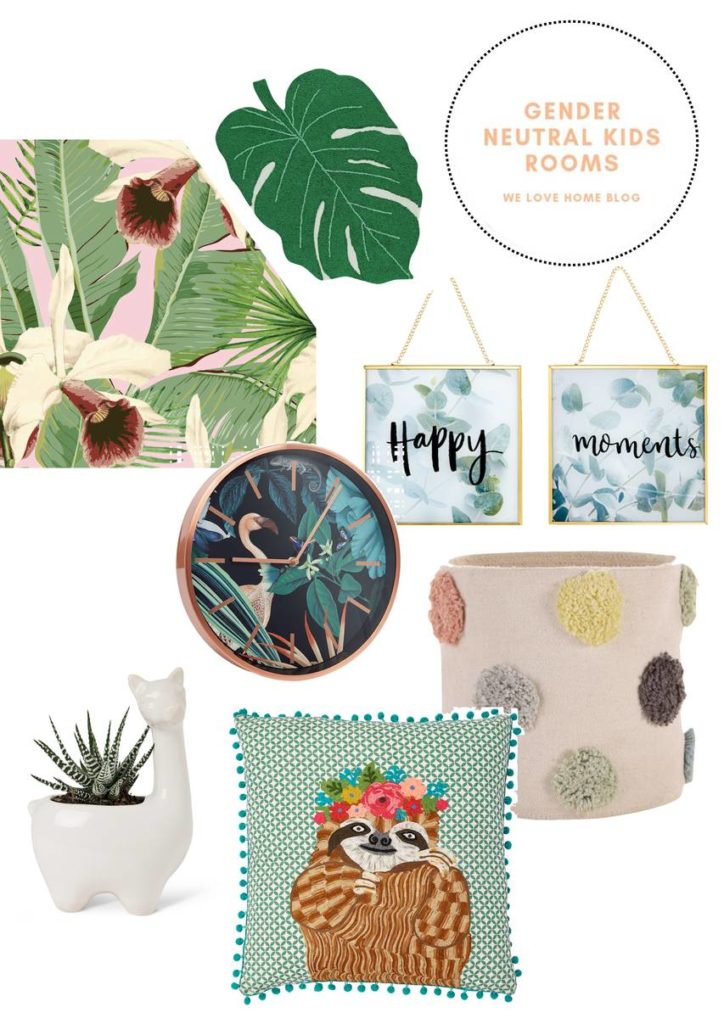 Shop The Look
Flamingo clock, Marks & Spencer. Wallpaper, Mind The Gap. Lama plant pot, Tiger Stores. Palm rug, Cuckooland.co.uk. Framed prints, Very.co.uk. Sloth cushions, Homesense. Pom Pom basket, Debenhams
Children love cushions (even if it is just for pillow flights) and this sloth one is top of my list for a gender neutral kids' bedrooms. A potted plant in a cute lama pot is ideal for a shelf or bookcase. The pom pom basket is great for housing bedtime books or toys. Add palm prints to the floor with a fab leaf shaped rug. I love this look, don't you?
Look 3/ For Animal Lovers…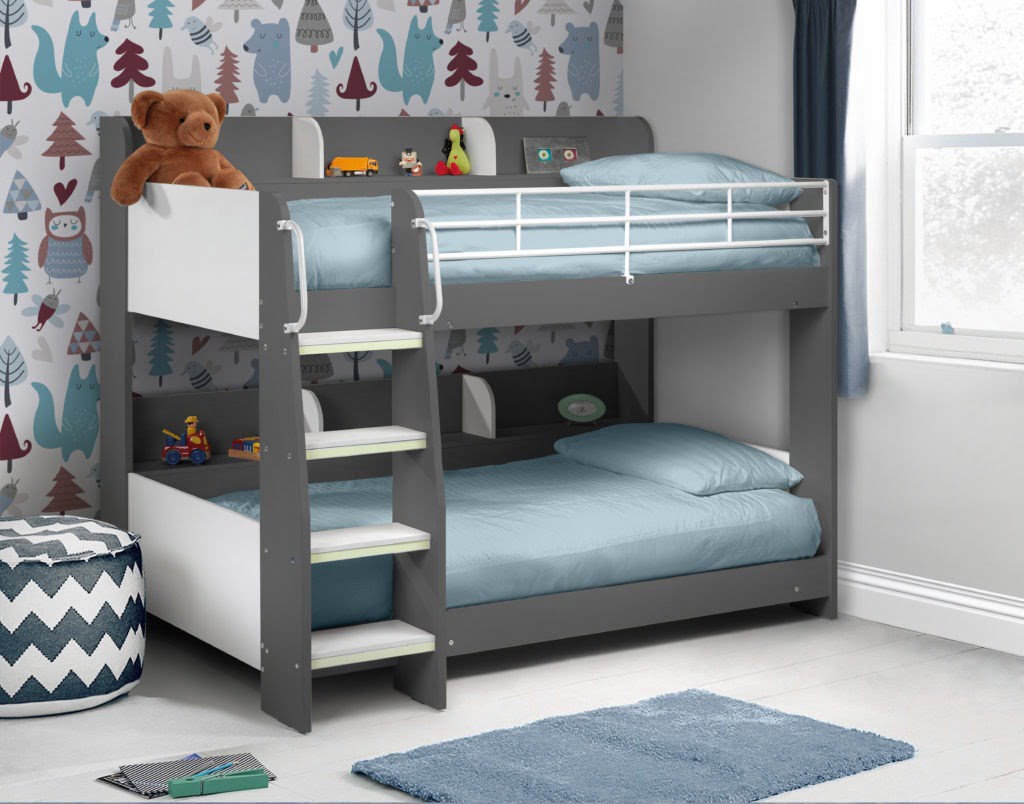 If you want a gender-neutral bedroom, look for gender-neutral furniture in natural wood tones, black, white or even painted grey.
Match simple, neutral furniture with walls painted in bold patterns and add pops of color with accessories like cushions and throws. That way you'll get a bedroom that grows from toddler through the tweens, and works perfectly for boys and girls.
Cute animal printed wallpaper in burgundy, teal and dark brown with animals with simple designs give this gender neutral kids' bedroom a distinctly Scandi look and feel.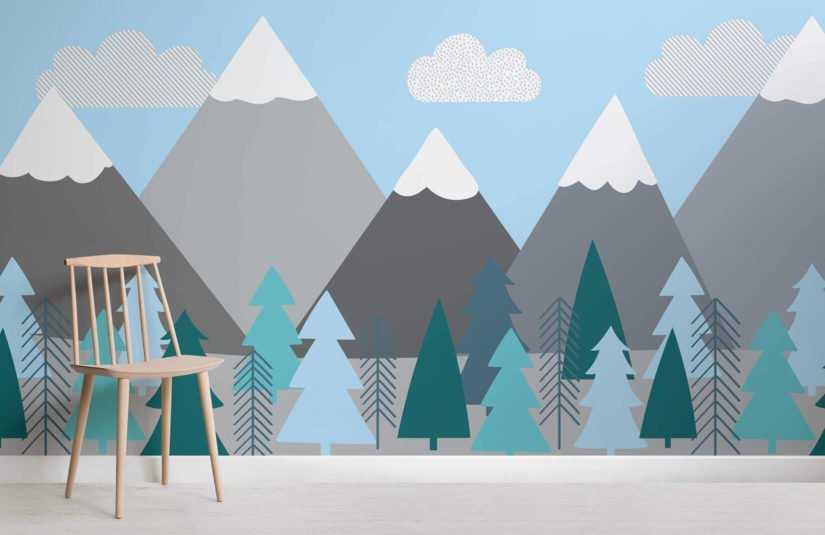 For a child that loves the great outdoors, give them a mountain scene to gaze at when they are reading in bed. You can paint on a hilly landscape design with masking tape but for us who are short on time, this mural is perfect to update your walls in an afternoon.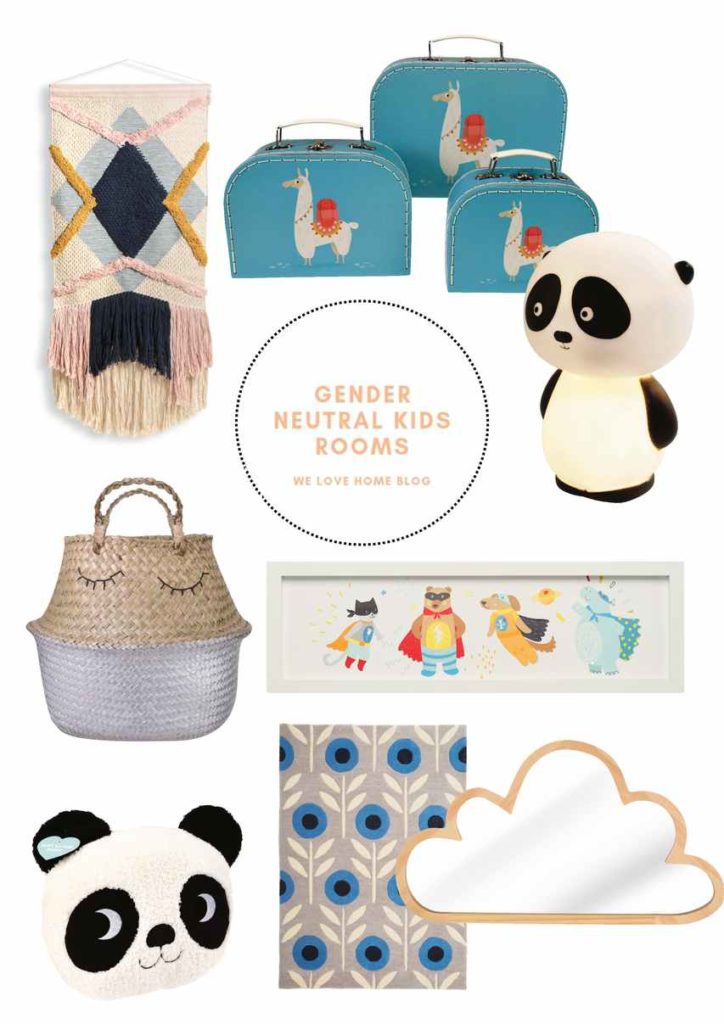 Shop The Look
Wall Hanging, Oliver Bonas. Mini suitcases, Panda Cushion and Panda Light all Rex London. Framed Print, M & Co. Basket, Next. Flower Rug, Very.co.uk. Cloud Mirror, Debenhams
I've gone a bit panda crazy with this look with the light and cushion. I've got my eye on the winking basket for my own room – perfect for laundry. The cloud is in fact a mirror which will look great hanging next to the woven mural. The flowery rug will get the parent's approval too!
What do you think of these 3 Gender Neutral Kids' Bedrooms?
If you have loved these ideas and want to try them out at home, then please pop a comment in the box below.
In the meantime, save the image below on your Pinterest board to save for future.
You May Also Like
Cheat Your Way To A Fab Children's Party
16 Easy Decor Ideas For Kids' Rooms
Turn Your Favourite Instagram Photos Into Art