With all this lovely weather we have been having, now is a great time to get out in the garden and enjoy your outdoor space. There's nothing better than relaxing in a lounger, enjoying a meal outside or having a snooze in the shade. But what outdoor furniture do you buy for your ever-so-small garden space?
This is a commissioned post by furniture experts Fishpools.
In this post, I'm sharing my pick of clever outdoor furniture – ideal for small gardens, patios and outdoor spaces just like mine. All in time for summer parties and outdoor entertaining.
Best OUTDOOR FURNITURE For Summer Parties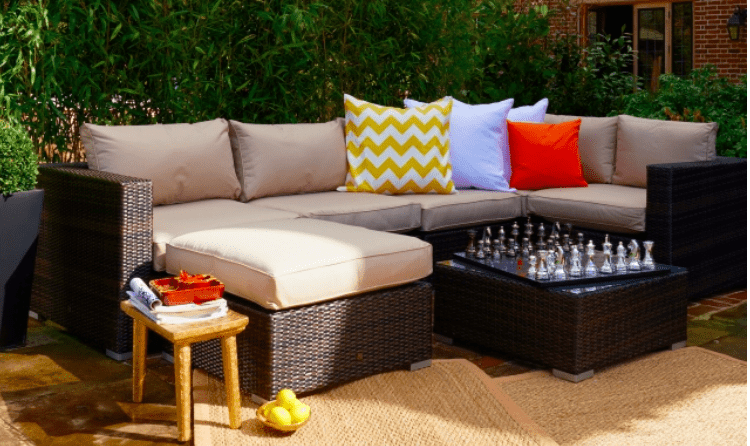 Summer was made for parties and there is no better way that chilling out with your mates than on a fab corner sofa, deck chair or outdoor furniture.
This good-looking outdoor furniture set above is made up of 3 corner sections, 2 middle sections, footstool and a coffee table – which you can move around as you need. And don't stress. the squishy cushions are shower proof just incase you leave them out all night. You can't beat a sofa and coffee table set up for turning a garden into an outdoor room!
Best For Overlooked Patios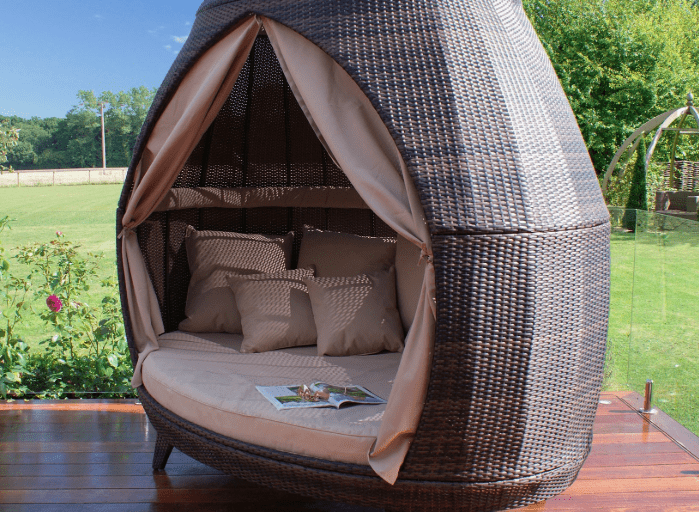 If you live in a built up urban area (like me) then think about investing in a cocoon daybed. This one is designed to give you lots of privacy so you can totally chill out with no worry that your neighbours are looking at you.
This chair is designed to live outdoors all year round which takes the stress out of storing outdoor furniture it in winter months.
Best outdoor furniture For Sun Bathers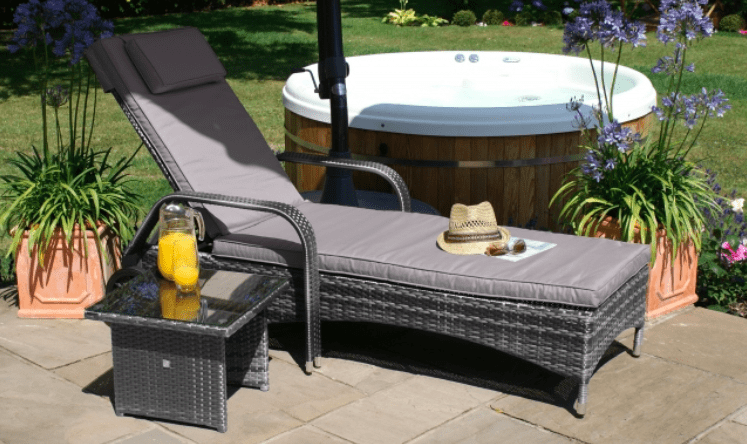 If idea of a dream summer is spent mostly relaxing, reading or even snoozing in the sun, then you'll need a sun lounger fit for this purpose. Choose one with an adjustable back for ultimate comfort.
Make sure your lounger slot onto your patio, garden room or on your decking without taking up too much space. Look for a small side table for cold drinks – which will avoids any nasty spills or accidents.
And, of course, the hot tub is optional!
Best For Busy Small Gardens
If you love spending all your time in your garden – hosting parties, entertaining friends and relaxing in the sun, then you need to buy a flexible garden furniture set that will rise to every occasion.
The set above sits four guests around the table and it comes with four stools which means you can double up on the number of guests. With this set, a casual evening for four can quickly become a small party of eight with no extra furniture needed.
Best For Cocktails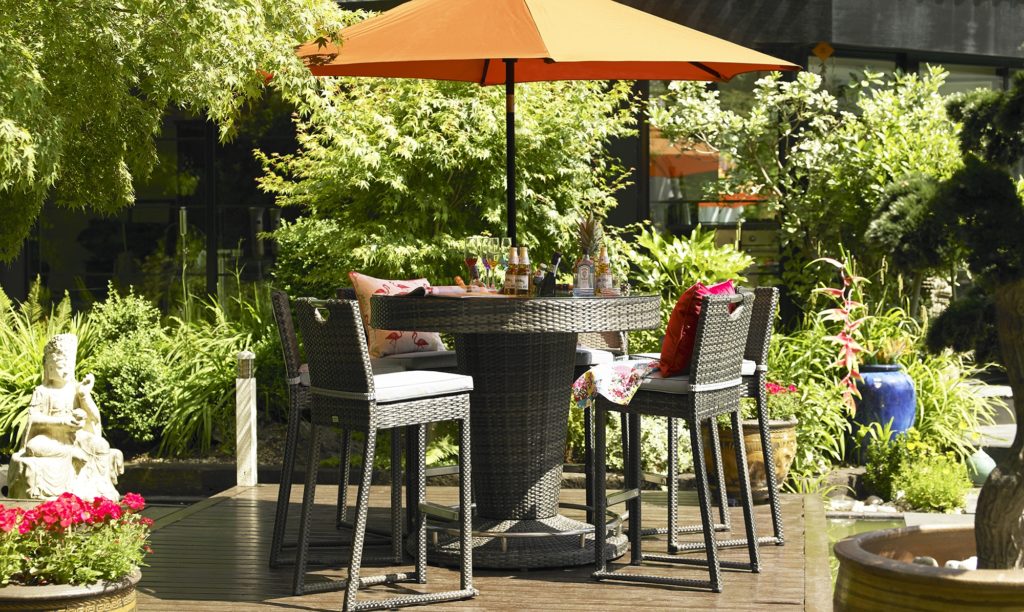 If you love a cocktail (or two) why not create an outdoor bar with this nifty round rattan bar set. This ready-made bar comes with a round bar table, 6 bar stools and with comfortable shower proof cushions with removable washable covers. T
he bar table has a toughened glass top with ice bucket which is very handy for chilling beers or wine. Make mine a mojito!
Best For Extra Storage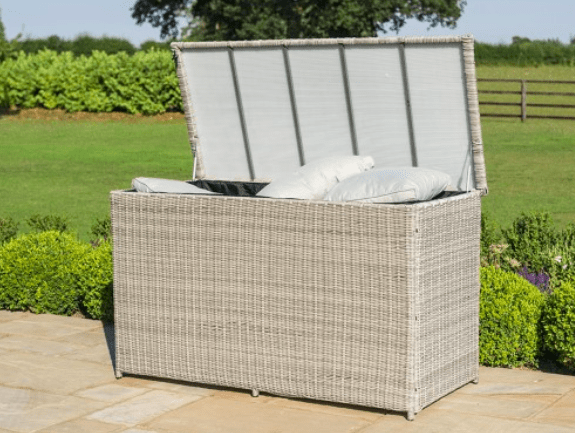 Small gardens need smart storage solutions to make them work harder. A large roomy outdoor storage box is ideal for stashing outdoor cushions, recycling or your garden tools. I love this one with it's textured rattan finish.
Now you have nailed your garden furniture for your outdoor space – all you have to worry about is planning out your summer social calendar making sure it's packed full.
If you are looking for more garden inspiration take a look at Fishpools range of outdoor furniture click HERE.
What do you think of these ideas? I would love to know in the comments box below.
You May Also Like
Outdoor Dining Ideas For your Garden
Clever Ideas For Small Gardens
12 OF THE BEST GARDEN IGLOO IDEAS THAT YOU NEED TO KNOW RIGHT NOW!