Learn how to pick the perfect tiles for your next room makeover. There's loads of tile inspiration in this post as well as invaluable tips and trick. If you are thinking of going for tiles for your next home decorating project. Or are worried you'll make the wrong decision. Then follow my simple step-by-step style guide. Enjoy!
** Sponsored Post with Crown Tiles **
We all know that tiles are a key element in a most home makeover projects. Tiles can set the tone, colour and style of a room – and they give a polished, finished look if done right. If done wrong….well let's not go there!
Main Image | Mugat Floor Tiles
Unsurprisingly, choosing the right floor tiles and wall tiles takes lots of consideration. Picking the perfect tiles is not that easy! Tiling a room is a BIG commitment and you could be living with your tile choice for a long time. This definitely isn't a decision to rush.
What do you need to know to avoid costly mistakes? Well, careful planning and research are always crucial in designing a home renovation. But with so many tile designs and patterns on the market, it can be hard to know where to even start! In this post, I'm giving you my easy to follow 5 step-by-step guide to picking the perfect tiles for every corner of your home.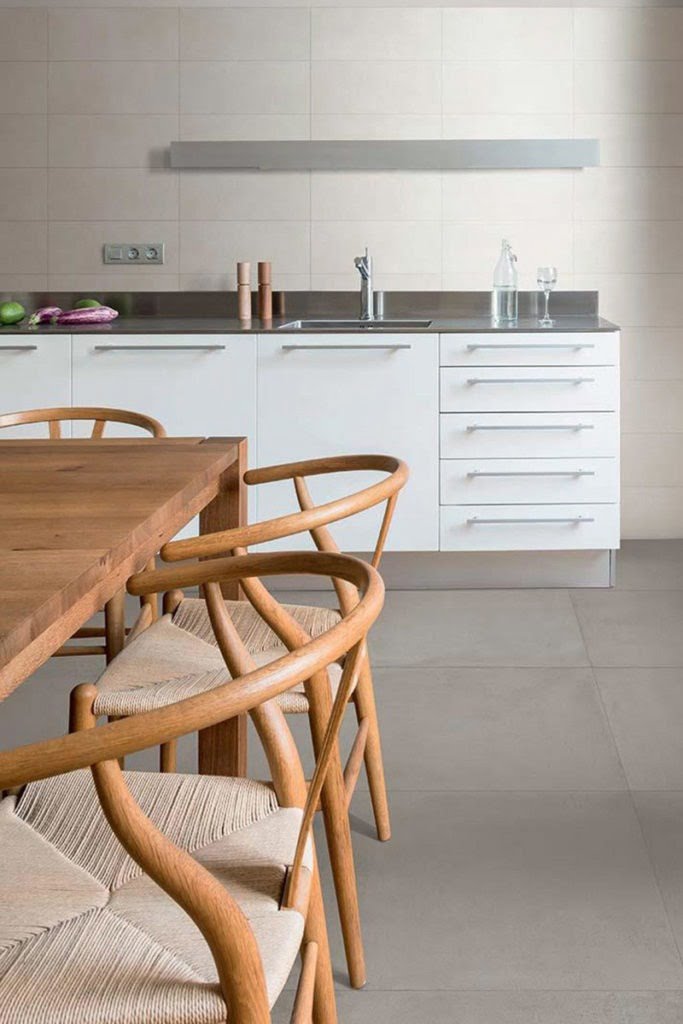 5 Steps To Picking The Perfect Tiles For Next Decorating Project
As you all know, I am obsessed with tiles in my own home. I have tiled my kitchen and bathroom (naturally). I've also tiled my hearth and my staircase risers. And now I'm considering my hallway walls too. In my honest opinion, there when it comes to my own home there is no such thing as too much tiling!
Based on my own experience, I have picked out the 5 steps I went through when picking the perfect tiles for my own home – and sharing with you below. Plus take a look at these cool tiles I have picked out from Crown Tiles.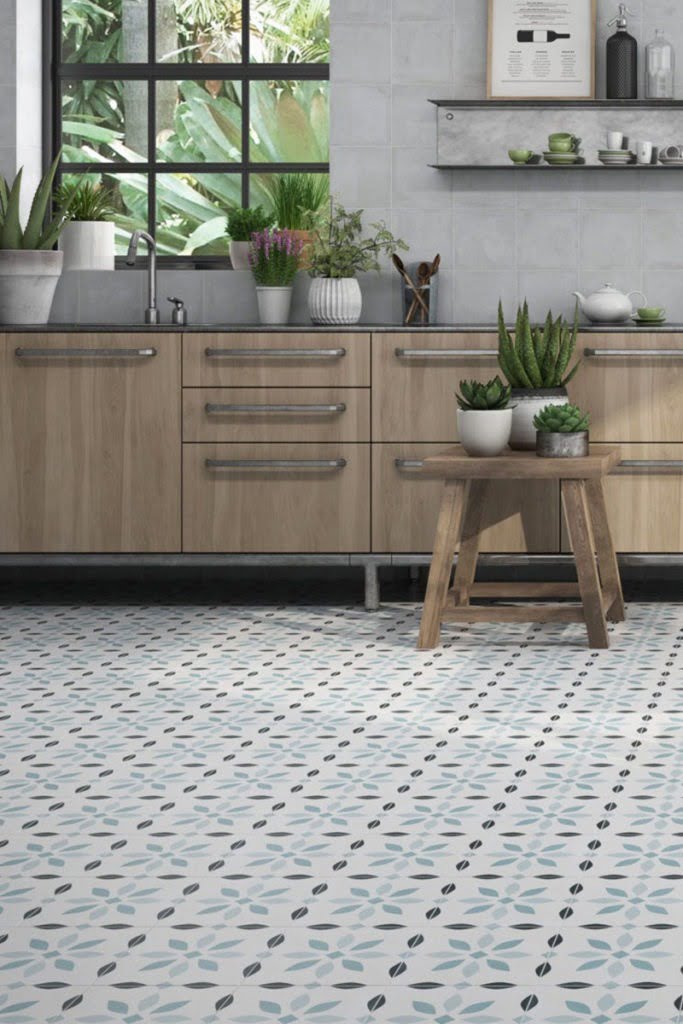 Step 1. Deciding where to lay your tiles
Different tiles are suitable for different purposes. For example, some tiles are designed for wall only, others for floors and some can be used for both. Some tiles can even be used for indoors and outside too.
Ideally, before you begin your tiling job, you need a strong idea of where you would like your tiles to go and what effect you want to create.
If you want a harmonious look, you may want to use the same tiles on the walls and floor. To add drama, you may want to mix it your styles with a feature wall tiles and then a different coloured floor tile. Maybe you want to bring the outdoors in? Then you'll want to use the same tiles in your conservatory leading out into your garden. If you want tiles with texture, or ones with shine? Or even matt ones? So many questions!
One way to do this is by creating a mood board of ideas to help hone down your choices. If you want to learn how to create a mood board – click HERE.
Once you have mood board in place, you will be more confident calling in tile samples. What a tile looks like on a computer screen compared how it will look in your home can be very different, in both colour and texture.
My tip is to always leave your tile samples in your space and live with them for at least a week or two. Make sure you move them around your room so that you can see what they look like in different lights. The result may surprise you!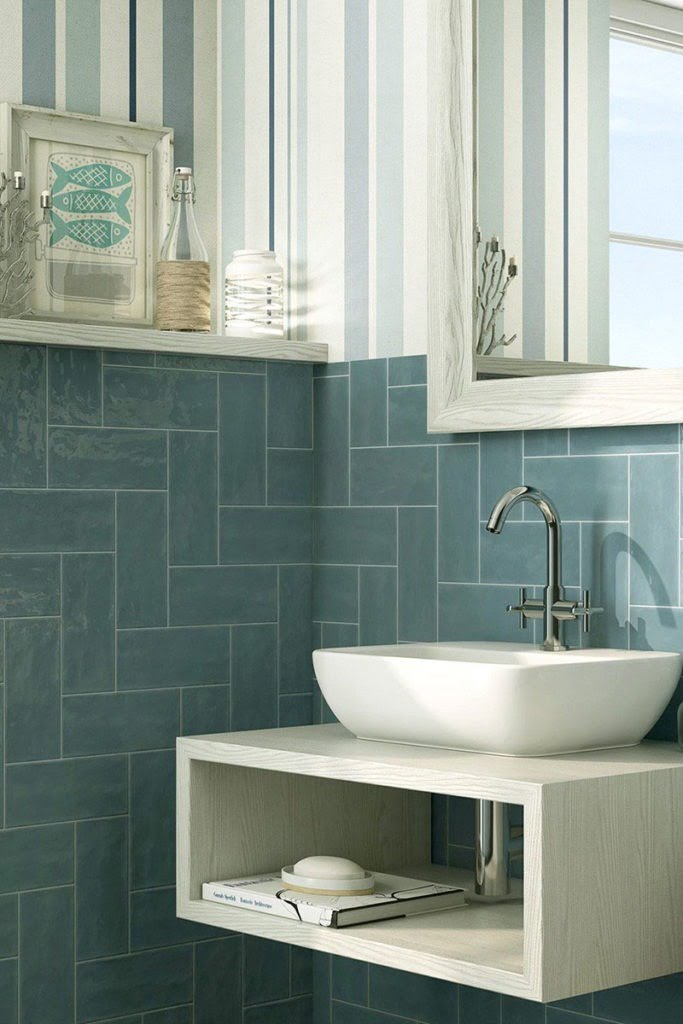 Step 2. Choosing the right coloured tiles
The colour of your tiles will have a huge impact on the look of your room. But how do know what shades to go for? Well, there are a few simple tips:
All white tiles can look bright and light – great for making a small room look bigger. But they can be hard to keep clean.
Dark grey or black coloured tiles will add drama to your space. They are great for busy homes as they hide the dirt but can make a small room feel dark.
If the space you're working with has a relaxed feel, then naturals are a safe bet. Cream, beige and natural stone tiles will give a calm look. Warmer tones, like terracotta, will give a Mediterranean look.
If you want to add glamour, then you need to pick a metallic tile.
Grey tiles make a great backdrop if you want to add contrast with pops of colour.
Coloured tiles – especially on the walls, will set the tone of your room. Brighter colours will serve to open a space while richer colours will appear more dramatic.
At the end of the day, it is totally up to you which colours you go for. I love monochrome tiles but you could be just as passionate about pink or natural tiles. One rule to follow is to make sure that your wall and floor tiles work well together. Then, you'll want to the rest of your room to complement your tile choses.
You'll also want to think about the colour of your grout too. If you want to create a seamless effect, large tiles with matching grout are perfect. If you want your simple tiles to stand out go for a dark or coloured grout.
In my own home, I went for black grout with my white metro wall tiles. In the bathroom and kitchen this was key as lighter grout can be prone to staining. If I had my time again, I think I would go for a sage green grout to pick out the colour of my kitchen units.
Even if you do go for a classic white tile – the grout options are endless. Just let your imagination run wild!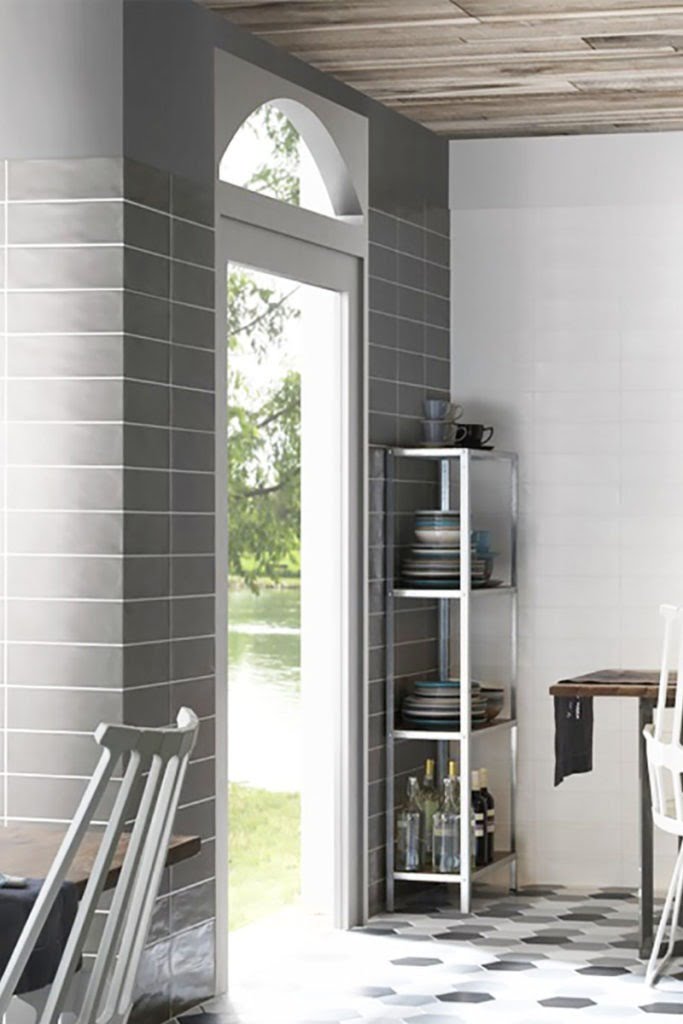 Step 3. Choosing the right size and scale
Next we've got to think about scale. What size tiles you pick very much depends on the impact you want them to have in your room.
If you're looking to make a room appear larger then bigger tiles are better. Small, mosaic styles are ideal if you're tiling a surface that may not be perfectly straight (like my tile risers). Rectangle tiles can help to make a narrow room feel wider – if laid across the narrowest part of the room. Square tiles are great in modern home but if you live in a period property with wonky walls, you may want to pick one with an irregular shape.
Think about the proportions of your room. If you are a little worried then the basic rule to follow is to put bigger tiles on the floor and smaller on the wall. Or the same size on both wall and floor. Please never put small tiles on the floor and then larger on the wall (please, please, please) as it just looks out of proportion.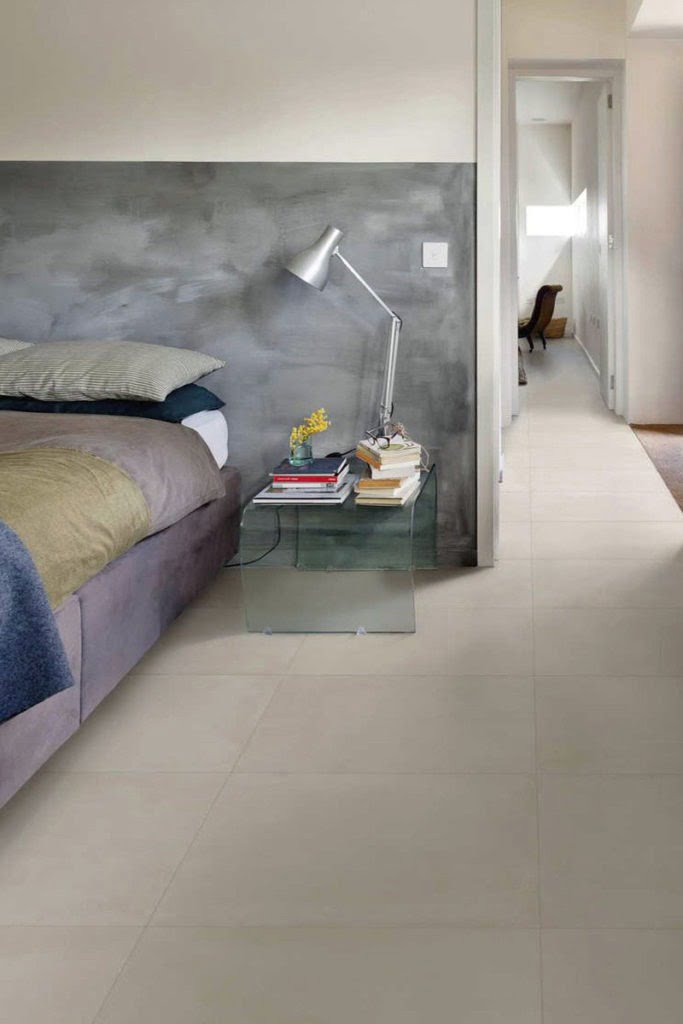 Step 4. Buying ceramic or porcelain tiles
It can be hard to tell the difference between porcelain and ceramic tiles. Their manufacturing process is indeed very similar but the two have different properties.
The difference lies in the materials used and the firing process. Ceramic tiles are made using generic clay baked to reduce water content. Porcelain tiles contain only fine white clay and are fired at a higher temperature than ceramics. This makes porcelain tiles harder, denser and less porous.
As a result, ceramics are an affordable choice for walls in low moisture areas like living spaces or hallways. Porcelain tiles are naturally more durability and water resistance making them perfect for areas that are prone to moisture like bathrooms and kitchens.
At the end of the day, it comes down to budget too. Looking to quickly revamp your home in the short term? Then you'll want to look at ceramics. If you want a look that will last, then go for porcelain tiles.
On a personal note, I went for ceramics in my kitchen and bathroom. Three years down the line, they both look great. If I had my tile choice again, I would choose porcelain tiles in my kitchen.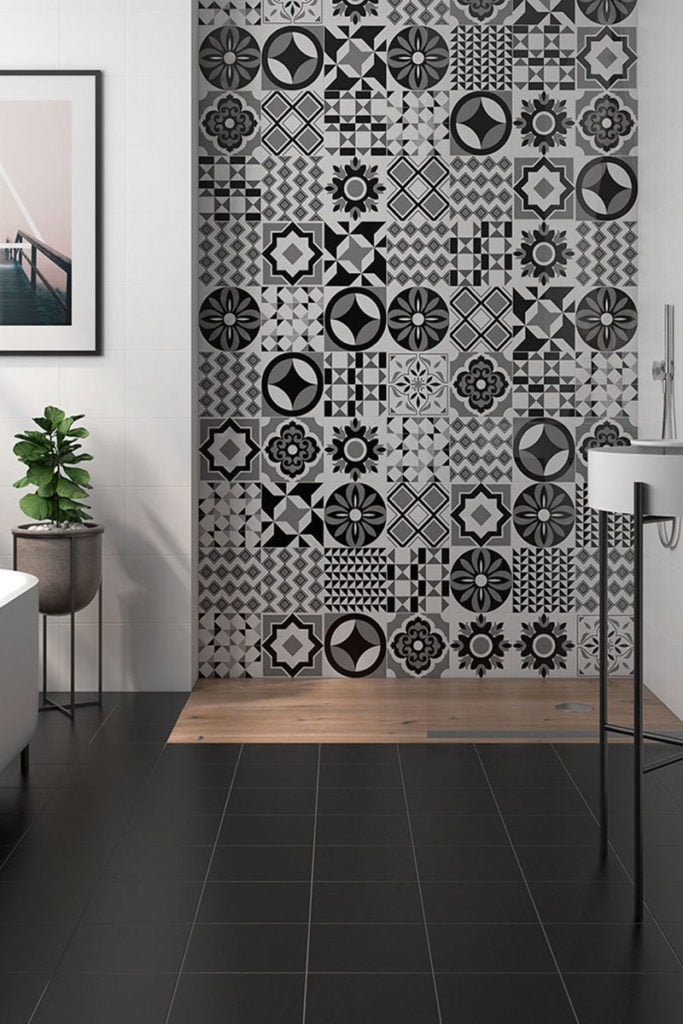 Step 5. To go for patterned or plain tiles
Now we are getting to the nitty gritty of picking tiling! Choosing a pattern or a plain.
If you're feeling bold, you'll want to use a funk patterned tiled in your plans. They're perfect for adding character to a design feature such as a splashback or border, or for creating a designated 'zone' in an open space.
Patterned tiles often create the biggest impact in isolated areas. In my own kitchen, I went for a very geometric design which I love. The busy pattern tricks the eye into thinking there is more floor space than there actually it! It's a great for a small home like mine.
If you want a more minimal look, then you'll want to go for plain tiles. These doesn't mean they have to be dull! Pick tiles with texture or a high gloss finish. I did a makeover on my friend's kitchen in very matt hexagonal wall tiles to great effect when contrasted with his high gloss kitchen units.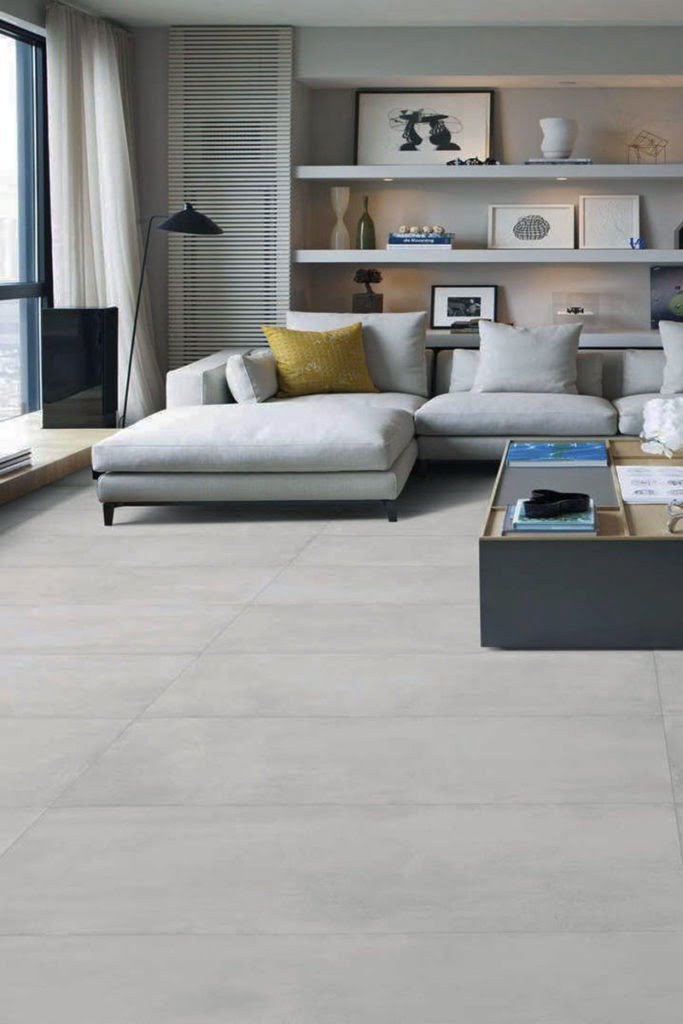 5 5 Steps To Picking The Perfect Tiles For Your Home
There you have it – a guide to help you pick the perfect tiles for your next design project. The right tile choice can give any space an instant lift, and really bring the different elements of a room together.
If you take into consideration all the factors I have mentioned above, I'm confident you will get the most dreamy home scheme. Looking for a little more tile inspiration? Then check out Crown Tiles website over HERE. They have lots of ideas to help you nail your tiling situation.
I'd love to hear your thoughts on picking the perfect tiles, please share any tile tips you may have in the comments box below.
Have a great day.
Maxine
** This is a collaborative post. All thoughts and comments are my own.
YOU MAY ALSO LIKE
STYLE A HAPPY AND WELCOMING HOME
CHOOSING THE PERFECT INTERIOR COLOUR PALETTE
YOU'LL LOVE THESE 3 IVORY BATHROOM LOOKS