These flooring trends will never go out of style. Want to renovate your floors? Use my guide to the hottest flooring trends for 2020 and find one for your home that is both bang on trend yet timeless.
AD / with Luxury Flooring
Interior fashions are constantly changing and flooring trend can come and go. As interior styles are so exciting and new, it can be tempting to update our homes with the hottest décor styles. But that costs time and money! You don't want to find out that fashion has moved on as soon as you've spend your hard-earned cash on a brand new floor.
So to help you avoid making any expensive mistakes, here the 4 flooring trends for 2020 that my expert eye tells me are here to stay for the long term…
Main Image | Dunelm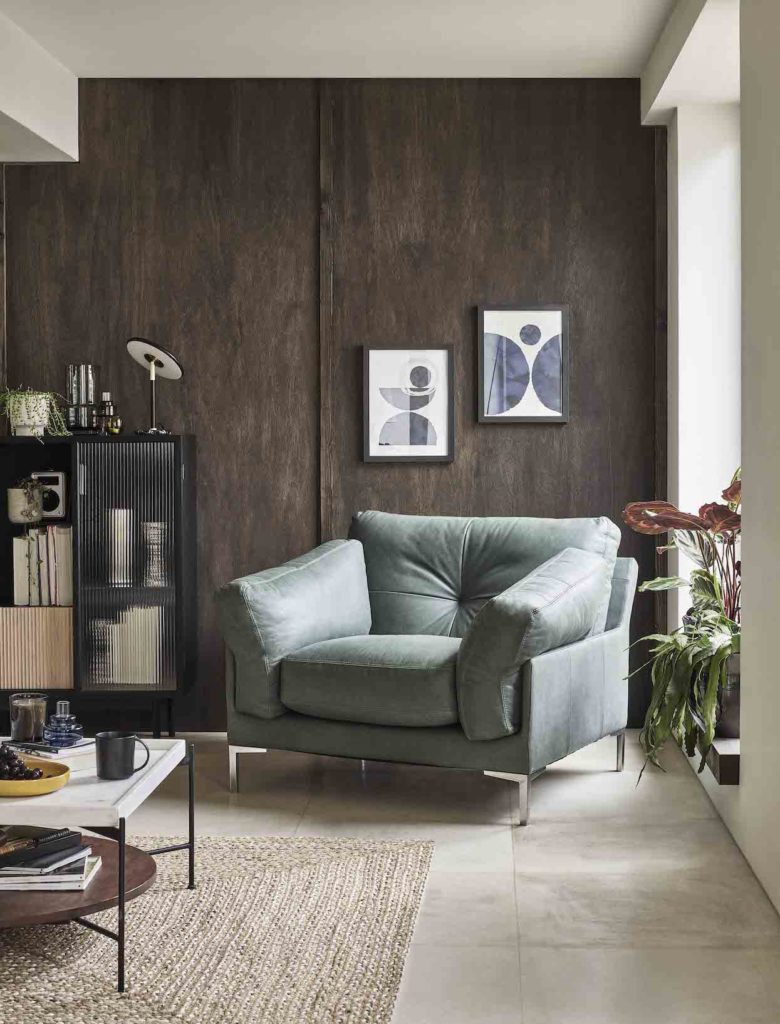 Furniture from John Lewis
As an interior stylist, I know that flooring has the power to make or break a room. It can add a minimalistic flair and sophistication to a room, introduce subtle charm or make an all-out statement with a pop of colour. Do you want your flooring do the talking or does it need to be a calm backdrop for your fixtures and fittings?
You'll of course need to decide whether your flooring will run throughout your house or differ from room-to-room. That depends greatly on if you want to create spacious feel or want to style each room with a different look. To help you make that choice, I've listed my advice on what rooms these four flooring trends for 2020 will work best in.
Read also: TOP 5 BATHROOM TRENDS FOR 2020
1. RUSTIC RETREAT
With modern life being so hectic, there has been a shift in interior design to reflect our longing for a simpler way of living. Interiors have been filled with natural materials, rustic textures and handmade finishes. How can you bring this look to your floors? Choose wider planks that look hand sawn, look for woods with a reclaimed look, or opt for flooring with a timeworn appearance. This trend is all about bringing a nostalgic, natural look to your home.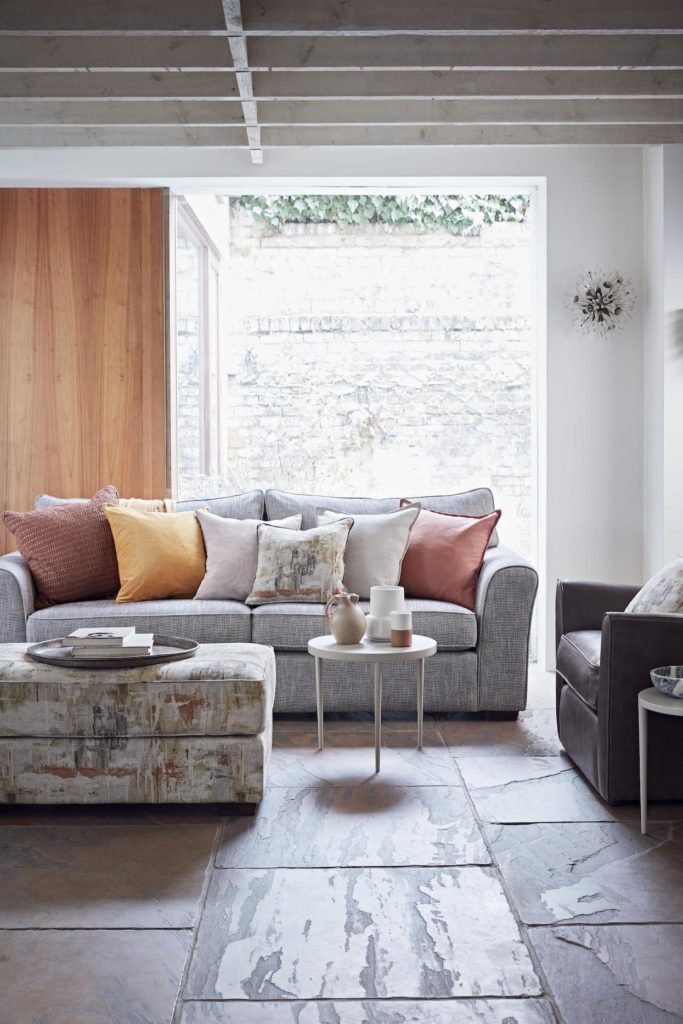 Sofa by Collins & Hayes | Pouf & cushions by John Lewis | Chair by Broste Copenhagen
To capture this trend you'll want to put down distressed flooring that looks like it has stood the test of time. Many modern floorings now cheat the look of aged flooring with grains effects and knots running through the design. Or, for smaller rooms, like bathrooms or a galley kitchen, you could add a patterned tiled-effect flooring. For an easy update idea, try fitting a laminates that has been printed to look like tiles, terracotta or mosaics.
WHAT ROOM? This flooring trend would work well in small living room with a fireplace and beams.
Click this: HOW TO STYLE THE LATEST WINDOW TRENDS
2. ABSTRACT AVANT GARDE
A fun yet sophisticated theme, this trend takes inspiration from Avant Garde expressional artwork. This trend is about embracing bold patterns and bright colours – this theme will give your home plenty of character – and lots to talk about – while still having a relaxing feel. Either bring bold design to your floors with pattern and colour or be bold with your walls and treat your flooring as the perfect gallery space to complement your artwork.
French Connection sofa from DFS | Bedlinen from Argos Home | Dining table & Chairs by Dunelm
The best thing about this trend is that is suits nearly every room, you're not just restricted to the living room or kitchen. Introduce patterned flooring into your bedroom or hallway- or anywhere. You could run planks up the wall if you really want to go for it with this trend.
WHAT ROOM? Any! Let your imagination run wild.
Discover: ADVICE ON CHOOSING THE PERFECT INTERIOR COLOUR PALETTE
3. SUBTLE GLAMOUR
This sassy take on glamour is really taking hold of spring interior trends. Rather than the bright, bold glamour, you want to edge towards the sophisticated elegance of the 1920s.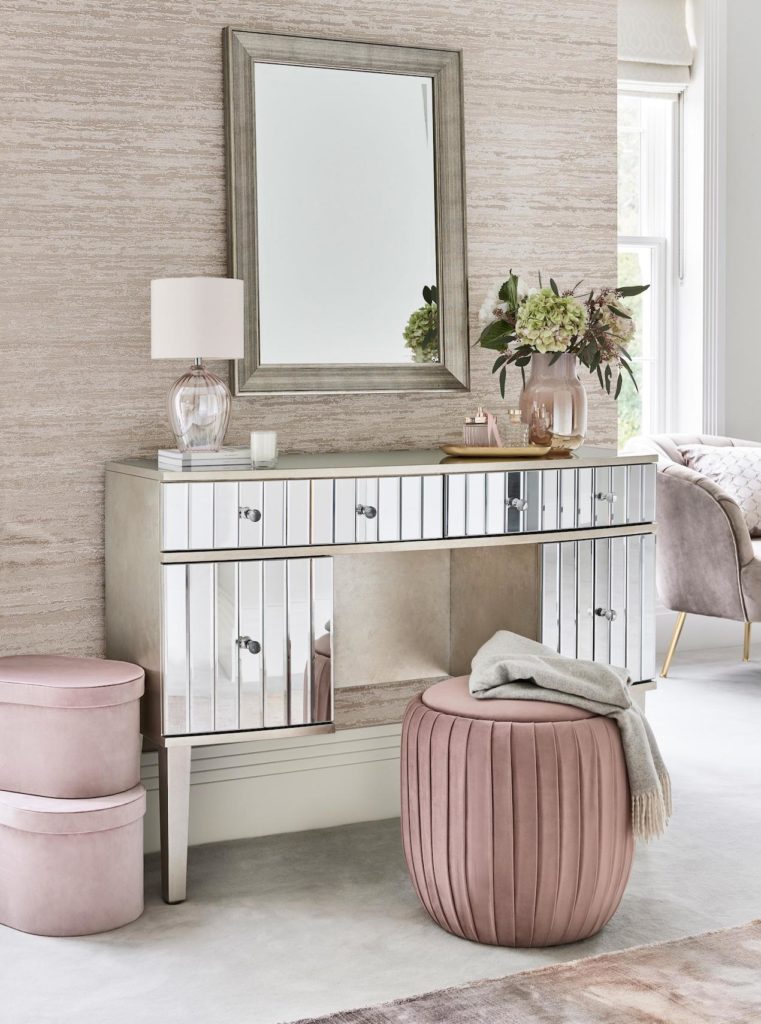 Dressing Table by Next | Bathroom by Britton Bathrooms | Wall Tiles by Lapicida 
Your flooring needs to be filled with decorative patterns and shapes that create an up-to-date feel. This trend is all about opulence and glamour of the original Art Deco era but in 2020 this look has a fresh and playful twist – with a strong use of colour and glittering metallic shades to add visual interest.
To finish off your room – look out for shapely furniture with rounded edges upholstered in luxurious fabrics – such as velvets, silks or soft-to-the-touch wools. If you're really want to make a fashion statement, then you certainly will with this style! But be warned it's not for the faint hearted!
WHAT ROOM? Made for boudoir bedrooms, this trend will create a space you will never want to leave.
4. COOL TONES
Cool colours are in and warm colours are out. This is true for both our walls and our floors. We want to create calm spaces, that are fuss free places to relax in. When designing your home, if you want a contemporary interior the simplest way to create this is choose clean spaces in cool tones. Turn your home into a chic and comfortable space to relax in, free of clutter and not too ornaments.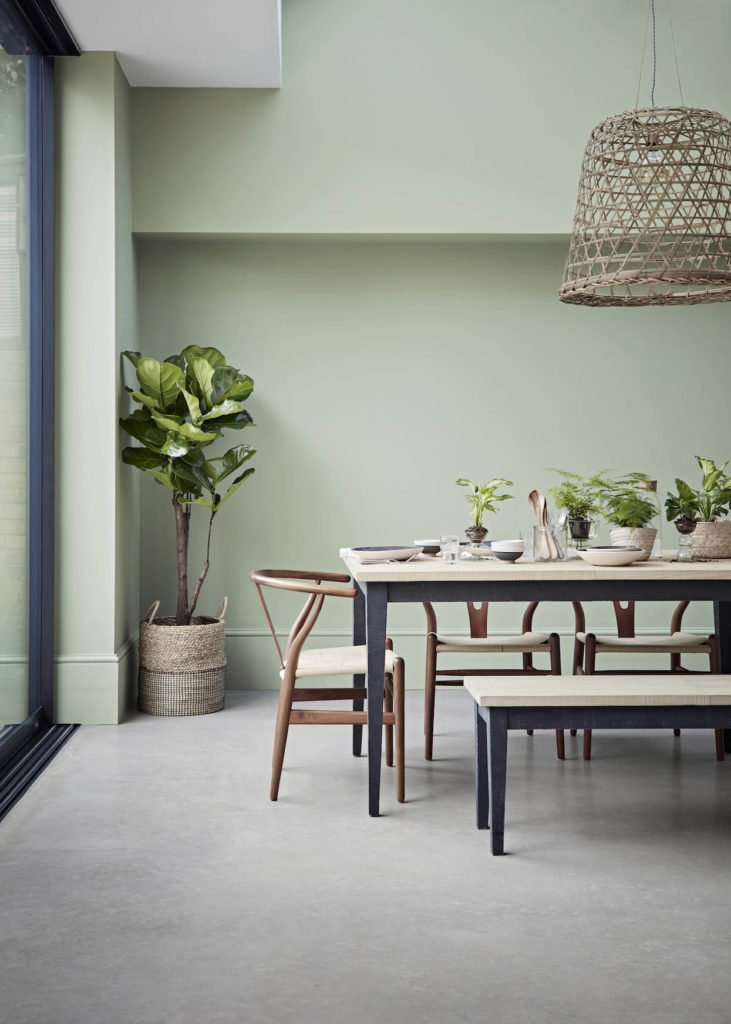 Dining Room Walls by Crown Paints | Sofa by Argos Home |Hallway storage by Nest
Look for wooden flooring in dark brown without traces of red or yellow undertones. Greys flooring in modern finishes like concrete or industrial laminate tiles And always choose hardwood, laminate or engineered flooring over carpets.
Neutral colours are where it's at but this doesn't mean your flooring will look boring. Choose a parquet wood floor will blends pattern with style. Try pairing this fantastic interior with a dark accent colour too, you'll be good to go!
WHAT ROOM? This look works best in the kitchen. Or in a smaller hallway where you want to create a calming first impression.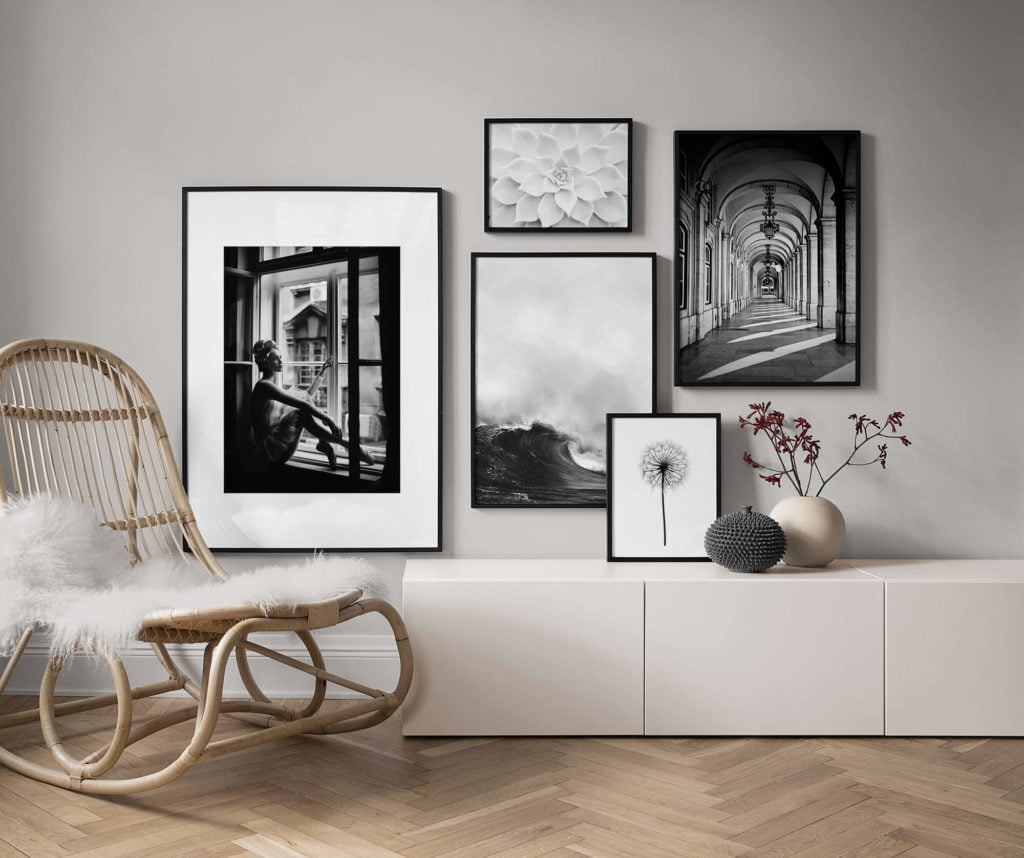 Which of these 4 flooring trends for 2020 do you like the most?
Planning on revamping your home in 2020? I hope this post shows you that it pays to start from the bottom up, starting with your floor! Once you have picked the perfect – and most fashionable – flooring you can find, you'll have the foundations for a luxurious living space.
In my own home, I put loads of thought into my flooring – choosing patterns for my kitchen and bathroom, and Oak for my living room. They have elevated my interior! And I love them.
Which flooring trend is your favourite? I'd love to hear from you in the comment box below!