It's now easier than ever to wake up feeling refreshed, well rested and ready to tackle the day ahead with a daylight alarm clock. What is this, you may ask? It's a clock that stimulates the effect of a sunrise to gentle wake you up – and a sunset setting to help you drift off into deep sleep. Over past month, I've been testing the new Philips Somneo Sleep & Wake-Up Light
and it really has made all the difference to my sleep and mental health.
Inspired by nature, the Somneo Sleep & Wake Up Light has a built in sunset and sunrise simulation which mimics the full colour spectrum of the sun and increases slowly. The transition is like being woken by daylight rather than the jolt of a beeping alarm. As a result of being woken up naturally, you will feel refreshed and alert. And research shows that exposure to an artificial dawn simulation light can improve your overall mood and wellbeing, as the wake up experience feels natural and pure.
The Philips Somneo Sleep & Wake Clock
My sleep has always been patchy at best. As soon as feel stressed or have something on my mind, or if I'm working late – my sleep is immediately impacted. I find it especially hard to drift off and even harder to drag myself out of bed in the mornings. I've tried everything including pillow sprays, supplements, sleep tracking apps, bubble baths, rituals and even wine to help me drift off. I even wrote a blog post about that here.
I started to research light alarm clocks that promise to help you wake up gently and feeling refreshed. And the Philips Somneo Sleep and Wake-up Light – which is designed to encourage light-guided wind-down breathing – instantly appealed to me.
Time to put this alarm clock to the test.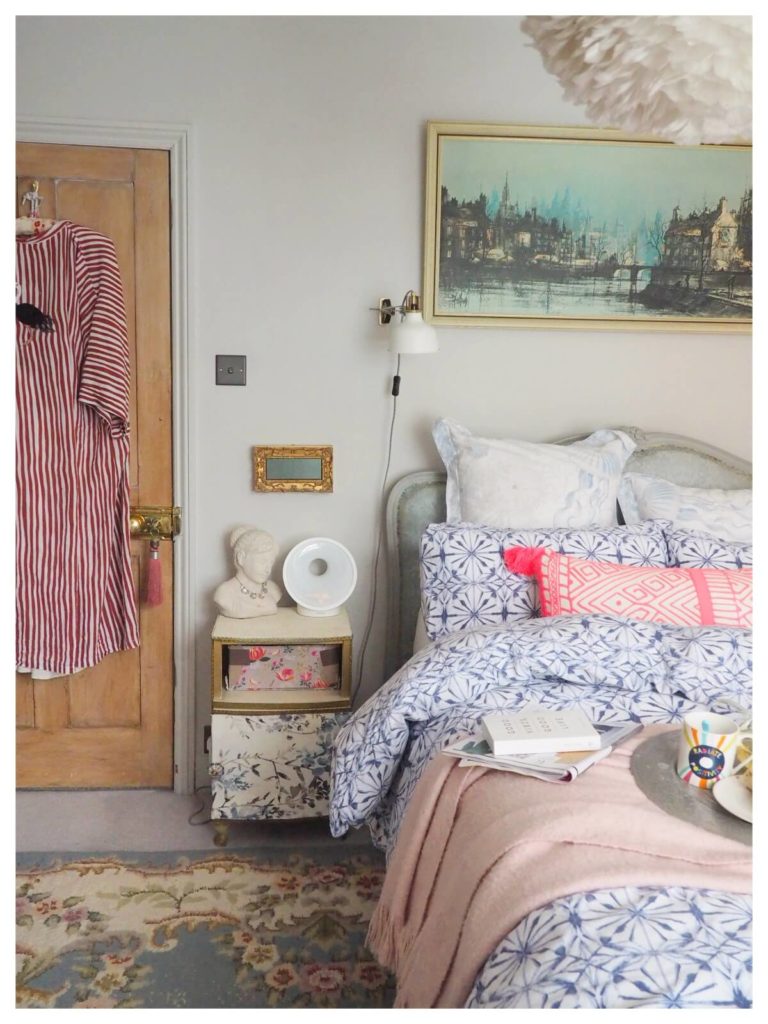 RELAXING WIND-DOWN FEATURE
Unlike other light alarm clocks, the Philips Somneo Sleep & Wake-Up Light has a unique 'relax' feature that's designed to help calm the body and mind at bedtime. It prepare your body for sleep by gradually decreasing light over a set period of time. And you can choose relaxing sound effects to help you drift off.
There is a light-guided breathing exercise – which is a form of meditation – to help calm and free your mind setting you up for best night sleep of your life. I set mine for about 15 mins before bed.
It has a midnight setting that provides just enough light to find your way in the dark at night without fulling waking you up. And there is a reading setting so you can choose a light to read by.
And during the winter months, you can use this light therapy to help alleviate the symptoms of SAD (Seasonal Affective Disorder).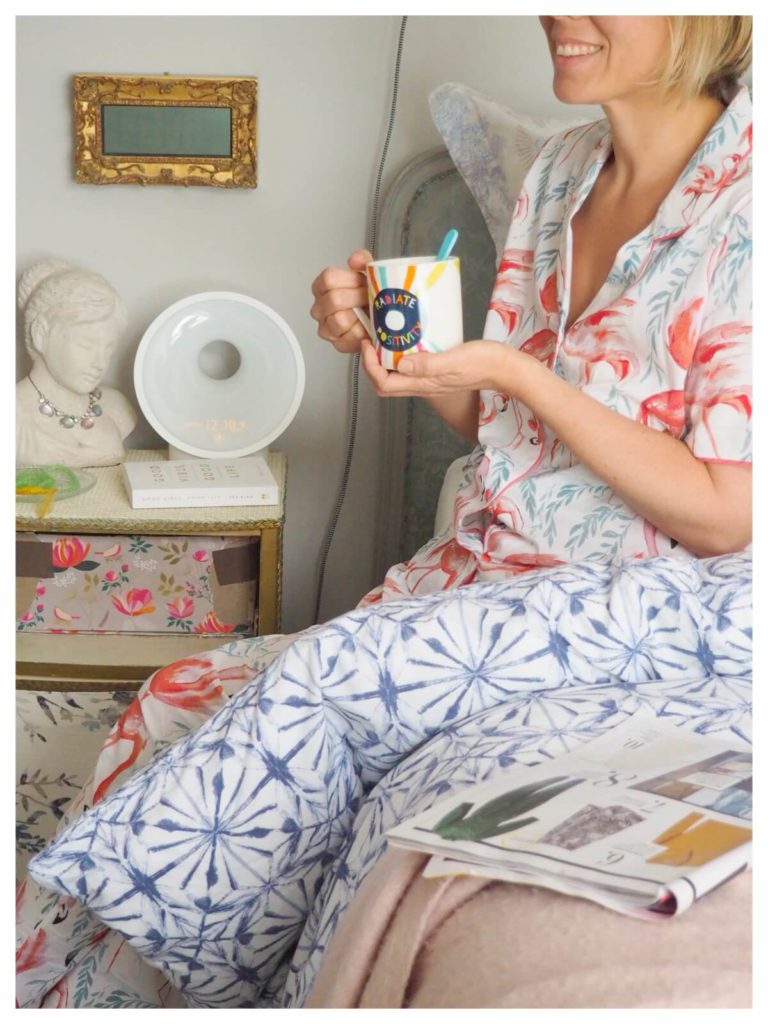 NATURAL SLOW SUNRISE
In the morning, the Somneo clock will gradually increases light (from soft dawn reds through to warm orange and bright yellow) over a 10-45 minute period before your set alarm time. This signals your body to move from sleep to waking, for a natural wake-up experience that leaves you feeling refreshed.
The effect of a slow summer sunrise encourages your body to stop producing the sleep hormone melatonin in favour of the mood-enhancing, feel-good hormone serotonin.
Rather than jolting awake to the sound of an alarm or the radio, this gently stimulates your brain and wakes you up gradually – leaving you less groggy. I've started waking up at 6:30 in the morning and I'm so much more productive first thing.
There are two alarm settings – one for weekdays and one for weekends – to wake you up so you can switch up your sounds and the light setting to suit your day ahead.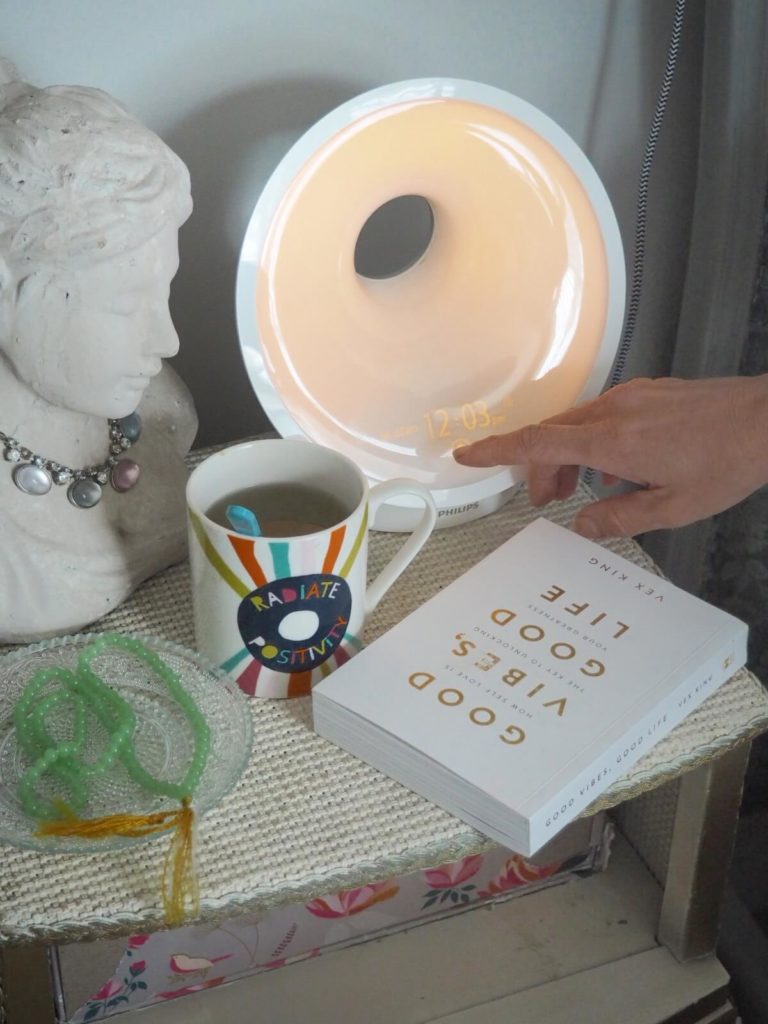 RELAXING SOUND EFFECTS
If you want sound as well as light, the Somneo Sleep and Wake-up clock has lots of effects to choose from – there are waves, forrest birds, bells or soft chimes. The bird sounds are particularly lovely although at first they were entering into my dreams!
If you like listening to music when you wake, there is a built in FM radio setting or you can plug in your phone and play your own music. And there is a tap snooze function if you need that extra five ZZZZ in bed in the morning.
MODERN DESIGN
On a design side, the Philips Someno is the best looking of the daylight clocks on the market. It's sleek design looks good next to your bed – whatever your interior style. The clock has a smart touch display so there aren't clunky buttons on the front. It means when it is not turned on, it looks like a little piece of art by your bed. And it is easy to set up – and even easier to change the settings too.
As well as light and alarm settings, this clock has more traditional features. There is an AUX in to connect your phone for music and it has a USB port for charging your mobile phone. It also has a power backup to keep your clock going for up to 8 hours in the event of a power outage.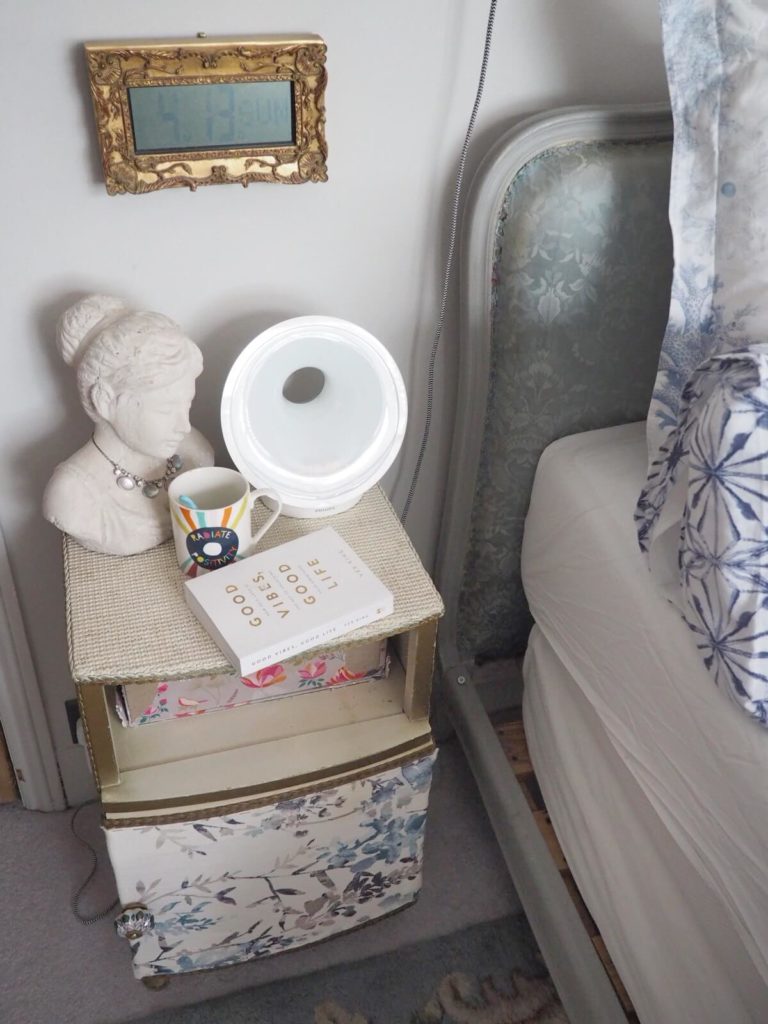 My thoughts?
This clock is a worthy investment. Not only will it help you drift off, you will wake up in a good mood (can you put a price on that?) health and can make all the difference. Since using this clock, I have felt refreshed, bright and focused early in the morning -I've even stopped drinking coffee first thing! How about that?
The Philips Philips Somneo Sleep & Wake-Up Light is £140. at Philips.
You May Also Like
5 TIPS FOR THE BEST NIGHT'S SLEEP EVER
6 STYLISH BEDROOM STORAGE SOLUTIONS
STYLE TIPS FOR A BETTER BEDROOM
I was gifted the clock in return for an honest review. All thoughts and opinions are my own.