This time last year, I was asked by Heals to give a talk to celebrate the opening of their brand new Sleep Studio. My talk was filled with advice and tips on how to get a better nights' sleep, as well as a buying guide to mattresses. Today, I want to share these tips as well as give you the tour of their stylish showroom.
This is the perfect post if you struggle with your sleeping patterns and are looking to upgrade your bed. I promise by the end of this post, you'll be able to climb into bed and sleep like a baby.
Tips To Steal From My Talk At Heals Sleep Studio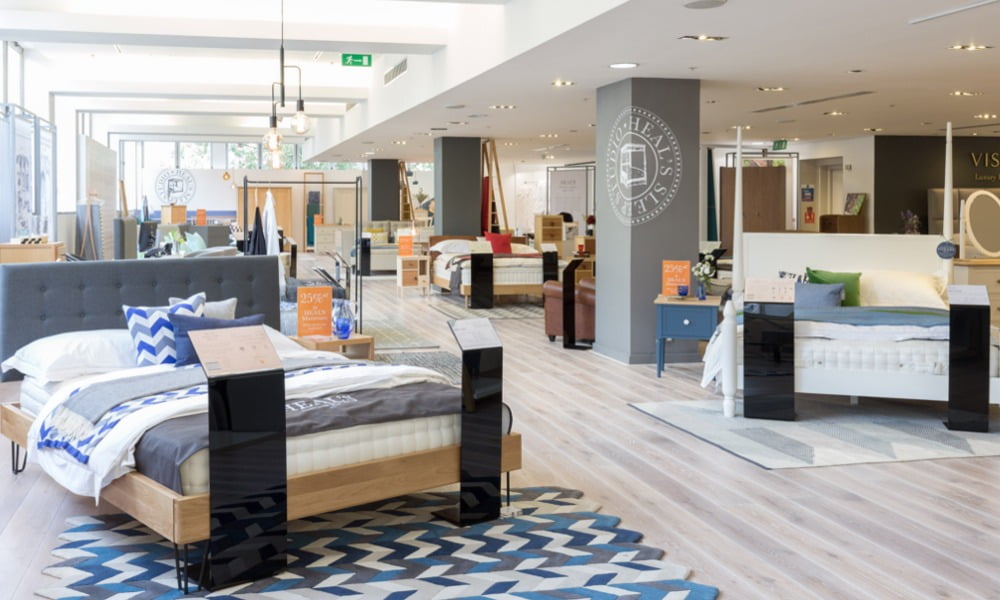 In August, I was invited to give my expert advice and tips at their showroom is at their Tottenham Court Road flagship store. Heals' Sleep Studio is designed to help you have a better night's sleep at home.
The store is filled with every type of bed you can dream of and lots of beautiful accessories and furniture to transform your bedroom into a dreamy space.
Heals invited lots of blogger and influencers to the talk, as well as the head of Heals was also there – so let's say I was super nervous. There was fizz, drinks and goodie bags for all – as well as neck massages.
Luckily, everyone made me feel so welcome when talking.

Spend Money On Your Mattress
If you are looking to buy a new bed – allocate the biggest part of your budget to your mattress NOT the bed frame. Your mattress has the biggest impact on your sleeping patterns more than anything else.
What type of mattress you need depends very much on your body shape. I prefer a firm to medium mattress but if you have back problems you may want an orthopedic one. If you toss and turn at night – you may want a memory foam one that mould to each your shape. Some mattress companies will make mattresses that have different levels of firmness each side, to suit each partners sleeping patterns. Heals even have organic ones if you want to have your best night's sleep naturally.
Your best bet is to try the mattresses out before you buy. That is why you need to go into the Heal's sleep studio in store and try them all out. And make sure you grab one of their sales assistants – they are all experts on sleep, and ask them for their advice – that is what they are there for!

Choose Your Bed Frame Style
The bed is the central focus in your room – so which style you go for will have a huge impact on the look and feel of your room. If you love that vintage style – look for a frame with an upholstered or painted frame. If you want that modern, minimal look then a large oversized headboard is for you. If you bedroom is tiny, then an ottoman bed is the dream! I have just bought one for my spare room where I can now stash my props for shoots in the lift-up storage compartment. It's fab.
Dress Your Bed
When it comes to a good night sleep it is important to pick beautiful duvet that you can snuggle under. Personally, I'm a huge fan of a feather duvet (you can see my new one here). But I also have a lightweight one made of silk for the Summer months (as my thick winter one is too hot).
Pillows are just as important. You need one that will support your head comfortably so that you don't wake up with a crooked neck. Again, just like mattresses there are 100s of styles there. I would advise natural filled ones as they are more responsive. If you suffer the allergies, then look out for ones that are hypoallergic.
For extra comfort when reading in bed, then buy some larger square pillows that are plump to relax on. I actually don't sleep on pillows but I love having large ones to chill on when I'm in bed.
To protect your mattresses and duvets with cotton covers. A cotton mattress topper and pillow cover can be popped in the wash every few weeks to keep your bed feeling fresh and clean.

Finally, the finishing touches
So you have invested in a show stopping bed and a super comfy mattress – now you need to focus on the finishing touches that will give you #sleepgoals.  Treat your bed to amazing sheets. You don't have to spend a fortune either. Just look for 100% cotton sheets that will allow your skin to breath at night.
Then dress your bed with a beautiful throw – I have several depending on the season. I have a lovely wool one for the winter to keep me cosy. I think have a lightweight cotton one for summer.
I'm a huge fan of linen sprays. I have a lavender one that spray on my sheets when I make my bed in the morning. Why? The sheets will feel fresher for longer. Lavender is also a natural sleep aid to help calm you bedroom your dift off.
If you can, leave your electronic items out of the bedroom. Hard I know. TVs are a big no-no for bedrooms. If you have to have one, then cover it at night. Also pop your phone on 'night mode' so you won't be woken up by 'Ping! Ping!' of messages.
Do your best to keep wires under control too by tucking them out of sight.
All these simple tricks will aid you to a good night sleep
If you want to listen to my talk in detail. The team at Heal's filmed me at the event – which you can watch here. It's got lots more tips and buying advice if you are looking to update your bedroom this summer.
Heals host events all the time which cover all areas of the home – from lighting to craft to sofa buying – so make sure you pop onto their blog to see what next events are up and coming to a store near you. They are always good fun – and you get to me pros like me 😉


If you want to look at the studio in detail – take a look here at Heal's blog post from the night.
Otherwise, keep popping by my blog for more bedroom styling tips. I'm in the middle of shooting my guest bedroom – and all will be revealed over the next months.
if you are looking for an expert for your next event – don't forget I host The Secret Styling Workshops – you can see more info here or just get in touch.
Love
Maxine
You May Also Like
9 incredibly cool ways to style your guest bedroom
Your bedroom design dilemmas – and how to solve them