With Summer (almost) here, it is the perfect time to give your bathroom a little refresh. And that is exactly what I did – a mini makeover inspired by the latest trend for tropical prints! Style your bathroom using palm prints, green accents, parrots, wicker texture and lots of real plants! It's a super positive trend to add to your home for Summer.
Follow my ideas below to give your bathroom a tropical makeover with a few styling tricks and affordable purchases. And in no time, you'll have your own tropical jungle spa at home.
My bathroom was one of the first rooms I renovated in my house back in 2016 I turned it from a 1990s dated bathroom with a yellow suite and horrible dirty tiles, into a crisp white, clean space with a dreamy roll top bath. You can see what it looked like when I moved in over HERE.
After 4 years, it felt time to switch things up with jungle prints and tropical plants. This is about styling your bathroom to some statement accessories – rather than decorating the room from top-to-bottom. No paint brush required!
Let me give you the tour…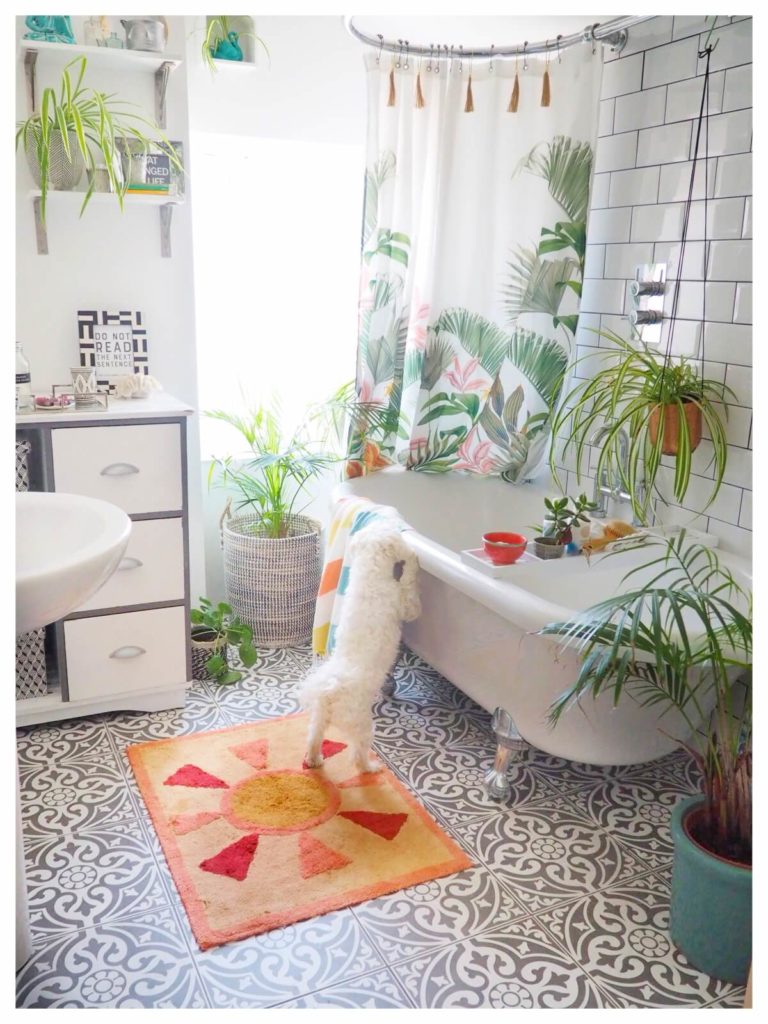 STYLE YOUR BATHROOM USING TROPICAL PRINTS
If you are an interior lover, you would have spotted the trend for tropical prints in wallpapers, paint colours and accessories. This trend is about bringing that exotic holiday feeling into our home making it perfect for the summer months ahead.
Everyone from H&M, to Zara Home to even your supermarket like Asda or Sainsburys have embraced this look. Making it easy to pick up a few bits to style your bathroom space.
If you love my tiles, then check out tiling superstore CTD Tiles who have loads of tiles for wall and floors. I often find I get lost on their website day dreaming about how I would like to change my bathroom one day.
Shower Curtain
The inspiration (and starting point for the makeover) was this amazing H&M palm print shower curtain which is perfect for the tropical trend! It's bold and vibrant print is covered with palm prints, lilies, parrot flowers with a soft peach accent that I just love! Don't you?
What I also like is that the print is clustered at the bottom of the curtain – so that it's not too busy when you look at it. And when you draw the curtain to take a shower – you get the full impact of the print. This one is from H&M and you can shop it HERE.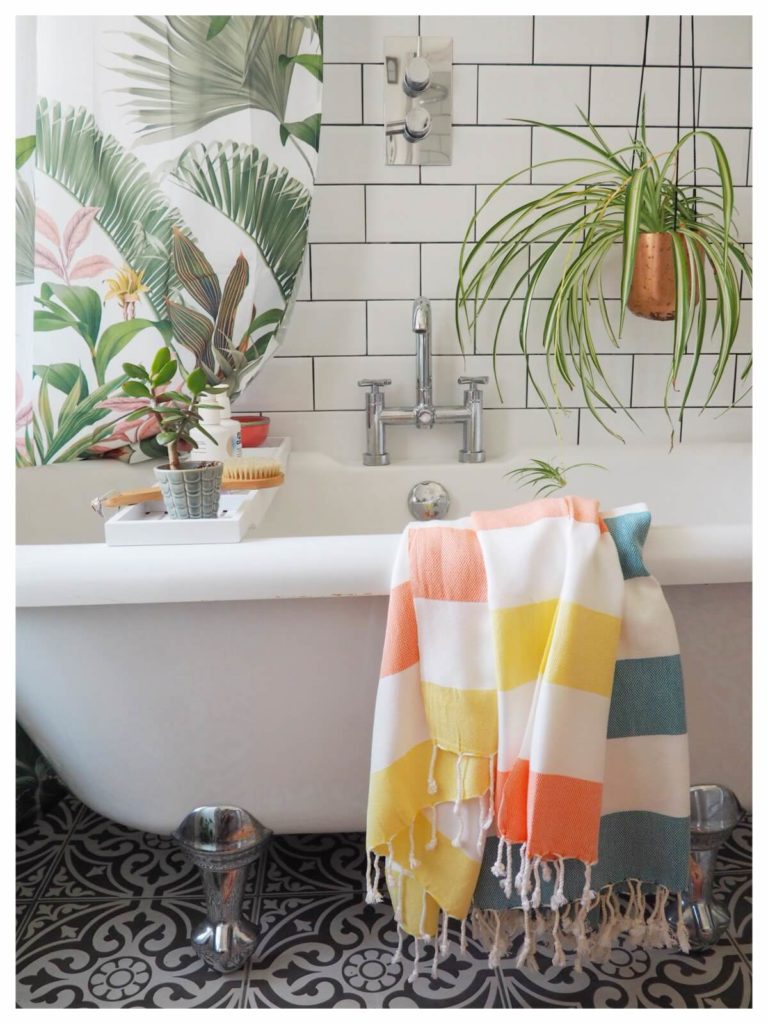 Hamman Towels
Then picked out the colours in the shower curtain with a few key accessories. These House of Luf hamman towels are perfect for summer time because they are made in woven lightweight cotton that easily dry. They are perfect for the beach – or for your bathroom.
I went for mix of two designs – one in a teal colour and another in a sunshine orange & yellow stripe. They bring instant colour to my bathroom for next to nothing. And the fringing is a great detail on them.
Shower Curtain Tassels
Oh – and the clip shower tassels are from H&M. When I saw them on-line I could't resist! I had to have them to finish off the look of the shower curtain – AND the match the textures in the room. What a better way to style your bathroom.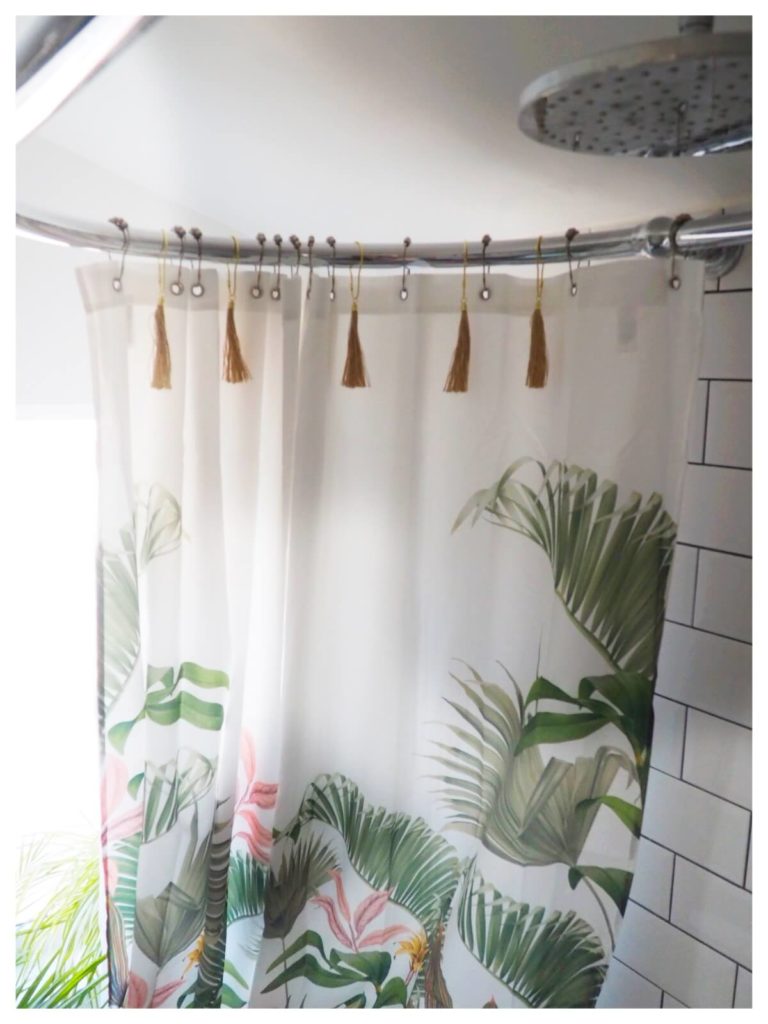 Bath Mat
The sun print bathmat is from called Peachy Parrot. The designer contacted me through instagram and I loved her designs. The fluffy bathmat is so cosy underfoot – and the fun, playful design adds sunshine to my floor tiles.
Plants
You can't have a jungle themed bathroom without plants! Instead of buying new ones, I placed plants in here that were dotted around the rest of my home. The spider plant is actually from my kitchen and the palms were from my bedroom. I filled the space with mostly palms to pick out the pattern in the shower curtain.
Do you know what? My plants LOVE it in here – I think it is the right level of humidity and daylight and they just thrive.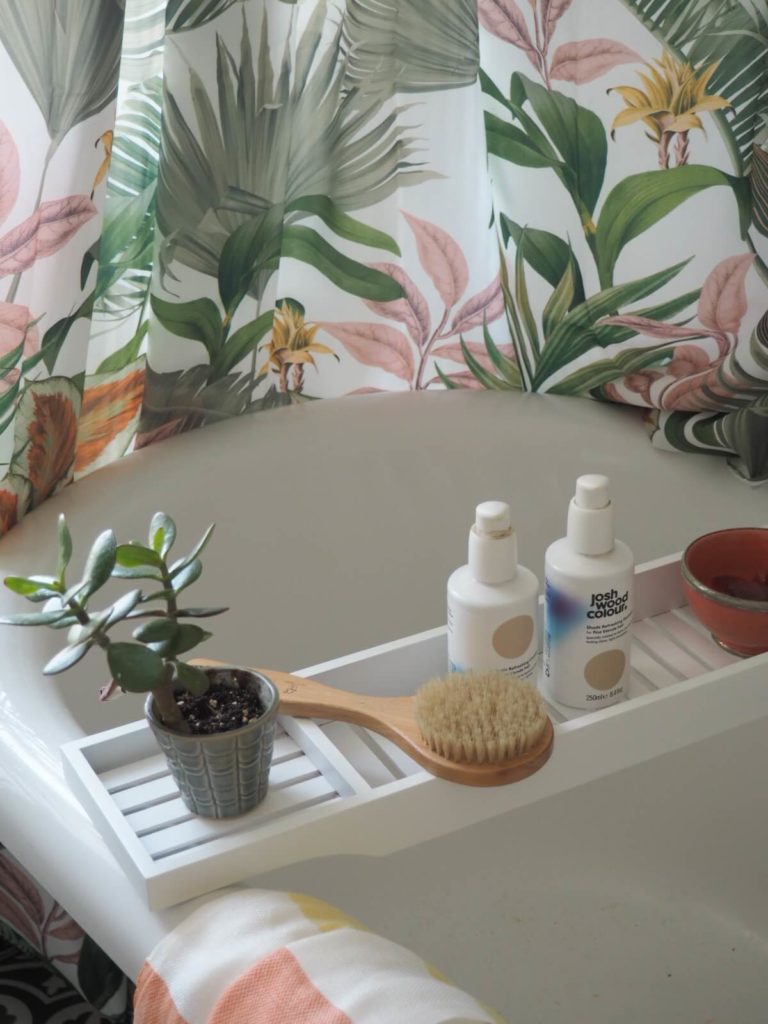 Bath Rack
The white wooden bath rack was a little treat for myself. I've had my eye on one for ages but I wasn't sure how much I would use it as I'm a shower person. It's perfect for long bubble baths as I can stash my book, phone, beauty products and my glass of wine (or herbal tea) on it with no risk of tings falling into the bath water. And when not in use, I just slide it out the way! Best £12 I have spent on eBay this year.
Accessories
Finally, I pulled together lots of green accessories from around my home to finish off the look of my room. The travel books look lovely on my shelves. The baskets make the perfect plant pot for my palms. And the little pink bowls and dishes were all salvaged from my kitchen.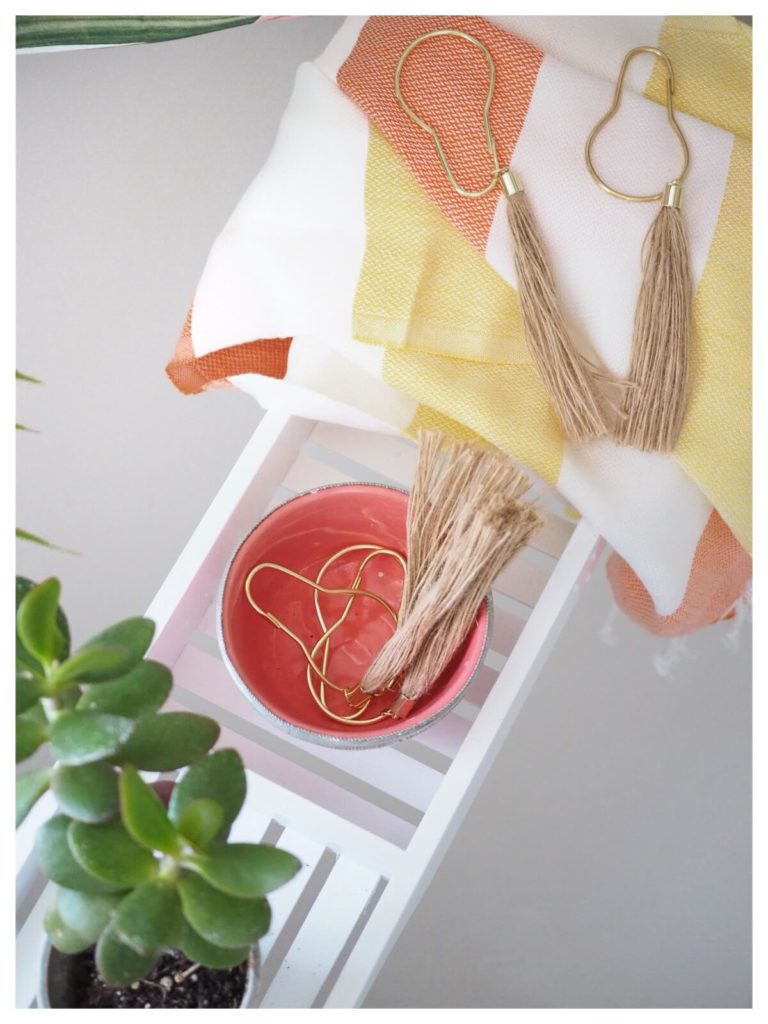 SHOP THE POST / AF

As none of these additions to my bathroom are permanent and if I feel the need to switch things up again at the end of the year, I can afford to do so. Most of the elements in the room, I owned already but they happened to live elsewhere in my home.
It's been so fun playing around with my bathroom space adding tropical palms and pops of colour. The makeover got such a positive reaction on my Instagram account too – that I did a little IGTV with my bathroom styling tips (I'm wearing these amazing Cyberjammies pjs in the video too!). I've popped the link here if you want to take a look.
If you want to shop my bathroom you can check out this post here which has all the details on the tiling and the suite. Otherwise, just pop me a comment below and I'll get back to you.
Hope this makeover has inspired you to makeover your own bathroom. Are you going to try swapping things around in your bathroom? If so, make sure to tag me in your makeovers – I can't wait to see what you create.
Have an a amazing week
Maxine
You May Also Like
YOU'LL LOVE THESE TOP 5 BATHROOM TRENDS FOR 2020
KICK START YOUR DAY WITH A BRILLIANT BATHROOM ROUTINE
BEHIND THE SCENES ON A BATHROOM SHOOT