Want to give your garden a makeover this Summer? Then you are going to love this post. I'm sharing my garden design advice – from planning tips to plant inspiration, what furniture to go for and even the costs of renovating a garden from scratch! All based on my own garden makeover which was completed in 2019.
Take form of a Q&A – there's so much helpful garden design advice in this post for you. Read through it, take notes and I promise you that your very own outdoor makeover will go so smoothly.
To give you the back story – my own garden was given several transformations over the past four years. At first it was a weed pit which I cleared to make way for grass. See HERE. The lawn was an epic FAIL! It flooded and turned into a bog pit. So after several Summers of mud, I saved up to get a garden designer involved. This is what it looks like BEFORE I started on the final renovation. Luckily, after much hard work – and with the help of a fabulous garden designer – I have transformed my outdoor gravel yard into a wonderful space that I love enjoying through out the Summer months.
When researching my garden design, I struggled to find garden design advice that applied to my own space. It would have saved me so much money and lots of time if I had found a post like this.
It's been a long time coming – but finally I'm sharing my garden design advice and my ideas behind my garden. These questions (and answers) would come in handy for you when designing your own garden makeover.
Read ahead for lots of garden inspiration.
Garden Design Advice – Tips on Planning Your Outdoor Makeover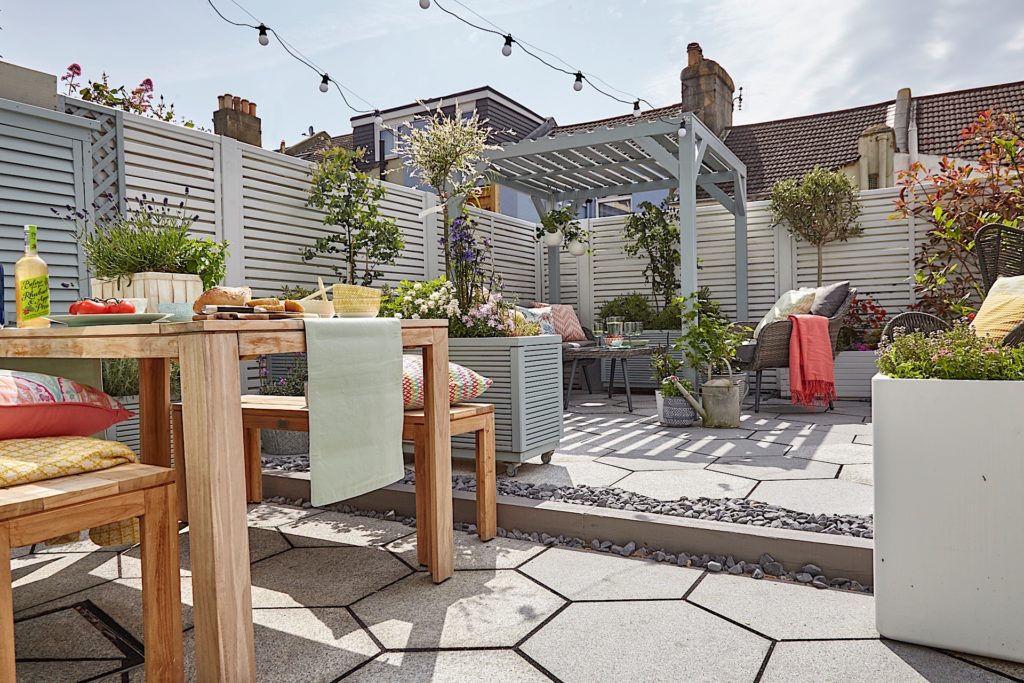 1. What inspired your garden design?
Most years, I make a trip to Morocco. I love all the roof top gardens in Marrakech, and their indoor garden courtyards which always feature a water well or small pool and lots of plants. This city is so creative with planting. My 40th birthday was spent in the desert. I love that place so much for ideas and inspiration. They have patio garden ideas galore.
In Morocco, a roof top will be beautifully designed. There will be an area to snooze in the shade, a space to sit and read, or sunbathe, and breakfast is always enjoyed outside on the terrance. A roof top terrace will be filled with painted walls in bold shades, lots of rattan furniture and potted orange and lemon trees. There is always an area to grow herbs and plants – with a mix of shade and sun. I wanted to bring that sunshine feeling to my tiny urban garden in Brighton!
I struggled to get the look as the UK is nowhere near as hot as Morocco. Then I discovered the garden of Emily Henderson on her interior blog. Check her out, she is amazing. Her patio with its patterned flooring, outdoor cocktail bar and dining area made my heart pound faster. I realised that by being clever with pattern and design, I could make my little patch of the earth look so much better.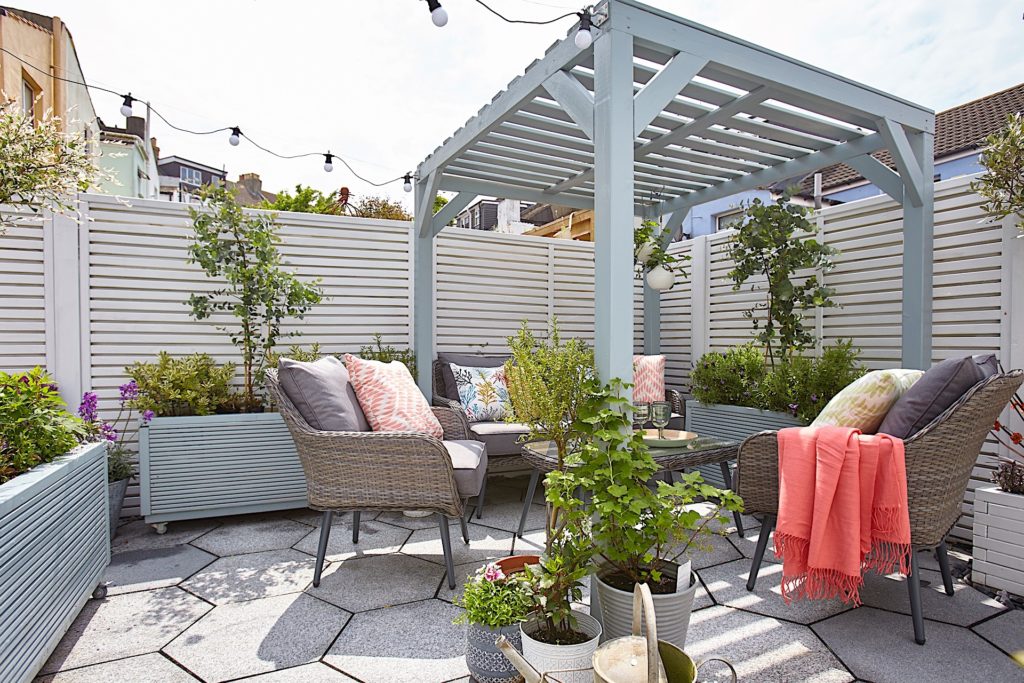 2. What was the first step you took to achieving your garden makeover?
I've explained what my garden looked like – a muddy pit. I never sat out there and the space was a total waste. My garden isn't huge but it is the same size as my whole ground floor. In Summer, it doubles the floor space of my home.
On my wish list:
With a small dog, I needed an easy to clean garden (no more grass).
I wanted to maximise the space and it needed to be flexible
Colourful walls
Clean lines and neat fencing
Lighting
Outdoor garden room and reading nooks
Lots of large planters
Statement paving
I was struggling to get the project off the ground. When I met garden designer, Thea Pitcher – while working on a Garden TV show – it was a match made in heaven. I respected her work and asked her to help with transforming my Brighton urban space. She designed the layout with the structural ideas for planting and paving then it was up to me to source the materials, and tweak the design to suit my needs.
Together, we created lots of little corners in my garden with private places, places to sunbathe, and to eat. You can read about that HERE.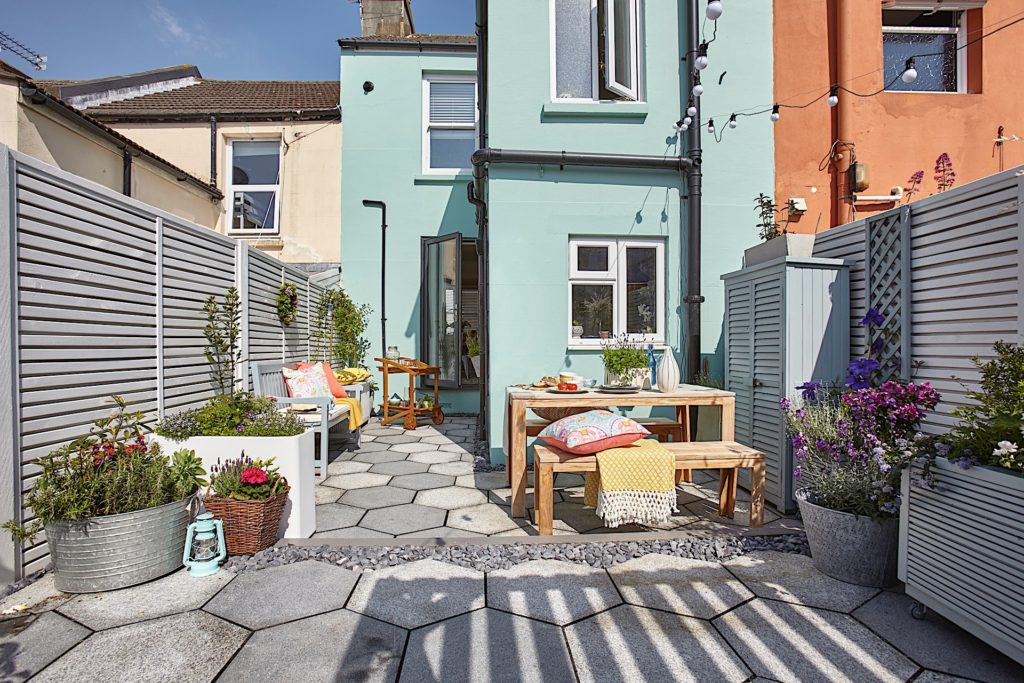 3. Did you have a budget in mind…and did you stick to it?
Budgeting for a garden re-design was a steep learning curve. I kept a strict spreadsheet of costs. What I failed to do was put in a contingency for anything that went wrong. And with a garden, things always go wrong. In my case, the drainage caused a huge problem which you wouldn't discover until you started digging. Work stopped for over a month while I sorted it out (don't ask!). Also, I changed some of the design as we went along which added to the budget.
So yes, I did have a budget in mind of around £6,000.. And no I didn't stick to it. My garden cost around £8,000 in the end. But as the project unfolded, my ideas for the space grew and I made the choice to spend the money now so that I could have a garden to be exactly how I wanted. There was no point cutting corners IMHO. I had bespoke paving made which you can read about HERE. So it was worth the short term sacrifice even if it did really pinch my purse.
I worked extra hard, taking on more freelancing work to pay for it. From my experience as an interior stylist, I knew that a beautiful garden would add 20% value to my home when it came to selling.
Every time I step out here – or just look at from my laptop while I'm working., I just love it. It was worth every penny!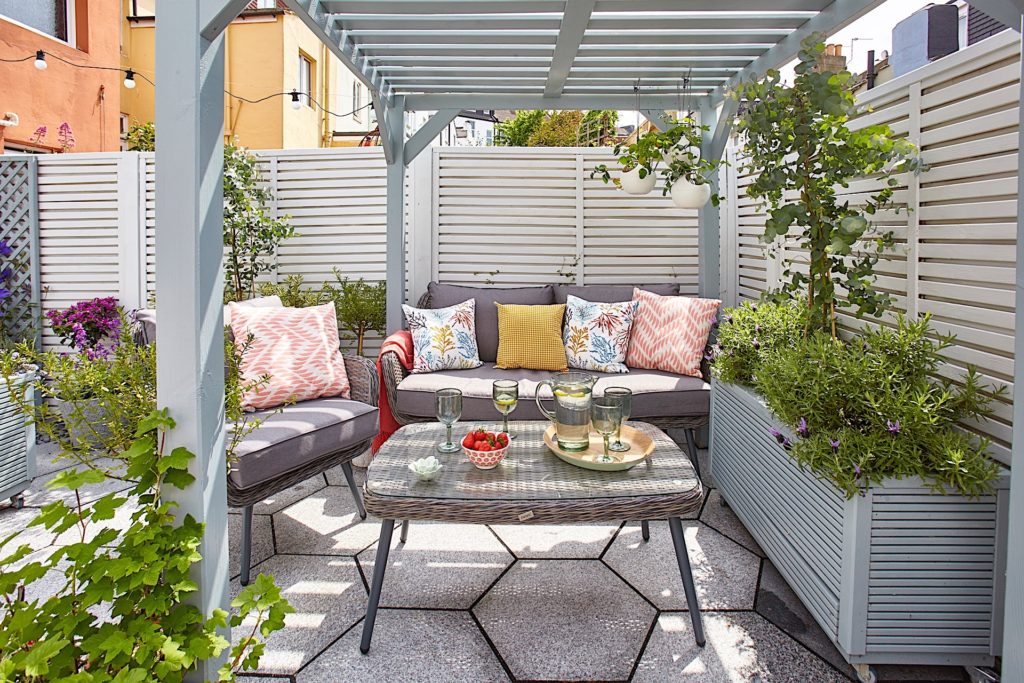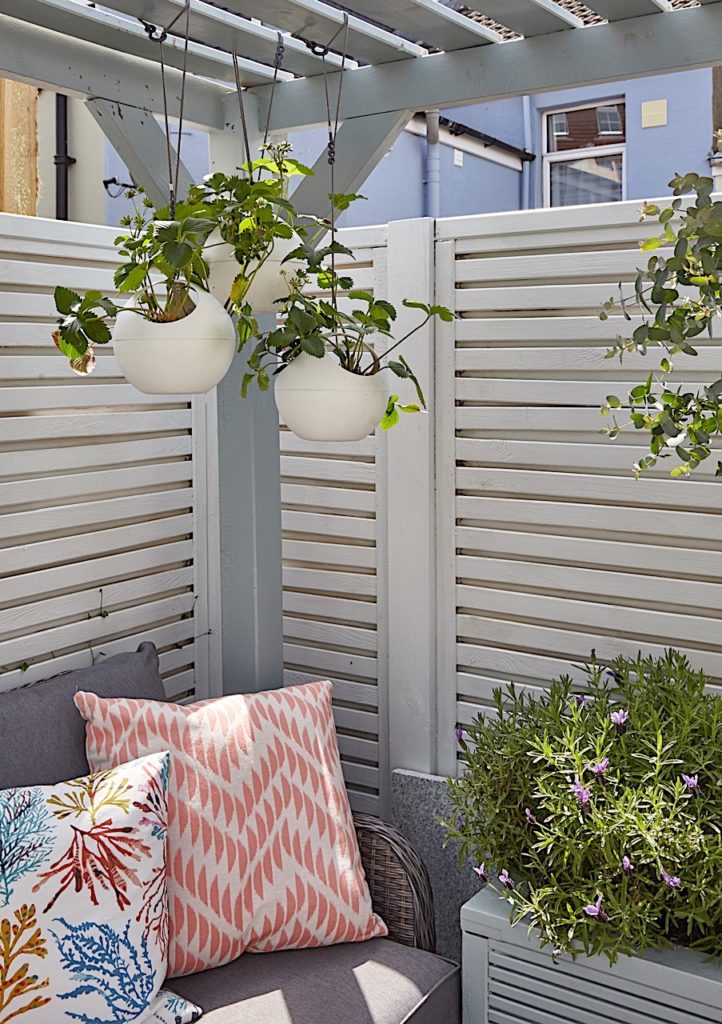 4. What tips do you have on how to get the most out of a smaller garden or even balcony?
A garden is a very unique space to design. In small spaces, it is tempting to keep the space clean and free of clutter. The opposite rule applies to a garden.
Although it may be tempting to put all your planting at the edges of your outdoor space, instead create little corners and pockets of flowers, and nooks to sit in. Pushing all your furniture all to the edges and having a centre clear actually has the opposite effect on your space – it makes it feel smaller. Instead, you need to weave up your garden and create sections.
As my garden grows over time, I've frequently move planters around. U create corners with planting and furniture – depending on what is growing best in my garden. I have planters on wheels so I can easily move them around to make the space more cosy.
5. How do you accessorise your garden furniture?
Planters on wheels are a godsend in small gardens as you can move them around if you want to. I've got nine planters in my garden – and then lots of pots. I'm always out in my garden moving things around.
I have planters dotted around filled with herbs by my back door to make a kitchen garden. I've painted all the woodwork in either white or blue to add a splash of colour.
I also have lots of furniture in my garden. I long table with two benches that can be tucked under to save space. A large chair and foot stool – nicknames 'the thrown' which sits in the sunniest spot in the garden. Under my pergola, I have a full sofa set and coffee table. Plus a bench, cocktail trolley and a recycling box. All these elements create pockets so I can follow the sun around my garden.
Shop The Look
6. For the less green-fingered among us, do you have any advice for creating a low-maintenance style?
Goodness. I'm so not green-fingered at all!
My mum is my go-to expert for gardening advice. I spend most weekend at my local garden centre and I ask the staff there for help on what to plant next (they also have a great discount section too). I'll show them photos of my plants that I'm worried are not doing well, and ask hem to their tips on what to do to keep them alive.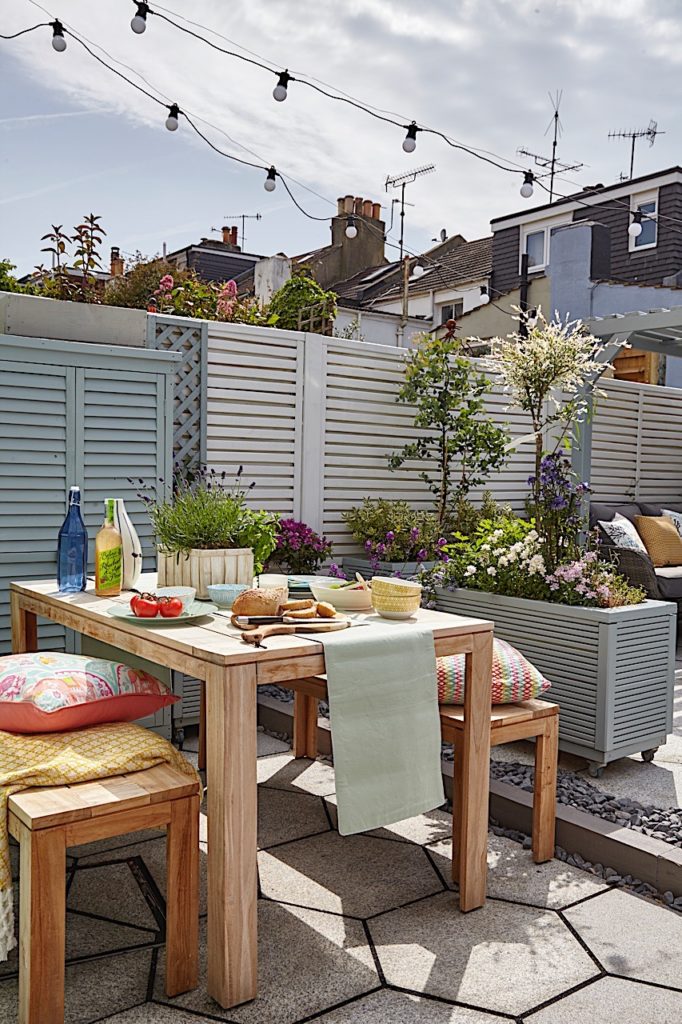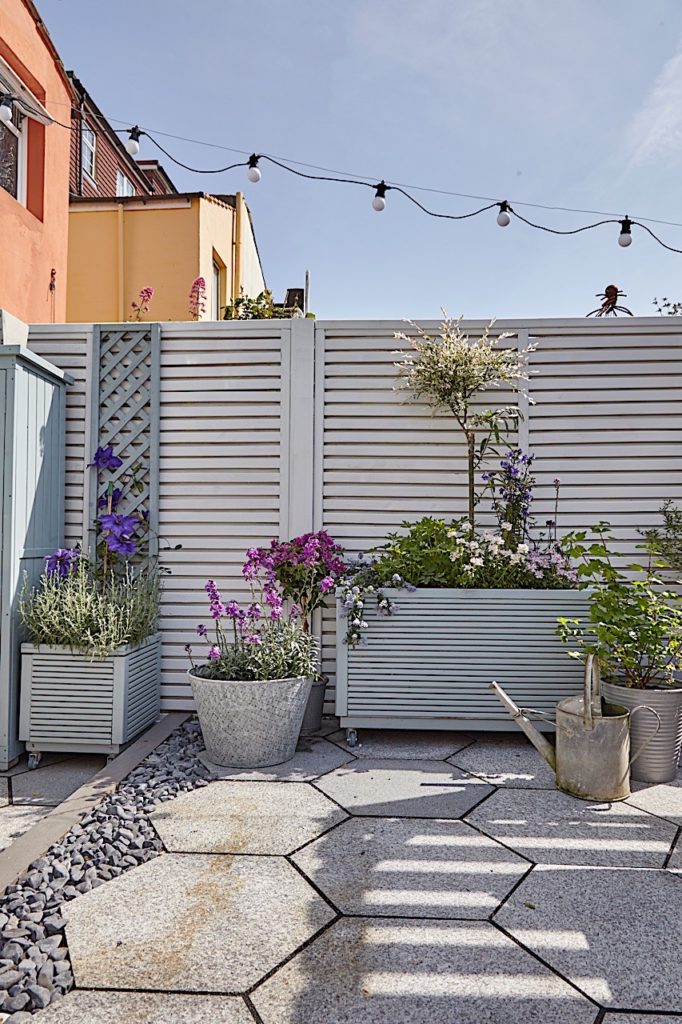 7. Which plants did you choose and why?
I wanted an edible kitchen garden. So among the flowers, boarder plants and trees there is lavender, rosemary, mint, rocket, kale, parsley, fennel and chives. When preparing diner, I just pop into my garden, pick my salad leaves and then make herb salad. Or a peppermint tea I use fresh leaves. Or a cook up coconut kale all home grown in my own garden.
I've also added lots of red and purple flowers which had much needed colour against my white painted fences.
8. Now what's the point of such a beautiful garden if not to host a party! What are your top three must-haves when hosting a garden party?
A great dining table for friends and family to gather around. I have the Miami one Out and Out Original with benches. It's designed for small spaces in mind. The benches are ideal as you can squeeze an extra guest (or two) at meal times.
Lighting is key. You need to light up your space way past the sunset. I have festoon lights strung up above, solar powered lights in my tree and then I plan to add more low level lights soon. I wrote a post about that HERE.
Lastly, if you have paved flooring like me. Invest in beautiful, stylish crockery, glasses and jugs. I love bamboo plates, and have a beautiful blue plastic jug that looks like a chic glass one. I shot my first garden party – you can see that post HERE.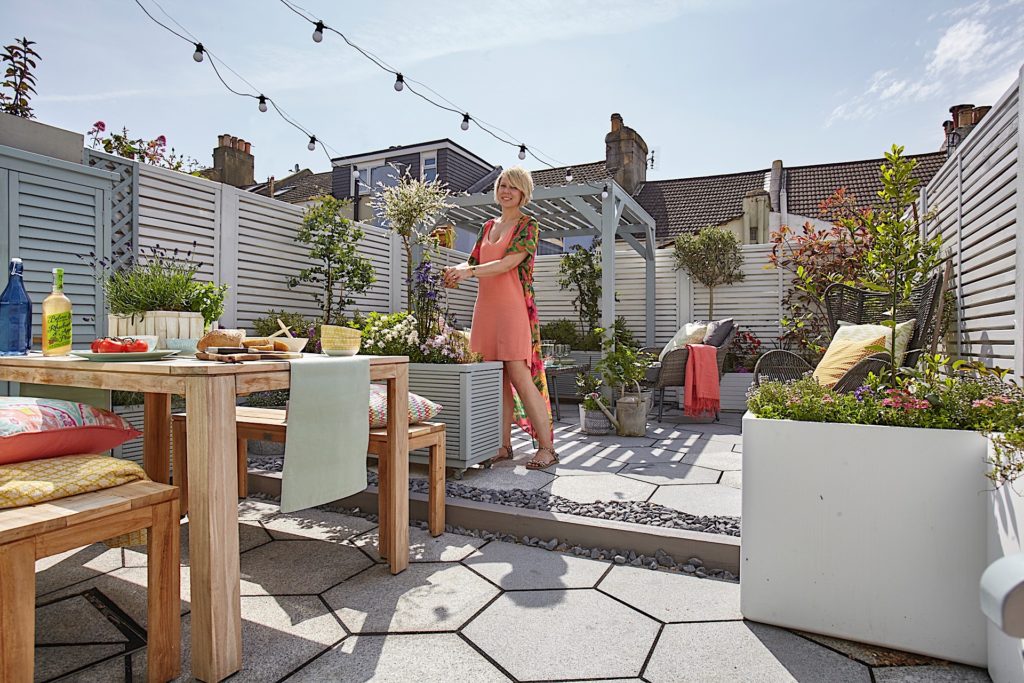 9. Where do you look for new style inspiration?
TBH, I never-ever switch off. I'm always looking for inspiration. From museums, shop interiors, on holiday – or the houses that I style for magazines. I'm always asking for advice on how to style spaces.
10. And finally, what has been your best purchase to date for your garden?
My favourite items all come from Morocco. I adore the ceramics, blankets, bowls, art and cushions that I have found in the bazaars in Marrakech. There are lots of nifty things I bought for my small garden to make it work harder – you can read about that HERE.
Have you loved reading about my garden? Let me know in the comment box below. And check by for more styling advice on my garden as I plan to give it a restyle in the next month!
Photos all care of David Woolley at Limitless Photos care of Good Homes Magazine.
You May Also Like
GORGEOUS GARDEN PAINT IDEAS FOR SUMMER
TRY THESE 8 PRETTY GARDEN LIGHTING IDEAS
12 OF THE BEST GARDEN IGLOO IDEAS THAT YOU NEED TO KNOW RIGHT NOW!