In this post you'll discover how I became an interior stylist AND discover in five easy steps how you can become one too.
One question I get asked the most is NOT about tricky interior design problems or the latest trends – but how did I get my career as an interior stylist for TV shows and magazines? In this post, I'm going to share my career path and give you hints and tips on how you can follow my path.
What Is Interior Styling?
Being an interior stylist is the best job in the world. One day I'm viewing locations and booking photographers for a shoot. Next I'm styling an event for a private party. One week, I'll be invited by big name brands to view their latest collections in Paris, New York and Millan. Or I can be on location with a film crew styling behind the scenes for a prime time interiors show.
It's fantastic job if you love people, travelling and being super creative. This is a shoot HERE I did for Good Homes magazine if you want to take a closer at what you could do to if you want to become an interior stylist.
How do I know all of this? Well, I'm Maxine. And I have been an interior styling for magazines and TV shows for the past 20 years. I have no formal training interior design. But I did have a keen eye for trends and a love of interiors which I have turned into a career which has taken me around the world!  I started this blog back in 2015 to share the makeovers that I do on my home.
You can discover more about me and why I started this blog on my About Me page HERE.  This is me at home with my dog Teddy.
Let me share how I got my dream job as an interior stylist….Step One – Get Lots Of Work Experience
After finishing my degree in English and Politics, I did a journalism MA in Leeds.  This course included doing work experience and so contacted all the magazines that I loved reading, and I got a two week placement at a fashion magazine. Although I was mostly clearing out the cupboard and opening the post, I was hooked.  Six months later – and a lot more work experience under my belt – I landed my first job at Period Living magazine as their office junior. I made sure everyone in that publish house knew who I was.
As part of my job, I assisted freelance stylists and I love it so much – all the luscious fabrics and thrilling props. This was way before the days of the internet, so everything we did was by phone or fax.  It was really old school – we had to call everyone to to arrange to pick up props – and I met some great friends that way from chatting to all the PR`s and little shop owners.
Above is my styling for Good Homes magazine
Step Two: Start Networking
One day, I cornered the style editor on Elle magazine in the office lift and BEGGED her to give me a chance – and she gave me my first break (thank you Susan Ward-Davies!) to look after the interior shopping pages for her. I used to do my normal job and then in my lunch hour, run down three flights of stairs, and help her put together the interior's pages. I was living and breathing home style at this time as I was working for a traditional interior one by day and a contemporary interiors one by night.
My tip: If you want a join interior styling you have to put yourself out there. Speak to as many people as you can in the industry and tell them how much you love interiors. You can learn more about how to do that in this post – Everything you need to know about interior styling
My first big break was getting a job on a magazine. After 3 years hard work, I joined House Beautiful in their style team.  This is where I really fine tuned my style skills. I got to shoot my first cover, I'd be styling two large decorating stories each month.  This is where I discovered that styling is about 95% organising, and 5% actual styling.
After five very happy years of working on a magzine, I took the leap to go freelance – and I've not looked back – shooting out in Cape Town, Sydney and New York. I've shot covers for Country Homes Magazines and my makeovers and style shoots appear in at least two magazines a month. I'm now asked to shoot for high street clients like The White Company, House of Fraser, Debenhams, Tescos…They find me through my online portfolio website which you can see here.
Above is my styling for magazines
Step Three: Try Your Hand At TV Styling
After working on magazines for years – I got a my break into styling for TV shows. How?I started working as a interiors stylist for a TV company in Brighton. After two years of working for them, I was put forward for an audition for a new show. I got the gig and ended up working on This Morning, You can watch my first presenting role HERE – I have bright blonde hair.
By networking and making friends as I go, I've ended up working for Amanda Lamb's Selling Houses, CowBoy Builders and for a brand new show with George Clarke for Channel 4 just this month.
If you want to work in TV interior styling – why not contact local TV production companies and see if they offer work experience. Once you build up your contacts, you could be on the TV scenes too.
Step Four: Start An Interiors Blog
The latest project I have taken on has been this blog – We Love Home. For years, friends and family have suggested that I started a blog to share all my style knowledge. Not being the best speller, I've not had the confidence, until I thought, sod it – it's only spelling! So I launched this blog.
OMG – it has expanding my career so much. Now I do videos for my clients for their social media which I LOVE LOVE LOVE doing! As well as styling lots of mini projects just for me which I can share on here. It's given me a lot more freedom to take on projects that are more 'me'.
My blog has been shortlisted for over 14 years in just 3 years including Amara Best Lifestyle Blog in 2019. WOOO HOO!
If you want to become an interior stylist – then one great way to kick start your career is by launching a blog. A place where you can chat about all things design and decor. Why not take a look at this post here for some fab tips on How to make your lifestyle blog stand out
I love sharing my home makeovers on my blog
Step Five: Ask yourself the following
Do you love hard work and can work long hours?
Are you very resourceful and love being creative?
Are you great networker?
If the answer is  a big fat YES then you'll make a fab interior stylist, I promise. Go on, start a blog, go get work experience – and start sharing your ideas and this career could be yours.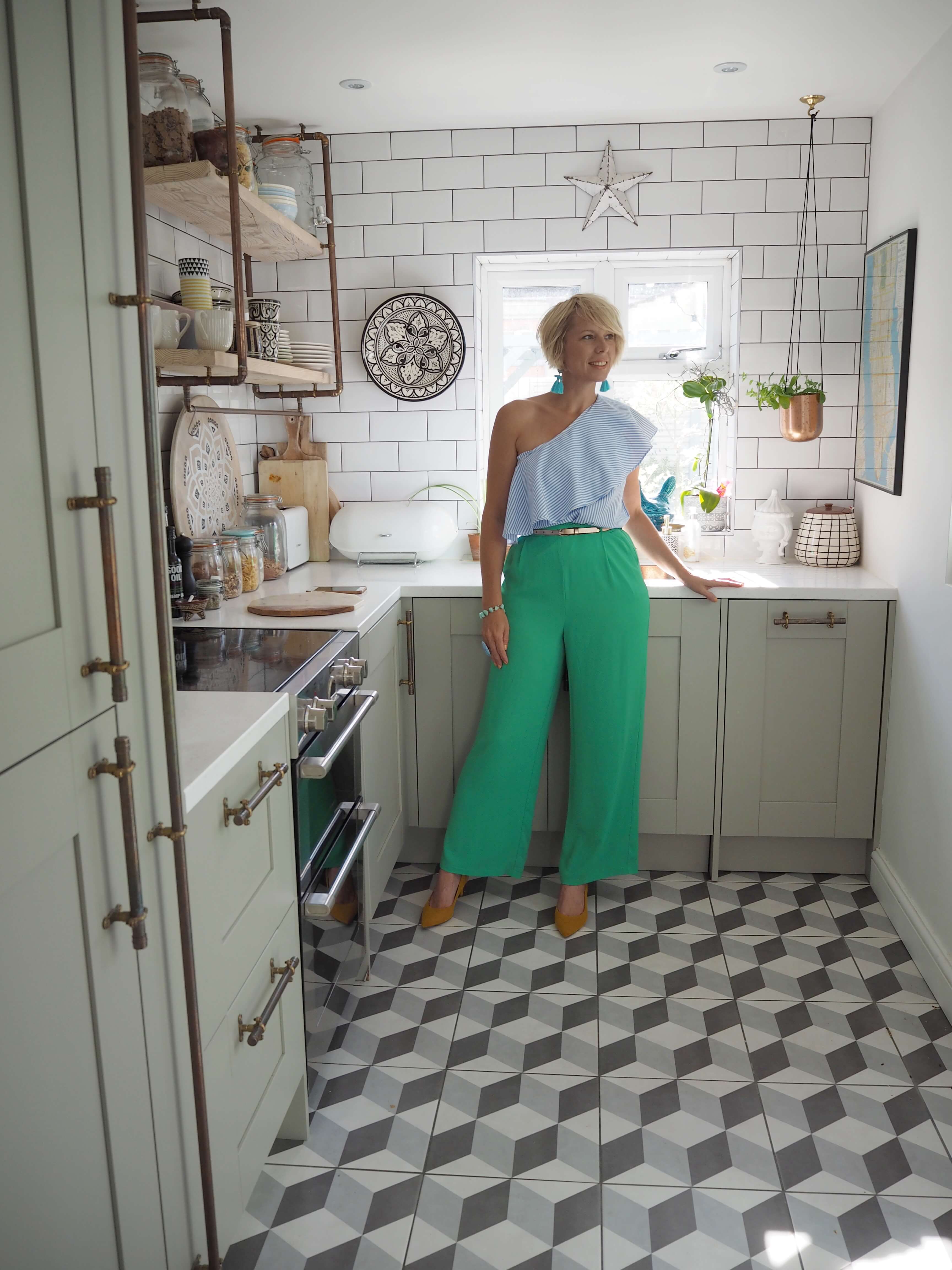 You can become an interior Stylist!
If you want more tips on what skills you need to be an interior stylist – then you have a long at my blog post on Beginner's guide to becoming an interior stylist.
It's all be very random. Some of it has been luck. Mostly a lot of hard work.  I've done some crazy things as part of my job – from spray painting vintage furniture until 1am, to trying to track down Christmas Trees in the middle of the August.
If love all things interior styling – why not try Join my workshops: Become an interior for the day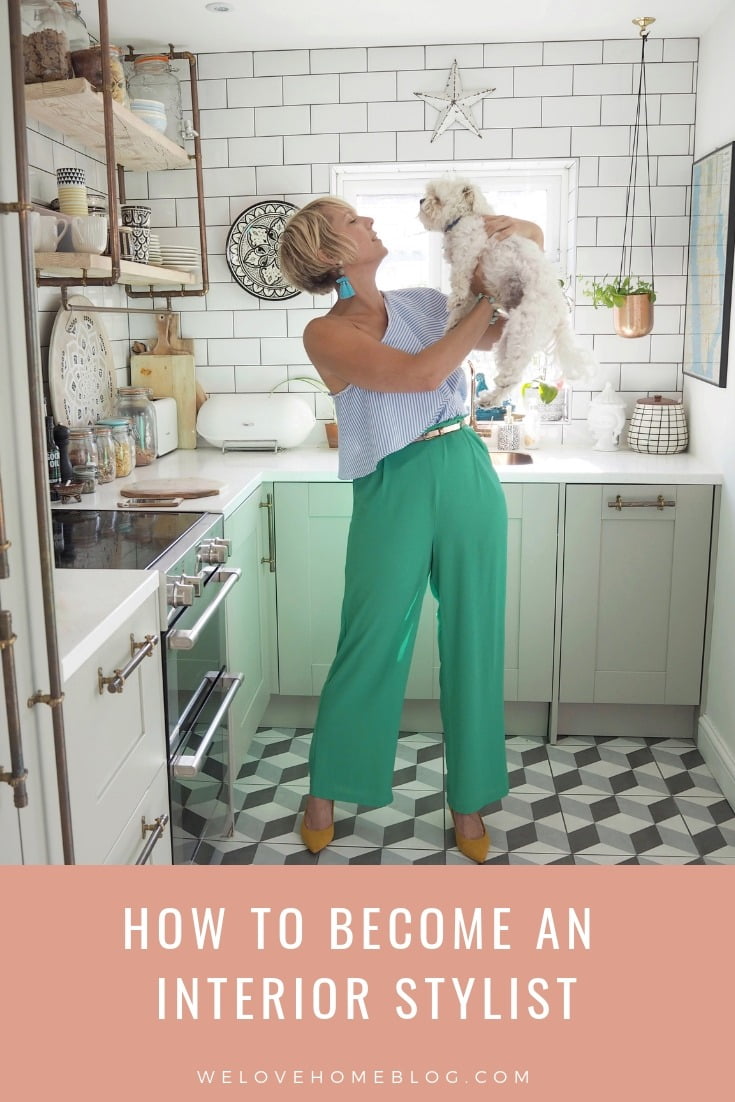 More Posts On Interior Styling
How I became an interior stylist
My year as an interior stylist
Christmas Interior Styling with Next