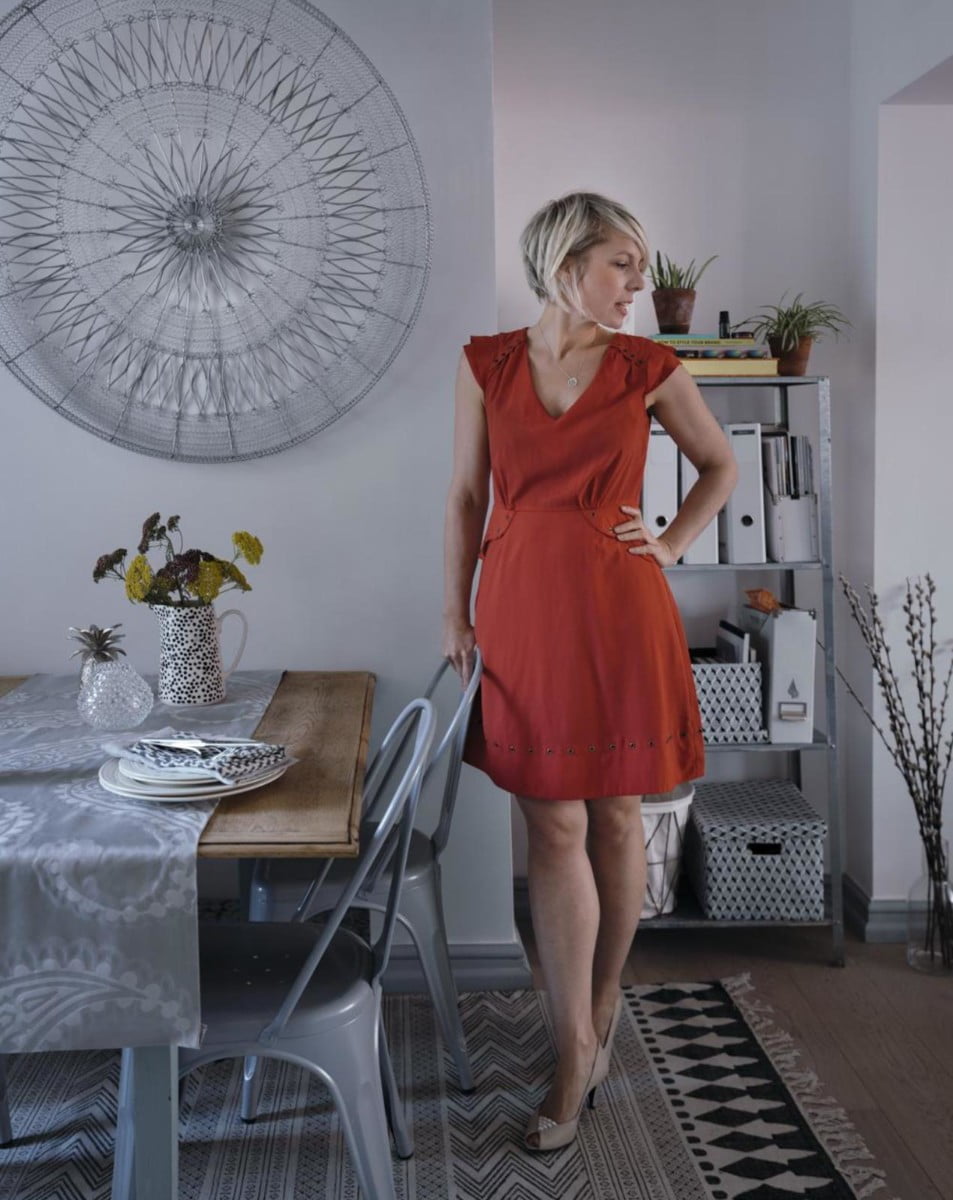 I'm a sociable character at heart, and I love having friends over for impromptu, tea and cake or long lazy brunches. My dining room was not a space I could relax in, never mind have friends around for meals.
Last year, I had my dining room completely overhauled by my builders. I was left with an empty shell of a room. I ripped down a fake ceiling and the 1970s cabinets so that the alcoves were clear of clutter. I took out my (reproduction) fireplace with one big tug. With that gone, there was more space for my dining table which I could now push up to one side creating a feeling of space. The whole room was re-plastered so I have lovely smooth walls. Finally, I painted the walls in a soft white paint shade.


When the builders had gone, I was left with with a very plain and simple dining room. But, if I am being honest it was a little soulless for me. My aim? To give my space a grown up look, with lots of character while still keeping a feeling of calm – a room perfect for friends to come round for diner. A dining with with personality.


From the moment I spotted the Round Woven Wire Wall Plaque in Laura Ashley I knew the perfect place to hang it – in my recently renovated dining room.  What I need to do before I could hang it was create the perfect backdrop that would allow this statement piece of art to really shine in my room.
The perfect tone for showcasing my new piece of wall art is a soft neutral paint shade for my walls. I picked Flint wall emulsion for my feature fireplace wall. It's a lovely soft tone of grey which instantly softens the overall look of my white walls. Instantly this created a feature in the room, making a more intimate ambience and making the perfect backdrop.
My whole home is furnished with vintage finds and unique buys picked up from the flea markets of my home town of Brighton. Using paint, I overhauled my antique furniture breathing more life into them. My battered cream 1930s cabinet, which is filled with my serving china and wine glasses, was revived with a furniture paint shade in Pale Silver which contrasted against my freshly painted white alcoves. My regency drop leaf dining table was also given a subtle new look with a tin of Duck Egg painted onto the legs, covering up the scratches and scuffs. It looks as good as new, and I love them.
Once the walls and furniture paint had dried, I hung up my Wall Plaque above my table. The detailed wirework effect cast a beautiful lace-like shadows across my walls in the sunlight. The fine pattern in the piece of art added texture to my walls. What I think works best is the large scale of this plaque. The generous proportions of the piece add drama to my very plain dining room, adding visual interest to my room.

Although my dining table looked so much better thanks to a lick of paint: it still needed softening and a bit of glamour. With a couple of metres of Emperor Paisley Dove upholstery fabric in Grey, I sewed a simple table runner. With the remaining fabric, I made a comfortable cushion for my metal Tolix chairs, perfect for sitting on during intimate suppers. I always keep armful of throws to hand which guests can wrap around their legs when meal times run into night times.
To pull the look together, I looked for silver accessories. A pair of Pineapple Candle Stick Holders are just the type of quirky accessory that I love. The silver finish of these pineapples just glimmers under candlelight and they sparkle on the silvery fabric runner.
Finally, I dressed my table with a pop of colour using garden cut wild flowers in berry and mustard tones. Real flowers are the best way to add natural colour to an informal, relaxed dining setting.

ow, I have the perfect dining room that take pleasure in relaxing in. My remodel has taken me a long lazy weekend to do. Such simple changes have transformed my simple dining room into something real special.
Looking to add personality to your space? Then brighten up dull walls with a statement piece of art, adding personality to your home just like Maxine from WeLoveHome has done to her dining room with a unique Laura Ashely piece of wall art.