Are you thinking about freshening up the look of your bedroom? Me too! I'm decorating my bedroom this weekend and as part of my prep, I've been busy gathering style-spiration for a quick and easy makeover. Here are my top 5 simple style tips on how to be creative with your headboard (and the space around it) for an instant update.
Go All Matchy-Matchy
This geometric statement wall is so easy to do at home. All you need is Posca pens and then hand draw your pattern straight onto blank white walls. It's as simple as that. The geometric upholstery of this Campion headboard (£645) mimics the patterns on the walls – pure genius! I have a tiled floor like this in my kitchen that is how much I love this design. When teamed with the geo accessories – like the rug, the terrariums and the light fitting, this room ticks all the right boxes.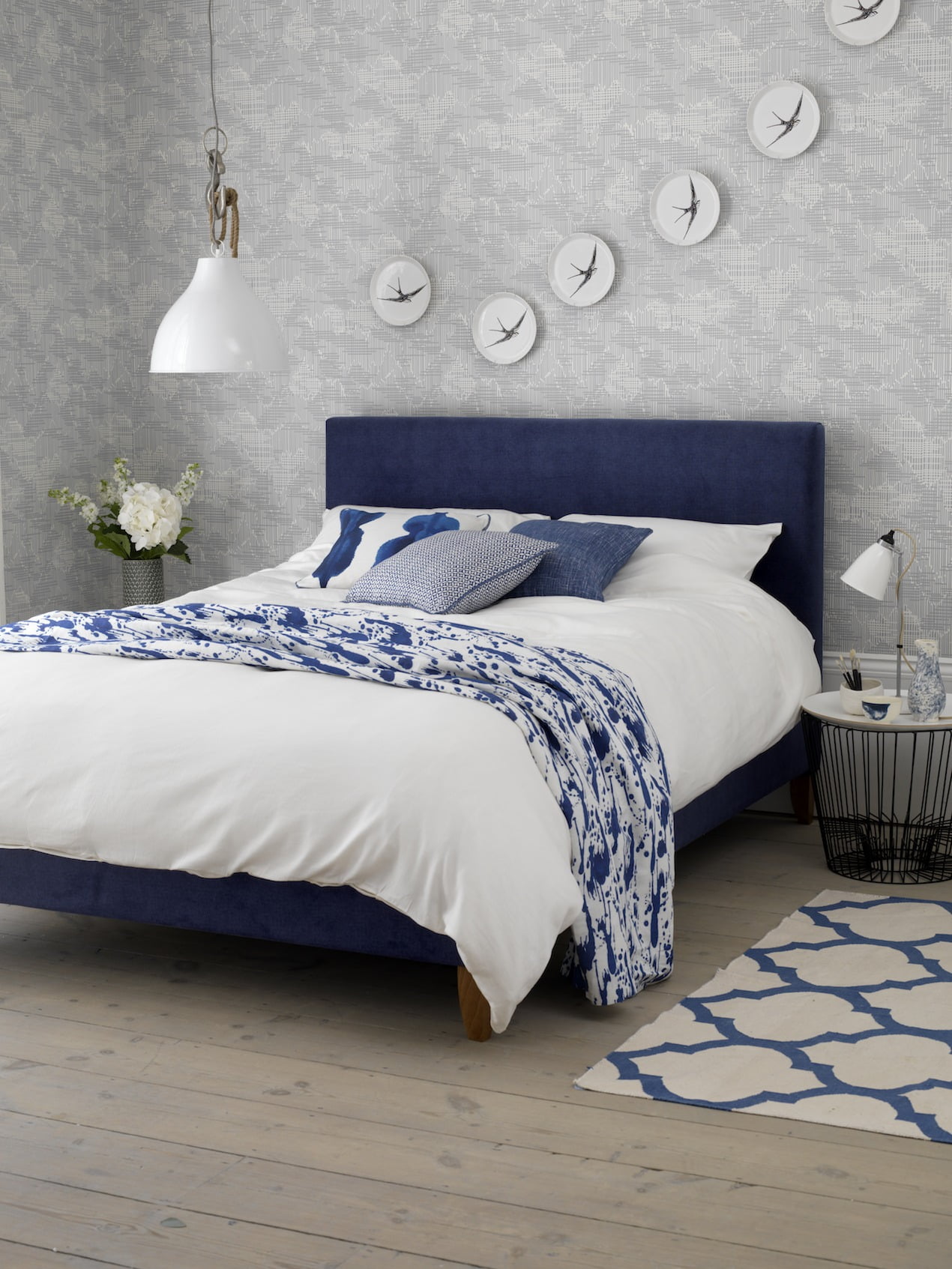 New Nauticals
I live by the Brighton seaside, and have always had a soft spot for coastal style. My last flat was decorated top-to-bottom in seaside shades. Don't you just love the bleached wooden floorboards, the navy Burdock upholstered headboard, white enamel light fitting and the watercolour cushions? Dreamy. I'm a big fan of plates hung on the wall. These pretty bird ones seem to fly across the wallpaper. This is pure classic styling.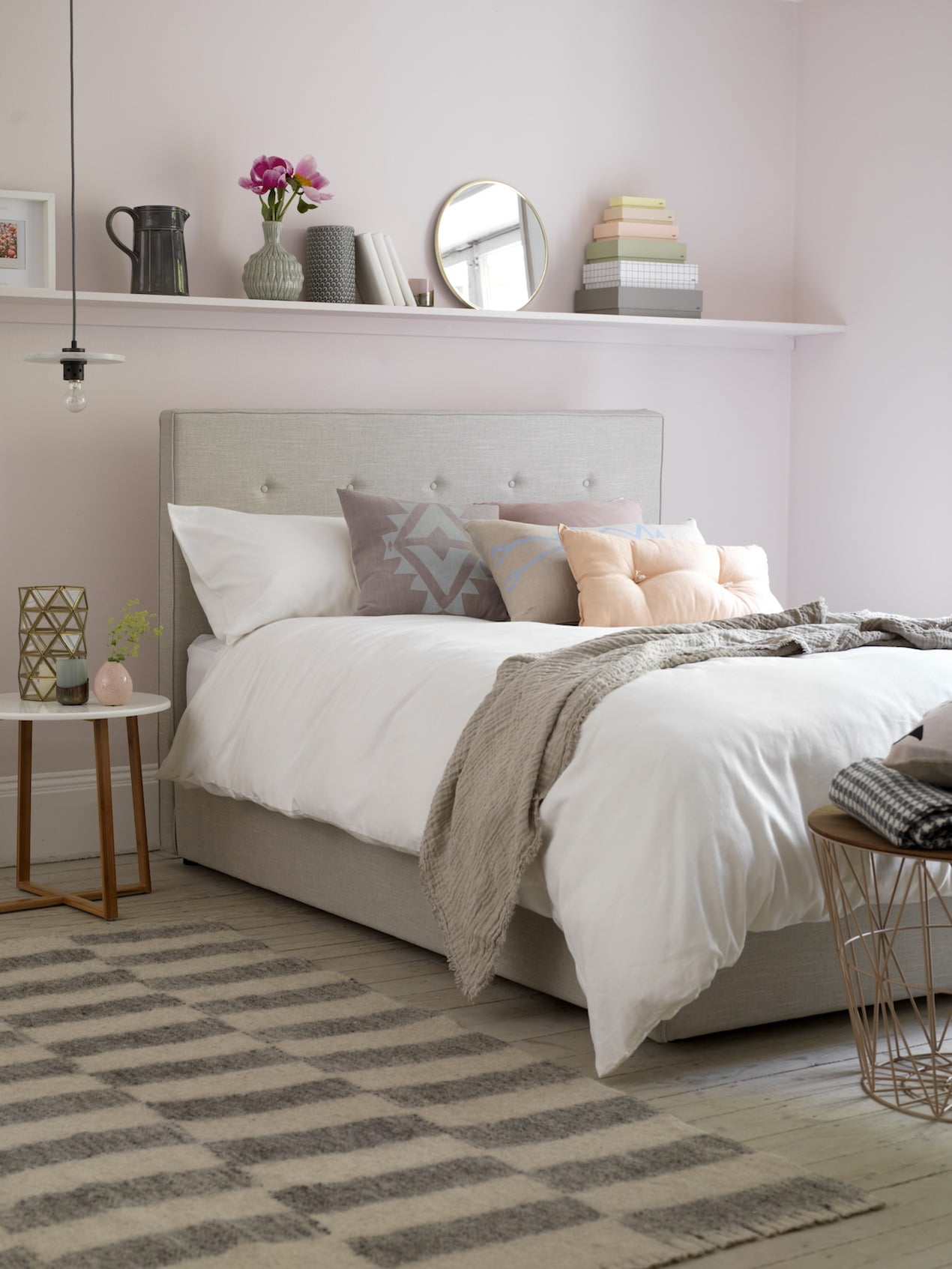 Add A #Shelfie
Do you have 1000s of knick knacks cluttering up your bedroom? Yep, me too! An artfully placed shelf could be your saving grace. Hang above your headboard and fill with your bits and bobs. I love using a shelf for display because, unlike hanging things up, I'm able to switch things up a bit when I get bored. To stop it looking cluttered, my tip is to pick a smart upholstered headboard like the Poppy with a neat trim and button back to keep your bedroom looking city-sharp. The light fitting is ace too – I'm sure I saw some on eBay just like this for about £20.
Twist The Traditional
The trick to home styling is to work out a way to do the norm a little differently – like this Rose headboard. Yes, it is a traditional looking headboard but when covered in a mustard felt it looks bang-up-to-date. This bedroom has been dressed with copper accessories, the black made.com wall lights, the clouds wallpaper and tropical print cushions – basically every cutting edge trend for 2016 has been nailed in this very room.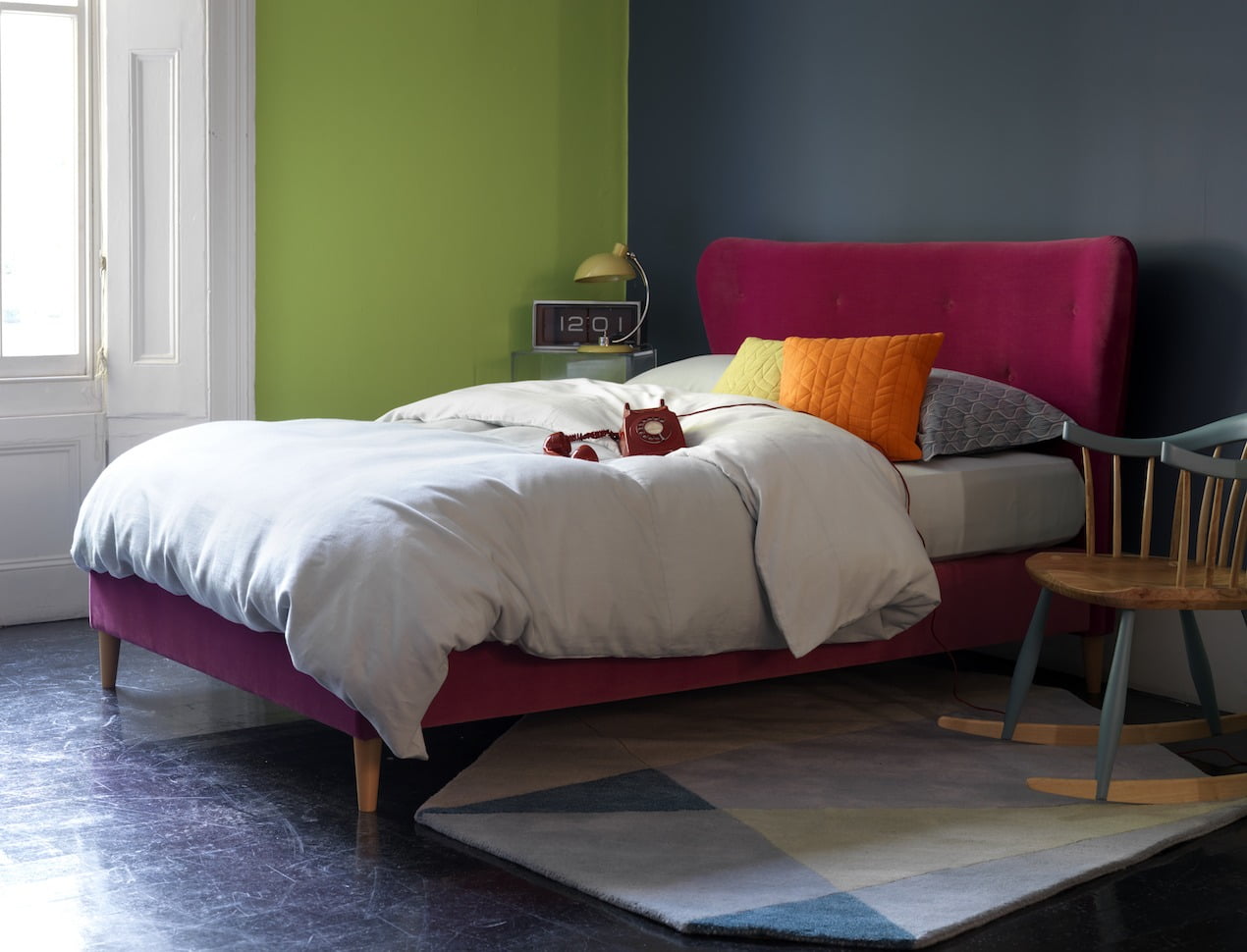 Clash It
Over the past two months, I have decorated 12 rooms for a TV show – and I wish I had seen this idea before then – the contrasting walls which give this bedroom punch. It's making me re-think how I want to decorate my spare bedroom now….Anyhoo, let's look at that Eliza headboard with it's hot raspberry velvet finish and swooping curved lines. When teamed with grey and lime walls, and the 50p shaped rug and black gloss floor – it's just feels like a fresh take on the colour pop trend. All done with just a couple of tins of paint.
There it is, my 5 easy ways to style your room to make your headboard stand out. Do these ideas have you itching to decorate your bedroom? If yes, then get inspired with more posts 11 SECRET INTERIOR STYLIST TRICKS FOR YOUR BEDROOM DREAMING ABOUT A MIDNIGHT BLUE BEDROOM and WEEKEND REVAMP – UPDATE A TIRED BEDROOM FOR UNDER £170
This is a sponsored post by Button and Sprung. All the ideas, as ever, are my own.