Autumn has arrived and where better to style the season into your home then in than in your bedroom! Here's 6 autumn bedroom decorating ideas for your home.
Now the weather has got a bit nippy, it's the perfect time to snuggling up indoors. Decorating any part of your home for autumn is all about creating a space that's comfortable, welcoming, and warm. And that's especially true in your bedroom.
Whether you're readying a guest room or updating your master suite, you can give your bedroom the cosy refresh it deserves with these 6 autumn bedroom decorating ideas.
Contains AF links
6 cosy AUTUMN BEDROOM decorating IDEAS WITH PIGLET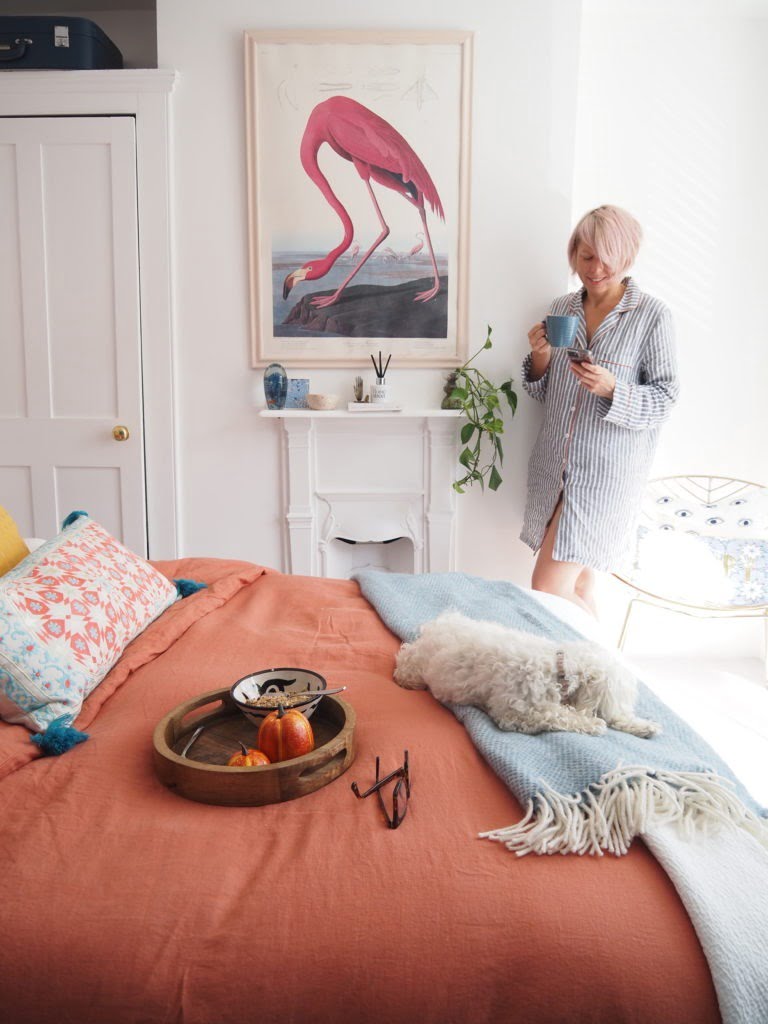 1 Get Comfy in an Autumn Palette
In autumn why not add colours to your home that have a rich, warm appearance that are inspired by the falling leaves! Choose rusty orange, mustards, vanilla, oatmeal, and chestnut. One way to add these colours to your bedroom is with your linens.
The linens I have dressed my bed with (above) are from Piglet. These sheets have a weighted quality, so they naturally aids a wonderful deep sleep (high on my tick list as someone who is often wide awake at 3am). Dress with a fluffy duvet and soft-to-the-touch linens. I have never slept so well as under the burnt orange Piglet linen sheets which are so cosy, especially for this time of year.
If you're thinking of investing in a new bed this winter, then my advice is to go for one that is as big as you can fit in your bedroom. Because the bigger the bed, the better you sleep. My king sized ottoman storage bed is from Button & Sprung.
Finish the look of your bedroom styling with throws, cushions and duvet covers in burgundy, chocolate, or burnt red tones help to finish off the look of your bedroom styling.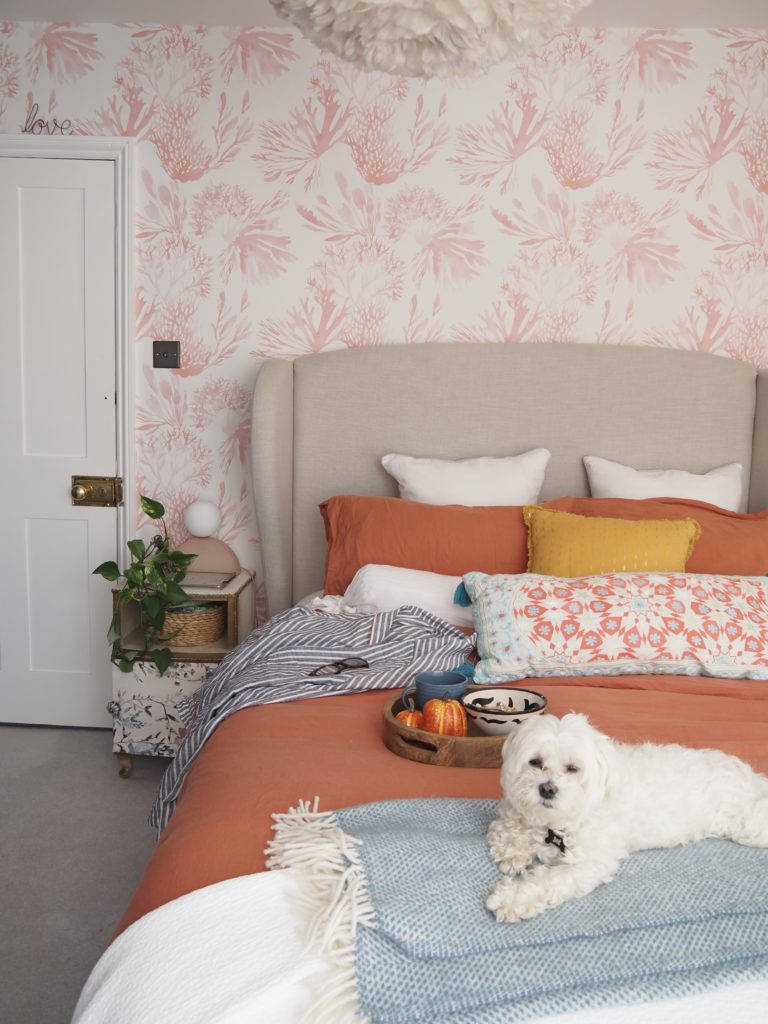 2 Warm Up with Throw Blankets
Keep your bedroom comfy and warm with a variety of seasonal throw and blankets. Choose ones made from super cosy wools and knits that you can drape over the end of your bed – handy for cold evenings. Knit throws and quilts can also lend plenty of autumn style to your bedroom.
Blanket and throws are a great way to inject colour into your bedroom too. I love blues with oranges mixed together. They are so calming and relaxing.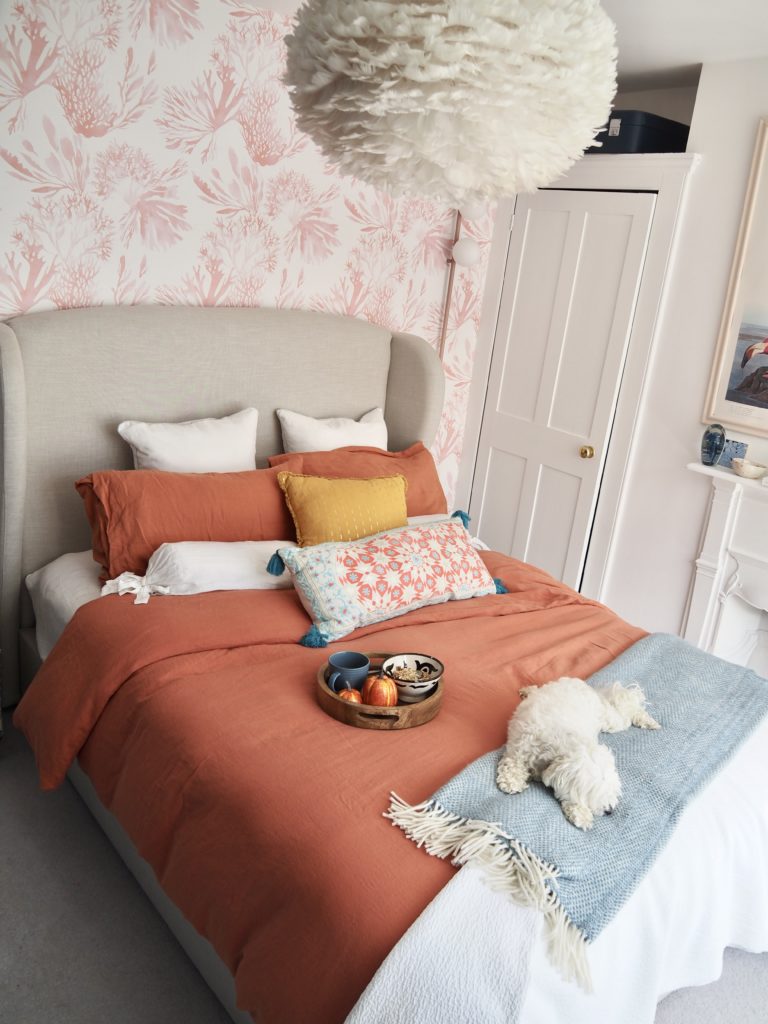 3 Place Some Pumpkins
One of the most popular ways to style autumn into your bedroom is by incorporating pumpkins and pumpkin-style decor! Arrange smaller pumpkins throughout the room as accents. I popped my fake ones on my breakfast tray for a cute breakfast-in-bed moment.
In a bedroom you might now want a real pumpkin but you can pick up these cute fake ones from Amazon. See how I styled them into my living room for Halloween.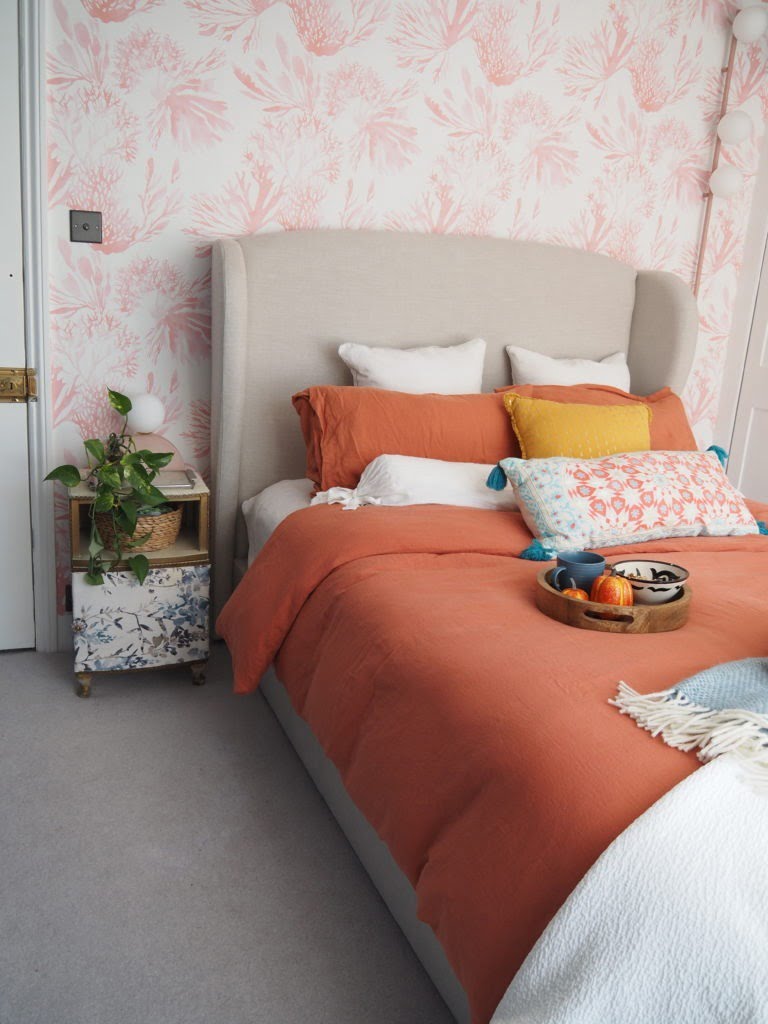 4 Add Natural touches
Nature-inspired interior is the most popular interior design trend of autumn 2021 with a massive 287,506 Pinterest pins! Bring this trend into your bedroom with natural soft fabrics & organic shapes to help you ease into the colder months.
One way to do this is with with wooden accessories. I choose an oak tray to serve my breakfast on. You could dot more natural touches like wooden candlesticks, wicker storage baskets or even oak or stripped pine furniture.
Even a vase filled with twigs picked up on an autumn walk can make a stunning display on your dressing table or mantlepiece.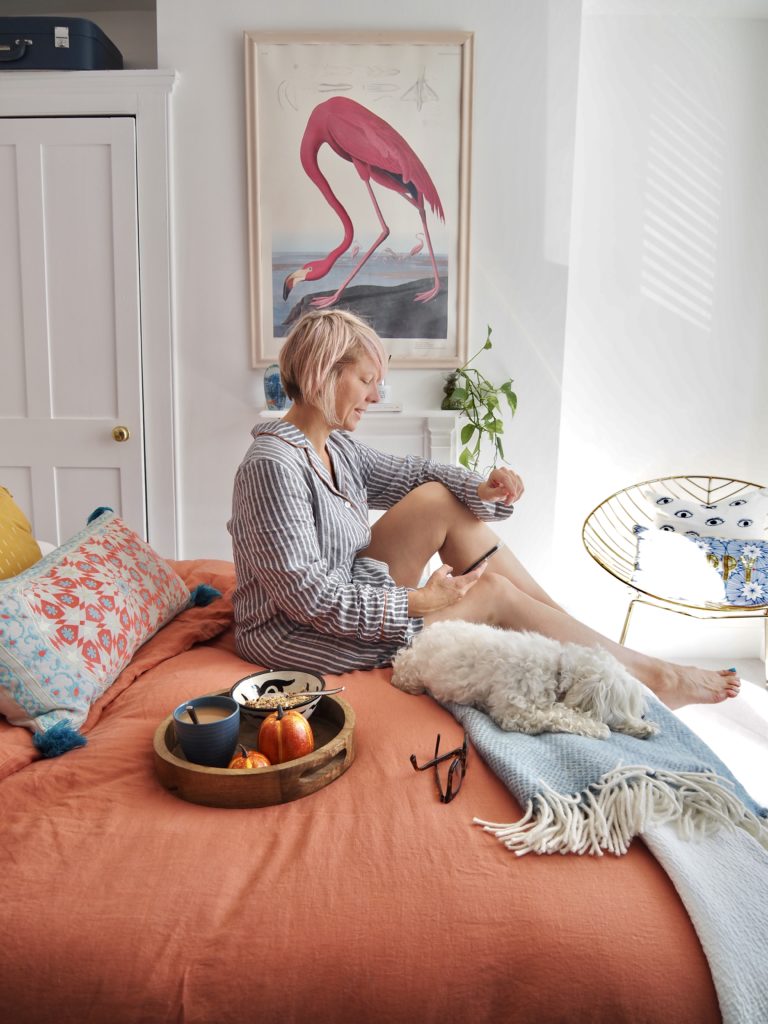 5 Create a clutter free space
If you are spending more time in your bedroom, then you'll want to keep clutter at bay with lots of simple storage solutions.
Put your hairdryer in a pretty basket so the wires don't trail all over your room.
Go for a roomy wardrobe (make sure you invest in matching slim line hangers so you can fit all your clothes in).
A bedside table with a drawer is always a must to keep your night stand fuss-free.
Invest in an ottoman bed to tuck away seasonal clothing and extra linens & pillows.
Keeping your room clutter free will turn your bedroom into a calm and relaxing space.
6 Good practical lighting.
With the shorter days, our mornings are darker and our evening start earlier. As a result, we'll want our bedrooms to be light and bright.
Think about dotting lamps and lights around your room to use at different time of the day. You'll need direct lighting for getting ready in the mornings. Then a softer lamp for when you want to read in bed. And an overhead pendant for when you need to tidy the space.
Place around your bedroom, like on your dressing table or mantle for a welcoming glow. You could even treat yourself to a daylight alarm clock that will help you wake up and sooth you to sleep.
Do you love these Autumn BEDROOM DECORATING IDEAS?
I hope you have enjoyed this post! And feel read to face Autumn in style. I can't wait to spend more time in my bedroom snuggled up under my burnt orange Piglet linen sheets!
Love Maxine