Autumn is here…which means it's time to style your home with spooky vibes ready for Halloween. Follow my 5 step styling guide below so you can recreate my ghostly mantlepiece in your home.
Now is the perfect time of year to ringing in the changes in your home, bringing a cosy Autumnal look into your space. And when better to give your space a bit of a spruce than for Halloween? Halloween is now the most popular holiday in the year in the UK (after Christmas) we love everything to do with ghosts and ghouls!
Halloween is the ideal tome to go crazy for decorations at home. From pumpkins, to hanging skeletons, bowls of candy to spiders' webs, it's a great way to get creative and crafty in your home.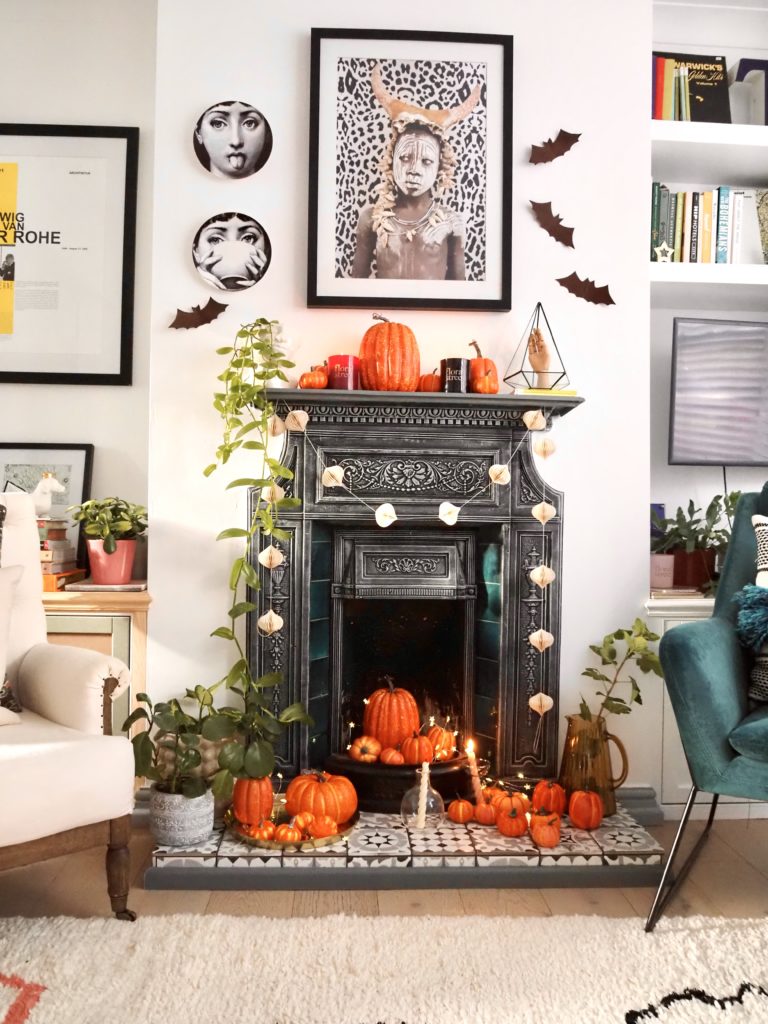 STYLE A HALLOWEEN MANTLEPIECE WITH THESE 5 SPOOKY TIPS
As we approach Halloween, I wanted to style my space taking inspiration from horror movies and haunted houses. I started with my mantlepiece as it is the focal part my living space. Mantlepieces really comes into their own at this time of year, as we think about lighting fires and spending more time indoors.
A typical mantel gives you enough space to spiff up this Halloween with candles, pumpkins, garlands, wreaths, and so much more. So pile it on!
If you want to go all out with Halloween mantel decorating ideas, they follow my how-to styling guide below which is simply boo-tiful. We're talking bats, pumpkins, and glimmering lighting — how's that for creepy?!
READ: WHAT'S NEW IN INTERIORS THIS AUTUMN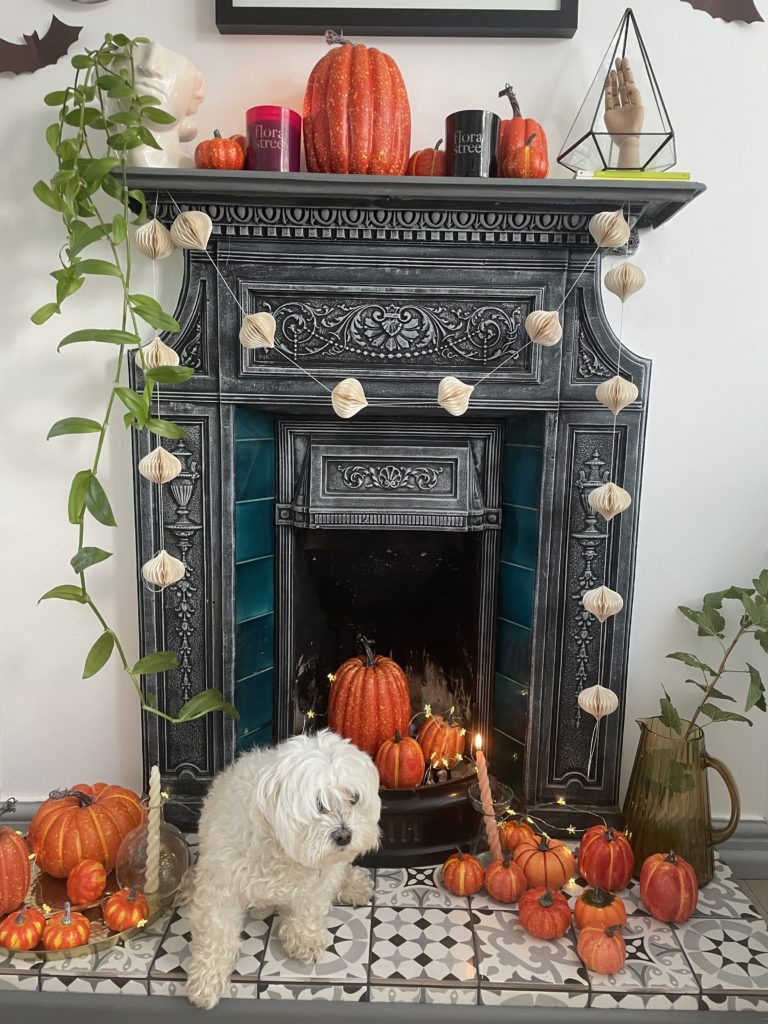 Step 1 Dress your mantle with pumpkins
This enchanting mantlepiece display is about showing off your bounty of pumpkins that look like they are tumbling out of your fireplace. Start by placing a a few large pumpkins at the base, then dot on smaller ones around. You can use clear adhesive dots to keep the pumpkins in place.
Pumpkins SCREAM Halloween. You can go for real ones, or copy me with these cool fake ones found on Amazon which you can use year after year.
Choose pumpkins in different sizes that you can scatter around your hearth and across your mantle. If you have real ones, you can pop a candle inside. Or fill with candy as a sweet treat surprise.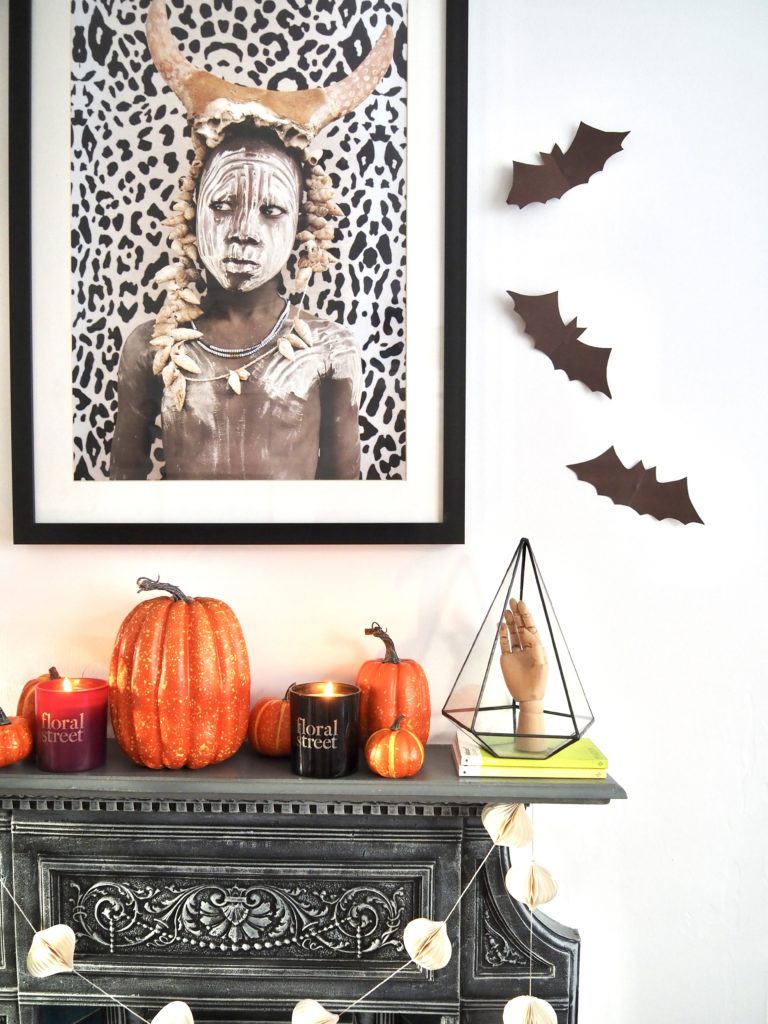 Step 2 Stick Up paper bats
A sprinkling of bats is perfect for your Halloween decor. I found a free cut-out bat template online here which I used to make lots of bats for my walls. Simply draw out the shape on either black or brown card or paper and then cut out using scissors. Fold your paper bat in the middle to make them appear 3-d. Then use blue tack to fix to your walls.
I've dotted mine up the walls as if they are flying across my room. Creeeeeepy!
You don't have to stick just to bats! If you are feeling creative you can make a creepy cluster of huge, hairy spiders which will look spine-chilling! Foam tubes and faux fur make it easy to make your own DIY spider Halloween decorations. Add simple accents like fresh pumpkins and gourds, or branches pick up from your Autumn walk to complete your fall mantel.
READ: 7 FESTIVE FIREPLACE STYLING IDEAS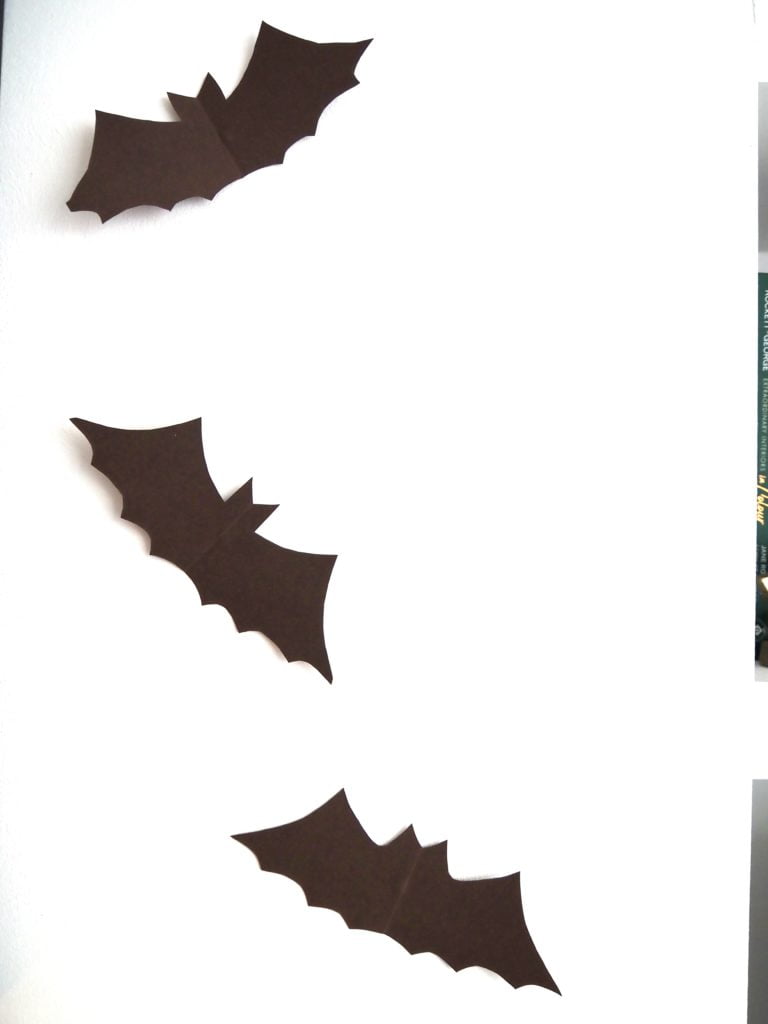 Step 3 – Look for spooky objects around your home
Rather than buy new Halloween decorations, I had a good hunt around my home for objects that would look spooky in the right setting. My head shaped vase picked up from H&M Home was perfect for a horror story look. And so was my artist's wooden hand. I found vases that look like test tubes that I dotted around.
I placed these objects on books with orange and yellow spines so they were raised up, adding interest to my mantle.
Above my fireplace, I hung artwork with a creepy feel to it. Try swapping out your art above – or even hanging a mirror and draping fake spider's webs over it.
What do you have around your home that you can use? How about picture frames filled with black and white photos of your family in their best Halloween fancy dress? Or a vase filled with Jack O'Lanterns? Or how about children's plastic toys that you can spray black with paint?
Have a hunt around your home and use your imagination!
READ: 7 BRILLIANT ZOOM PARTY HACKS AND IDEAS YOU SHOULD KNOW ABOUT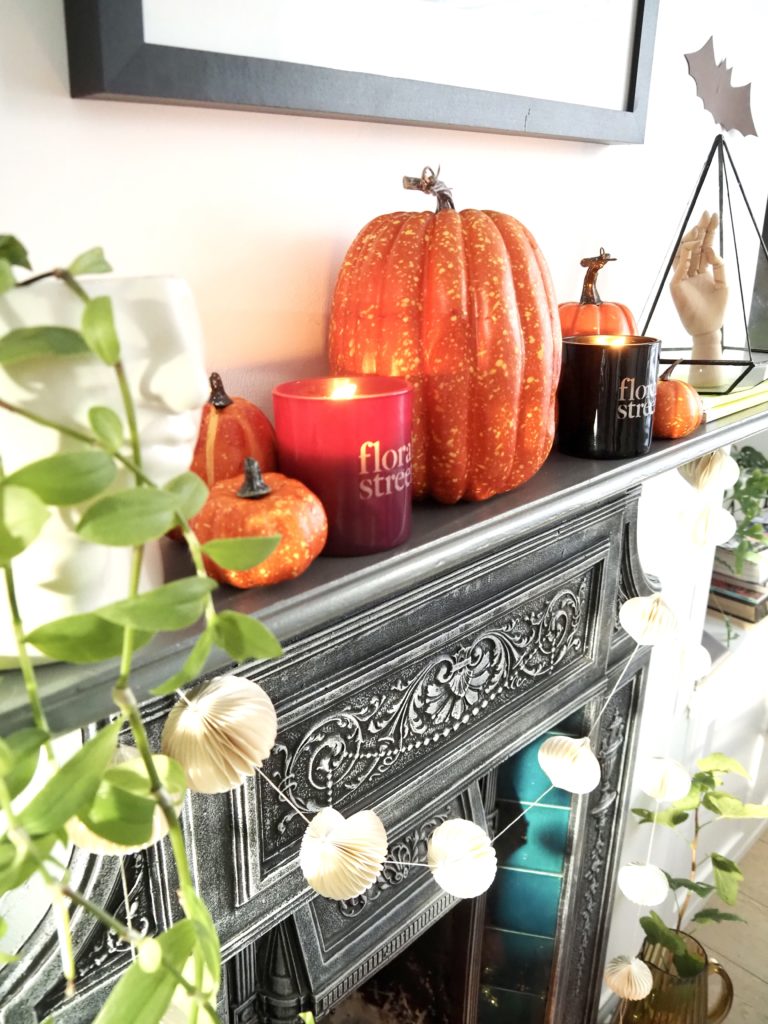 STEP 4 Add a Ghostly Glow
Fill your mantle with candles for a ghostly glow. One of candles I choose is scented like a smokey fireplace so when it is lit, my living room has the aroma of a burning fire place. So cool, right? You can pop other candles inside jam jars or vases. Look for wax pillar candles in tones of orange, black or green so your mantle has that Halloween theme.
Around your hearth, place battery powered fairy lights for a twinkly, warm light. These look so good when turned on at night night to give your living room a cosy and inviting look.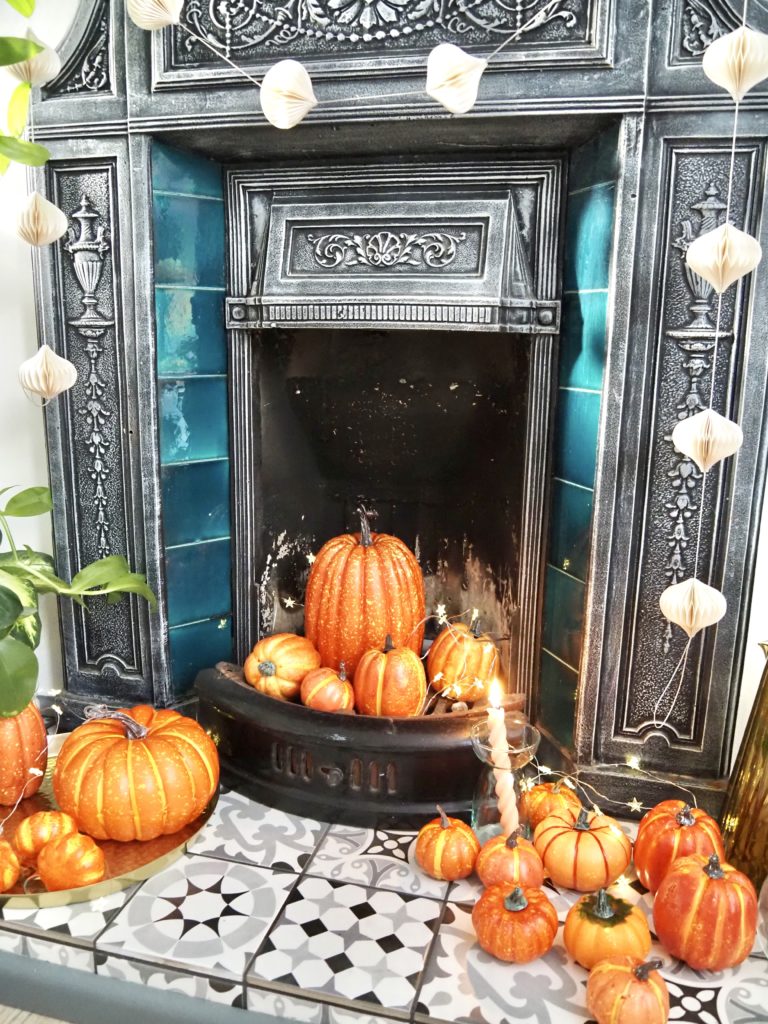 Step 5 Hang a Halloween garland
Using little sticky hooks, I clipped this pretty paper garland from H&M under the mantlepiece. It adds interest to my fireplace and ties the scheme together.
You could try hanging a banner – there are some great ones that spell out 'Happy Halloween' or 'BOO!' Or make your own using paper and string. Simply cut out words and hang in place.
READ: MY COSY AUTUMN LIVING ROOM MAKEOVER WITH FRENCH CONNECTION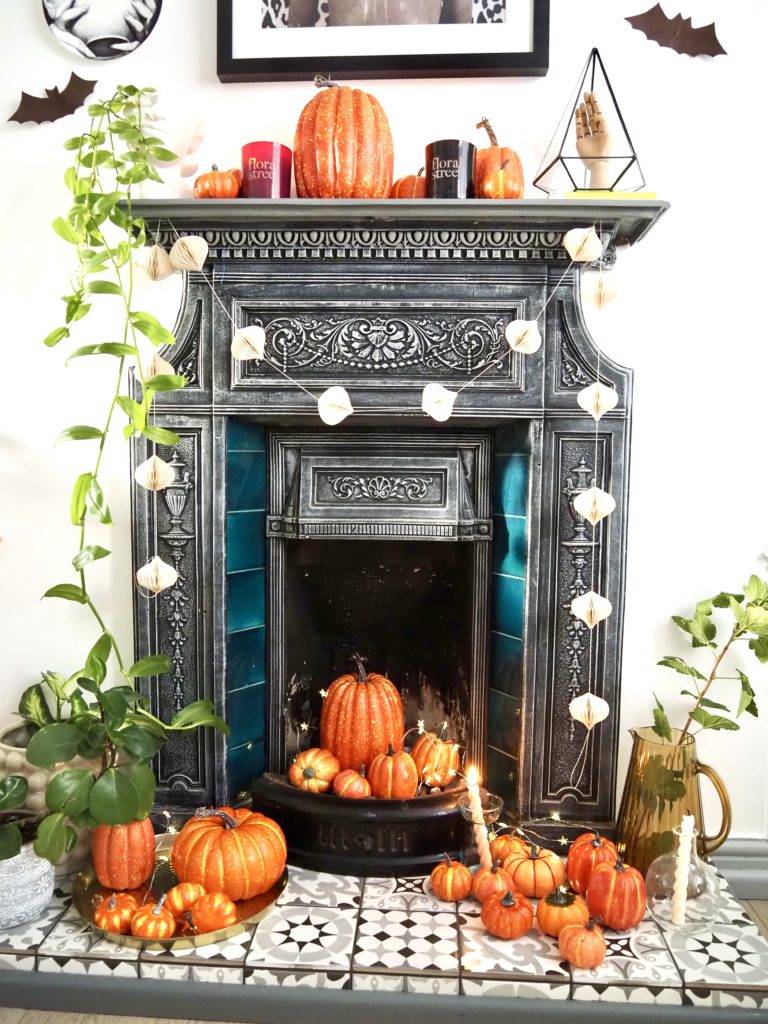 Whether you like your Halloween decorations to be sophisticated and subtle OR loud and colourful, whether you want to use what you already have or spend a little cash, I hope this post has inspired you to get creative at home!
This look is guarantee to create lots of 'oohs' and 'aahs' during your Halloween parties!
Felling inspired? Let me know in the comments box below!
Love Maxine