Nothing sparks creativity and excitement like a change in season! Don't you agree? That's why Autumn is the perfect time to restyle your home turning it into an inviting sanctuary. Come explore what's new in interiors this Autumn with my trend round up!
As Autumn approaches, we're naturally spending more time indoors either snuggling up on the sofa, cooking in the kitchen or curled up in bed. As we spend more times inside, maybe it is time to give your home a little Autumn refresh? In this post, I have picked out three key interior trends for the season ahead, as well as share my expert styling tips on how to create the looks in your home. EXCITING!
So sit back, grab a cuppa and explore what's new in interiors this Autumn with me. And in no time soon you will have transformed your home into an oh-so-cosy space.
New Autumn Interiors Ideas
The key to a home decor refresh is to keep things simple. It's so easy to switch up your décor with sumptuous cushions, snuggly throws, scented candles and a warm colour pallet which will transform your home.You'll want your home to look beautiful and feel cosy but also work with your lifestyle and echo the time of year. And just like you, I love styling my home ready for the season ahead.
For example, in my fireplace, I'll replace a vase summer's vase of flowers for candles scented with autumnal orange and cinnamon. I also love cosy textures at this time of year, so I'll swap to a higher-tog duvet and weighty cotton cover and layer woven wooly throws on my bed and sofa. It feels to so good to embrace the new season ahead and get excited just thinking about all the little changes we can make in our homes!
And the best bit… all the pieces I've hand-picked just for you today are from George at Asda. They are home to some really affordable homewares which won't break the bank either! Making it easy to bring the warmth of autumn into every corner in your home (whatever your budget might be).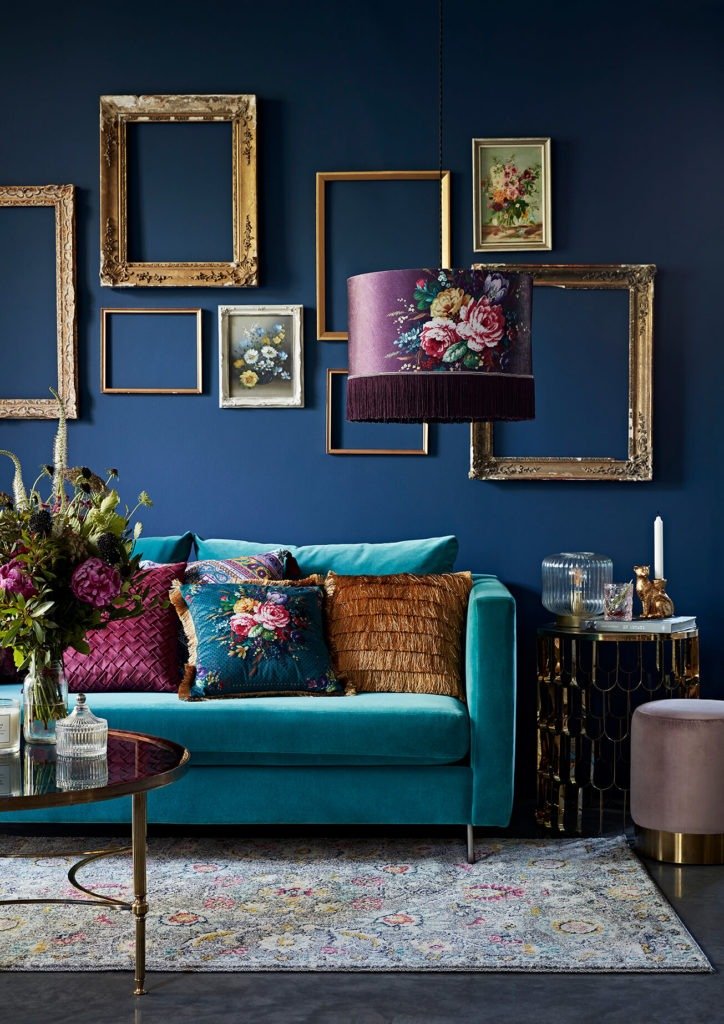 Fresh History
I love this new Autumn trend because…It reminds me of grand country house with that are a little time worn. The colour pallet is very warm and inviting with mulberry, aubergine, teal, mid-night blue and ocher give this look old school glamour. Furniture is in jewel colours – while on your floor pick a large rug to fill your space with pattern and colour.
My must-have buy from this look is a gold cocktail trolley which you can stack full or dainty china tea-set and piles of cake. If you love junk shops, then hunt around for gold vintage frames (the more battered looking the better) to hang on yours walls to give your space character.
In your bedroom mix your floral prints together with mis-matched pillow cases and a duvet cover, then chuck on an extra large velvet throw for a sumptuous look.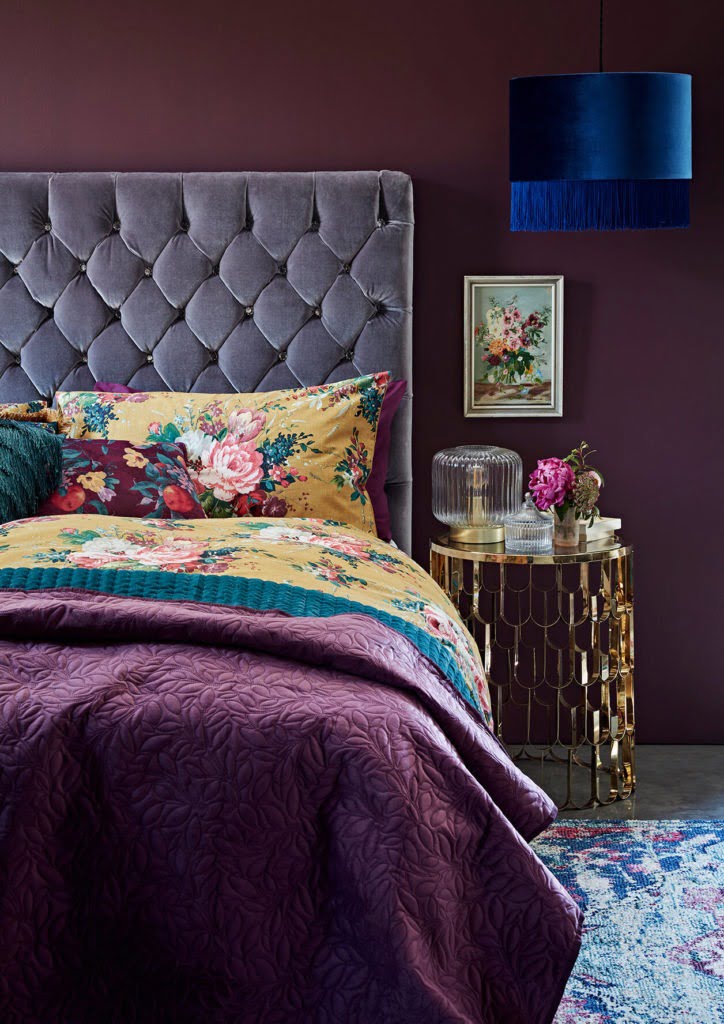 How I'm styling this look:
Look out for accessories decorated with vintage rose patterns or fringing – or both! Be bold when it comes to layering textures. Look out for applique, fringing, embroidery to style your sofa. It will give your living room a touchy-feely look – so much so, you'll crave snuggling up on it in the evenings.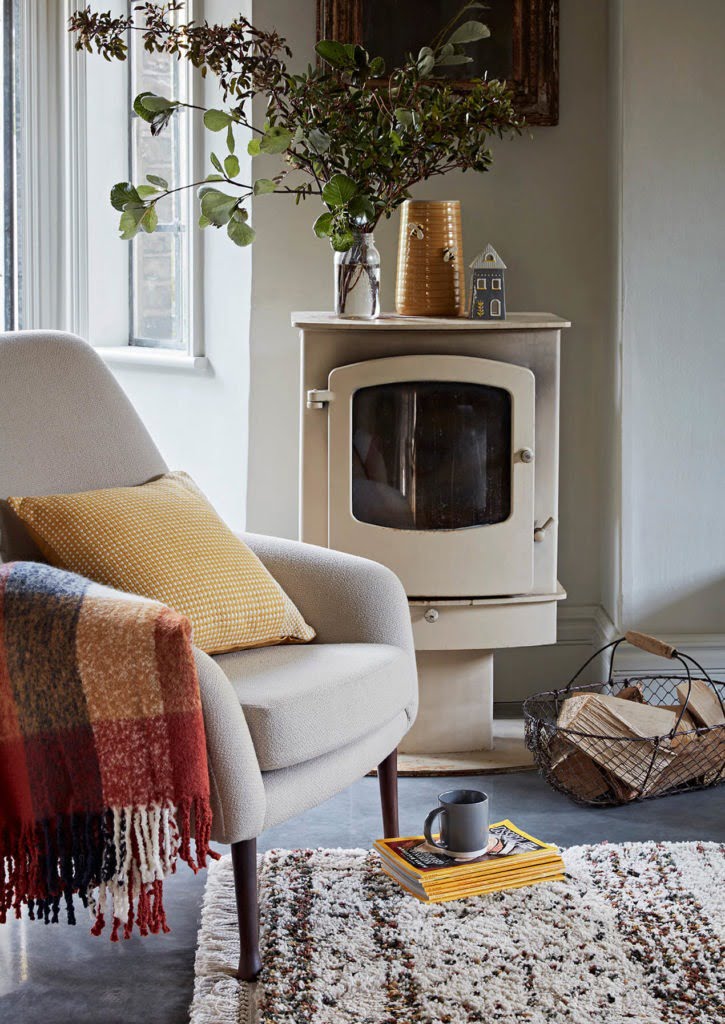 Cosy Folk
I love this Autumn trend because…it is inspired by Scandinavian design. To get this trend at home – choose pieces with a handcrafted feel and decorated with simple folk prints. While it's freezing outside, go crazy with your textures! Pile up the rugs, stack up cushions, choose fleece bedlinen and keep a basket of throws close to hand.
In the colder months, I like to bring natural colours into my home, like burnt orange, rusty reds, eggshell white and navy using accessories. That way, I feel connect to nature even on days when it is too wet and wild to go outside. Try this idea in your home by changing around you accessories. Shelves are a great way to reflect a change in season as you can stack them full of books, ornaments and prints that are capture this trend.
If you are working from home, a cosy throw slung over your office chair will be ideal to wrap around your legs when you get cold (and save you money on your heating bills too). Choose furniture made from pale woods – like pine or washed oak, and look out for slim legs for a clutter-free design.
How I'm styling this look:
Provided your furniture has plain upholstery, why not get creative with your scatter cushions by choose ones in complementary patterns like checks, tartans and chunky knits. The drape a mustard coloured woollen throw to finish off the look. Dot candles around your home, instantly create a cosy atmosphere.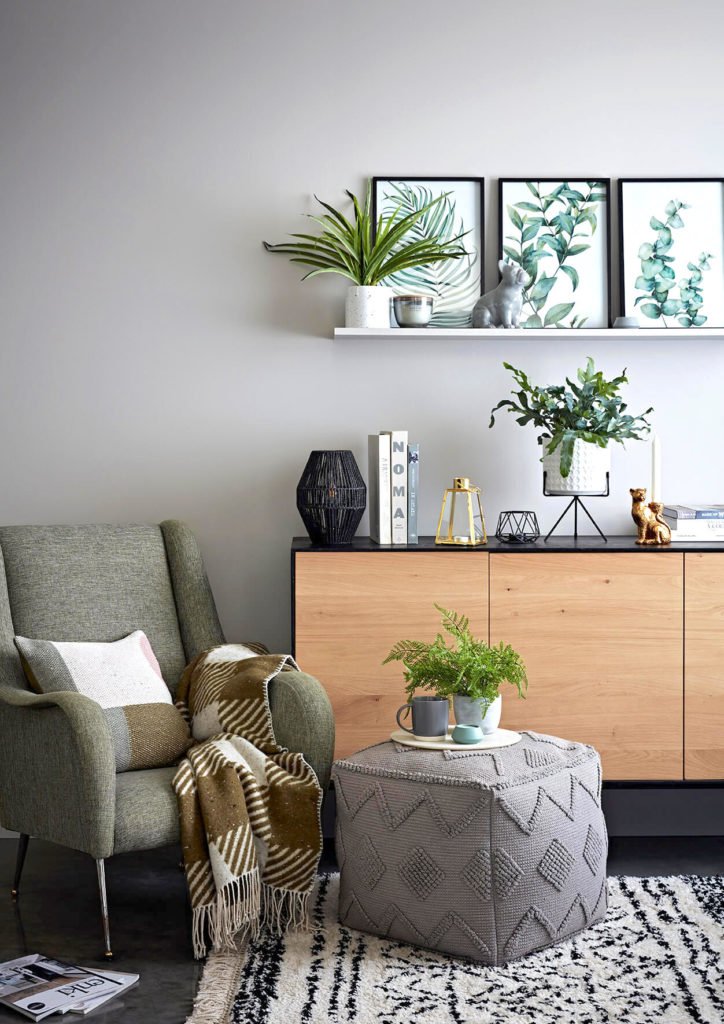 Life Curated
I love this Autumn trend because… this look takes inspiration from all around the globe, such as the Moroccan-style patterns on the rug and the tufted Aztec detailing on the grey footstool If, like me, you love to travel then this look is a great way to remind yourself of your past adventures.
How I'm styling this look:
Calm grey tones are perfect for a pared-down Autumn feel. It's ideal if you want to update your space but not stray too far from a neutral colour pallet. Lift this look by adding soft greens to your space. This can be done with faux potted plants, art or a comfy throw – all of which will give relaxed vibes to your home. And will spark interest and conversation.
What do you think of these new Autumn interiors ideas?
Remember it's not about decorating your whole space, it's about adding easy touches to switch things up a bit, to make your home feel inviting and to help you relax in the evenings.
I'd love to know which trend you love the most. Pop me a note in the comment box below 🙂
Maxine
PS This feature originally appeared in Asda magazine in the October issue. Click HERE to read.
You May Also Like
AUTUMN STYLE UPDATES – 5 DECOR SWAPS FOR YOU TRY AT HOME
WHY WE'RE LOVING COLOURFUL SHUTTERS THIS AUTUMN