How would you spend your classic winters' night in? For me it would entail being wrapped in blanket in front of a fireplace with a roaring fire, drinking red wine. With this in mind, I'm sharing 7 snuggly festive fireplace settings to inspire you in time for Christmas.
** Sponsored Post **
In keeping with my own home style, I've been drawn to effortless decorating, mixed materials and lots of texture with a hint of Nordic design. Don't worry! I've made sure there is a mix of modern, classic and chic designs – so that there is one for every style of home.
In this post, I want to introduce you to Arada Stoves who I have collaborated with in this post. They're fireplace experts, offering stoves that come in a range of colours and designs that I know you will love. Their designs are super efficient and cleaner than traditional open fires, wood burning or multi-fuel stoves. Based in the rural Devon, Arada Stoves have been producing British-made wood and multi-fuel stoves for over 30 years.
Enough talk – let's get into cosy with my pick of festive fireplaces. Spoiler alert: major interior inspo ahead!
7 Festive Fireplaces Styling Ideas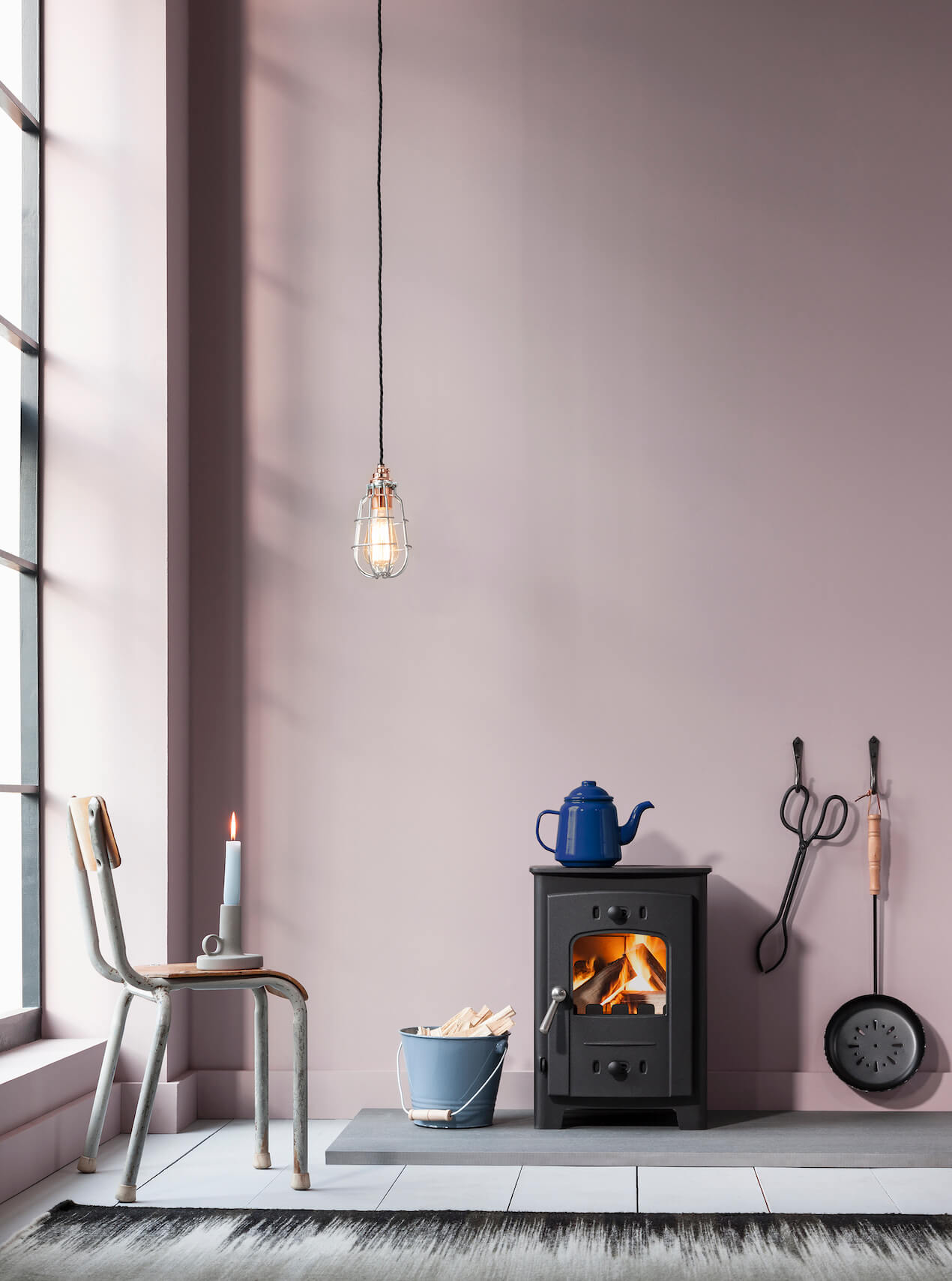 1. Discover blush rose
If you have been following my blog for a while you'll know how much I love a warm and cosy home. In fact one of the first things I did was a complete heating overhaul which taught me a few lessons! I'm always on the lookout for ways to keep my home looking cosy and stylish.
That is why I love this set up in the image above. The soft rose wall colour is perfect for creating cosy feels this winter. The simpler styling of this smaller stove when placed of a chunky slate heart is ideal for an edgy, modern home. And it captures our love of all things Nordic too. The great setup for a snowy day spent indoors. Try Nordic House for similar candle holders and accessories.
You can also burn different types of fuel with the Hardy stove (above). It has been designed with compact living areas in mind. It is part of their Hamlet collection which offers a choice of freestanding and inset styles, all of which are designed to give you the freedom to choose between burning solid fuel or wood.
Available in a choice of two sizes, the Hardy's outputs range from 4.2 – 5kW ensuring that cosy living spaces are heated evenly and effectively throughout the winter months. It has an impressive A+ energy rating, meaning that the appliance will run at top efficiently and therefore be more cost-effective to operate in the long run – great if you are on a tight budget. So nifty!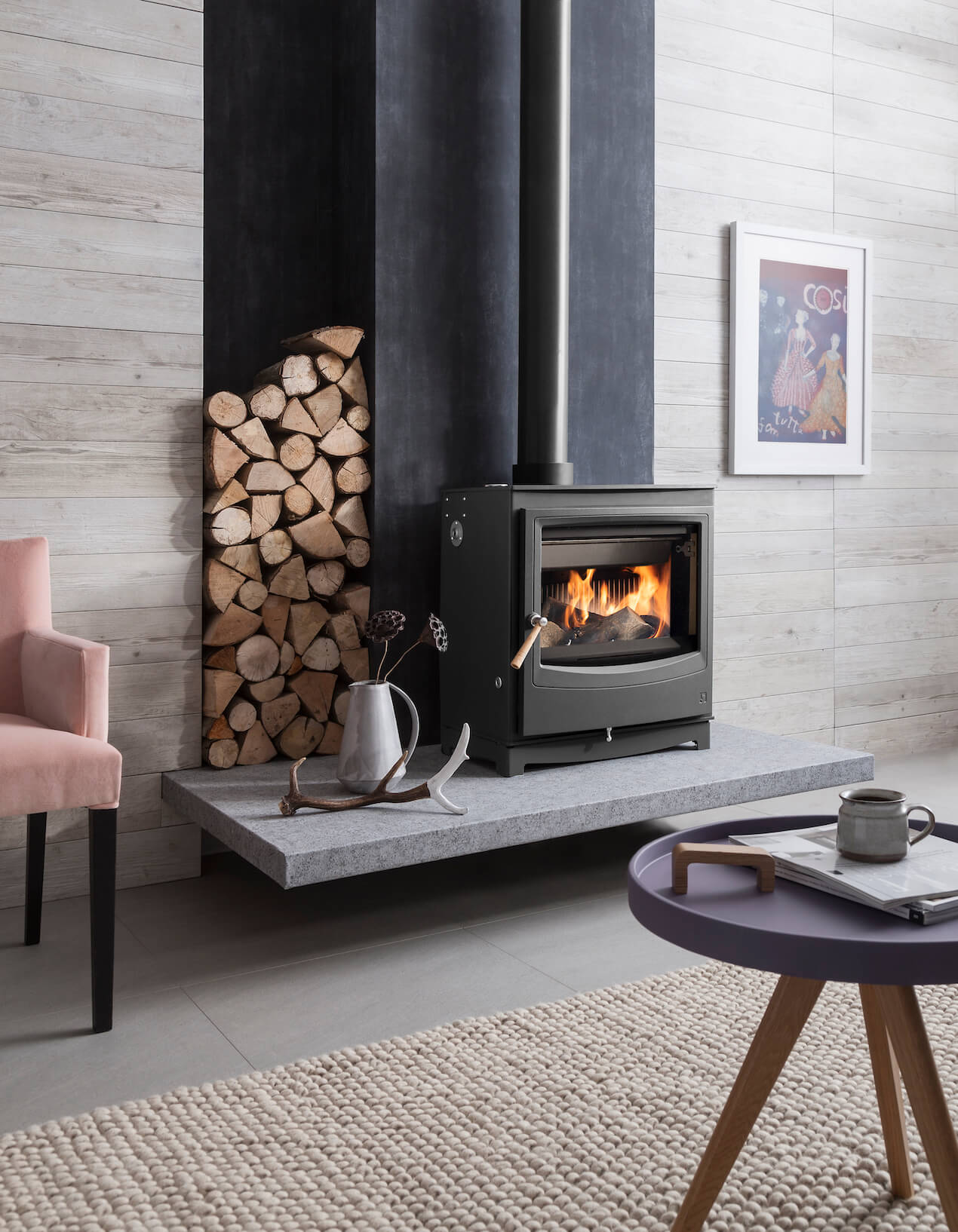 2. Be seriously seasonal
We all know how important the finishing touches are to your home – you can see what I have done
HERE
.  That's what attracted my attention to this fab stove is the edgy fireplace set up – all the little details. There's the clever space saving inset wood storage, the raised concrete hearth and the black slate backplate. When set against the wooden panelled walls it creates a very minimalist look. Almost like an art gallery space.
Make a statement with an elegant freestanding stove in a neat, slim-line shape with 
Farringdon Catalyst Eco
 (above). It's one of Arada's most efficient high output stoves – boasting a maximum output of 11.4kW. And it comes with a detachable wooden handle. The best bit is you can choose the stand style for optional log storage under the stove itself. Ideal for smaller homes that still want that real fire experience.
You always could do what I did –  and have a fireplace in your living spaces, then keep your kitchen cosy with underfloor heating (you can read my review
HERE
).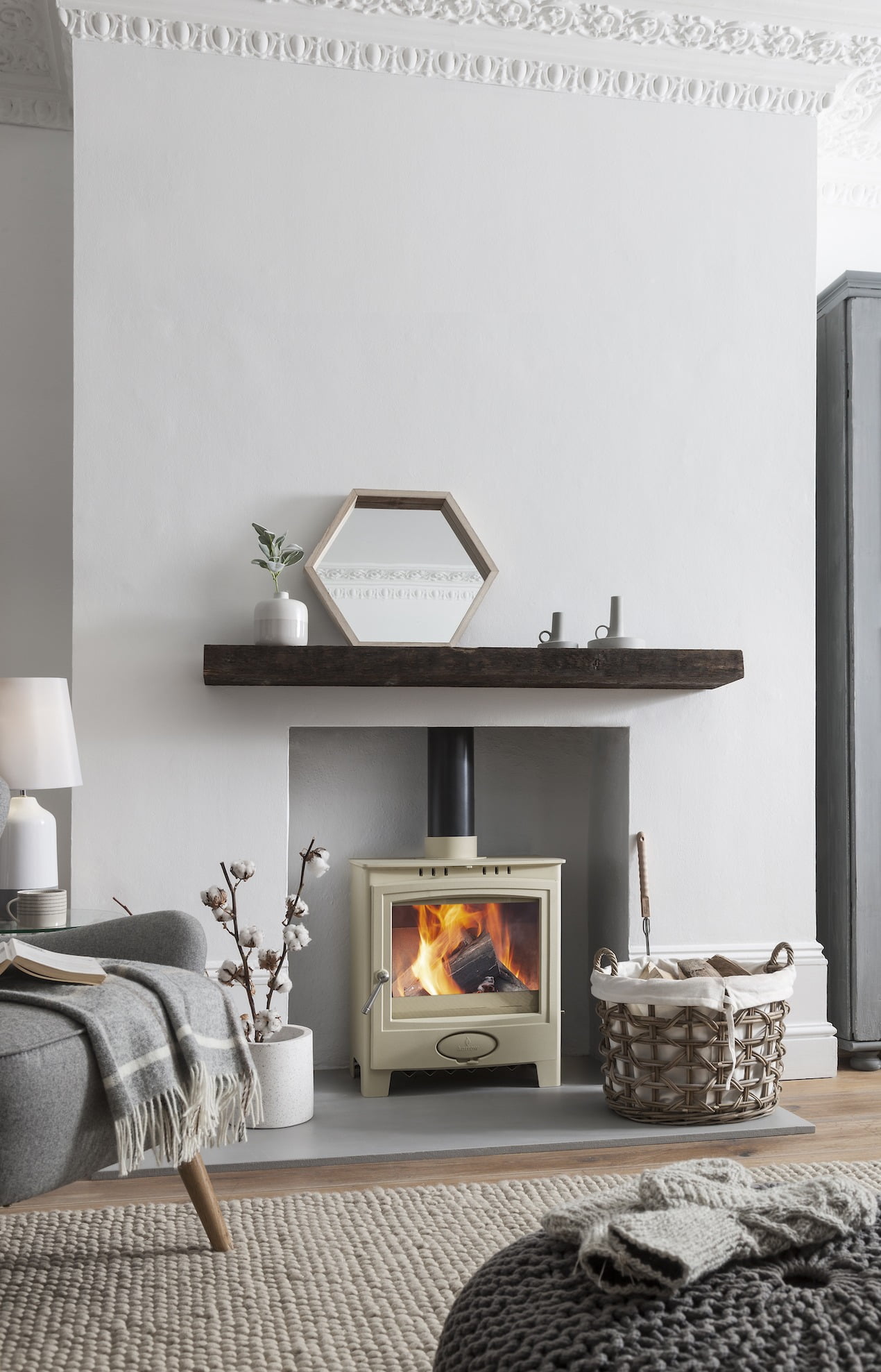 3. Choose a timeless decor
If you love a more classic look, then you'll be looking for a stove with character and charm to create a traditional focal point. Then the fireplace set up above is just perfect. You can cheat this look with a faux mantle made from rough wood. Try a scaffolding board or a piece of salvaged wood.
On your mantelpiece create a simple display with a mirror resting against the wall, simple candlesticks and an evergreen cutting in a vase.
Wayfair
have a hex mirror just like this one for £100.  At your hearth, fill a wicker basket with logs and make an arrangement from cottons stems. Simple, chic and effortless fireplace decorating.
I prefer to keep things simple, and not take hours over decorating my home as – which I captured in this funny post – my 
Lazy Girl's Guide To Christmas Decoratin
g.
This 
Ecoburn Plus 5 Widescreen
 stove has a larger firebox with more space for your fuel so that it can pump out lots of heat. It comes in several colour options so it will slot into any decor scheme.
Approved for use in Smoke Control Areas you can be rest assured it won't damage the environment.

4. Pick cosy caramel colours
When 'colour of the year' was picked for 2019 by paint brand Dulux as 'Spiced Honey', we all knew that the caramel tones of this on-trend shade would make an appearance in our homes this winter. It's the perfect shade for creating a cosy home. If you are feeling the love for this colour then paint your walls in this shade. My tip: mix in enamel metals, textured ceramics and pale woods.
When it comes to where you fit your fireplace, don't think you have to have it in the middle of your room. Play around with your layout and instead a central fireplace when not fit it into a neat corner or alcove to create a cosy corner. Don't forget to pop a warm mug of hot spiced hot chocolate and a sweet treat out for Santa on a wooden stool.
Old stoves and open fires give out relatively high emissions. Lack of maintenance (and bad burning practice) coupled with poor quality fuel can lead to visible smoke, which in turn affects the air quality in both our homes and harm the environment.
Don't worry – as a new European-wide law that aims to lower emissions and improve air quality is being brought into effect from 2022. Arada is already on board with this idea – ensuring all its new products meet this new legislation.
The brand's Ecodesign Ready stoves comply with theses regulations as not to impact the air quality for everyone
The on stove above is the Farringdon Ecodesign Ready stove in the Atlantic colourway. It's a simple way to make sure you are doing your bit 🙂
If you love saving energy (and money) at home – I wrote a post on Simple Ways To Save Energy At Home which you can read HERE.

5. Try nordic whites
Decorating your home in classic whites is both modern and yet timeless too. The white washed floorboards set against the solid marble hearth is the perfect combination. Keep lighting simple with a ceramic pendant shade, and then keep feet cosy underfoot with a sheepskin rug. Nice and toasty. When it gets closer to Christmas hang a simple garland of eucalyptus or a string of pine cones for a seasonal touch.
The i600 Slimline Freestanding stove, is available in two heights, and stocked in seven colours! The glass front is available in Midnight, Slate and Sandcastle (pictured).

Despite an output of less than 5kW and it's slimline body, the i600 SLF pumps out some serious heat. I love the full glass door offering unlimited views of it's flames at nighttime. It would make an impressive centrepiece in your home.
I love the way the white door against the black surround makes this stove pop against the white walls. It's a stylish, contemporary design that's clean and simple.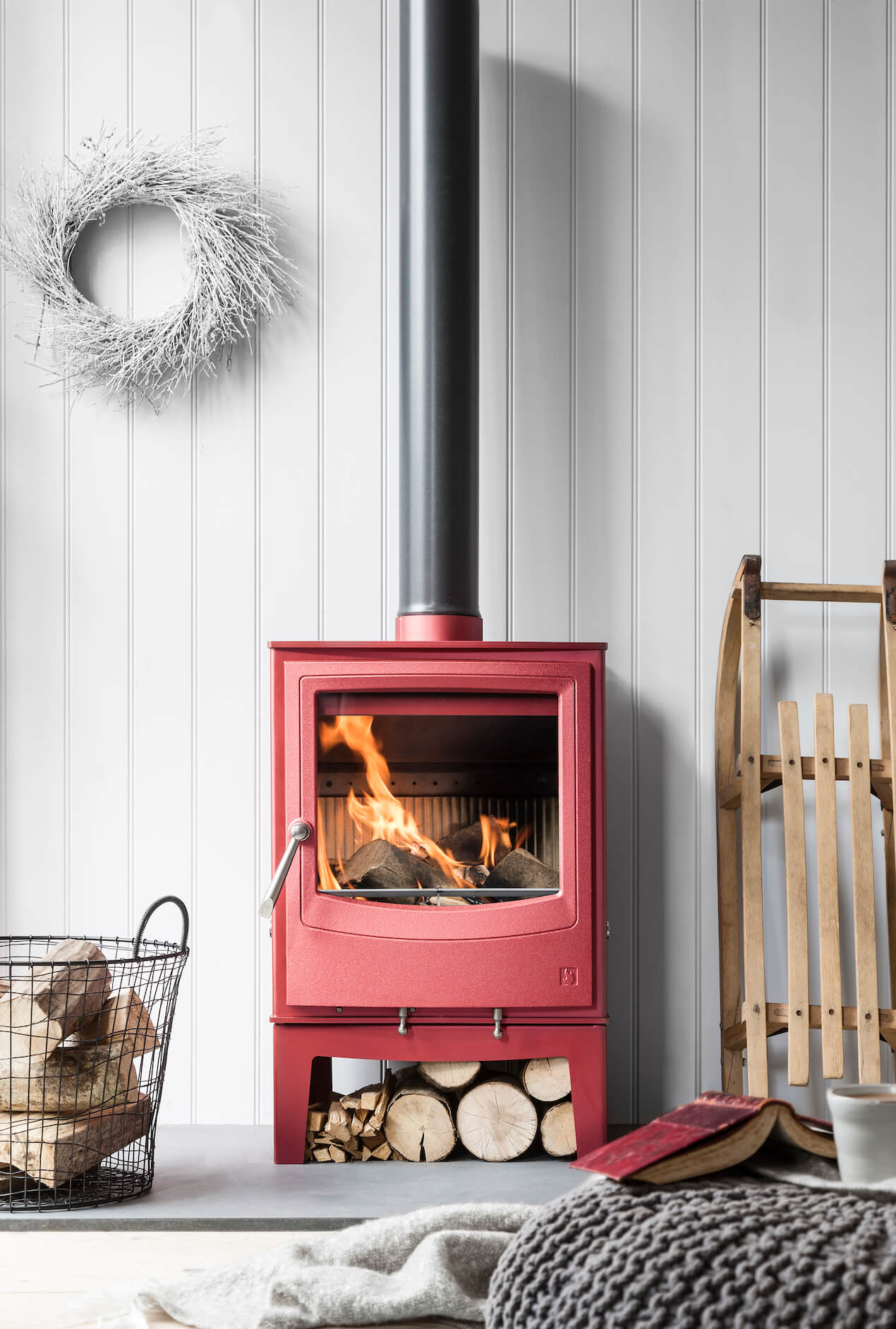 6. Feel warm and snuggly
Why not have a fireplace in a toasty shade of red to add warmth to your home? Red and white is the ideal winter colour scheme too, leading up to Christmas. I can image this stove in an garden room where you can enjoy outdoor living for longer.
Cup of tea, a knitted footstool and a wire basket full of logs, and you're good to go. For a splash of pattern think about adding tartan decorations for festive feels. I have found a wooden sleigh
HERE
for only £30 – which you could pass down your family for generations
This fireplace is Farringdon Ecodesign Ready Stove in Spice (pictured) will make a unique addition to your home. With the ability to burn at low levels for more than 10 hours it's great for having on all day – if like me you work from home.
Compact and efficient, these stoves come in small, medium and large size, providing a stylish and contemporary option for heating the home no matter the size of your home. Oh – and it comes with a choice of additional stands and log stores so you can make it bespoke to your home.
7. Get them festive feels
Glamorous homes will love a fireplace in a sparling shade of silver. Give your home a designer look with a freestanding stove in an open-plan space. Create a cosy focal point in a space, something to gather around on a chilly evening where you can watch box sets on Netflix guilt free.
With the unpredictable weather ahead, you never know when you might need a warm fire to curl up in front of. Put down a thick shaggy rug to lounge on and embrace clean lines with a simple stem in a vase.
This Farringdon Ecodesign Ready Stove in Mist makes an elegant feature when slotted neatly into a bright, spacious room. It makes for a dramatic centrepiece that provides wow factor, our contemporary stoves let you create the look you want.
Clean-cut lines and big viewing windows emphasise the beauty of the fire whilst offering top efficiency ratings. All theses stoves come with a lifetime guarantee too so when you invested in one, you can have piece of mind that it is protected for life.
Which festive fireplace do you love most?
There you are – my pick of 7 festive fireplace styling that will take you through from winter to Christmas and beyond. I'm getting excited about the weather getting colder now. Especially I have lots of ideas on how to decorate my home with one of these stoves.
Which look do you love the most? I would love to hear in the comments below.
Have a lovely week
Maxine
You May Also Like
7 Finishing Touches That Will Transform Your Home
My Lazy Girl's Guide To Christmas Decorating
Ideas For Your Christmas Mantlepiece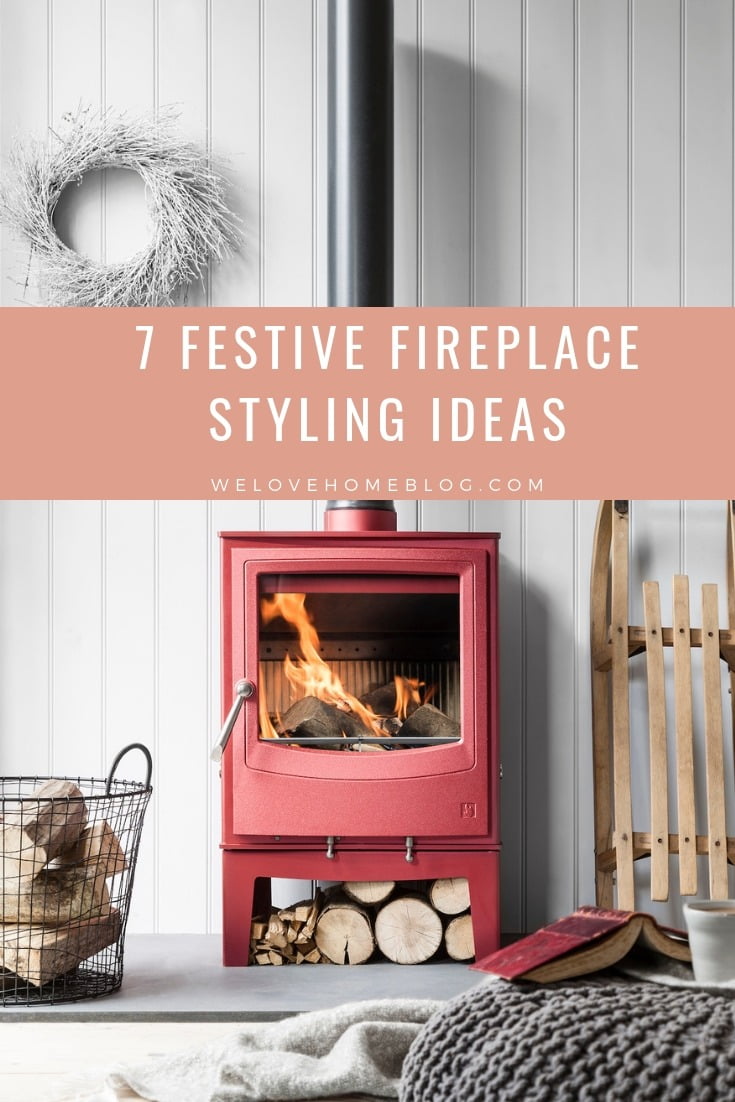 ** This was a sponsored post. All photos are care of Adara Stoves. All thoughts, opinions are my own.