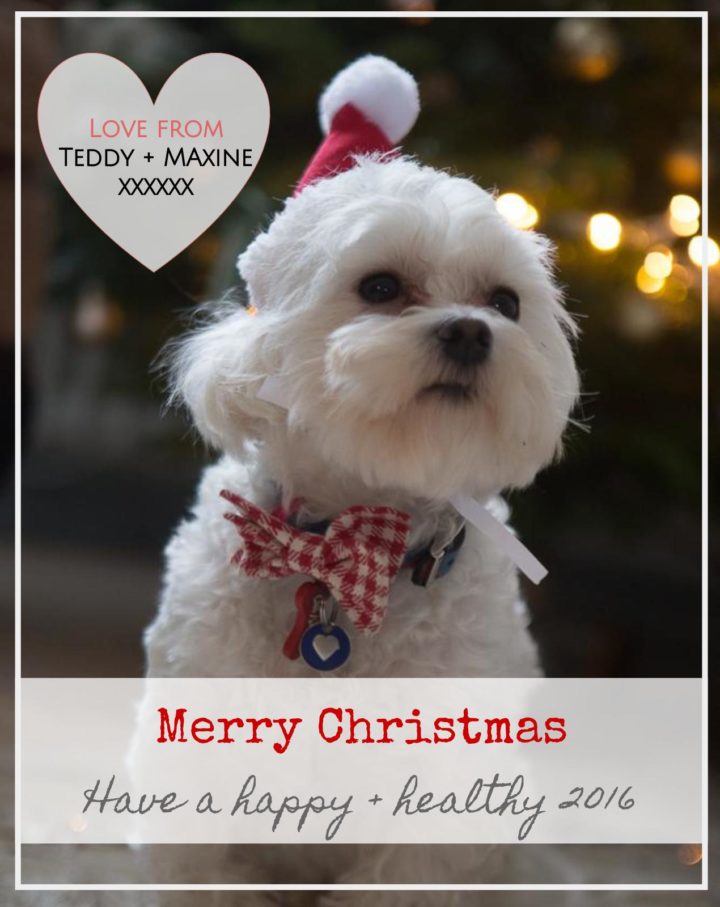 It's Christmas!
It's here! It's Chriiiiiiiistmas! Time to Jingle All The Way. I got a little bit excited and dressed up official blog mascot – my little doggie, Teddy – in a smart gingham bow tie and mini Santa hat just to wish you all a Very Merry Christmas and A Wonderful New Year. Woof! This year has been an epic one for the blog, my home, my life and for my little family.
I would like to say big love and the thank you so much for all your support over the past 9 months. I've grown from 0 to nearly 4.5K subscribers! I have 6,5000 on facebook, 1500 on instagram and a whopping 9,000 followers on twitter – and I've become pinning fanatic with 3,000 followers.  I never imagined that many people would be interested in my nattering about my home and my life and my dog, so Seasons Greetings to you all….

What an amazing year
Just this year – in March 2015 – I launched WeLoveHome. An idea formed when I was on holiday when waiting for my house sale to go through, and my very talented and creative friend, Anwen, designed for me. Woah! It's been an adventure….I didn't think I had anything left to learn about interior design – until I started this.  I have met so many wonderful, amazing, interesting and talented bloggers, designers and creatives.
The blog won an award for Best DIY vlogs, I've been nominated for an Amara and just this month, shortlisted for a 'Best New Blog' Award (I still need your voted for that as the deadline closes Christmas Eve – hint, hint). And 2016 is looking even brighter – as we have been nominated in the 2016 UK Blogging awards. Woo Hoo.

It's not all been about the blog though…LOADS has been happening on a personal level. My life has taken off – I moved into my house in March, by April we had our leaking sash windows repaired and #DIYboyfriend tackled the garden, in May we'd started decorating the dining room/home office, in June we had a bathroom collapse through the kitchen (ekk!) and then in August we had the builder in who ripped the house apart for six long weeks – putting in a new bathroom, kitchen and knocking down a few walls – I even got a hammer out for that to smash somethings up.
The boyfriend moved in with me and Teddy bringing his rather grumpy cat, Buster. His cat has taken over the neighbourhood learning the nick name of 'Mr Coco-Pop Head' from one of our neighbours when they caught him pushing their cat off a wall. Not sure their cat will be wishing Buster a very Merry Christmas.

I love doing the videos so much! And now I've even learned to make my own slightly hand-held ones myself – so see lots more of them coming now I know how to do it.  I'm also thinking I would like to write more about my hometown Brighton, covering the shops I love to visit the most.  I'm hoping to launch a Design School E-learning class on here next year…. I'm going to collaborate with Laura Ashley, Cath Kidston, Graham + Brown, Bathroom Takeaway and Wayfair on some exciting projects just to name a few. 2016 is looking busy.
And of course, the DIY at home isn't stopping. My kitchen makeover is appearing in Style At Home magazine – and my bathroom in Real Homes. Once they are both published. I'll be able to share all the end results on here – along with lots of before and after shots, tips and ideas. And of course, we still have to finish the garden, makeover the front of the house, do the hallway, my bedroom and the man cave….the list goes on and on 😉 And it's so exciting – as the house takes shape, and I grow more confident in blogging here – I'm hoping things will only get better.
Talking of which – here is Teddy modelling a very smart little dicky bow from  Gift Wrapped + Georgeous, Santa Hat care of eBay. Merry Christmas from Teddy!
I have way too much time on my hand – that is why I created this little video of Teddy's best bits (I love this guy) ot the tune of the sugar plum fairy for a little xmasy feel
[embedyt] http://www.youtube.com/watch?v=HJ5o4WtlTfs[/embedyt]
I've got my travel flip-flops on this 2016 – heading to Kuala Lumpa, Lombok and Flores in Januaray 2016 for three weeks to practice yoga and dunk my feet into the sand. I'll be back bright eyed and bushed tailed after this trip – ready to continue this journey. Have a wonderful Christmas and I'm looking forward to sharing 2016's adventures with you.
Love….