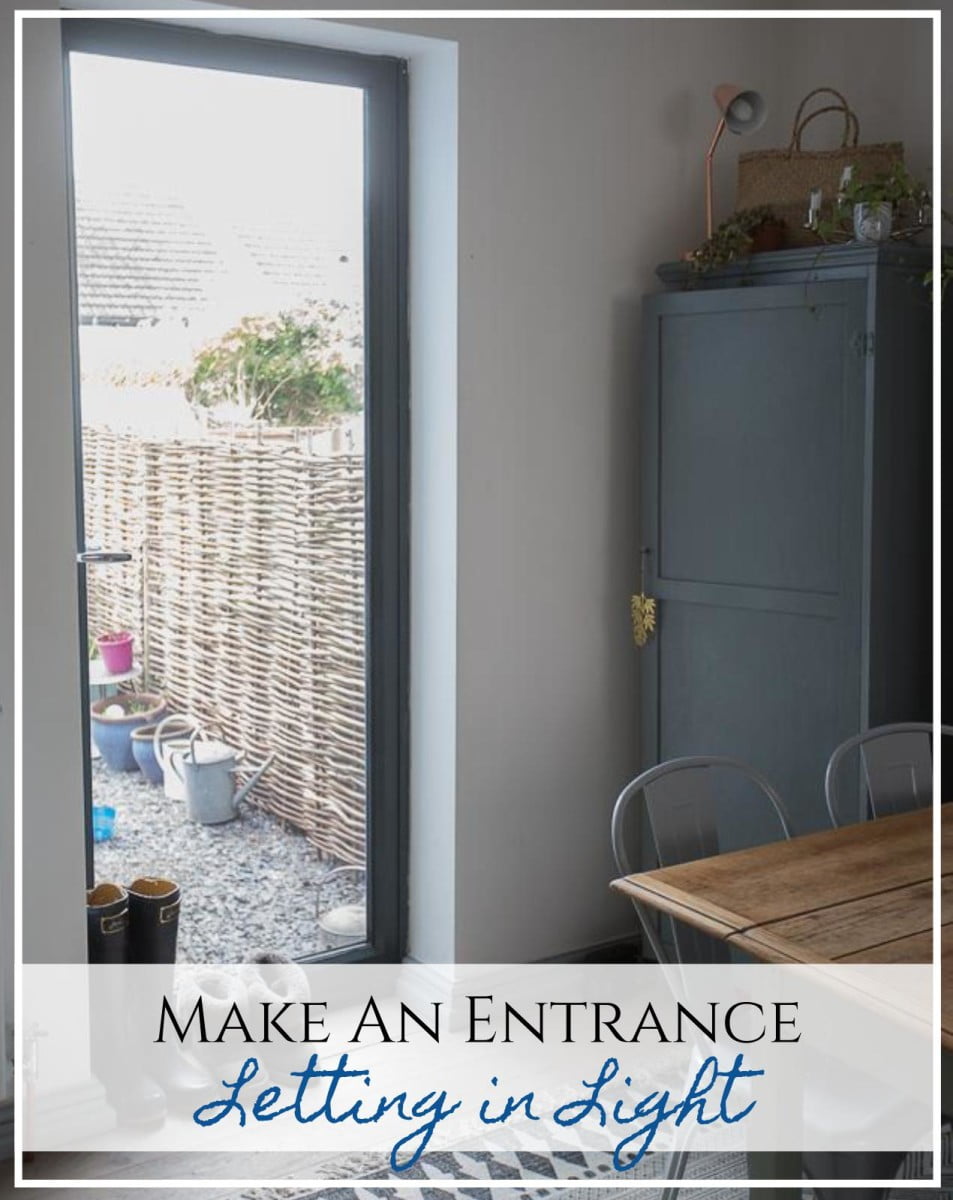 I'd want to share one of my most successful building makeovers in the house: when I swapped a rotten sash window with a beautiful, modern alumium door.  Let me prepare you here – this was no small job (dust! dust! dust!) but the impact is intense.  It's opened up the back of my house, allowing natural light to flood into a dark room. If you're thinking of taking on a project like this, then here's how you can do it.
Let's start at the top with this project: the window itself.  I've honestly tried my best to hold onto every original feature in my home (fireplaces, handrails, doors ect) as I think they give a home character and will add future value when I come to sell.  I've restored as many of my sashes as could – see in this little video.  But this particular sash window in my dining room was beyond saving as it had been left to ruin for years.  With my new revamped garden, it was a no-brainer to rip out the sash and replace it with a large door opening onto the outside.

I was nervous about costs tbh as I had so much else to pay before – but as I was certain I wanted a door – it felt right to do it when I had other building works going on, rather than at a later date once I had finished decorated everything. So I dug deep to find the cash to make this happen.
Okay, so I did the hard part – deciding I wanted a back door. Now…what type of door.  At first, I was all over French doors. God, I love them so much – they are chic and open out onto the garden as if I was tumbling out of a castle in Provence.  I hunted on eBay and Gumtree to find vintage ones that would fit the narrow space but they were all too pricey, big or too far away – argh.  Then I looked into getting a wooden one made bespoke…..Woah – expensive! As much as I love my home, I would like to eat.
Then – light bulb moment – I thought 'Sod it!', why not put in a really modern door? Fully glazed one that will let in loads of light. That's how I found KAT who make Aluminium doors made-to-measure. And 'Bingo!' – that was it, decision was made.
I ordered a double glazed Resi Door with a grey Aluminium frame. I got my builder to measure up for me in advance (I don't trust myself to do that, I'm bound to get that wrong), and then I gave them all the details over the phone, and once I paid up – I had a delivery date of three weeks.


This is when I had to get my shake on.  With such a quick delivery date, I had to be really prepared. The door was delivered to the house (huge and lovely and modern – sigh). Then on a cold but bright day in September my lovely builders came round and bashed the hell out of my house. They started by smashing out the old window frame (pretty easy job as it was so water damaged.) Then with a GIANT axle grinder they cut out a hole in my house.


Here they are manually smashing out the solid brick back wall. Don't worry, that plug had been isolated in advance.

Despite how clean and tidy they were, that red brick dust went everywhere. It was so satisfying to watch. As unlike my other building projects I've done so far, this was done in day. As soon as they opened up the back of the house, oh my – the light. The room went from Dark + Dank to Spacious + Airy.  The impact was instant and so satisfying.
There is my lovely opening to my garden (look at my snazzy radiators). What I love most, is that you can see my lush green garden.  At this point I had to leave the house for a couple of hours to prop for a shoot. When I came back home, I was welcomed to this……


Well, not exactly…My builders put the frame put in, then the following day the frame was plastered around the edges. Then I had to wait three long weeks for the plaster to dry before I could paint the room white. If you see my little before house video here you'll see what the room looked like before in more detail.  I dressed my dining room with a junk shop larder that I painted in Annie Sloan paint, a lovely rug from Design Vintage and chairs from Lakeland Furniture. Oh, and of course my lovely oak floor from UK Flooring Direct – all of which I will blog about in more detail soon.
The Costs
The building work was around £1000 for the labour to knock out the window and brickwork, put in the door, move that socket and then to plaster to make it look good, and the carpentry around the door.  The glazed door itself from KAT was £760 plus VAT.  After shopping around lots, I can say this was a good price for a bespoke door of this size.

Was it worth it?
The total cost was just under £2,000. Sounds like crazy money just to swap a window for a door but I can honestly say it has transformed my home, changing how I use the space.   When you walk into my dining area, you can see straight out into the garden which makes it feel more spacious and bigger (always a bonus).  As I work in the dining room, I now have a light and bright space to relax in. I get the best views out the back of the sunsets and all my plant pots full of herbs and flowers.  I bloody love it!
Are you tempted to take on a project like this? I would love to know tips on what I could have done better. Do you think I should have tried to save my sash? Or are you a door lover.  I'd love to know what you think.  Let's chat below.