It's here – my bathroom makeover guide is live! Learn how to makeover your bathroom step-by-step with my expert tips.
One of my home's first big projects is finished, my bathroom. This is my bathroom makeover guide on what I learned along the way with lots of take-away tips and advice so you can discover what I learned. Enter to win £100 to spend at Bathroom Takeaway with my competition.
Bathroom Makeover Guide
With Before & Afters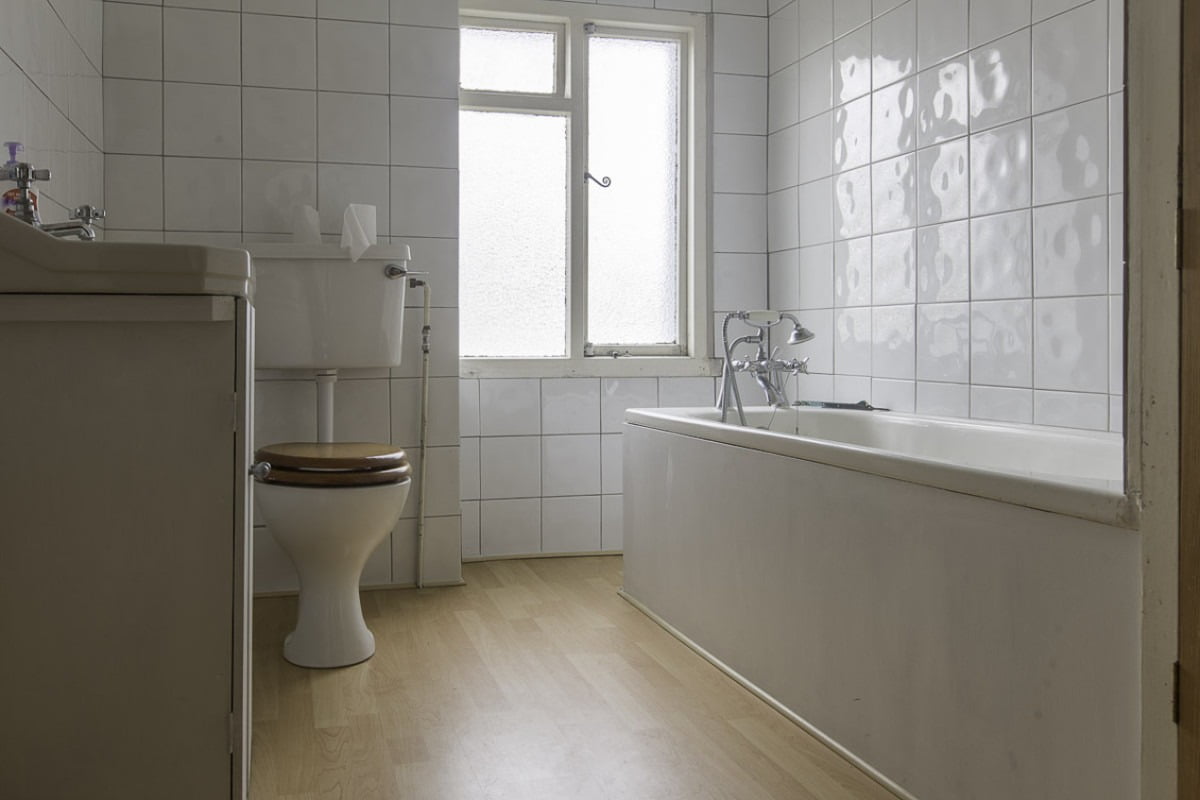 1: Don't Rush Your Makeover
On moving in, I knew it wasn't my ideal bathroom but it would have to do for now. In the meantime, I styled it up the best I could. I hung lots of vintage plates on one wall and popped a little plant on the loo. I put in a little wooden stool to place my shampoos and soaps on, which I would drag over to the bath when washing my hair. A few shells from holidays and a nice white bath mat. It wasn't my dream bathroom but least it looked a little bit nicer in there when having a bath. With a bit of imagination you can jazz up your bathroom for next to nothing. Living with what I had, gave me time to plan out the space.
2: Write Your Bathroom Love + Hate Lists
Overall the room was a good size. It was light and bright which was a winner. I loved the original glass door etched with little boats. I kept a mental note of what I loved about the space and kept these elements in my new bathroom. What I hated was a far longer list. The cheap square tiles, the badly painted bath panel, the office-style radiator and the rickety sink unit. There was no shower in the room, so you had to wash using the telephone style taps in the bath. Bad! Bad! Bad! Before I started, I had a clear list of what I wanted to change in the room. I spoke to my builder and got him to quote me for various elements so I could priorities what I could afford to change within my (tiny) budget.
3: Firm Up Your Ideas
For ages, I'd been collecting my big ideas for this small bathroom on Pinterest. (You can see my board here.) Once I had a look in mind, I put images onto a virtual mood board using google slides which I shared in a post here. Top of my list was a roll top bath which had been on my lust list for like a million years. Patterned tiling, chrome accents and lots of storage were a biggie for me too.  I was totally inspired by Kate La Vie's bathroom and I spent ages tracking down her 'Devonstone' grey bathroom tiles from British Ceramic Tiles which became the starting point for my scheme. I called in a ton of samples too which I placed around my bathroom (see below). Once works started, I had a very clear idea of what I wanted for my bathroom. Having samples and pictures helped me show my builder and plumber how I wanted my room to look.

4: Look Out For Less Obvious Problems.
The sink taps were a wobbly – which should have rung alarm bells as they later leaked water into my kitchen. The toilet waste pipe had a huge crack in it and dripped water onto the floor – yuk! Oh, and the ceiling was really low (I could touch it) so there was no way I could fit a shower in there. Laminate flooring is NEVER a good idea in a bathroom as excessive water can make it warp.  I knew I had to priorities fixing these bits in the bathroom, again making room in my budget.
5: Speak To Your Plumber
On closer inspection, with a plumber at my side, I spotted a few things that needed urgent attention. He pointed out that my window, which was warped and didn't close properly, was the source of damp in the room. Around the window, tiles were coming loose, and there was a build up of mould.  I also talked to him about the layout and he could tell me how feasible to move the loo. He also suggested I put in a separate shower (an idea I ignored) and instead he helped me work out how to fit an overhead shower above the bath.

6: You Can DIY Your Bathroom
To save money, I did some of the work myself with the help of my dad. We hacked off all the tiles and the render, taking it back to the brick. All the flooring was ripped up and skipped. We managed to break a jack hammer we borrowed (sorry!). And we ripped out the random cupboard too. This saved us about £300 in labour. I put the unbroken tiles and the bath on Gumtree which someone snapped up, saving money on a hiring a skip. The sink is in someone's garden filled with flowers right now. My poor dad was covered in soot trapped in the ceiling. It took us about 3 long hard days of work to get it all back to the bones of the building.

7: Squeeze In A Shower 
We also pulled down the low ceiling which was made up of thin plasterboard. My builders cut the joists, and put them back in again about 13 cms higher. That cost me an additional £1000 just to do that. BUT having the shower in my bathroom has changed how I use the space. No more do I have to washing my hair under the tap, instead I can have a bracing wake up shower. Oh, and research shows a shower in the bathroom will add value to my house too.

8: Play With Your Layout
After three days long hard work, I had a shell of a room left. On week two of my bathroom makeover, my plumber came round and we unpacked the bathroom suite in the room. He helped me work out exactly, to the millimetre, where I wanted the bath, loo and sink to be positioned.

9: Spot For Speedy Delivery Times
I found my dream bathroom on-line at Bathroom Takeaway which was well within my budget. The whole suite was from one place – including towel radiator and taps. It arrived within 24 hours. It was here so early, that we had to stash my lovely roll top bath perched on my living room sofa. Having everything on site meant that my plumber wasn't waiting around for parts to turn up.

10: Be Prepared to Move Out
While this works was going on, I had no bath, or running water to speak off. I was cleaning my teeth using a hose and to flush the loo I had to pour a bucket water down the waste pipe. I was showering at friend's houses in the morning. In the end, I decided to crash with my family. I dropped by the house at least twice a day to checked in on the makeover and to problem solve any issues that cropped up.
11: Think Quick 
There were 100s of little details I had to think of on the spot. What type of bathroom window did I want? [casement) Should it have frosted glass? (yep) What coloured should I have grout? (black) Where did I want the tiling to start/stop? (just by the bath). All the little things I didn't even think about, I suddenly had to have an opinion on. This iswhy creating a mood board (see tip x) helped, I just looked back at what others had done in their bathrooms and copied the ideas I loved.
12: Pick A Sunny Day
Once the walls had been stripped and damp coursed, they needed plastering. My plaster, Paul, skimmed the walls and ceiling. Even though it was August the weather was awful. In such damp conditions, the plaster took forever to dry. We couldn't do anything until it had dried out which took two and half long weeks. It was so painful waiting and waiting. Below is 4 weeks into the bathroom remodel in September. Bath is in. Tiles are up. Shower element are there. New window has been fitted. I still don't have a shower as yet. That didn't stop me shopping for all the little finishing touches that would make my room a Style Savvy Bathroom.
My Complete Bathroom Makeover Guide 
There you go – My 12 -step complete bathroom makeover guide. If all this talk of bathrooms has got you inspired, then don't forget to check out the Facebook competition I'm running to win £100 to spend at Bathroom Takeaway (where I got my bathroom from) That money come in very handy if you are looking to update or refresh your bathroom.
I've really teased you here with a sneaky-peak of the end result….hold on though as my next bathroom post – is all about the before and afters, along with a break down of the costs involved.
WIN A £100 VOUCHER TO SPEND ON YOUR DREAM BATHROOM
Feel inspired to tackle your bathroom now with my easy-to-follow guide. Enter the competition below for your chance to win £100 voucher to spend at Bathroom Takeaway
The voucher is to spend up to £100 on www.bathroomtakeaway.co.uk (the amount doesn't include delivery cost)
The amount needs to be spend in one purchase
To win simply enter the Rafflecopper below and a winner will be picked at random. The competition closes on the 11th May at midnight).  For your chance to win £100 to spend at Bathroom Takeaway, then tell us about any bathroom projects you may have in the pipeline? Share your advice on how you planned it out below.
a Rafflecopter giveaway
**T+C: NO PURCHASE NECESSARY TO ENTER OR WIN. This is a competition for one winner to win one Voucher to win £100 to spend at Bathroom Takeaway. There is no cash alternatives. When entering this competition you are also agreeing to sign up to WeLoveHomeBlog updates from the] and onto the Bathroom Takeaway mailing list. If you wish to not be included on my mailing list, then please just get in touch. Thank you. Competition ends on 11.5.16 at midnight. The winner will be picked at random. Each means to enter increases your chance of winning. The competition date will be used for marketing purposes from Bathroom Takeaway.The winner will be contacted directly by Bathroom Takeaway team. The prize itself will be sent out by the team at Bathroom Takeaway.  Winner will be announced on my all my social media channels. Good luck.
Hope you have enjoyed my bathroom makeover guide – pop your comments in the box below.
YOU MAY ALSO LIKE
GIVE YOUR BATHROOM A SUMMER REFRESH WITH TROPICAL PRINTS
YOU'LL LOVE THESE TOP 5 BATHROOM TRENDS FOR 2020