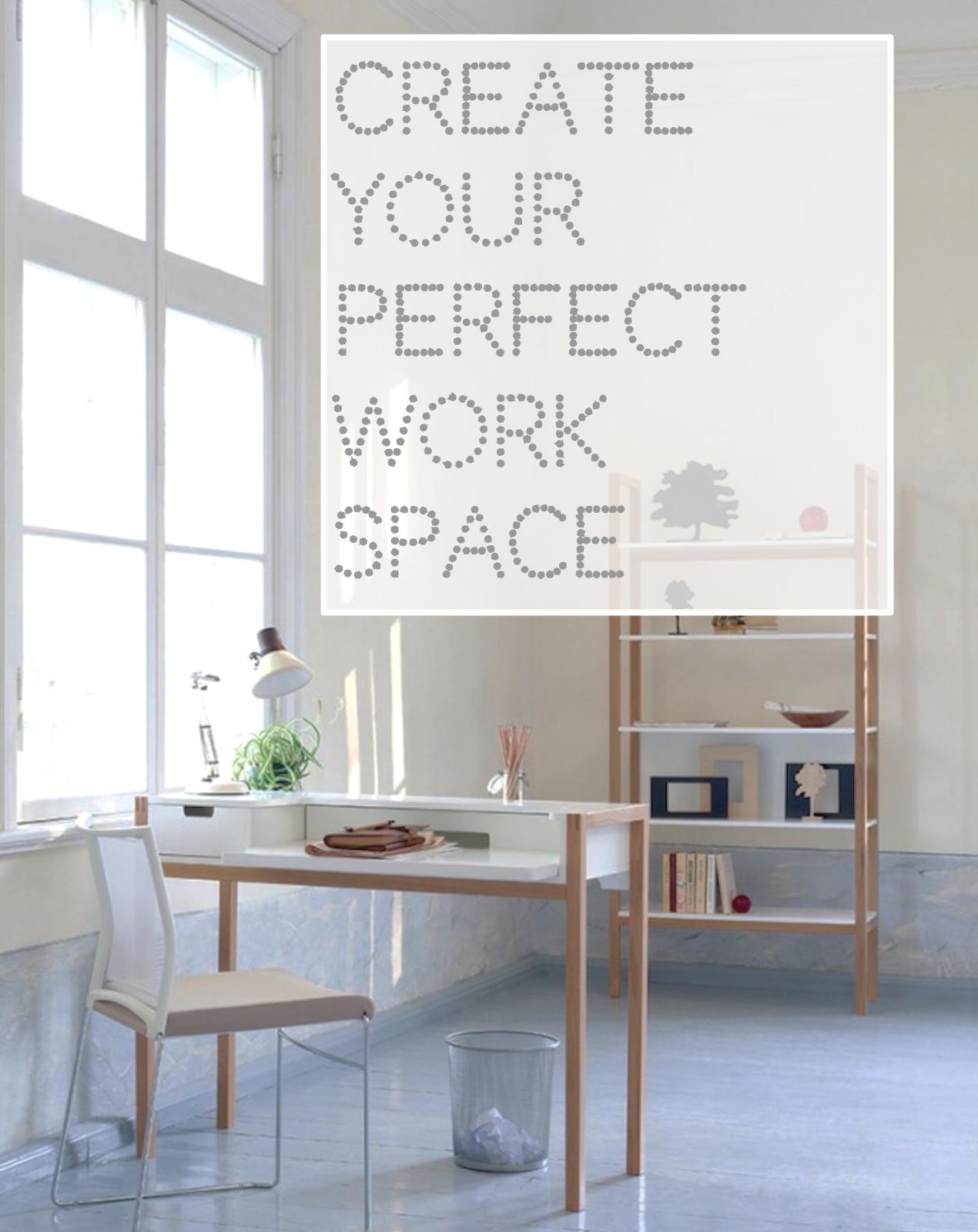 If, like me, you were under the impression that you need a spare room or a huge master bedroom to set up a workspace in your home – then I'm pleased to tell you (in the nicest possible way) that you're wrong. Brilliant work-friendly spaces can emerge from a spare corner, a few inches of a wall, or other areas you never thought to explore. Sounds too good to be true? Let me show you otherwise with the help of on-line store Furnique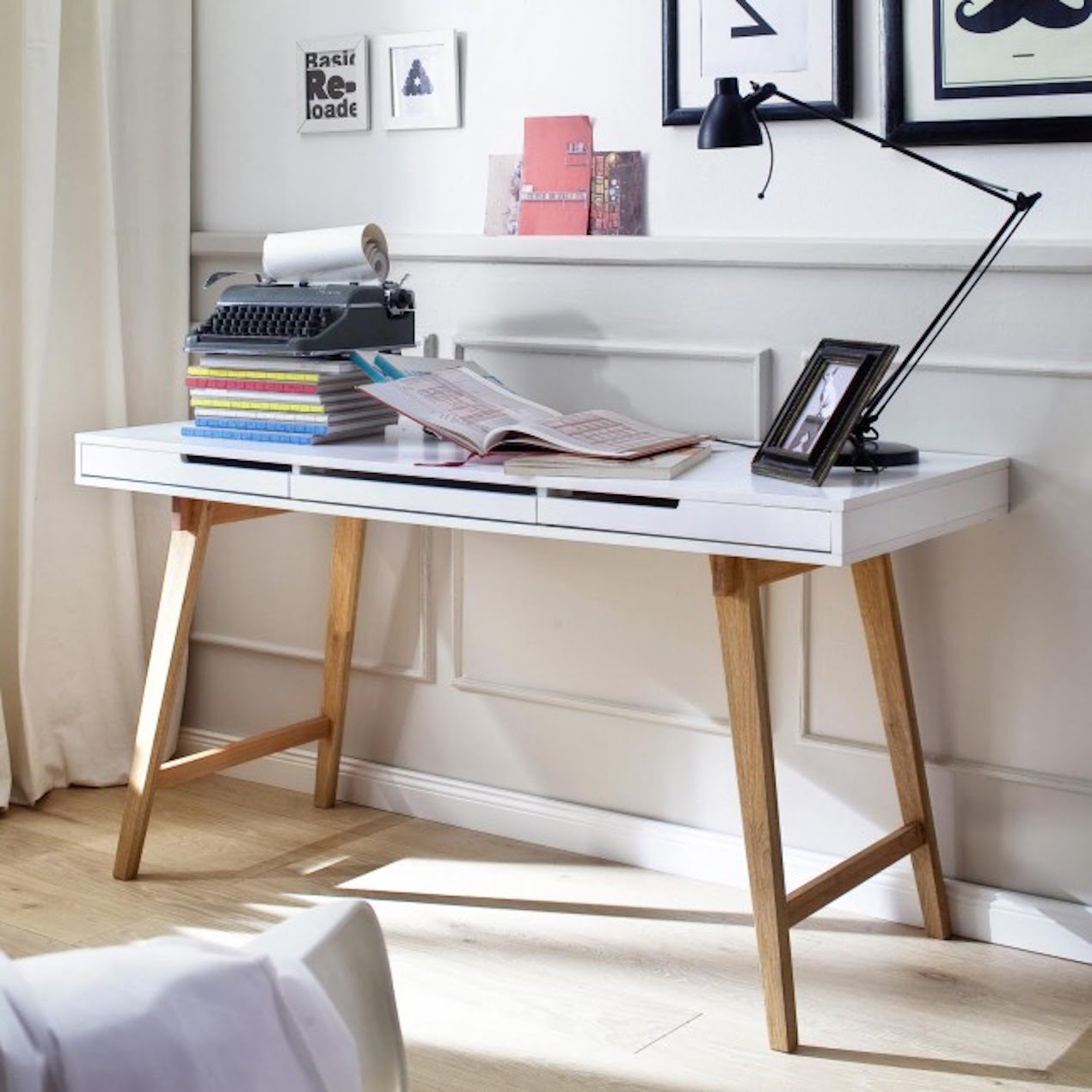 / Modern Office Desk in Matt White With 3 Drawers /
There is something really minimal yet grand about this desk, don't you think? I'm a big fan of the bleached wooden retro legs and the streamline drawers make it blend into the room. No matter how much paperwork clutter you pile up on it, it still looks pretty sleek.  It would make a great contrast in a period home which has panelling like this one. Perfect to slot into a living room situation.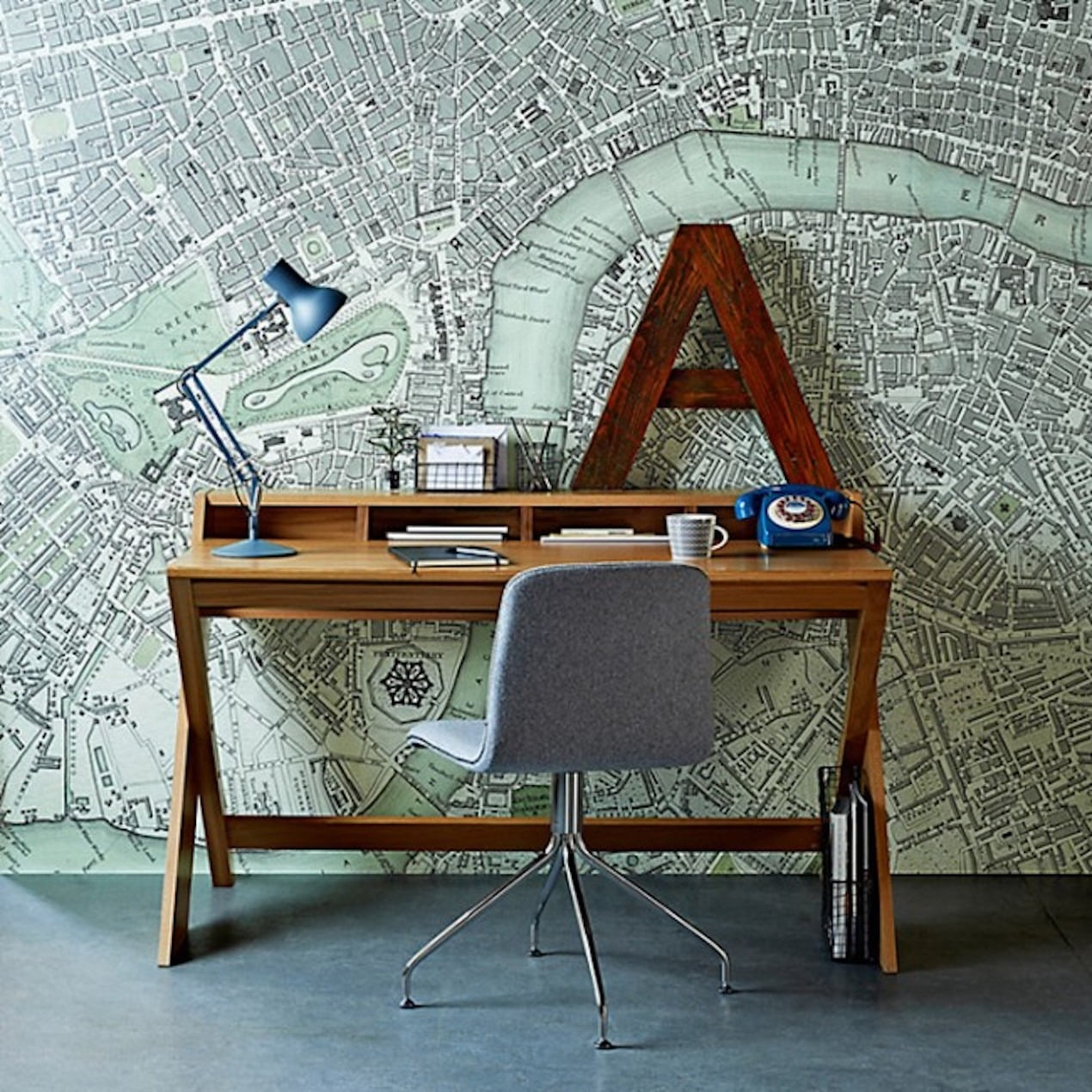 / Ravenscroft Compact Desk in Oak /
Love the giant street map! Much better than facing a blank wall any day. I found one sort of similar over here – but anyone will make you a mural these days with your own photos. The grey felt touchy-feely desk chair looks so good to sit in too. The desk is achingly cool too with a hidden drawer for your clutter and open 'nooks' to file your letters and bills. Giant letter on your desk? I should coco!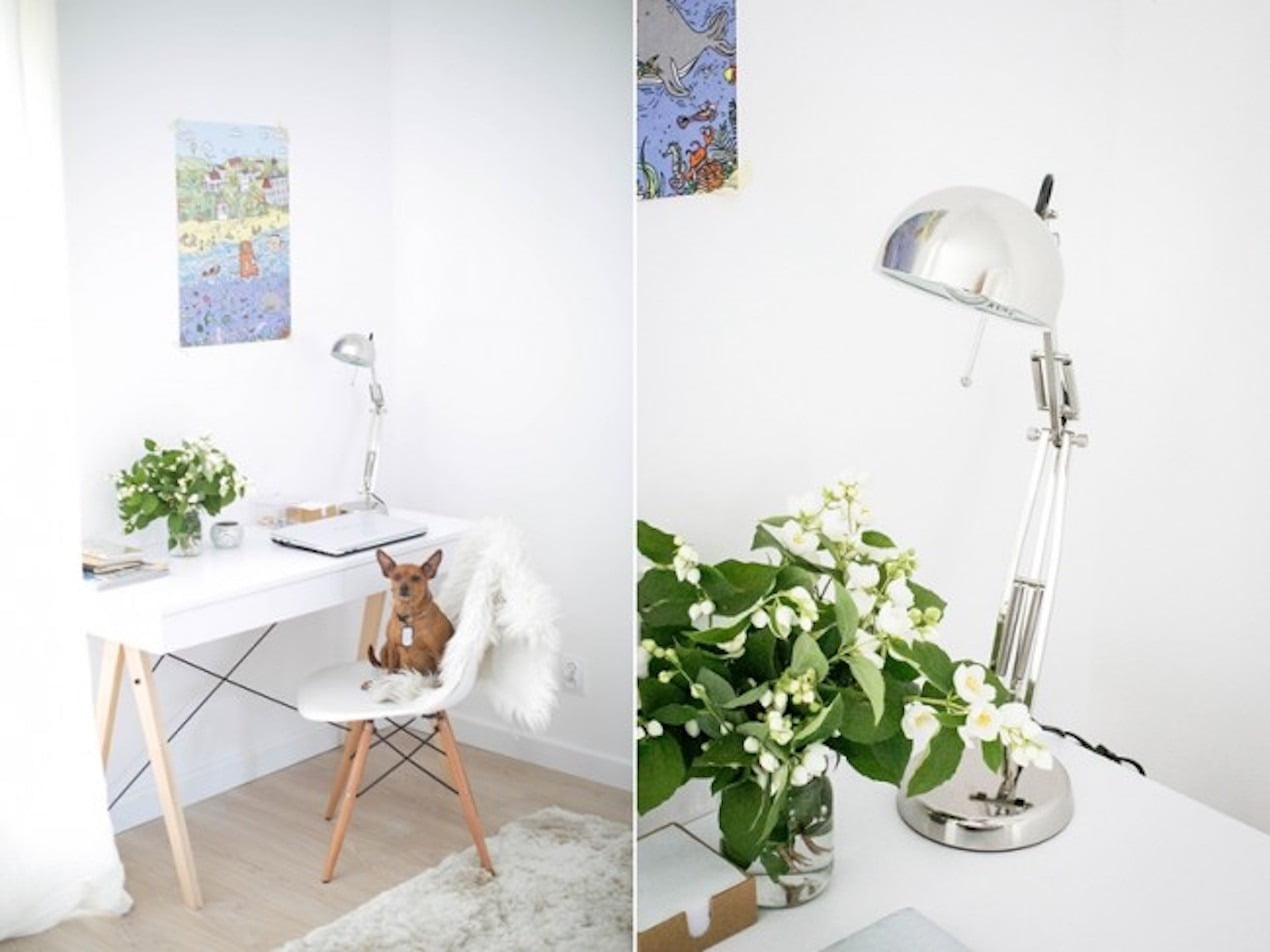 / Basic Office Desk /
Got a corner? Well, then work it! This is your perfect little home office set up with a desk slotting perfectly in a bedroom corner or on a landing space. Sneak in a chair and hang a cool print up above and you're good to go. I think it is really important to place your desk right by a window – natural light keeps me working for longer – for nighttime work invest in a good desk light. I like to make my home office space feel an inviting space, that's why I have a posey of flowers and a scented candle burning on my desk.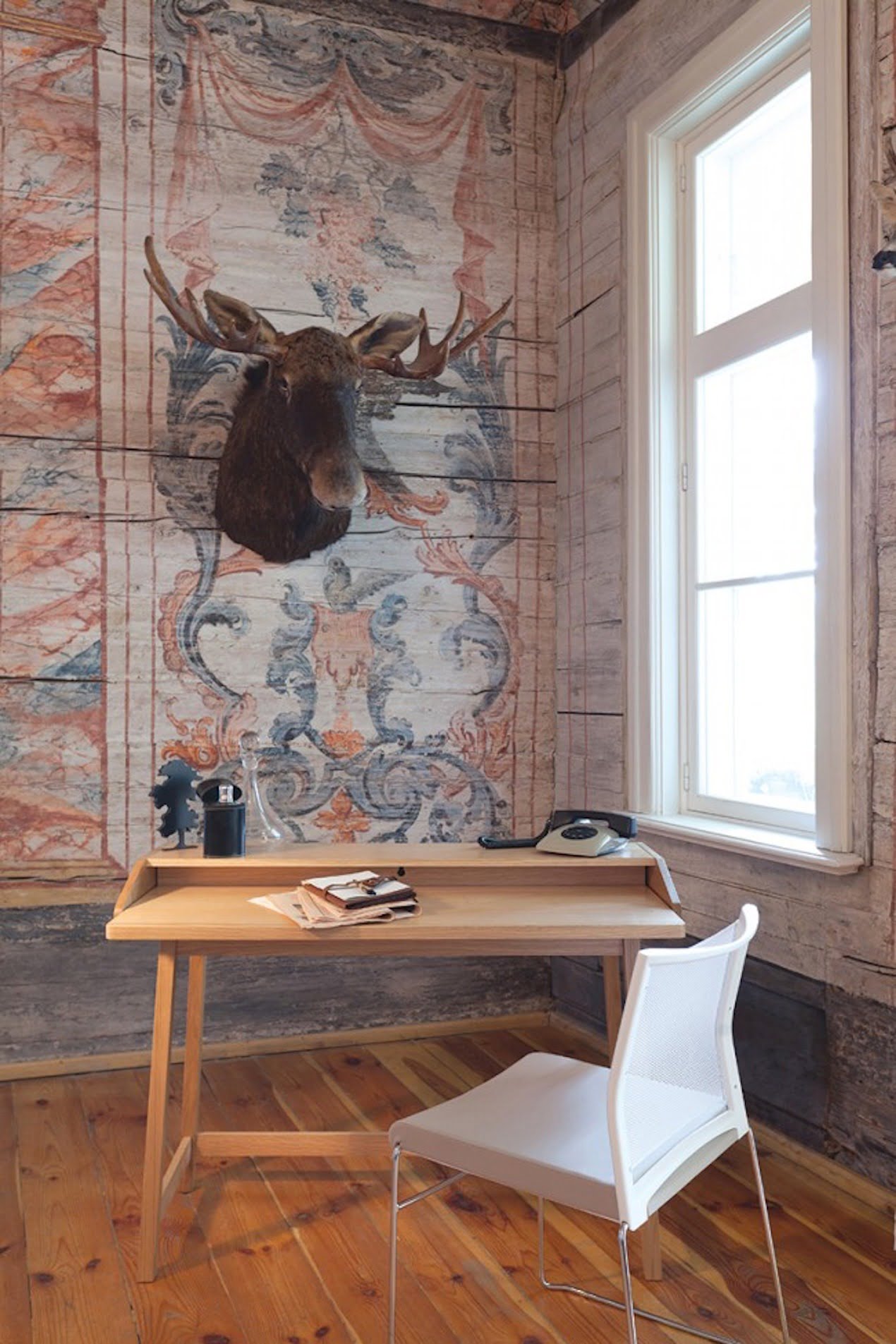 / St James Compact Desk in Oak /
A nook is all you need to create a space to sit and work. In this room, a desk transforms a corner into an area perfect for reading the papers or writing a letter. The space is a complete clash between the modern minimal oak desk – and the crazy hand-painted mural (oh, and don't forget the nutty stuffed Moose head). But it looks sooo good! Crazy good! I think the hand-painted mural is a traditional Swedish design. This desk extends out and has a soft-close feature (no more banging and bashing when paying your bills). Bonus for a neat freak like me is that this desk comes with a 'cable management feature' to keep your desk free of wires – hurrah! I'm sure my granddad had a retro phone like that in the 1980s.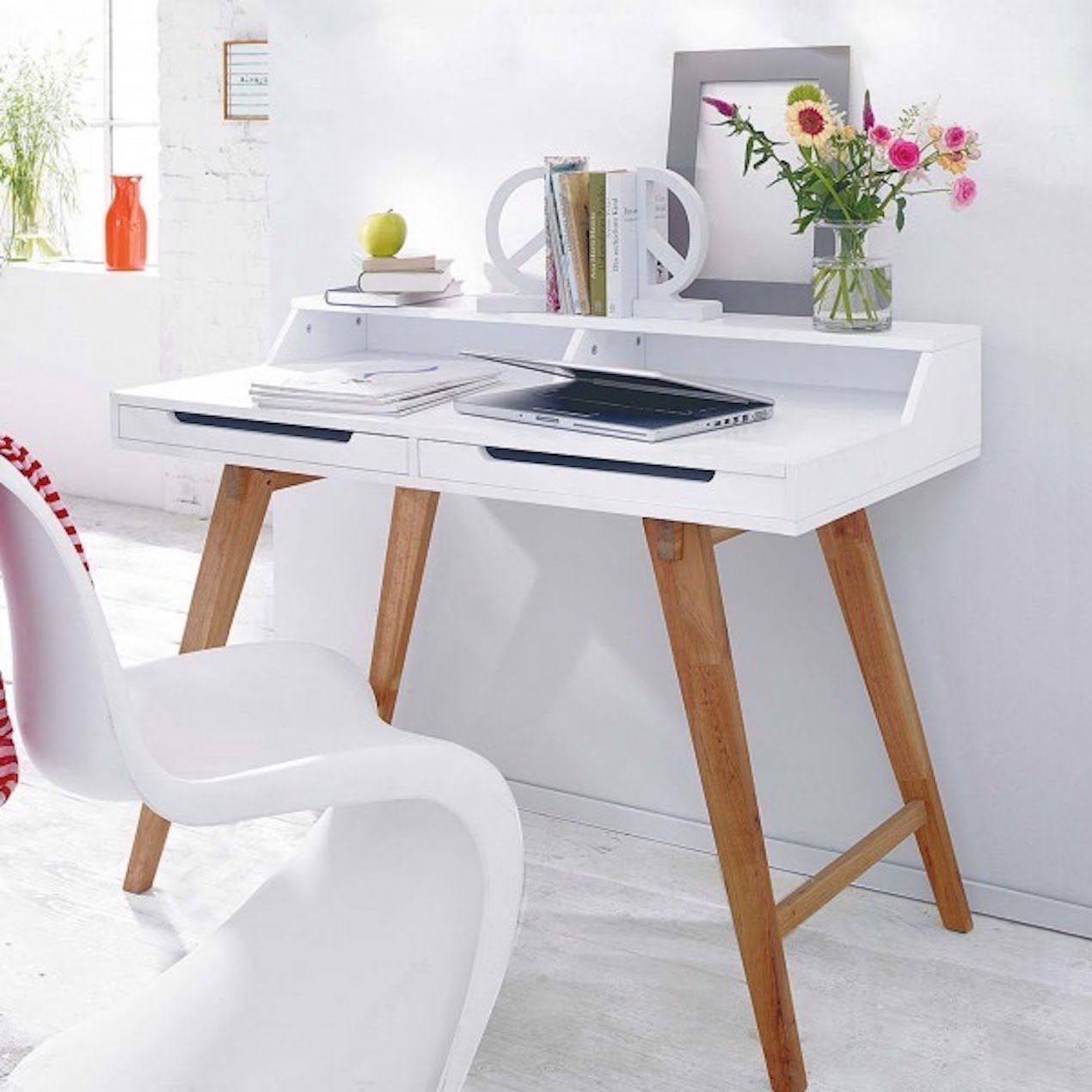 / Bloom Scandinavian Office Desk in White /
The trend for all-white rooms is here to stay. And you can see why here. Painted brickwork in an loft-living setting, just pop this desk in one corner and you instantly have a home office space. The chair is inspired choice because it doesn't look like your classic office chair. I've spotted the Peace sign book ends on eBay. My top tip: Keep a bowl of fruit on your desk, it stops you munching on junk food when you're on your laptop all day.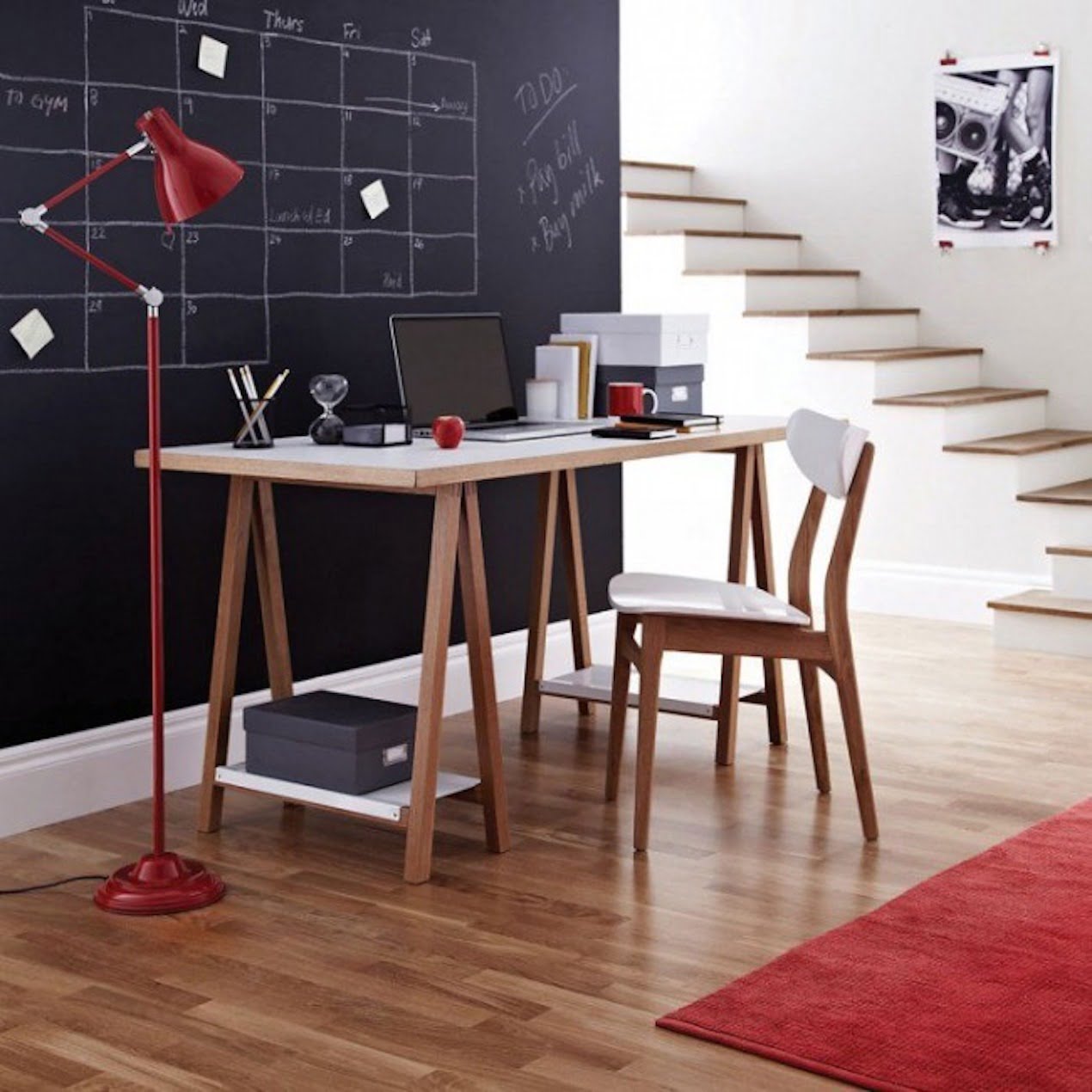 / Highbury Trestle Desk /
There is no sense overlooking any space – and that includes hallways. Chalkboard walls are never going to go out of fashion, they are just too good an idea. You don't have to use black, for years I had a bright blue chalk board wall. Drawing on a huge monthly planner is a good way to keep track of what everyone in the house is doing, as well as stick up invites or reminders (god, I need them all the time!). Trestle table desks are always really spacious so makes the suitable if you need to spread out with your paperwork. And you can easily store the whole thing out the way if you need to make more room in your home.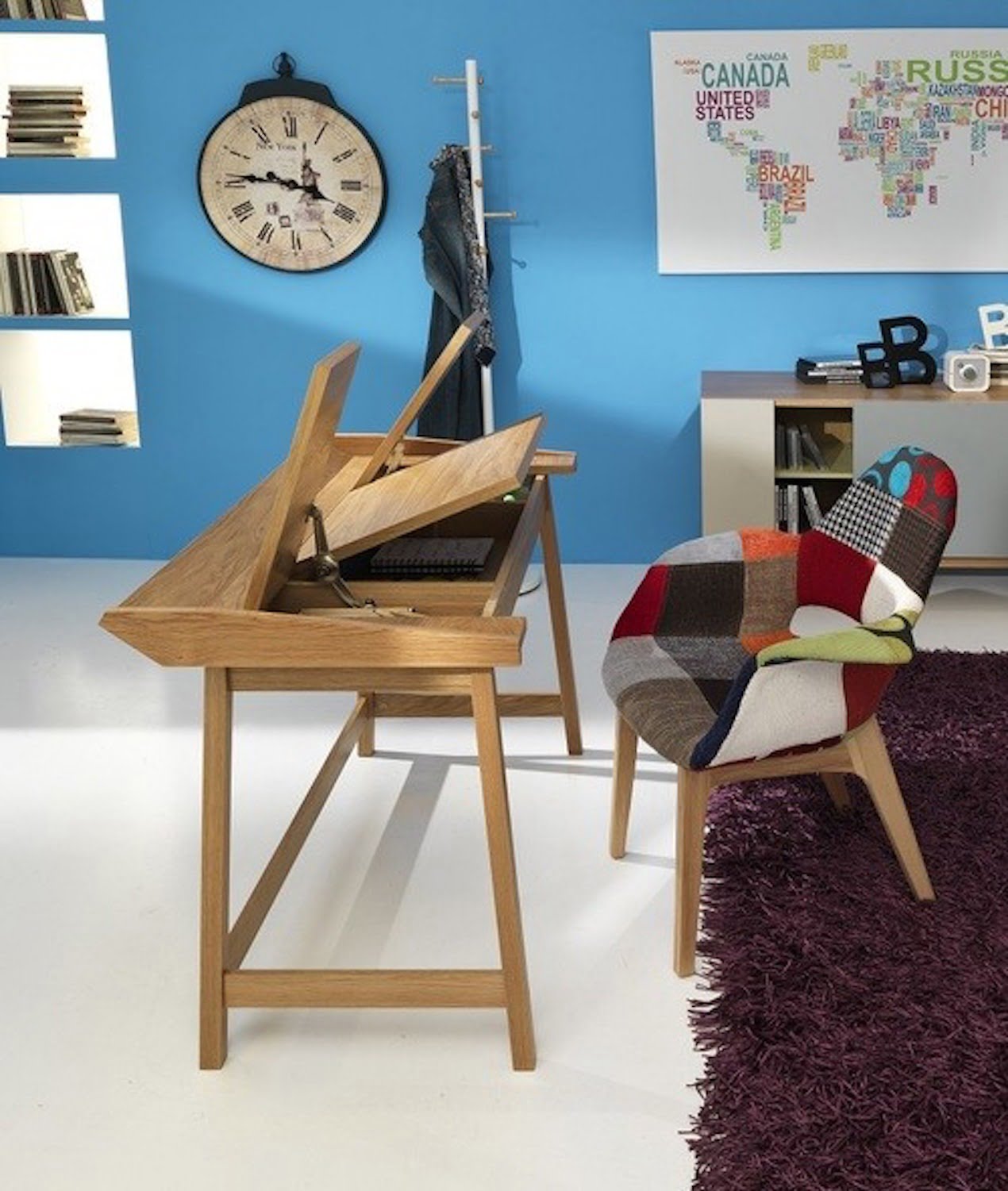 / Baron Desk With Flat Top /
Dare to add colour with bold blue walls! The more colour there is in a room, the more inspired and creative you will be. This is what I call a 'proper desk'. It reminds me of the ones at school with flip-up lid and you'd store all your books and pens underneath. This is a modern version with 3 flip-up bits to divide your office into handy sections. Adding a fun patchwork chair adds a bit of humour to your home office and stops the space looking too serious. I like this one called Brighton (after my home town) as it is upholstered in a bold print.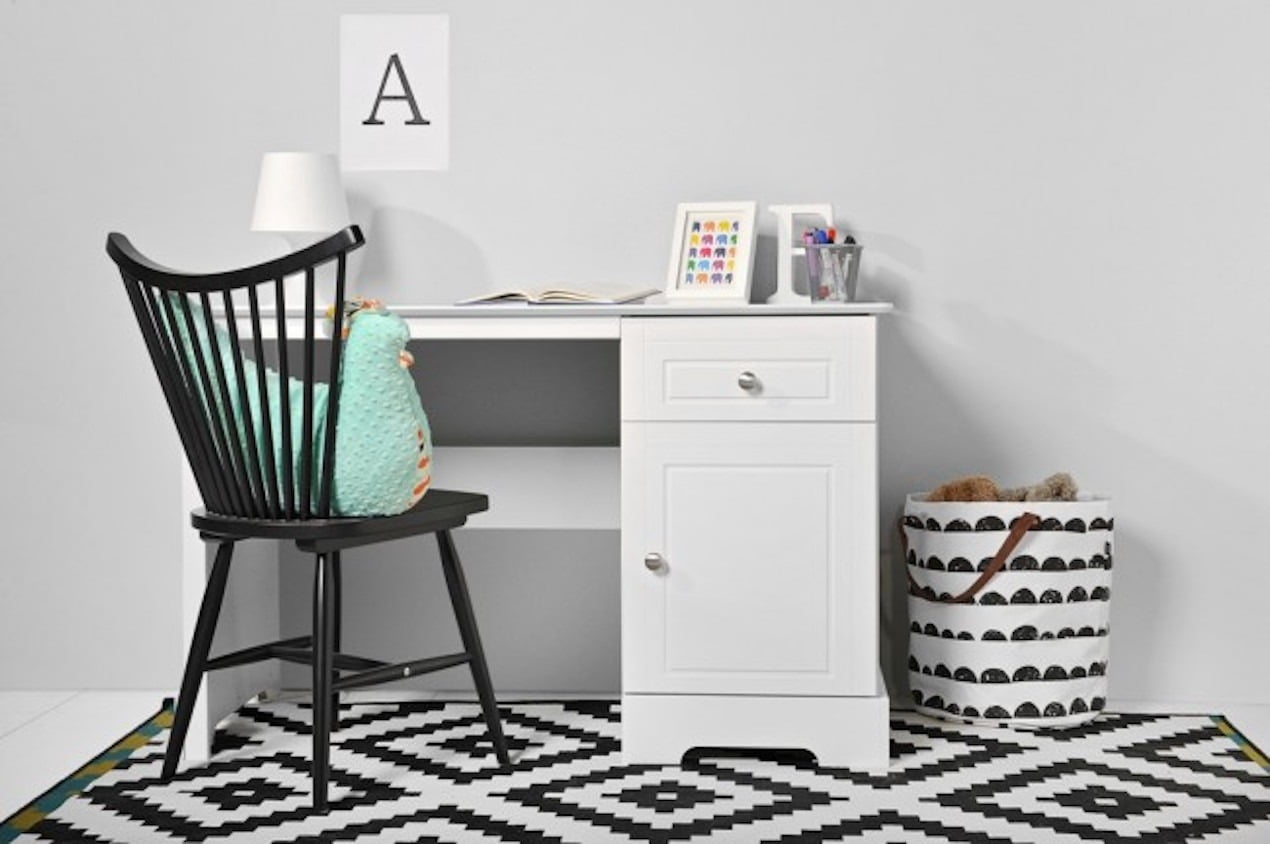 /Classic Unique Kid's Desk /
It's quiet important for children to have a dedicated area to do their after-school work. I know as a child that I found it much easier to work at my desk (I had an original 1940s wooden school one my mum found in a junk shop). What's nice about this desk is that it has loads of storage for books and felt tip pens. The monochrome colours is bang on trend – loving that ikea rug. I actually want that half moon storage basket for myself (will I ever grow up?) Key here is to keep the space as fun as possible to encourage kids to do their homework.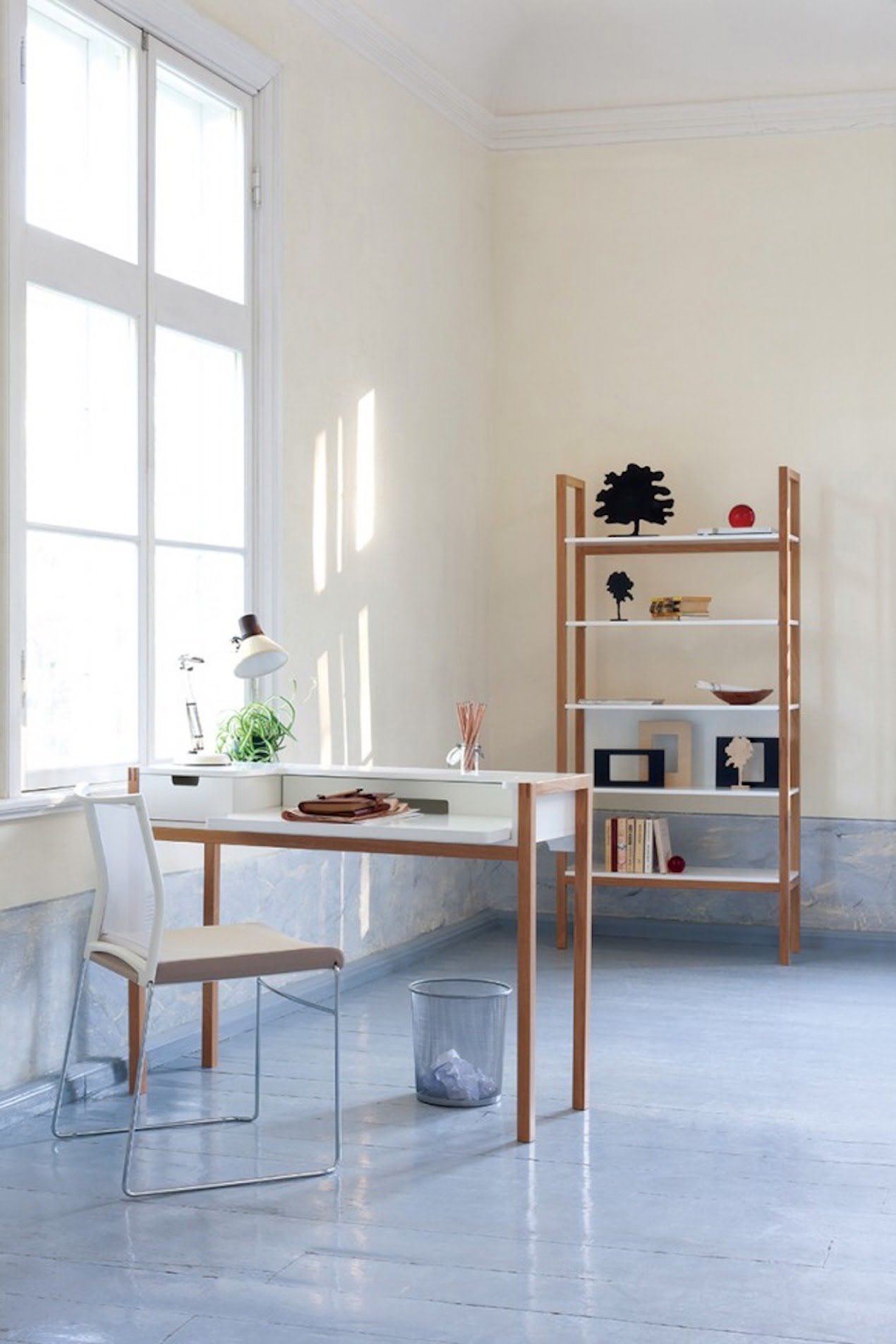 / Farringdon Laptop Desk with Drawer /
Most of us now don't have huge computers anymore but work off our laptops. Most desks are not designed for them, making it uncomfortable to type at a normal desk for too long. That is why I have my eye on specially designed laptop desk with a pull-out drawer. One way to make sure all office looks smart and contained is to go for matching furniture like this handy shelving unit. I really got into buying white folders and magazine files to keep everything in my office looking chic even when it is out on display.
Are you inspired to squeeze in an office space in your home? If so, which look would you go for?
** Disclaimer: This post was in collaboration with Funique. All the furniture above is available on their on-line store here. I've not put the prices on as items keep going in the sale – so prices are going down and down on all their desks. As always people – thoughts and opinions are all mine ?