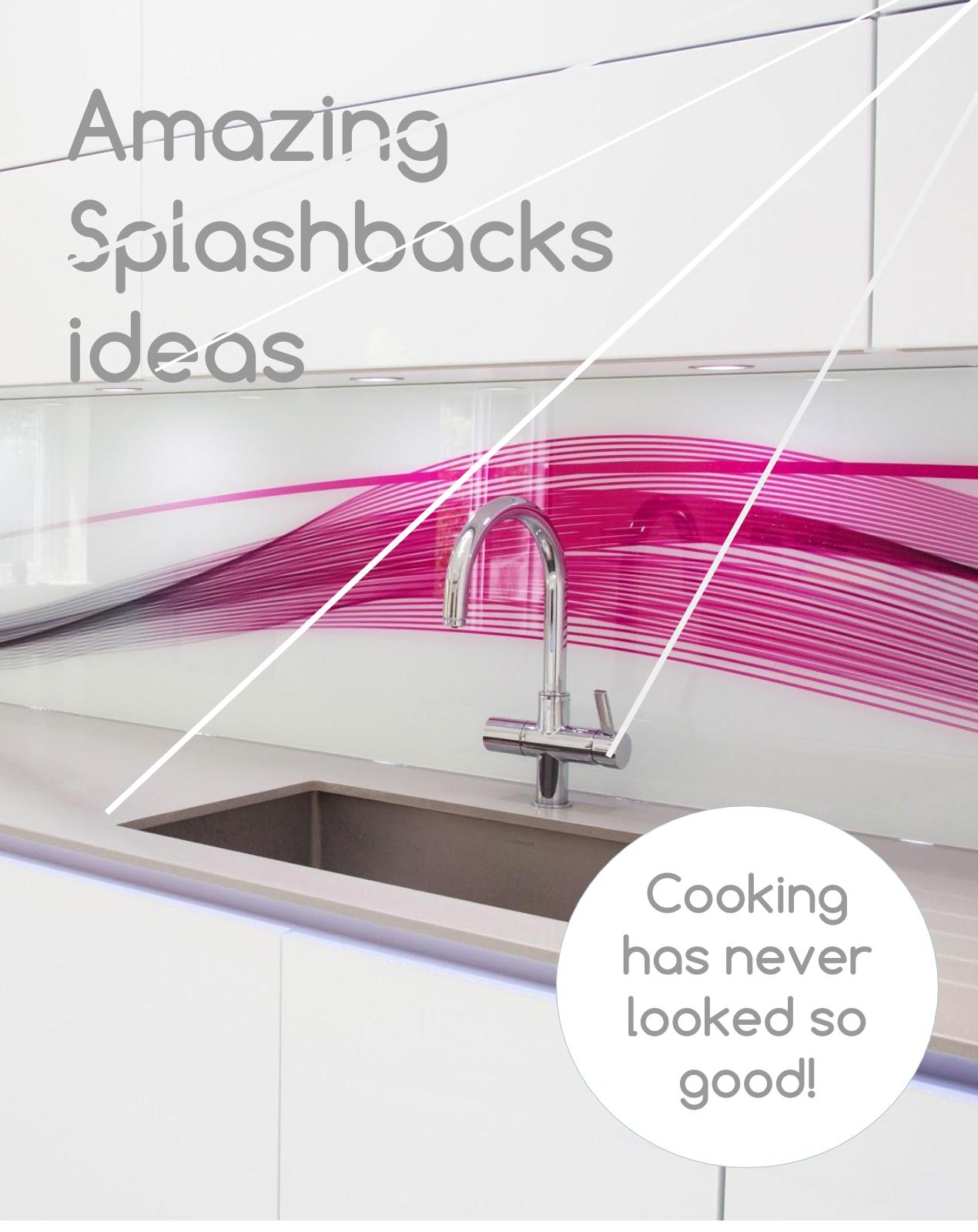 What is the first thing you notice in a kitchen – yes, that's right, the splashback. Long gone are the days where they just serve a functional purpose, protecting your walls from cooking spills and splashes. Now, the kitchen splashback is the statement piece in your room – especially when sporting a new choice of luxe material – glass. Here's my pick of my top 5 kitchen glass splashback ideas that will turn heads.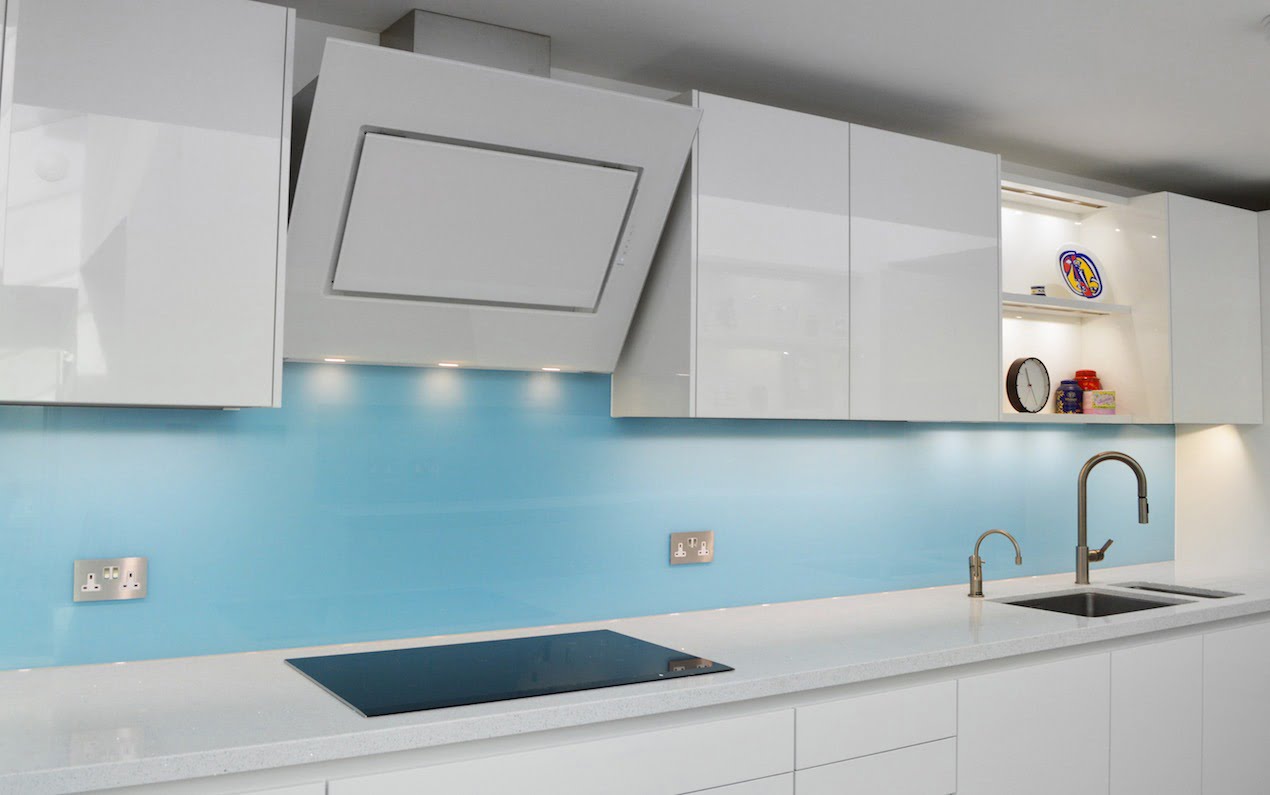 White gloss units are the most popular choice for new kitchens. They are a style classic but, to be honest, can look a bit dull. So how to transform your off-the shelf white kitchen into something really WOW? With a colourful glass splashback of course! You can get them in rainbow shades. Either go for one block of colour (as above in Azure Sky Blue by Creoglass) or you can mix and match different tones to create colour block effect (see here for more ideas). For me, I love the ice-blue tones of this glass splashback as – not only is blue my favourite colour – this shade will sit well with pastels or colour pop accessories.  You can even get your electrical sockets in the same glass finish to complete the look.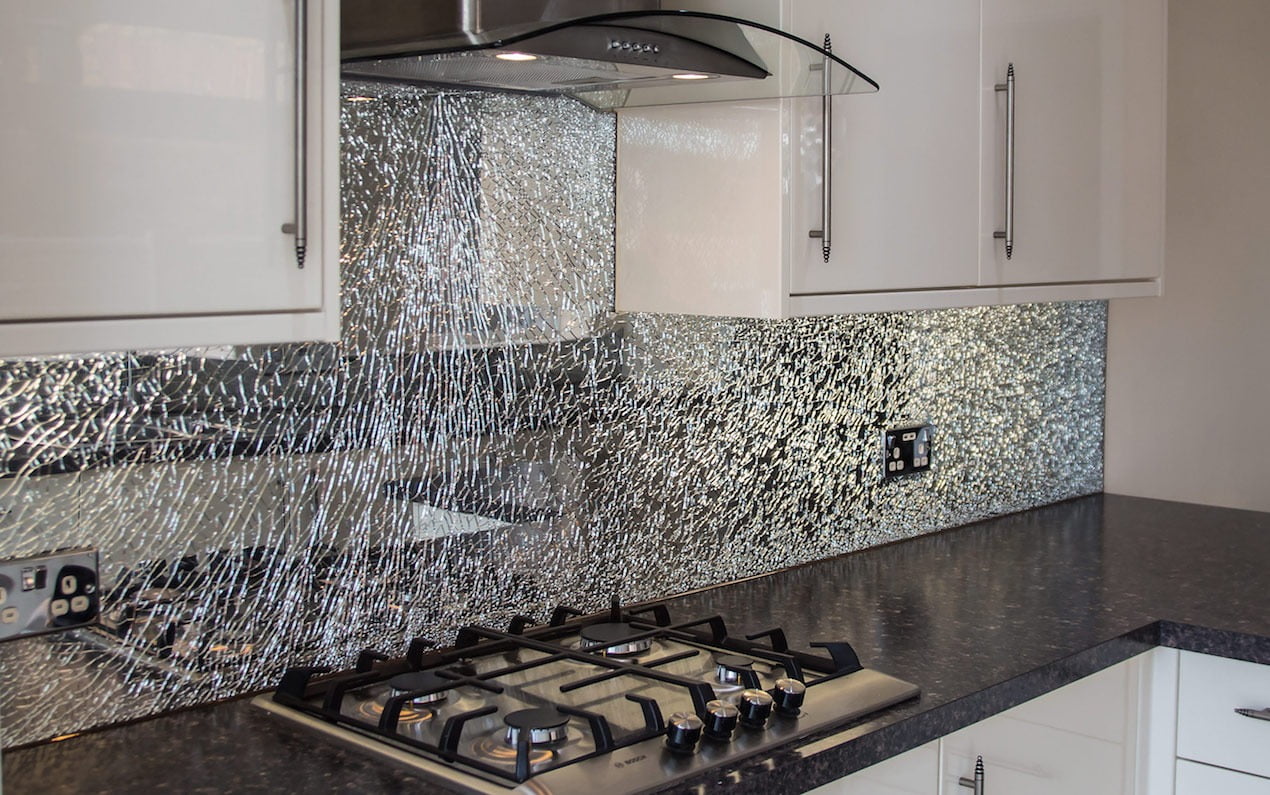 No, your eyes are not deceiving you – this splashback is designed to look all smashed up. It's the latest trend in glass splashbacks called Ice-Cracked effect – and although totally nuts, it is very unique.  It's made from toughened glass so it is safe to use behind hobs and cookers. It's pretty clever how they make it – they create layers and layers of resin and toughened glass. Then the rear layer is crack by hand to create this spectacular effect – like you would find in ice. I could see this in a show home or penthouse apartment – it is so unusual. Are you brave enough to go for this choice?



I saw a mirrored effect glass splashback in the house of Great Interior Design contestant Kelly Sparks and it blew me away. It's such a clever idea for small, dark kitchens as the reflective nature of the glass bounces light around the room and makes the space feel bigger (plus it is great for checking your hair on the way out to the shops 😉  I've picked out the bronze version as my hot tip for 2016 kitchen trends. Copper and Bronze trends are here to stay and when you team this splashback with a copper tap or a bronze sink you are onto a style winner (well, I would say that as I have both – ha ha!)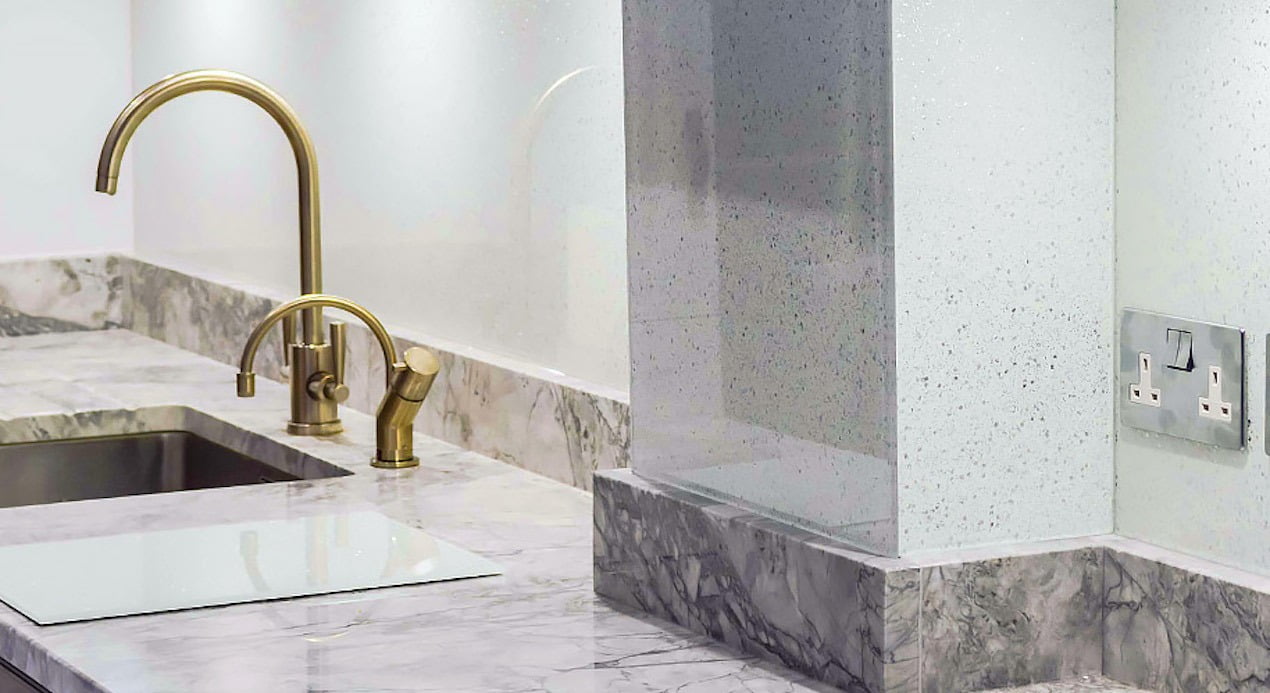 Okay – so this is my favourite splashback so far – Snow White. As much as I would love to marble my home from top-to-bottom, it isn't exactly practical. This splashback has reflective aluminium flecks in it which sparkle (great for kitchen parties!) and it sits so well with that marble up-stand. And because it is white, it is a future design classic – working well with coppers, silver, golds or gilvers. Love! Love! Love!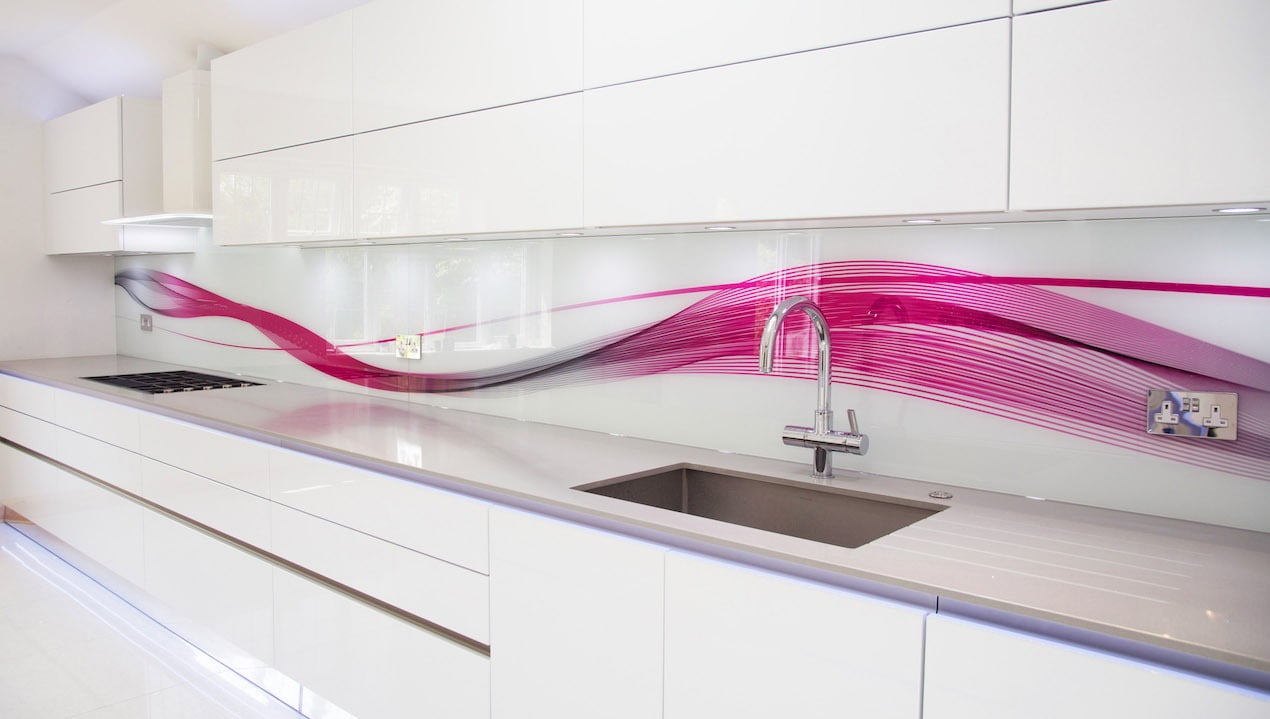 Do you like to get creative in the kitchen? Me too – (and I'm talking design here, not cooking – I'm a hopeless cook!). Then let your imagination run wild and free by designing your own bespoke glass splashack. You can either DIY with a stencil design that can be applied in a variety of different finishes (erm….add-on sparkles anyone?) to any colour glass splashback. Or if you're feeling really inspired, you can get your own artwork put onto the glass (as above). I think you have to pretty colour confident to go for this but it would make your kitchen stand out for the crowd – and turn heads!!
You can buy glass splashbacks in on line from Creoglass from £46.20 for a square metre.
I hope that these 5 Kitchen splashbacks trends have shown you some fresh idea on how you can update your kitchen, transforming it from oh-so-dull to daringly-dramatic. If you would like to see my kitchen makeover in my own home click here. For more ideas for your kitchen I wrote Small Space Ideas for My Tiny Kitchen or My Kitchen Underfloor Heating Guide  or Be Kitchen Clever With Copper which should help you along your way.


** Disclaimer: This post was in collaboration with Creoglass. As always people; thoughts, trend ideas and opinions are all mine ?