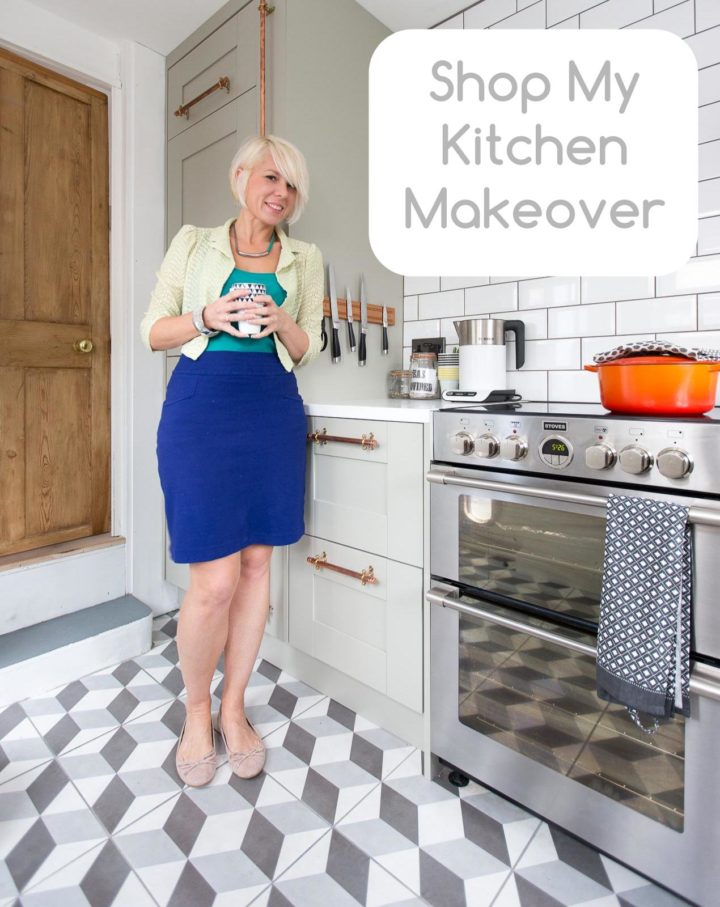 I excitedly shared my very own (dream) kitchen makeover a few weeks ago. I thought it would be helpful to run through where I shopped for everything and my latest kitchen accessories. My aim is to give you an idea of the costs involved in a small kitchen restoration like this, as well as an in-depth guide where I got everything from. Come on, let's go shopping.
I've charted my kitchen on Facebook and Twitter, as well as Instagram – mostly, because it is the first major project in my home (apart from my bathroom). I'm so proud of my kitchen restoration. It's not the biggest room in the world but somehow I've managed to squeeze in everything I need in there – and more. It was so awful before and now each time I walk into the room I wear a MASSIVE SMILE!
My Kitchen Accessories and Style Tips
CHANGING THE LAYOUT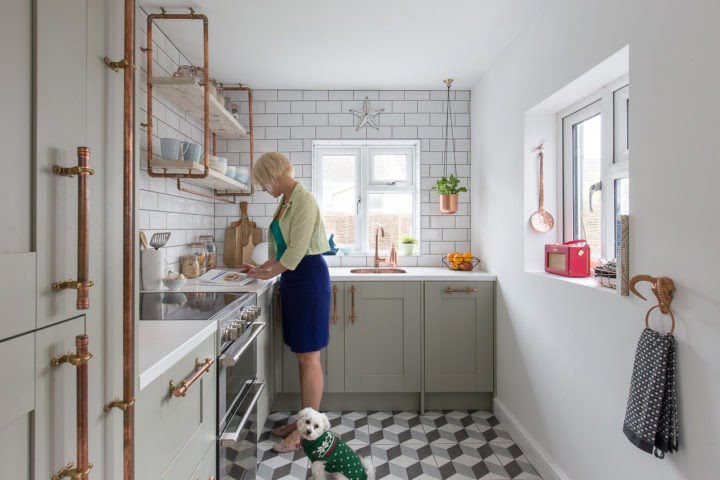 Copper hanging planter, £36, Oh What's This // Barn star, £36, Design Vintage// Ram's head tea towel holder, £6, HomeSense
Before I could start on kitchen accessories I needed to create a blank shell which meant we could be more flexible about our layout, moving things around to make the space work harder.
My sage green kitchen units, called Cranbrook from Symphony Kitchens. I had to go to a local store to get this kitchen, rather from your usual DIY store. You can find a local supplier near you by adding your post code here. My units cost from £245 for a 600mm base unit.
PICKING A FAUX MARBLE WORKTOP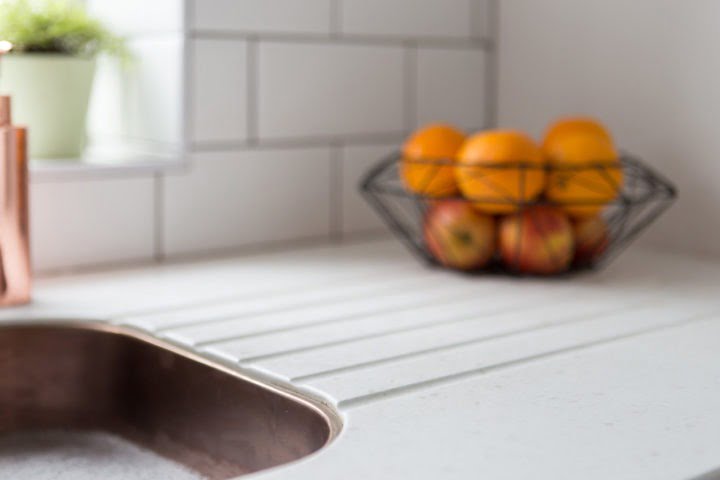 Wire Fruit Bowl, £4, Tiger
Once I picked my units, I had to work on what worktop to go for next. White, bright and as near as marble I could afford. Mine is called Gemini work top, £248 sm,WilsonArt. It's so clever how they sealed two pieces together seamlessly, and put in grooves into the work top for drainage.
ADDING METRO TILES
Cups, £2 each, Tiger // Storage jars, from £3 each, Garden Trading
You know how somethings in life are a sure thing? Well that's the way that I felt about the Metro Tiles for my walls. There was no question I wasn't going to have them, complete with grey grout. Mine are beveled so they have a bit depth to them, and I picked them up from British Ceramic Tiles – they are called Biscelado Metro wall tiles and cost £31.00 psm. The grey grout makes them 'ping' in the room.
I'll admit right now that I am not the biggest cook in the world (I prefer to cook for friends than for myself) but I couldn't have my kitchen without my Stoves 'Sterlin' 600E1 Induction range oven (£825) from Rangecookers.co.uk. It heats up in a nano-second. Is easy to keep clean and fits seamlessly in to my run of units. I'm in love.
PICKING PATTERNED TILES

When my kitchen appeared in Style At Home magazine, lots of you asked where my tiles are from. They are called Feature Floors Illusion, £35 per sqm, British Ceramic Tiles. I spotted them years ago in location house (which I chat about here) and I ear-marked them for my future kitchen. Here they are in all their glory, at last.
We all know about my love of underfloor heating (you can read my review of it here) It was worth splashing out on it as it keeps the whole of the downstairs of my house warm – and could avoid an ugly radiator in my small kitchen.
INSTALL OPEN SHELVING

Jasper Conracn China, Wedgewood // Large French mugs, Dibor
The shelves are made out of scaffolding planks which were sanded, and then stained white with Blanchon hard wax. The planks were then welded together and the copper piping was used to make the frame. Our builder secure it to the walls and ceiling (as it weighed a ton!). With materials it cost us £40 to make them but they were a complete labor of love. You can pick up something really similar from Manchester based designers – Urban Grain.
KITCHEN ACCESSORIES: ADDING COPPER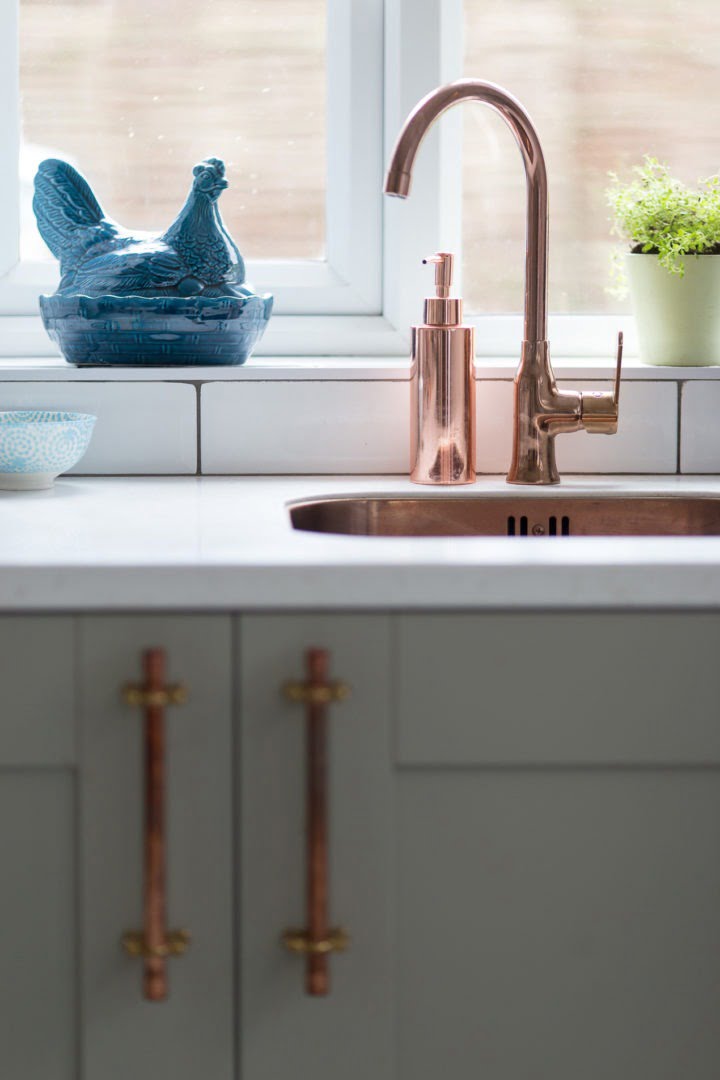 Small blue bowl, £3, Lavender Rooms
I've blogged about adding copper to my kitchen – creating mood board day-dreaming about how I wanted my copper accent to look in my space and thinking of all the copper kitchen essentials I could include.
I spent ages looking on-line for copper tap and sink that had the right finish.There are lots of copper taps out there but they are really old fashioned and I wanted something more modern. I found Olif through Pinterest of all places. That where my Alveus Moncarch variant 40 copper mixer tap (£218) and Alveus Monarch Variant 40 copper undermounted sink (£261.50) both came from. This one is made out of stainless steel so it won't go green after time. I love the sink is under-mounted, slotting into our worktop.
My crazy blue hen came from my sister from a charity shop which I keep my dishcloth in! The Copper soap dispenser (£15) from Habitat is meant for the bathroom but I keep my washing-up liquid in there.
STREAMLINE STORAGE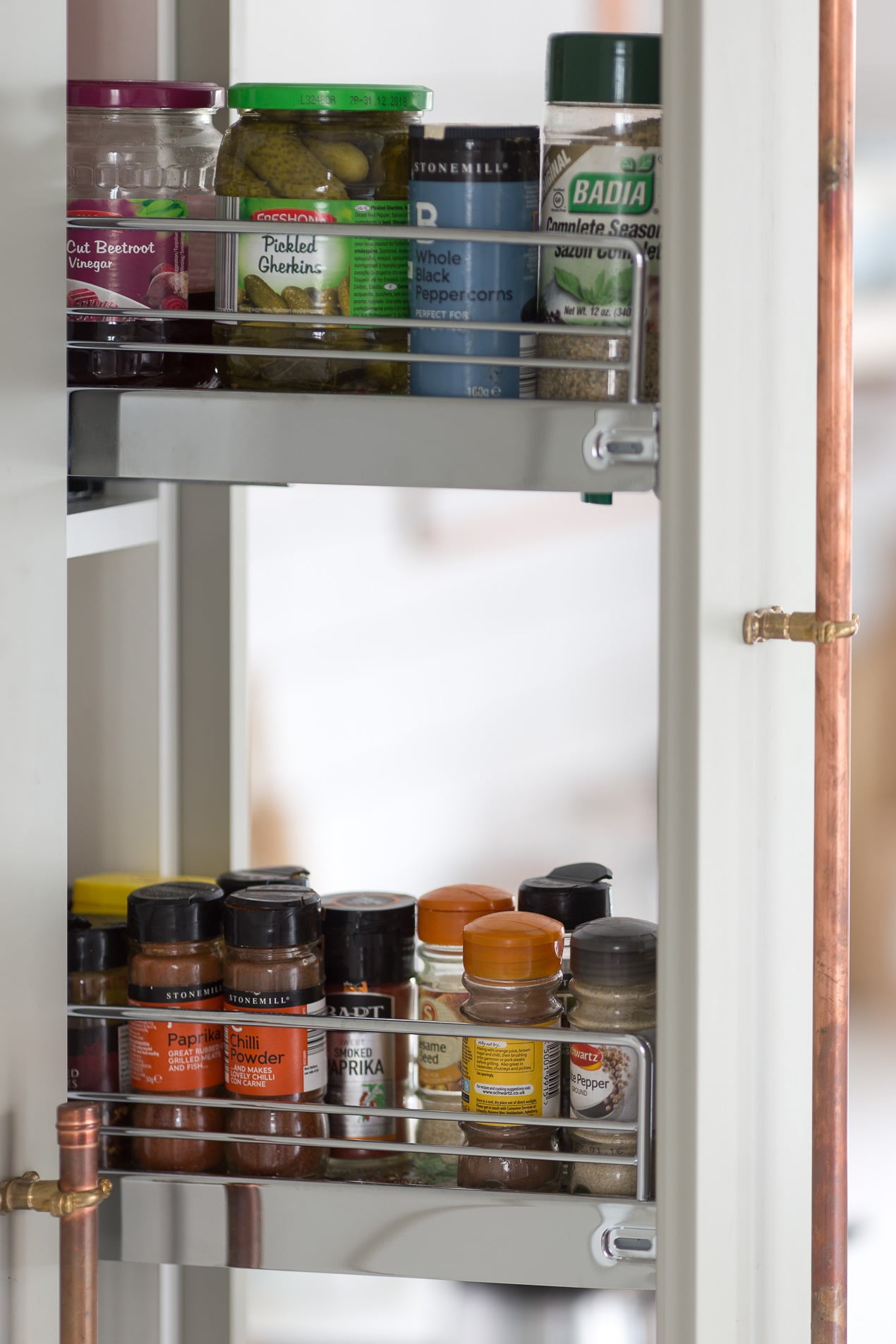 This has to be the best idea ever – I had just 15cm left once I had fitted in my fridge/freezer, washing machine and dishwasher. My kitchen designer came up with this amazing idea – a slim-line pull-out larder that is over 6 feet tall. Plenty of room for all of those kitchen essentials. It has to be my fav thing in the kitchen. It is only 15cm wide but it holds 100s of spices, nuts, oils and other cooking ingredients – almost two cupboards worth. It's in the perfect positioning right next to my hob.
FANCY KETTLE

This has to be the poshest, most high-tech kettle I have ever owned – the Sky Line, £49.99, Bosch – it has a temperature control button so that you don't burn your green tea or spoil your coffee with scalding water. It has a keep warm button – which is good as I'm forever always putting the kettle on, then disappearing to do other things. It has loads of safety features (which I don't understand but are good to have!)
SHOPPING FOR AMERICAN KITCHEN ACCESSORIES
Bread boards, £27, Jamie Oliver
I have a thing about break boards – they are fab for food prep and for serving food on when we have guests. I tracked down this white American Wesco Breadboy, £59.95 after falling in love with one in fancy cookware shop in New York. I saw so many beautiful kitchen accessories when I was there. It was my (first of many) treats for my new kitchen and is now one of my kitchen essentials.
I think that has covered the massive shopping list for everything I bought in the room. If you are planning a similar project here are my breakdown costs
HOW MUCH DID THE KITCHEN ACCESSORIES COST
Work top £449
Kitchen units total £3258 (including the pull out larder, 1 x corner cabinet, 2 x pull out drawers)
Wall tiles £232.5
Floors tiles £210
Tap + sink £479.50
Accessories £100
Underfloor heating £405.99
Range, £825
TOTAL: £5553
OTHER KITCHEN ESSENTIALS TO BUDGET FOR
Labour was another £2.5k (I think) and then I had to pay my plaster, £350 (but that also included some tiling in my bathroom.) I had an extra cost I wasn't expecting – which was to insulate my kitchen to prevent damp which came in at another £1000. I also knocked out a window, and had the remaining window and back door replaced. God, seems like such a lot when I write it down!
About £9403 in total
Wowsers. Luckily, I'm a happy bunnie with the room especially when you look at the before's below.


There is nothing I would change at all. I've been adding the odd piece of art the walls but that is it. Have you done a similar project? I would love to know what you think of the end result – and if I have inspired you to go shopping for your kitchen too?
Love this makeover? Then take a look at my bathroom makeover – I've covered every stage of this makeover from My Bathroom Makeover Before + Afters to My Complete Bathroom Makeover Guide and Style Savvy Bathroom as well as My Bathroom Planning.
** Disclaimer: Some of these products I was given for review. As always; thoughts and opinions are all mine and true ?