Right now I'm totally loving hanging out at home. These colder mornings and dark evenings making me want to snuggle up at home. I have spent a small fortune of fancy new PJs from Asos and River Island. And when the dog ate my slippers (yes, really) it was time to go shoe shopping. In the name of blogging research, I swapped my high heels for a pair of real sheepskin slippers.
And it was the perfect chance to test our my new Olympus Pen camera too. Let's get cosy together.


I've been a big lover of skeepskins for a long time (I know, I'm a bad vegetarian) styling my home up with skins and hides. Now it was time for my feet.
Since I put down engineered oak boards I've been really militant about wearing slippers in the house. It's pretty grim wearing shoes indoors (when you think how dirty the streets are) and there is something about coming home, popping your slippers on which makes me feel hipster-Hygge.
When Morlands of Glastonbury got in touch to gift me a pair of slippers – it was like fashion-fate stepped in. As literary that week, my dog Teddy killed my old slippers when he was showing off his skills.
Looking at their website I was impressed with Morlands colourful range of beautiful sheepskin shoes and slippers – that tick a lot of boxes for me but they have been making them over 150 years – making them the experts in my eyes on what makes a great pair of slippers.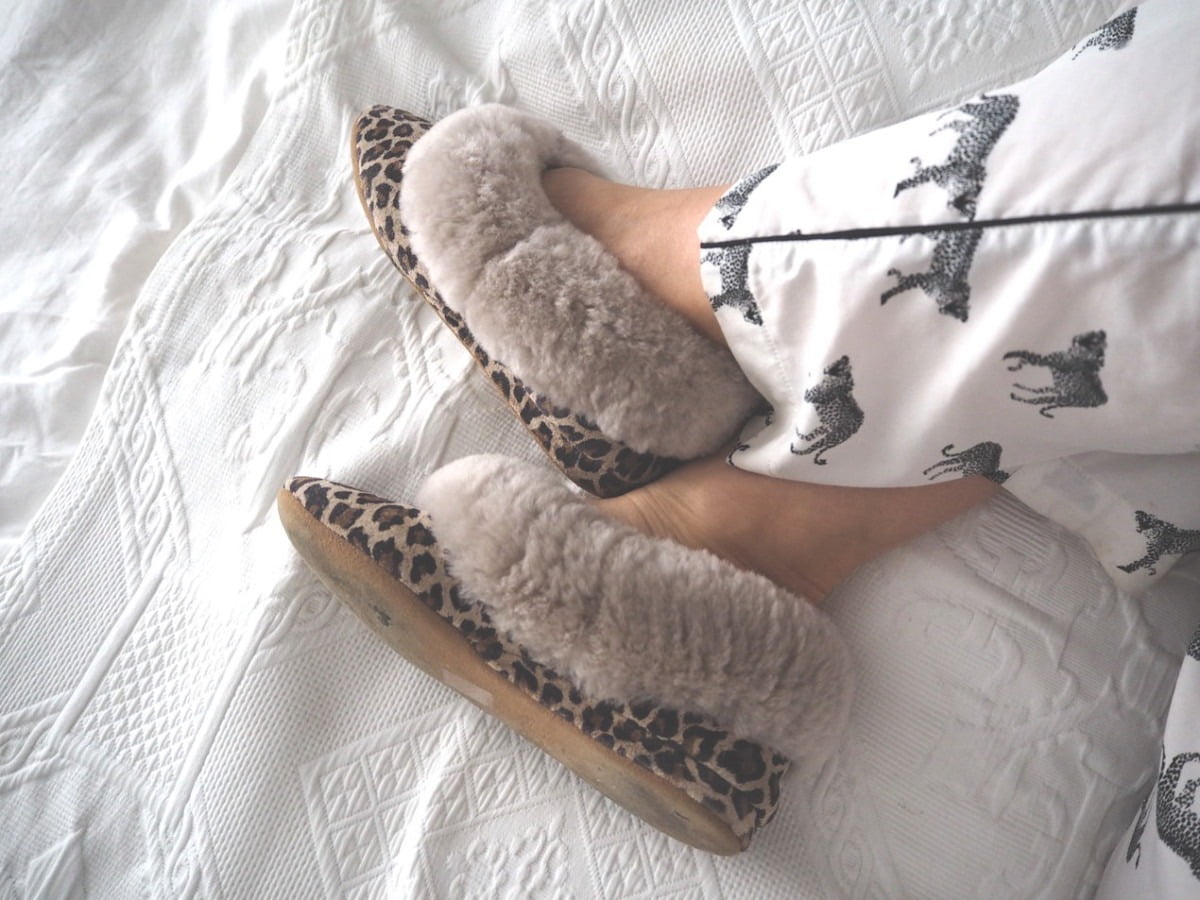 The tough choice for me was which slippers to go for. Classic styling? Soft pastels? A loafer? Then I spotted these animal print ones – grrrrrrr! Made from soft printed suede, they would go most excellently with my silky Cheetah print PJ from River Island.
I liked the fluffy trim and that they sort of look more like shoes than slippers. I work from home most days in my PJs until the late afternoon, now I've got an outfit that won't scare the postman.
My slippers, also known as the 'Seaforth' – come as a snug fit (I was worried I'd got the wrong size at first). In just a few weeks wear they now fit perfectly moulding to my feet. The slippers come smartly boxed and come with a shoe horn too so you can glide them on and off easily.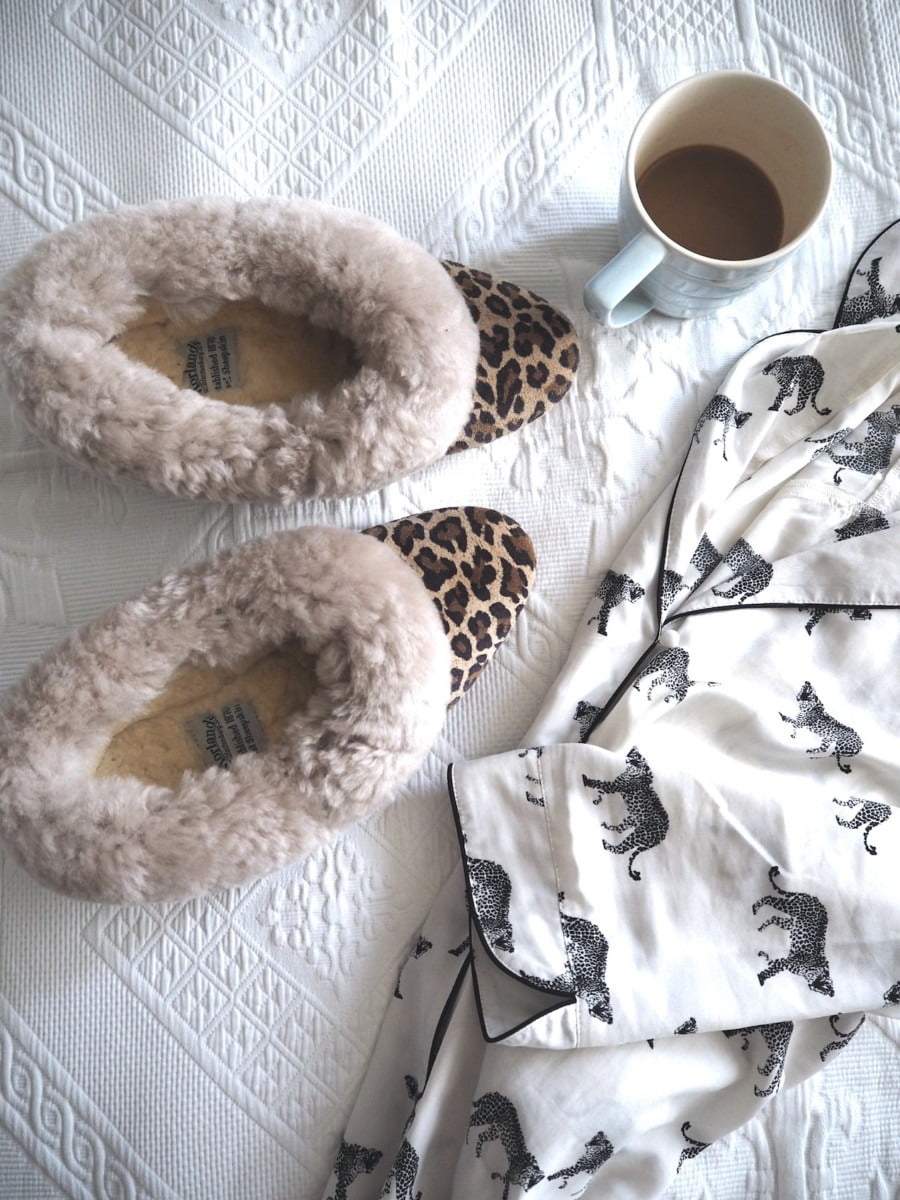 Obviously sheepskin looks and feel amazing – there are other benefits for your toes too.
6 reasons sheepskin slippers are good for you
1. You can wear them all year-round: Sheepskin has thermostatic properties to keep feet just the right temperature, no matter the season. Naturally breathable, sheepskin slippers keep your feet cool in the summer and wonderfully warm and insulated in the winter.
2. They are anti-bacterial and hypoallergenic: No more stinky feet! Sheepskin fibers contain landin which is naturally anti-bacterial, keeping your tootsies feeling fresh. And sheepskin repels dust mites and mildew, making it an extra-enticing choice for allergy sufferers, don't you know.
3. No more sweat (urgh!): While slippers lined with synthetic materials often cause feet to sweat, sheepskin absorbs moisture and perspiration, allowing you to feel dry, comfortable, and friction-free with every step. Good if you suffer from blisters.
4. Very durable: Sheepskin slippers are in it for the long haul. Sheepskin wool fibres can be bent 20,000 times without ripping. I expect my new shoes to last and last.
5. Cosy on your feet: Slipping into a pair of plush sheepskin slippers feels so luxurious. Who doesn't deserve that after a hard day's work? The shoes are really springy too – so feels like you're walking on clouds.
6. Warm feet, warm heart:  Keeping your feet warm and cosy, will keep the rest of you feeling snug too. Wearing slippers all day means I don't tend to put the heating on as much – saving money in the long run on my heating bills.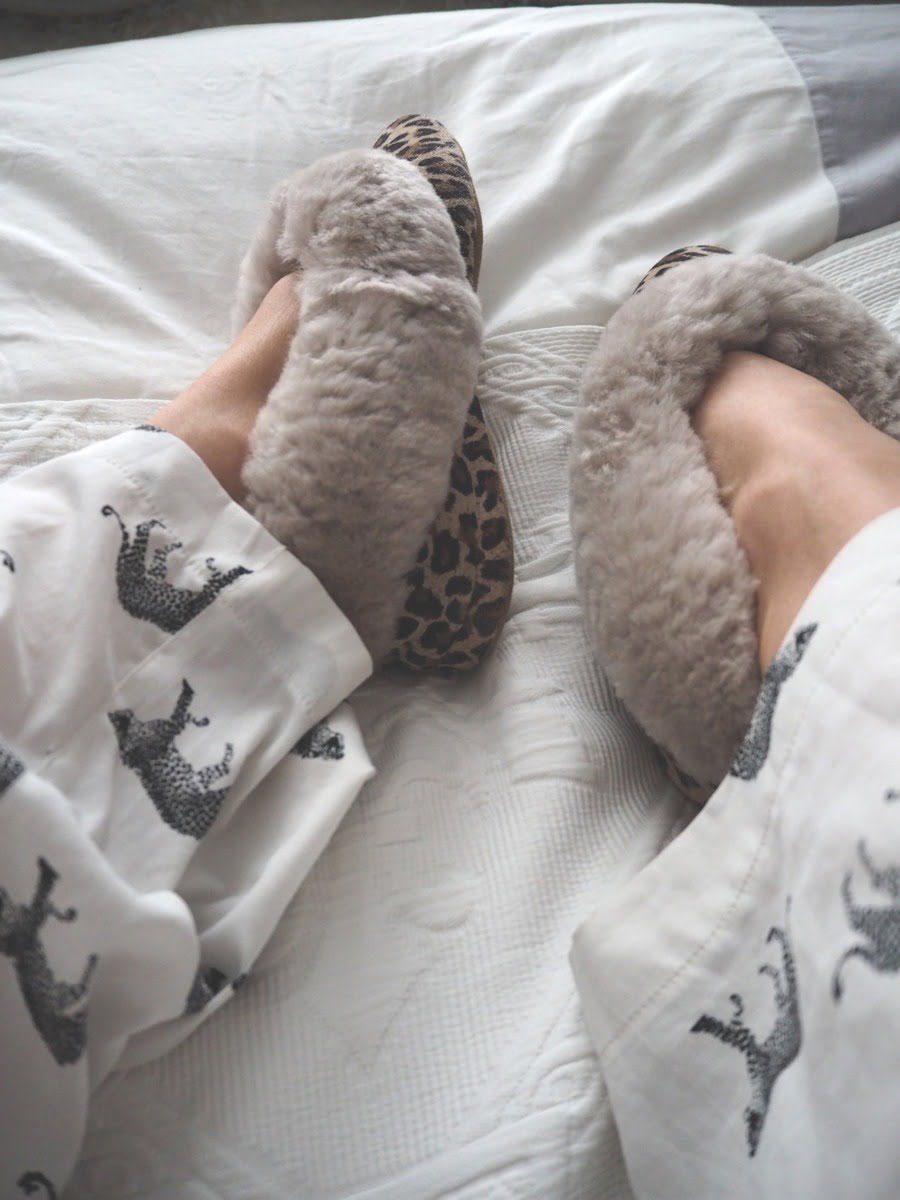 Hello slippers! Goodbye Heels!
I think I'm a little bit in love with my new slippers (can you tell) – and now pack them with me where ever I go, popping them on at kitchen discos.
I'm thinking of treating my mum to a pair (they cost from £54) this Christmas. She'd love the ballerina's ones with a cute bow on.
The photos above are my first attempt with my brand new Olympus E-PL8. I was inspired by Morlands instgram account that is full of cosy photos of the slippers in action – which make me want to snuggle up on the sofa, all warm and cosy inside.
Is it time to up your slipper game and indulge your feet? Ooh – and what do you think of my snaps with my new camera? I'd love feed back + tips on how to make them look better. I'm going to post to instagram on the hashtag#pengeneration #epl8 #olympusuk – take a look.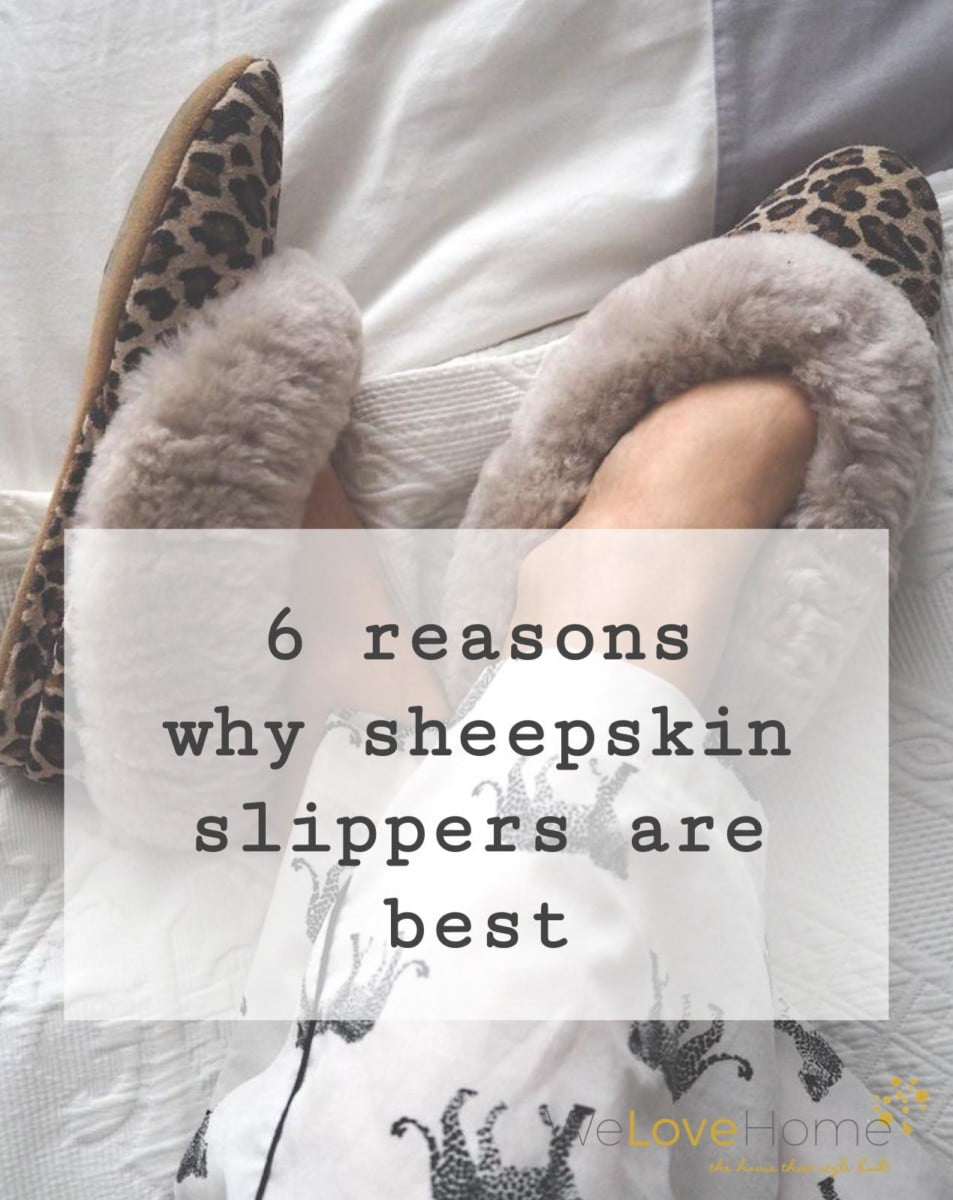 •• Disclaimer. I was gift product to review for this post. But all thoughts and photos (yay!) are my own. Give me a little follow if you have enjoyed this post…just click here: