Simple summer styling
I'm sharing my summer style rules so that you can have the effortless looks for your holiday look.
When packing for a recently holiday to France I did a spot of holiday shopping to that I wanted to share with you today. A few key pieces have brought my summer wardrobe up to date. When away on a break, I love laid back, easy clothes that feel comfortable and relaxed but are still very chic.
For this break, I treated myself to a few affordable items that have freshened up my holiday styling. I love this low maintenance style of dressing which I know you will love too.
Here's my everyday styling tips for nailing your own summer style.
My Summer Style Rules
Keep It Casual…
When on holiday you don't want clothes that are going to crumple or look too stuffy when on holiday.  You need an outfit that needs to be thrown together but flatter and fit well.
Top of my list is a pair of casual trousers in a bold print. I love this Horizon navy pair from Marks and Spencers (and navy is such a classic colour) which are in a soft cotton material. They cost just £18.
On top of the simple blue vest top, I slipped on a pure cotton white shirt (£25) from Marks and Spencers that feels so good to wear. I like a long shirt that covers my bottom! And it is the perfect extra layer if the sun is too hot and you need to cover your skin.
These white leather sandals always come away with me on holiday. They go with every outfit and look great next to tanned skin too. I picked them up from Morocco.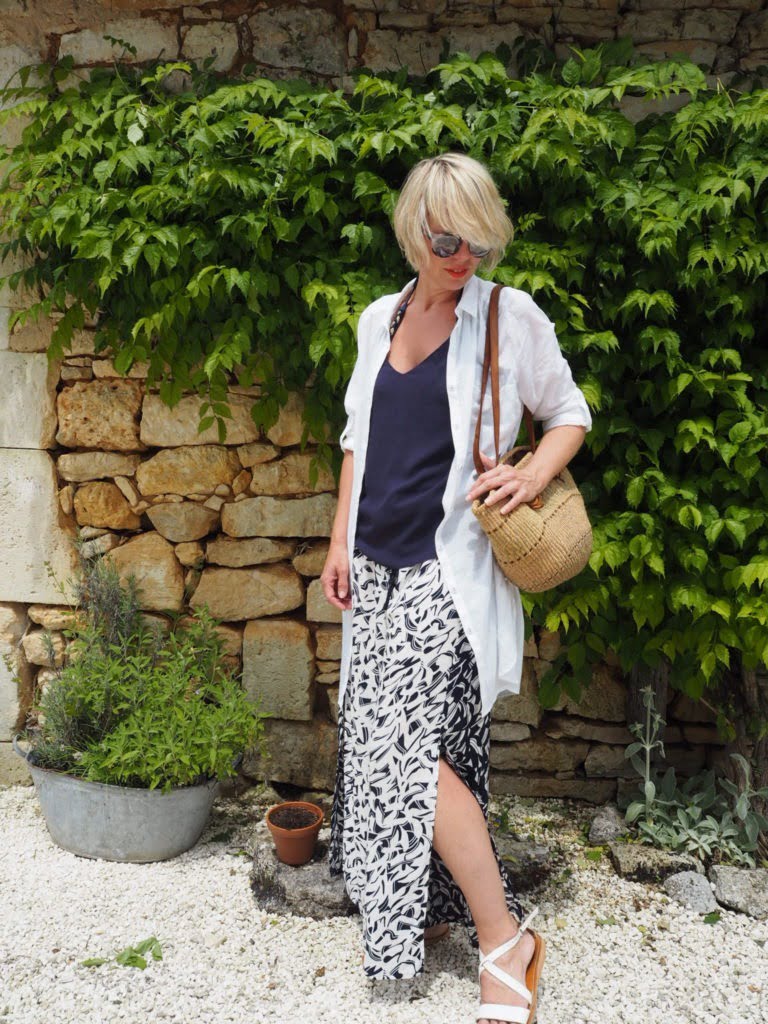 …And Keep It Cool.
A lot of what I used to wear in summer was my winter outfits stripped back. I have a few classics like vest tops from Matalan which I wear all year round. Now I have a few looser fit trousers that keep me cool during the heat.
On holiday, you need things that will fit easily into a carry on suitcase for mini breaks. It's key to have a few items that you can mix and match.
The blue hat keeps the sun off my face and keeps the look interesting.

Summer dressing should make you feel confident
On holiday, I like to feel comfortable. That usually means a mix of jean short, cotton tops and light summer dresses. But this year, I wanted to have a new look that was a bit more grown up. But still felt like me. There is nothing worse that going on holiday and not feeling confident that you look the best you can.
This is why I always take a hat away with me and a scarf that I can use to dress up every outfit to take it from day to night. This colour block fedora is the perfect accessories for just £15. I have a huge collection of long necklaces that are a simple way to brighten up an outfit. When nights get cool, light layers are essential.
Be playful with colour
On holiday you can afford to wear brighter colours. I live for pops of colour in outfits. I fell in love with these yellow trousers from Marks and Spencers (£35) as they colour is so summery and vibrant. The embroidered detailing on the ankle and the tassel waist ties mean that I would be happy to wear these to a nice restaurant for lunch.
Clashing prints and colour palettes are what make an outfit feel like you. Here I teamed my Top Shop vest top which works which shouldn't work with the yellow trousers but somehow it does.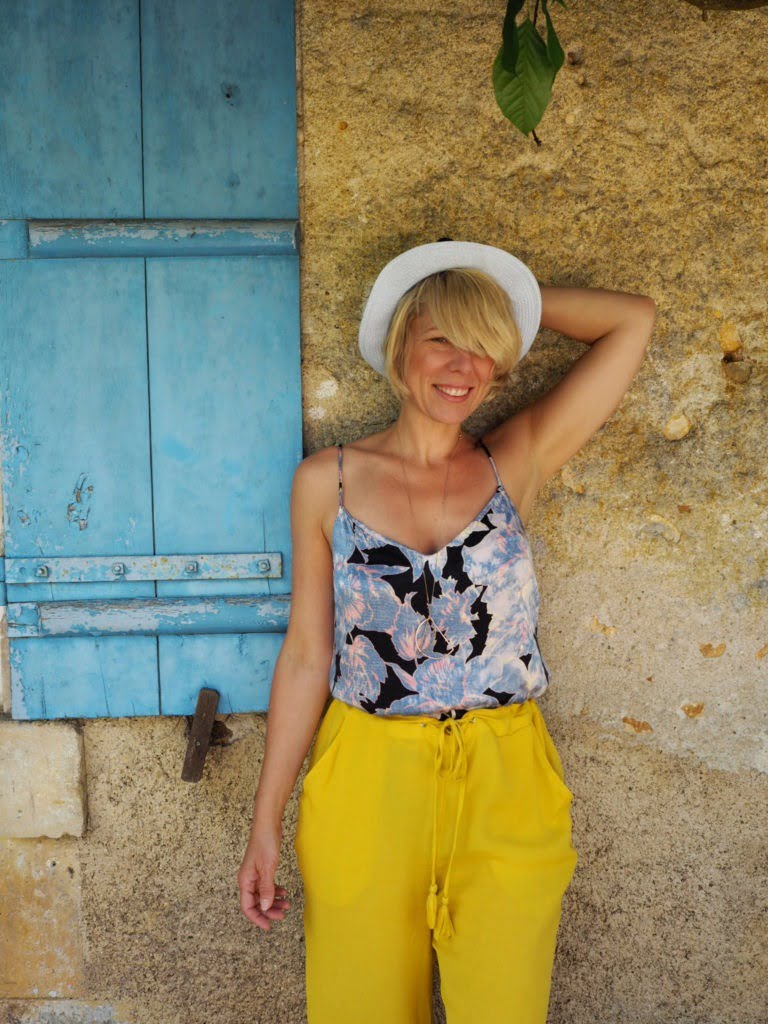 Chic cover up
Hitting the beach can be intimidating when you have a lot of skin on show. That is why a long linen or cotton shirt is a must-buy to pack on holiday. I love which has coral and blue stripes (my fave colours) that I slipped over a pair of pompom shorts and a bikini top. The shirt is Marks and Spencers for £29.50. The beaded necklace adds a touch of glam so when I head to the beach, I still feel a little bit dressed up.
Handbags are always the finishing touch to any outfit, A large woven straw basket is ideal for the beach. You can fill it with your towel and a packed lunch. It will also look good when you pop to the shops to buy food for your summer BBQ. Rattan or straw bags can be folded easily so are ideal for packing in a suitcase.
I love how this bag looks against the blue and coral striped shirt, it really does step the outfit up a notch.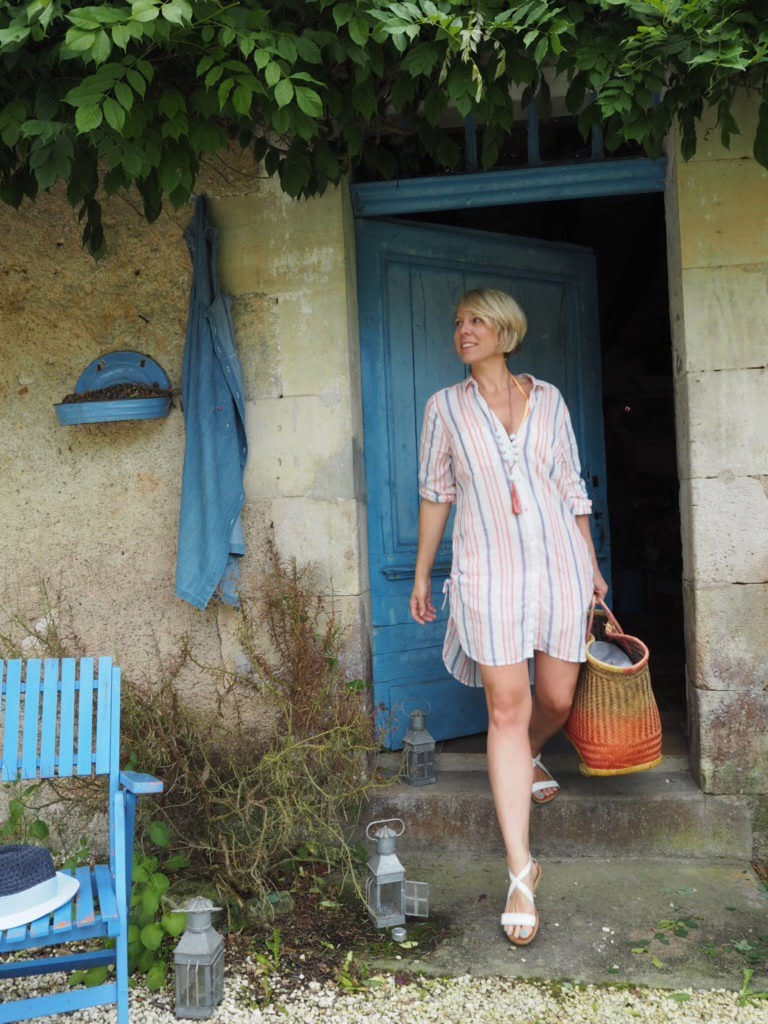 Packing for your holiday with a few loose trousers, a couple of shirts and some key accessories are all you need to have the best looking summer that you can have.
It's so much fun once you let go of any style rules you once had.
What are your style rules for summer dressing?
Love
Maxine
You May Also Like
3 Ethical Fashion Looks You'll Love This Summer