Your bathroom is about to get a major upgrade in 2019 with the hottest bathroom trend I've seen for a long time.
As an interior stylist, I've seen the biggest bathroom looks come and go, from minimal spaces, to concrete basins, and bold paint colours. I'm excited to share with you the biggest bathroom trend to hit our homes – a waterproof panelling system by Showerwall – which could mean the end to tiling, foever.
**Sponsored Post**
I'm always scouting for clever ways to transform a room. And IMHO bathrooms are probably the most exciting and dramatic room in the home to change. Check out own my bathroom makeover HERE transformation from basic to bad-ass.
As you can see, I love finding fun, affordable styling ideas that will give your home a bespoke style. That's how I discovered these waterproof wall panels by Showerwall which are officially the coolest thing that has happened to your bathroom this year.
Main Image / Black Glacial
Take a look at these gorgeous designs…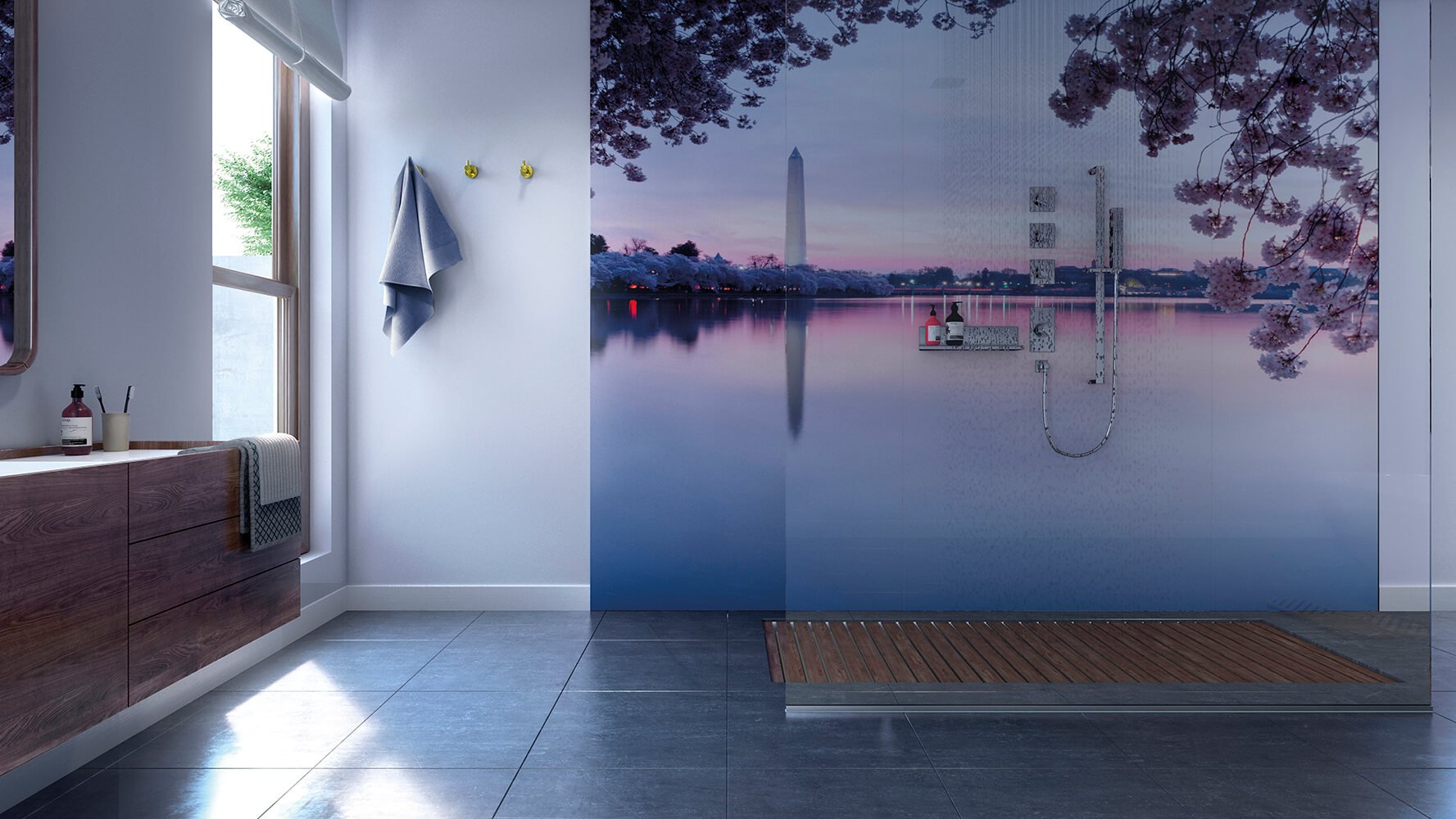 Destination / Showerwall
Can we all just take a moment to appreciate these bold designs above?! What a great statement piece for your bathroom! And not a single wall tile in sight. Now you know why I was excited to share this bathroom trend.
When I first came across this modern, waterproof panelling system by Showerwall, I was amazed at how simple it is to create a high-end, bespoke bathroom design for half the hassle.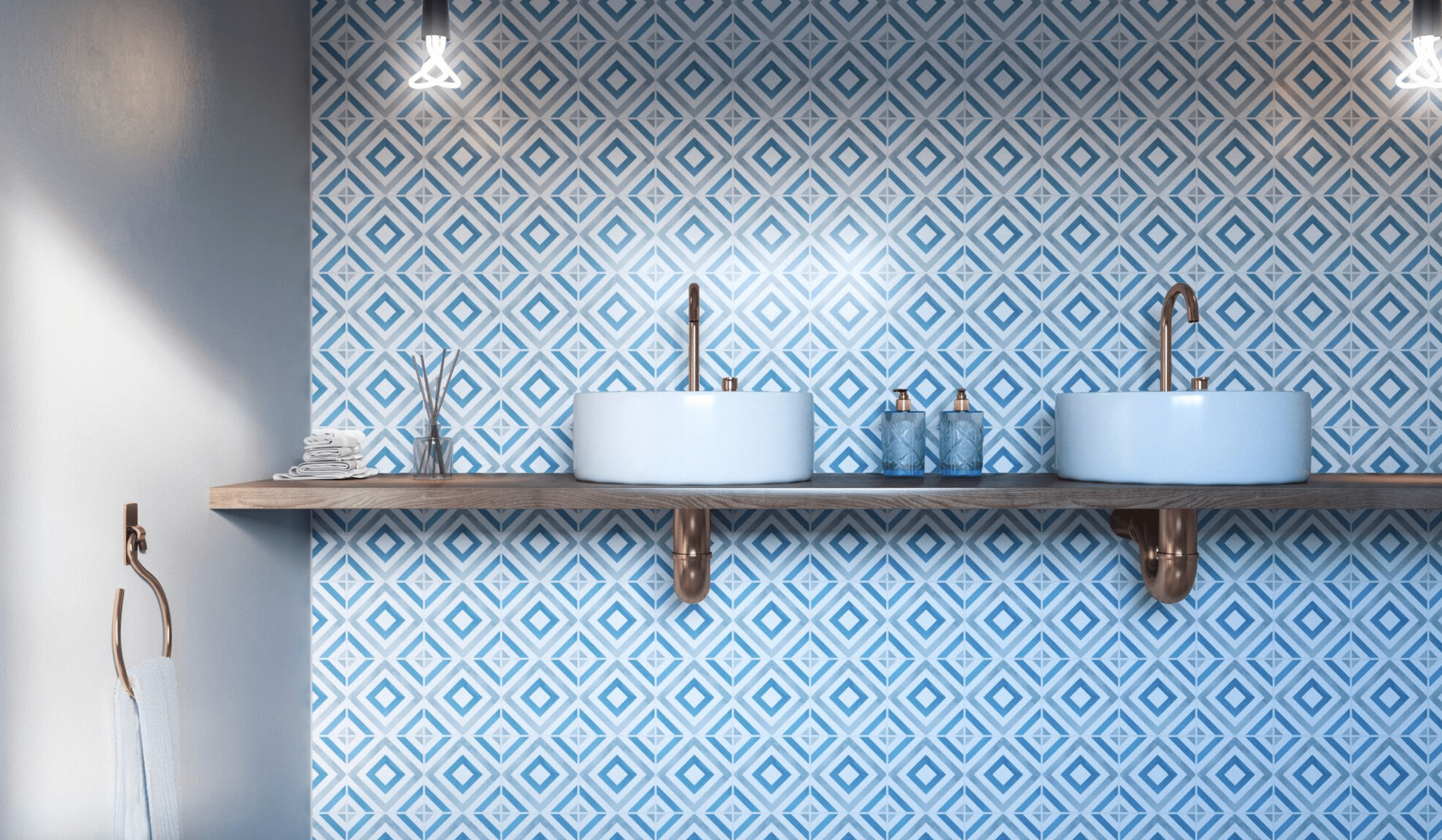 Diamond Acrylic / Showerwall
What Is A Wall Pannel?
It's a versatile, easy-to-fit bathroom wall panel system that can transform your bathroom from drab to fab in half the time of tiling. It's made from hard-wearing materials, and delivers a watertight finish that's tough, stain resistant and easy to clean.
You can also create custom designs with pictures, patterns or repeats so that you can create the bathroom look you have been craving.
Fit the waterproof panels where you would have wall tiles – either in a shower, behind a bath or as a splashback for sinks. Or all three.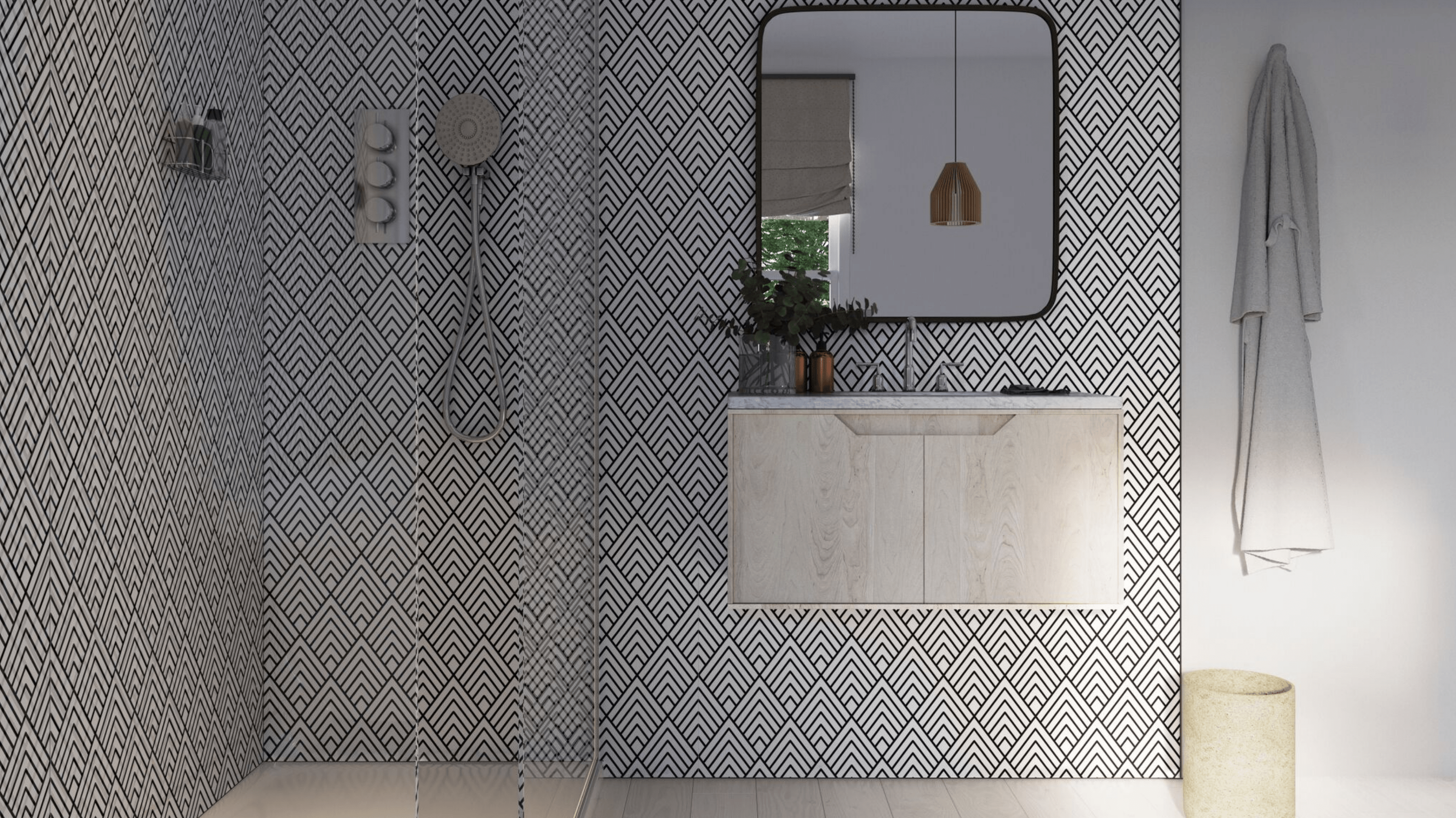 Above Black Geo Acrylic & Lineal Smoke HPL / Showerwall
6 Reasons Why You Need This Bathroom Trend In Your Life
Why might you choose a wall panel instead of tiles? Good question!
1. They're customisable
Yep, that's right! If you're wanting something a little more bespoke, perhaps a design you've created or an image from your instagram feed that's unique to you, then it's possible to have it custom printed to your requirements. Just follow this link to see how it's done..
2. They can be built on to any material
Perhaps you're sick of the sight of some pre-existing tiles in your bathroom and want a quick fix? Well good news, not only can these panels be fixed to a wall, they can also be fixed to tiles. Imagine being able to get rid of those pre-existing tiles without having to cause a mess.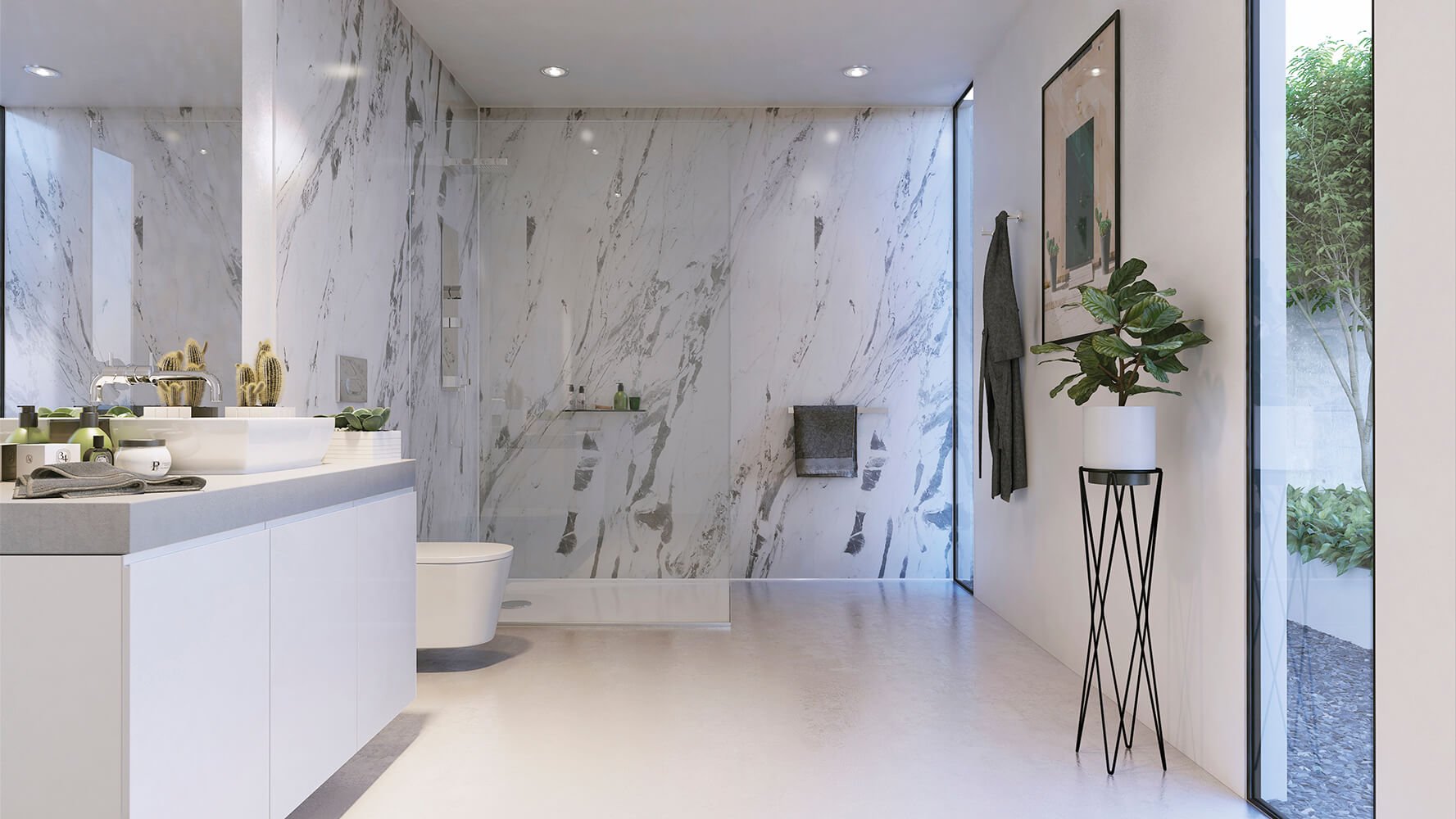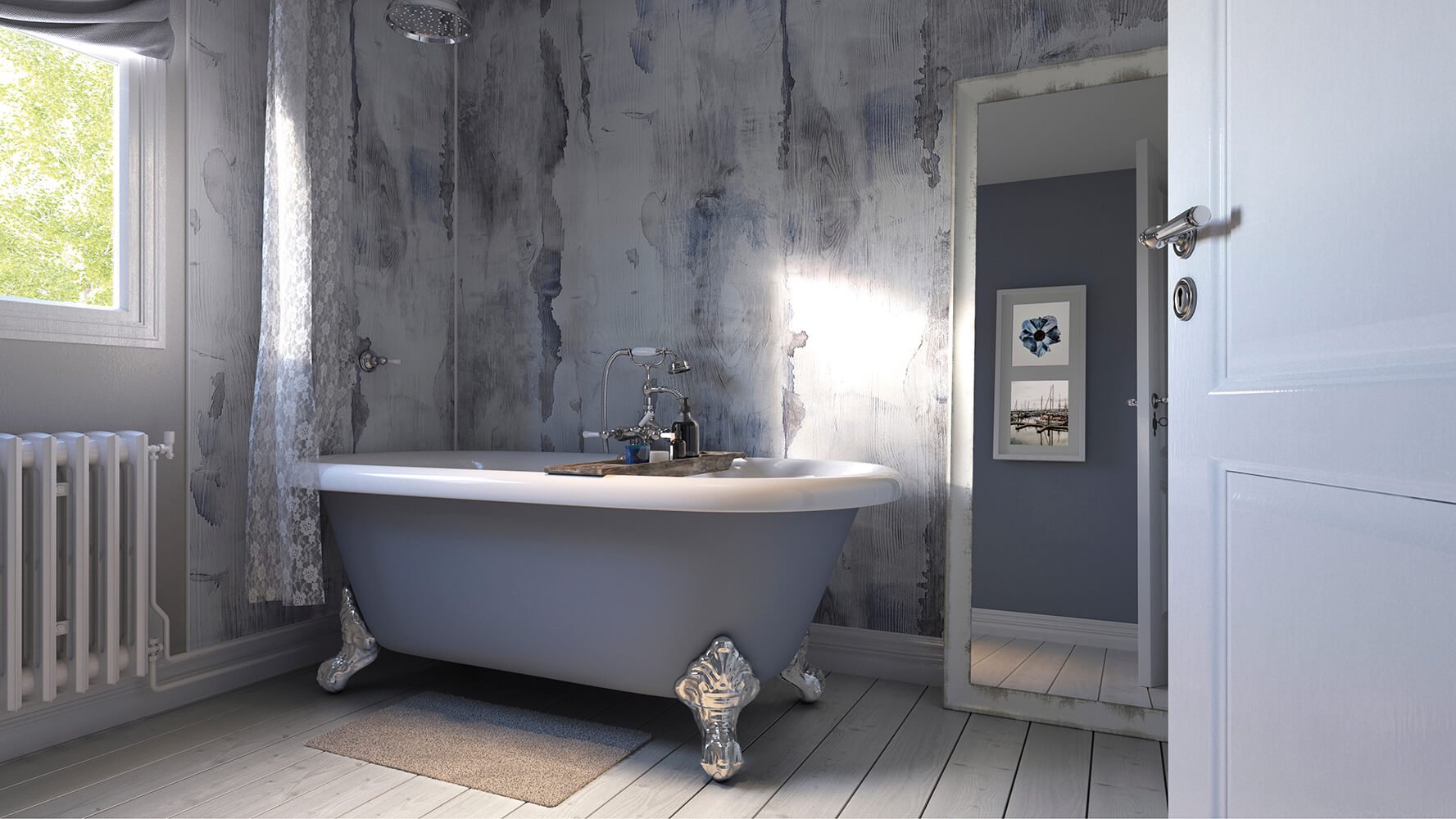 AboveLightning Marble HPL & Nautical Wood HPL / Showerwall
3. It requires less build
Less build means less hassle! The waterproof paneling system can be fitted by anyone who is DIY competent. Simply cut the panels to size, and fix them to the wall. Overall it causes a lot less mess and a much faster fit than tiles. We also know that less mess, means less stress too.
Given the size of the sheets, it's also much quicker to install since you cover more space. They are also easy to fit into a tricky space like a loft bathroom or wonky ceilings.
4. It's easier to clean
With this system you can say goodbye to bathroom mould – or have to worry about water damage. The interlocking system on the panels means that there's not a seam in sight, giving a hard-wearing, stain resistant finish that's far more hygienic. Great for busy family bathrooms.
5. It won't discolour
Tiling looks great when it's first installed but over a period of time they can look grotty. Especially the grout which can discolour. Showerwall requires a simple wipe and the finish will not discolour. Easy peasy.
6. Peace of mind
When installed correctly using the recommended fitting guide and accessories, Showerwall guarantee all their wall panels for 15 years from the purchase date.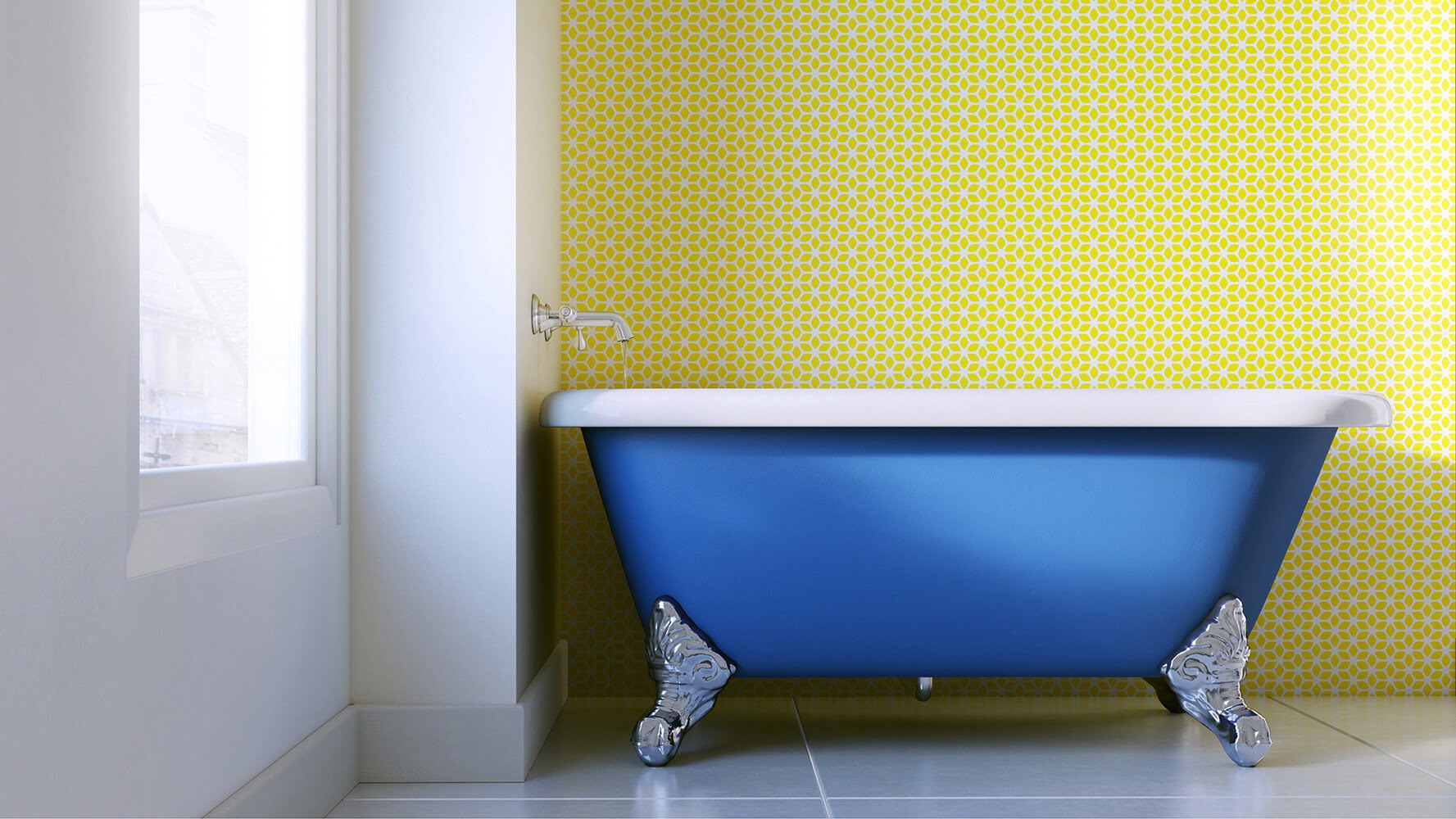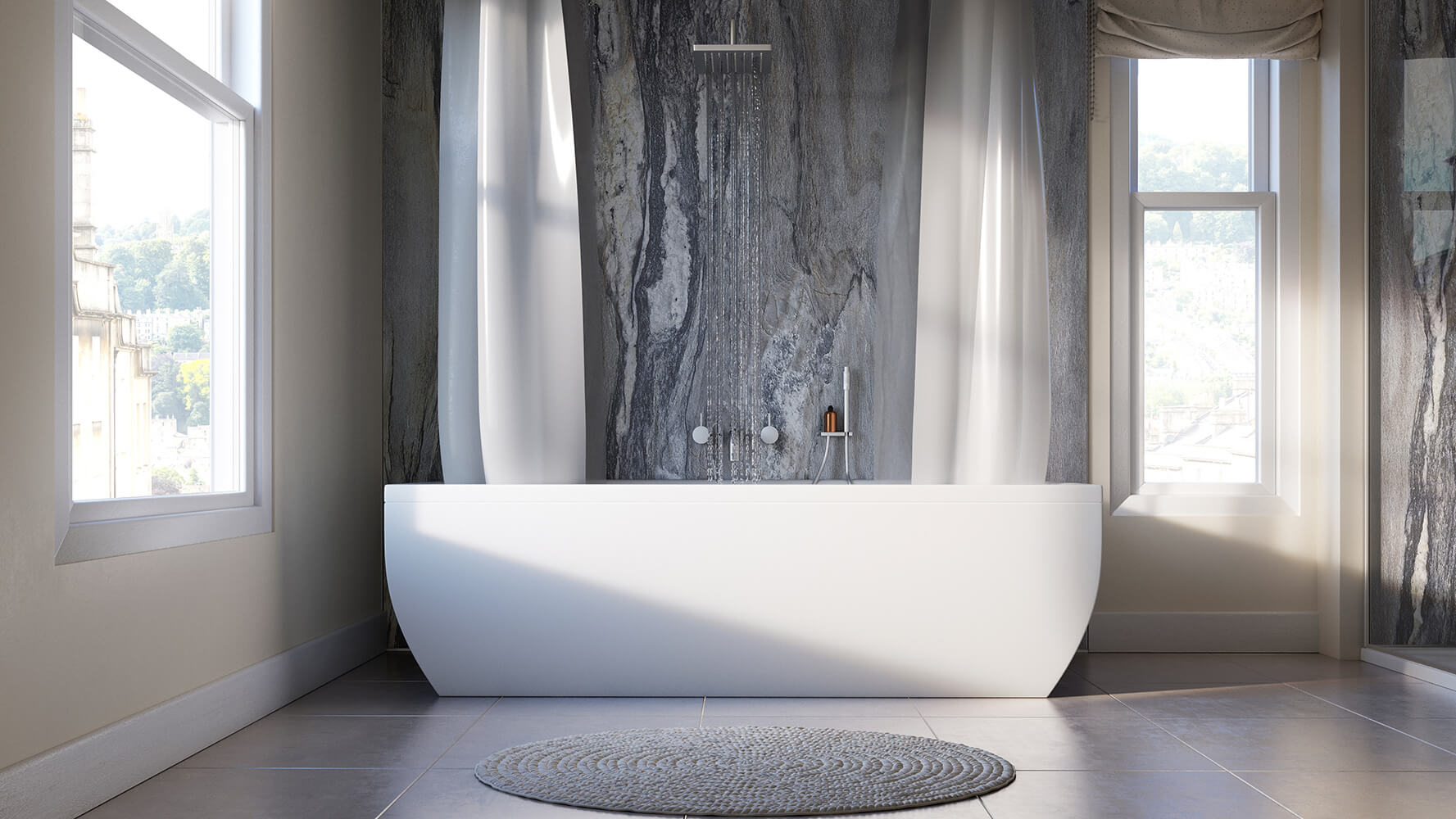 AboveRetro Acrylic & Grey Volterra HPL / Showerwall
Which Wall Panel Design Is Right For You?
– Marble
A rich Marble design is the perfect choice for a blend of tradition, sophistication and charm. Striking veins with subtle background tones bring warmth and beauty allowing you to create walls with purpose.
– Quarry
Bring a room to life with the raw earthy tones and rustic designs from the Quarry collection. Patterns include a Nautical wood – which is a lovely texture, Slate Grey and Urbane Concrete. This range would suit modern minimal spaces.
– Minerals
Looking to add glamour to your bathroom? Then choose the subtle shimmers of flickering quartz; this versatile Mineral collection complements both modern and traditional spaces. These stylish designs blend confidence with refinement to ensure that you have the right decor for your feature.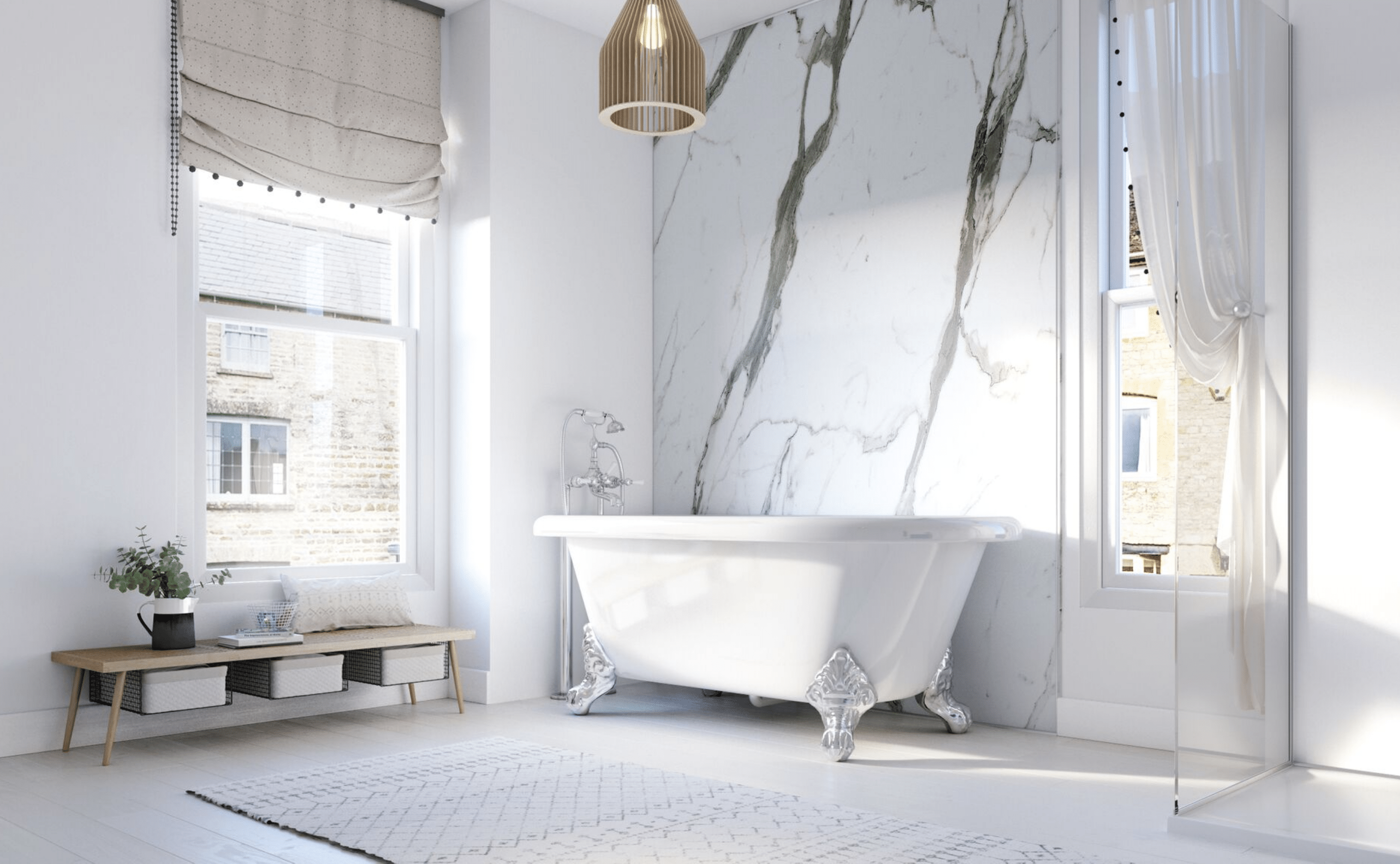 Bianco Carrara HPL & Grey Volterra Gloss HPL / Showerwall
– Acrylic
Achieve stunning glass-like walls with 4mm solid Acrylic panels in 8 shades – that are rear printed to give a vibrant colour.
– Bespoke
And this has to be my personal fave – the Custom collection. You can choose from their library of stunning designs (the wax leaf caught my eye) or choose your own artwork or photograph. This range lets you be the designer!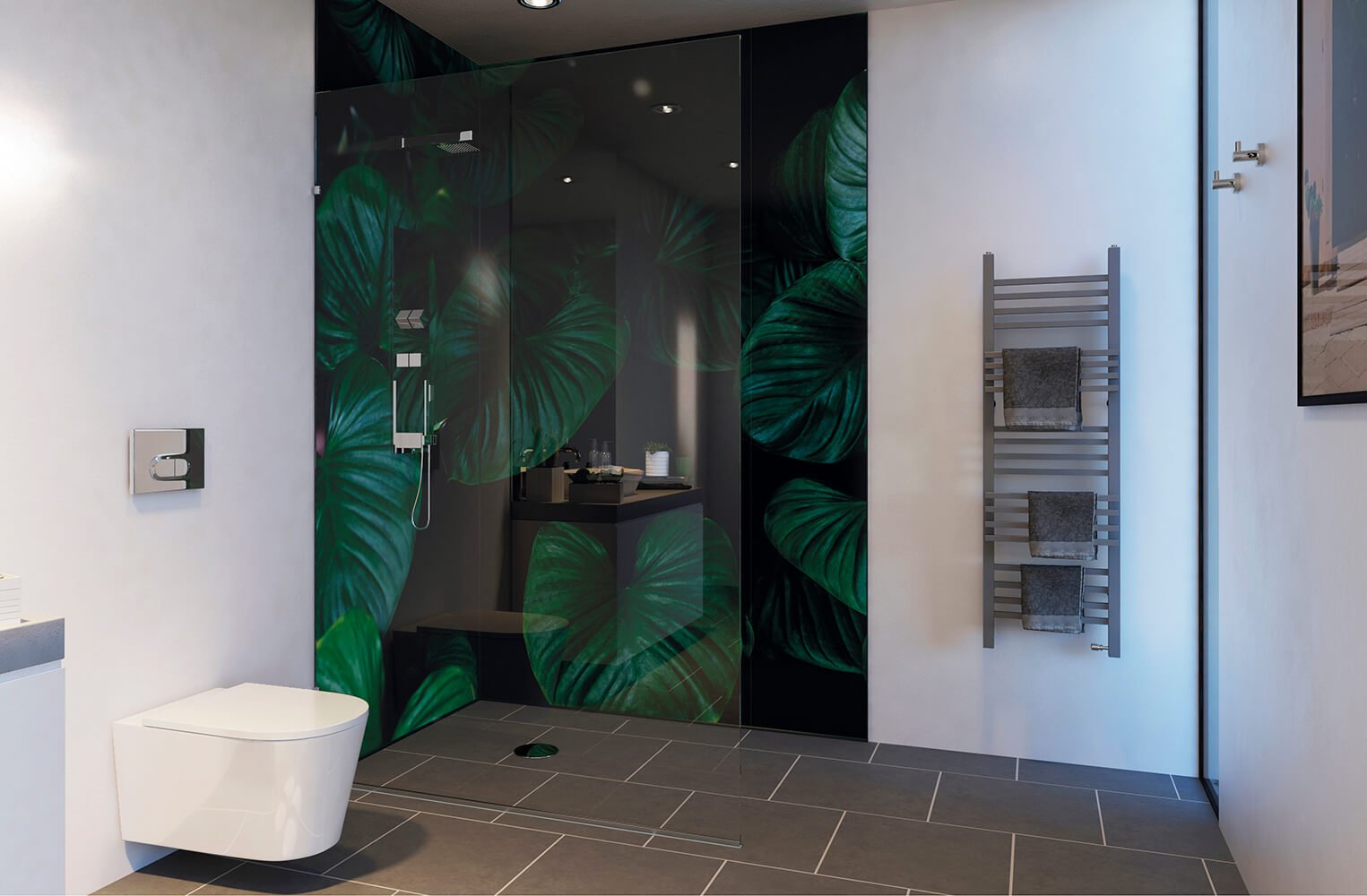 Wax Leaf Acrylic / Showerwall
Want To Know More?
Showerwall provides a range of bathroom panels in various materials and colours, but they also provide quick installation guides to help you get that quick fix. If you want to take a peek at their full range, you can do so HERE.
What do you think of this bathroom trend? I'd love to know in the comments below how you would work it into your own home.
More Bathroom Ideas For You…
Styling Ideas for your Bathroom 
Small Bathroom Makeover – The Final Reveal
Big Ideas for a Small Bathroom Makeover
Pin this!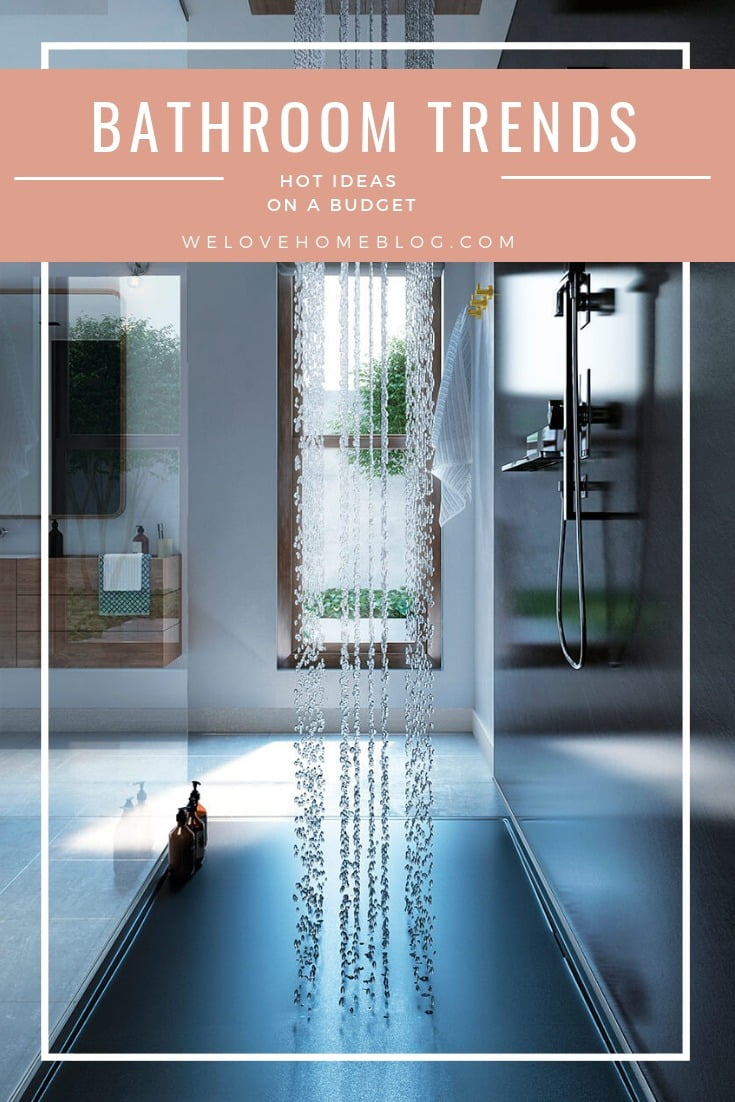 *** This is a sponsored post. All thoughts are my own.
.