Thinking about getting a new kitchen makeover and want to know what worktops would work best for you? Here's my buyer's guide with lots of fresh ideas, tips and advice so you make the right choice for you and your home.
**Sponsored Content**
A Buyer's Guide To Kitchen Worktops
It's that time of year when we start thinking about projects in our home, isn't it? I know I certain am! Most of us dream about having a kitchen makeover. Is that room on your wish list?
There's are so many elements you need to consider when planning your kitchen makeover. What style of units will most be the biggest decision you make. But did you know kitchen worktops that sit on them will have a huge impact on the overall look of your room. It's so hard ot get right – and so easy to get wrong!
When I took the plunge and started my own kitchen makeover, I spent hours and hours consider all worktop options to see what worked with my units, fixtures, tiling and the space itself.  I soon discovered there are so many worktop materials to choose from. How on earth do you choose the right one? Well, that's what I'm going to do in this post – I've done all the researching to see what material is best for you, taking the hard work out of picking kitchen worktops.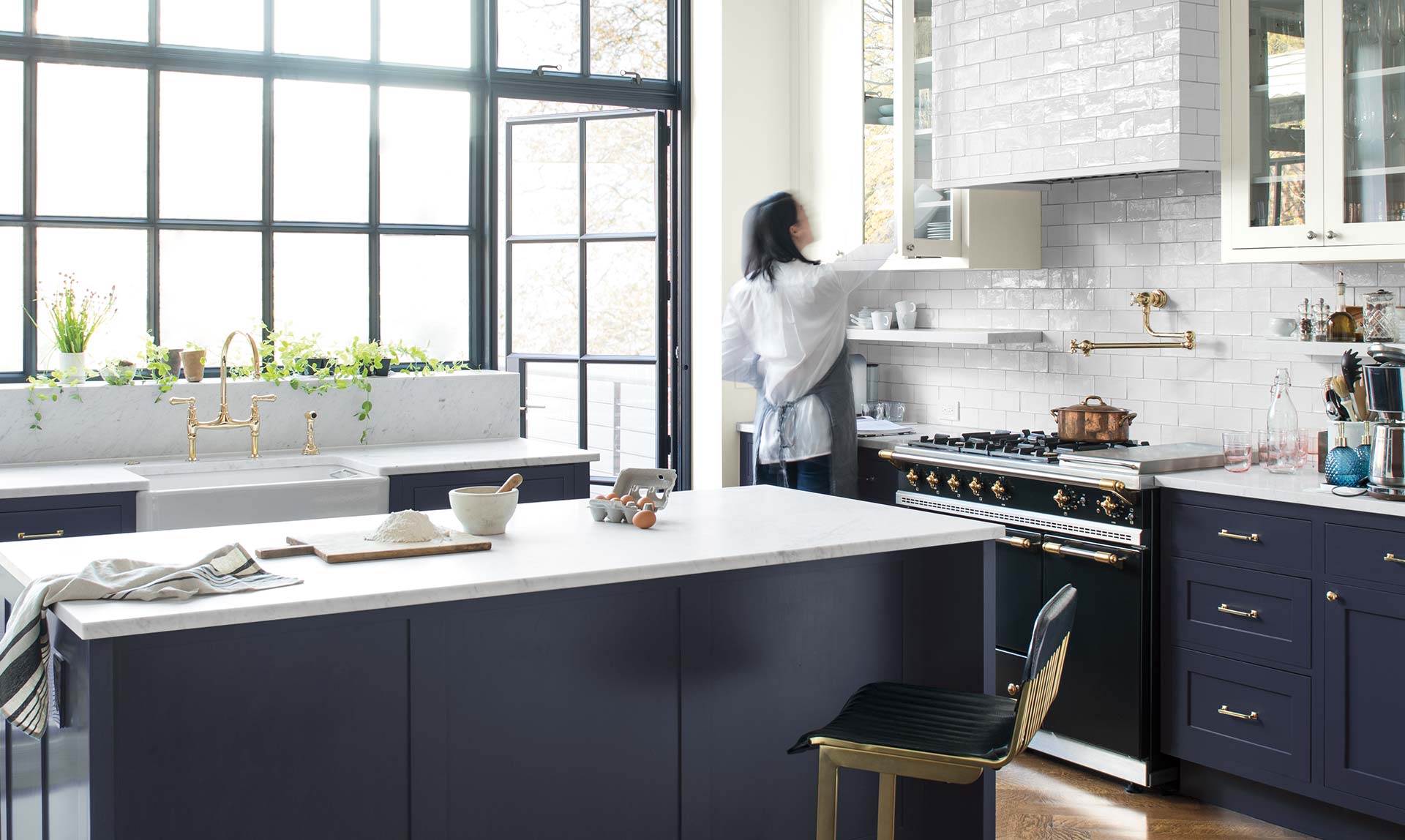 Main Image – and this image both featuring Benjamin Moore Paint
Your Essential Kitchen Worktop Checklist
Choosing the perfect worktop that's right for you can be a huge decision, and a pricey investment to get wrong. That's why I've made this quick checklist of questions to ask when doing some research:
Assess you're budget – Worktops are available in a variety of different price points. Make sure you invest time in to finding the right one that doesn't break the bank.
Consider your kitchen layout – Straight runs are cheaper and easier to fit, but seamless materials would be worth considering if you have a lot of corners to adjure for.
Research Materials – Make sure the material is right for you and your families requirements. Check the durability of the material, what it's best used for and whether it needs any specific treatment.
Co-ordinate the appearance – Why not make a mood board of sample swatches to visualise if all chosen material work well together in the room? Include; Cabinetry, worktop, metal features, flooring, paint colour, tiles etc…
Factor in any additional costs – The material of your worktop determines how long it will take to install. You will need to factor in labour costs to your budget.
What type of worktop to choose?
Hardwood worktops
Hardwood worktops are always very popular for the natural warmth and character.  Worktop Express offer a variety of hardwood worktops available in oak, walnut, beech, bamboo, iroko and birch. I personally love wooden worktops as they deliver a cosy, traditional feel to any kitchen and are extremely versatile.
Top Tip – Wooden surfaces go fantastic with a variety of different metals. Why not take some time choosing the perfect drawer & door handles to compliment your wooden worktop?
Wood worktops are best used in food preparation and dining areas – breakfast bars & islands – and are ideal for using around a sink as they have a high oil content making it water-resistant.
If you do chose a wood worktop however, be careful not to place hot pans on the surface as it will scorch. Don't use the worktop as a chopping board as it will damage the surface – I may be stating the obvious but it's definitely worth noting!
The depth of your worktop can also really alter the overall look of your kitchen. Deeper staves are very much fashionable at the moment making your worktop profile look thicker. The standard depth of a worktop is 30mm, so it may be worth considering something that's a little more chunky if you're aiming for a high-end, bespoke look.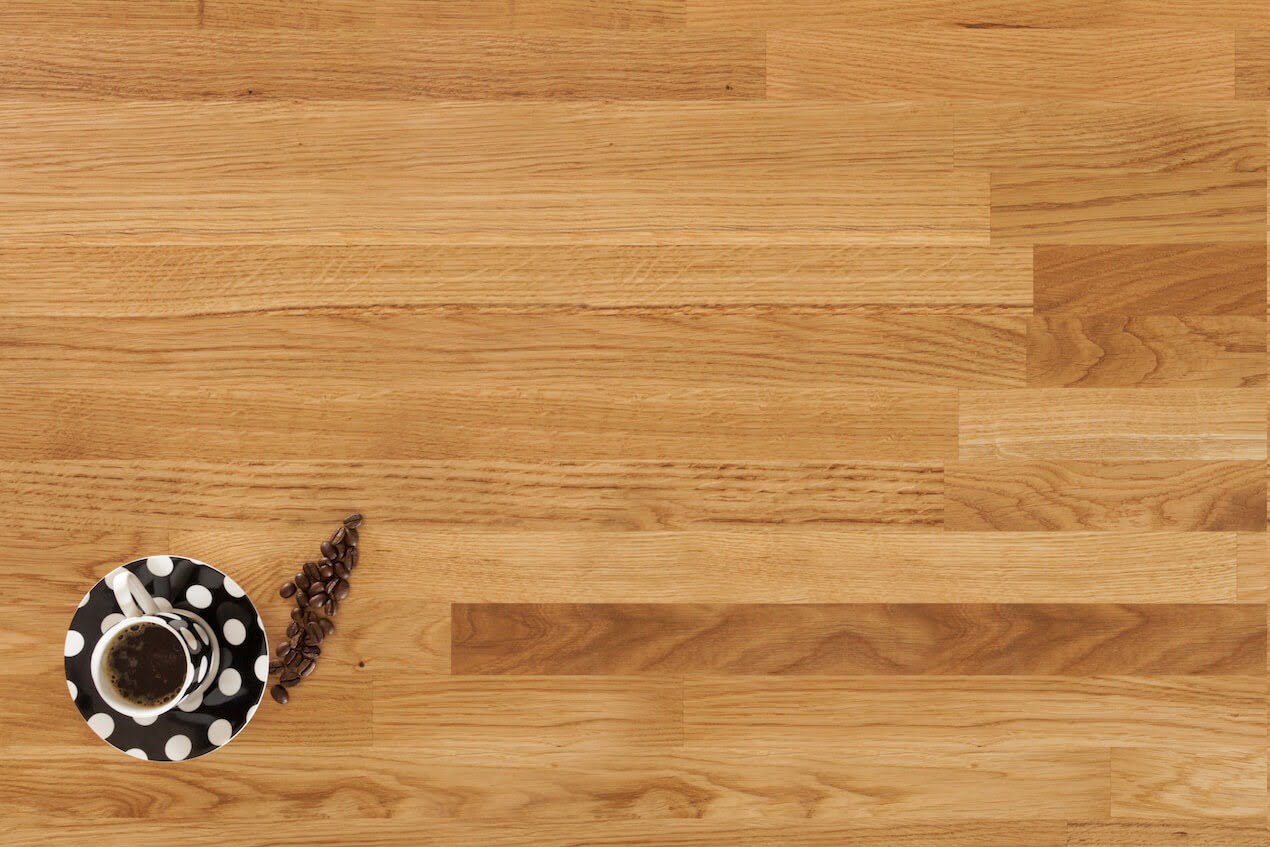 Oak / / Worktop Express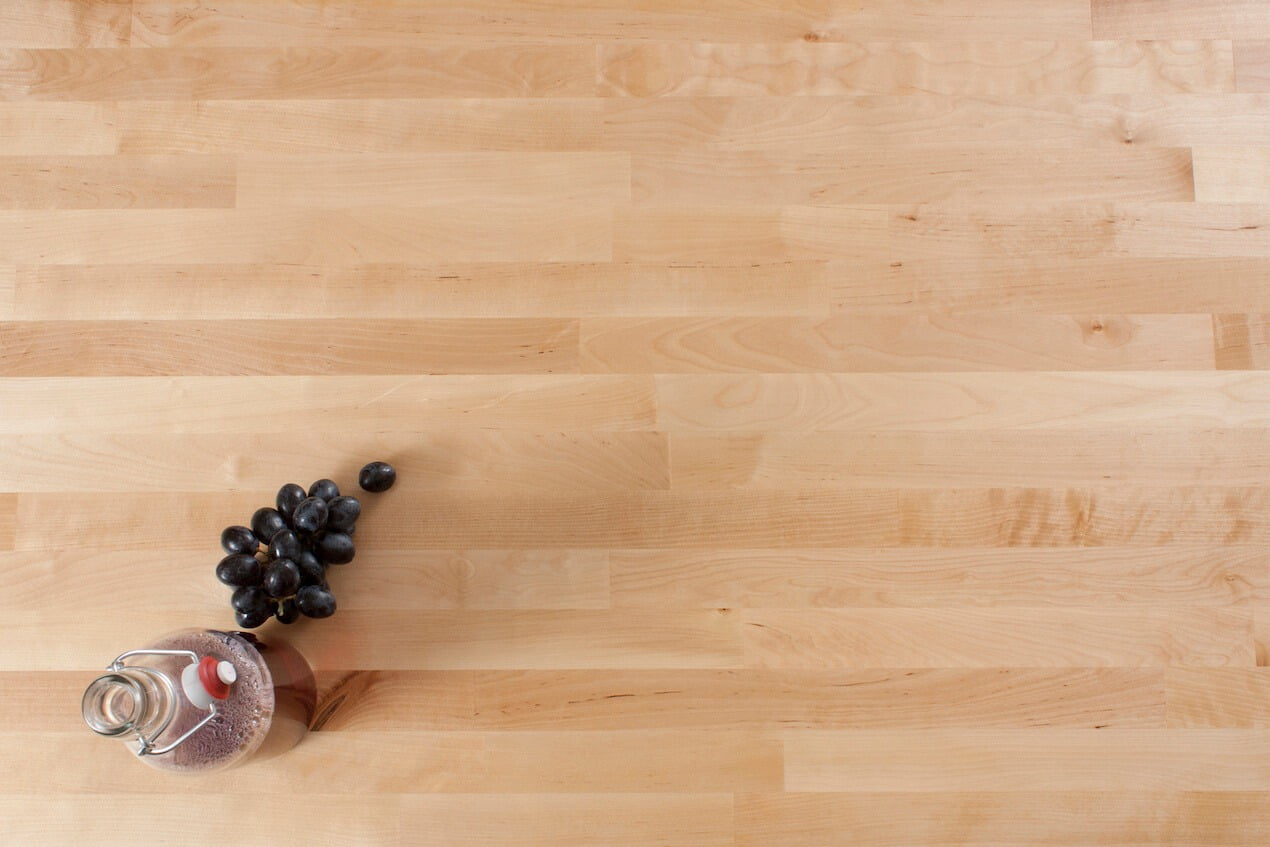 Birch /  Worktop Express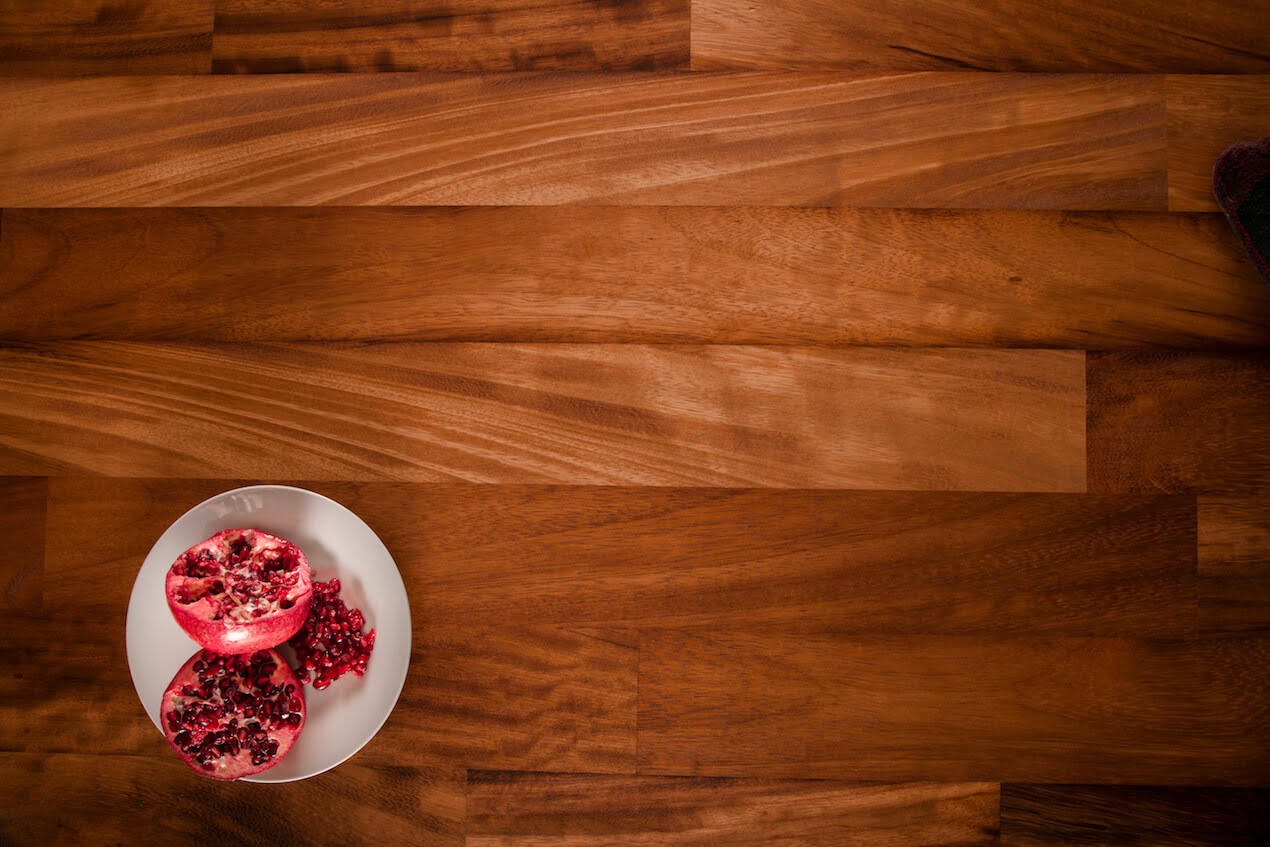 Deluxe Iroko / Worktop Express
Laminate worktops
Made-to-measure worktops can be pretty pricey. Marble, granite and concrete are all great materials but can be a little unrealistic if you're working to a tight budget. If you're feeling the crunch, why not consider opting for a quality look-alike instead? Laminate worktops still deliver a gorgeous, bespoke look that's sustainable and water-resistant. And, it doesn't come with such a hefty price tag.
These are undoubtedly the most budget-friendly option, and are are non-porous, durable and often come in various design & colour choices. Popular laminate designs often feature wood-effect, gloss, natural stone, glittering flecks or marble, so there's plenty of versatility to help you get the desired look you want to achieve.
The best thing about laminate worktops? It's one of the few materials that can be cut and fitted by a DIY'er. So you can even cut back on labour costs and avoid hiring a kitchen professional to install it!
Top Tip – If you have a small kitchen and want to make the room look larger, opt for a lighter worktop as this will make the room feel more spacious. Why not check out this marble laminate as an option?

Sealand Pine Driftwood / Worktop Express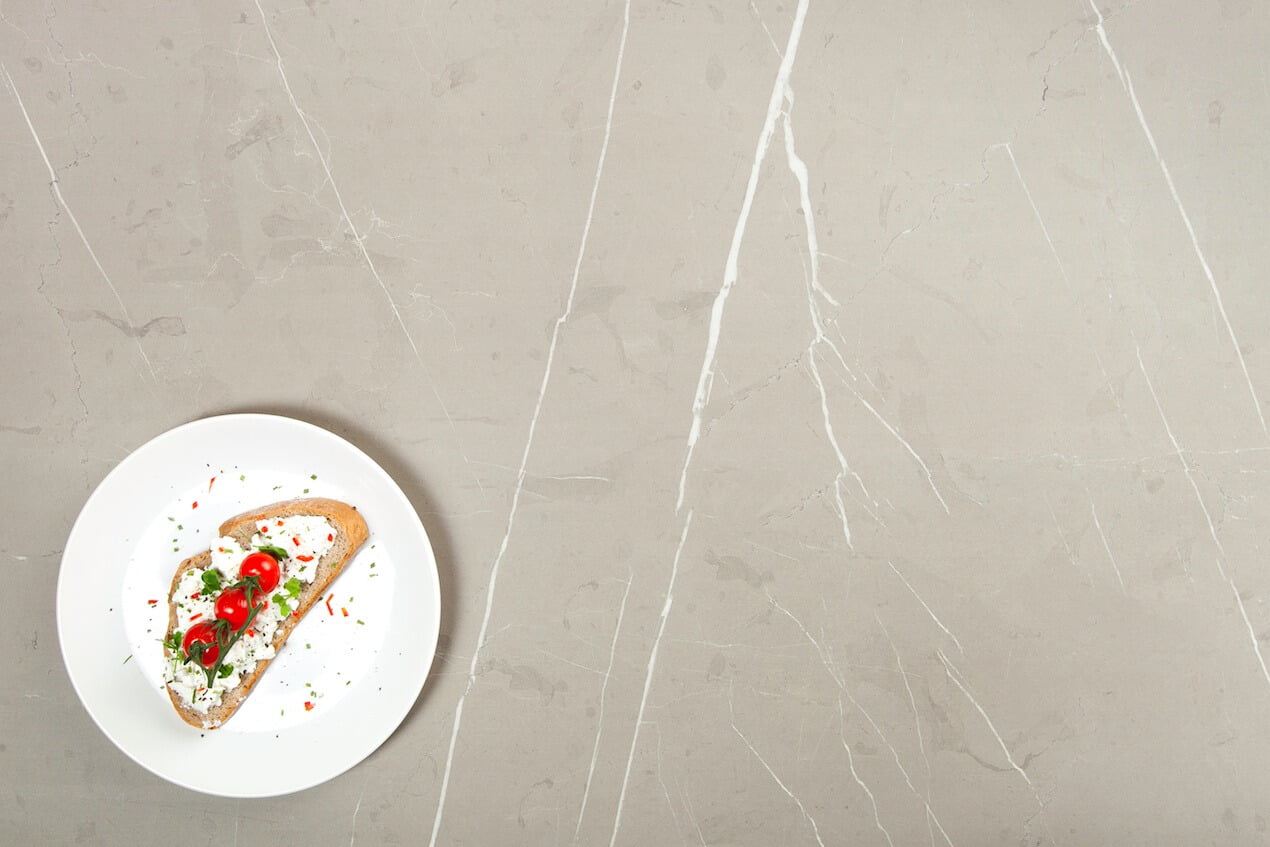 Cream Stone / Worktop Express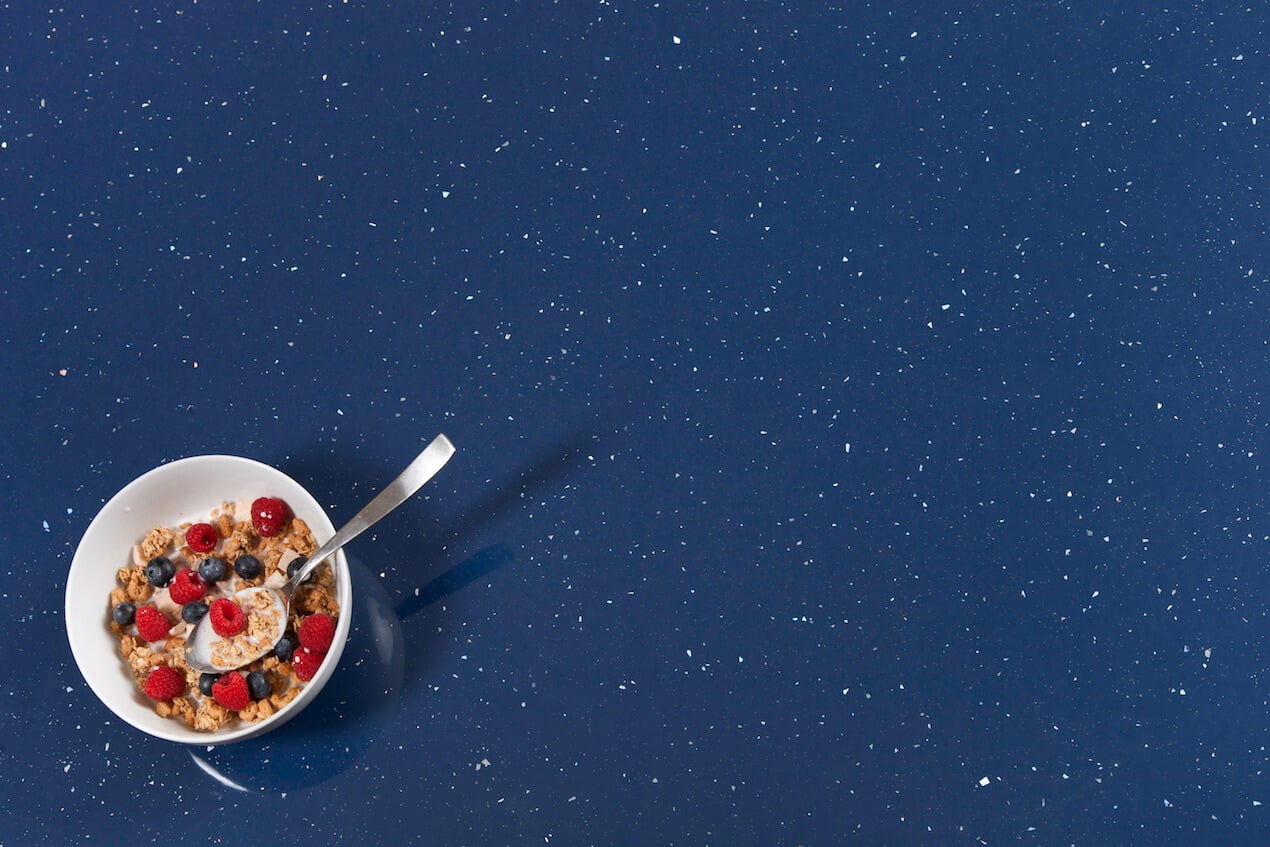 Blue Sparkle / Worktop Express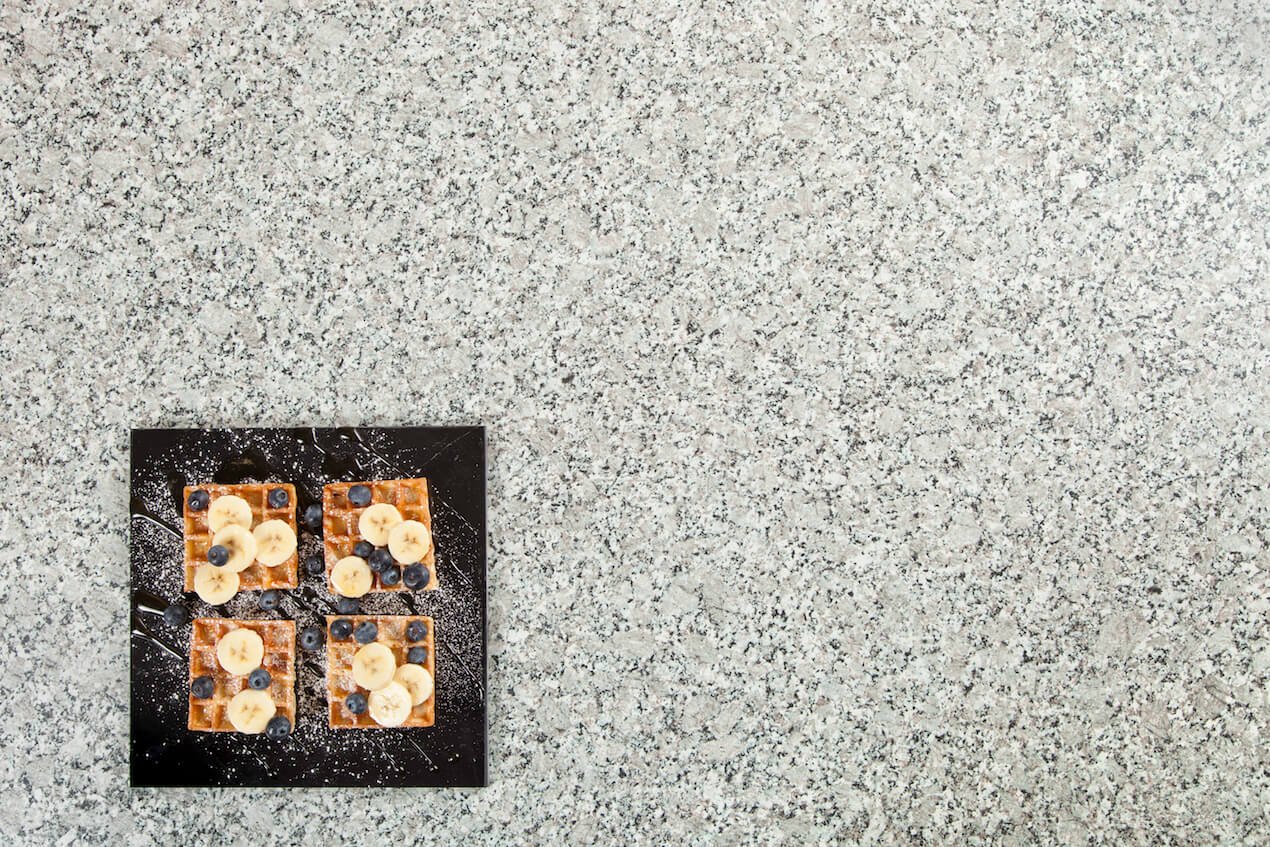 Grey Granite / Worktop Express
Solid Laminate
What's the difference between laminate and solid laminate? Well, at Worktop Express they supply a solid laminate range which is comprised of several layers of laminate to make an even more durable worktop. Solid laminate worktops are ideal for those with busy households as they are more durable than traditional laminate worktops. They can be cleaned easily, with a soft cloth and warm soapy water, making them incredibly low maintenance.
Laminate worktops can fit both modern and traditional themes as they can mimic the look of any natural material. I'm really impressed with how authentic the Rouille (pictured above) worktop is, and it's just a fraction of the cost compared to genuine metal or stone.
Going for the Industrial look? – Why not order some samples of different metal and stone look-alikes to see what colour and variation is right for you.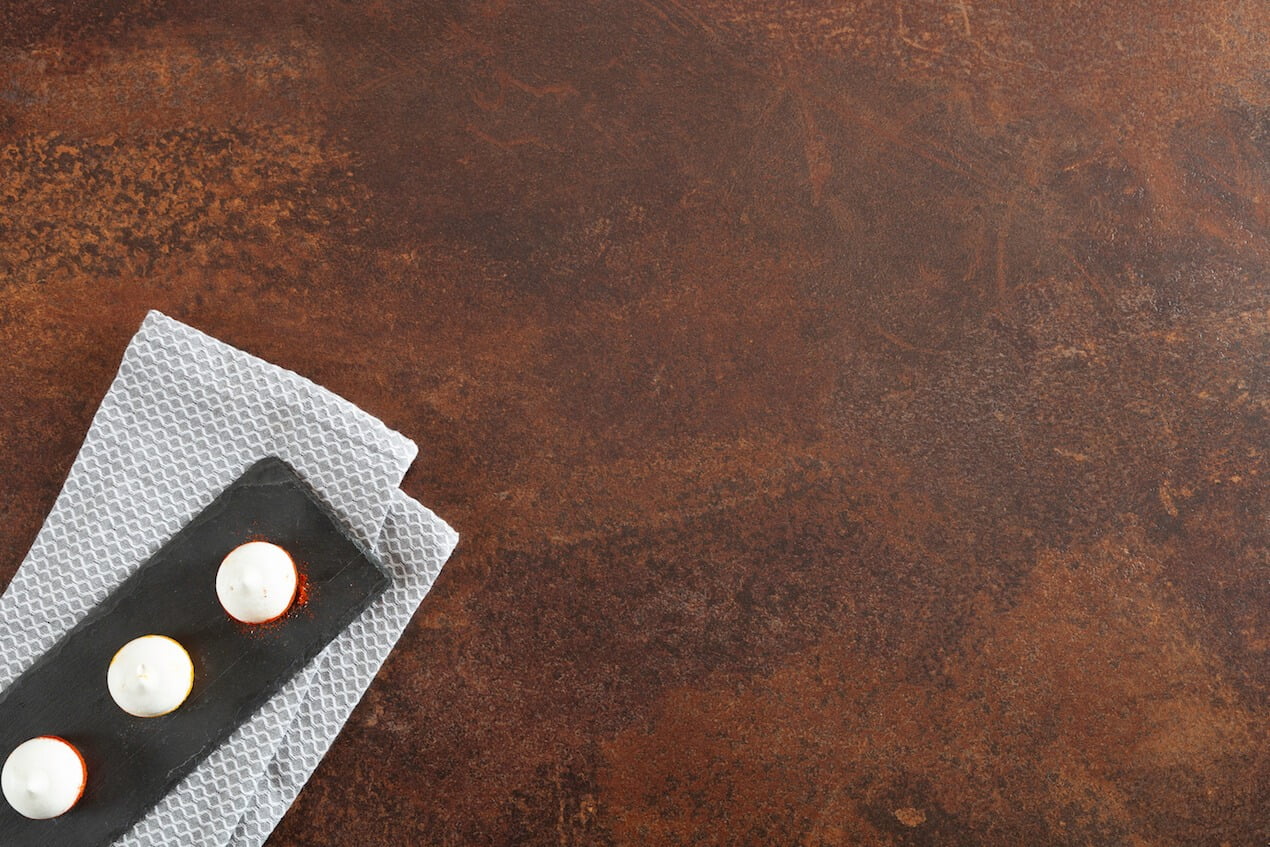 Rouille Solid Laminate / Worktop Express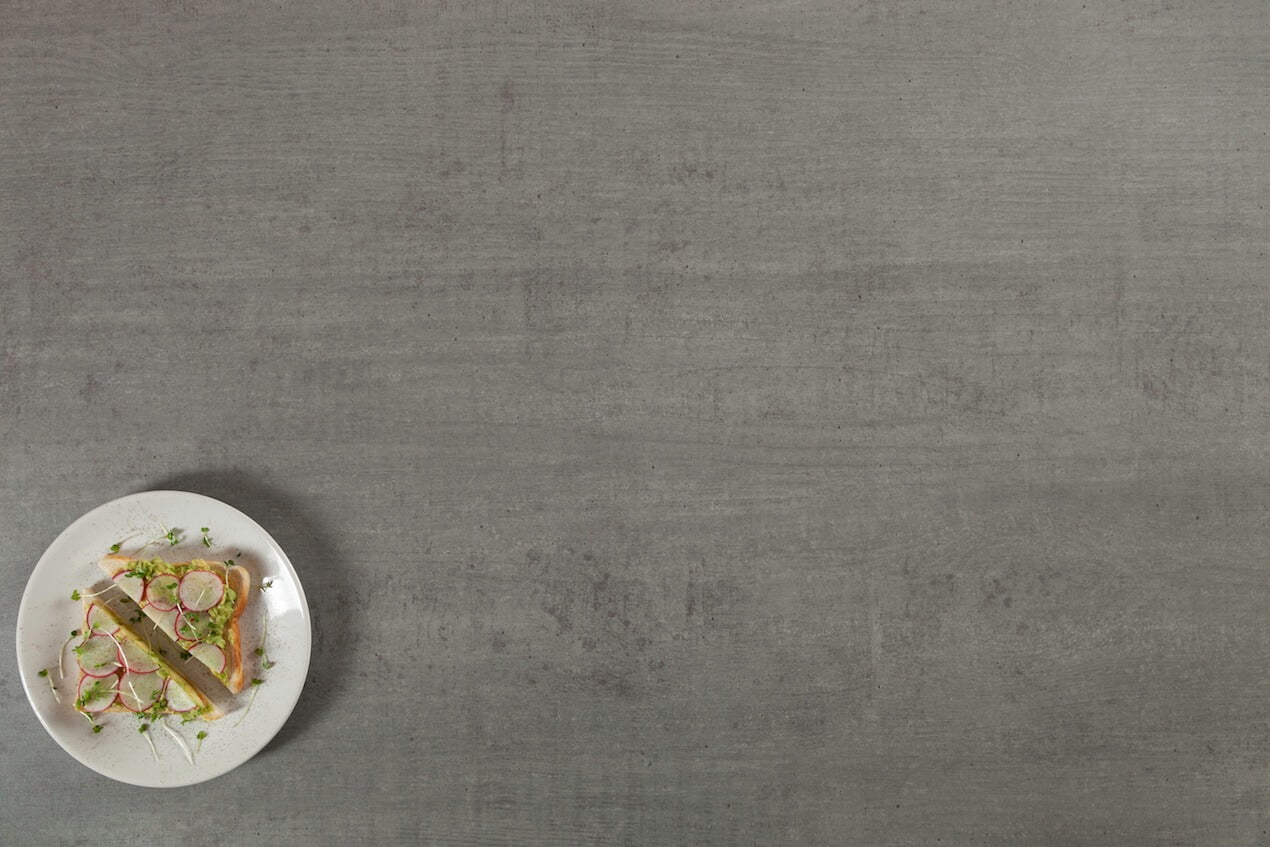 Concrete Solid Laminate / Worktop Express
Earthstone Worktops
Attractive, low-cost alternatives to natural stone surfaces can be difficult to find. Not any more! Earthstone worktops are available in a selection of styles and colours, providing the perfect option for those seeking aesthetically-pleasing, cost-effective choices.
Seamless joins give the appearance of custom-built worktops. And these solid surface worktops are easy to maintain too.
Need your worktops at speed? Worktops Express have next-day delivery service via our in-house 2Man fleet on earthstone worktops.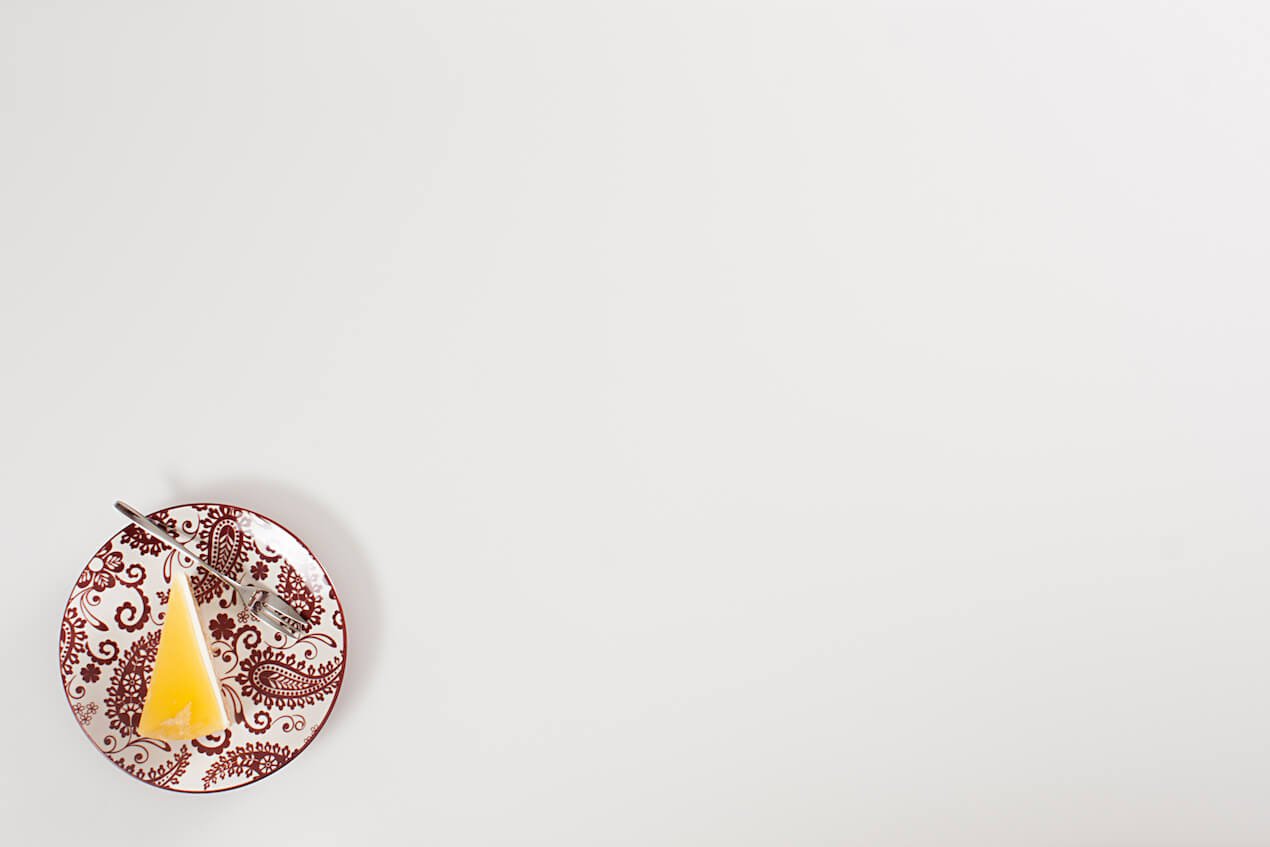 Glacier Earthstone / Worktop Express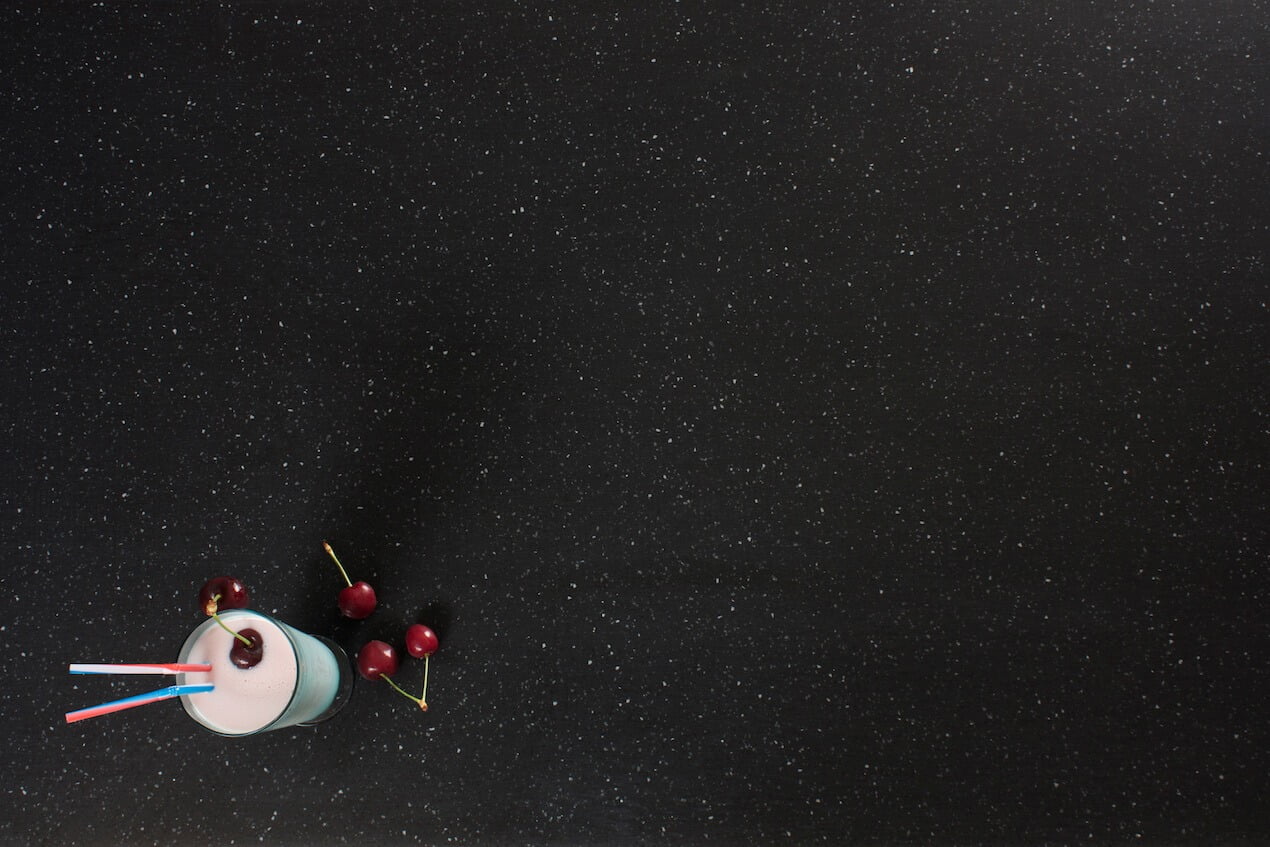 Black Star Earthstone / Worktop Express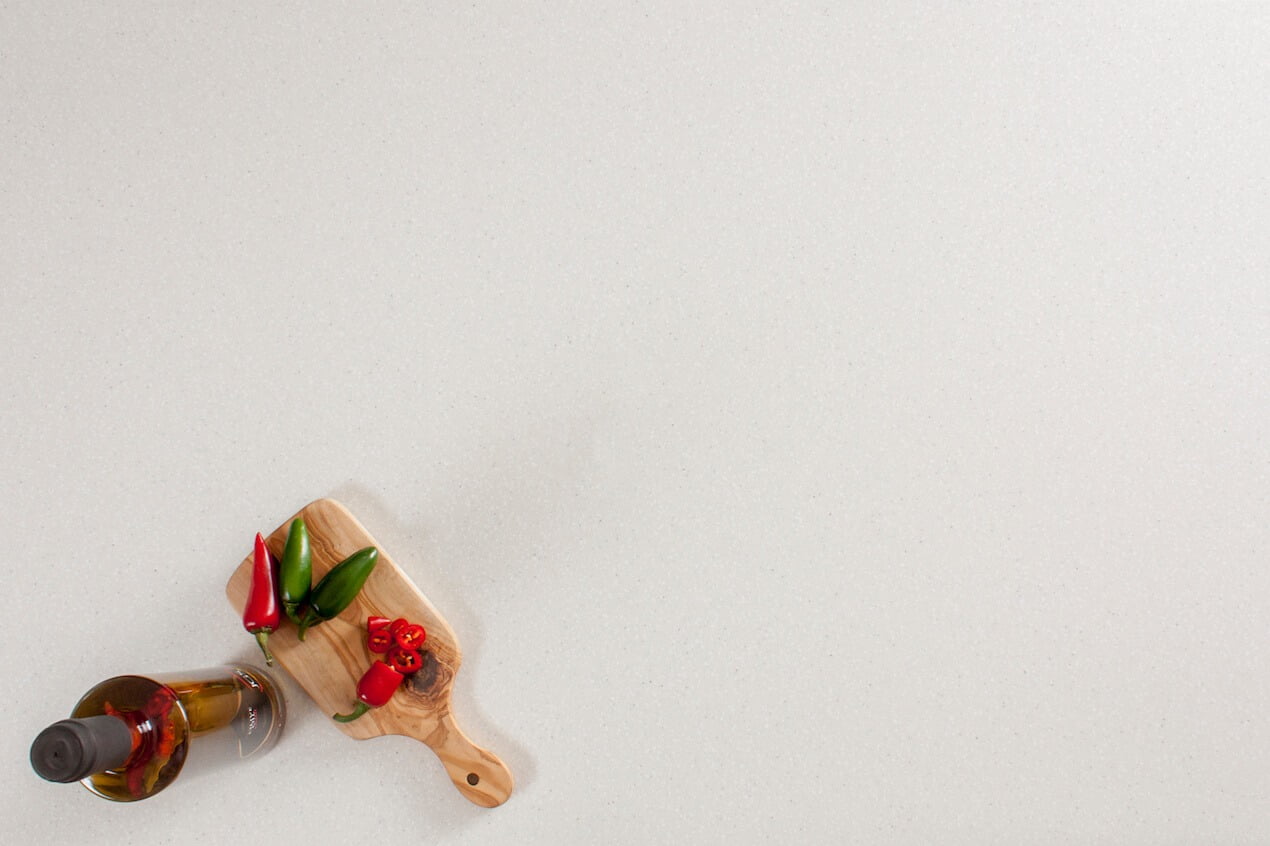 Nordic Earthstone / Worktop Express
What are Earthstone worktops? They are constructed from a sturdy core of 28mm chipboard, with a 6mm thick layer of acrylic bonded to the top and front edge. A built-in moisture barrier ensures the chipboard core is protected against penetration from liquids.
One of the main benefits of selecting solid surface worktops is that they can be repaired easily. The thick acrylic top layer on Earthstone worktops can be buffed or gently sanded to remove scratches and marks. Making them a good long term solution.
---
There's my handy buyer's guide to picking the perfect kitchen worktop just for you. It can seem a little daunting I know, but it's so worth investing the time to make sure you get it spot on.
Perhaps you've already had a kitchen makeover and also have some tips you'd like to share? If so, then please do share below!
You may also like…
Top 10 Do's and Don'ts to Kitchen Planning
6 Essential Design Ideas that Every Small Kitchen Needs
Ideas For Your Kitchen Lighting
Essential Buys for Your Kitchen Makeover
Like this post? Why not Pin it!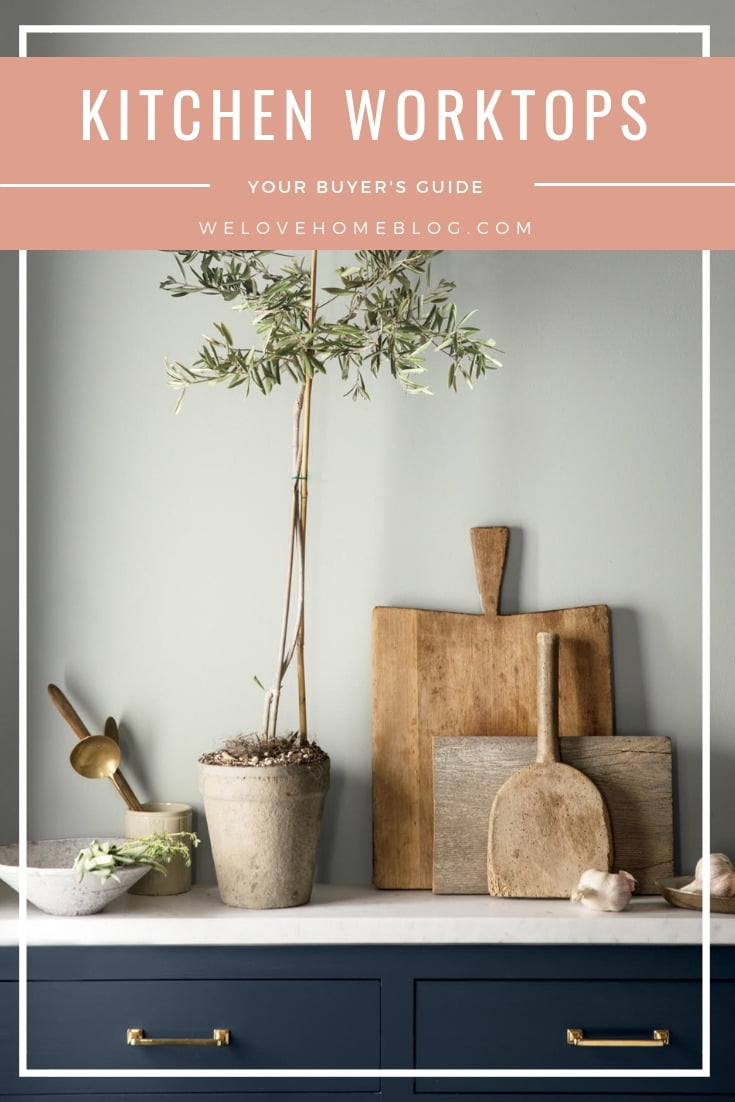 ** This is a sponsored post. All thoughts and opinions are my own.