Making a good first impression is key to setting the tone for the rest of your house – and your staircase is a great starting point!
There are lots of ways you can update your staircase and in this post, I want to show you one that is quick and easy to do. It's not permeant, so if you change your mind at a later date that's fine. And it's an idea that won't break the bank. But it will leave guests saying 'WOW' when they walk through your front door!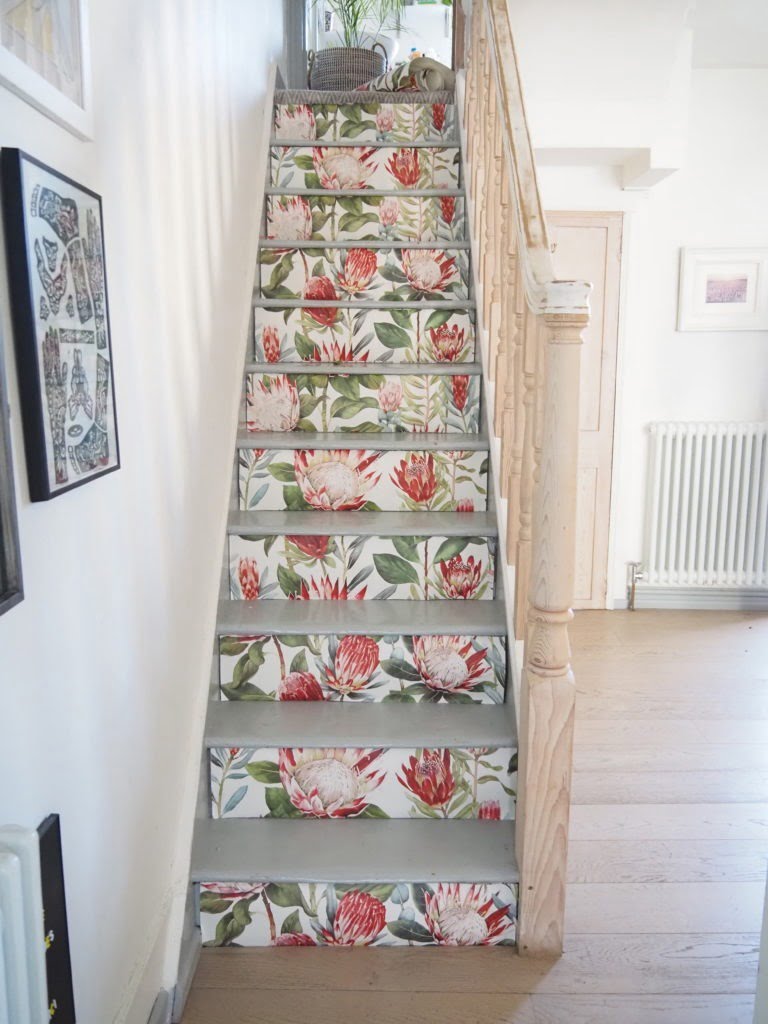 TRANSFORM A STAIRCASE WITH THIS QUICK & EASY DIY WALLPAPER IDEA
Decorating a staircase can transform what is essentially functional element in your home into an eye-catching feature. Giving your stairs a revamp is an opportunity to introduce colour and detail that reflects the style in your interior, and connects your lower ground floor to the rest of your house.
Be inspired by this hallway ideas and ensure your staircase is a fabulous feature.
BEFORE
My staircase has been a labour of love. When I moved in there was slippy carpet covering up the Victorian wooden steps. Not only was it very dangerous (I fell down the stairs a few times) but it also looked really unattractive. The carpet was dirty from years of use and wasn't a good reflection of the rest of my home decor.
I gave the staircase a makeover by ripping up the carpet and stripping off the paint under. Then using flexible grout, I tiled the risers with tiny mosaic tiles which I love! You can read all about that makeover in this post – with befores & afters and follow my step-by-step guide how to guide.
My new look tiles are fab but as I'm an interior stylist, I like to change things in my home all the time. That's why when I was sent some fabulous wallpaper by Wallpapers Direct. Of all the wallpapers in their huge collection, the King Protea by Sanderson caught my eye. The fresh floral print is perfect for a Summer update for a staircase.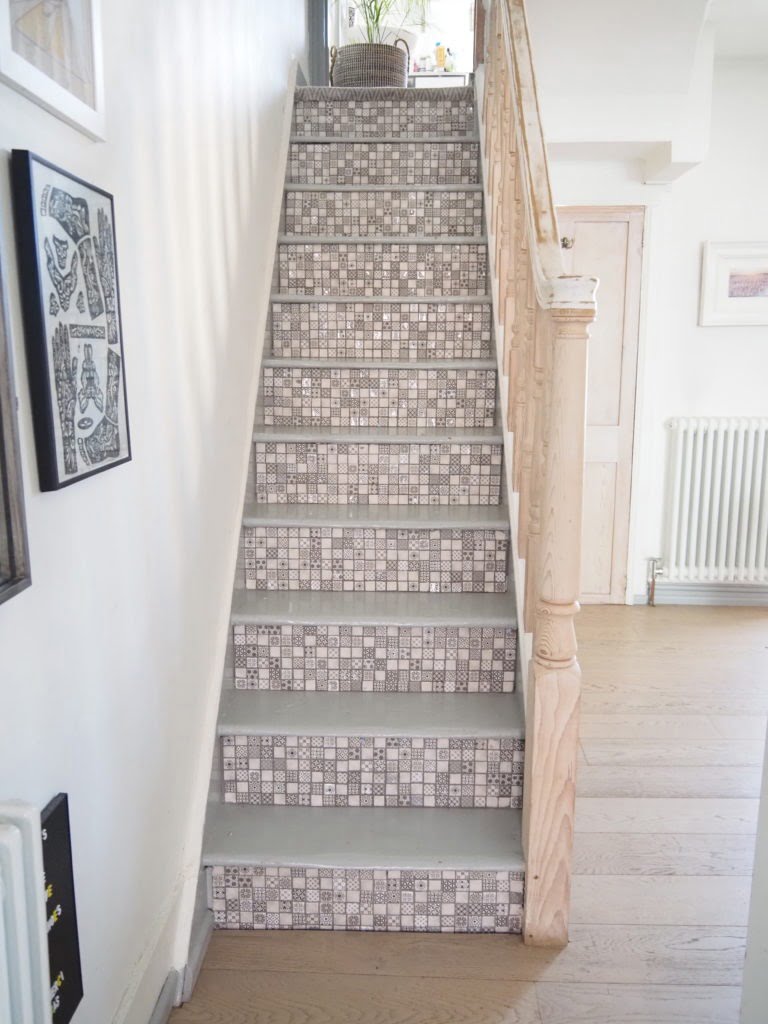 During
As I wanted this to be a temporary switch up, my idea was to cut the wallpaper to the size of my stair case risers and then using spray mount glue, fix in place.
If you plan to do the same, measure each riser individually. As my staircase is handmade, dating back to the 1890s, the risers at the top were slimmer than the ones at the bottom.
Luckily for me, the wallpaper was the exact width of my staircase. You can get wallpapers in different widths so check online, and pick on that is either the same size or slightly larger that you can cut to fit.
Carefully follow the instructions of the spray mount to make sure it is applied evenly. I left mine to dry slightly on the wallpaper cuttings before fixing to the staircase. This means the tacky surface is slightly less sticky, making it easy to remove when you want to change it back.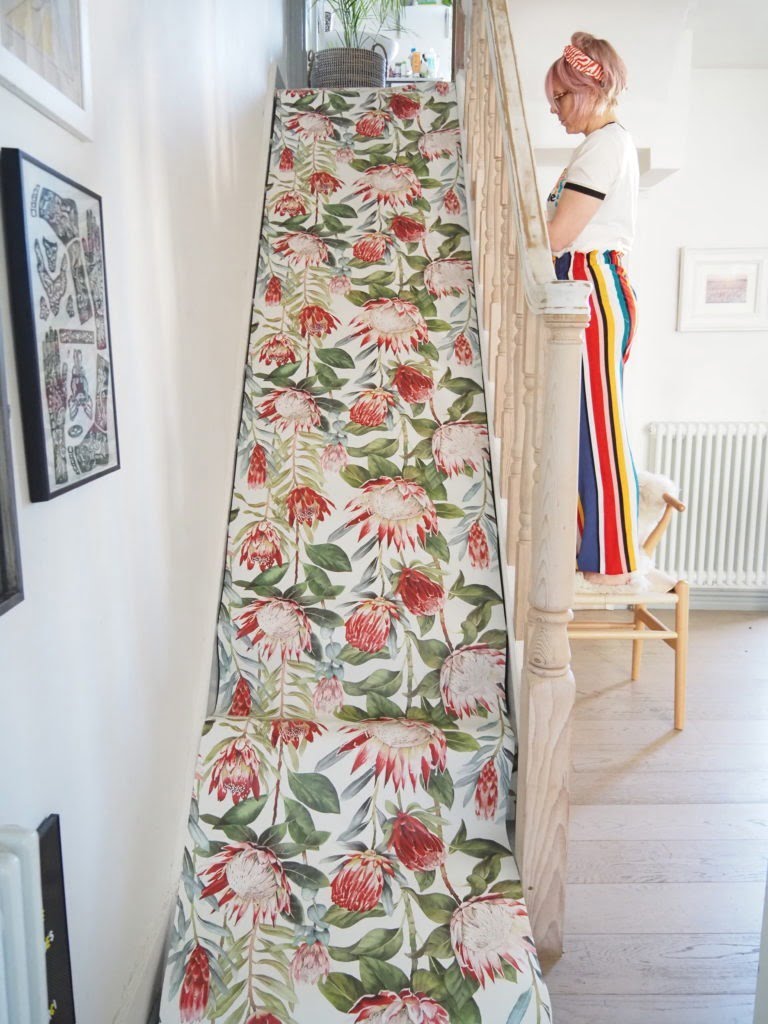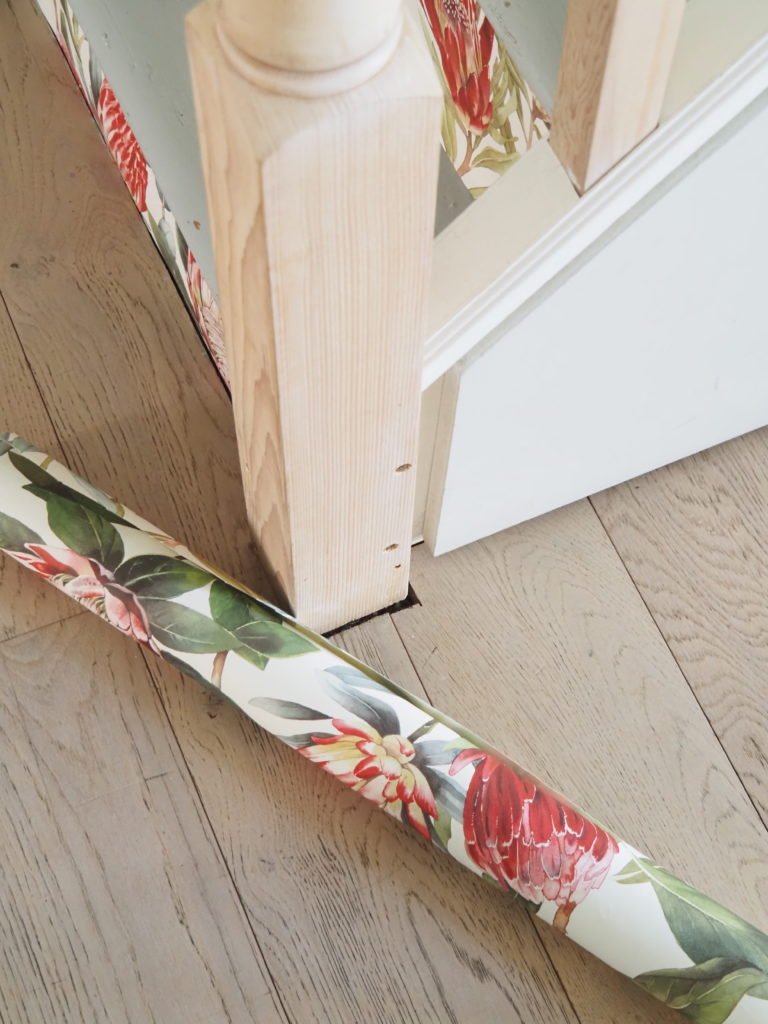 After
The staircase looked so fresh and cheerful when done. With the sticky backing it stayed in place for over a month which was just what my home needed for a little short-term makeover. I dressed the steps with flowers for my instagram account for a fun moment! You can see the stop motion video that I created over here with my dog Teddy taking a staring role.
If you want to make this staircase wallpaper idea permeant, then you can use wallpaper paste to hold in place, then use a clear varnish on top.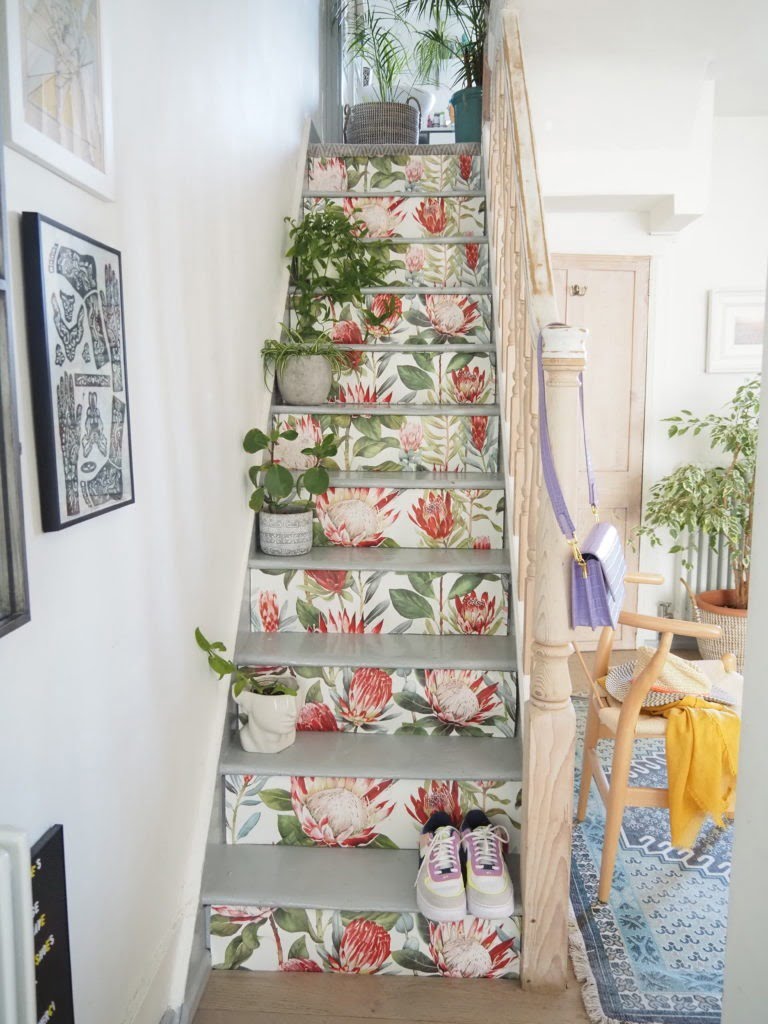 What do you think of this staircase idea?
Wallpapering the stairs offers the opportunity for creativity as part of your hallway ideas, or can simply give the staircase a sophisticated finish, and the right wallpaper can inject good looks into your home.
It's such a simple idea to copy, why not give it a try?
For more interior styling inspiration & ideas follow me on instagram.