Meet your partner for cold winter days: the Duux Threesixty smart heater. This small but mighty portable heater is designed to keep you and your home toasty warm this winter.
Sponsored content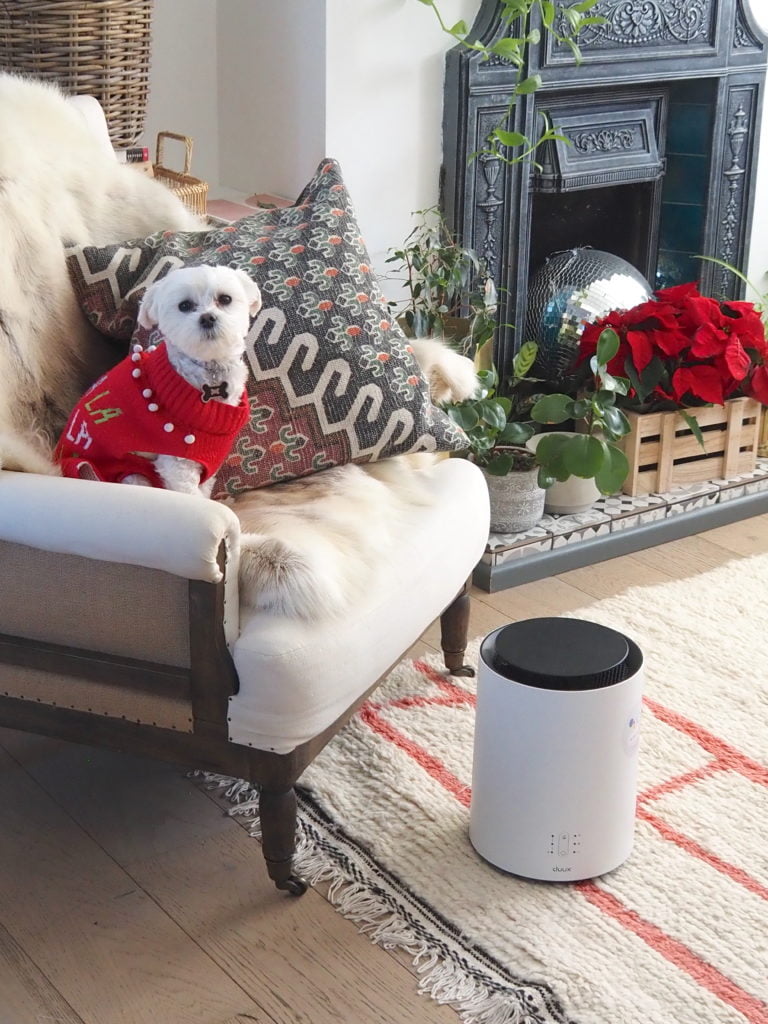 Keep warm this winter with a smart portable heater
I don't know about you, but I HATE feeling cold. Chilly environments can be really uncomfortable to work and near impossible to relax in. When working from home, my concentration can dip when I'm freezing. Evenings spent on the sofa can be ruined by a nip in the air. And nobody likes wearing every jumper they own just to feel comfy at home, do they?
I've been on the hunt for a small, powerful portable heater – one that will blend into my home style. And I found the perfect one that I know you'll love too.
Let me introduce you to Duux! Your home needs their stylish Threesixty smart portable heater this winter.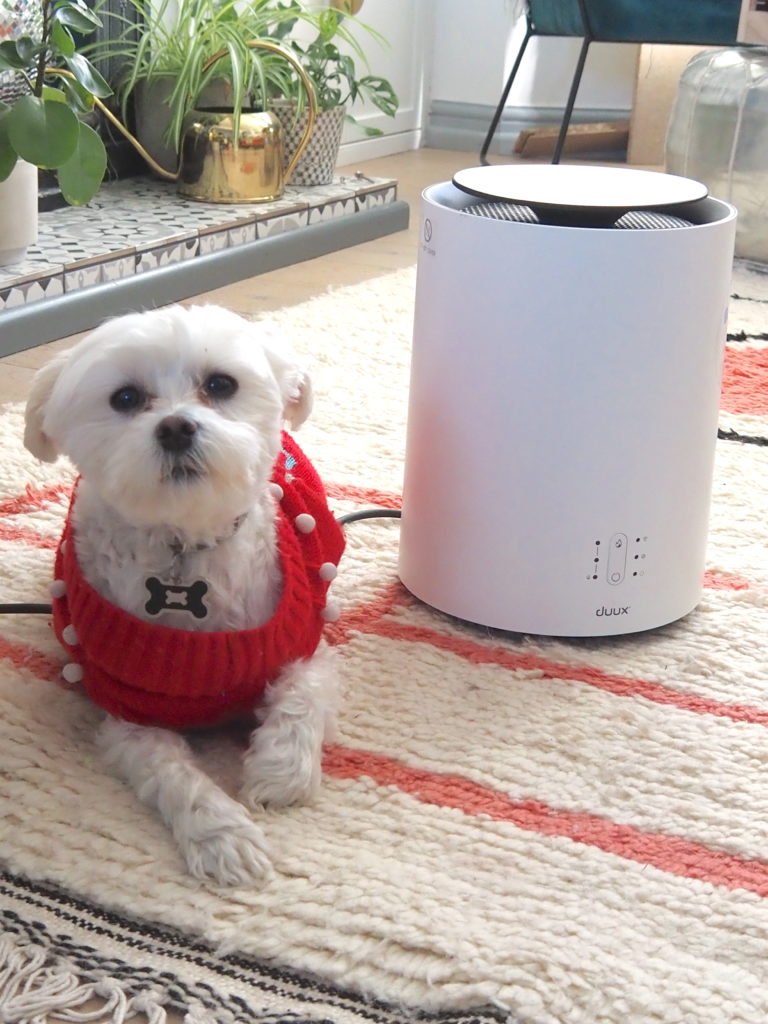 Time to wARM Up with Duux
Dutch brand Duux (a word combination of 'Dutch' and 'Luxury') have been specialists in the field of air treatment for twenty years. They make a wide range of practical home appliances that double up as interior design pieces that blend perfectly into any space. Their products are sold in over 30 countries worldwide including the UK.
Duux ethos is all about giving you a clean and healthy living environment through their clever air appliances. One of their must-have inventions, is the Threesixty – a compact, portable smart heater, designed with modern interiors in mind.
What is the DuUx Threesixty?
The Threesixty is a smart fan heater that will heat your home in a matter of moments. There is no complicated installation process. Plug it in and you are good to go!
Small and nifty, this portable heater will turn any space into a cosy snug. Maybe you live in an old house where the central heating isn't cutting it? Or you have areas of your home with no central heating at all (like conservatories, basements or attics)? Or maybe you're working from home and want to heat your office? Then a portable heater is the answer. And the Threesixty lets you heat up your home in no time.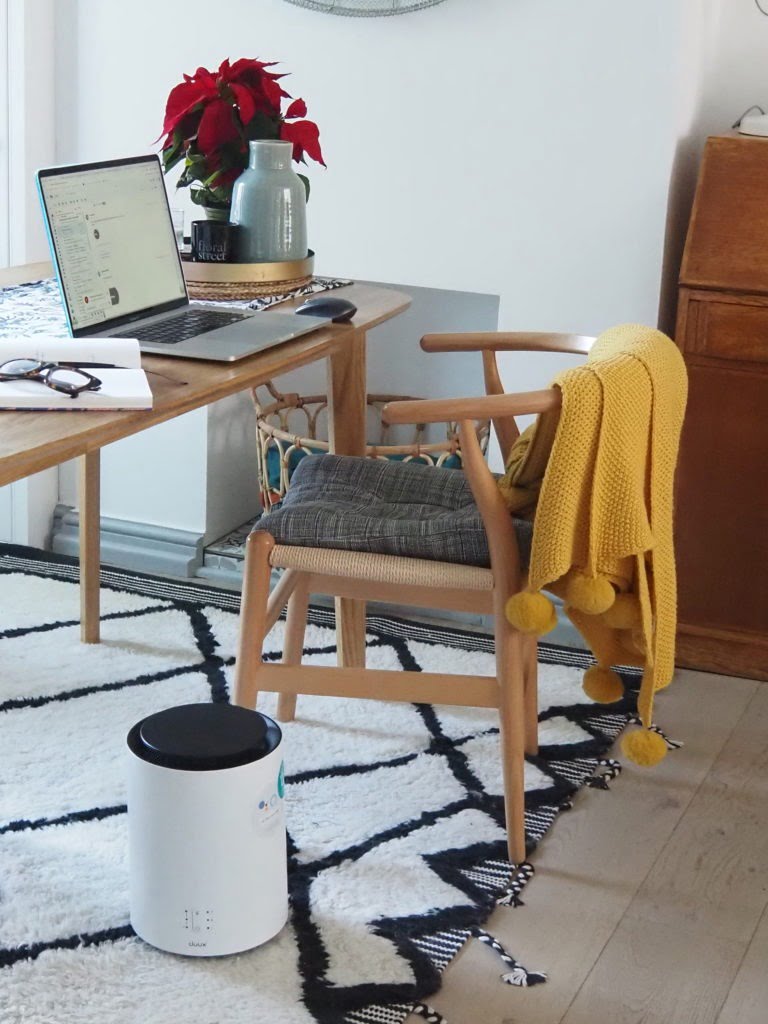 Key Benefits of the Threesixty smart heater:
EFFICIENT HEATING IN ALL DIRECTIONS
With 3 heating settings and 2 ventilation settings (including eco and boost), Duux Threesixty is a heater with lots of flexible options. In boost mode, it can heat up a room of 30 m2 twice as fast as conventional heaters, thanks to its efficient PTC heating element. The top rim air outlet makes sure the heat is evenly distributed in 360 degrees.
When I tested out the Threesixty in my own home, it took a couple of minutes to warm my entire open-plan living room and dining area. Impressive when you consider how small the Threesixty is compared to other portable heaters on the market.
And when switched on the noise level is almost silent, so much so it won a Quiet Mark award.
As the Threesixty is lightweight and portable, it can be moved easily from room to room. With a diameter measuring just 22 cm, the Threesixty doesn't take up much space. And when you are done heating up your home, you can store it away easily (ideal for small homes like mine).
It's particularly useful for rooms that are often cold, regardless of your central heating. Why not give your dining room a quick blast while you enjoy your morning coffee, or warm up your home office during the day or even use to heat up an area where you practice yoga at home?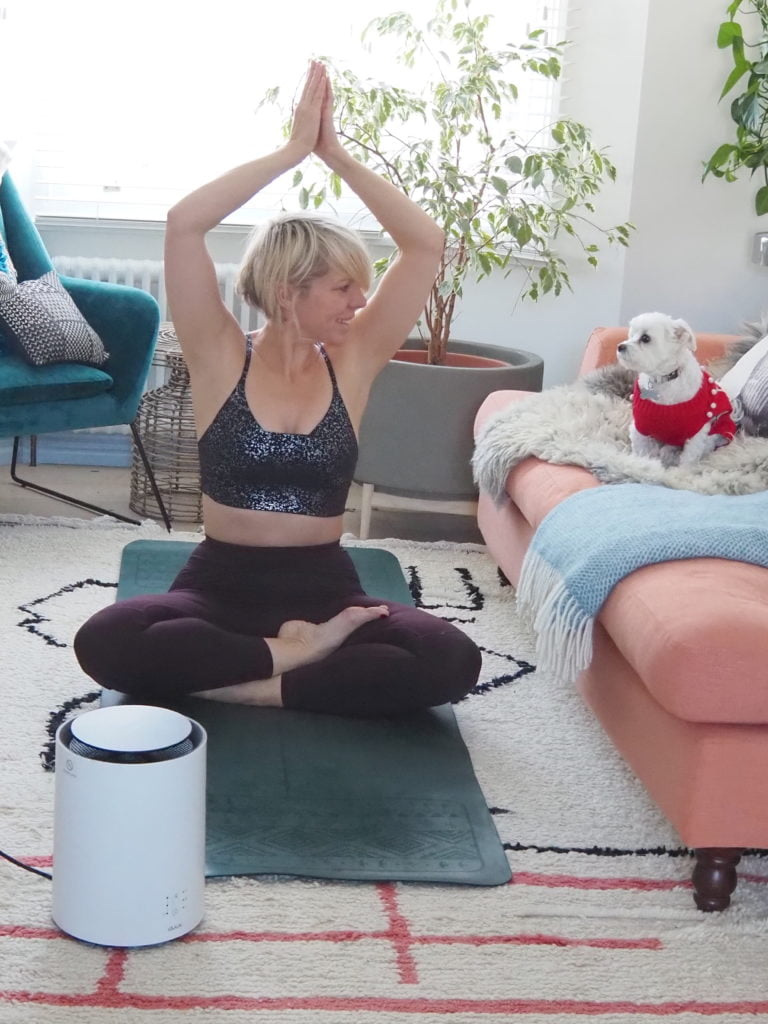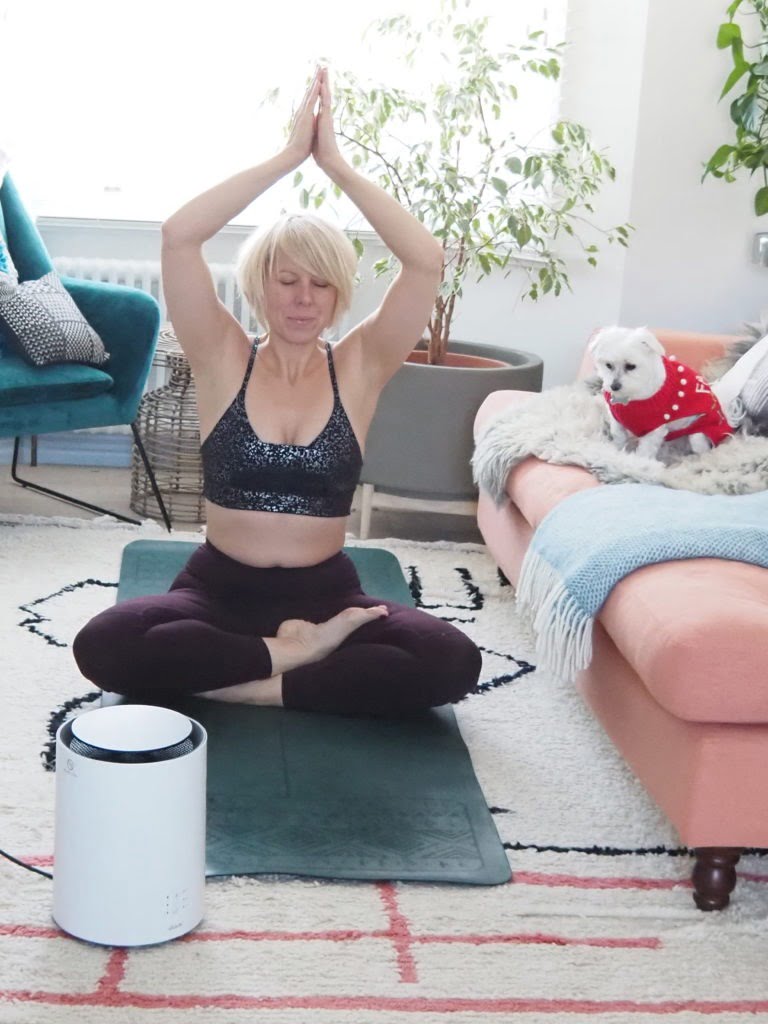 JUST THE RIGHT TEMPERATURE
Threesixty will give you a cosy room temperature thanks to its adjustable settings. As it is thermostatically controlled, the heater will click on and off according to the temperature you set it for. Using the app, you can set the temperature anywhere between 22-30°C from the comfort of your armchair. Or you can use the heater's LED indicators buttons that tell you which settings are active.
Safety-wise, Threesixty is equipped with overheat protection to make sure the heater never gets too hot. If you live with pets and children, then you'll love the tip-over safety switch making it a smart choice for busy homes.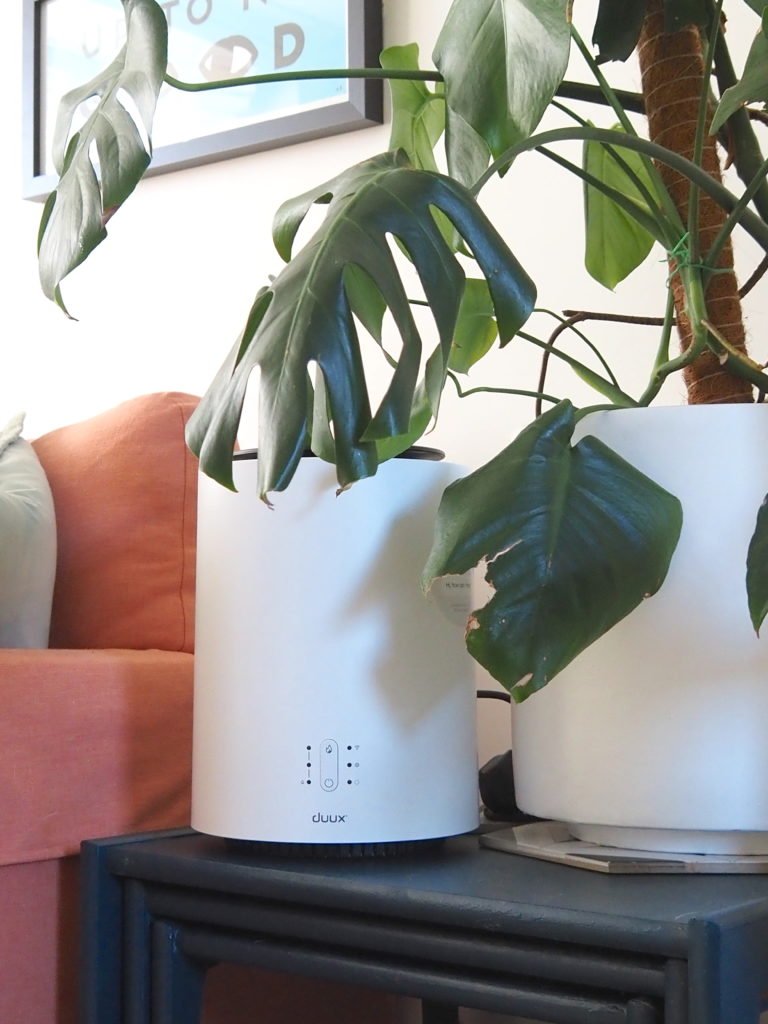 STANDING OUT BY BLENDING IN
Design lovers will adore the Threesixty's unique organic shape, meaning it suits any décor style. Coming in both grey and white, the exterior has a matte finish with a minimalistic two-button operation on the front.
This nifty looking portable heater even won a prestigious 2021 IF Design Award for its good looks!
If you want to be more eco-conscious, then you'll want to reduce your energy consumption at home which will also save you money on your fuel bills too.
That's where the Threesixty steps in. It allows you to heat a single room, rather than the whole house. That way you can avoid switching on your boiler for a quick burst of heat which is extremely inefficient and costly. And the thermostatic control will ensure your room temperature will not fluctuate, so you are less likely to overheat a room, saving energy and cash.
READ: 6 IDEAS FOR CREATING A HOME OFFICE USING THINGS YOU ALREADY OWN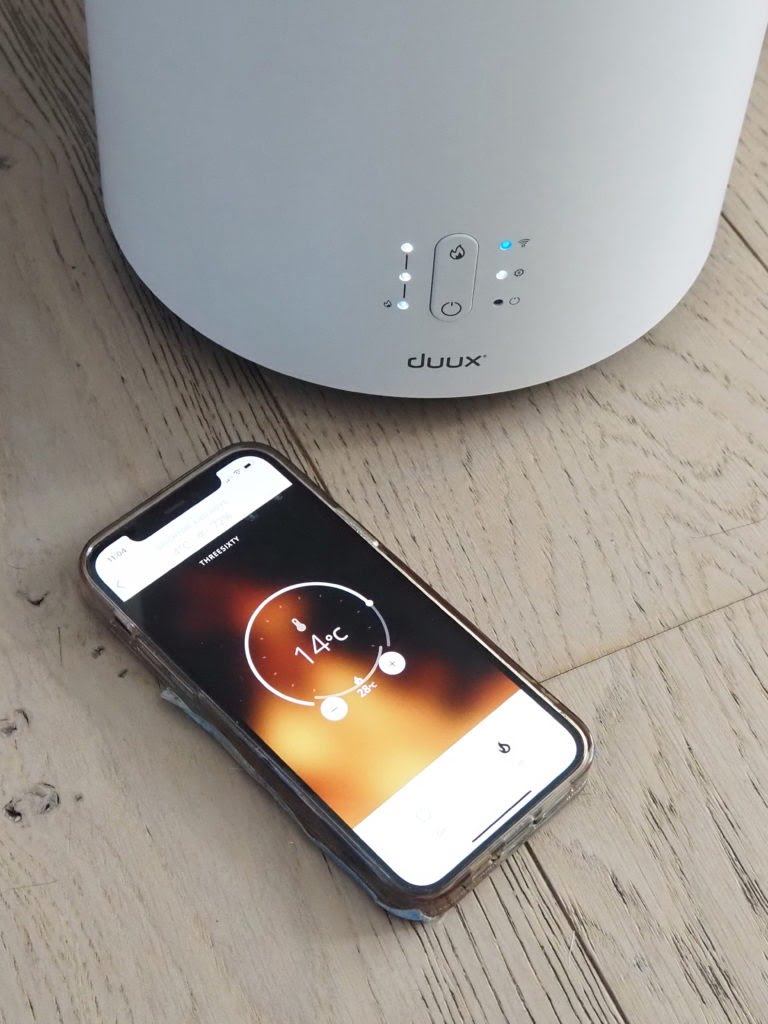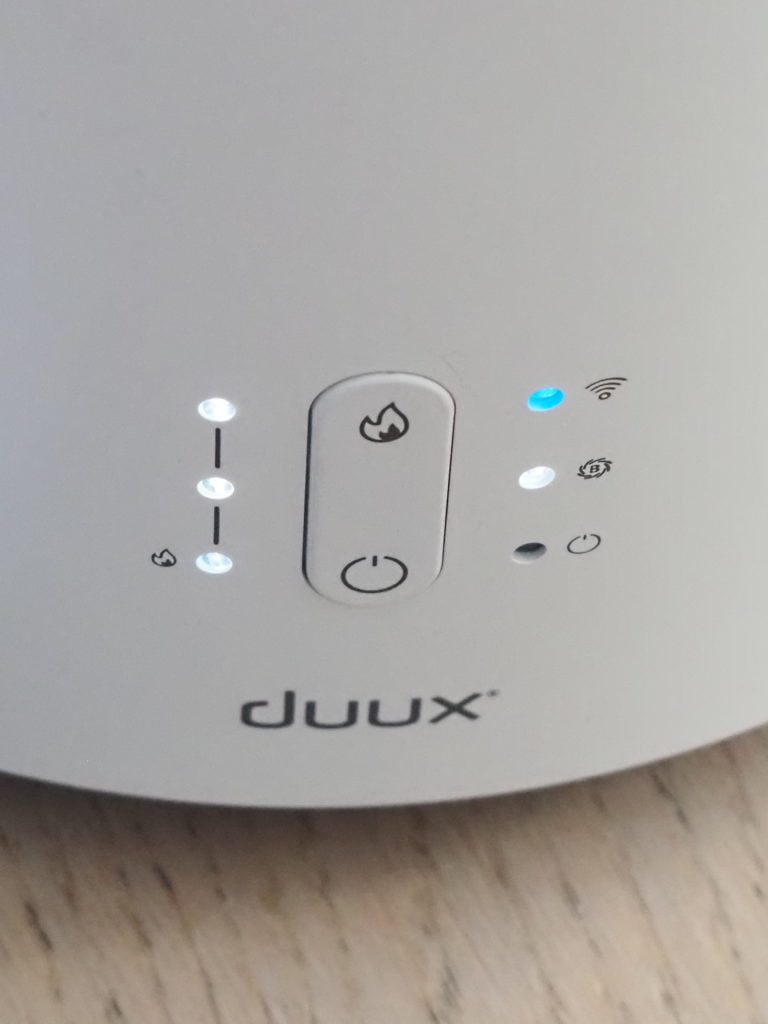 EASY SET UP With the duUx app
After unboxing the Threesixty, you plug it in and it will start to heat up your home in no time. You can either use the buttons on the device or download the Duux app to operate Threesixty from your armchair. With the app, you can set the temperature between 22-30°C. And the heater's handy LED indicators tell you which settings are active.
Using the Duux app, you can monitor your heat output more closely to your exact needs, leading to less energy being used. And you can plan your heating needs in advance.
You can connect your Duux heater to your Amazon Alexa, Google Assistant or Homey too. Then using voice commands, you can adjust speed settings or switch between different uses on your devices without lifting a finger. Clever stuff, right?
READ: 6 SIMPLE WAYS TO STYLE A JOYFUL HOME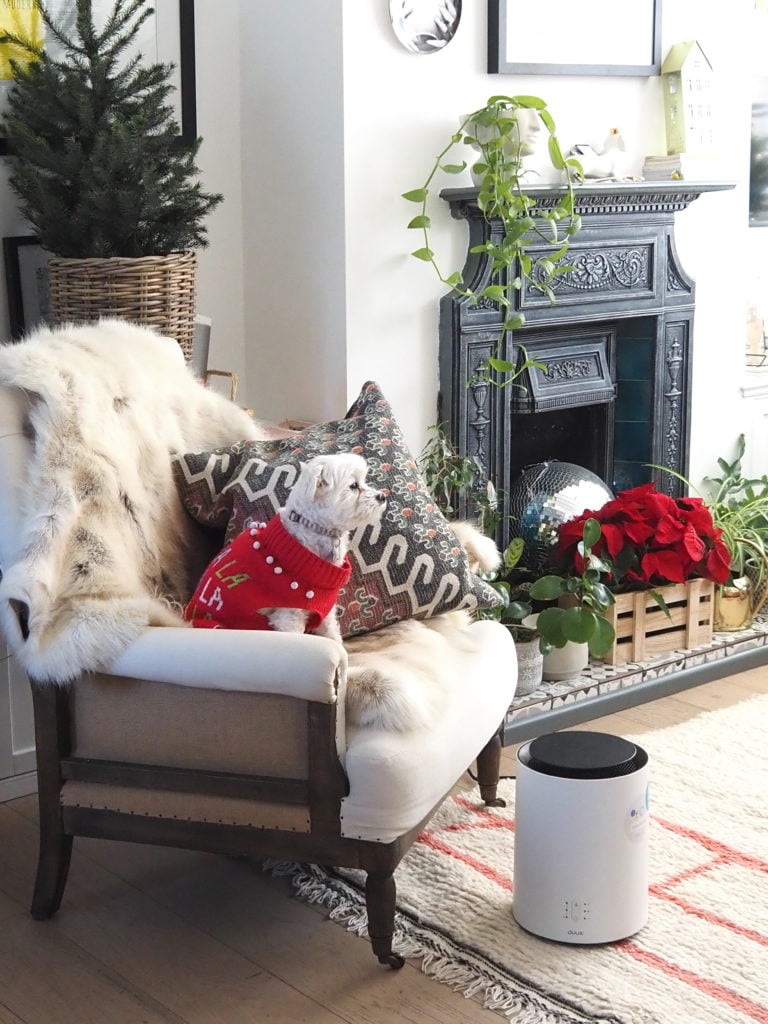 Are you ready to get cosy with the Threesixty?
As I'm always in and out my house, either going to meetings, running errands or walking the dog, I've been switching on my Duux Threesixty for a quick blast of heat from when I come indoors. I've noticed I've used my central heating less, and have saved money on my bills.
The high-tech and design of the heater has been a talking point! I now have a snug home and all for just £99.99. It's a no brainer for me.
If you want to learn more about Duux, check out their website to pick the perfect home air electronics for your home.