Hi! I'm Maxine. And I'm a happy home expert! I believe that home is where you can be free to be who you really want to be. Here's 6 ways to style a joyful home with these tips from an interior stylist (that's me!)
I believe our homes are so much more than just bricks and mortar. They're where we can be our true selves. It's where we potter in our pjs, eat snacks on the sofa, dance around the kitchen, and sing in the shower. Home is where you (normally) laugh, gossip and hang out with family and friends. A happy home is where we make lasting memories. And it's where you feel the best version of yourself.
If your home is feeling a little lack lustre. Then follow these 6 ways to style a joyful home to create a space filled with love and smiles. I've used lots of examples below from my own home so you can see how easy it is to style a joyful home in your space.
6 WAYS TO STYLE A JOYFUL HOME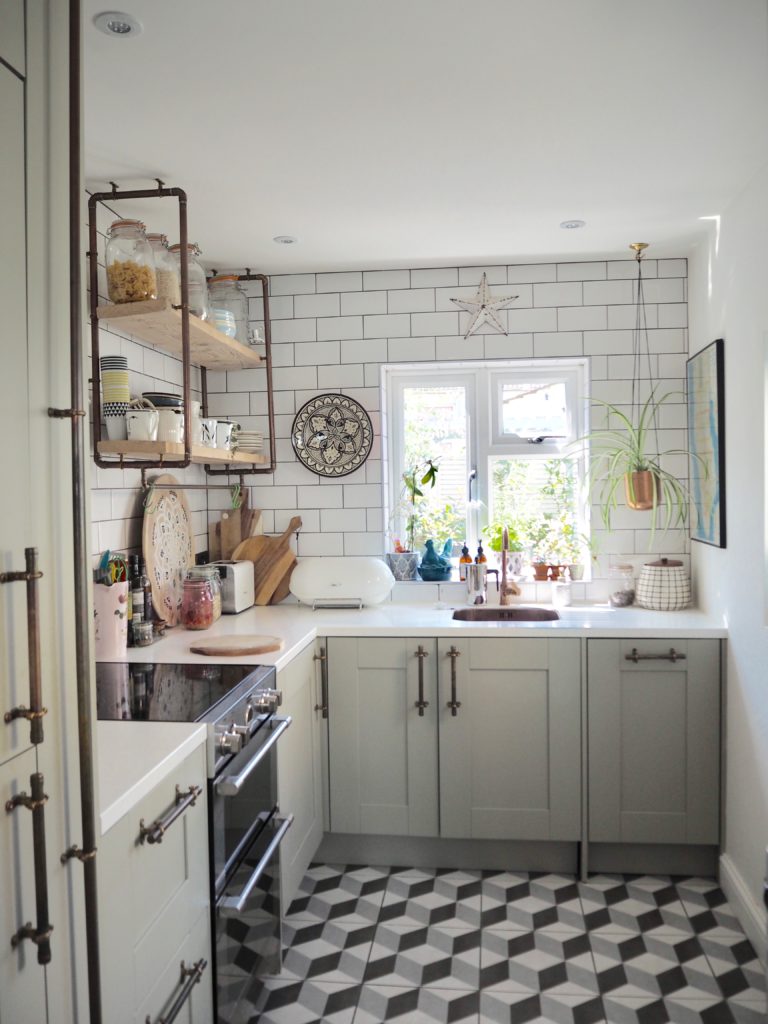 1. Enjoy a switch up
One really easy way to breathe life back into our homes is to switch things up! Start by moving things around like the art on your walls or the pillows on your sofa. There is nothing more fun that swapping out rugs in your living spaces. It makes your home feel like new, and you won't be able to help yourself smiling when you see how different you rooms look.
I'm forever styling the shelves in my kitchen with plants, new storage jars or even a vase of flowers.
By making little tweaks to your home, you'll fall in love with your rooms all over again.
READ: 5 COOL DESIGN TIPS FOR SMALL KITCHENS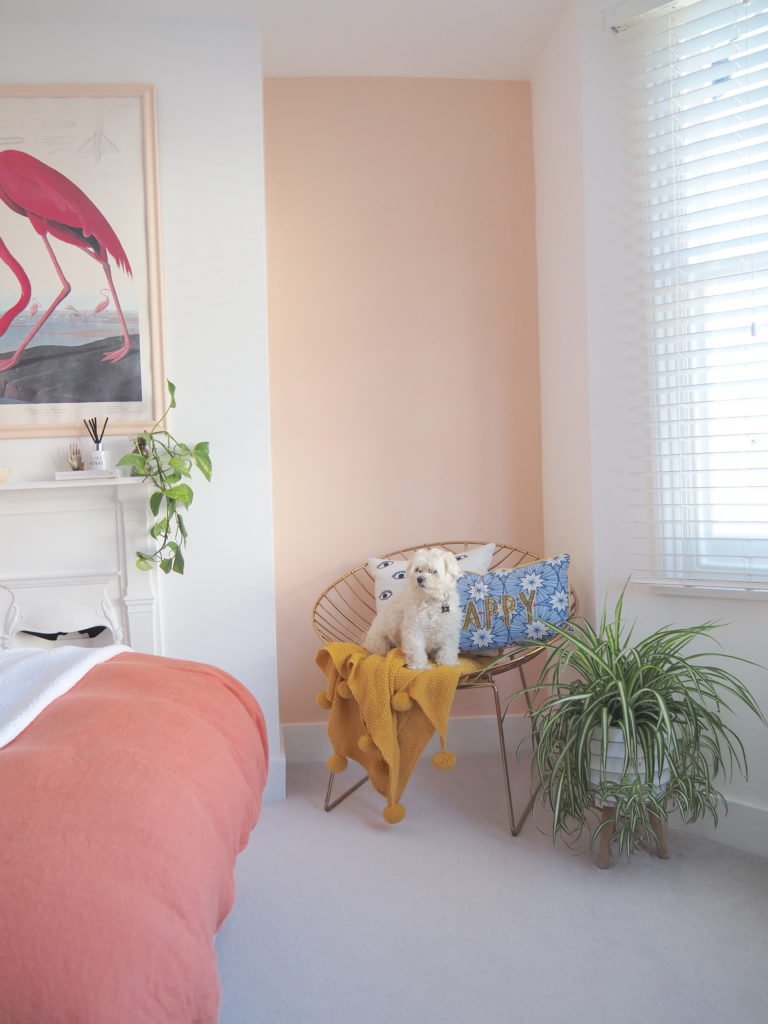 2. Add a splash of cheerful colour
Colour is an instant mood booster, and it's an easy way to inject personality into your home. If you're unsure where to start, then take inspiration from your wardrobe.  For example, I love wearing pastel shades and I've been adding peach, baby blues and lilacs to each rooms with  paint, cushion covers, rugs and throws.
I've recently painted a pink feature wall in my bedroom for a POP! of colour and it has vamped up my room.
Once you start adding colour to your home, you'll see your spirits soar, I promise.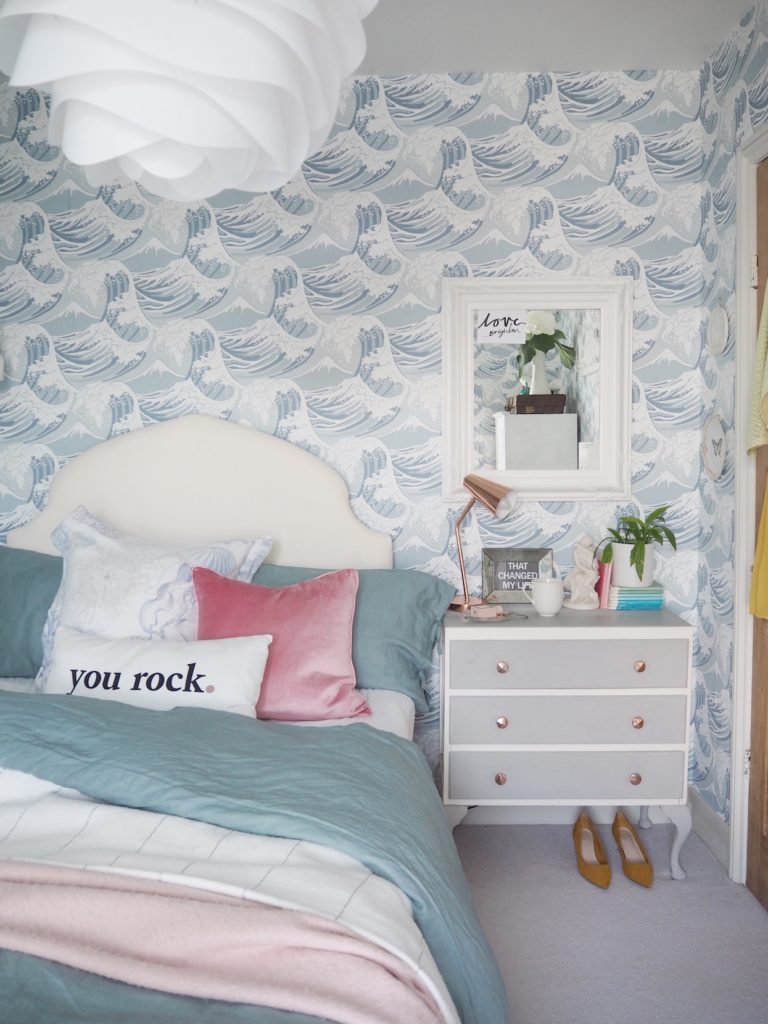 3. Declutter your home happy
It's well know that if your home is cluttered or messy, then won't look or feel very relaxing. Sorting through our belongings can feel a bit overwhelming. Start by tackling one are at a time, keeping only what you love or need. Then recycling, gifting or repurpose what you no longer want.
Invest in clever storage solutions to make your home work harder and smarter. In smaller homes, look out for multi-functional furniture that serves many roles to will keep your home in tip-top shape. Look out for pretty baskets for toys, a footstool that lifts up to reveal hidden storage, a sideboard that you can turn into a drinks cabinet, or even a chest of drawers to home all your summer clothes.
In my guest bedroom a vintage chest of drawers is come to all my summer clothes. And it makes for a small dressing table for guests. It's all about finding pretty storage that makes your home work harder.
'If you're really struggling or are reluctant to sell your treasured items, you may want to consider the self-storage option' says Ruban Selvanayagam of rapid home buying company Property Solvers.
Beautifully organised spaces create a joyous atmosphere!
READ: MY BEDROOM REVEAL THAT'S MODERN, FRESH AND PINK!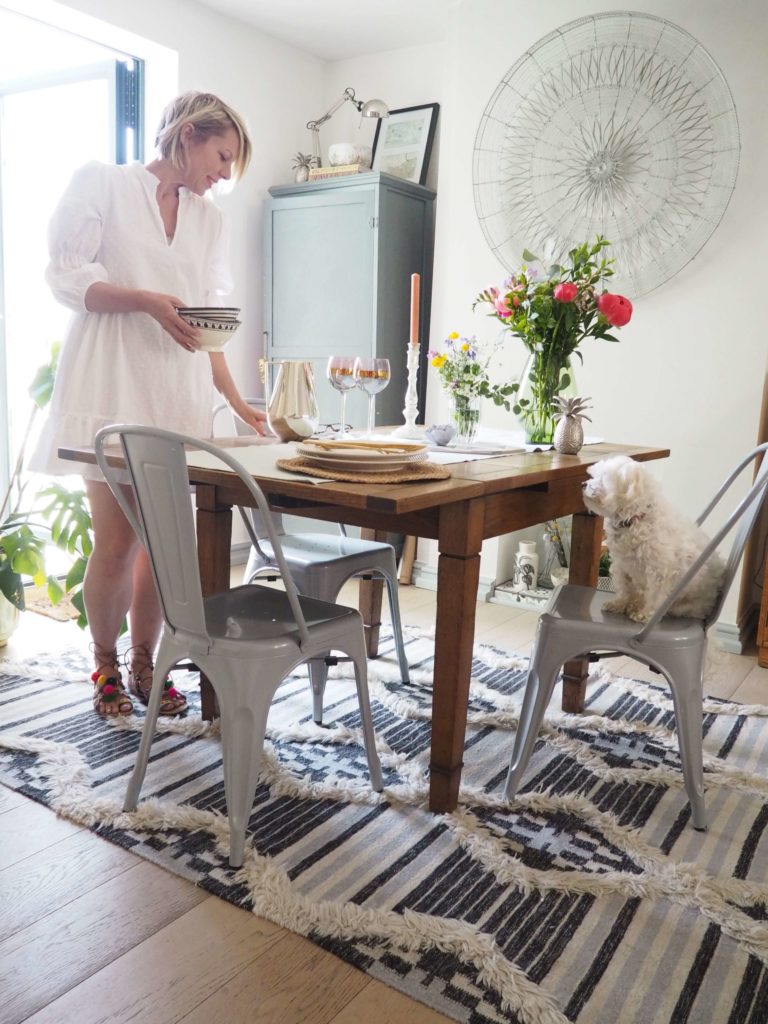 4. Make magical mealtimes
Sharing a meal with friends and family brings us closer together. Don't wait for special occasions for good times with your loved ones! You can make your mid-week meal magical with a few key styling ideas.
Start by dressing your table with your fanciest plates and serving dishes. Set the mood with candles down the centre of your table and colourful linens. You could even plan fun themed nights like Taco Tuesday or make food from a favourite holiday destination.
Get the whole family involved by inviting them to make a joint playlist filled with your favourite tunes for diner time. It will turn everyday mealtimes into memorable events – something you will talk about for years to come.
It's all about adding a personal touch when you style a joyful home!
READ: MAKE YOUR KITCHEN LIGHTER AND BRIGHTER WITH THIS ONE TRICK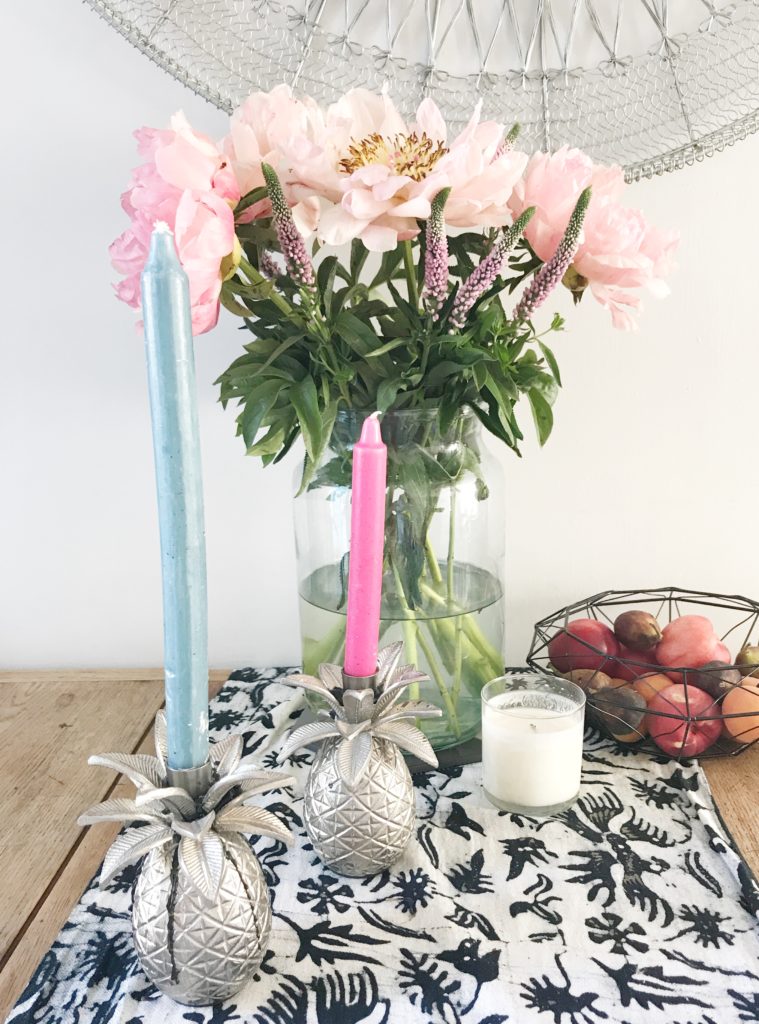 5. Delight your senses
One way to press the reset button is with the power of scent in your home. Beautiful aromas lift your mood and instantly bring back special memories. Fill each room with aromas that will energise you in the morning, uplifting during the day and then calm you at night.
This can be as simple as lighting a soy candle infused with essential oils in your living room. Or burning an incense stick at the end of a long day in the kitchen. Or you could treat yourself to a bunch of flowers and scatter the arrangement throughout your house. I love coloured candles in vintage candle holders as they add colour even when not lit.
Fill teapots, recycled bottles, jam jars — anything goes when it comes to floral arranging as long as it brings you pleasure. Our sense of smell has the ability to awaken a part of your brain that's stimulated by fragrances, and you'll find it will bring a deep connection to your home.
And who doesn't love a home that smells a good as it looks!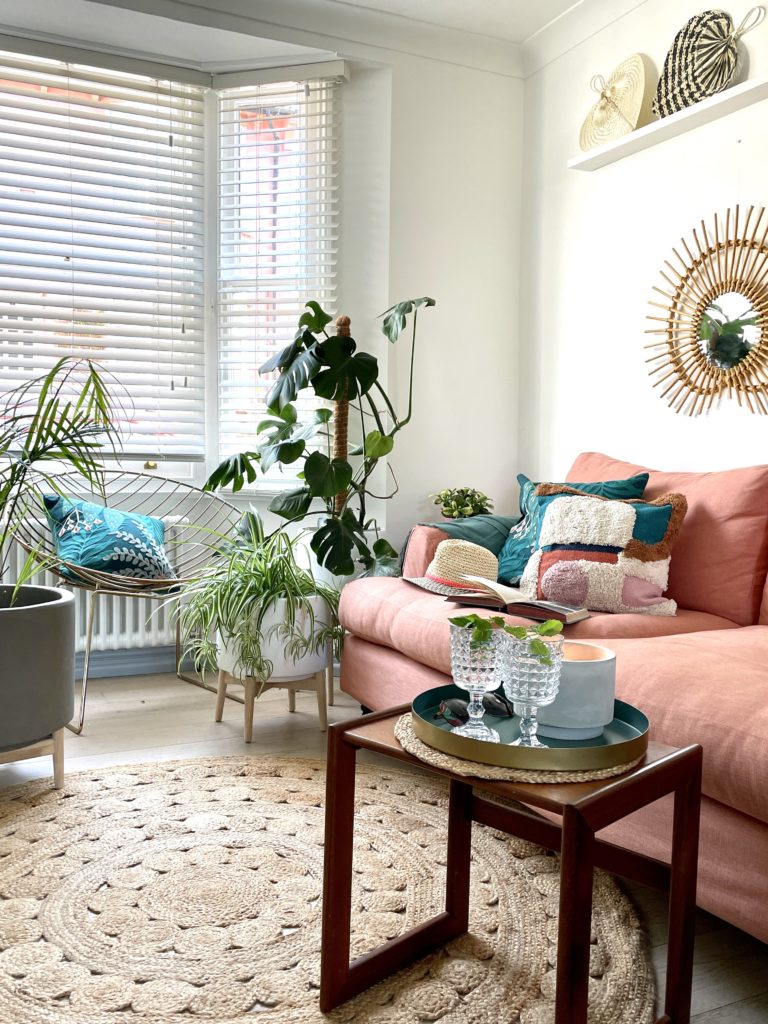 6. Fill your rooms with Leafy friends
Lush green plants bring much needed personality to rooms. You could start with a few trailing plants on a book shelf or on a window still. Choose plant pots that complement your décor (La Redoute have a huge range of pots from ceramic, to patterned to ones with legs).
If, like me, you have the ability to kill real plants just by looking at them, then opt for faux foliage that can still add personality to your room. I'm a huge fan of a fake terrarium! Plants bring a subtle layer of happiness to your space and a sense of contentment – just like my living room above.
All these items will make your home look good, feel good and will exude joy!
6 WAYS TO STYLE A JOYFUL HOME
For more tips on how to how to style a joyful follow my at Instagram and come back to my award winning lifestyle blog for more tips and advice.
This post first appeared on the La Redoute blog