Step inside interior stylist Maxine Brady's cool bedroom redesign.
Look at my happy face! Why? Well, after months of behind the scenes planning, today I can FINALLY reveal my new-look bedroom. And you're going to love it!
In this post, I'm sharing my bedroom design ideas in case you are tackling a similar project. Come take a look at my new look master bedroom.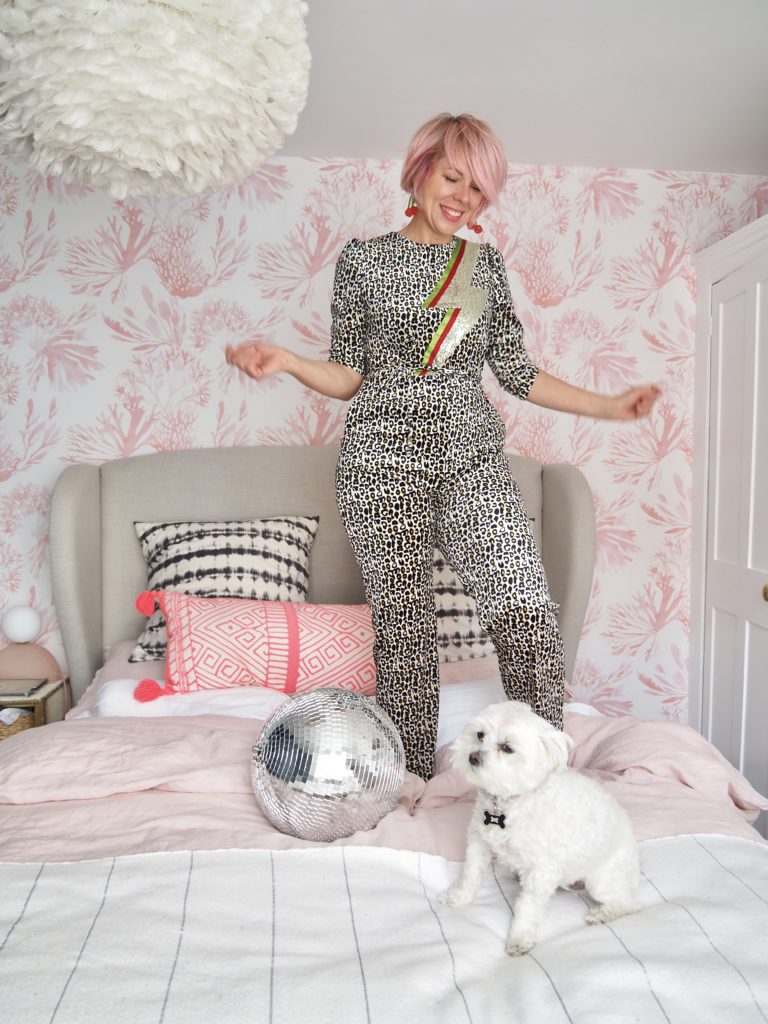 What was the room like BEFORE?
When I moved into my home 5 years, the whole house needed renovating. My bedroom looked okay from the estate agent's photos but on closer inspection when moving in, it needed lots of TLC. You can see the before here.
In 2016, I tackled all the big expensive (and grotty) jobs. The position of the radiator was moved to under the window, and I replaced the old one with a cute vintage-style one instead. The damp problem was fixed and the walls plastered smooth. I repurposed a cast iron fireplace (which was in my dining room) into the chimney breast. And had an antique plaster ceiling rose fixed to the ceiling.
The jobs for this bedroom seemed endless. The list goes on…. new sash windows, paint job, new electrics and light switches. Even my oversized gold wall mirror was a big job as it had to be screwed into the wall.
After shelling out for the renovation works on my bedroom, there was little money leftover for furniture. My bedroom was a mix of junk shop finds and up-cycled pieces that I painted to look like new. The last job I did in here was just before Christmas 2017, when I had all the horrible beige carpets replaced with lovely wool grey ones.
It's natural to make mistakes when decorating a room (even for a pro like me). My big mistake was to paint the whole room pale grey which looked effortlessly cool BUT as this bedroom is west facing, the grey tone turned my bright bedroom into a dingy room.
Although I love the curtains and blinds combo, they were too fussy for my small bay window. My £150 Gumtree double bed felt small and squeaky (despite using bolts to hold it in place). The vintage wardrobe picked up on eBay for £170 was stunning but the doors never properly closed and it was bulging at the seams from my huge collection of vintage clothes.
READ: 7 WAYS TO MIX PATTERNS IN YOUR BEDROOM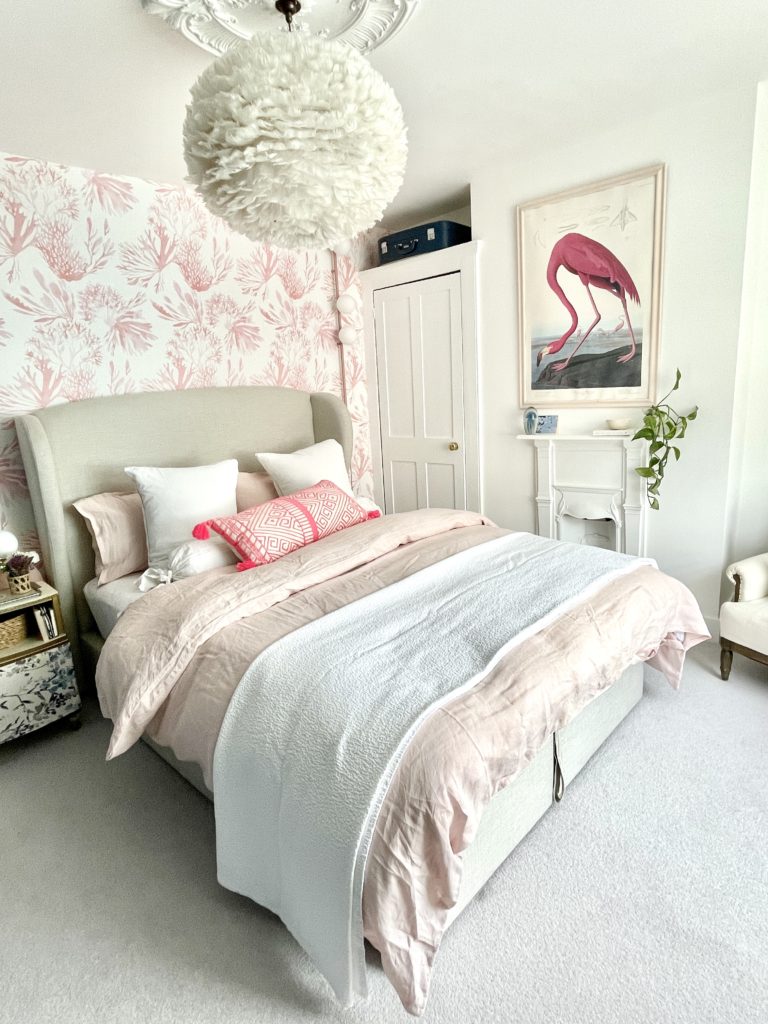 What prompted this Bedroom makeover?
During lockdown my attention shifted towards my home and where I could make changes for the better. I'm sure you felt the same? I wanted to sprinkle some positivity into my life and the best way for me to do this is by decorating my home! And what better room to tackle first than my bedroom.
My bedroom is a lovely bright room but the decor was lacking somewhat. So in March 2021, I started on my bedroom revamp. Top of my wish list was to add some subtle pattern and clever storage ideas. My idea was to turn it into a more grown up space that would be a lovely room to relax and sleep in, and a functional space to get ready in the mornings.
READ: 6 STYLISH BEDROOM STORAGE SOLUTIONS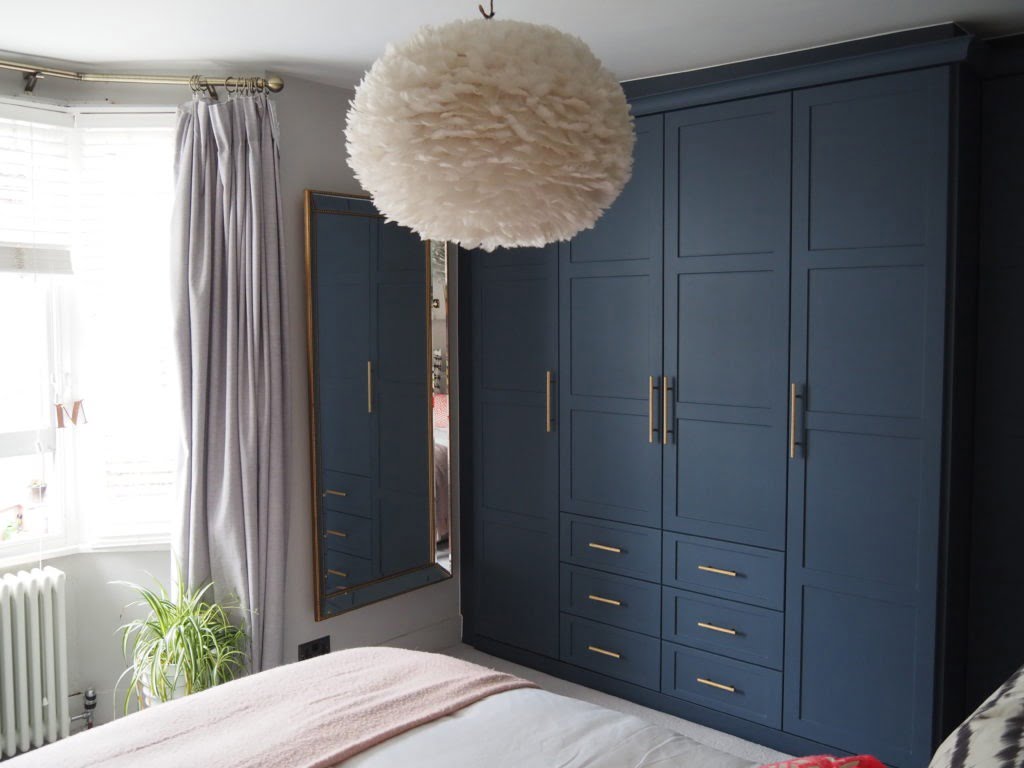 What Changes I Made To My Bedroom
It all happened very organically. It started by swapping out my vintage 1950s bed for an amazing Button and Sprung ottoman that I had seen at a location house while styling on a shoot. It's so luxe looking. I went KING SIZE and I now get the best nights sleep these days.
I had a vintage wardrobe in here but it wasn't nearly big enough for all my clothes. I kept half my clothes in the spare room and I was fed up of walking from back and froth to get ready in the mornings. I wanted everything in one place. I was contacted by the team at My Fitted Bedroom who made me made-to-measure wardrobe of dreams that span the whole of my bedroom.
My new wardrobes have doubled my storage space over night! I adore the navy colour which gives gravitas to the look of the room. There are handy mirrors inside the wardrobe doors too. I have all my makeup and hair stuff hidden inside one of the cupboards to keep my bedroom clutter-free. I even have a section for all my sequin outfits in there!
The wallpaper choice was influenced by my guest bedroom which has been decorated in 'Great Waves' wallpaper by Cole & Son and I wanted to echo that design in this bedroom somehow. When I found Livette's Coral wallpaper, it was a match made in heaven. It's so pretty.
I never thought I would end up with a pink bedroom! I think I was more shocked than anyone.
READ: 5 REASONS WHY FITTED WARDROBES ARE HOT RIGHT NOW!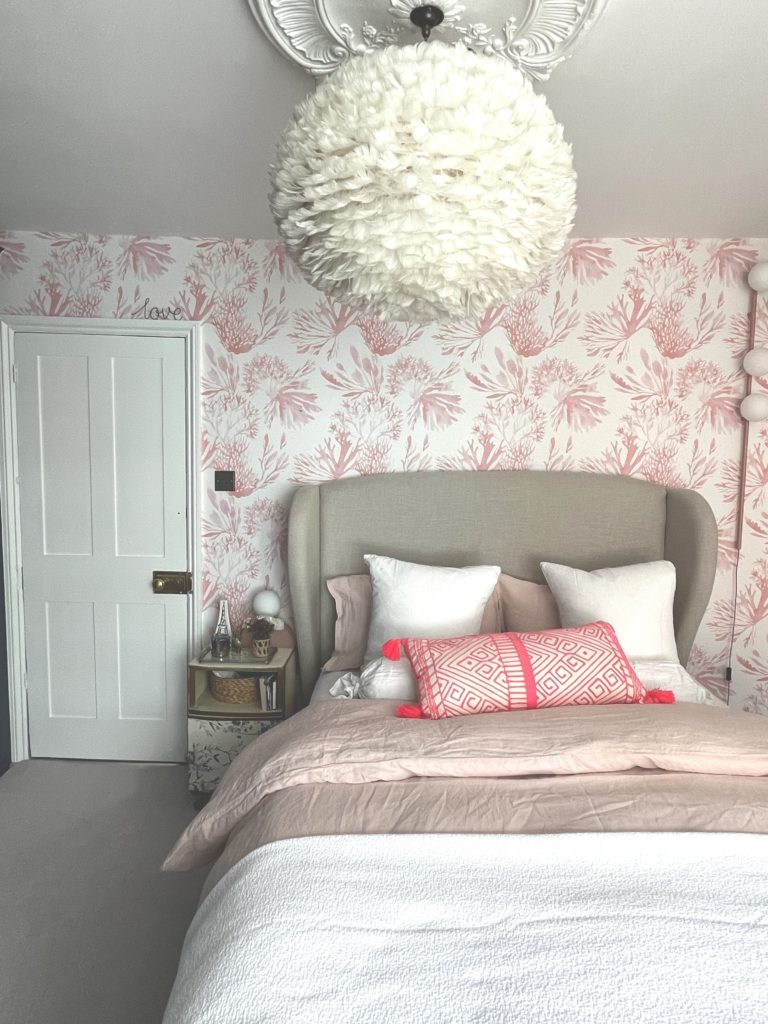 My best BEDROOM design tip
I've really taken my time with my bedroom and embraced the ethos of 'slow decorating'. I tried had not to rush the design process but instead savour it. And if I'm being honest, spending time planning out my bedroom was a welcome distraction from lockdown life.
As with all my interior projects, I created a mood board first so I could visualise the end result. Planning a bedroom makeover on a mood board helps you edit down your ideas, avoid costly decorating mistakes and make sure you are 100% happy before you pick up a paint brush.
You can learn how to make one here in my FREE INTERIOR STYLING COURSE.
Once I had all my ideas on paper, I focused on what keep and what to trash. I took down the fussy curtains and pole but kept the blinds. I got rid of the vintage furniture but choose new pieces that have a classic look. Then I painted over the woodwork from grey to white to fresh up the space. And I kept the main feather central pendant but added a new wall light in pink to complement the wallpaper. I'm still on the hunt for the perfect bedside table but I know that will come in time.
READ: GET SNUGGLY WITH WOOLROOM NATURAL BEDDING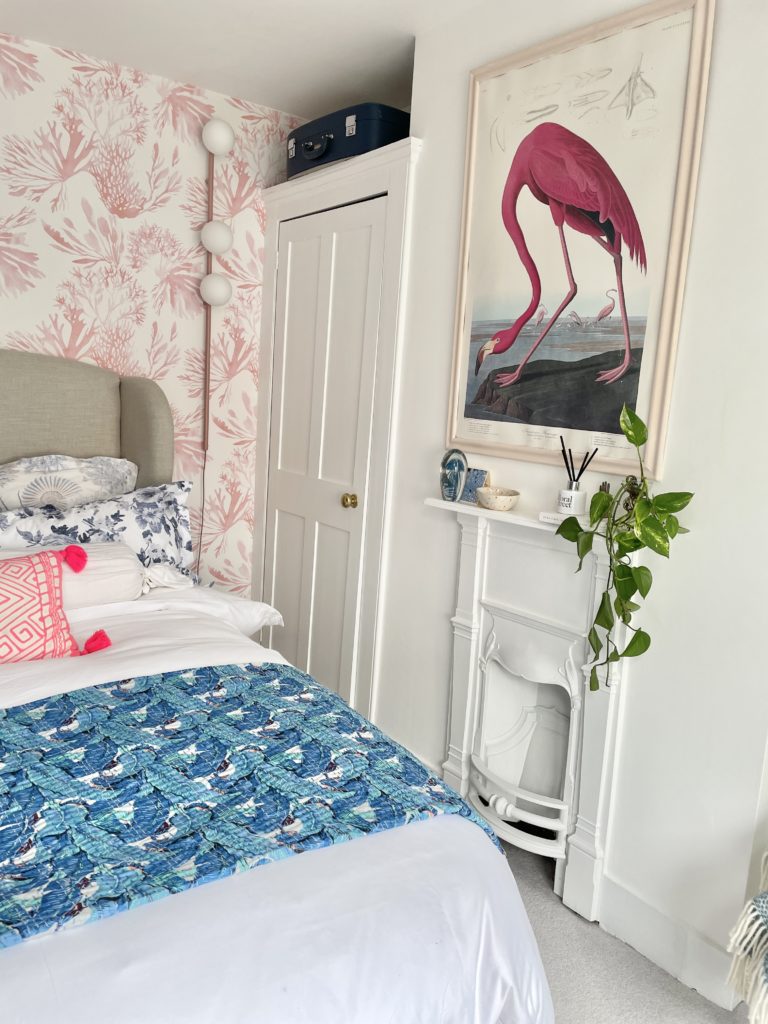 What's My favoUrite part of the ROOM?
It has to be all the storage I now have. Not only do I have floor-to-ceiling wardrobes that can house my expanding collection of clothes and sequins, there is also a slim-line shelved cupboard tucked behind the door that is filled with my makeup. he wardrobes are a style statement and have transformed the bedroom.
I had extra shelves installed inside my original Victorian built-in cupboard to turn it into a cupboard for my trainers and boots.
I keep boxes of props in my my Button & Sprung ottoman bed keeping them close to hand!
Before it felt pretty tatty with worn out vintage furniture. Now I have everything in once place. It's a joy to get ready in here now.
READ: CHOOSE THE PERFECT BED WITH BUTTON & SPRUNG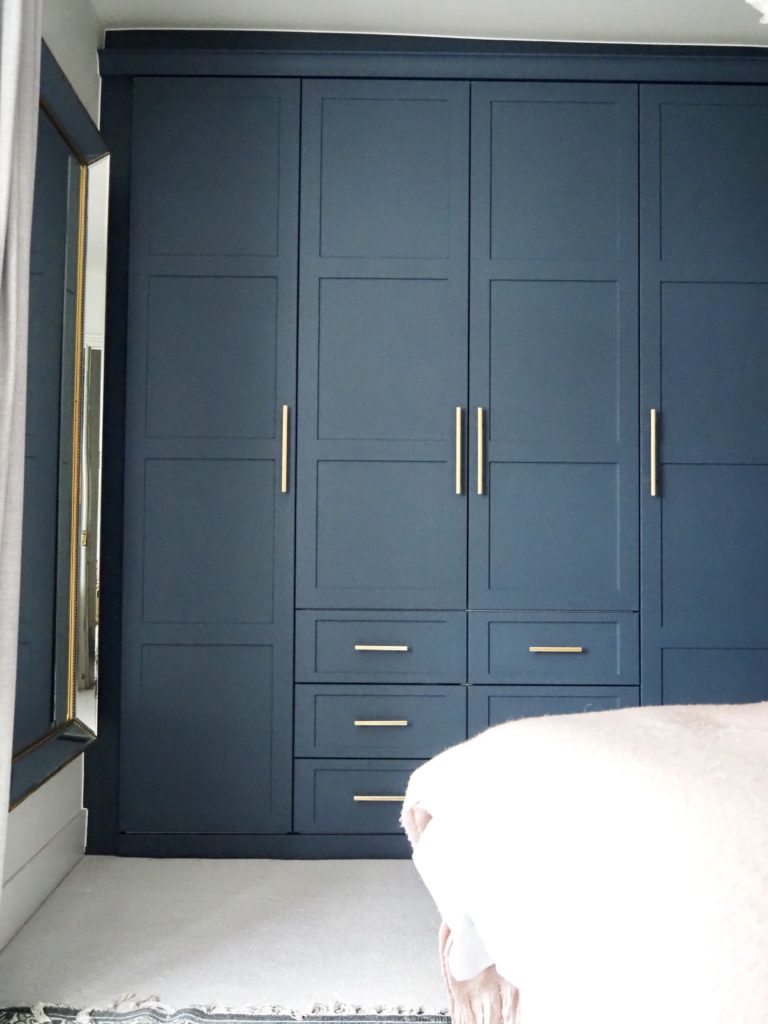 Bedroom SHOPPING LIST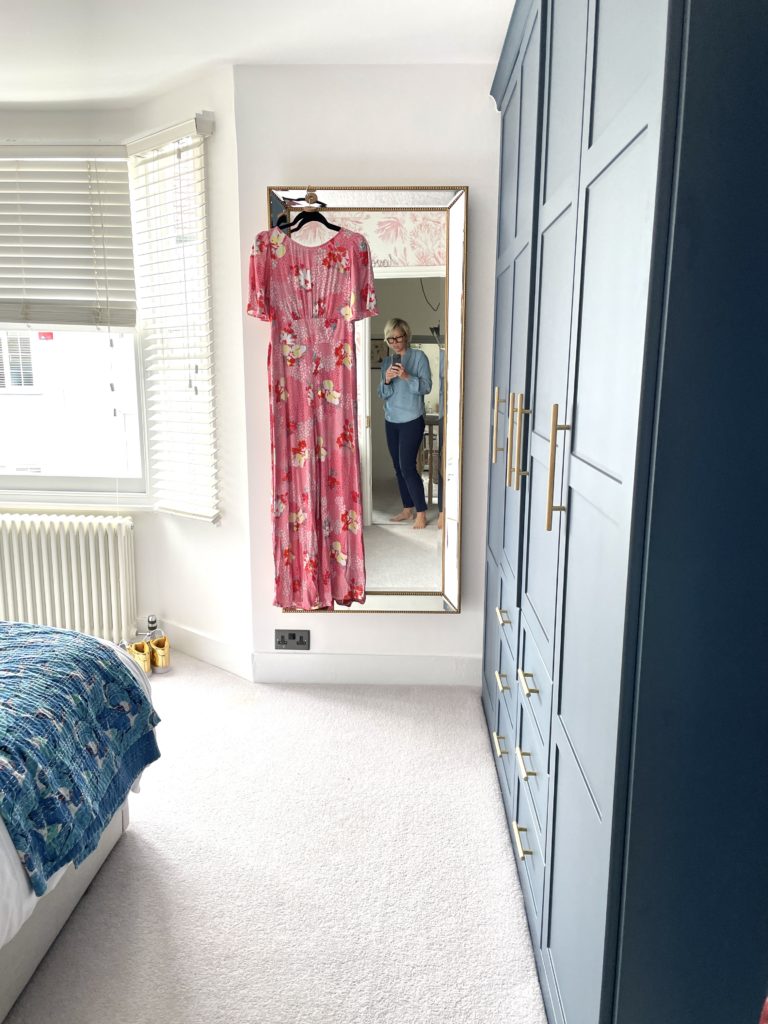 HOW MY BEDROOM MAKES ME FEEL NOW
I love nothing more than getting ready in here. I can open up my wardrobes and picking out an outfit with ease. I've now done away with my chest of drawers and made room for a lovely armchair. The bed is so comfy to sleep on and the wardrobes are to die for. I'm in love with the pink and navy colour scheme.
My bedroom makes me so happy and I love spending time in here. It's my ultimate escape.
Have you loved this post? If so, let me know in the comments box below!