Getting in the ZZZZZs is great for our mind, bodies and soul – it has so many health benefits. But if, like me, you struggle with getting enough sleep, then you may like to give wool bedding a whirl! Not only can the properties of wool help you sleep better, it's so cosy and good for the environment too. Here's my honest review of Woolroom natural bedding.
Get to know Woolroom
A few months ago Woolroom got in touch and asked me to try their all-natural deluxe wool bedding and see if I sleep better. I was due to switch up my bedding (which you are advised to do every five years) and I was interested to try a good, natural alternative. I've been testing out their deluxe wool duvet and pillow for the past month and I want to share my findings.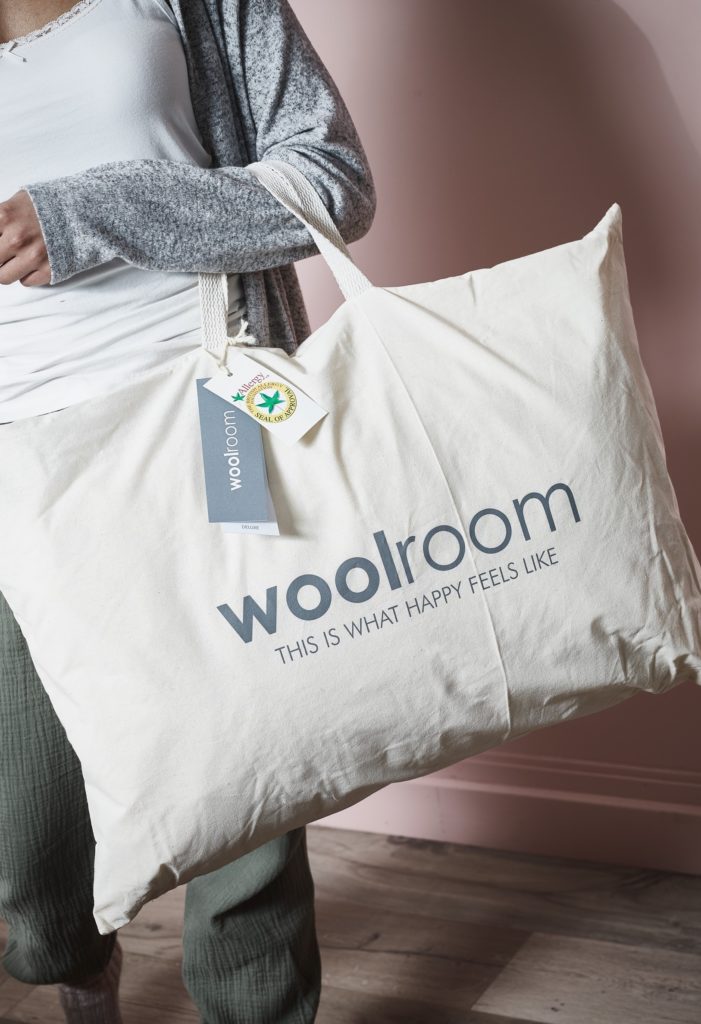 Founded in 2008 in Leicestershire, Woolroom are specialists in wool bedding and mattresses. Within their bedding range, they have all types of duvets to suit everyone. They are designed to be both practical and flexible. Looking for some winter warmth? The Woolroom 'All Season' duvet maybe the one for you. Made up of lower tog duvet and a slightly higher tog duvet, this particular bedding set can be used separately or clipped together to boost up the comfort factor.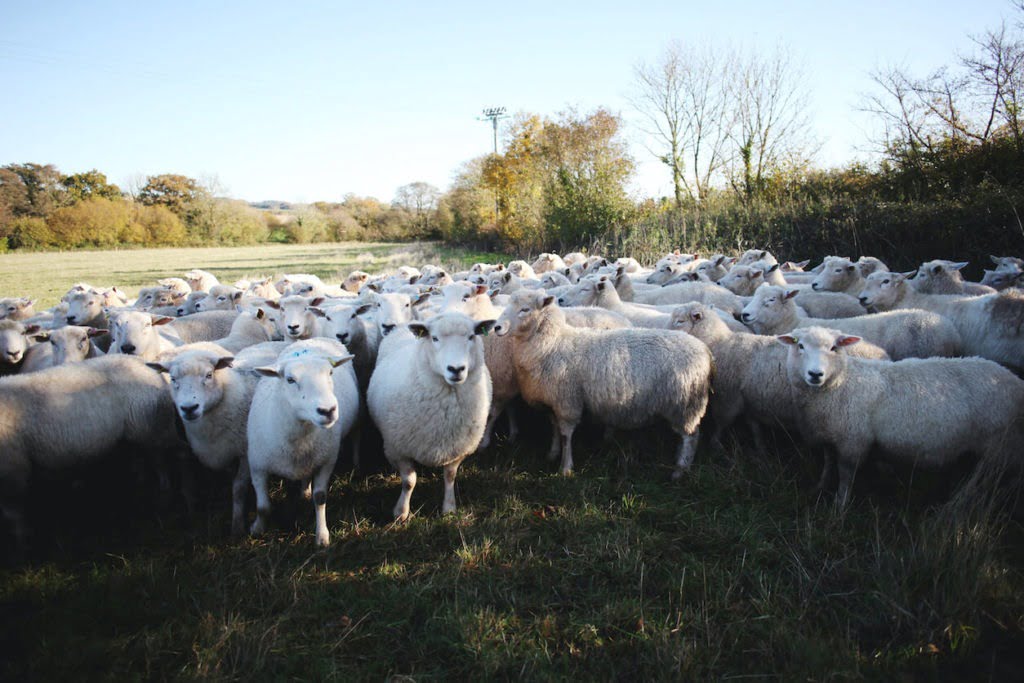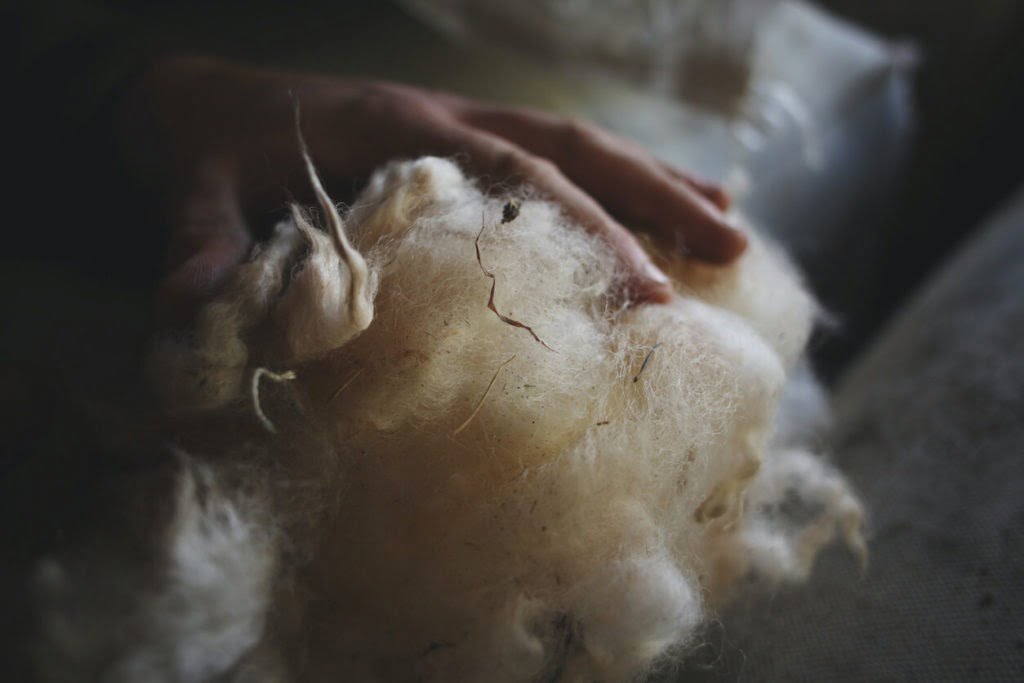 They also have adjustable pillows so you can unzip them and manually remove filling to suit your firmness preference. Filled with wool, you can take out as much or as little of the filling as you need to adjust the pillow to how you like it! Woolroom also has options to purchase extra wool filling to add to the pillow or refresh it in future! The pillows also have concealed zips so there's no annoying sharp bits poking you in the head. It's all very clever.
As well as bedding, they also have solid mattresses and a beautiful accessories range consisting of items such as blankets and throws, cushions and rugs.
Get snuggly with Woolroom natural bedding
All their bedding is machine washable. Pop your Woolroom pillows and duvets on a wool cycle at 30C then line drying because exposure to UV light helps kill the dust mites. Handy, if you Like me you are prone to spilling your morning cuppa on your sheets.
In terms of sustainability, Woolroom bedding is also brilliant for the environment. Made from British wool, it's relatively locally sourced (whereas merino wool comes from Australia and New Zealand). And it's attained without killing or hurting the sheep and it's natural too (while polyester is made from petroleum).
They're so confident people will get a guaranteed better sleep that they offer you your money back if you're not satisfied. How good is that?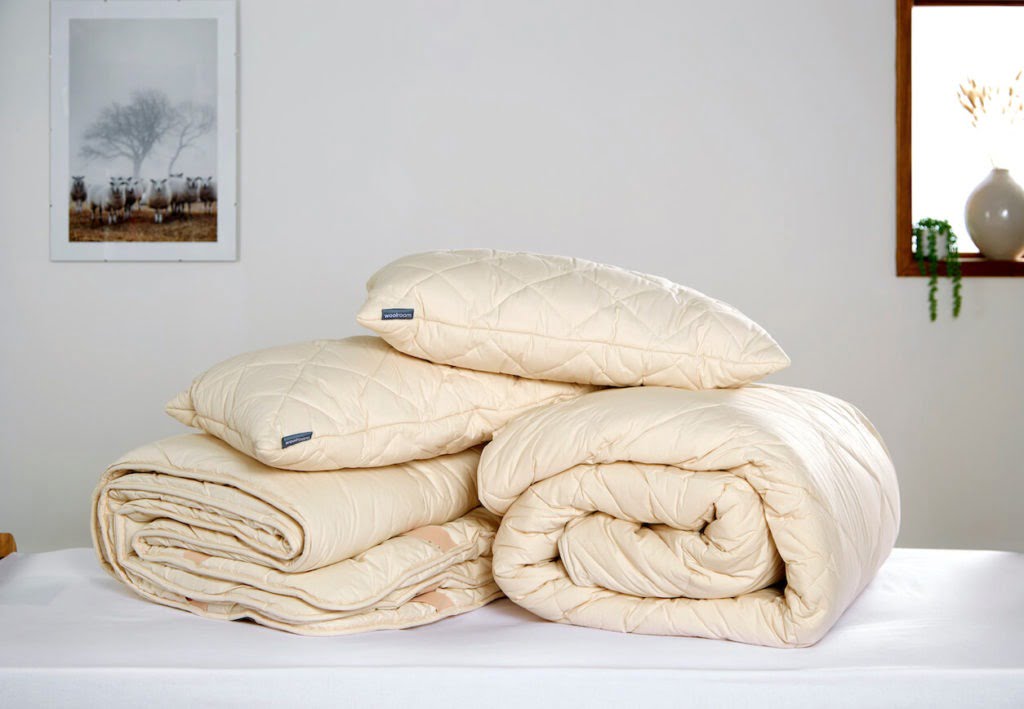 5 benefits of wool bedding
There are lots of pros to wool bedding, these are a few that I wanted to share:
1. Scientific studies have shown that sleeping with wool bedding helps you gain 25% more deep regenerative sleep when compared to other bedding types, this means more stage 4 and 5 sleep which is important for health and cell regeneration, as well as an overall feeling of being well rested in the morning. In fact, this is one of the main benefits of wool duvets.
2. Wool manages the micro-climate directly next to it, so your warm sleeper will be kept at the cooler end of the tog range and vice-versa. And it enables you to reach your optimum temperature for sleep faster than polyester and down
3. It's machine washable making it last longer and easy to keep clean. Wool bedding that can be washed needs to be treated to prevent felting. Woolroom only uses completely biodegradable nonionic alcohol ethoxylates, or eco-friendly clothing detergents and they promise not to use acid, bleach, or resins either. Or you can hang your bedding out to air in the sunlight and it will kill all dust mites.
4. Wool has hypoallergenic properties which is great if you suffer from allergies and asthma. And it's great for people who have a skin sensitivity to wool/lanolin.
5. Made from British wool, it is locally sourced and you'll be supporting British farmers. Sheep in the UK are very well cared for, we have some of the highest standards in the world.
The sleep test
Okay – so you've heard all the positives about wool bedding but what you really need to know is what's it like to sleep under?
The bedding was packaged up in a cotton zip bag (handy reusables) and I could immediately feel the difference. The bedding is heavier, denser and flatter than my old feather duvet which took a little time to get used to.
Ooooh – and I have to say that I love that my Woolroom bedding set is customisable. I can change the height of my pillows by compressing or pulling apart the fibres. And I can make the duvet by clipping on an extra layer for extra warmth which has been very handy this wet and rainy winter. I love that my new deluxe wool bedding is machine washable which means it will last longer too.
From day one, I slept deeper, and now I find myself looking forward bedtime. The duvet is very cosy. I have to stop my dog, Teddy, jumping in with me in the morning (he has claimed the duvet for his own). It's pricier than the average bedding set but it's a worthy investment if you cherish your sleep.
Love Maxine
**I was gifted the bedding to try. All opinions and thoughts are my own.
Love this? Read these next
5 TIPS FOR THE BEST NIGHT'S SLEEP EVER
TREAT YOUR BEDROOM TO BLUSH LINENS
DECORATING IDEAS FOR GUEST BEDROOMS