Summer is here! YAY! Time to put on your wellies and give your small garden some love with these 3 essential gardening tools from Hozelock.
I don't know about you but with all this rain and sunshine, my small garden has gone wild! So when I was contacted by the lovely team at Hozelock to ask what I needed to help tame my outdoor space, I was excited to try out their range. I picked out three key items that every small garden needs – including yours!
These clever products have helped me keep on top of my gardening game, and have made it look even more blooming. It doesn't matter what size your garden is, whether it is a window box, a little urban space, or plant pots, you'll need at least one of these items.
Take a look through my top three garden gadgets!
Sponsored by Hozelock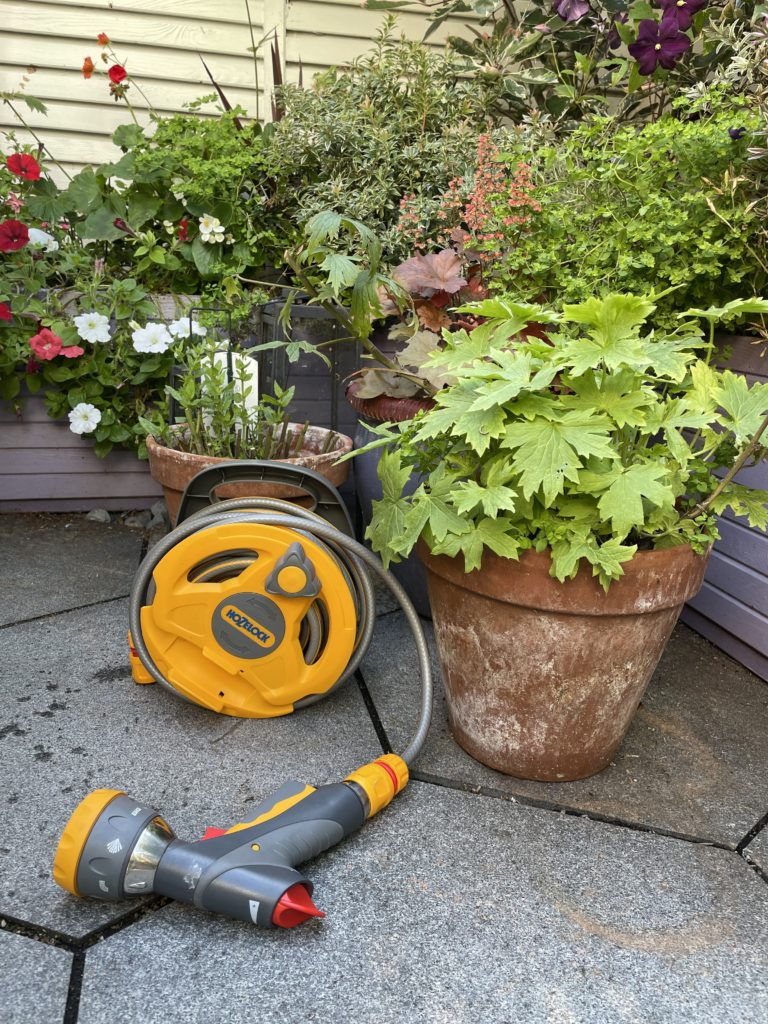 In a small garden, space saving devices are key! That is why you need a micro reel – the latest addition to the Hozelock family. The Micro Reel provides fuss-free watering for smaller spaces.
The handy hose stretches over 10 meters which means it can water all your pots, planters and grass and it neatly stores away when not in use. It's easy to clip onto your exterior tap (no tools required). When I've finished with mine, I simply tuck it away in my mini shed out of sight.
This is how it takes the hassle out of watering your garden:
'Click & Go': Click the connector onto the tap and unwind the hose as you walk
Rotating drum with low profile handle for hose storage without tangles
Includes a 10m hose and fittings
Water at any length – no need to fully unwind
Keep near the tap, or store away neatly
Team the Micro Reel with the Multi Spray Pro and you have a match made in garden heaven. The Multi Spray Pro adjusts the water flow. Choose from seven settings including fan, fine rose, fast fill and jet. I love using the fine rose setting for my climbers as it waters them with out damaging or breaking the fine stems, and the fast fill setting for watering all my over-sized planters. GAME CHANGER! Plus there is a lock when you need to water an area at once, making it quick and easy to give your small garden a decent watering during the warmer weather.
READ: OUTDOOR FURNITURE FOR SMALL GARDENS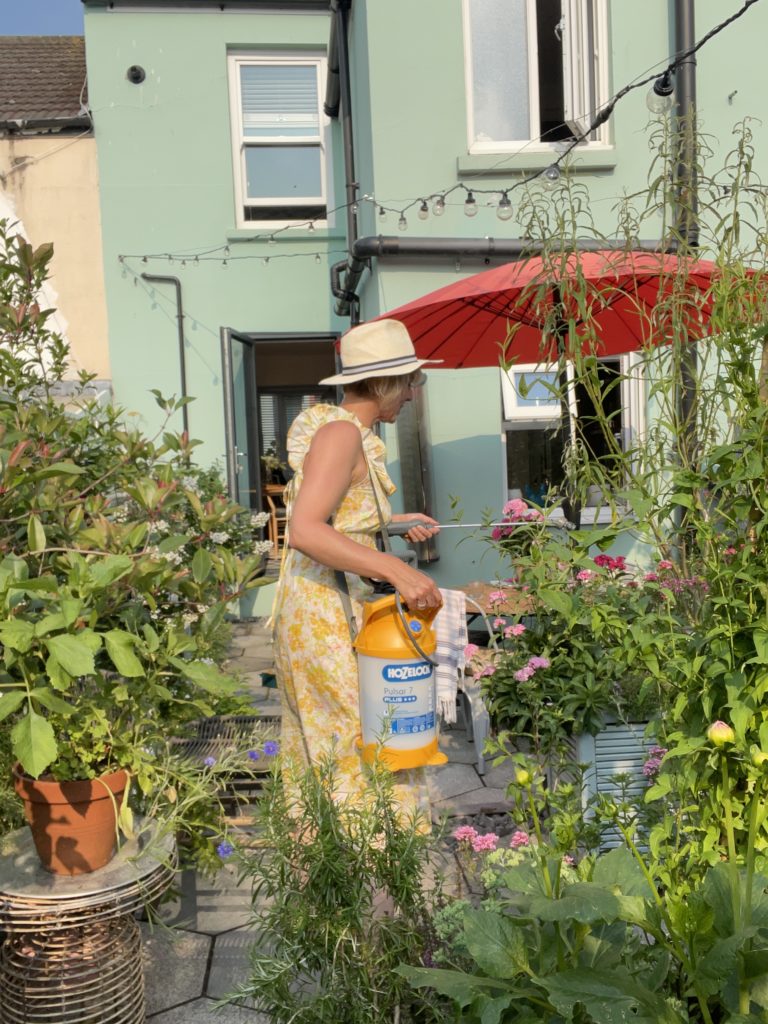 If you have weeds growing in between your paving stones, looking to fertilise your lawn or want a way to get rid of pesky bugs then you need to treat your garden to a Pulsar Plus garden sprayer. Simply fill up with your garden treatment, pump and spray!
For a small garden (mine is about 10m x 8m) the 7L one is perfect. It comes with a handy strap so that you can wear it over your shoulder making it easy to get the job done. There is an adjustable jet depending on what you are looking to spray. Simply pump for a constant flow of spray. I've used mine on my paving with Wet & Forget – a treatment that gets rid of grass that grows between my paving stones.
The pros of the Pulsar plus are:
Comes in three sizes including 5L, 7L and 12L
Equipped with the multi-jet nozzle, 3 nozzles in 1, for all types of treatment on the 7L and 12L models
2-hand pumping handle for optimal comfort
Handy to use around the garden, it's so much easier to to apply an even distribution of water-based treatments, including insecticides, fungicides, fertilisers & herbicides to your plants. Each 500ml of chemical concentrate (20ml per litre) is equivalent to 50 ready to use trigger sprayers. And you'll love the flexible 3-in-1 rucksack style harness for ease and comfort when spraying. And as it's so compact, again it is easy to store when not in use.
READ: 5 CLEVER IDEAS THAT WILL TRANSFORM SMALL GARDENS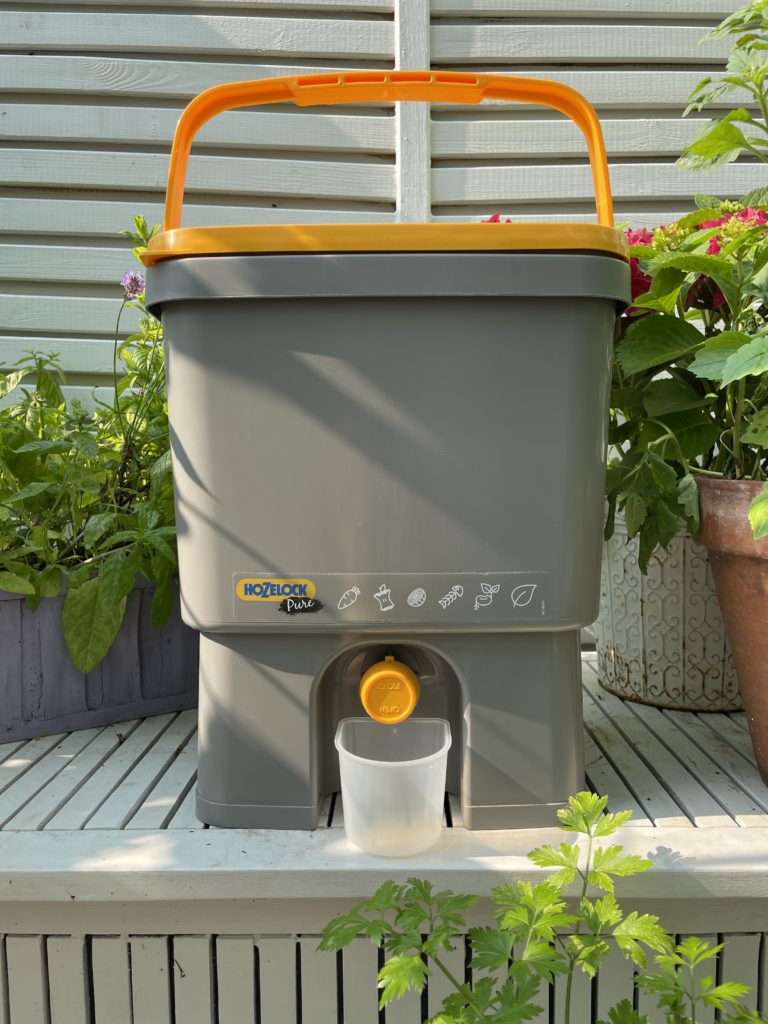 The one downside of having is a small garden is not having room for a proper composter – key for bountiful crop of home grown flowers and veggies! The Hozelock Bokashi composter provides 100% home composting so you can stop sending your kitchen waste to landfill! You can put all food waste that will be fermented using Bokashi Bran. It will turn Saturday night's leftovers into a nutrient rich compost and fertiliser.
Bokashi bran – invented in Japan – uses a combination of bran and effective microorganisms, that act as an activator and composts all biological kitchen waste, not just vegetable waste, but table scraps, meat, fish and dairy too – delivering a fertilszer liquid in just 5 days, and compost for your plants in just 15-20 days. When done, all you need to do is dig is straight into the ground where it quickly breaks down. It comes with a tight sealed lid means no nasty smells. There are easy to follow instructions on the Hozelock website on how-to use.
Why you need to Bokashi compost:
A kitchen composter, which provides a rich fermentation liquid and a base for first grade compost
Compact size for small gardens
All organic kitchen waste can be composted, not just vegetable waste, but table scraps, fish and meat too
Providing a fertilizer liquid in just 5 days, and compost for your plants in just 15-20 days
Hermetic, without unpleasant odour
The fertiliser can also be used to clean drains and septic tanks
READ: 6 BLOGGERS' GARDENS THAT WILL MAKE YOU GREEN WITH ENVY
Isn't it time you got one of these nifty garden gadgets for your outdoor space? Not only will they take the stress out of gardening but they will help your small garden grow and grow for years to come. A worthy investment, don't you think?
For more handy tools and info on all the products mentioned above, check out Hozelock and their wide range of clever gardening products.