With this beautiful weather, it's time to start enjoying your outdoor space. And we love small gardens on this blog. As it really doesn't matter what the size of your outdoor space is – from a small patio to a window box – there are lots of clever styling tricks to make your garden feel spacious, so you can make the most of it all year long.
Clever Ideas For Small Gardens
Making the Most Small Gardens
If you have been following my Instagram Stories recently you would have seen me busy painting, planting and building in my garden. My garden is a small urban space and it was important to me to make the most of every inch.
During my renovations, I picked up lots of style tricks that I'm going to share today so that you can use them in your garden – no matter what the size. Warning – this post is picture heavy bursting with ideas!
Let's get gardening….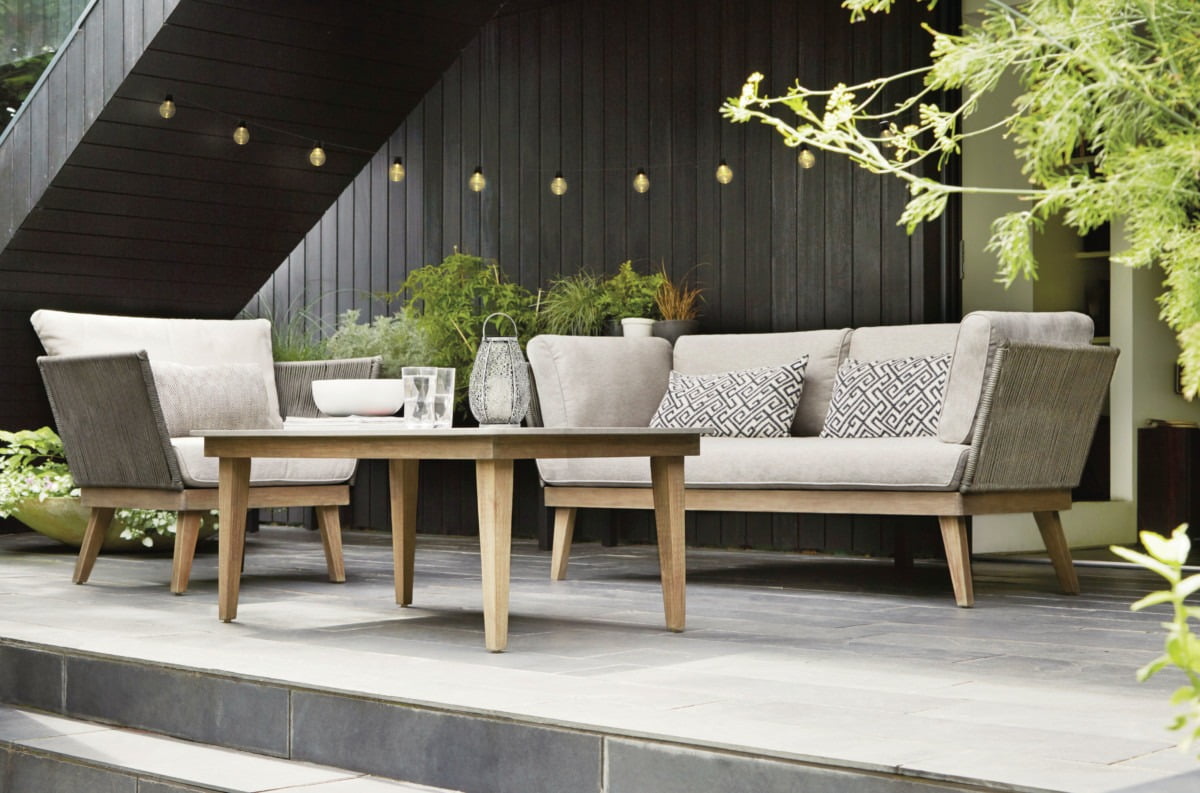 Choose flexible sofa set like the Bali Range, Next
1 Invest In Flexible Outdoor Furniture
Small gardens need lots of flexible seating so you can make use of the space. I'm a huge fan of an outdoor sofa set. They make your garden look and feel like an outdoor living room. Depending on the size of your space, you'll want a flexible seating option. Putting seating outside will encourage you to use your garden more. Look for something light weight that you can move easily around your garden depending on where the sun falls.
Corner sofas are great for family gardens as you can all squeeze on in the sun. While folding chairs are great for patios or balconies.
Short on space? The look for a folding bistro set or a mini sofa like this one below. At all the press shows, string garden furniture was a huge trend. They dry quickly after a rain shower which happens in the UK a lot, let's face it. And they have give off cool, retro vibes .
If you are a BBQ person or love entertaining outside, then you'll want a beautiful dining table. For small gardens, look for one with benches that you can slot under the table when not in use. Make sure it can stay outside all year around – or invest in a cover to protect it.
Add a pop of colour to your garden with a brightly coloured bistro set, or dress your sofa with patterned outdoor cushions. The only thing you have to hold in mind is that in winter you will have to store metal furniture and deckchairs away. Make sure you have space to store them away in the wetter months either indoors or with a small garden shed. You may have seen my shed – it's from Mano Mano.
Now is a good time to invest in garden furniture as the sales are on.  Lots of the ones I have highlighted here are discounted.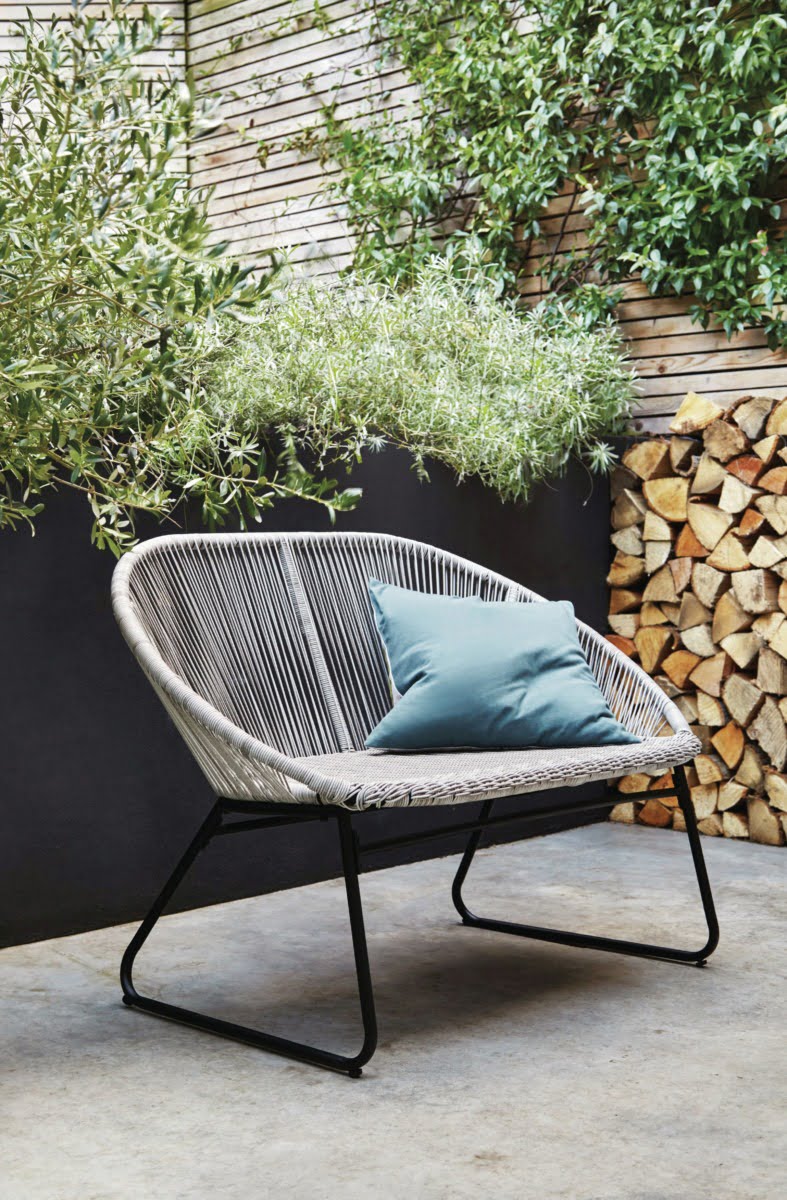 Even small gardens can squeeze in a sofa  Charles Bentley Zanzibar Outdoor Sofa, Next
Rattan chairs have a contemporary feel this Summer. Arizona seating set with footstool, George At Asda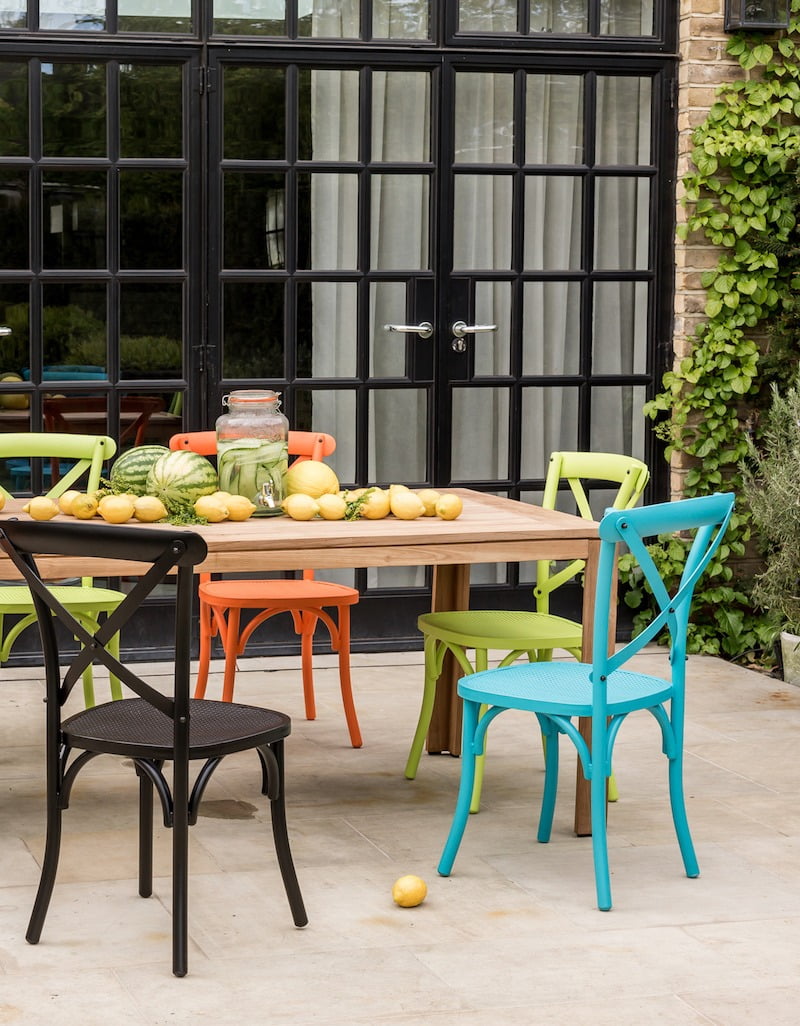 Dining table set, Out And Out Original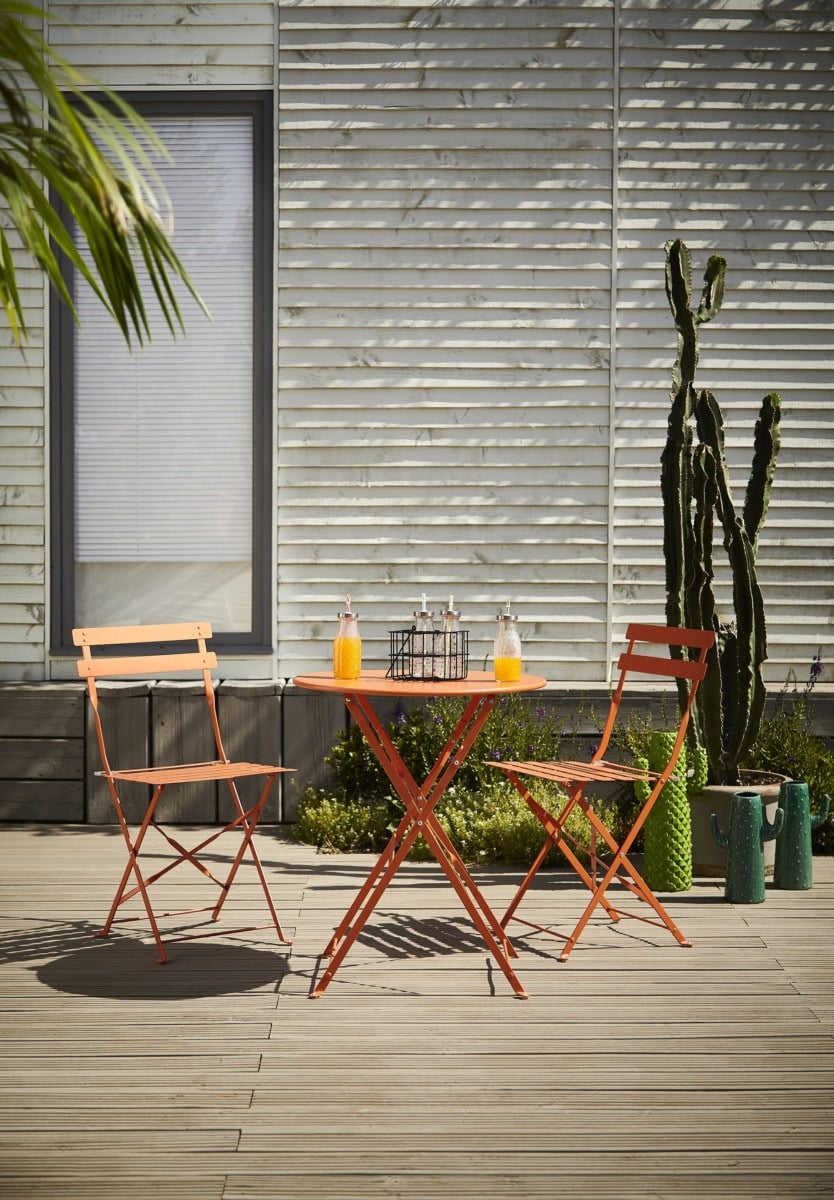 Choose a folding bistro set in a bright colour. Heritage Bistro set, George At Asda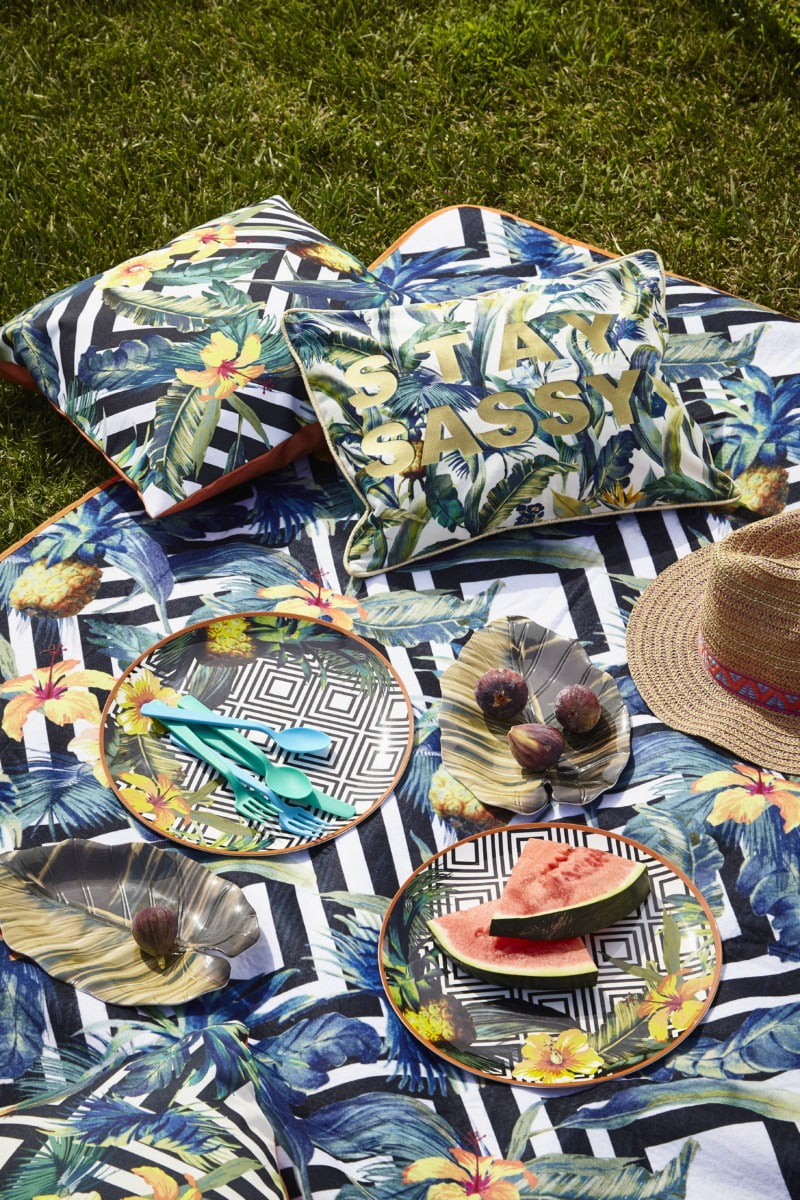 Add colour with waterproof cushions, George At Asda
2 Paint Your Garden White
If you do only one tip from my suggestions, then follow this one – PAINT YOUR GARDEN WHITE! Not only will painting your fences or brickwork white visually makes the space feel bigger but it will also bounce light around your garden. It's so effective you may need to wear your sunnies all year round!
Once you have painted the walls, fences and patio – or stained your deck – then add splashes of colour by painting furniture or plant posts in other colours.
In my own garden, I have painted the shed and my bench a soft shade of blue called Mendip Mist from Protek. The blue against the white fences pops. Look at the difference it made in my own garden in this post here.
Make sure you stain block your fences first to stop the colour of the wood coming through.

Paint walls in Brilliant white to make your garden shine. Furniture, Cuckooland

Even your cement walls can be painted white. Furniture, Cuckooland
3 Choose Clever Planters
Lots of plants, flowers and greenery make a garden come alive. They are also key to making a small garden feel bigger, as well as inject leafy personality to your outdoor space.
If you live in a flat with just a window or a small balcony, then you need to treat yourself to hanging planters. I'm in love with Elho range – they have modern planters in bold colours and shapes which you can hang up at your window filled with plants.
Elho have lots of window boxes which fix without screws (ideal if you are in a rented property).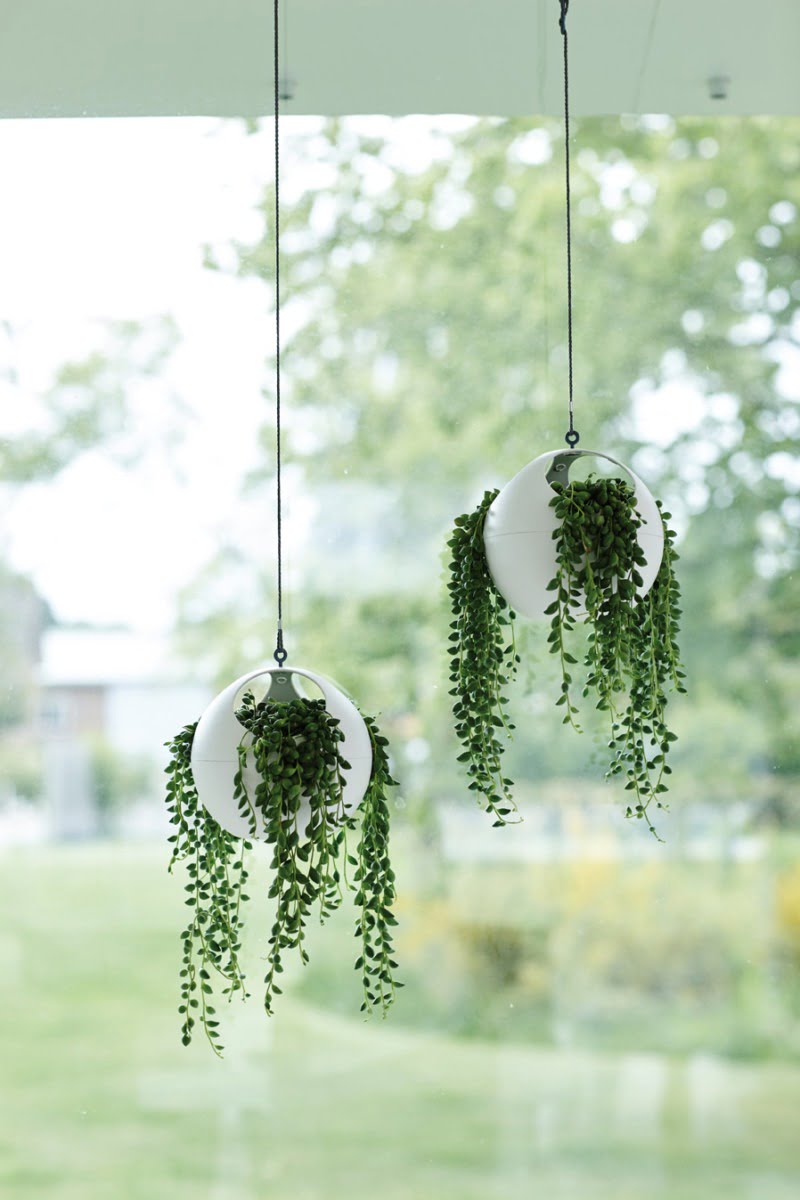 Hang planters at your window if you outdoor space is limited. Round planters, Elho
The big myth about small gardens is to plant flowers and shrubs around the edges and then leave the lawn or patio empty in the middle. What you actually want to do is 'zone' your garden, just like you would in your living space. Using wooden planters as screen dividers, you create interesting pockets in your garden and add interesting corners filled with blooms.
I have two divider Elho planters that I have used to break up my patio space. And as they are wheels, then are easy to move out the way if I'm planning a garden party and need more room.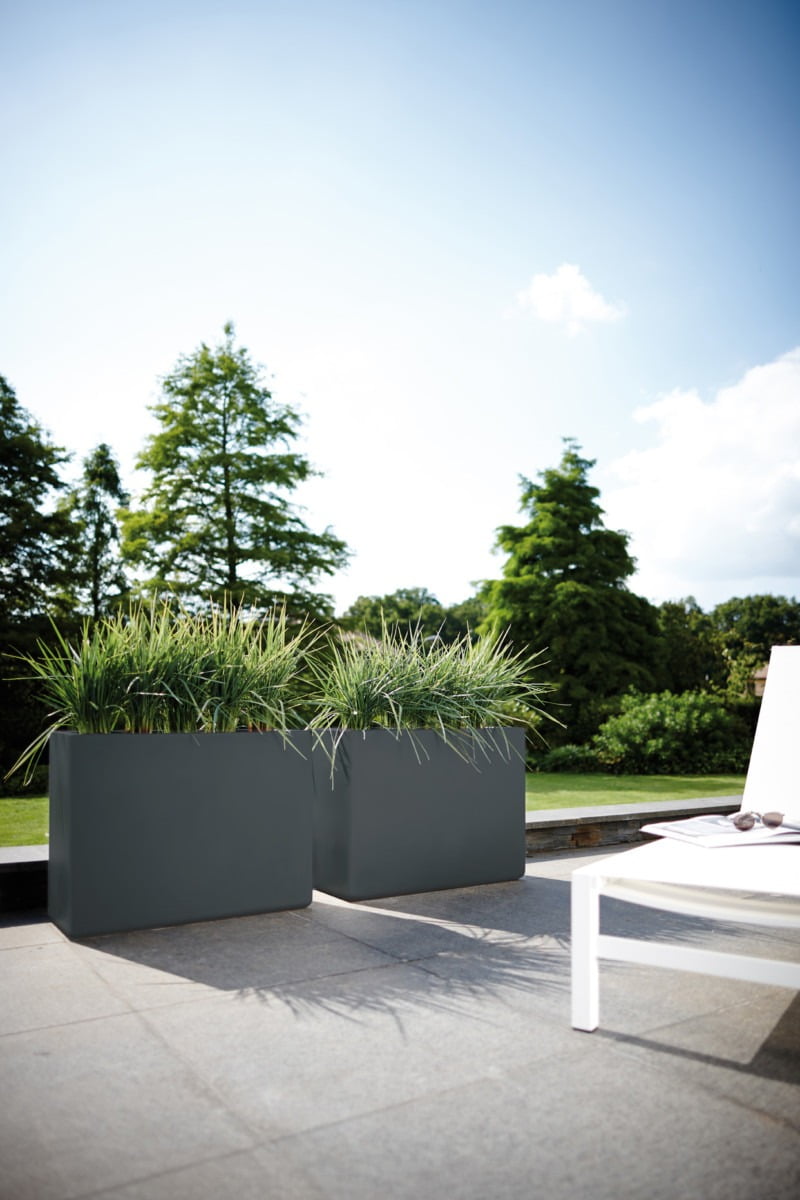 Zone your garden with planting. Divider planters, Elho
You could try adding wheels to your existing wooden planters. I have large wooden Rowlinson planters dotted around my garden. I fixed on large industrial stainless wheels (the type you see on wheelie bins) found on Amazon. Now I can move them around and lock the wheels in place. You can see them in this post here.
Gardens can be visually very square looking – which can make them feel sterile. My tip is to mix in planters in different round shapes. Although my garden is a very modern space with hexagonal paving, I've added vintage vibes with metal Dolly planters and pressed galvanised metal ones from online garden store Crocus. I'm going to fill them with herbs and salad, and use the round shapes and different heights to break up all the hard lines in my garden.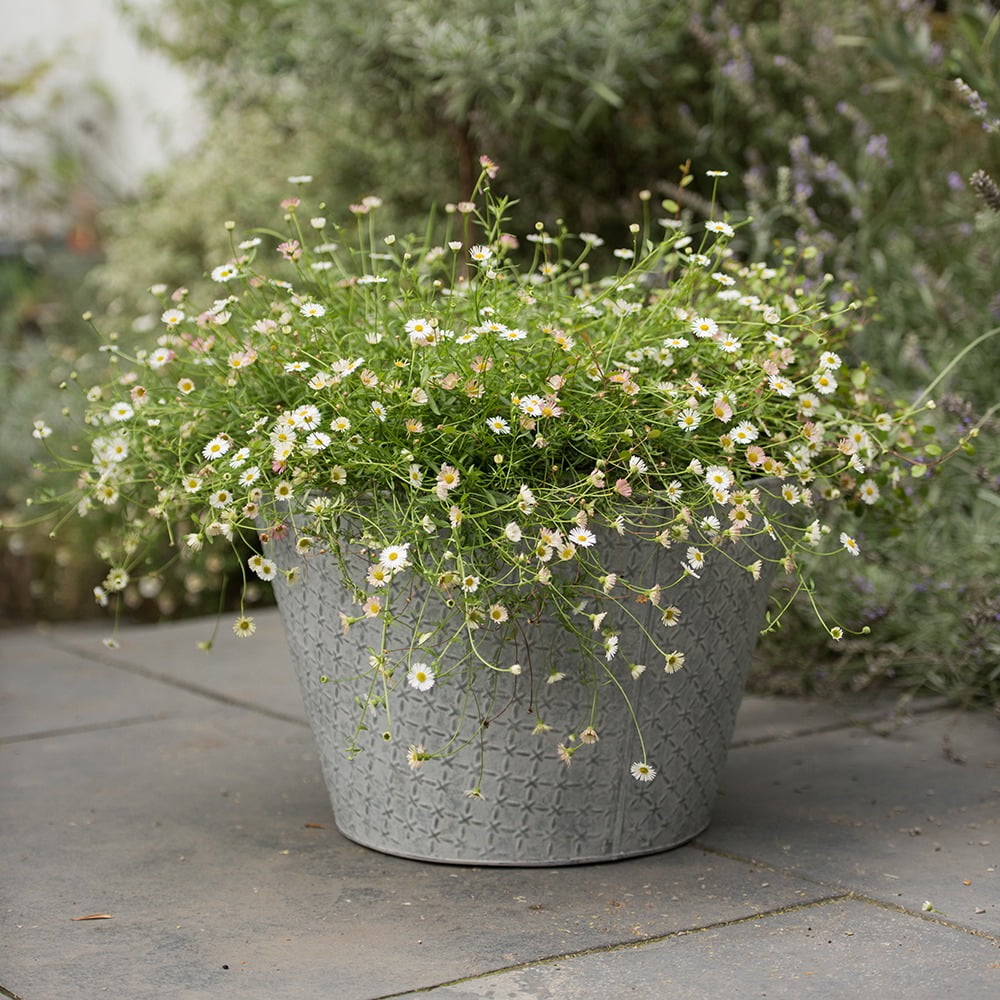 Add shape to your garden with large round planters Galvanized Planter, Crocus
Ribbed Planter, Crocus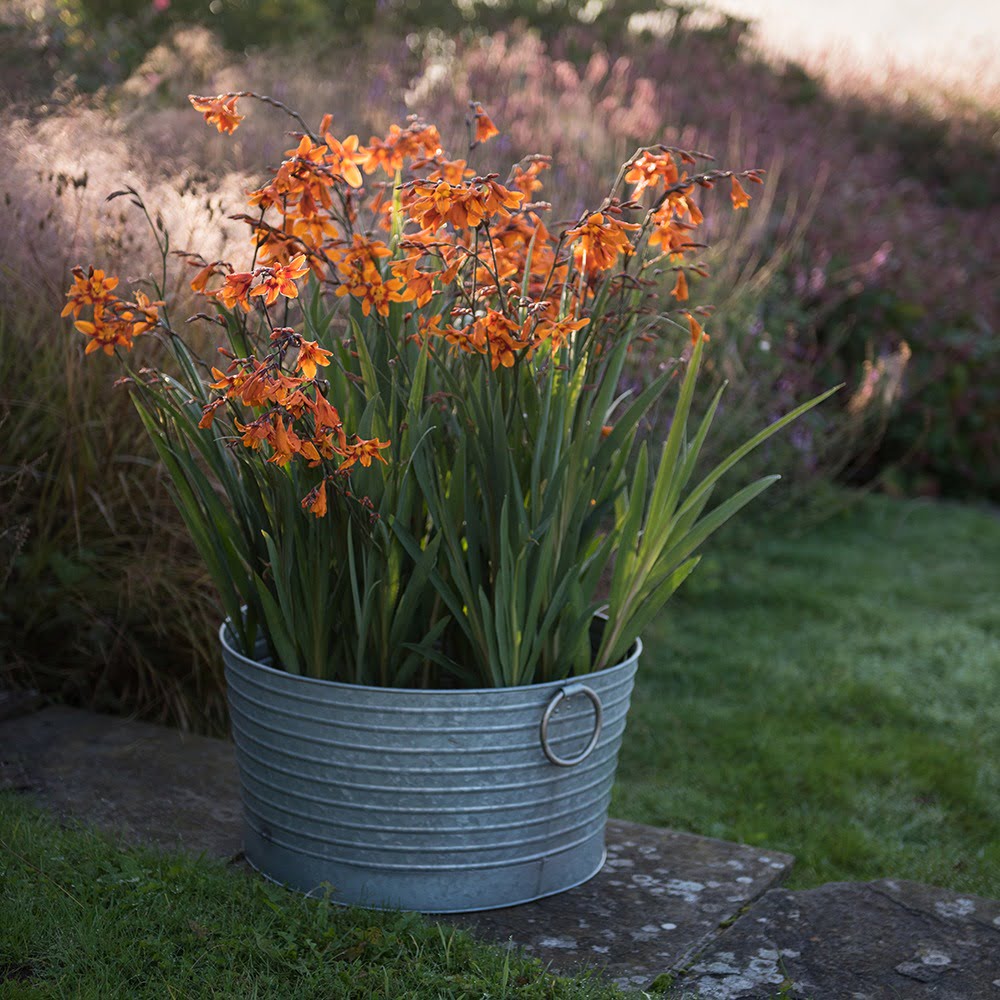 Metal planter, Crocus
4 Hang a mirror
This is the oldest trick in the book which is ideal for small gardens – hang a mirror in a tight spot as it increases the size of any space. There are lots of weather proof outdoor mirrors that you can hang and leave out all year long.
I'm a huge fan of a Crittall style mirror (have you seen my hallway?) – this one below from Mirror Deco looks like a window or even a door. I'm going to hanging it in the narrowest spot in my garden to give the impression of more space. This is an idea you can try at home.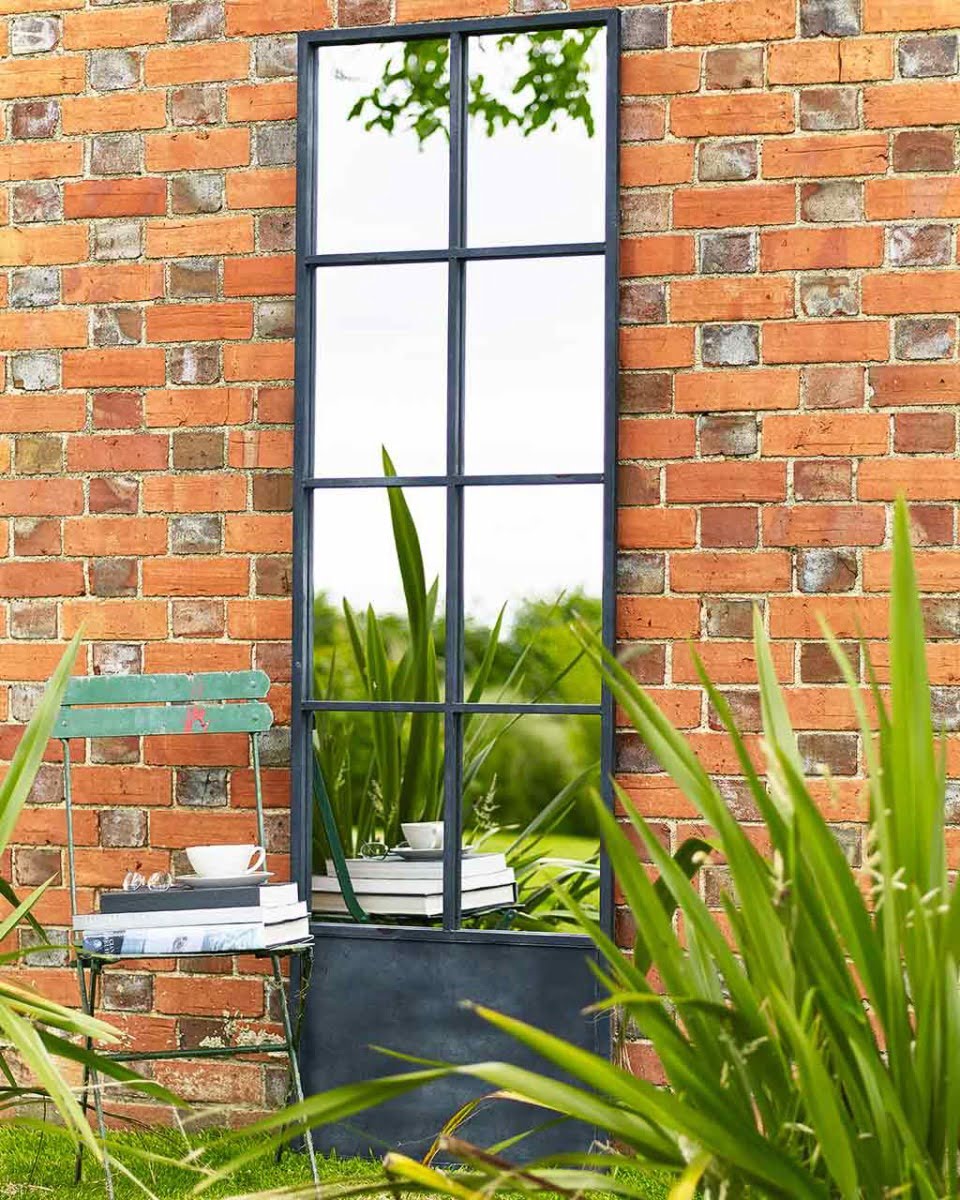 You can place a mirror on a balcony to increase the size. Outdoor Mirror, Mirror Deco
5 Nifty Garden Gadgets
You need a lot of tools and gadgets no matter how small your garden is. Plants need watering, patois need cleaning and washing needs hanging out. Look for ones that are space saving and tuck out the way.
For your plants, you can get a wall mounted hose that you can wheel out of sight when not in use. I have one with an easy carry handle that I can unplug easily and pop in my shed when I'm done watering my flowers. When it comes to cleaning your patio – you'll need a pressure power spray to keep it looking chic all summer long. Hozelock have a range of compact garden accessories all designed with small gardens in mind – you can check out their range here.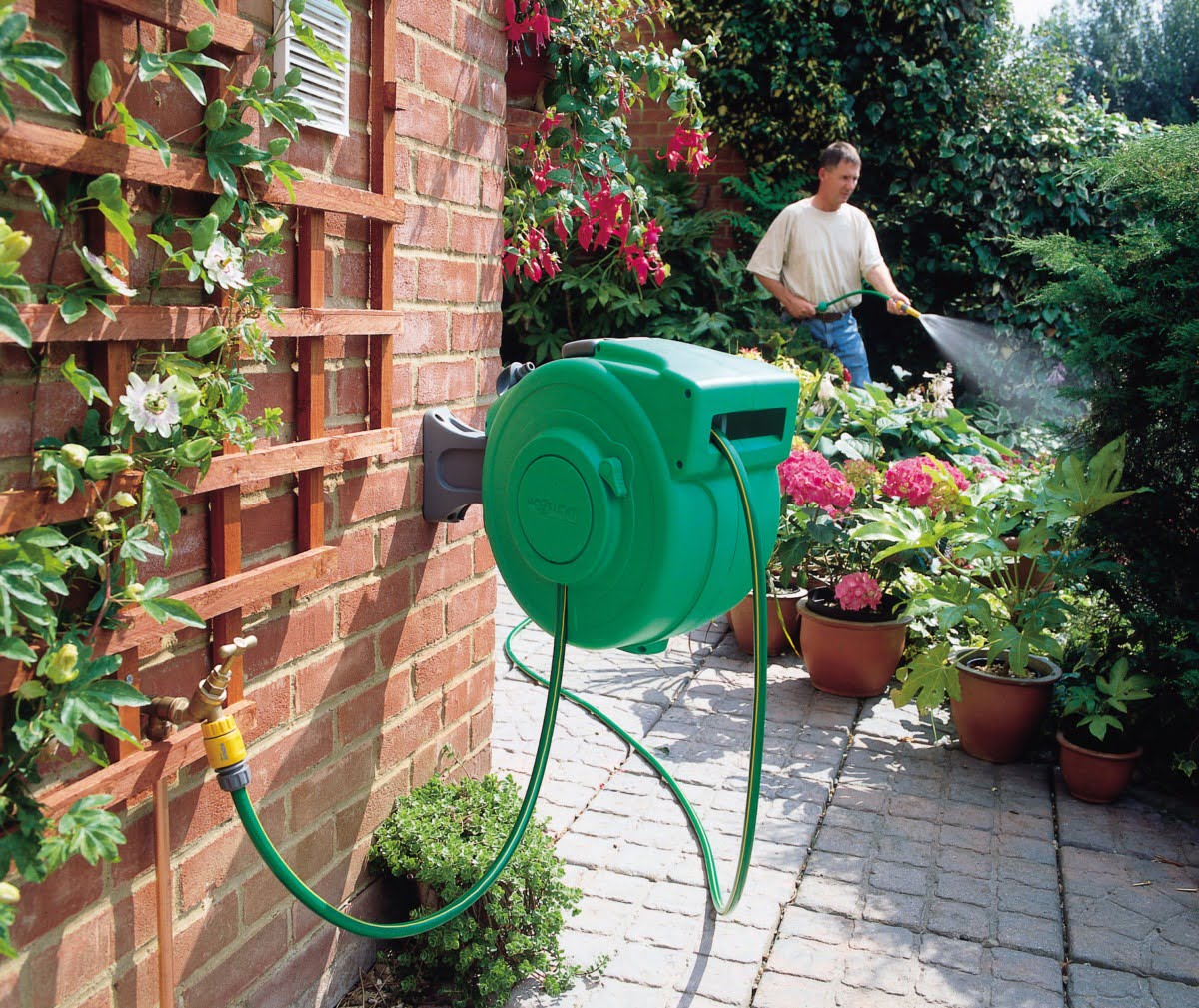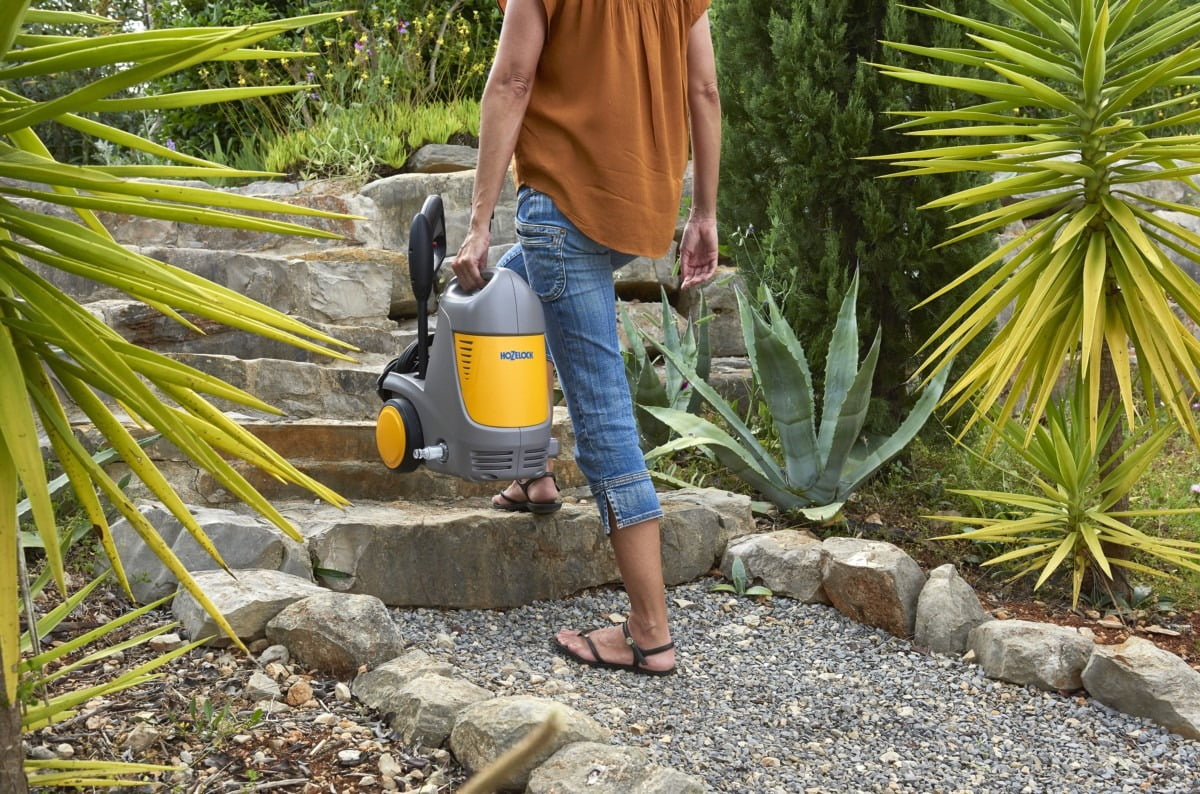 Drying your clothes outside is the best. But you don't want your garden ruined by a tatty old washing line. As can not rate the Brabantia wall mounted folding washing line enough. The pull-out line is spacious enough to hold a full load of washing, and it folds out of sight when done into a sleek metal container. I think I might be a little bit in love with mine.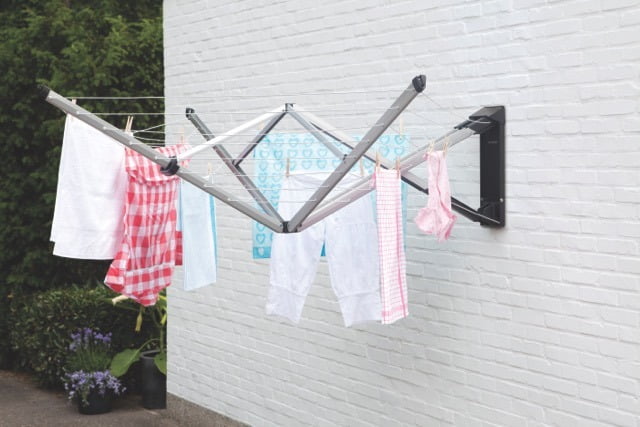 If you want to host a garden party – which I love to do – then take a look at the Lithe Audio bluetooth rock speaker? Pair it with your smart phone and play all your music to make your outdoor celebrations have music playing. You can hide it in your bushes as it looks like a real rock – and leave it out all year round as it is fully-waterproof. You don't need wires or cables to instal it. Coming out in June – I can't wait to try this out in my home. It costs £269. You can find out more here.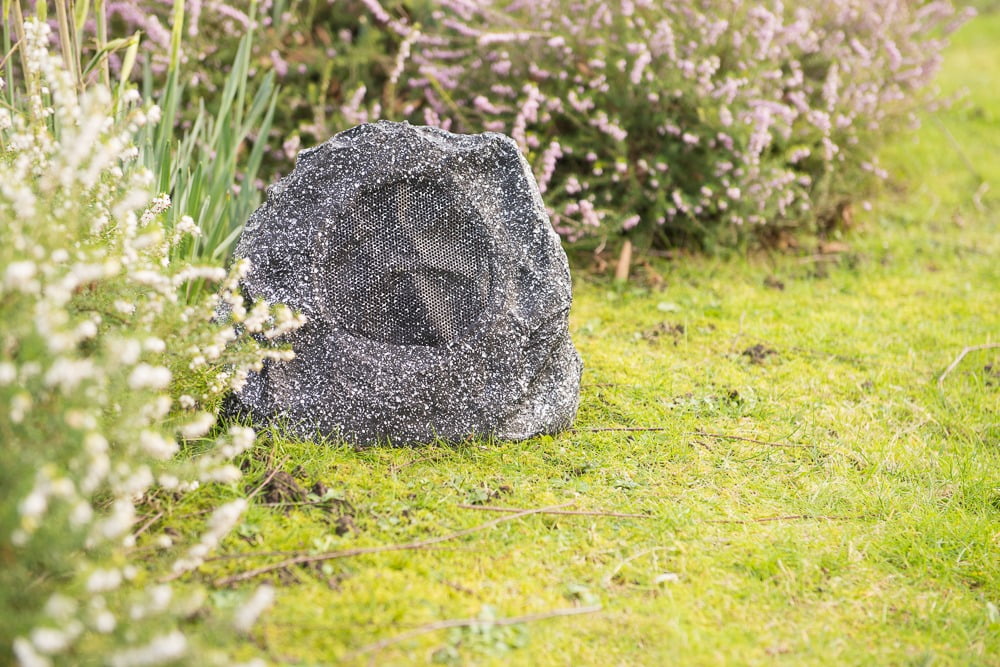 What do you think of my small garden ideas? I hope they have encouraged you to get into your outdoor space the next bank holiday and work your magic. I'd love to hear your thoughts below.
I've almost finished my garden makeover – which I will be sharing on here in the coming months. It's going to appear in Good Homes magazine in their August issue but I'll be sharing all the details on my blog. So keep popping by.
What do you think of these ideas? Why not share this post with someone you know who has a small garden?
Love
Maxine
You May Also Like
6 Blogger's Garden That WIll Make You Green With Envy
How To Prepare For A Garden Makeover