Terrazzo has made a big come-back to the world of interior design – especially in bathrooms! Today, I'm sharing my style guide on how to work this hot new terrazzo trend into your bathroom with my clever style guide. Discover more below!
** Sponsored post **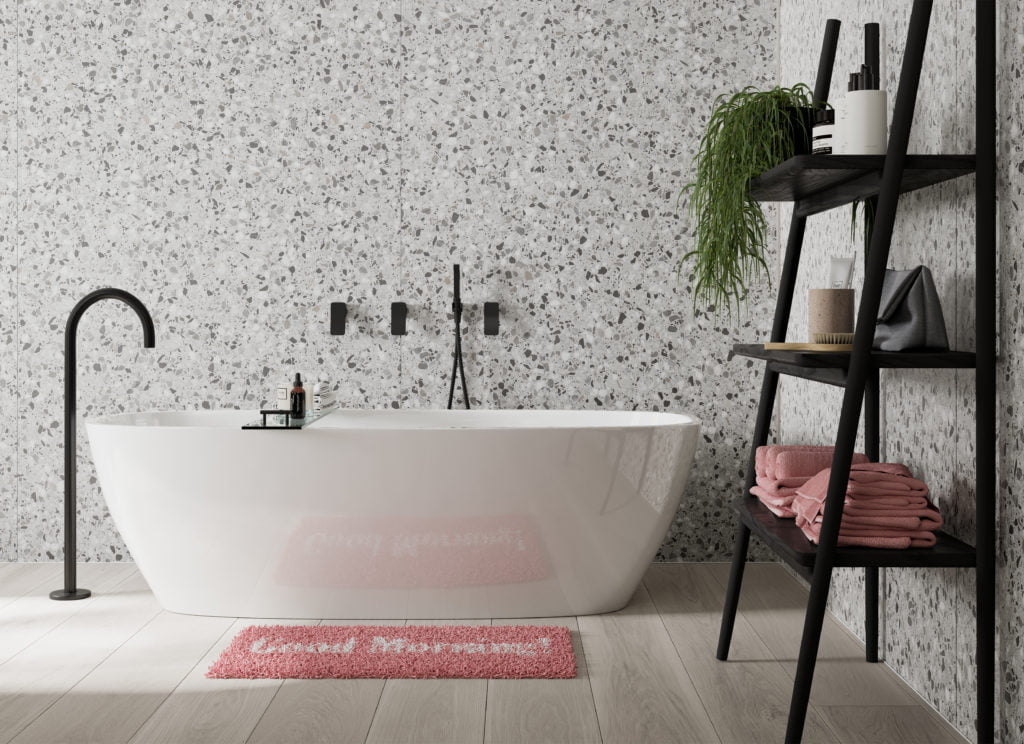 THE Terrazzo TREND
Ever since Pinterest listed terrazzo on its 2018 Trends Report, this versatile material has been spotted in designer hotels, on the cover of glossy magazine and in the homes of leading style influencers! There is no sign of it going away – it's the hottest trend to add to your home, with particular focus on bathrooms.
The origins of this material go back to Venice, Italy in the 1400s. Traditional Italian homes had intricately patterned floor and walls using terrazzo, which looks gorgeous even today. It had a resurgence in the 70s and 80s (you will find it in thrift stores). And in 2021, the popularity of terrazzo is on the rise again.
Terrazzo is back, only this time it's incredibly modern! The designs and patterns are unlimited, and come in a wide variety of colour combinations to help you create a statement in your bathroom. However it's styled, terrazzo complements many different décor themes ranging from minimalistic to outrageous!
Made from chips of marble, quartz or granite on a base of concrete (that has been smoothened out and polished) this chic speckled surface is now a popular home décor trend. But there are lots of faux terrazzo options for style setters are looking to DIY their bathroom renovation The options are endless!
And that is what we are chatting about today – with my style guide on how to add the terrazzo trend to your bathroom, wet room or ensuite.
Here are some lovely Terrazzo ideas for your bathroom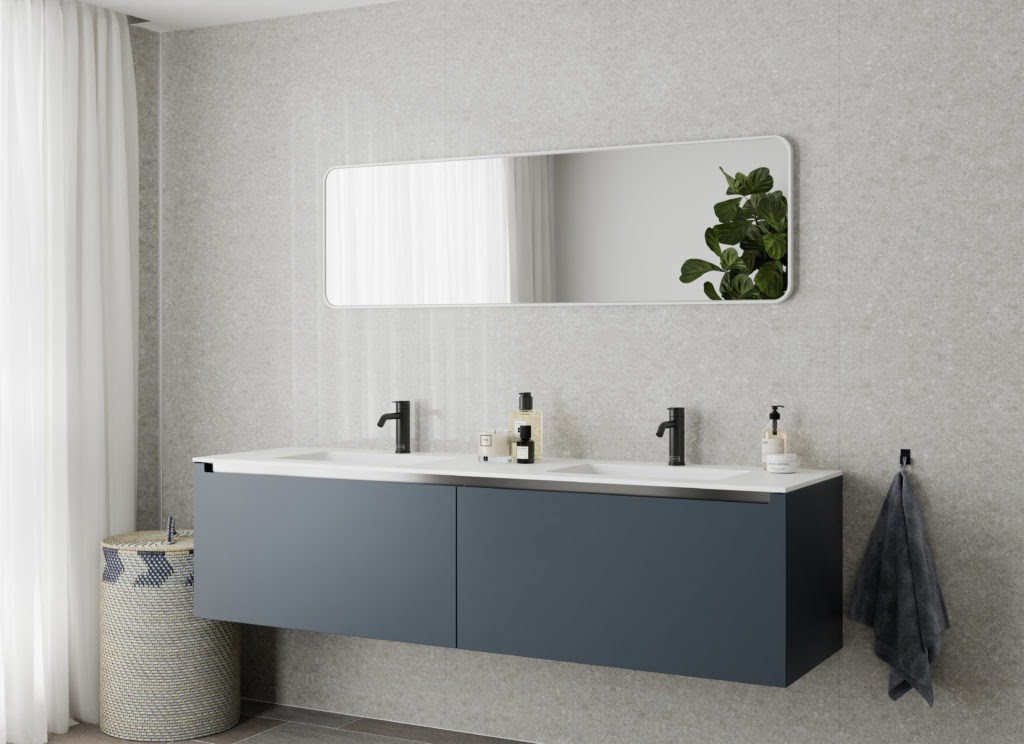 1. Terrazzo on your walls
The most impactful way to add this trend to your your bathroom is on your walls. If you want a simple and affordable way to do this, why not skip tiles and instead go for terrazzo inspired wall panels from Showerwall instead!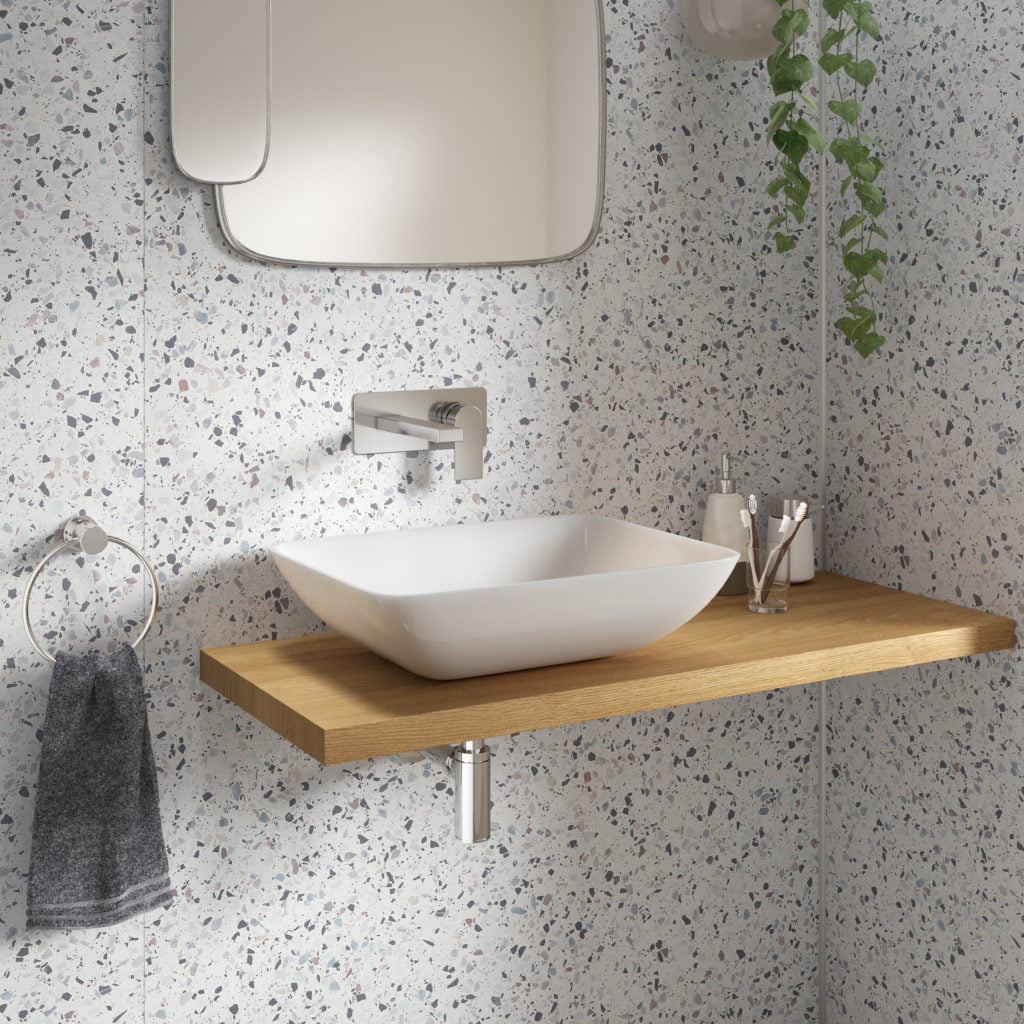 Showerwall make versatile, easy-to-fit bathroom wall panel systems that can transform your bathroom from drab to fab in half the time of tiling. It's made from hard-wearing materials, and delivers a watertight finish that's tough, stain resistant and easy to clean.
You fit the waterproof panels where you would have wall tiles – either in a shower, behind a bath or as a splashback for sinks (see above).
Showerwall provides a range of bathroom panels in various terrazzo finished like Positano Grey Terrazzo and Stone Terrazzo and Positano Blue Terrazzo. They also provide quick installation guides to help you get that quick fix when making over your bathroom. Simples!
Not only do Showerwall terrazzo shower panels look cool, they are also simple to install yourself! These waterproof panels are an easy way for a DIY fans to add this trend to bathrooms.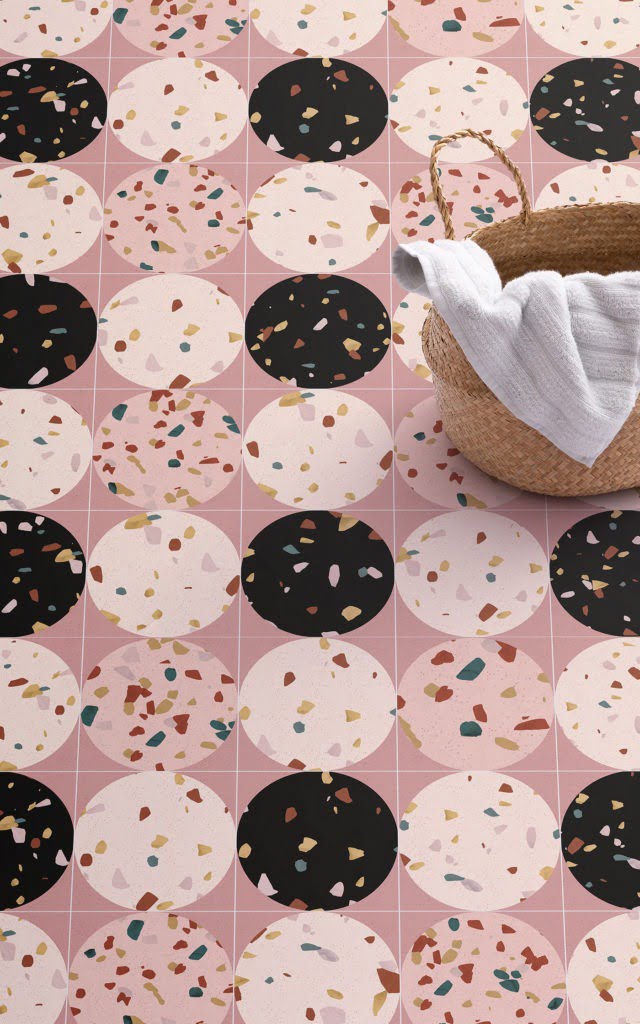 2. Go wild with Terrazzo Bathroom floors
Your bathroom floors can be creative way to add terrazzo to your bathroom. You can mix and match tiles to create a striking pattern (like above). This flooring would work wonderful with Urban Concrete shower panel for a bold and contemporary look.
Or if you want to bring holiday vibes to your bathroom, you could go for one speckled design and then pick out the colours in the flecks of the flooring with your accessories. Plants always make a stylish addition to the terrazzo trend, softening the look – and bringing a tropical, lush look to your bathroom.
If you want that WOW factor, then complement your terrazzo accessories to one of Showerpanel's many terrazzo wall desigsn for a chic, effort less look
READ: NEW PROJECT! A COLOURFUL BEDROOM & BATHROOM MAKEOVER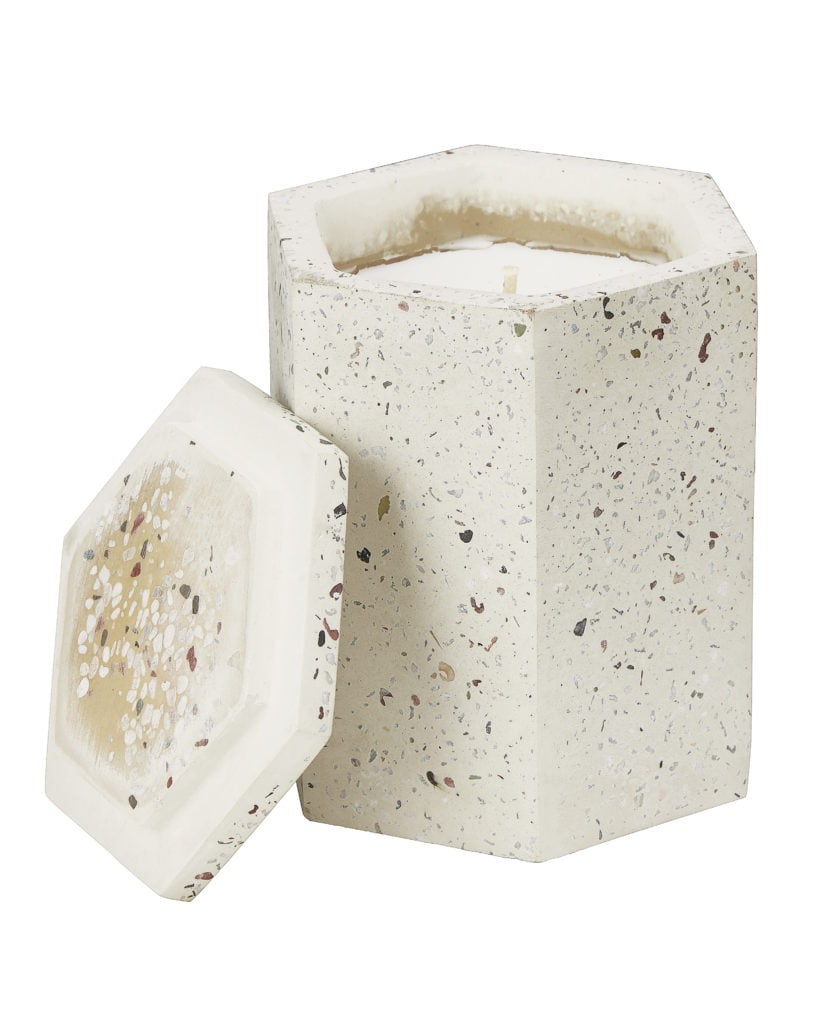 3. Decorative Items and Accent Pieces using Terrazzo
Product designers have also experimented with terrazzo in quite a few ways. I've found you some cute accessories like this candle holder from HomeSense. Or what about this creatively designed soap dispenser by Habitat with speckled details? Look out for accent pieces like this round black bathroom mirror from Glamour Mirrors and concrete lampshade from Nest.
Given its versatility, it's easy to imagine decorative items such as storage boxes, soap holders, or even shelving all in a rainbow colours of terrazzo. The sky is the limit to your creativity when it comes to dressing your new bathroom!
If you use terrazzo shower panels up the walls, then break up the pattern with a modern Bathroom LED Mirror which will illuminate your space bringing a chic edge to your room.
READ: Hot New Bathroom Styles For You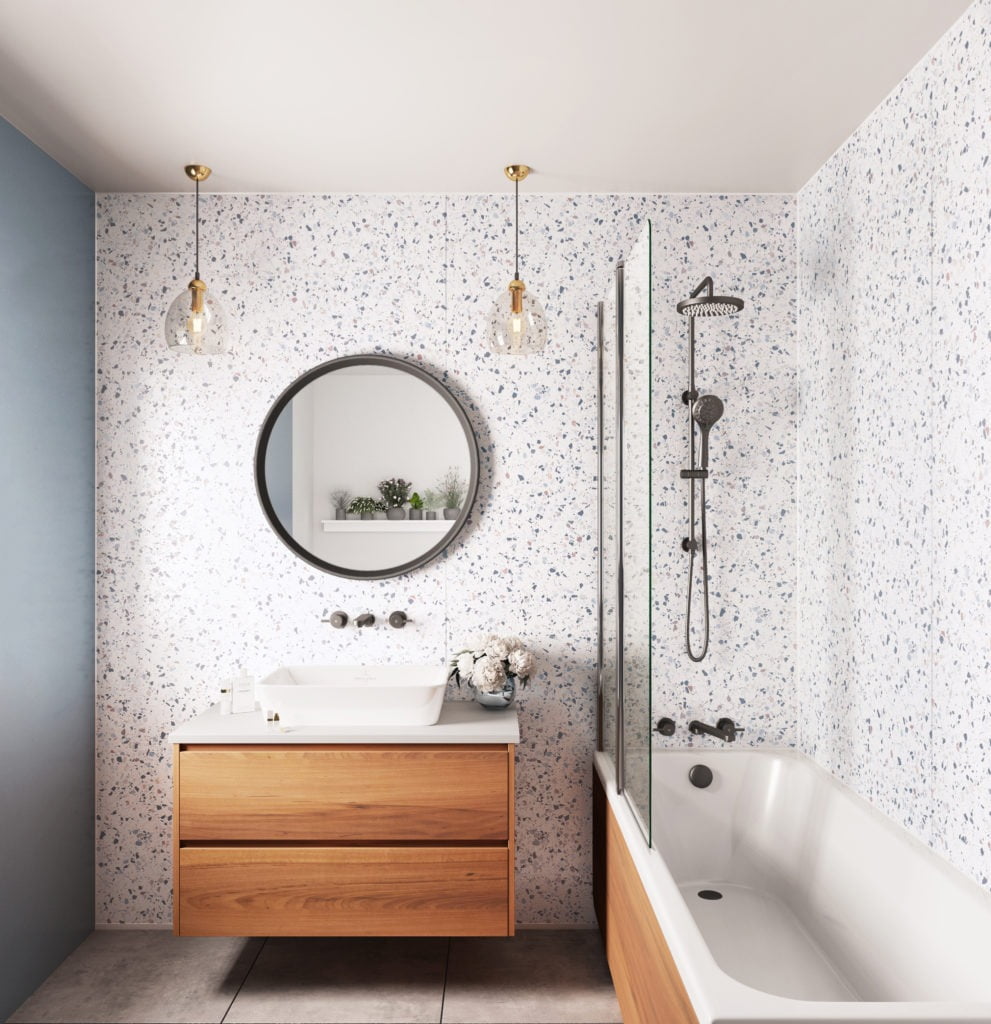 What are the dos and don'ts while using Terrazzo in home interiors?
Is it possible to go overboard with terrazzo? I don't think so! But to add visual interest to your bathroom, you'll need to cleverly mix this material into your home to give it spice. It looks cool having a blend of terrazzo adjacent to a plain surface like a painted wall. Teals, pinks, rust oranges and navy blues all make great accent colours next to terrazzo.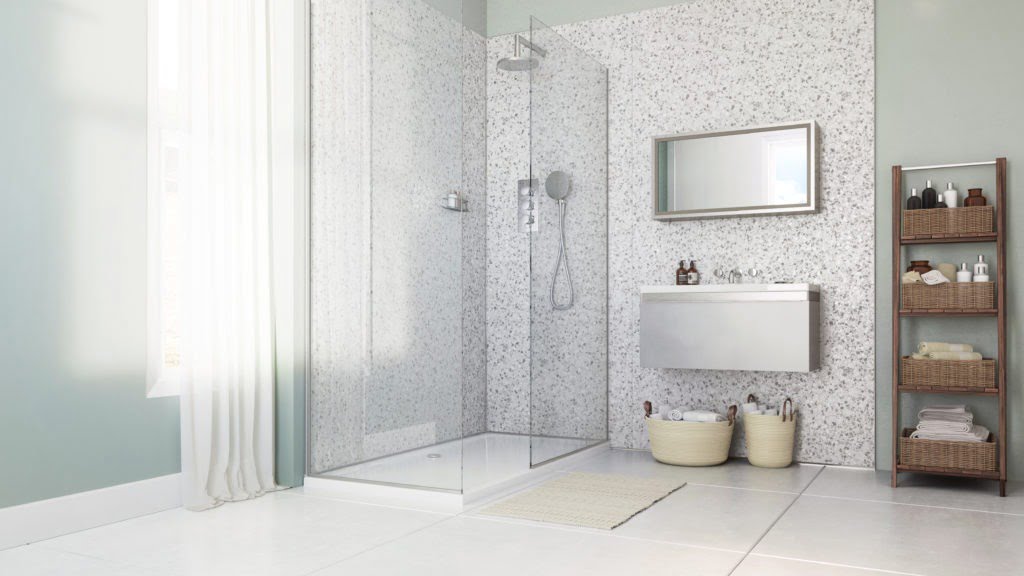 How to nail the terrazzo Trend In your bathroom
Terrazzo floor tiles can have a rough edge and chip easily when they are not handled with care. The edges of tiles should be lined up perfectly while laying, and any pits should be carefully filled so that further chipping does not happen.
For your sink spashback, choose a Showerwall terrazzo panel which are easy to install.
Get creative in your colour scheme adding in pops of colour with paint and accessories. Use an innovative blend of colours and aggregates.
Create contrast with terrazzo by picking out colours in the chips in your accessories. Try not to go overboard, as too many specked surfaces can literally turn you dotty!
A terrazzo panel by Showerwall is easier to maintain than tiles. All it takes is regular cleaning to keep it looking sparkling and fresh.
Shop the post
if you like this post, you can shop the look here (AF)

Terrazzo is one of the most versatile trends I've worked with in my interior design projects. If you are designing your bathroom, you can totally unleash your creativity with this material. And as I have shown you can easily DIY your bathroom with Showerwall terrazzo panels. All you need to decide is if you choose to go subtle, or go wild!
To discover more, check out the Showerwall website which has lots of helpful advice and style tips by clicking HERE.
Love Maxine