I want to show you my latest interior design project for one of my regular clients which is a colourful bedroom and bathroom makeover. My brief was to makeover a dingy bedroom and out-dated ensuite into a modern sanctuary.
By introducing lots of smart storage solutions and patterned wallpaper and tiles, I transformed this master bedroom and ensuite bathroom into a cheerful space filled with pretty details. And all on a budget!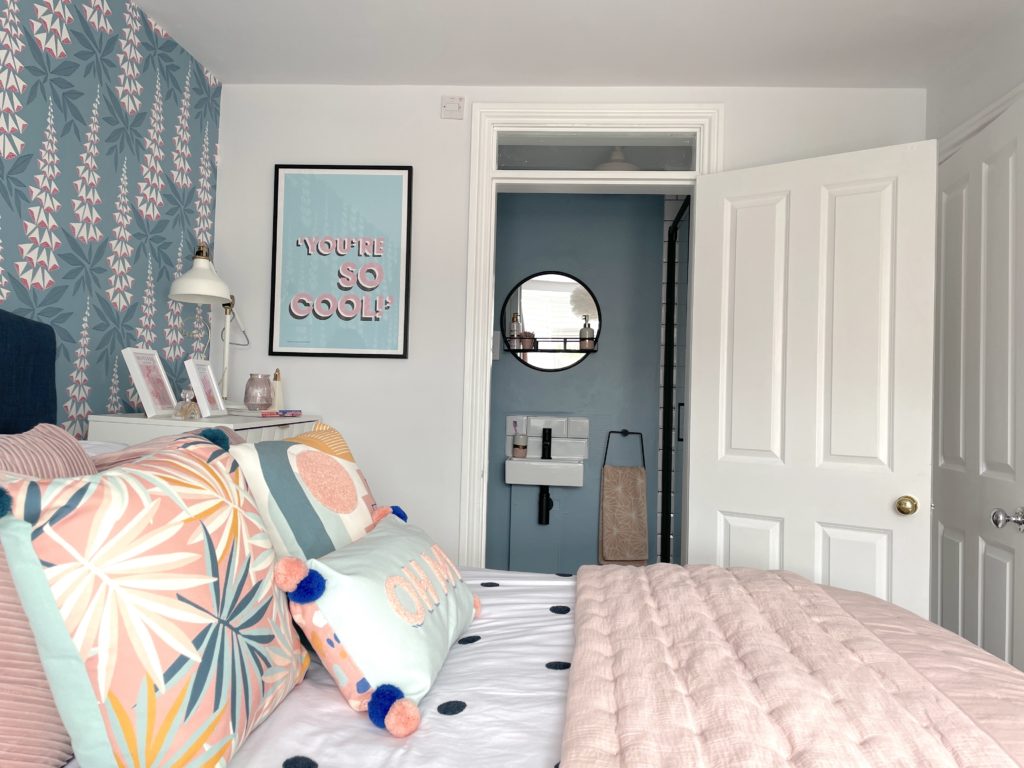 Before – The Master bedroom & Ensuite
When my client bought their home 10 years ago, the master bedroom was beige with brown blinds, which made the room feel dark and gloomy. There wasn't much storage space in the bedroom either. And the bathroom looked tired and felt damp.
As you can see the both rooms were not great. The master bedroom was lacking in storage so the cupboards were full to the brim. The bed was too small for the space for a couple to sleep in. And the bathroom was grotty and old-fashioned.
Creating colourful bedroom & bathroom mood board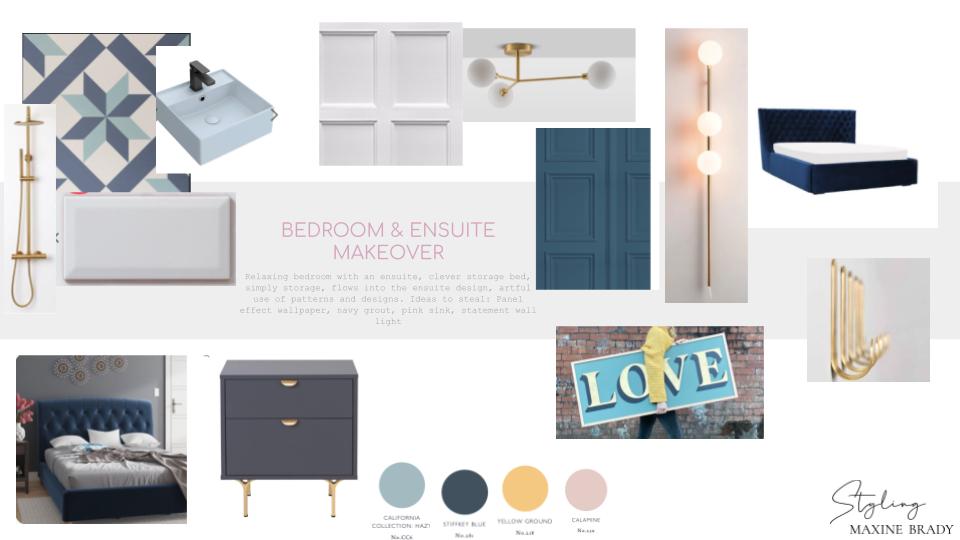 With all my interior design projects, I start with a mood board pulling all my ideas for the room together. I make sure to put on the mood board furniture ideas, accessories, details like the tiles and fixtures and fittings.
This is always just a starting point, and changes are made along the way as the project unfolds. The key is alway to have a plan in place before you start, that way you can keep on track with budgets.
After: The bedroom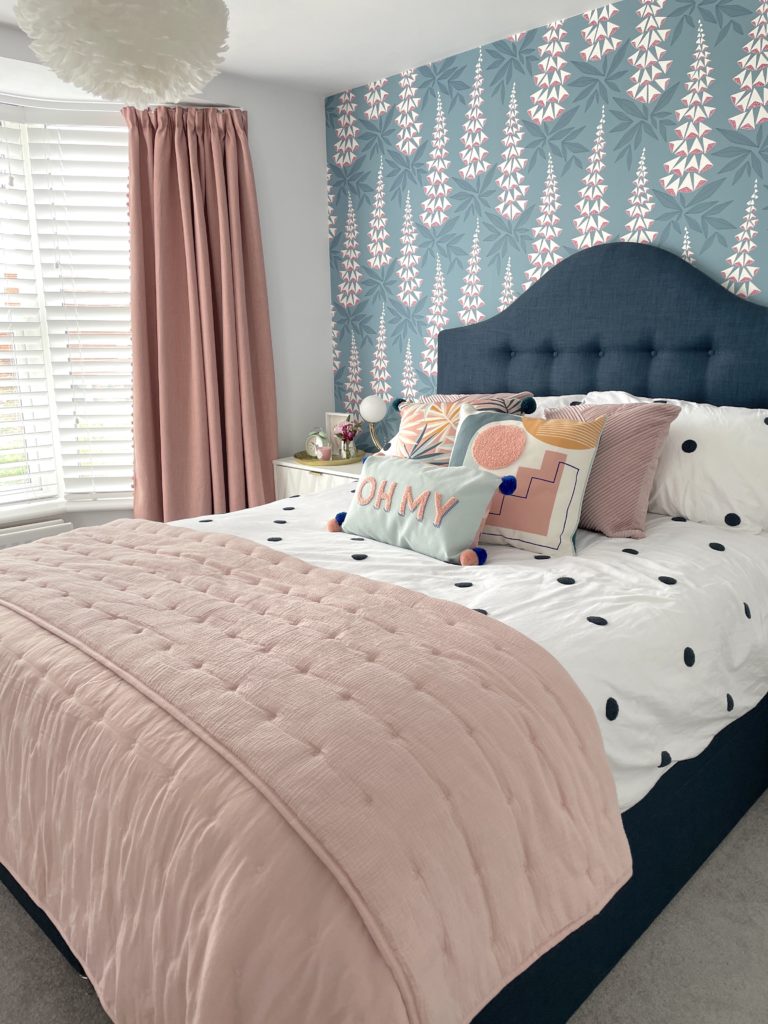 During lockdown, my client contacted me to ask me to give their master bedroom and bathroom a top-to-bottom makeover to reflect their love of colour and pattern.
The shower had started leaking, so there was a worry that water would come pouring through the ceiling if the bathroom wasn't properly sorted.
First, I asked my client to have a huge declutter – getting rid of clothes, paperwork, handbags, shoes and old beauty products. She was ruthless!
Before & after: Master Bedroom
The walls of the main bedroom and woodwork were painted fresh white. We replaced the broken curtain track and put up new white slatted blinds. Next, this wonderful Miss Print wallpaper was hung behind the bed to instantly add colour to the room and was a contrast to the white walls and ceiling.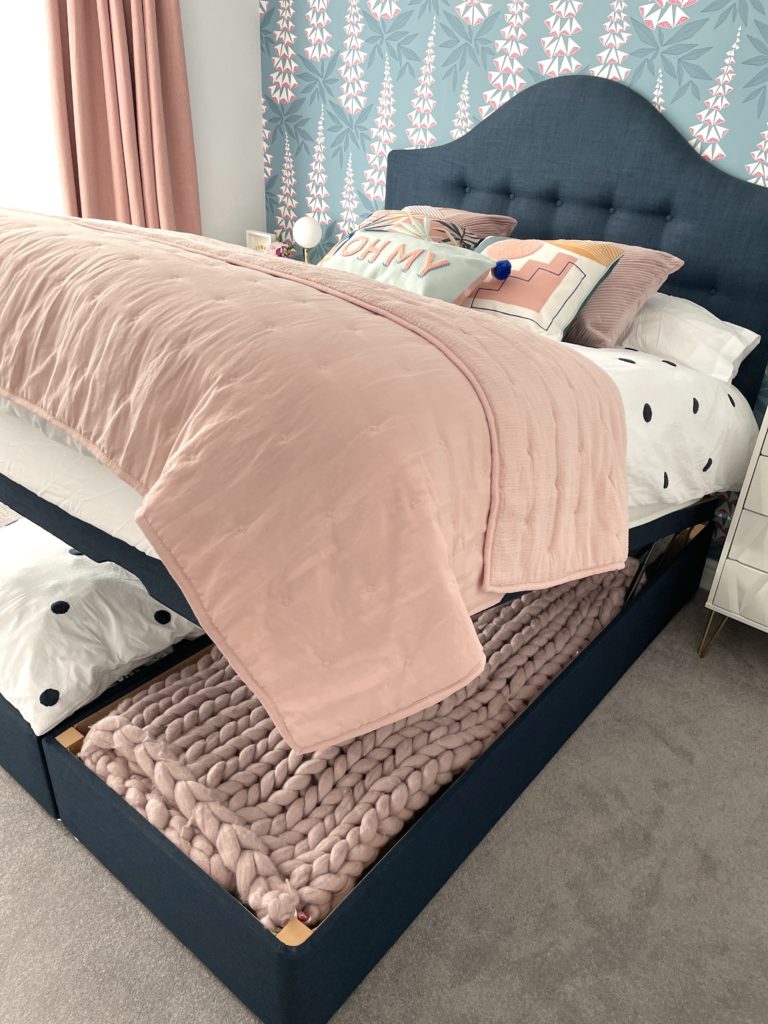 5 GOOD DesigN IDEAS For a colourful bedroom and bathroom
In busy family homes, choose a shower with two heads as it is really useful if you don't want to get your hair wet or need to wash little ones.
If you have a small room make sure you measure furniture before you buy so it fits perfectly into the space.
Try and paint your room before any new fixture and fitting are installed (like carpets and tiles) so that you don't damage them with splashes of paint.
If you are decorating a bedroom with an ensuite, use colour to help the rooms flow. You could copy my idea of colour matching the bathroom paint to your bedroom feature wallpaper to tie the décor of the two rooms together.
In a small room, good lighting is key. The gold curved table lamp from Houseof add a touch of glamour to the nightstand.
Shop the look: Colourful Bedroom
Rock salt white paint, £18.99 for 2.5 litres, Dulux
Foxglove Tiki wallpaper, £76 per roll, MissPrint
King sized ottoman bed with Victor buttoned headboard in 'midnight blue', £554.98, Windsor 3000 orthopaedic mattress, £524.99, both Happy Beds
EOS lampshade, £66.39, Umage
Ranarp work lamp, £29, Ikea
Scatter cushions, £10 each all Matalan
Brass curved table lamp, £99, Houseof
Gold tray, £10, and clock, £25, both Dunelm
'You're So Cool' print, £59, Doodle Moo
Furniture, Matalan
Curtains, £40, Dunelm
Throw, £50, Next
Bedding, £42, Terrys Fabrics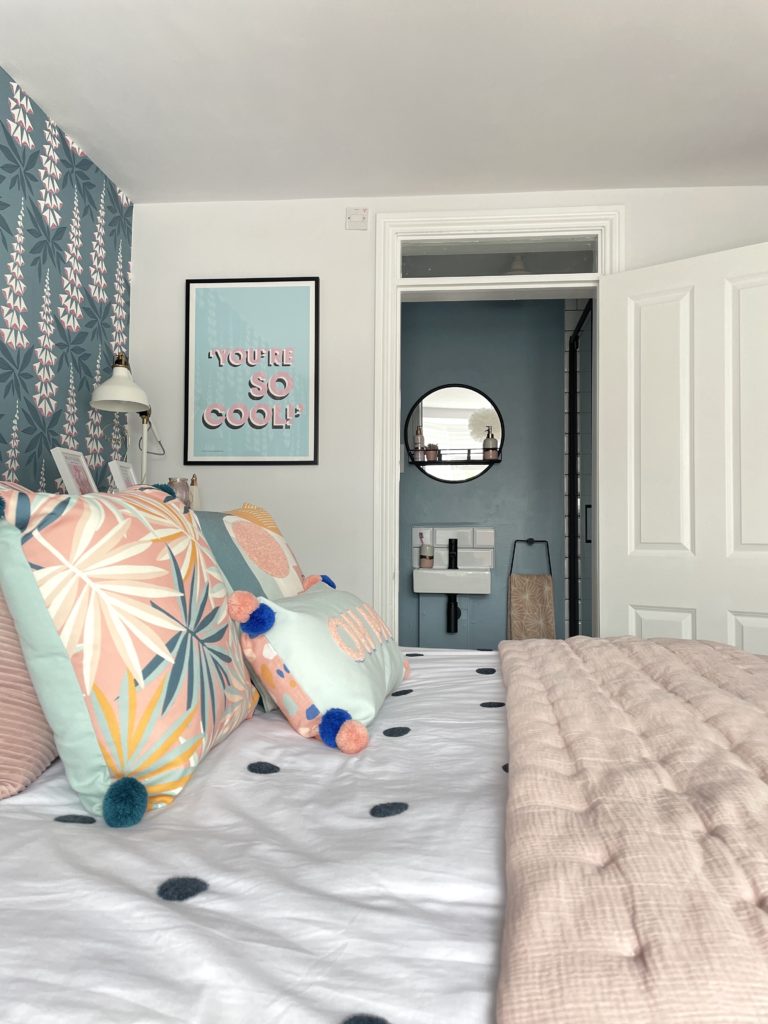 Before & After: Cool Bathroom
Work started on the bathroom with the plumber and tiler ripping everything out, and fitting the basics. We choose the pink hexagonal floor tiles from Verona Group which look so cool. I picked black bathroom fittings to give the bathroom an edgy look.
The tile pattern echoes the shape of the foxgloves in the bedroom wallpaper and the etched pattern on the chest of drawers, helping the rooms flow.
I sprinkled colour into both rooms with accessories. I tracked down these quirky typography cushions from Matalan, and the in a slogan artwork from Doodle Moo for the walls.
The feather lampshade draws your up above making my room appear bigger than it actually is. Last to go in was brand new grey carpet.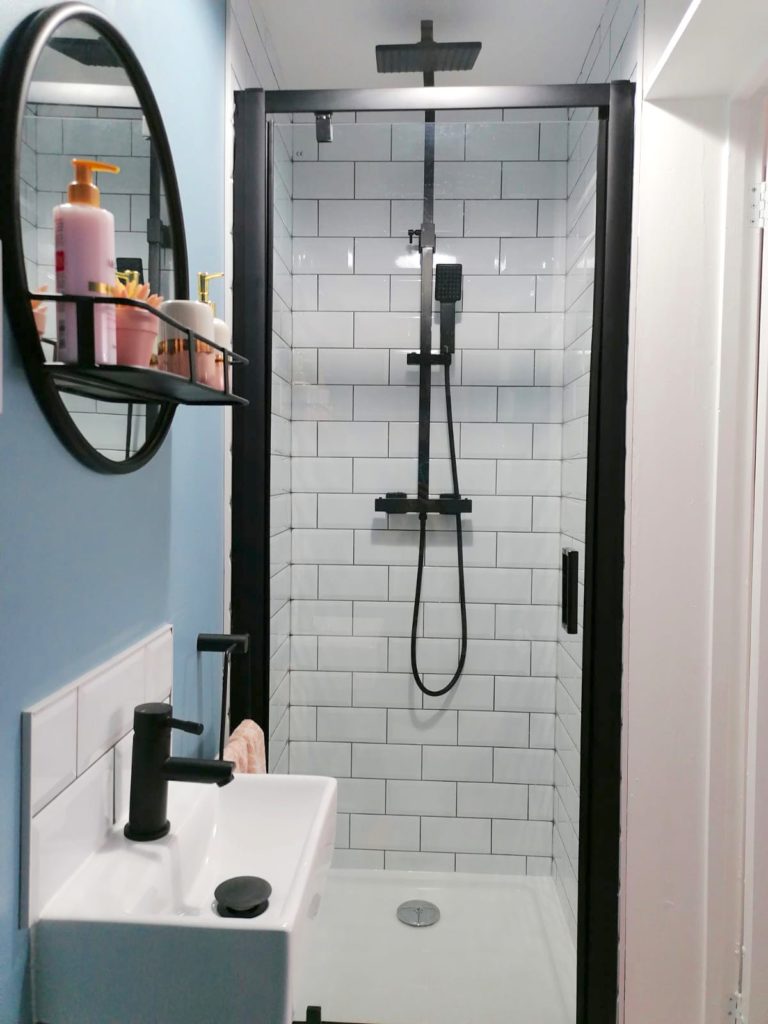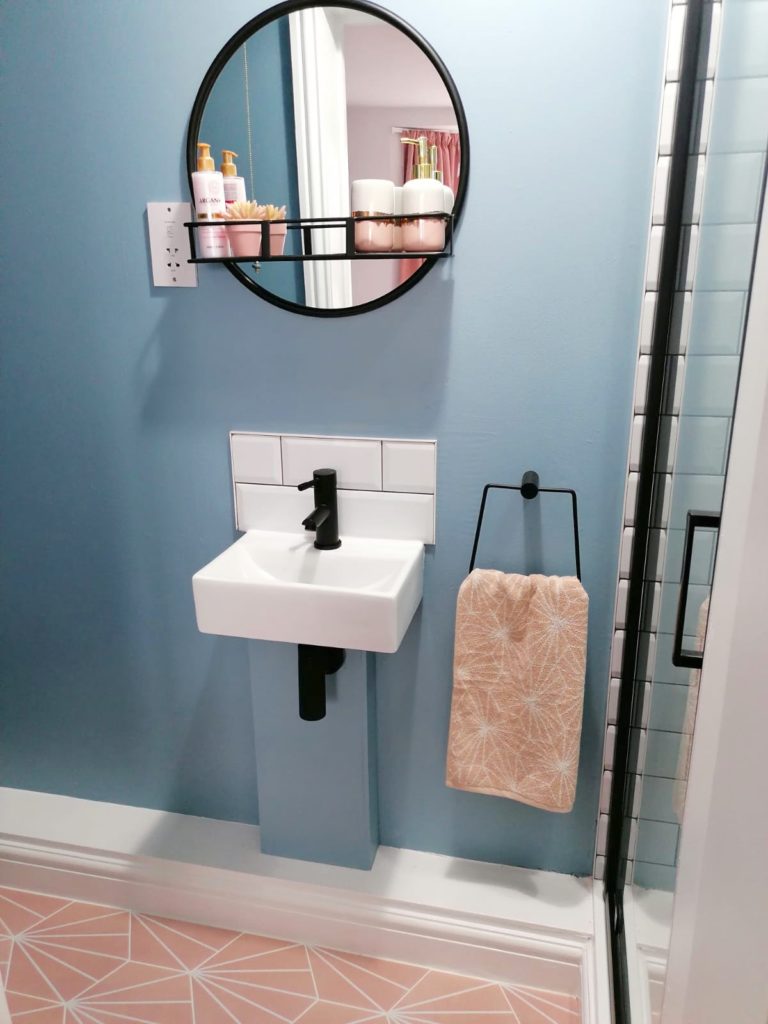 SHOP THE LOOK: Bathroom
Sunburst rose matt glazed porcelain floor tiles, £48sm and Metro wall tiles, £30 sm both Verona Group
Cubetto wall hung basin, £79, and Mileto Matt Black mixer tap, £89.95, both Big Bathroom Shop
Merano Thermostatic mixer shower, £149.97, Luxura pacific pivot shower door in black, £299, and Hydrolux shower tray, £99.97 all Plumb World
Towel holder, £12, Dunelm
Round mirror, £64.95, Melody Maison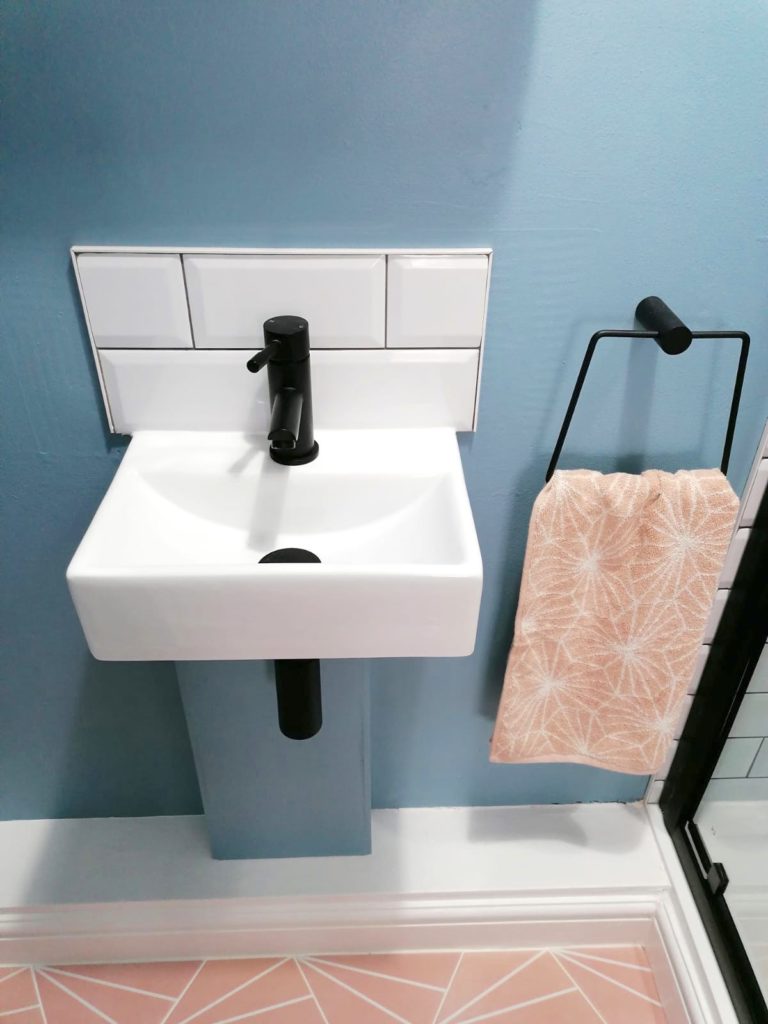 What do you think of this colourful bedroom and bathroom? It's a total transformation isn't it? This project first appeared in the the September issue of Home Style magazine. Go check it out!
I've got a few more interior design projects in the pipeline so watch this space!
Love Maxine
You May Also Like
DON'T MISS THIS AMAZING KITCHEN MAKEOVER – WITH BEFORE & AFTERS
MY BEDROOM REVEAL THAT'S MODERN, FRESH AND PINK!
2021 GUIDE TO THE BEST WALLPAPERS OUT THERE