If you want to add creative flair to your bathroom or maybe an element of surprise to your new en-suite, then pattern tiles could be just your thing. Follow these 6 styling tips on how to use patterned tiles in your bathroom – creating a style statement in your home!
Collaboration with CTD Tiles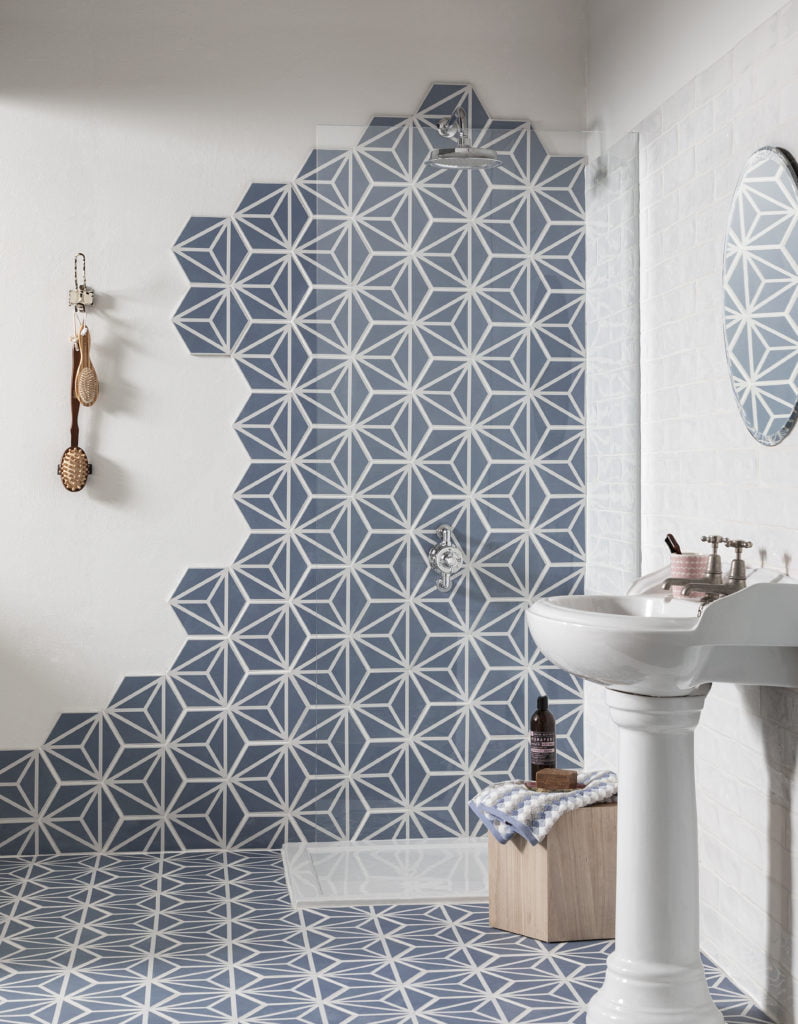 How To USe PATTERNED TILES IN Your BATHROOM
1 Go for a single pattern
For maximum impact, choosing just one patterned tile design and cover both yours walls and floors in your bathroom or en-suite.  But what design do you go for? You could follow the current trend for Moroccan inspired tiles which are hugely popular at the moment. They create a spa-inspired feel especially combined with natural bathroom textured accessories.  If you fancy a contemporary look, choose geometric or illusion tiles in a monochrome scheme – these types of prints pack a punch! For if you love country styling, floral tiles look very pretty in the bathroom when used as a feature like a sink splash back or as a boarder.
Style tip: if you are struggling to pick a single patterned tile for your bathroom, one easy way is to pick one that complements the age of your property.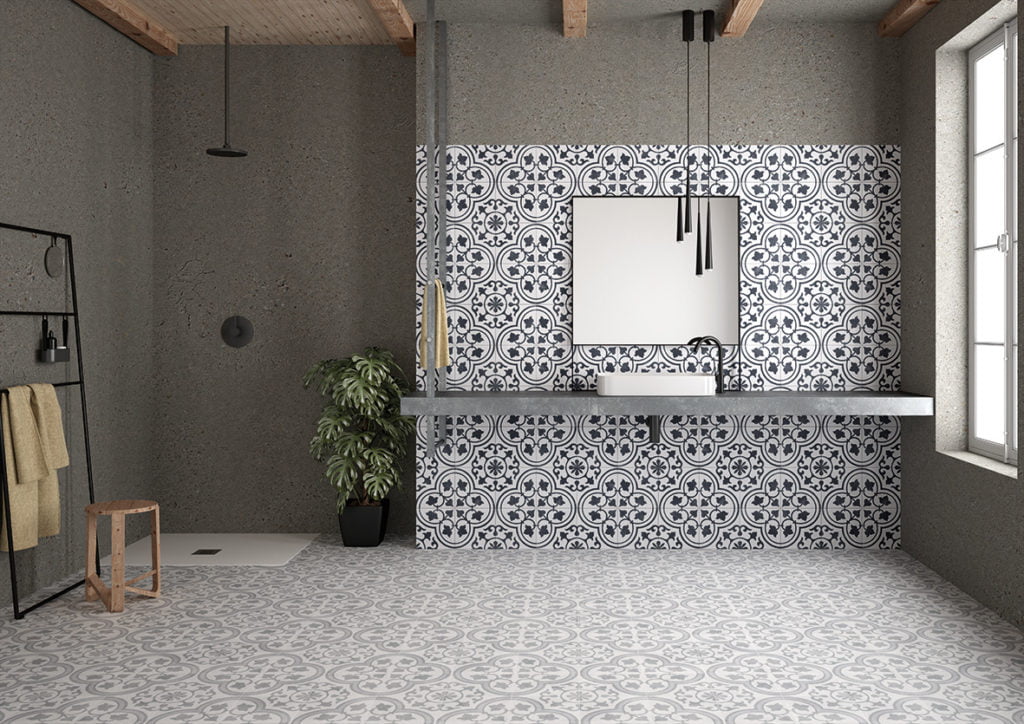 2. Choose a tonal colour pallet
Love pattern? Then unleash your creative spirit with a mix of patterned tile designs in your bathroom. Tempting as it maybe to go for a wide range of tile colours, you need to be careful your patterned tiles don't clash. One trick is to choose tiles in a simple colour pallet which work in harmony with each other. As a rule of thumb, try not to mix three tile designs in one space. You could 'zone' areas in your bathroom using different patterns.
In the image shown, metro style wall tiles complement the larger square tiles under the bath, which pick out the colours in the patterned floor tiles. It shouldn't work but somehow it does! Think strategically about the positioning of the tiles.
Style tip: Test out your ideas for the patterns in your bathroom, call in samples to check that the colours work well together. You can lay them out in the bathroom and get a good idea of the final look and layout.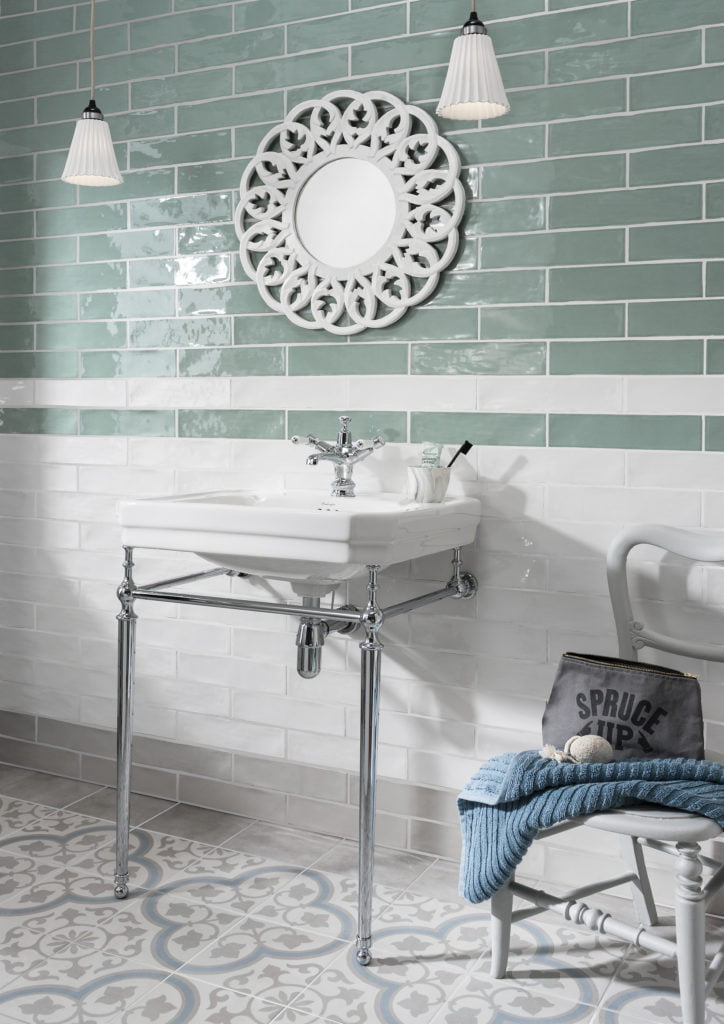 3. Love Neutrals? Then go for a textured stone tile
If using coloured patterned tiles feels too much for your home, then consider using tiles in a neutral colour with a textured finish instead. This way you get the all the visual interest of a patterned tile but overall it will create a subtle overall effect in your bathroom. Look out for tiles with ripples, hexagonal or refracted surfaces for cutting edge look. Colour range from sandy shades, crisp whites or deliciously dark tiles all of which will keep your bathroom bang on trend.
Style tip: For a seamless finish, colour match your grout to the colour of your tiles.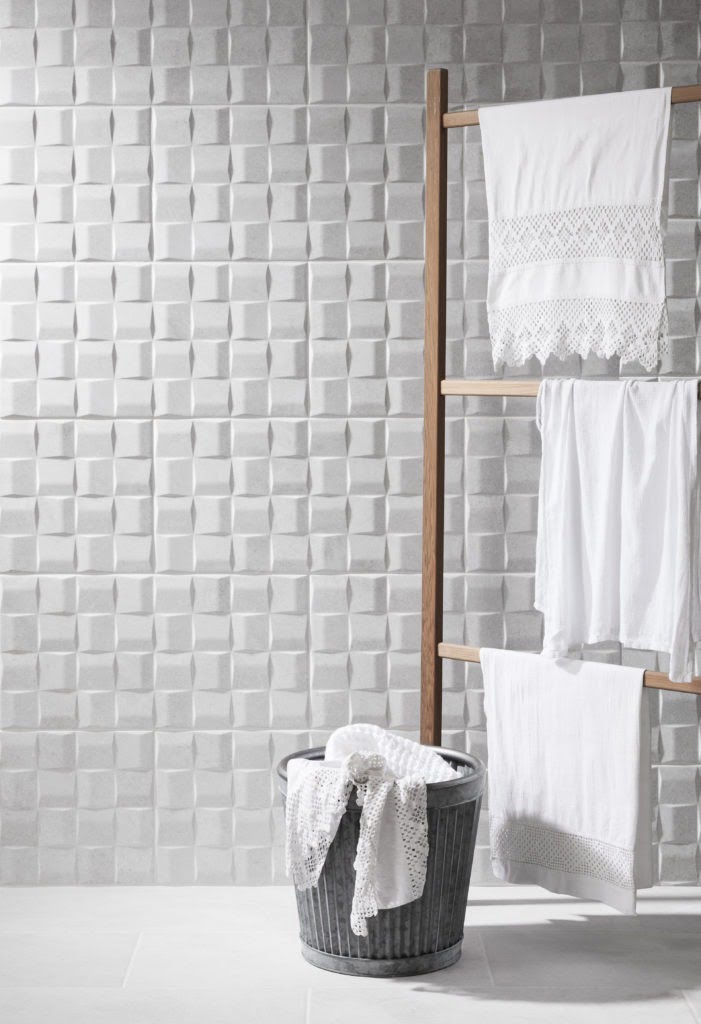 4. Create a feature wall with marble patterned tiles
Decorative marble has been a huge trend for our homes and it looks so cool when used in bathrooms.  Rather than tiling a whole wall, use over-sized marble tiles to create a feature wall. Choose a patterned tiles with a marble design with a smooth matt or honed finish as it gives a more sophisticated feel and allows the marble to speak for itself.
Once your feature wall is up, then choose a fun colour pop paint shade to draw attention to your patterned marble tiles. This peach and blue bathroom is giving off serious boutique hotel look!
Style Tip: Look out for pastel fixtures and fittings to give your bathroom an edge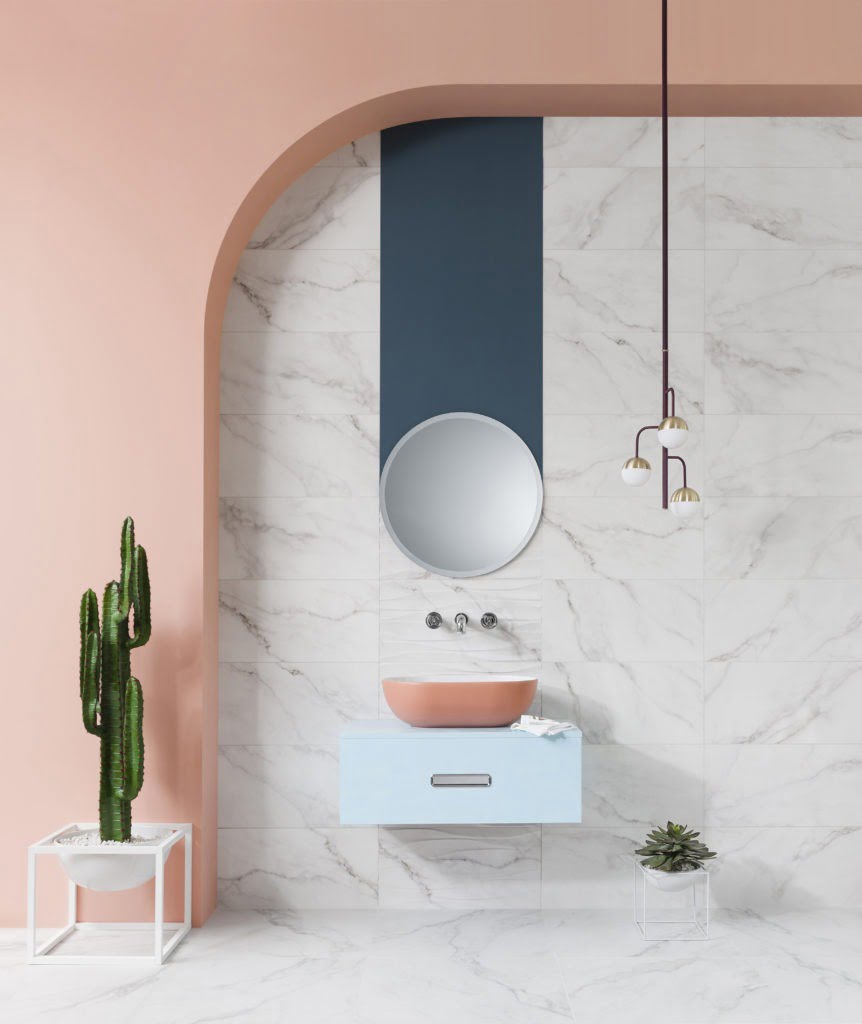 5. Mosaics are a clever way to add pattern
One easy to add drama to your bathroom is by using mosaics patterned tiles to add drama to walls and floors.  Mosaics work particularly well in smaller en-suites where they can add intricate design without looking too busy.   They are easy to install as they come on sheets, making them an ideal DIY project. In darker bathrooms choose mosaics with a metallic finish so each tile will reflect light around the room, making it appear bigger.
Style tip: For a cohesive look tile inside your shower, bathing area and behind your sink in same design patterned tiles for a sleek finish.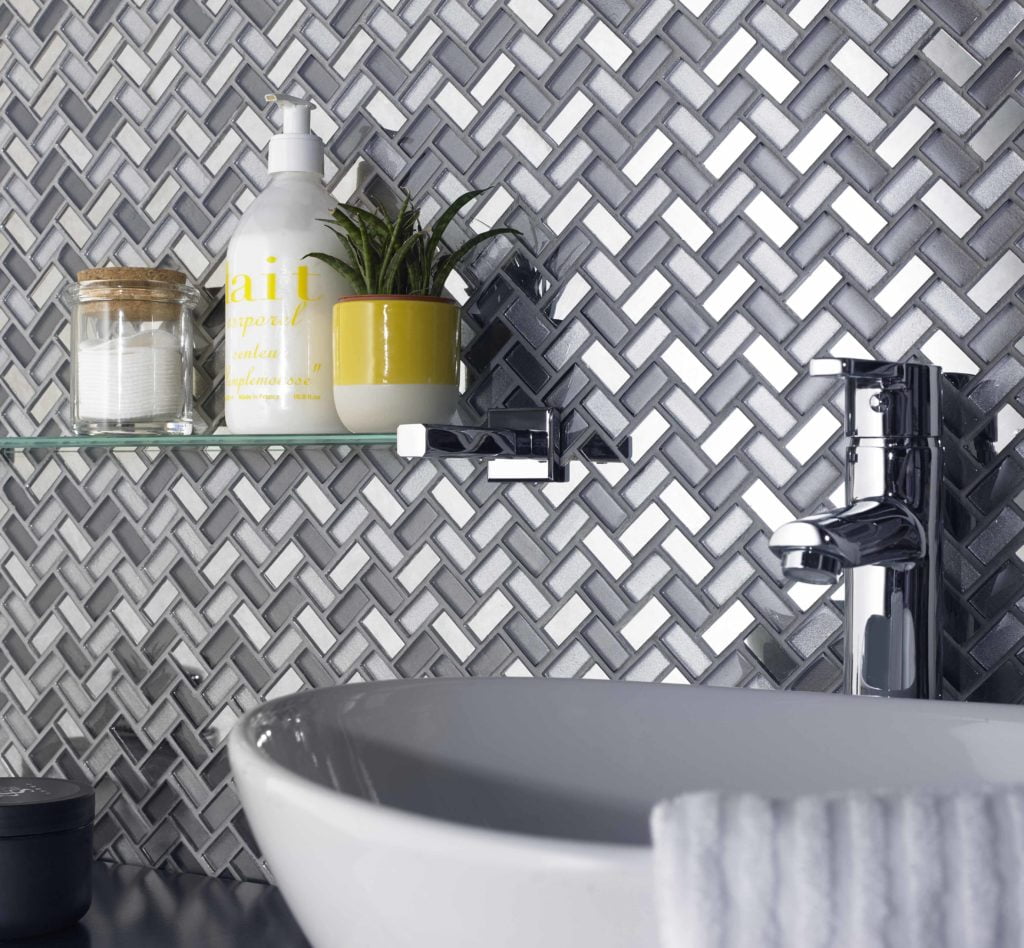 6. Create your own pattern using metro tiles
The number of patterns you can create yourself just using a classic metro tile is utterly endless.  Herringbone, stripes, horizontal, ombre and metro tiles are having a moment right now. If you're looking for a bit of wow-factor why not mix hues to achieve an even bolder look.  The best thing about creating your own pattern with metro tiles is that it is easy to personalise your bathroom without necessarily breaking the bank. CTD Tiles have lots of tips and advice on how to create a bespoke tile layout for your next renovation project.

Style tip: Look out for metal tile edging in the complementary colours to your fixtures and fittings. We love gold and brushed effect brass.
For more interior styling tips, follow my Instagram @maxinebradystyling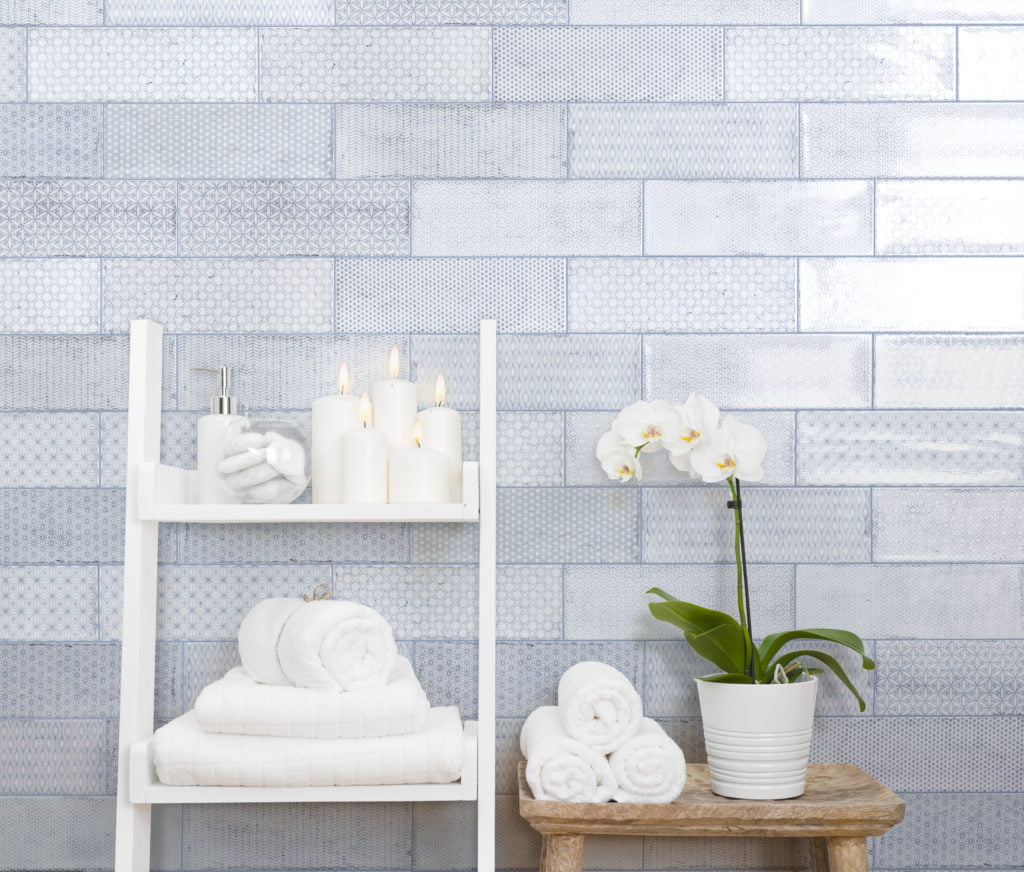 YOU MAY ALSO LIKE
BARGAIN BUYS FOR SMALL BATHROOMS
YOU'LL LOVE THESE TOP 5 BATHROOM TRENDS
YOU'LL LOVE THESE 3 IVORY BATHROOM LOOKS