Discover how to makeover your home with a single lick of paint with Dulux new Simply Refresh range of paints. It's so quick and easy to do, you'll be pick ing up your paint brush in no time.
Have you been enjoying the return of TV's Changing Rooms? I have loved the return of this iconic makeover show to our screens. The show inspired me to inject colour into my bedroom using Dulux Simply Refresh range of paints inspired by Changing Rooms. Come take a look!
Paid collaboration with Dulux
Before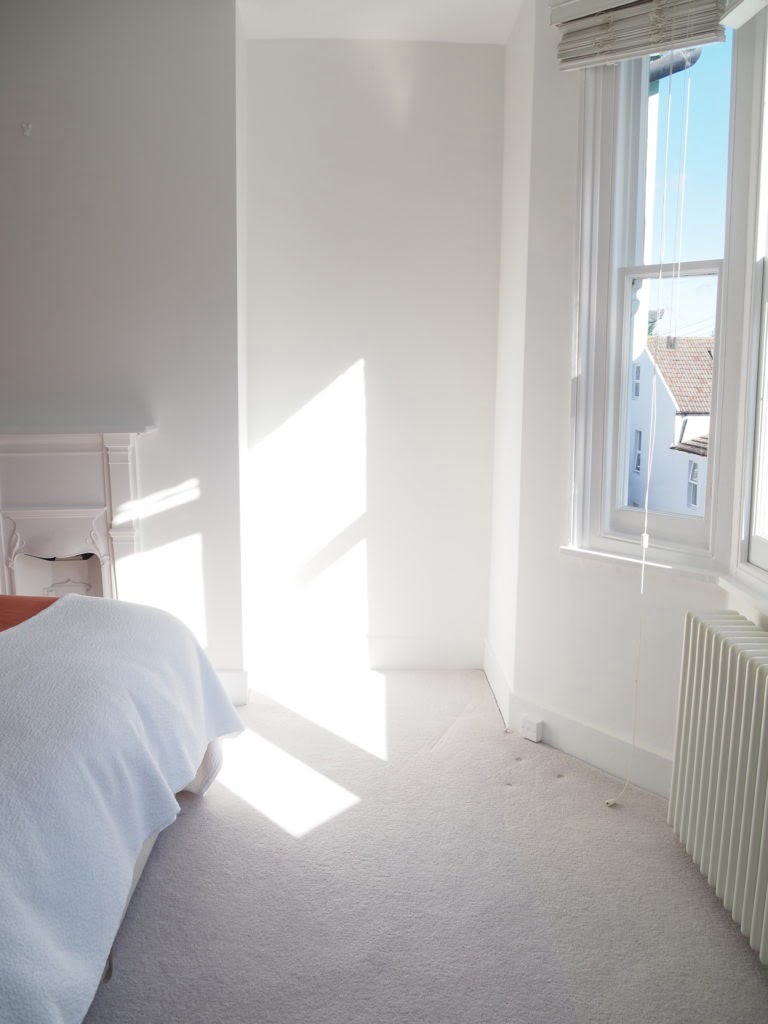 If you follow my blog you would have seen that I have been giving my master bedroom a slow makeover over lockdown. I put up new wallpaper, had a new bed delivered and I had the most amazing fitted wardrobe installed. To create a blank canvas, the walls painted from grey to white to freshen my room. But there was still something missing….and that was colour!
I love colour, it's a big part of what i enjoy as my work as an interior stylist. And I have been slowly adding more paint colour to my home including my kitchen and my garden. Now it is the turn for my bedroom to have some fun coloured added in a clever way.
Rather than paint all the walls in one shade, I wanted to add a clever 'pop' of colour – just like I've seen on TV's Changing Rooms. Dulux have sponsored the TV show and each week I've been seeing lots of colour being used to update bland and boring homes.
When Dulux asked if I wanted to try their range of Simply Refresh paints – it was a match made in heaven! I think you'll agree.
Explore Dulux Simply Refresh
Whether you want to add light, colour or personality to your space, Dulux Simply Refresh range is a new premium paint formula which means you can freshen up your room with a single lick of paint. Yes that's right – their One Coat only paints make it quick and easy to vamp up a room in a matter of hours.
In the the Simply Refresh range there are 30 tried-and-tested One Coat colours and 15 additional Feature Wall paints too. They have a rainbow of colours to pick from when decorating your home!
In the Simply Resfresh range, there are fresh, modern neutrals that will transform your home into a calming space in no time. Or if you wanted to lighten up your rooms, you can pick their white, beige and grey shades for an instant pick-me-up. Or choose from their sophisticated, muted tones of green, blue, yellow and pink.
And just one tin of 2.5L will cover four walls of an average-sized room! Making it an affordable option when sprucing up your space.
So what colour do you think I went for? Well, in keeping with the colours of my home, I choose Simply Refresh 'Soft Coral' One Coat paint which matches my living room sofa, kitchen and lots of the accessories in my space.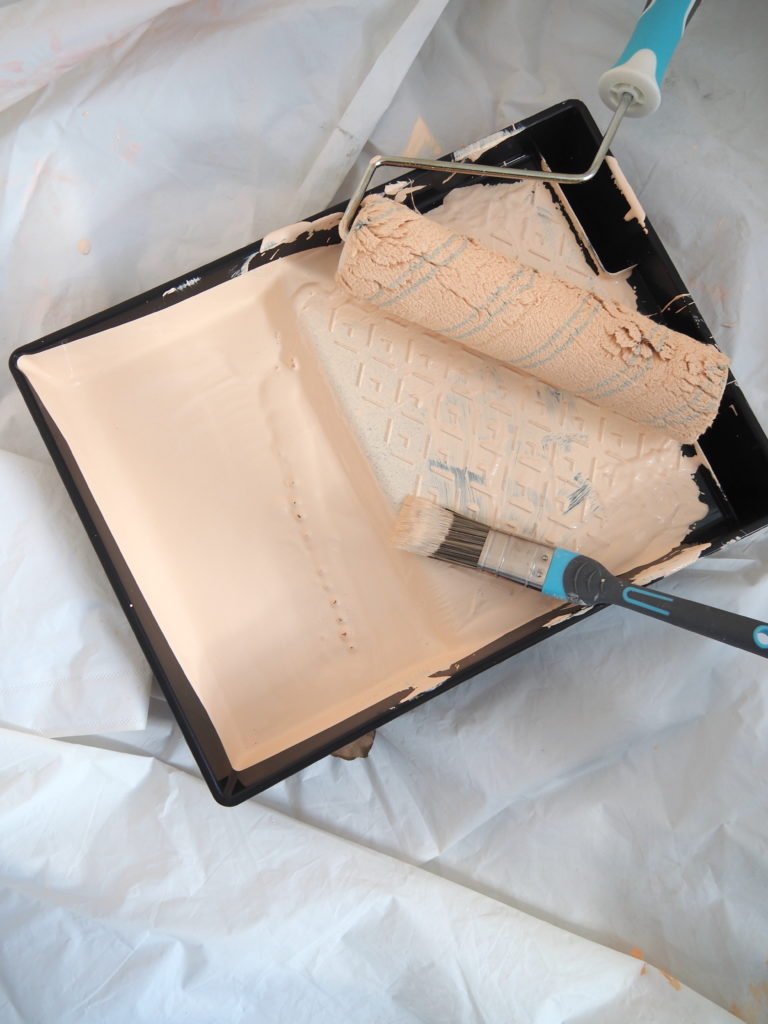 This is an odd thing – but worth considering…my neighbours across my street have a pink house, which on sunny days projects a blush hue onto my bedroom walls. I used to fight against this pink tone by painting the walls grey which was an epic fail! It left my room feeling dull and flat. That is why I decided to go with the pink hue, by pinking Soft Coral for my feature wall, helping to blend this reflective sunlight into my bedroom.
Soft Coral from the Simply Refresh range is more of a flesh tone that looks like drying plaster. it's a grown up pink, rather than some sugary pink paints. I want my home to feel joyful and relaxed. And what batter way then with a soft pink tone?
Plus pinky tones are such positive colours to have in your home!
STYLE TIP: Choosing a single 'pop' of colour through out your home adds personality and helps rooms flow from room to room. And it can reflect your personality too!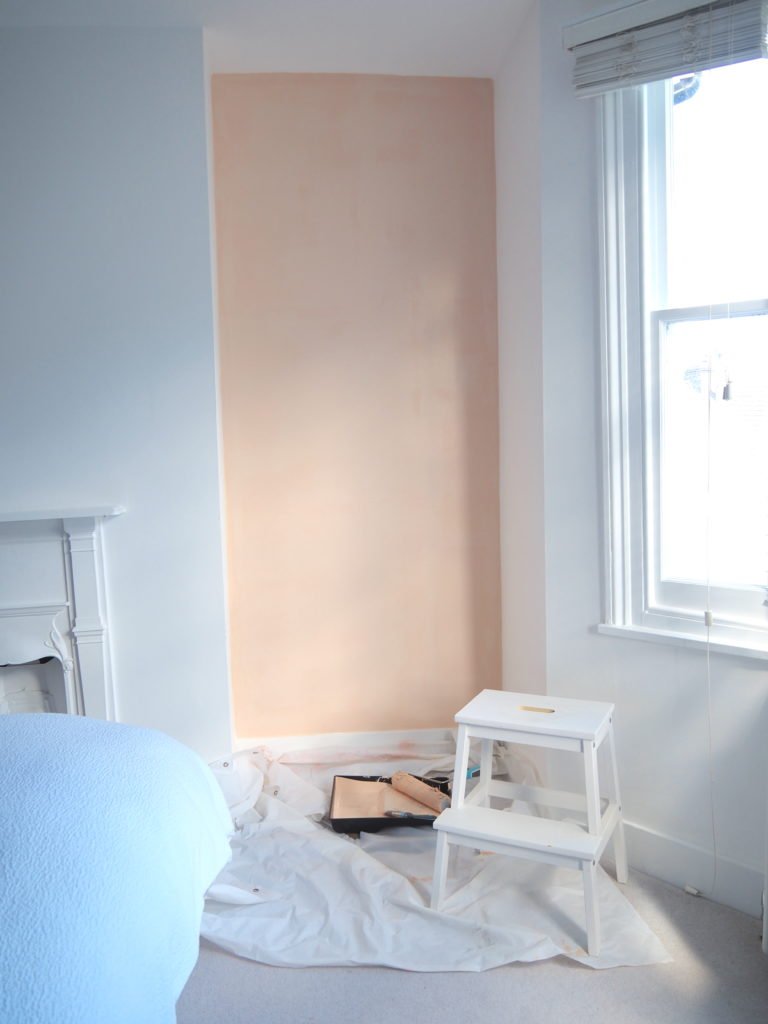 Instant Makeover with paint
The paint is easy and quick to use. One 2.5 litre can of Simply Refresh in Soft Coral was all I needed. It was more than enough to paint this feature wall in my bedroom. No more hanging around waiting for paint to dry (quite literally) but in the space of a morning, between writing features, walking the dog and going to the gym, I gave my bedroom an instant makeover.
The paint range has 15 paints that are specifically designed for feature walls, helping give your rooms a new lease of life with just one coat. Dulux have developed an innovative formula and a beautifully-curated palette that will transform your space – and the way you feel about painting it. I know it has taken the 'URGH!' and 'Argh!' out of decorating a room.
The paint applied evenly with the one coat, dried super quickly and made a instant change to my bedroom. It's a subtle transformation that has warmed up a corner of my bedroom and off-sets the gold leaf armchair I have put into this corner. It also makes a fab backdrop for taking photos for instagram!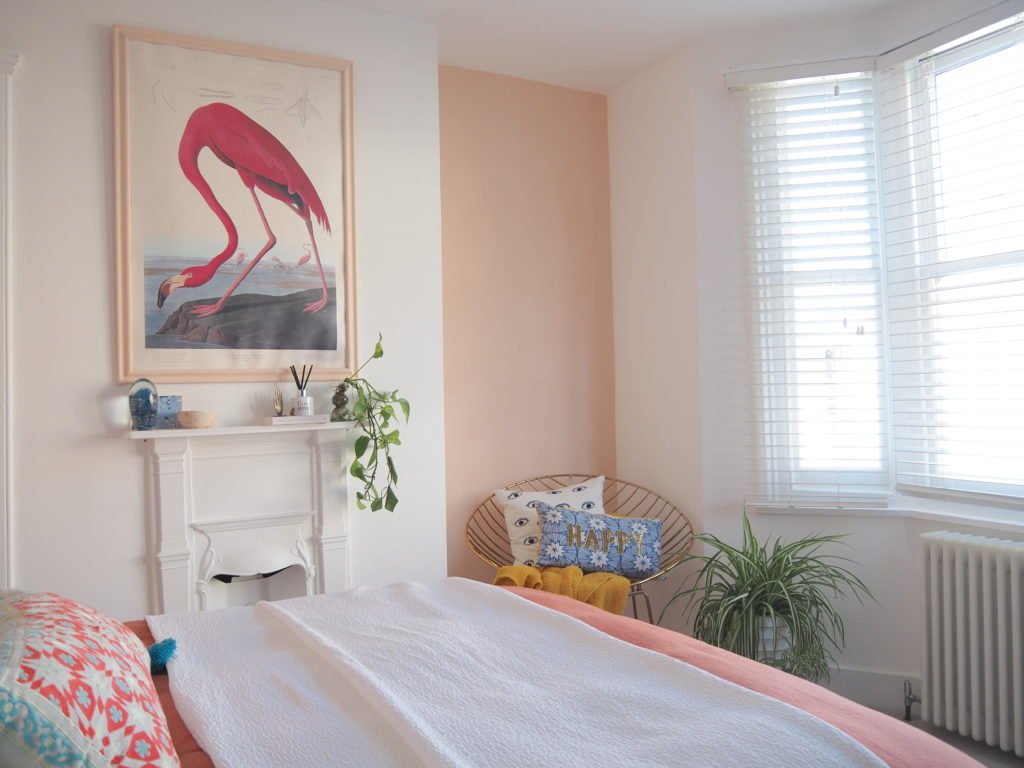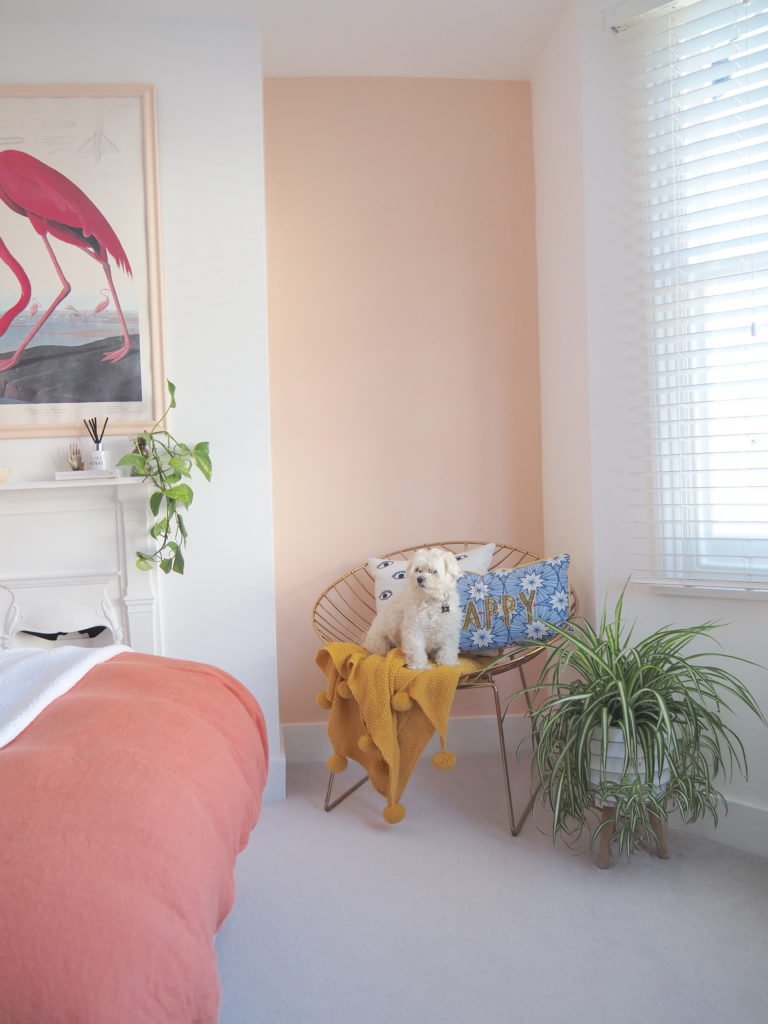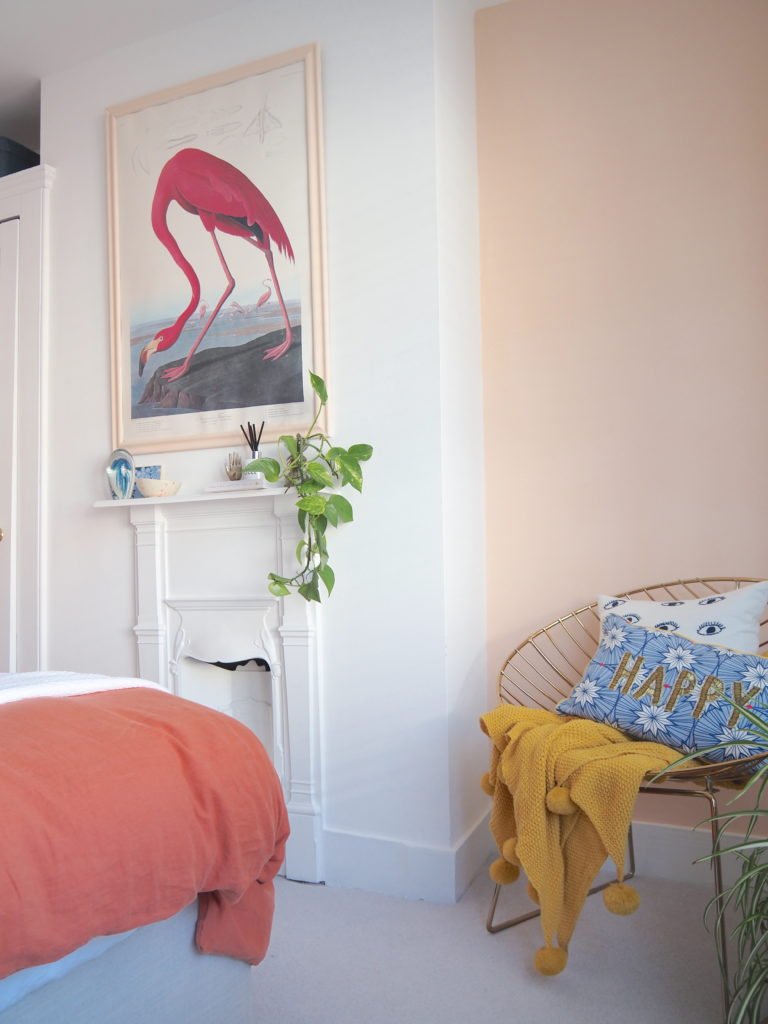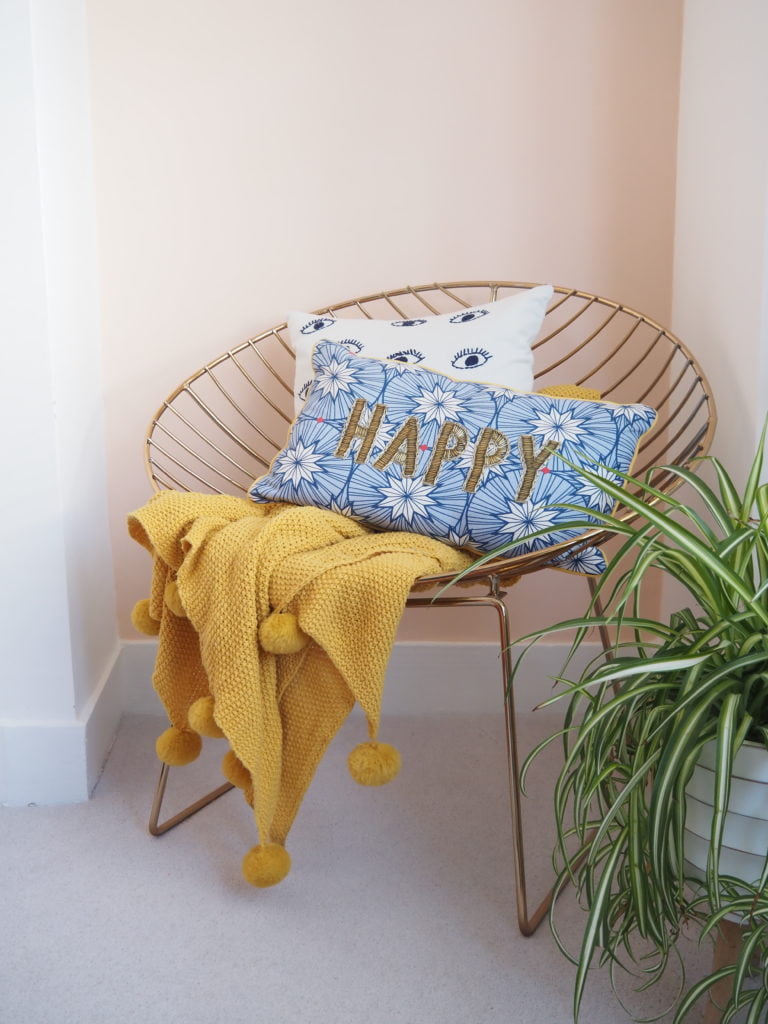 BEFORE & AFTER – 2017 vs 2021
If you want to see a real dramatic transformation you can see my room was like in 2017 when I had to have all the walls damp proofed and plastered. See the difference paint can make?
When tackling a huge house renovation, like mine, painting all the walls can feel overwhelming. That is why I love that that Simply Refresh is covered by the One Coat Guarantee, promising to give you the look you want in just one coat of paint.
Rather spending hours waiting for paint to dry, you can decorate and go! A room can be given a makeover in a matter of hours.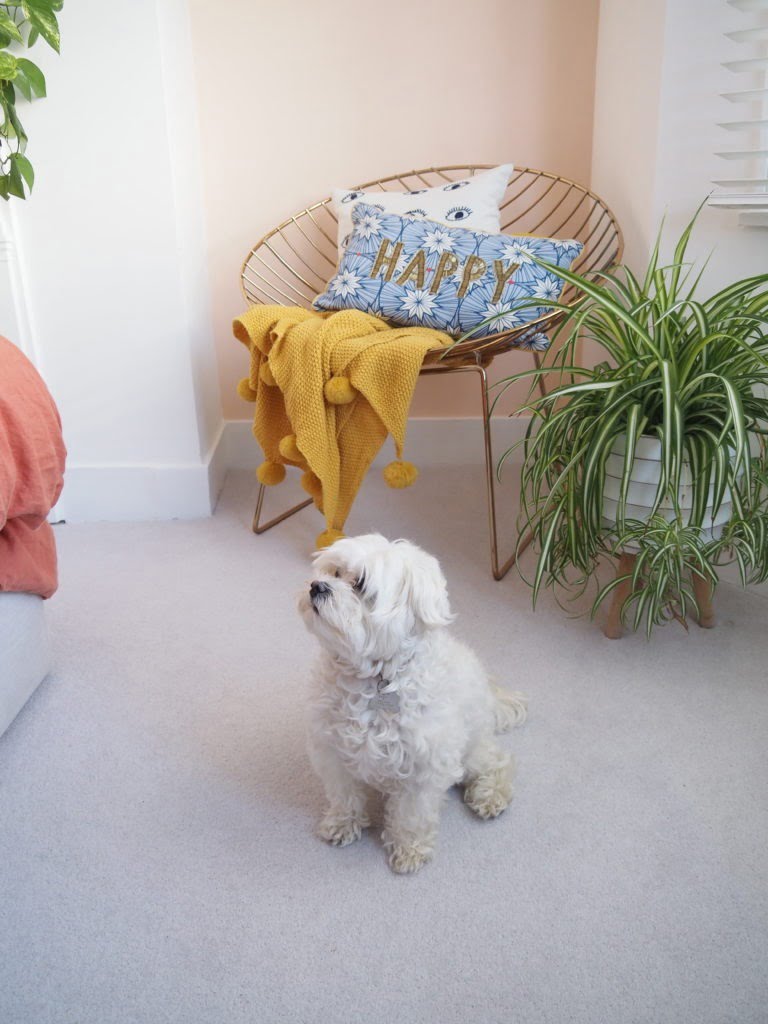 Want to start your own #SimplyRefreshProject?
I hope this post has inspired you to refresh your bedroom or another space in your home? You can check out my home transformation on my Instagram page @maxinebradystyling or explore the Simply Refresh range here. I'm going to be posting some video content of the makeover on instagram so make sure you go take a look!
Don't forget, there's more colour and design ideas over at @duluxuk and you can also share your own Colour Story of your home with Dulux's #SimplyRefreshProject on instagram.
I can wait to see what room you makeover and what colours you pick.
Love Maxine