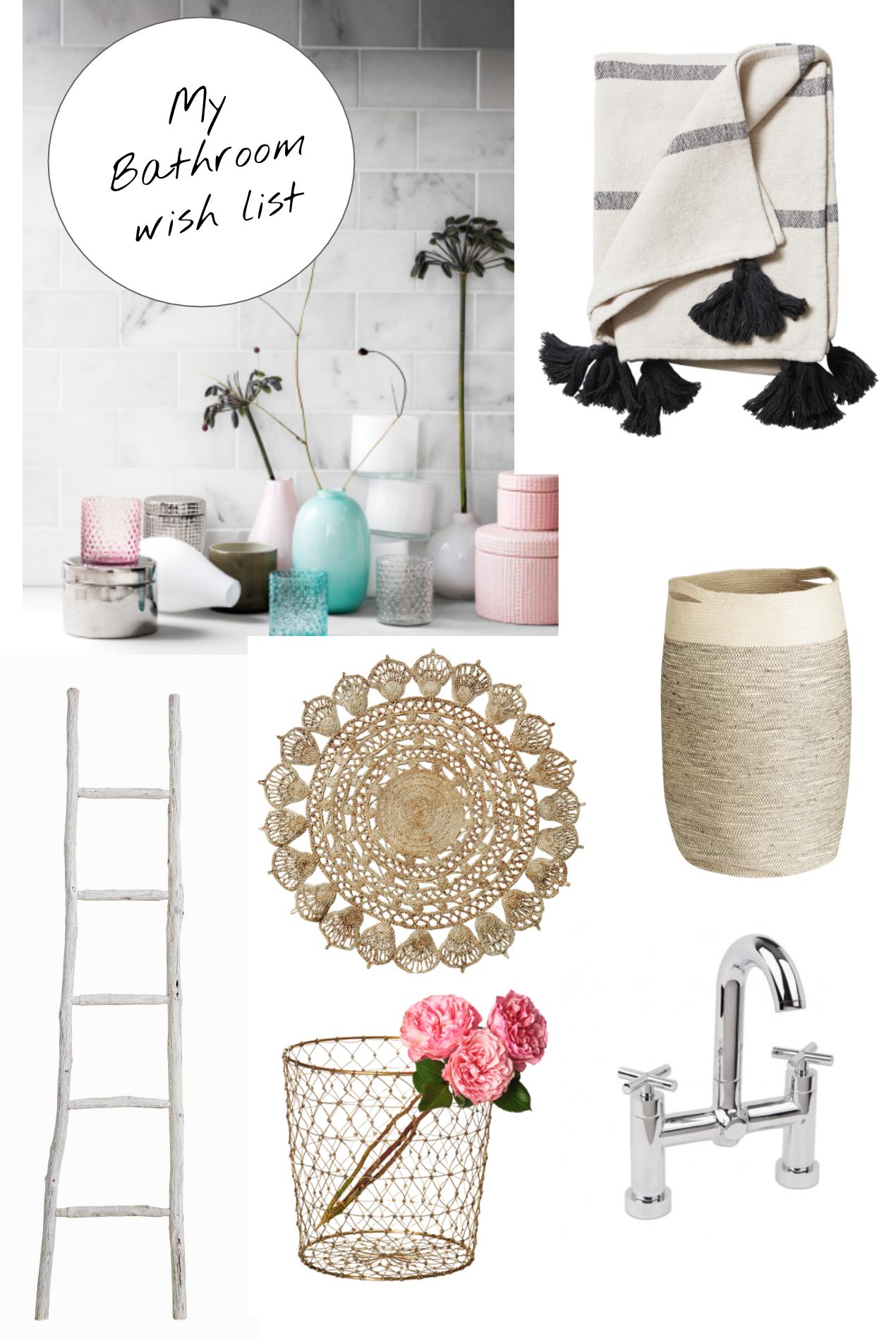 I'm in the middle of overhauling my tiny bathroom. I'm not coping very well with the lack of hot water, electricity or a flushing toilet for almost two weeks now! I've been busy distracting myself from the carnage by trawling shops for the finish touches that will give the basic shell of my bathroom lots of style and clever storage.
Let's shop the look – starting going clockwise from top left:
I'm planning to fit a small cabinet in the bathroom and then dress it with lots of lovely vases like these.These amazing vases and vessels from H&M looks so soft against the marble backdrop. I might added teals and pinks to my bathroom scheme.
After a rather lovely weekend in Istanbul, I'd love have a cupboard stocked full of Hamman style towels. These ones are from the latest range at H&M (again, you might spot a theme here). Toast have lovely ones too for £45 which are a bit more fluffy.
I'm a bit short on storage space so I thought this rustic ladder would be ideal for towels. I love the wonkiness of the wood. At £38, it's not badly priced from a little on-line store – The White House
We always seem to have piles of laundry at my house. With my bathroom re-design we've gained a little more room to we can fit in more storage like this roomy Wicker laundry bin, £29.99, H&M. It's not out in the shops until the winter – so I'll have to wait for this bad boy to appear in store.
I'm playing with the idea of adding copper touches to the bathroom. I really like this mesh Metal Wire basket £14.99, H&M which I thought could be my new bin. Styling up my trash 😉
These Xhale bath mixer taps arrived in the post last week and they are so nice. I was a bit worried as at £49.97 they seemed pretty cheap to me but they don't look it in the flesh. I've got for the same set on my sink too so it's all nice and co-ordinated – just what I love.
Still a long way to go with my small bathroom design. Picking the suite. the sink, loo, taps and tiling was just the start. It appears ihave an unhealthy obsession with H&M's new home collection – oh dear! (Might be time to crack out the credit card.) In the meantime, Ive been stashing away ideas from other bloggers on Pinterest. Everyonce in a while I revisit it to get a little bit more inspiration. Find it gives me focus – when I'm brushing my teeth over a bucket in the garden.
If you are planning your own bathroom makeover, then WeLoveHome has an exclusive 20% off at Bathroom-Takeway so you can get a new look for your bathroom. Use the code to treat your room to a few simple updates like new taps or a fancy new heated towel rail or go for it with a top-to-toe bathroom refit – like I just did. Just enter Bath20 at the check out to claim your exclusive discount.
Follow WeLoveHomeBlog.com's board [Rooms] Small bathrooms on Pinterest.