Looking to renovate your bathroom? WAIT! In this post is all the top 5 bathroom trends for 2020 which I just know you are going to fall in love with. As an interior stylist, I get to see the trends before they hit the high street and that's what I'm sharing today – my insider knowledge on the top 5 bathroom trends that will get your room looking spot on for the year ahead.
I'm dying to know which one you love best in the comments box below. There is plenty of inspiration for your bathroom. Let's take the tour of the trends.
Main Image |Homesense
TOP 5 BATHROOM TRENDS FOR 2020
1. Art Deco influence
There has been a huge shift towards Art Déco inspired interiors and this is going to continue to be strong through to 2020. Take inspiration by the retro colours, shapes and patterns which we have seen popping up all over Instagram as this trend takes hold.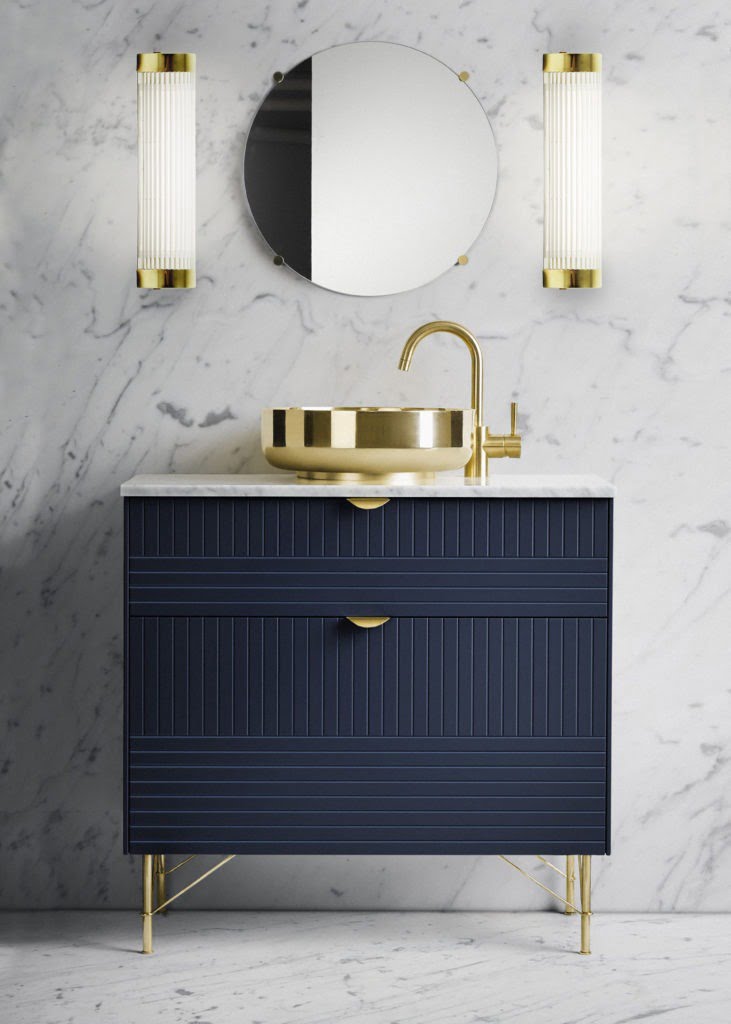 To bring this look to your bathroom, start with a coloured bathroom suite. Think pink suites, to baby blue, sorbet lemons and even avocado green is back with a bang. This is completely inspired by the 1920s where these shades where the tones of the day.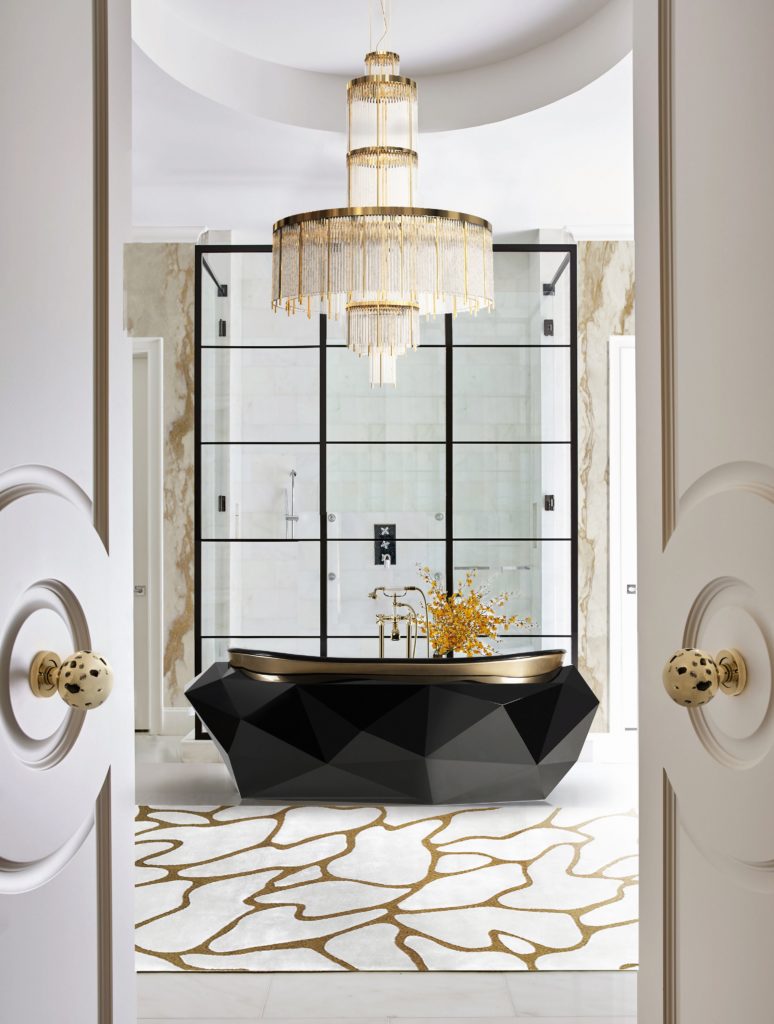 Dress your bathroom with retro inspired furnishings with sweeping curves to nail this look. You can pick up some excellent finds in junk shops these days which you can upcycle which is an affordable way to add this look to your bathroom.
On the walls for tiles with a pearlescent finish or in a fish scale design. Use to create a feature in your showering area, and then pair with oversized marble floor tiles for a considered look.
If you don't want to replace your existing white bathroom suite, then think about painting your bath surround in a pastel colour. Even some roll top baths can be painted with specialist paints.
Read more on the Top 5 Bathroom trends for 2020 >>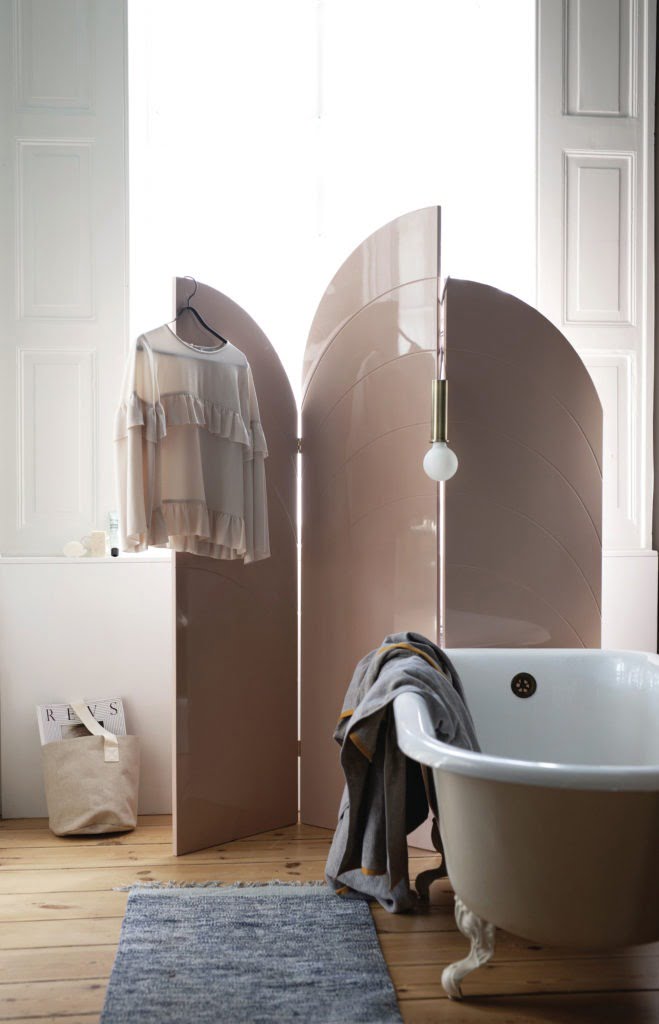 2.Coloured grout
One trend to appeal to interior style hunters is coloured grout. Why? Well colour in the home makes us happy and joyful. And what better way to bring this to your bathroom than with a brightly coloured grout.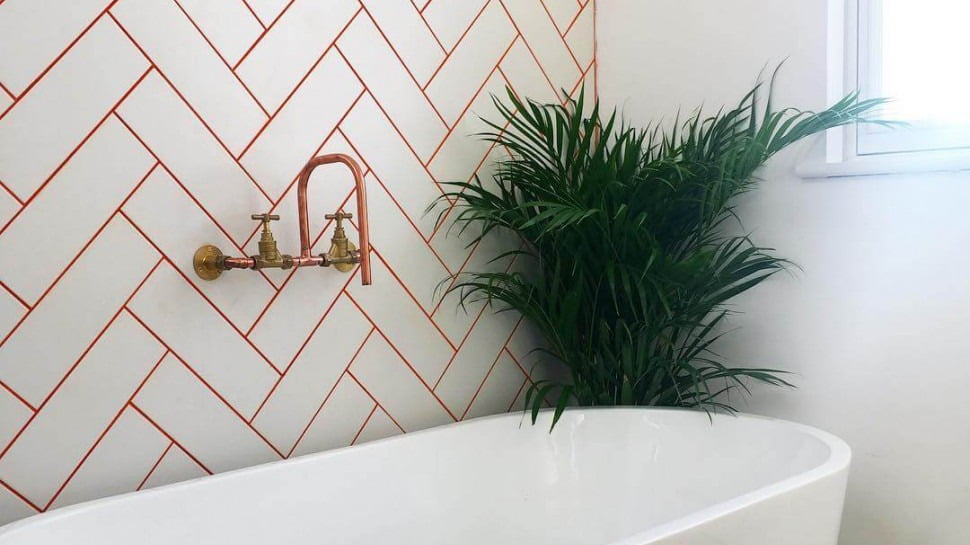 When tiling your room, don't think you have to go for classic grey or white grout instead think about a bolder colour. For a bold pop of colour go for a classic metro tile and then use blue or teal coloured grout to draw the eye to your tile design.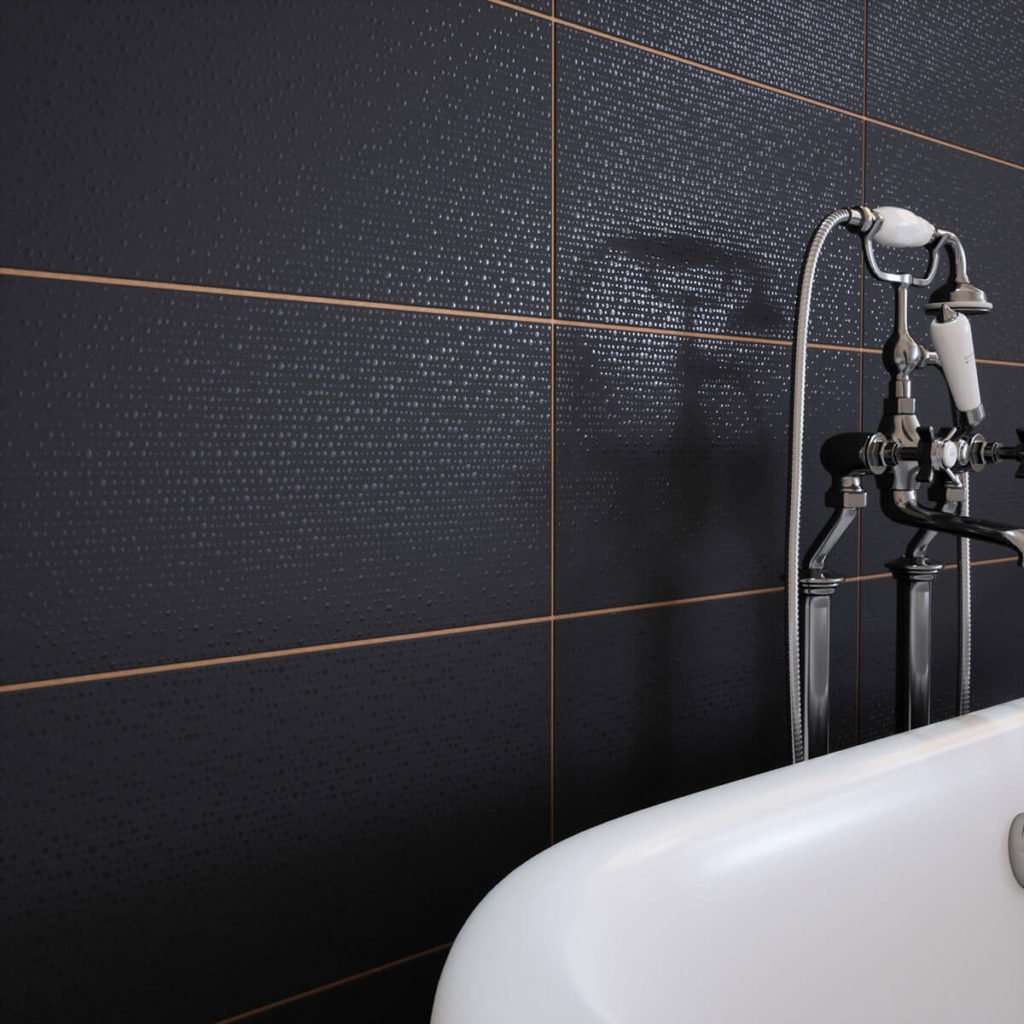 For dark coloured tiles– choose a red, orange or pink grout that will stand out and make a strong style statement.
You can even try Crystal Glass Grout, perfect for glass tile installations. It's a translucent grout made up of tiny hollow glass beads that force light to reflect and refract, really bringing out the sparkle of your glass tiles.
This trend is ideal if you want to fresh up the look of your existing bathroom without having have to replace your whole suite. Simply dig out the existing grout and then fill in with a colour on top.
Pick out the colour of your new coloured grout with accessories like coloured towels, storage baskets, art and beauty buys.
Read more on the Top 5 Bathroom trends for 2020 >>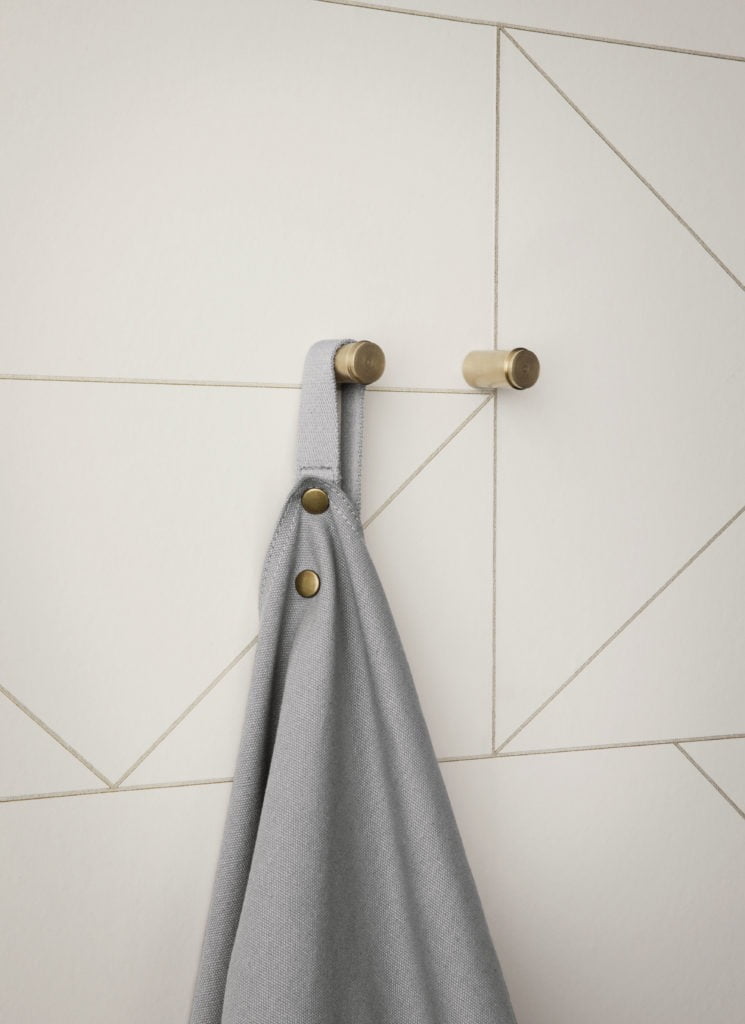 3.Biophilic design
Longer working hours and more time spent commuting, means we are spending more time indoors which is impacting the way we live. As an antidote to our busy lives, it is proven that nature and the great outdoors instantly makes us happier and more connected. How can you bring this idea into your home? Well, in 2020 we are all going to become experts in Biophilic Design. Translating as 'love of nature,' biophilic design focusing on bringing outdoor elements into our home as an easy way to connect with nature again – helping both our mental and physical health.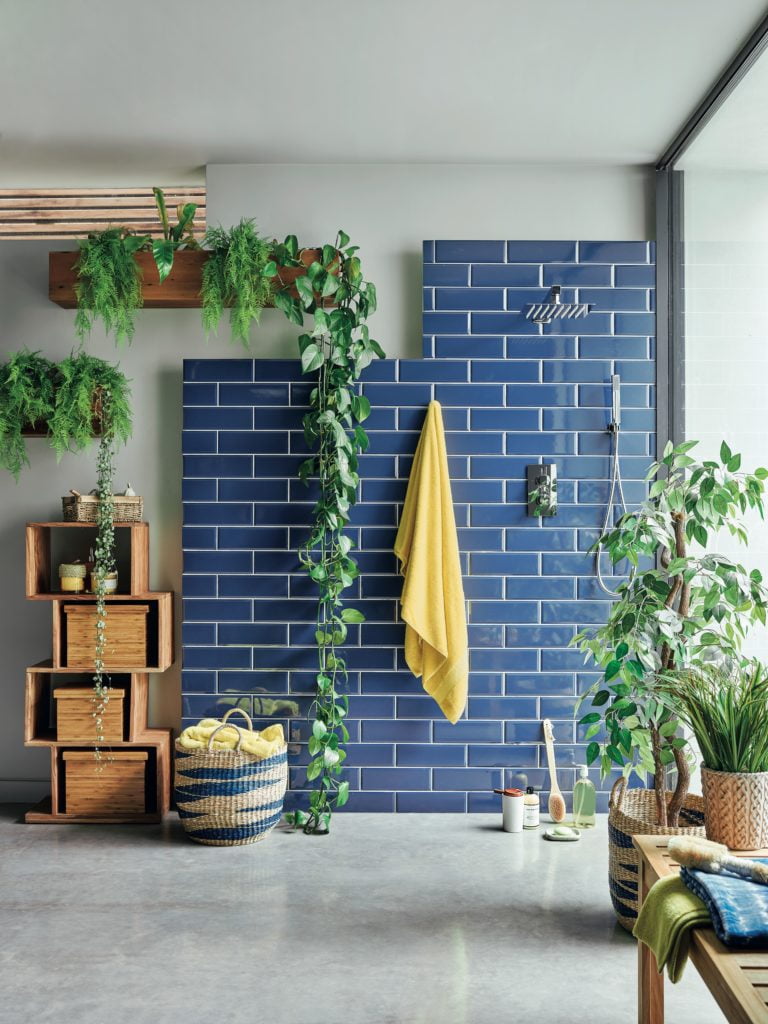 The best room in the home to try out this design principle is the bathroom. Look to furnish your bathroom with natural materials and daylight light to create a sanctuary of calmness and improve our overall health.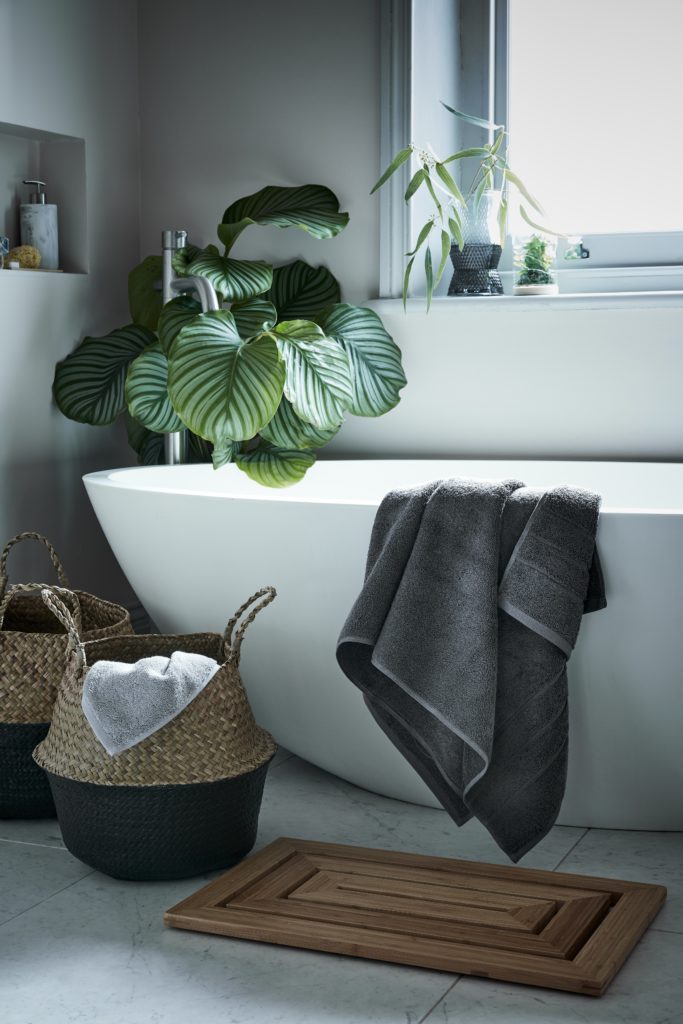 Plants are a great way to bring nature into your bathroom and they help purify the air too. Hang from hooks and dot around your room. Look for storage and furniture made from wood, rattan, wicker and seagrass. Simple lifestyle changes like slowing down your bathroom routine in the mornings (no more rushing) will help you feel more in tune with nature.
Decorate your bathroom in eco-friendly paints in natural tone to bring the outside into your home. Leafy greens, neutrals, soft blush colours, cloud white and sky blues will all give the feeling of light and space found in nature.
Read more on the Top 5 Bathroom trends for 2020 >>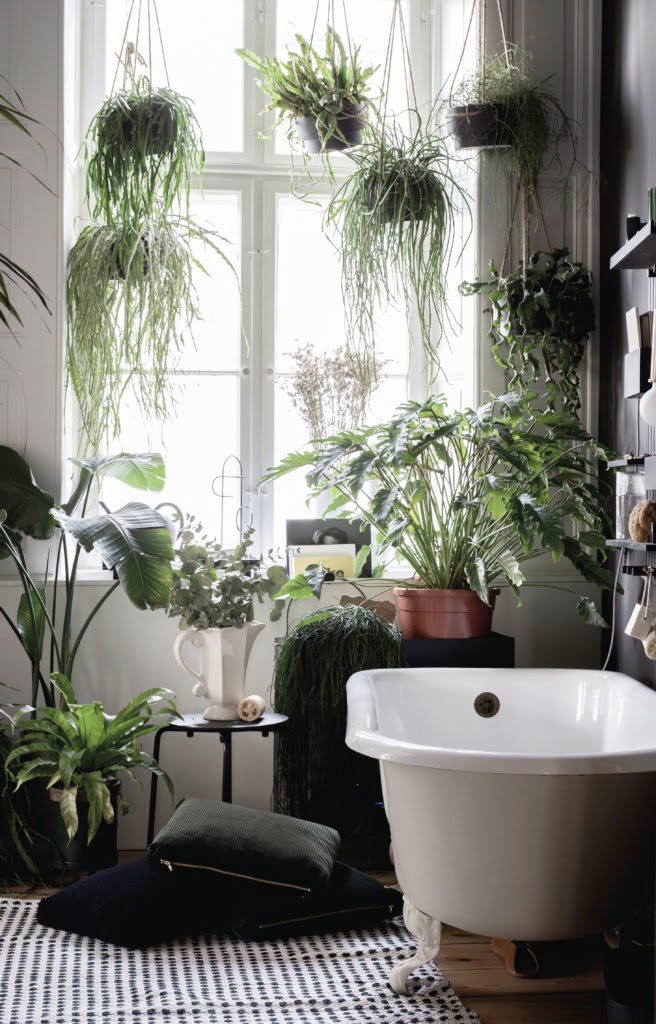 4. Tadelakt walls
An age-old and highly durable Moroccan finish, Tadelakt is composed of lime plaster and black soap made from olives. When the ingredients are combined, a chemical reaction between the two creates a waterproof membrane, making Tadelakt walls the most suitable of all plasters for use in showers and baths and even as sinks and tubs—it's synonymous with Moroccan hammams.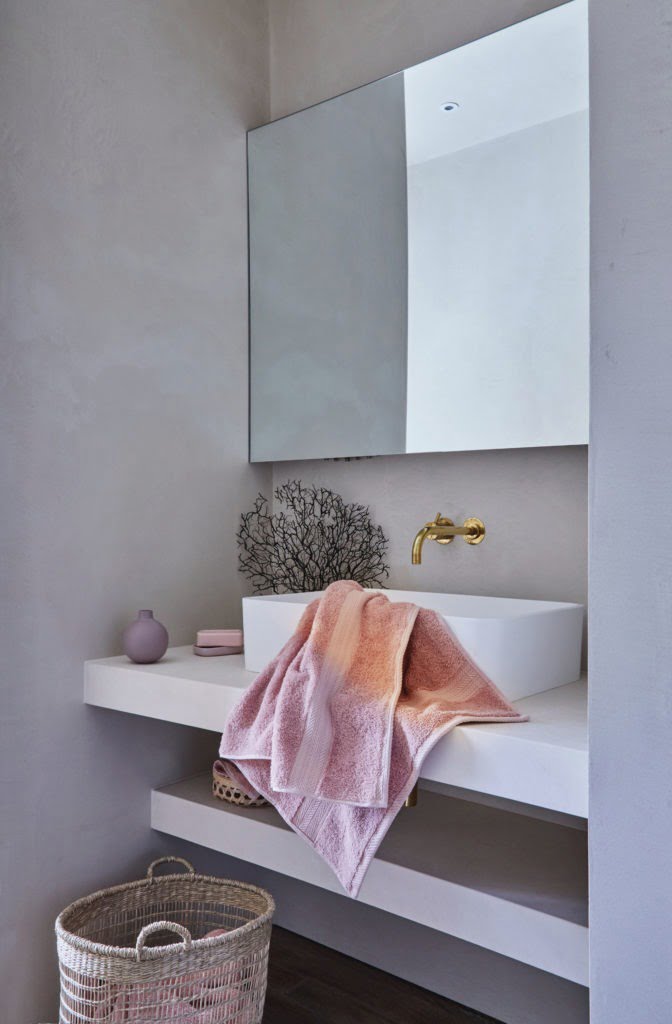 This type of raw plaster finish is making a big comeback in interiors for 2020. Interiors finished with plaster have a depth and luminosity that shifts with the light, quietly transforming the look and feel of a house. And there's no paint required. Left in its raw state, plaster is an environmentally sound natural material—breathable, and free of chemicals and VOCs.
Read more on the Top 5 Bathroom trends for 2020 >>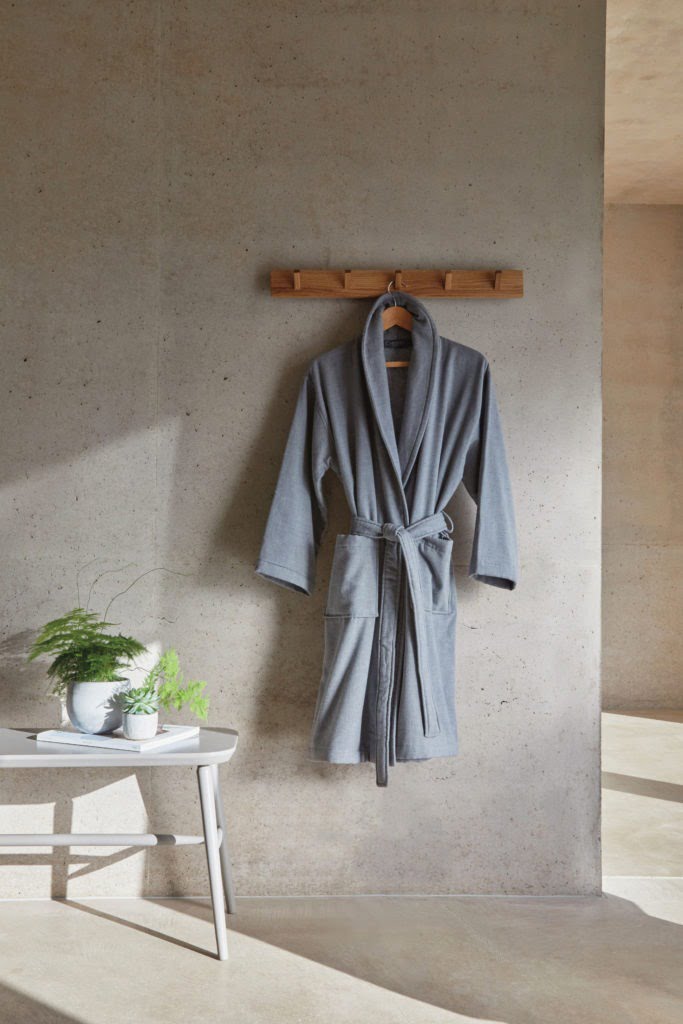 It's completely waterproof. You just clean it with Marseilles soap. Because it's so durable, you don't have to add a backsplash which will give your bathroom the room a clean, sleep look. Perfect for modern bathrooms for 2020.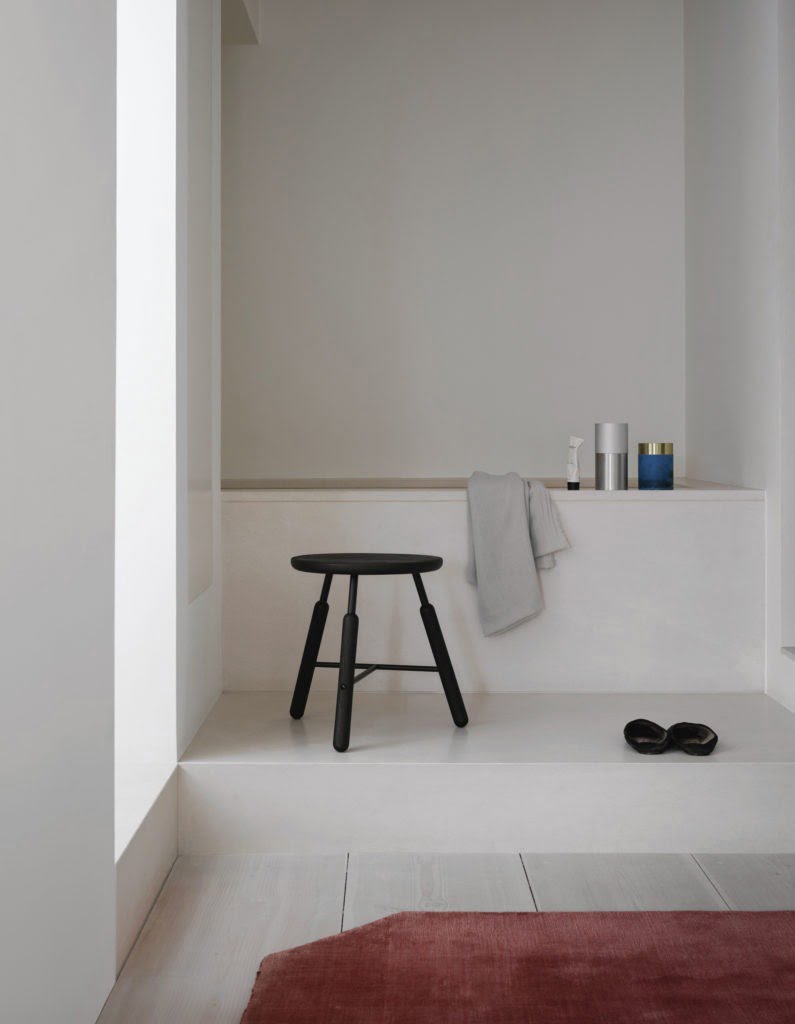 5. Open-concept design
People are now choose to improve rather than move, this means that bathrooms need to be cleverly designed to fit into our growing homes.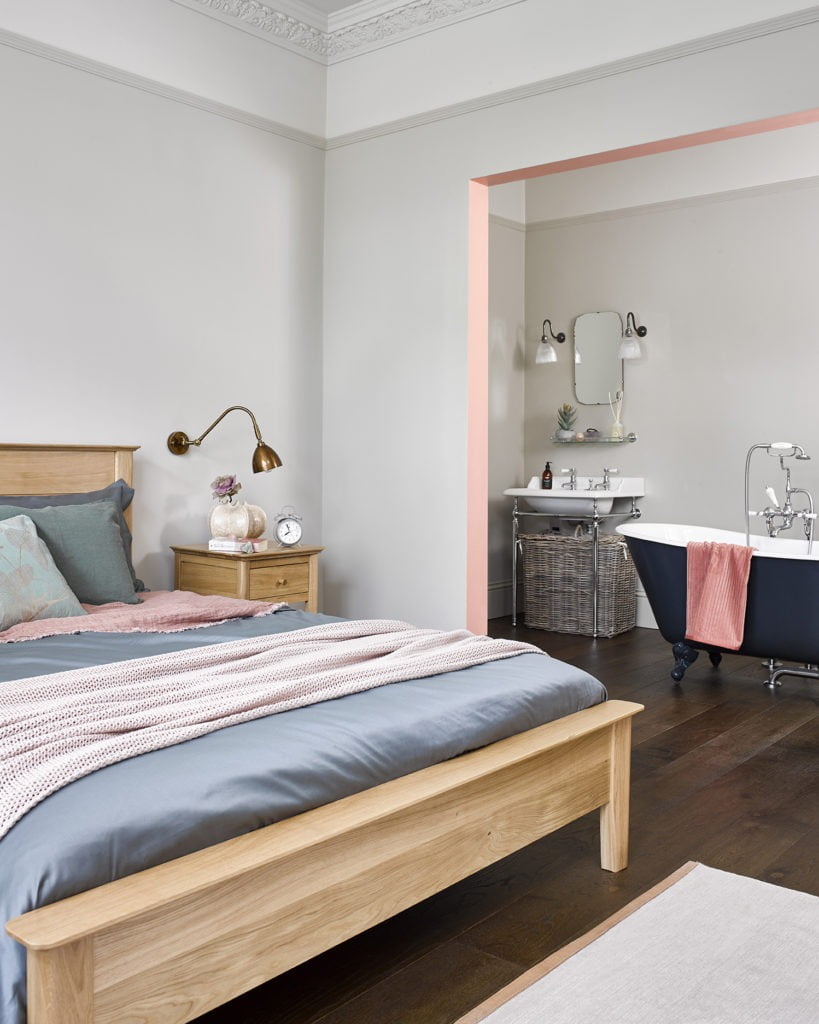 Gone are the days where everyone has a private bathroom or an en-suite. In 2020, it's all about the open concept. The use of steel or privacy glass as a water barrier is important and is being used in all the new housing developments.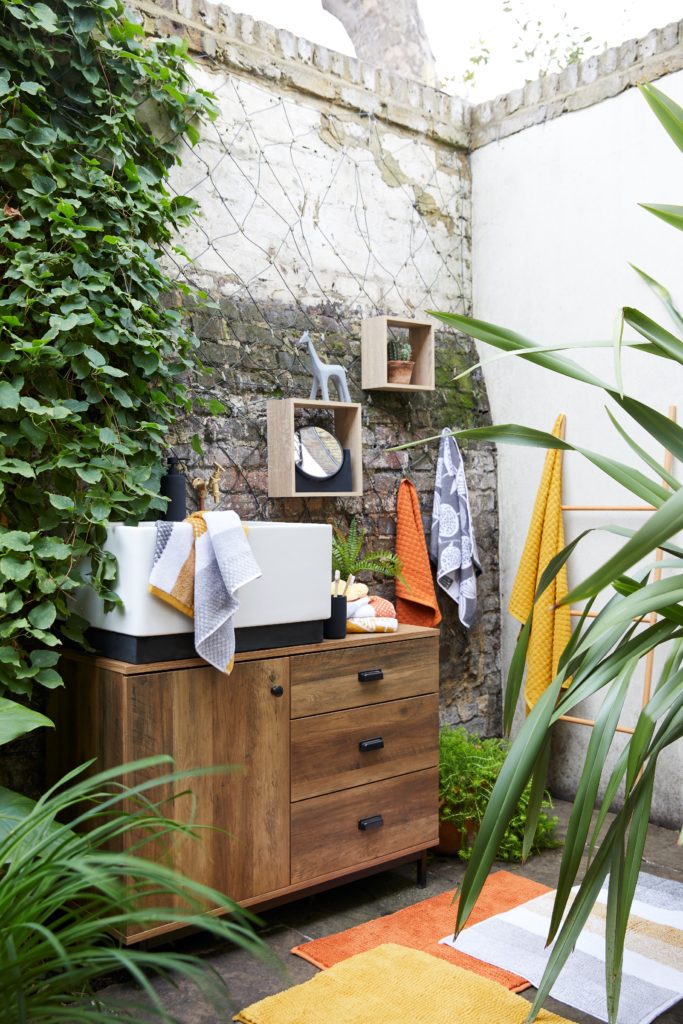 This look is perfect for loft conversions – where space is tight. Rather than trying to squeeze a shower room into the eves of your home – think about having your shower taking pride of place in your room with a smart Crittall screen dividing off from the rest of your bedroom.
For open-plan bathroom inspiration, look at boutique hotels. They often braver with their bathroom layouts. Babington House Hotel in Somerset has roll top baths in the middle of the room overlooking the grounds. Hotel Du Vin in Brighton has twin shower heads in their penthouse suite, so that you can bathe side by side with your partner.
Read more on the Top 5 Bathroom trends for 2020 >>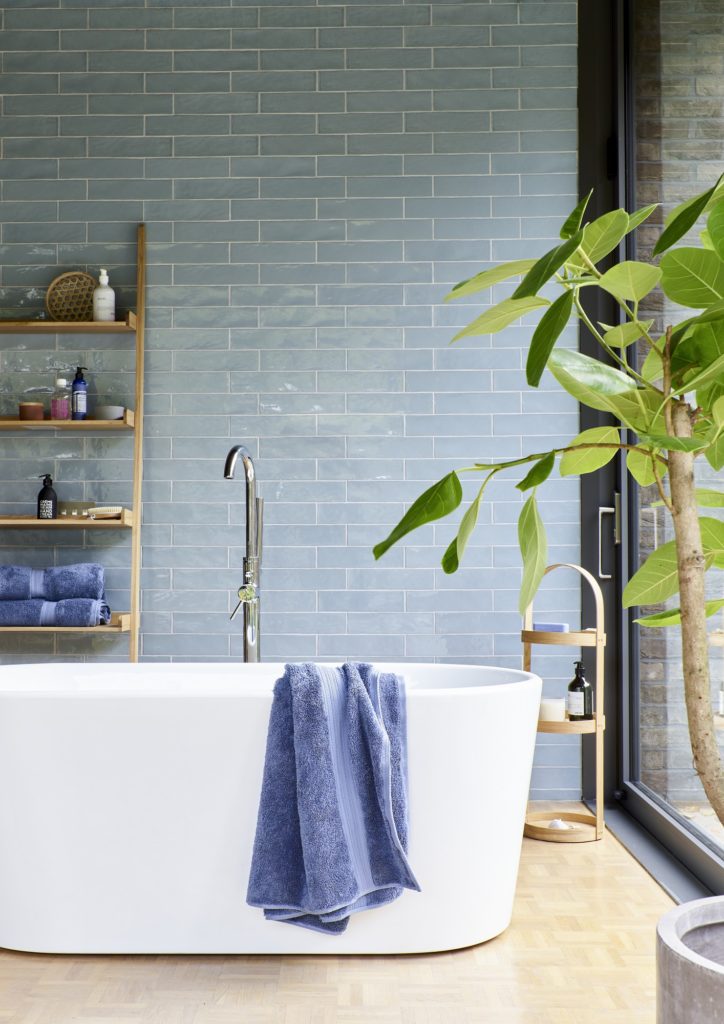 Are you feeling inspired by these Top 5 Bathroom Trends for 2020?
There you are – the top 5 bathroom trends for 2020. There is plenty of inspiration for your bathroom renovations and shake-ups. Let's take the tour of the trends. I'd love to know what which bathroom trend for 202 is your favourite look? Please share below.
You May Also Like
KICK START YOUR DAY WITH A BRILLIANT BATHROOM ROUTINE
BEHIND THE SCENES ON A BATHROOM MAGAZINE SHOOT
STYLING IDEAS FOR YOUR BATHROOM