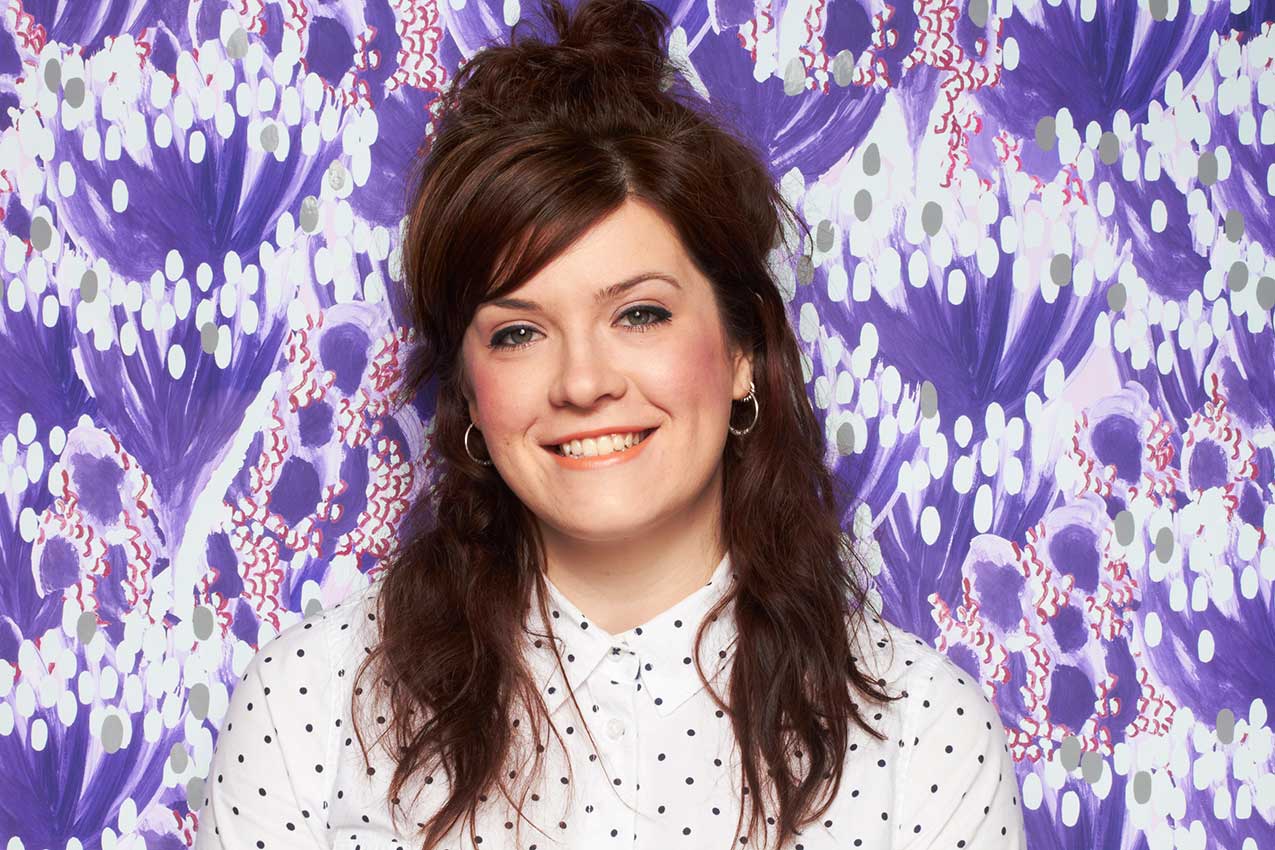 I first stumbled across the work of fresh faced fabric designer Charlotte Beevor through her work with Sofa.com. Her fabrics are all summery colours and soft patterns inspired directly by nature.  Sooo pretty! Here story started at the New Designers Exhibition where she was spotted by the design team at Sofa.com and they fell in love with her designs too. They asked her to collaborate on a range of scatter cushions which will brighten up any sofa. This is where I spotted her work, and as soon as I saw her pretty prints I knew I wanted to meet the lady behind the work. Charlotte paints, draws and photographs elements from nature, manipulating gradients, compositions and silhouettes to create excitingly original and colourful patterns. I love her pick of colours which are soft like watercolour painting. I'm a girly-girly so her work appeals to me. I put forward some Q&A questions (see below) to get to know her better – can't wait for you to meet her.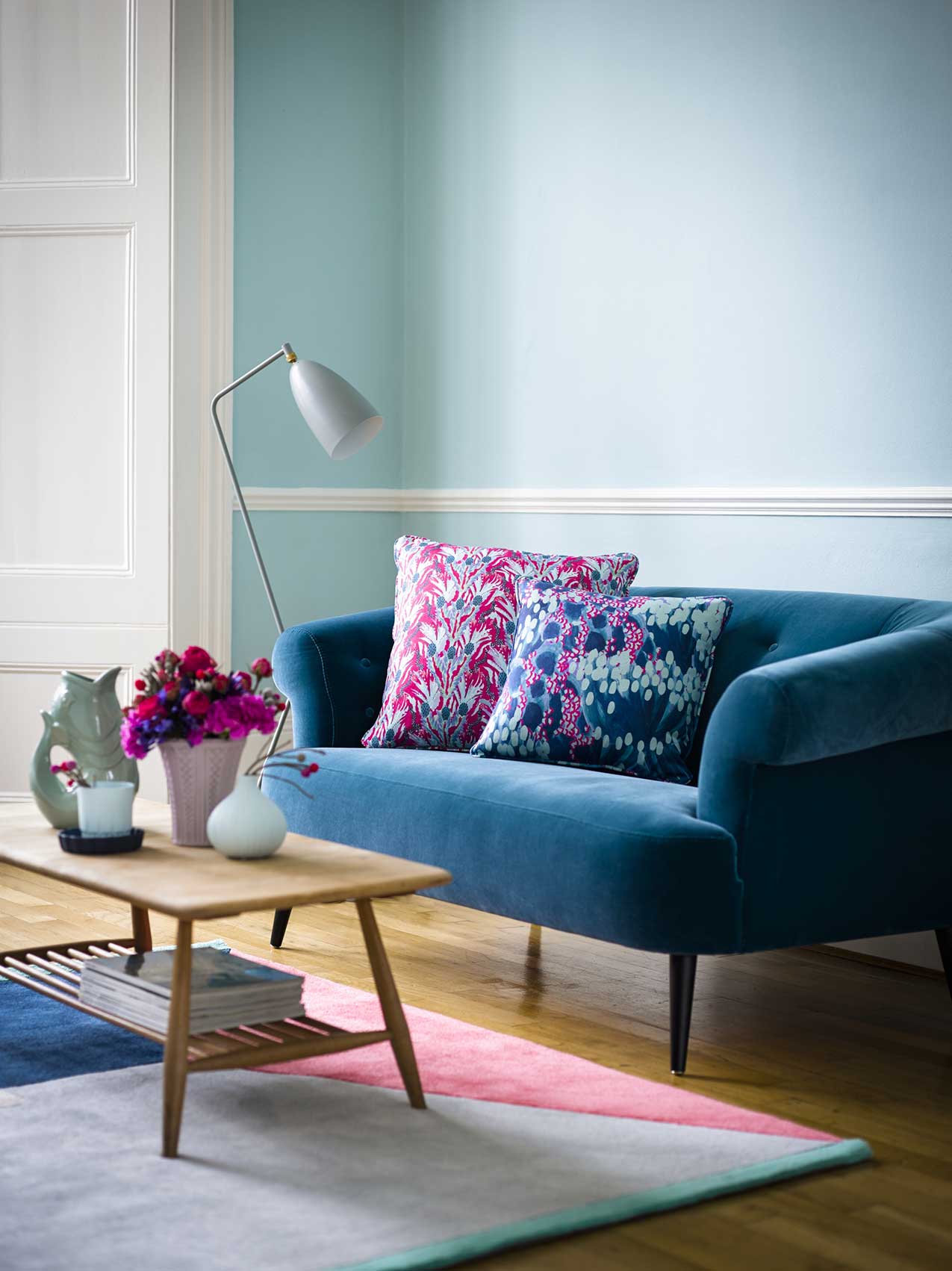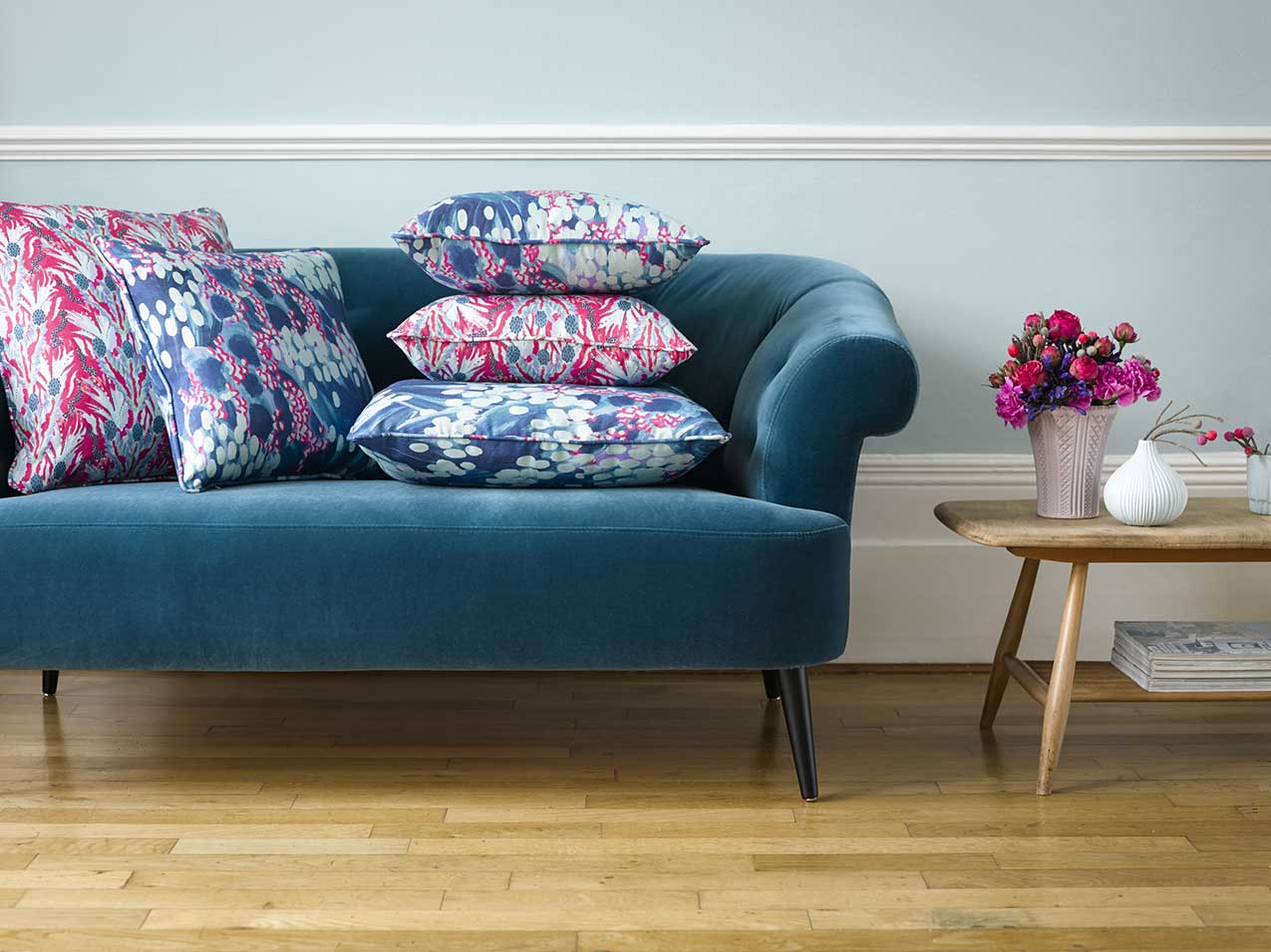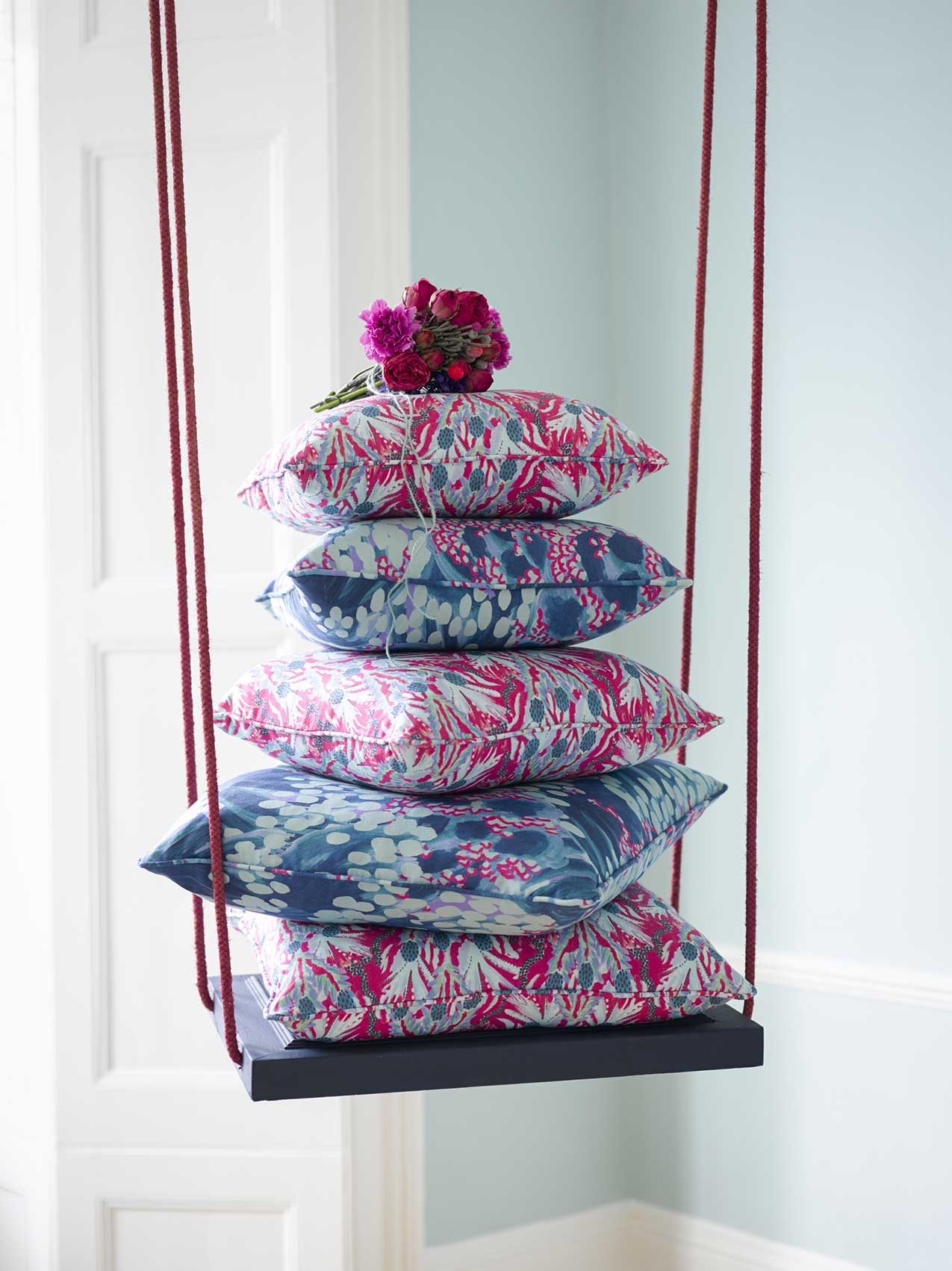 Charlotte's two vibrant designs, Jungle and Ocean, are now available to buy from Sofa.com.
How did your company start?
I always wanted to have my own company and when I won the BDC New Designer of the Year in 2014 it gave me the opportunity to start building my own brand. I thought about creating a brand name but decided to use my own name as it is who I am and I would never change it.
What is your typical day? 
I normally get up and have an Earl Grey or some juice then start looking at my emails/social media to see what has been going on over night and if there is anything I need to reply to (I have been working with companies in different countries so often their night time is my daytime). The rest of the day really depends on what I am working on, some days I will be creating artwork, whilst other days are filled with admin, liasing with printers or manufacturers if I am working on a project for someone or looking into my own products. If I have to head to a meeting I'll probably link that with visiting an exhibition.
Where do you find inspiration?
I find inspiration from going out and seeing things! If I know I have to sit down and do a project I will make sure I have been out to see something first so I can feel inspired. This might be an exhibition or an interesting place where I can go and take pictures. 
If your home was on fire, what would you save first?
I would probably grab my hard drive which has everything on it! But mainly make a dash for my collection of vintage photos of my grandparents as they are irreplaceable and very special to me.
If you could have a cup of tea with anyone from history, who would it be and why?
This is really hard to think of but probably Steve Irwin because I loved him growing up. He was always so happy with what he was doing, and it was really sad when he died so young. He would probably have some animals nearby to play with as well.
What is your motto for life?
Do what makes you happy
What do you have pinned to your fridge?
A magnet that says "Live. Believe. Worry a bit." A leaflet that's shaped like a giant tooth for the dentist, a thank you card from my little sister and some fan mail from my partner's pupils (he teaches year 3).
On Sunday morning I like to…..
Make a special breakfast like pancakes with bacon and maple syrup or something that I wouldn't have in the week
What makes you laugh?
Obvious bad jokes or a really good impression.
What is your favourite design from your range and why?
I don't have a favourite I just like how they sit well together and can be mixed and matched with other colours and textures.
3 tips for someone wanting to in your field of design?
 Stay true to what you want to do
 Work hard
 Be ambitious
Can we have a quick style tip please?
Buy what you love, things always 'go out of fashion' so its important to buy things that give you pleasure when purchasing them so you can enjoy them all the time. Add a pop of colour!
What has been your biggest challenge?
Juggling everything, I love my diary!
Where do you shop for your home?
I normally get things from all over the place. I do love house shopping and if I visit a new country or place I always look for
something that I can take home to go in my house.
What design era do you love most?
I like what it happening at the moment, I love contemporary and innovative design.
What's next for you (personally) and your company?
Booking a holiday! I am working on collaborations and commissions and continuing to build my brand. I am exhibiting at the Society of Dyers and Colourists 'Day of Celebration' in the spring and New Designers 'One Year On' in June!
Where can we see your work? 
www.charlottebeevor.com, www.sofa.come/design-lab
Se, it's she lovely? Love her outlook on life – and I think you can see that positivity coming out of her designs.
I love chatting to designers – we had a had a cup of tea with Bon Masion – you'll love her colour pop ideas for her home.