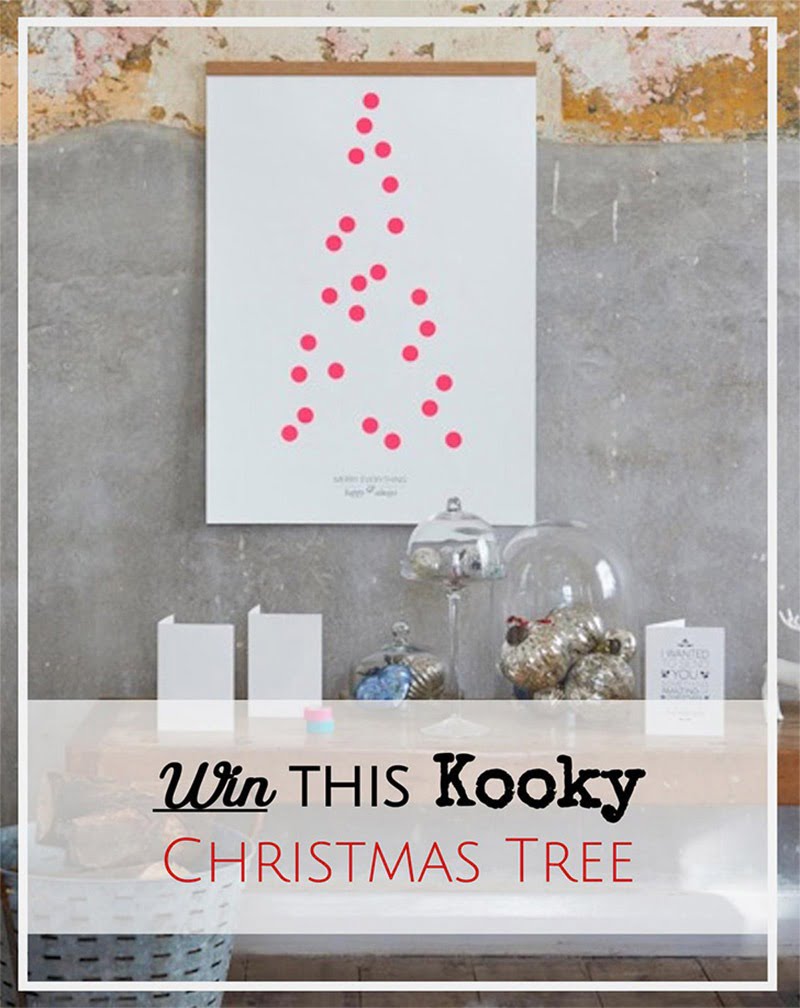 My previous home was so small so there was no way I could I squeeze in a Christmas Tree in my living room. There would be no room to sit down. I so wish I had stumbled across this 'One Two Tree' Print from One Must Dash when I was still living there. This super cool tree print in a funky dot pattern would have made me so 'Ho Ho Ho Happy' (sorry but it is Xmas guys…).  If you love it as much as me, then keep on reading to see how you can win one for your walls.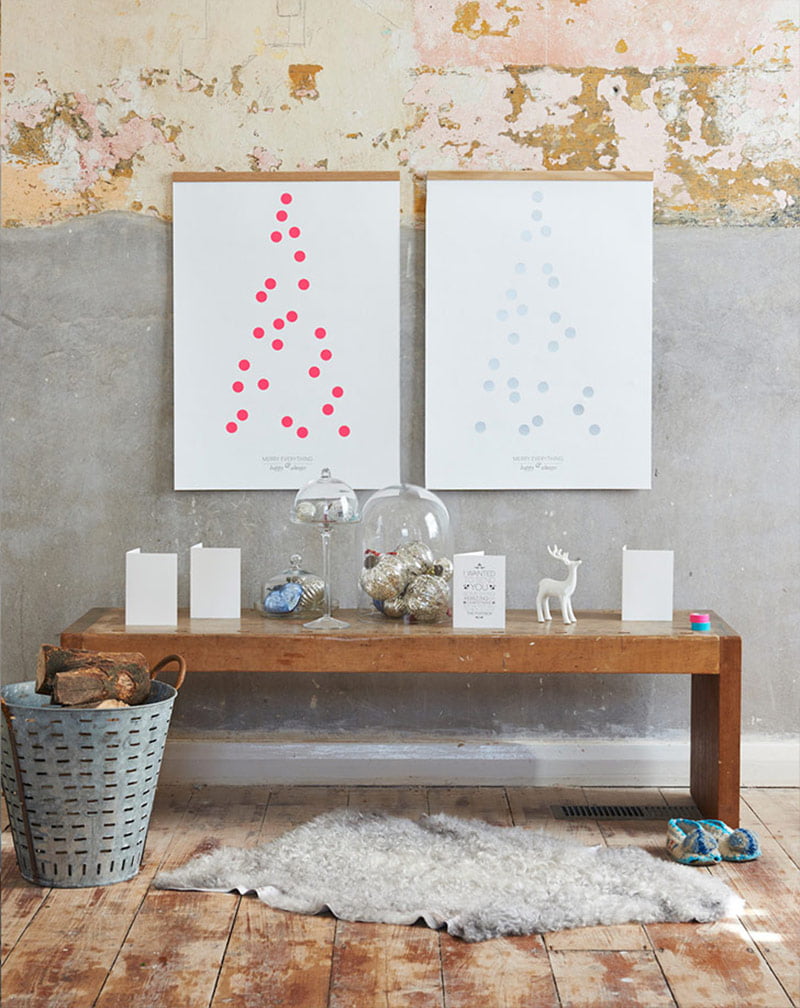 If you are living in a smaller flat like I was, or even in a rented home, or just looking to give a room a Christmas touch – then this print is perfect. It's an edgy alternative to a real Christmas tree but without the needles. This year is going to be my first December in my new house.
After years of zero Christmas trees, I've decided to go a little nuts and go all out with decorations. Boyfriend is more excited than me – and has tinsel at the ready!  I've already got my wreath on my front door, as well as a real tree ready and waiting for me at my local florist all ready to decorate this weekend. In the spirit of Christmas, I've decided that as well as a real tree, I'm going to stick one of these little beauties above my fireplace, or dining table, or both (can't decided).
You could always frame it or just pop it up on the walls with wasabi tape. That would look pretty cool. Or like they have done here with wooden pegs.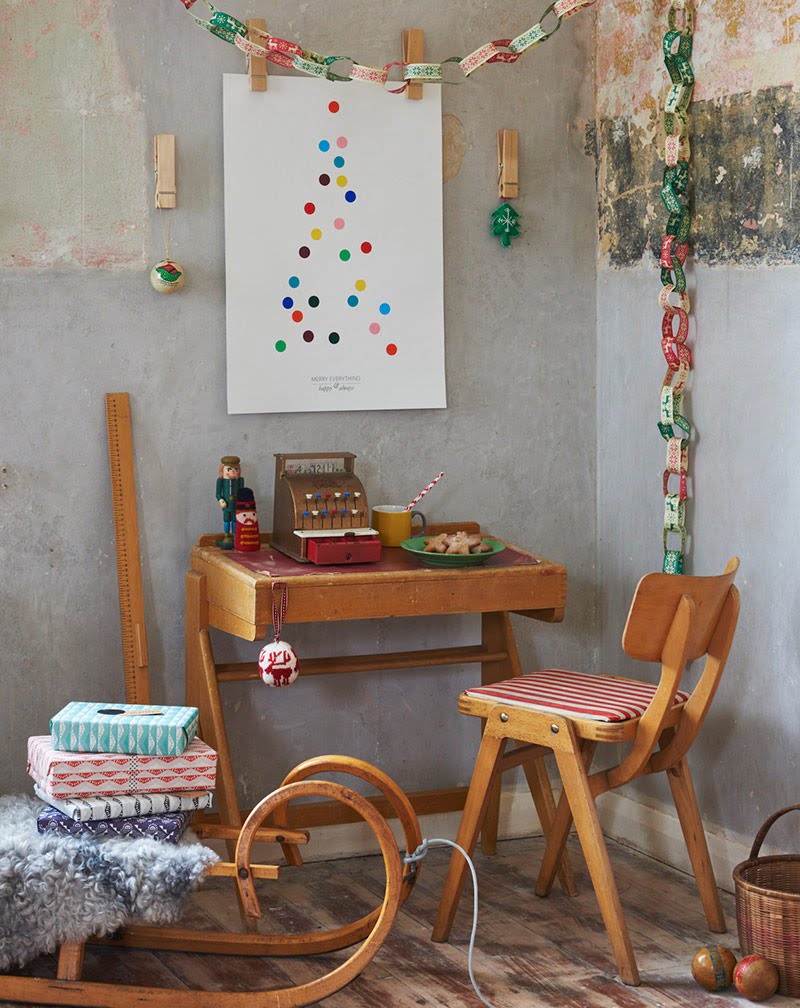 It comes in three colourways – silver, neon and colours. Personally I'm drawn to the neon one (I'm a magpie for bright dots). I've just finished painting my living room walls white so neon would make a stand out statment against the backdrop.  If I was going all grown up look this Christmas – which is what I said I would do – then the silver one would really well.
Don't you think it would make a cool print for a kids spaces, adding Christmas to their rooms without the worry of them hurting themselves on needles.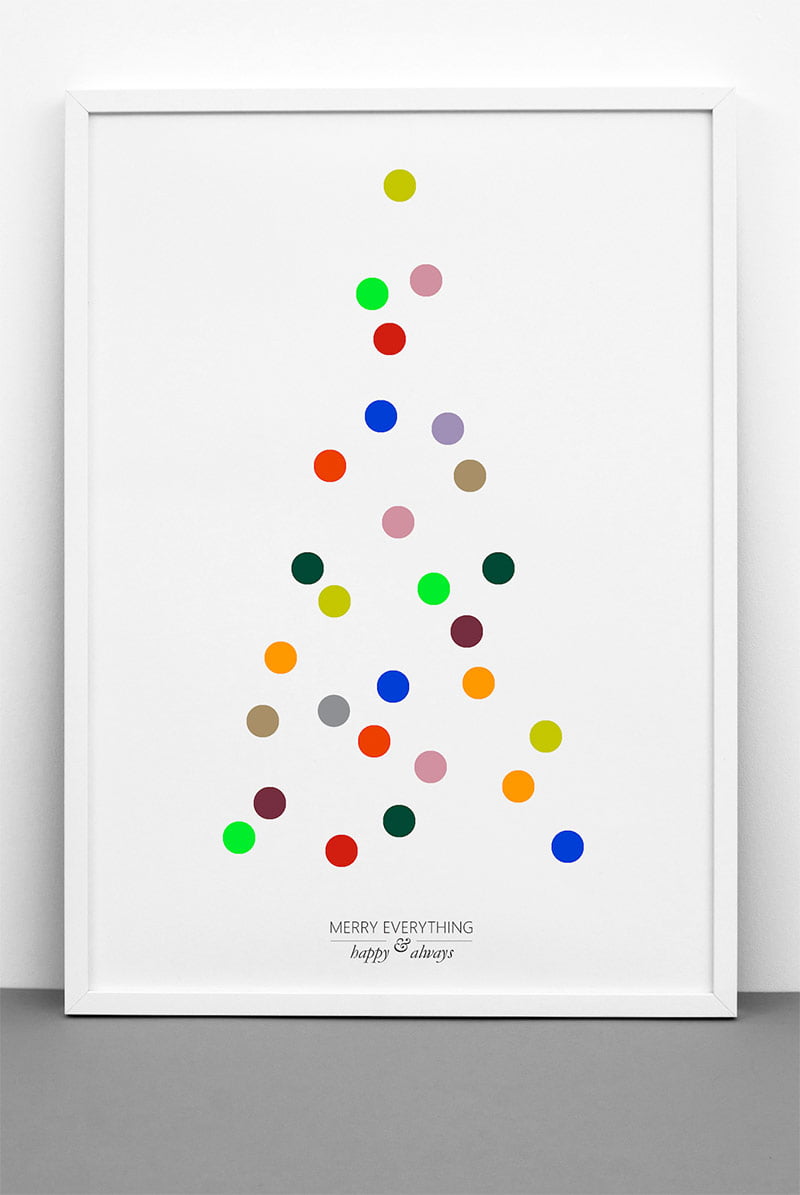 The tree comes as a kit with little dotted circle in 14 places on the paper in the shape of a Christmas Tree. It's up to you how many stickers you put on – if it was left to me – less is more. In each pack there is 54 pieces so there are lots to play with. Have it entirely covered in Silver dots or give it a sleeker look with a few Neon dots. For little ones in mind, maybe choose the One Two Tree in Colours and let them be creative with their design. Enter the competition to win and it could become part of your Christmas tree family rituals.
I love the little quote at the bottom. It's so simple looking – it would look fab in a kid's room – or in one very excited adults home (yes, that's me again). I can claim that I made it (well personalised with my own dots). And the kind people from Oh Must Dash – knew how much I love this little number, and so have offered one up which you can #WIN (see how below).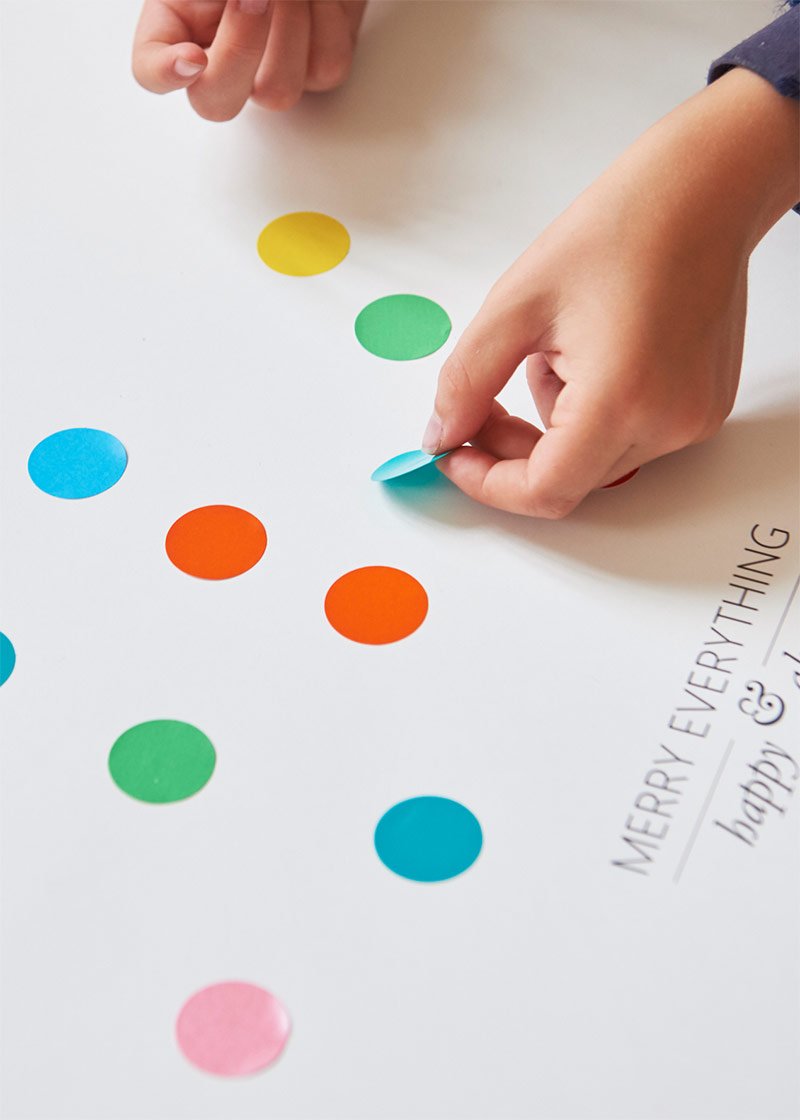 For your chance to win one Christmas Tree print – simply enter competition box below. Increase your chance of winning by entering as many of the ways below. If you are lucky to win, then let me know which colourway you would like – and hey presto your walls will be sporting one of these alternative trees this year.**
a Rafflecopter giveaway

If you are looking for more alternative Christmas tree ideas, then you are in luck as I have been gathering 100s on my Pinterest board – which would work in dining rooms, rented home or even student halls. This year we'll all have a tree to put our pressies under 😉 I'm also going to be doing lots more giveaways through out December – so keep popping bye the blog for your chance to win 😉 Together, we'll give your home sparkle.
Follow WeLoveHomeBlog.com's board [Alternative] Christmas trees on Pinterest.
If you want more Christmas ideas – check out my post on how to give your kitchen sparkling makeover here.

**T+C: This is a competition for one winner to win one print 'One Two Tree' Print from One Must Dash. When entering this competition you are also signing up to my newsletter. If you wish to not be included on my mailing list, then please just get in touch and I will remove you. Thank you . Competition ends on 9.12.15. The winner will be picked at random. Each means to enter increases your chance of winning. The winner will be contacted by myself where you will be asked for your postal address. The prize itself will be sent out by One Must Dash – and they will be taking full responsibility of this. I will inform them within one working week of the competition closing who won.
Good luck!  Any questions just email me.