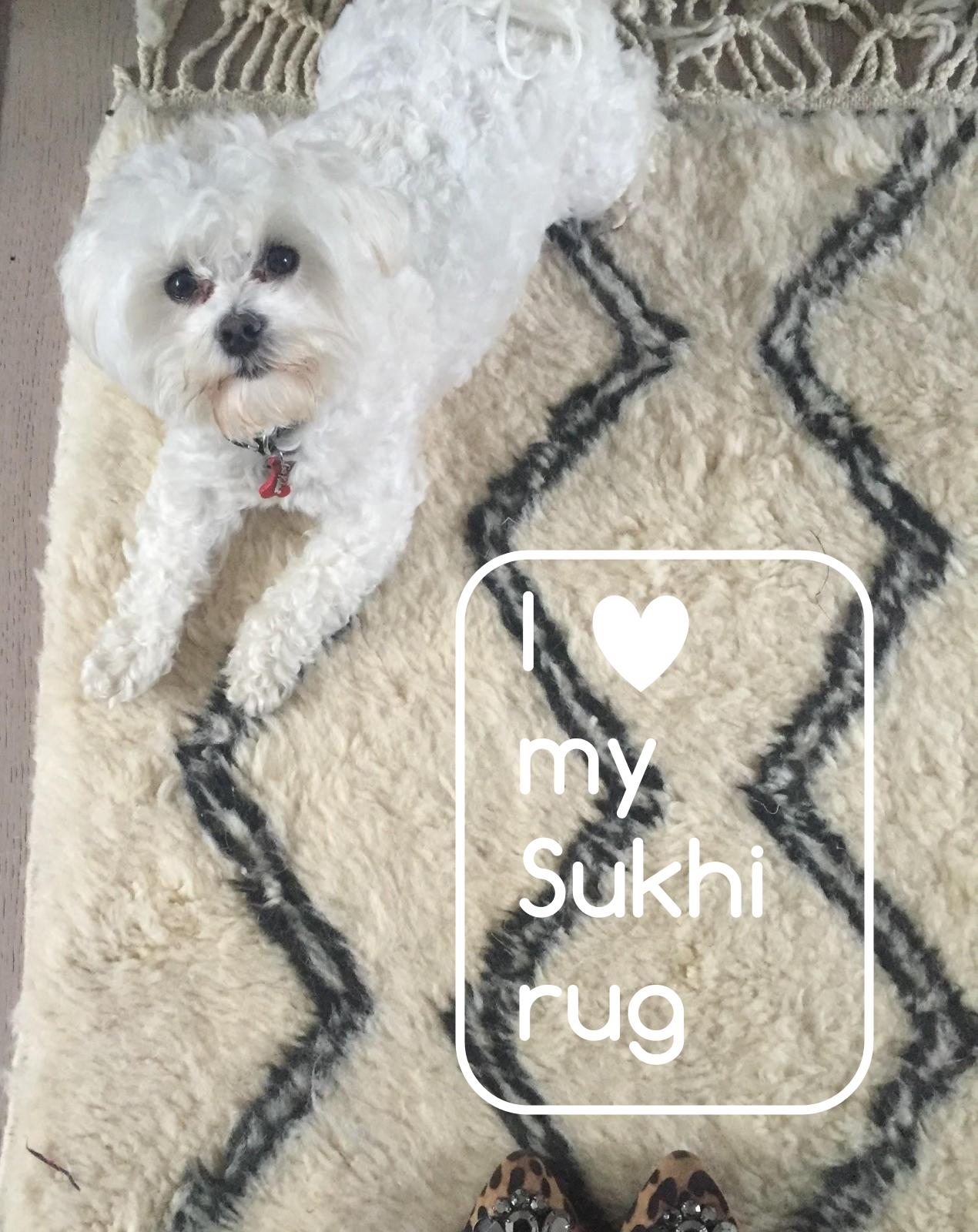 I've long been a lover of the 'Modern Boho' trend for interiors. My own attempts to copy this style in my home looked naff rather than eclectic cool. That is until I upscaled my oak flooring with a handmade Moroccan Beni Ourain rug from Sukhi. It's thick, lush, 100% pure wool and I'm so in love with it (and so is Teddy who I can't budge off it). 
Modern Boho Home
What this Modern Boho trend? I think of it a relaxed, laid-back home full of treasures picked up from travels abroad, effortless giving a knowing nod to time spent adventuring abroad. It's not cluttered or busy, helped by mixing modern or retro furniture with ethnic treasures.
Since buying my little house last year, I've been carefully adding this Boho style to my home. A leafy plants in my bay window. A print from New York on my wall. Lombok fabric used as a table runner. A hanging from Bali in my hallway.  As my confidence grew, it was time to take it up a level – starting with my floor. My idea: to layering up rugs in complementary black and off-white patterns to fill my open-plan living space.  My boho-inspiration: from a trip to Morocco for my birthday in May – the ultimate Boho hanging out spot.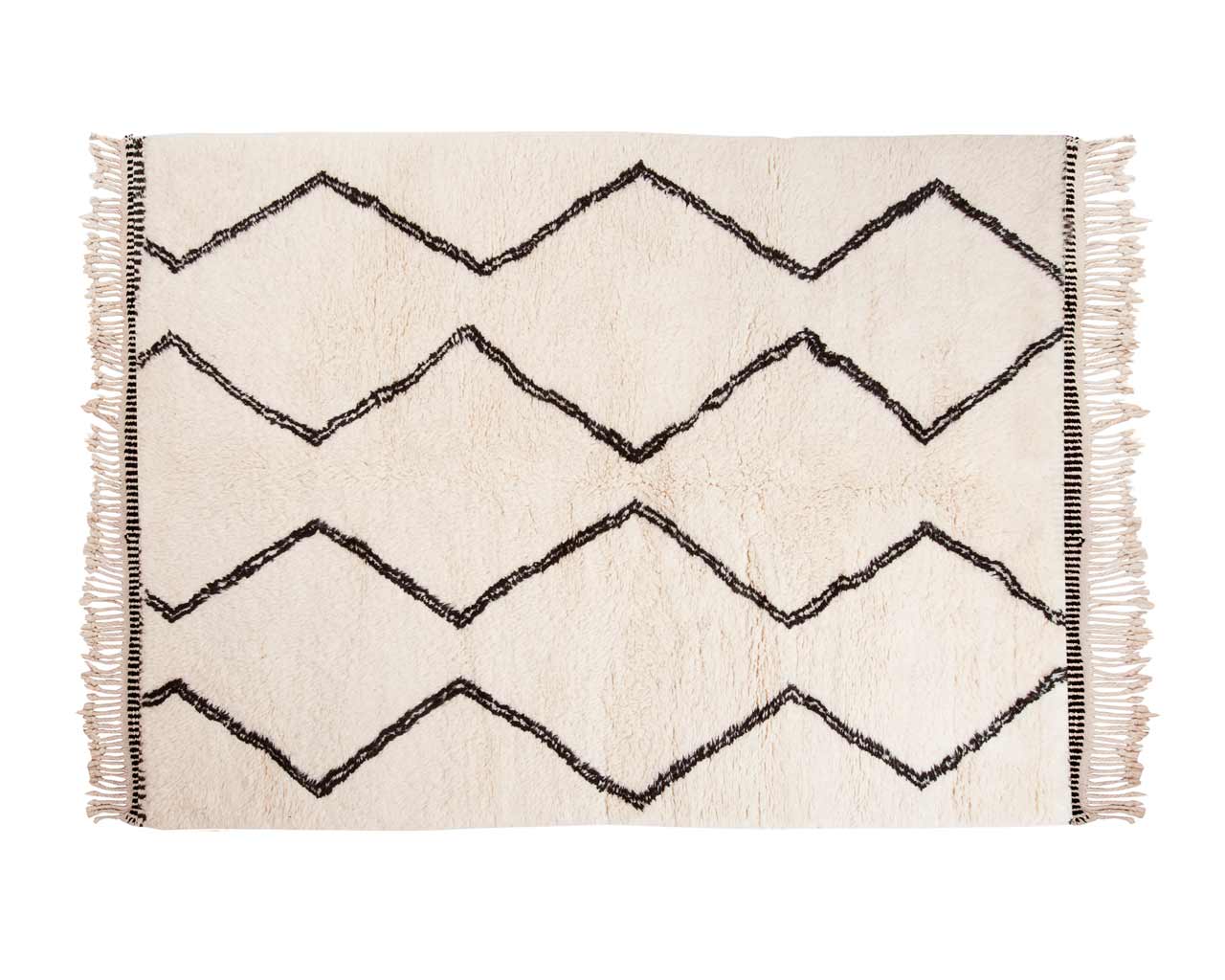 In the covered markets of the main square in Marrakesh, I fell in love with the traditional Beni Ourain rugs that hang from every corner. These hand-knotted rugs are made from 100% wool. They are creamy coloured background with a dark brown signature geometric diamond or symbols pattern. They are dye-free because they use brown wool from the top of the sheeps' head instead. Woven by the Beni Ourain tribes of the Berber people, a traditional craft that dates back thousands of years. Each rug tells a story woven by the hand that has made them. It sounds so romantic, right? I couldn't squeeze one into my short haul case but they had always been at the back of my mind. When Suhki kindly asked if I wanted to review one of their rugs, and I spotted the Naima on their website, I knew it was time to nail this Boho look once and for all.
Customising My Rug
What I didn't realised until I had done a bit of research on Suhki is the strong ethics of this company.  They aim is to help you buy directly from the people who make rugs, cutting out the middle man – so more money goes directly back to the Moroccan people. As a consequence, the weavers of these beautiful rugs have better working conditions and fairer pay, which in this day and age of fast-purchase homewares is huge peace of mind. After all, who wants something in their home that has come at a great cost of others? The best bit – apart from being very ethical – is that as each one is handmade and you can customise your rug to suit your home. In my case, I wanted a rug with a repeating diamond pattern to go with the other flat woven rugs in my living/dining space. They made me one that was a perfect fit for a space between these two rooms.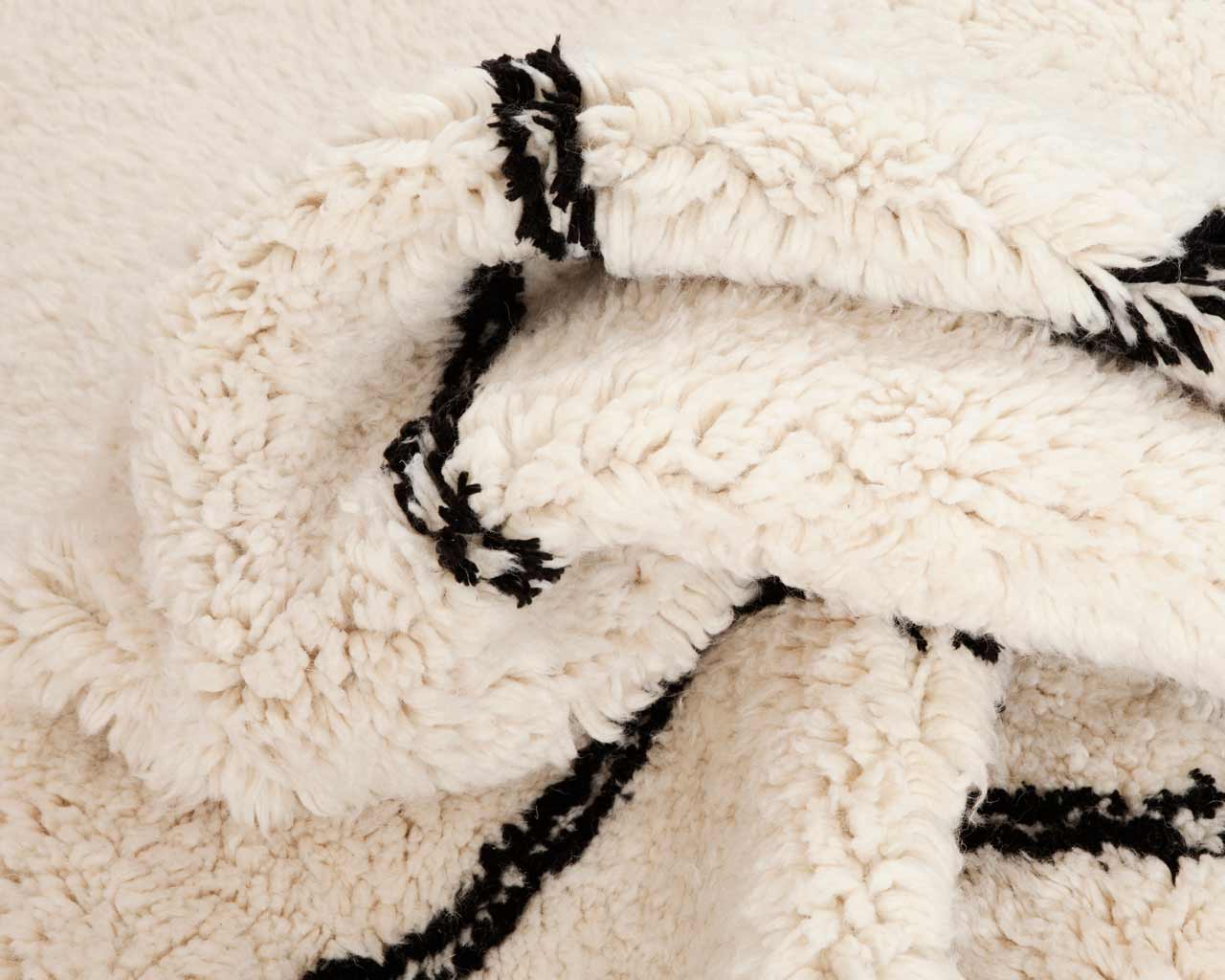 This is my rug up close. I can not describe how soft and cosy it is to touch (that is why it has become Teddy's fav spot in the house). The wool comes from special sheep that live in the Atlas Mountains, part of an ancient breed. It's very thick – about 30mm long – and unlike other wools, doesn't make my skin go all itchy when I touch it.
I think this look works best when you team the ethnic pattern of the rug with retro or mid-century furniture. Suhki's website has lots of inspirational ideas that show you how to add these Beni Ourain rugs to your home. My favourite the look is the black 1960s chair pick from a flea market in San Francisco, teamed with the New York inspired pen-and-ink drawing, and then a palm in a rusty Indonesian-style metal pot. The crisp white walls act as a back drop the whole set up, making everything Ping! It's less about fuss and more about allowing each piece to sing.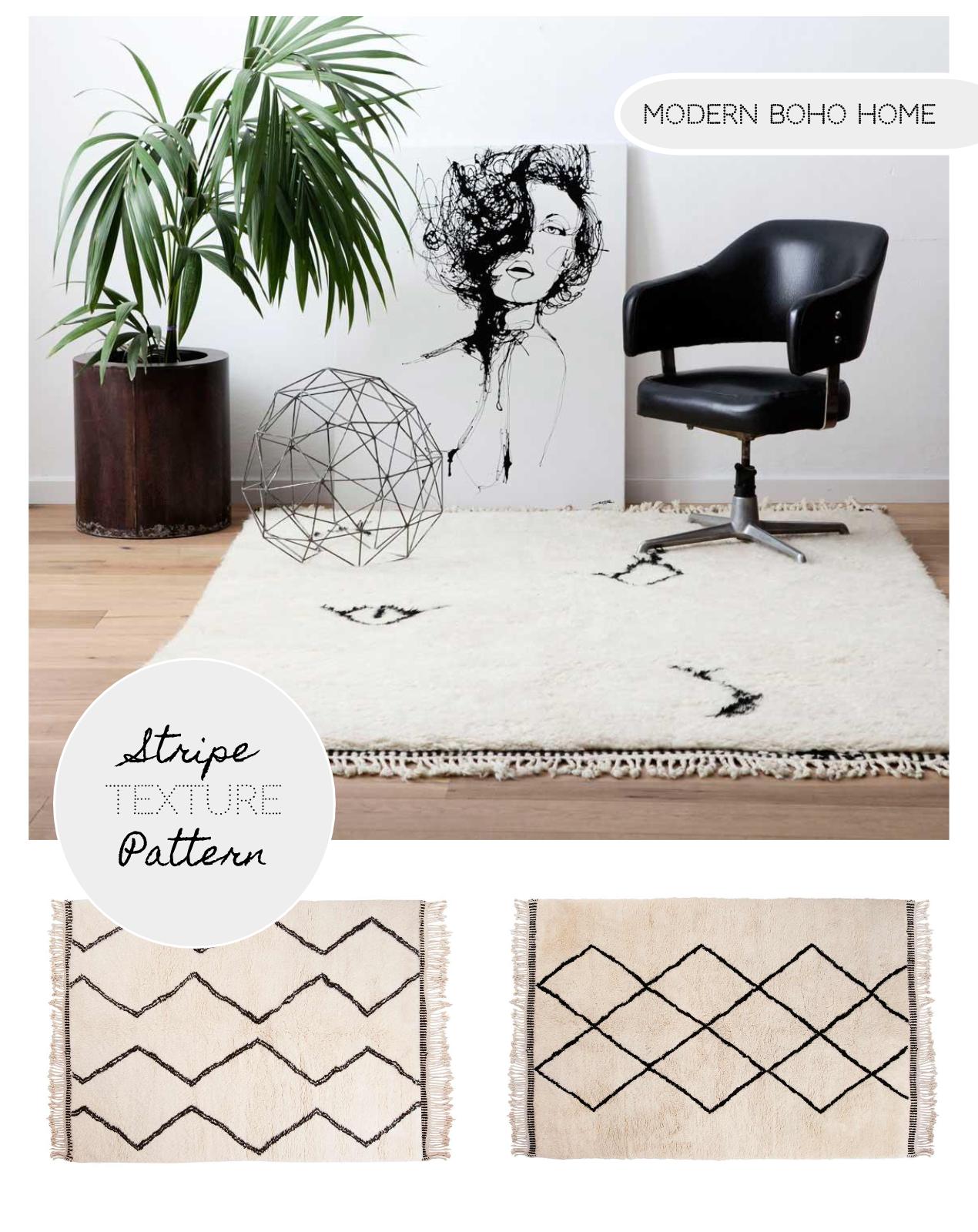 You can read more about these rug history here but from what I have learned is it's the women usually weave these rugs. And they have a history of adding their own story into the designs. The symbols (see below) can represent anything from birth, fertility, nature and femininity. My rug was made specially for me by a lady called Nadia (her name was on the rug) and I feel it gives my home a personal touch that other (shop bought) rugs can't offer. I think of it as an heirloom that gives my home that 'Modern Boho Look' at last.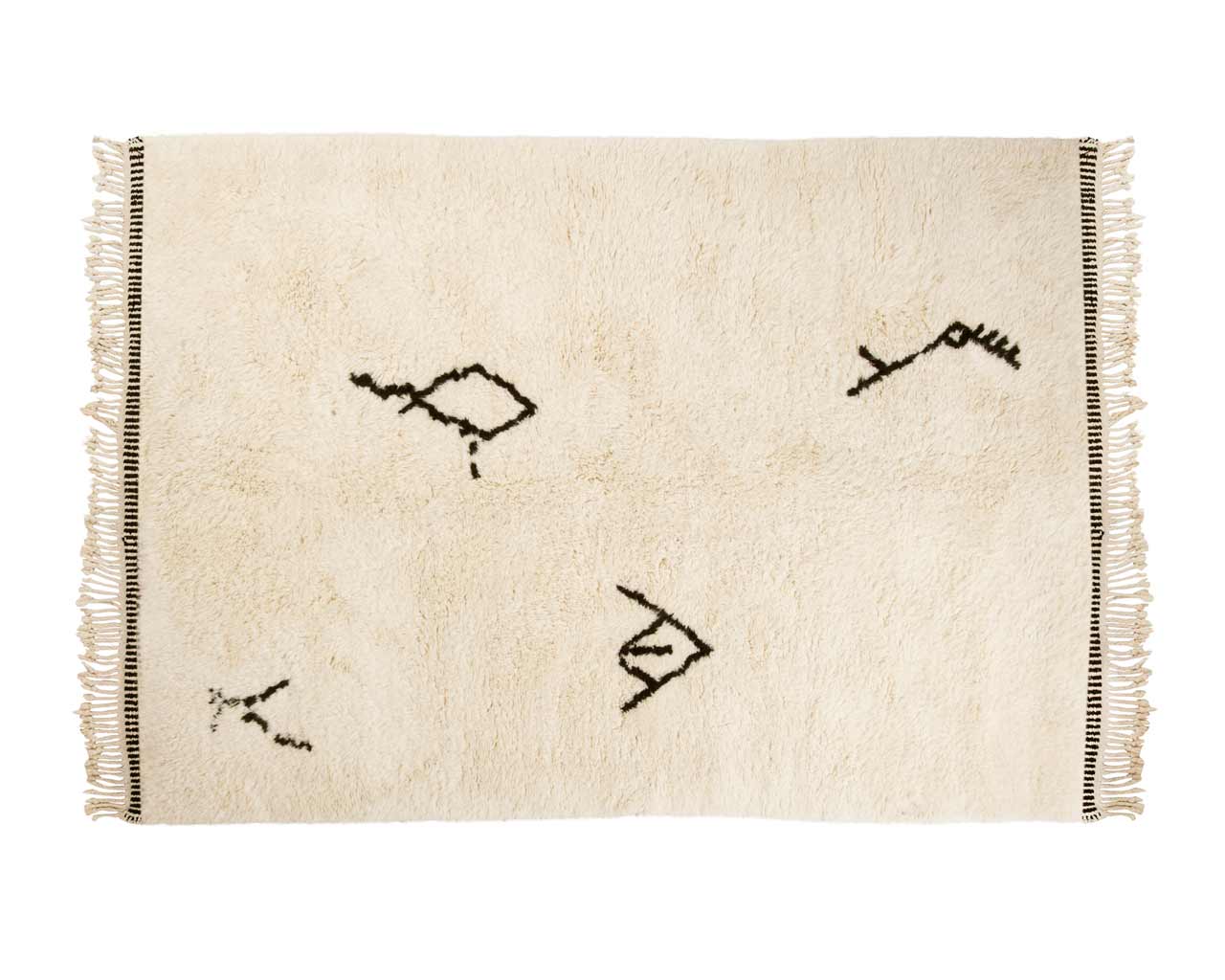 The cost
My 80 x 100cm Naima rug costs $259 or £196 (it's in the sale right now) and this price also includes free shipping. The larger the rug, the more it costs and delivery takes from 8-12 weeks from weaver to your door. That may seem like a long time but these rugs are a lot of work, and take hours and hours to produce. When you have your rug delivered, its rustic finish is special to you and your home.
Why do I love my rug so much?
My a sucker for a good story and I love knowing that this rug was made just for me: I have a piece of personal history on my floor. I love that is made from pure wool with no chemicals dyes to get the detailed pattern. I love the history behind the design, and it reminds me of an amazing trip to Morocco. The ethics have made me think about where I will buy my rugs in the future, for sure. And of course, it is so lovely to walk on too, so soft and cosy.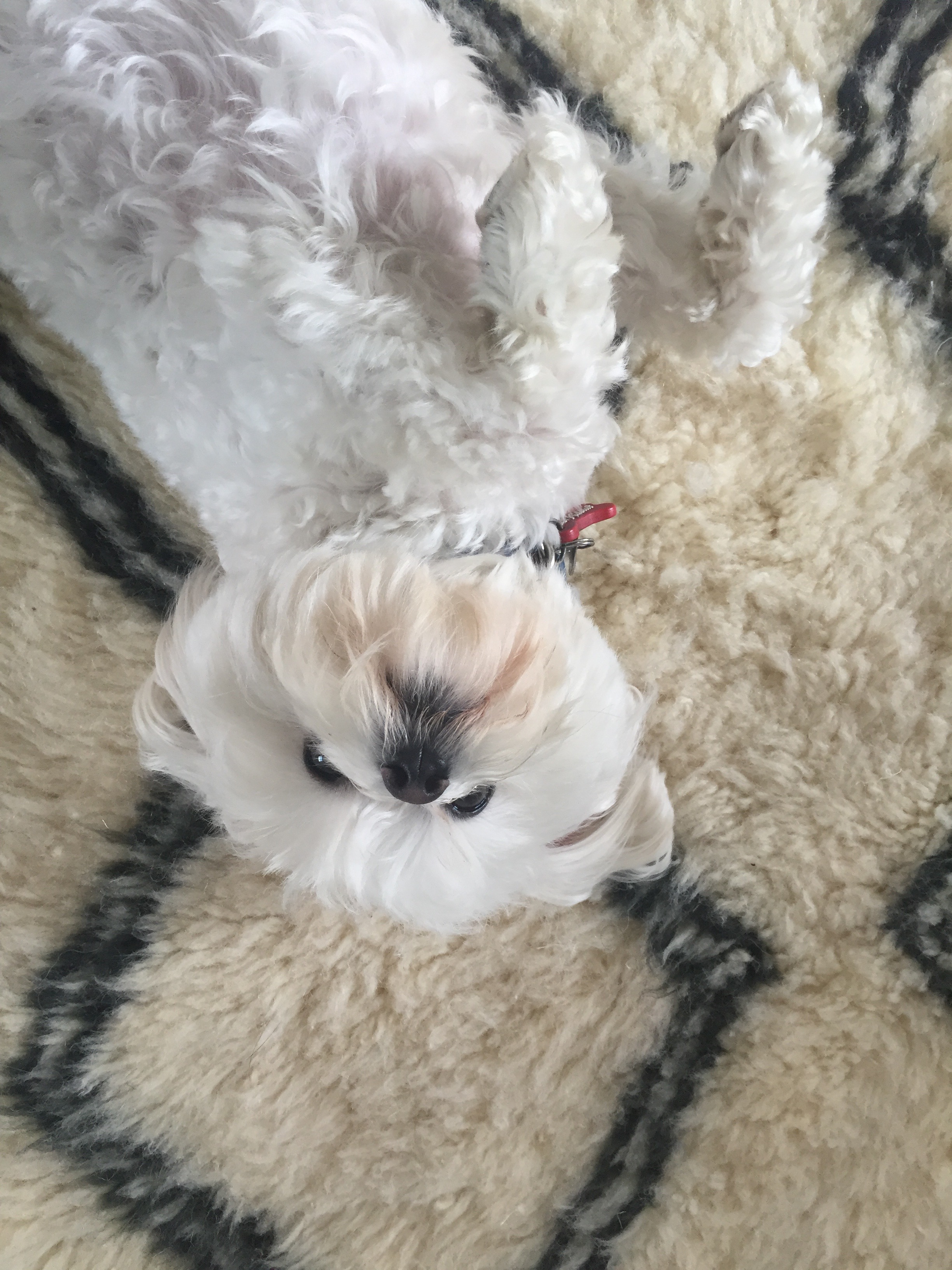 I tell you one furry friend who is happy with my latest home love…it has officially become his chill out space in our home. Thank god he is cute, or he wouldn't get away with it!
For more inspiration on 'How To Style Your Holiday Treasures At Home' please check out my blog post here. In the meantime, I love to know if you have become a fan of these geometric rugs and if the ethics behind Sukhi have give you pause for thought.
** Disclosure: I was given this rug for free but all the thoughts and comments are my own.