All this horrible wet weather won't stop me dreaming up new Summertime makeover ideas. Most recently, I've been planning how to update my garden shed. Whether you want a bit of space to indulge in your hobby or a place just to sit and chill, below I've gathered the best ideas on how to make your garden shed into a valuable extra room.
Think of  it as a Wendy House for grown ups or a chic space where you can let your imagination run wild.
1. The Grower's Shed
I'm updated my back yard last Spring (you can see my makeover video here) but over the past 12 months it has really blossomed, bursting into life. Although my space is tiny, I reckon I can squeeze in a potting shed next to my colourful recycling shed which I up-cycled last year.  I could see myself enjoying a whole afternoon pottering around on that vintage table. I'm going to steal the idea of  hooks to display the garden tools is inspired. Makes a feature of them rather than shoving them at the back of the shed (which is how they are right now).   All the rustic bits and pieces above are from Dobbies at Tesco Direct from £5 for a cushion.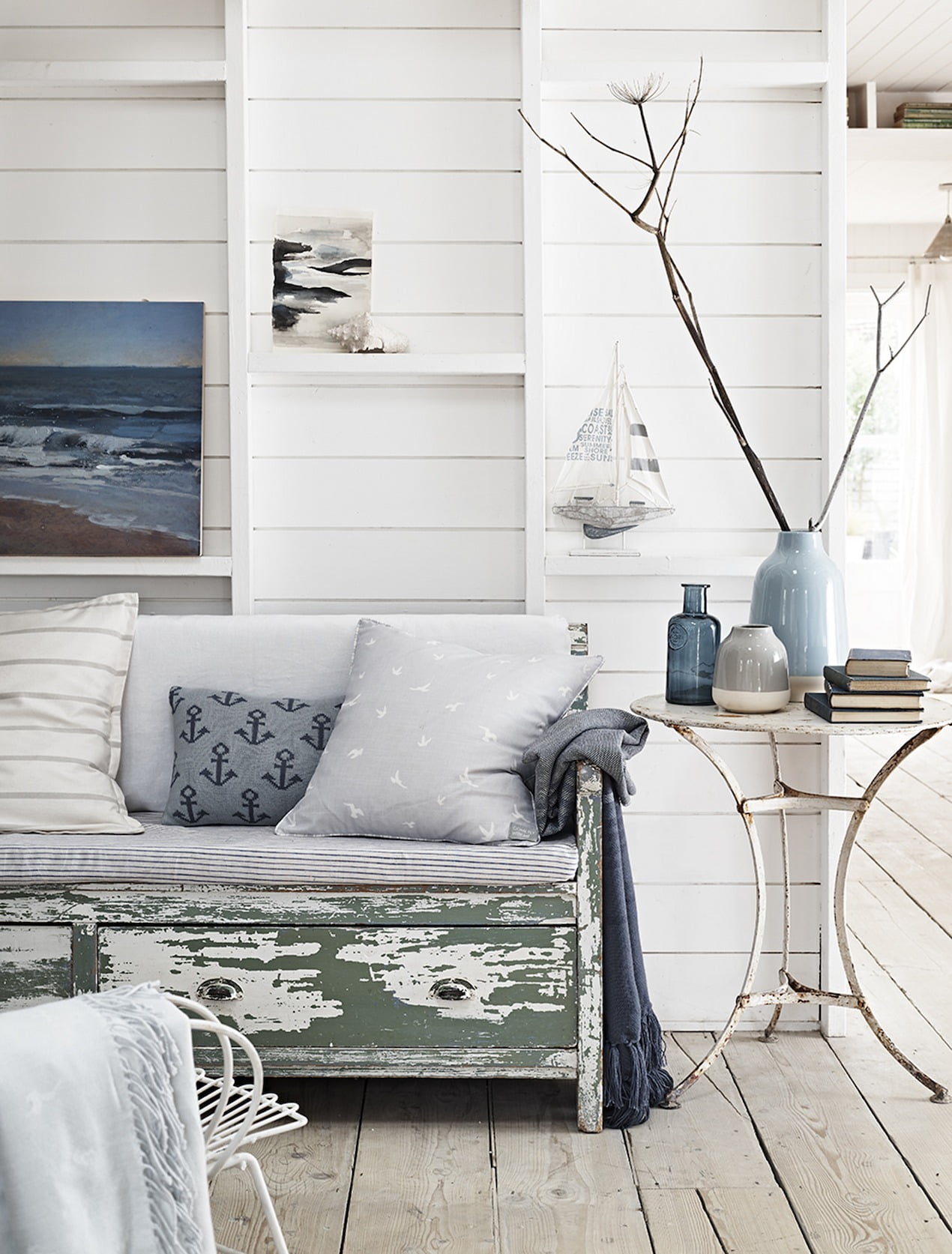 2. The Book Worm's Shed
If you love reading but never have P+Q to do it, then thinking about transform your common-old garden shed into a reading nook. Loving this distressed wooden bench with storage drawer. It's ideal for stashing away extra blankets and throws to cosy under when the novel gets really juicy. Personalise the space with simple art and a handy table. Don't forget good lighting for late night reading. Accessories all Sainsburys.
3. The Hobby Lover's Shed
What, might you ask, is a She-Shed? It's an escape, hideaway, retreat at the bottom of your garden where you can gather some much needed "Me-Time" in the tranquility of nature (well your back garden at least). This is where the shed comes into it's own. I found this amazing shed on Pinterest by on-line vintage shop owners at  – Junkaholique. This is her sewing room where she alters the vintage clothing she sells (check out the silk 1930s gowns she has – swoon). Her husband has is own matching shed for making his handcrafted leather bags. Inspiring.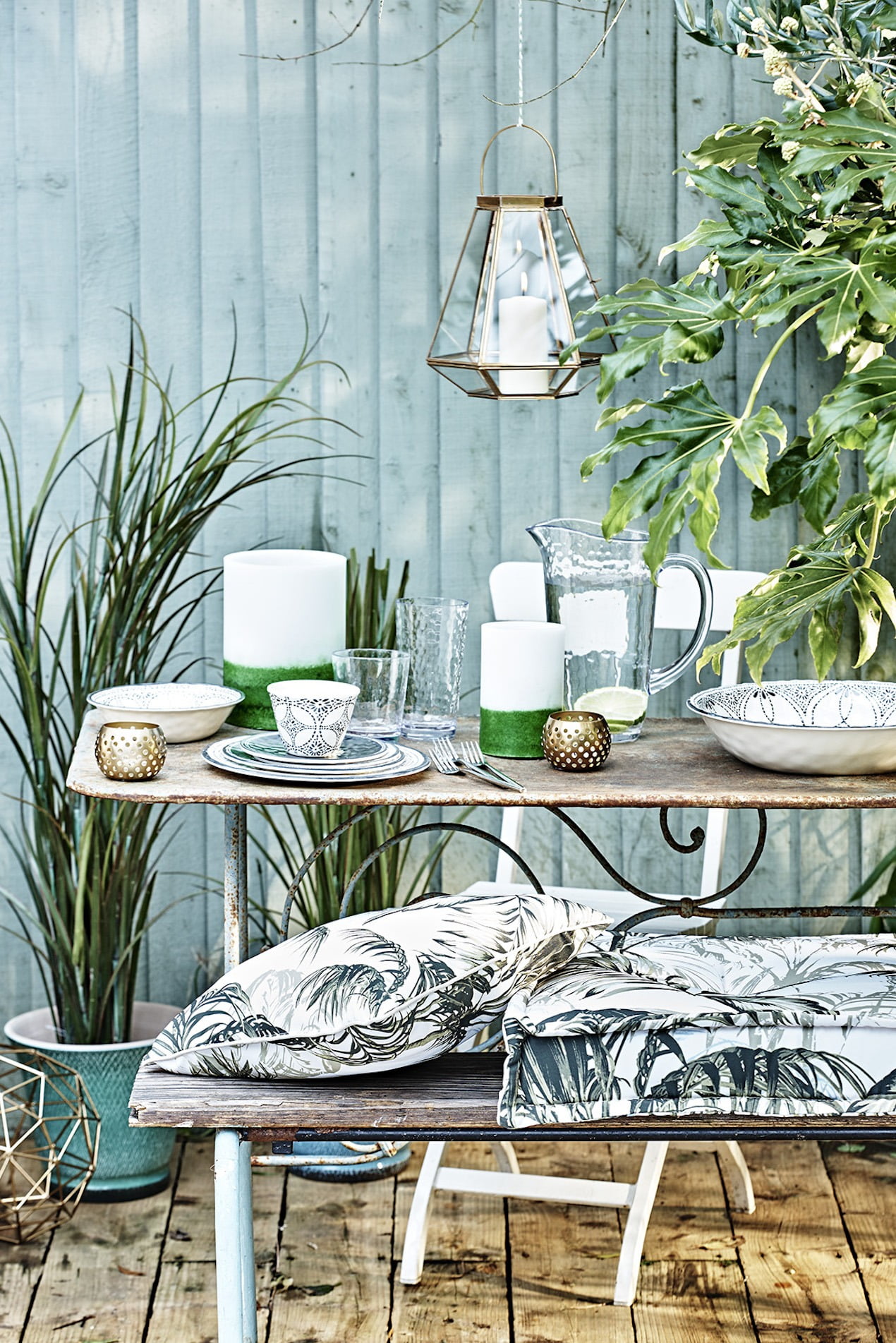 4. The Foodie's Shed
Not all of us food lovers have space to entertain in….until now. The simple garden shed can become the perfect outdoor dining space. My tip: pick one with double doors that open out onto the garden so that you can open the shed out onto the garden, and string up a ton of fairy lights and scatter tea lights around to create the perfect setting. And being inside a shed, it will protect you from the rain and contain the noise – perfect as the wine flows and the laughter grows. Who would refuse your diner invitation when you tell them where they are going to eat? Treat it as a real room by painting the walls and potted plants. Love the botanical cushions from Sainsburys too which will make the bench super comfortable.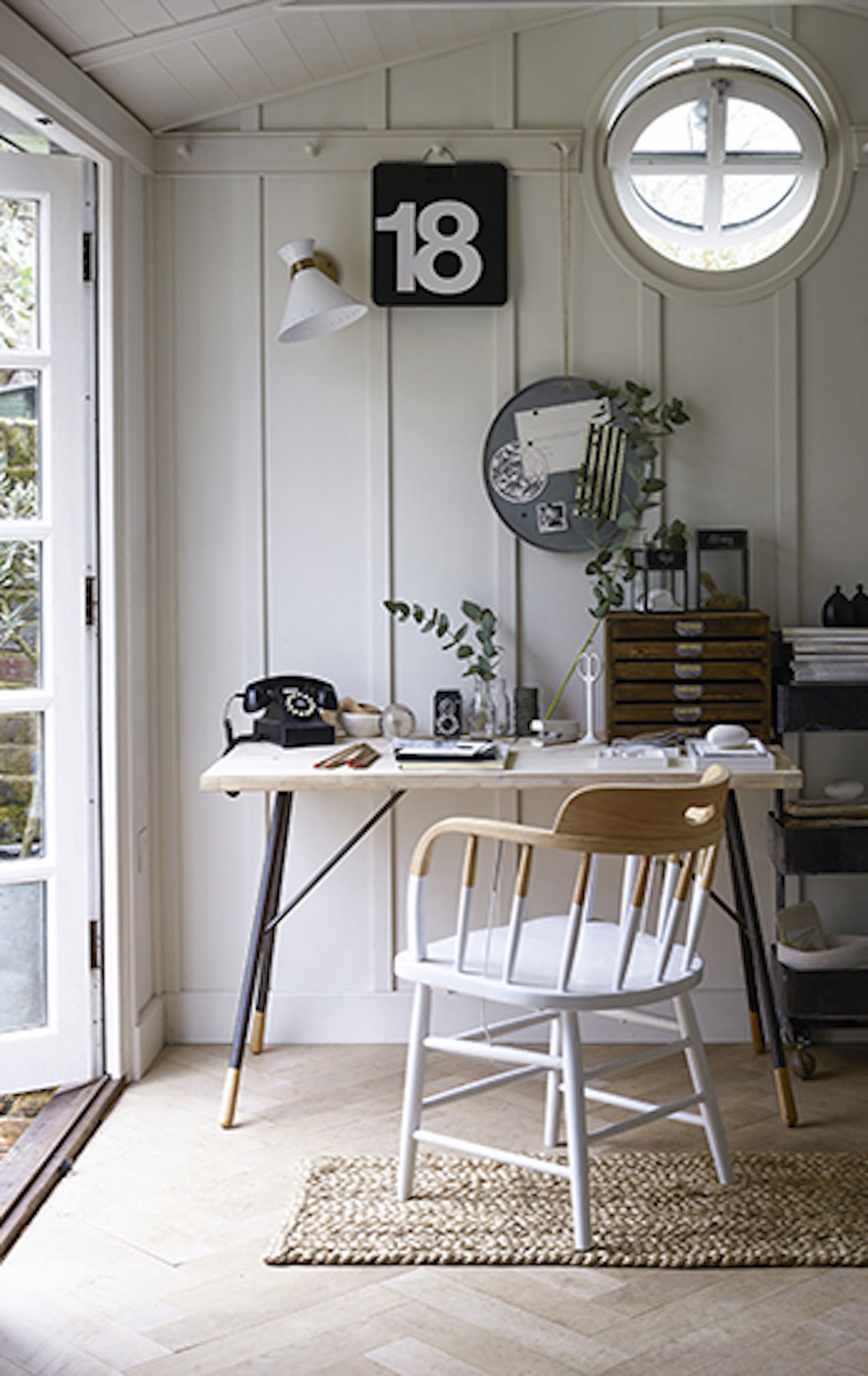 5. The Writer's Shed
Okay, so this has to be the dream for me. My very own home office in the middle of nature. I spotted this design on HGLiving and was lusting over the parquet wooden flooring, the Danish chair and the vintage accessories like the old telephone. You can see me in there right, tapping away on my lap top writing my blog posts. What makes this room work is that everything in the space is nice quality from the desk to the wooden cladding to the glazed door.   I bet there is underfloor heating there too so the space can be used all year round. This ticks all the boxes for me.
6. The Free Spirit's shed
If you watched my first every video home tour of my house here you would have heard me talk about idea of putting in a sauna…..well this would be the perfect accessory for all that steam. A bathing shed that you could get all hot in (perfect for unwinding) and then after – a freeeeeezing cold outdoor shower (or if you are braver) bath. I'd dress it like this – with a tin tub, and keep lots of cosy towels to hand to wrap up in.
---
Have you worked out which style of shed is for you?  Well, if you are feeling inspired and are looking for your very own chic-shed project, then why not take a look here at Lidget's range of Garden Rooms. Prices start at £3189 for a 8'x8' pebbledash garden room. And the cost to revamp inside? Well, your imagination costs nothing. If you handy enough, you can build a shed by following with this guide.
Looking for more garden ideas? Then please check out my Pinterest Board jam-packed with inspiration on how to spruce up your outdoor space.