Have you seen that look – Boho Modern – which is taking over Pinterest? It's fab isn't it, but pretty tricky to know how to work it into your own home. Not today – don't sweat it! This is where I step in with my six ways to create a Boho-Modern interior at home – all illustrated by shots from my magazine shoots. Let's do this.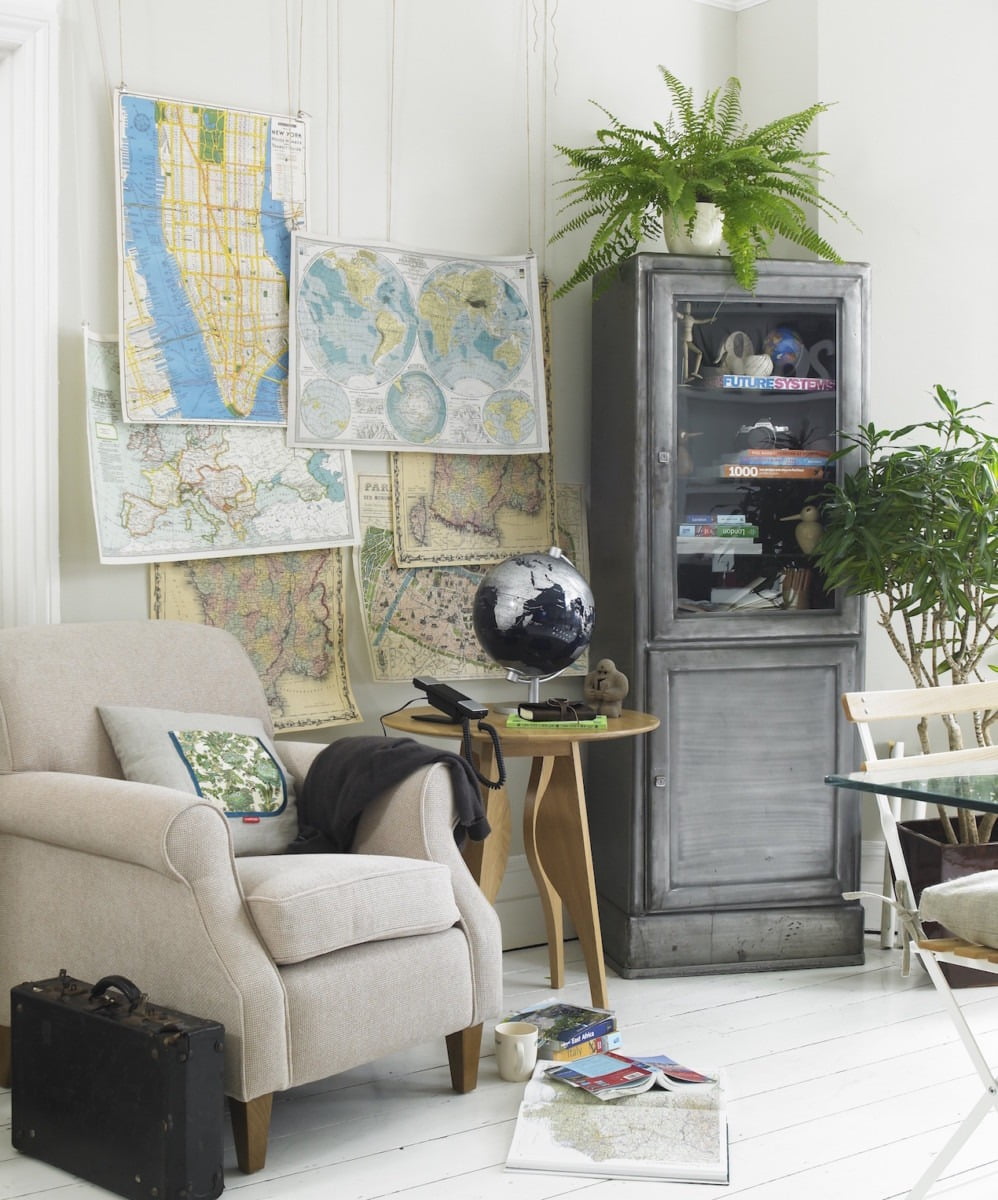 WHAT IS BOHO MODERN?
A quick look through Instagram and Facebook, and you'll see it is teaming with Kilim rugs and cushions, exotic holiday treasures, rough woods, tropical plants and terracotta tiles. It's a look. It is so laid-back it is almost horizontal.
It's an easy style that is effortless (which we all know took years to put together).
I love love love Boho Modern, but I'm not 100% confident of filling my whole home with ethic prints, wooden crafts and plants. This is my very own version – a softer, sweeter version of the look. Let's start at the top.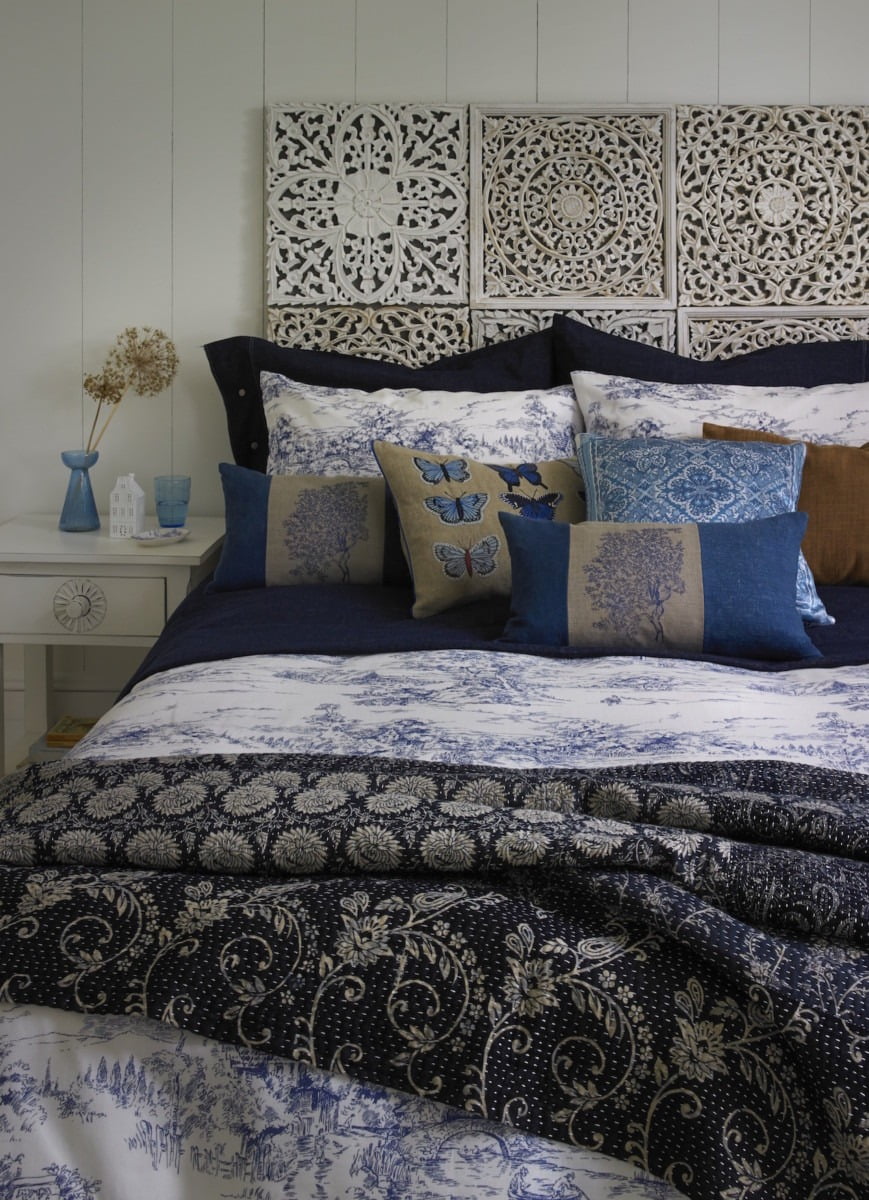 Tip 1: BoHo In The Bedroom
As the hero of your room, your bed will take centre stage. Now the true Boho-Modern hippy would have an AMAZING French-style bed by Hudson Furniture like this one: Roccoco curves with voiles hanging above and layers upon layers of throws and rugs.
Us mere mortals need to concentrate on the basics – Boho Modern bedlinen. I'm a sucker for a Kali throw. Throw one or even two (go wild) over a pretty bed linen set – and there is the look. If you want to throw caution to the wind, make a headboard from decorative Indian wooden carvings. Nice, and easy too!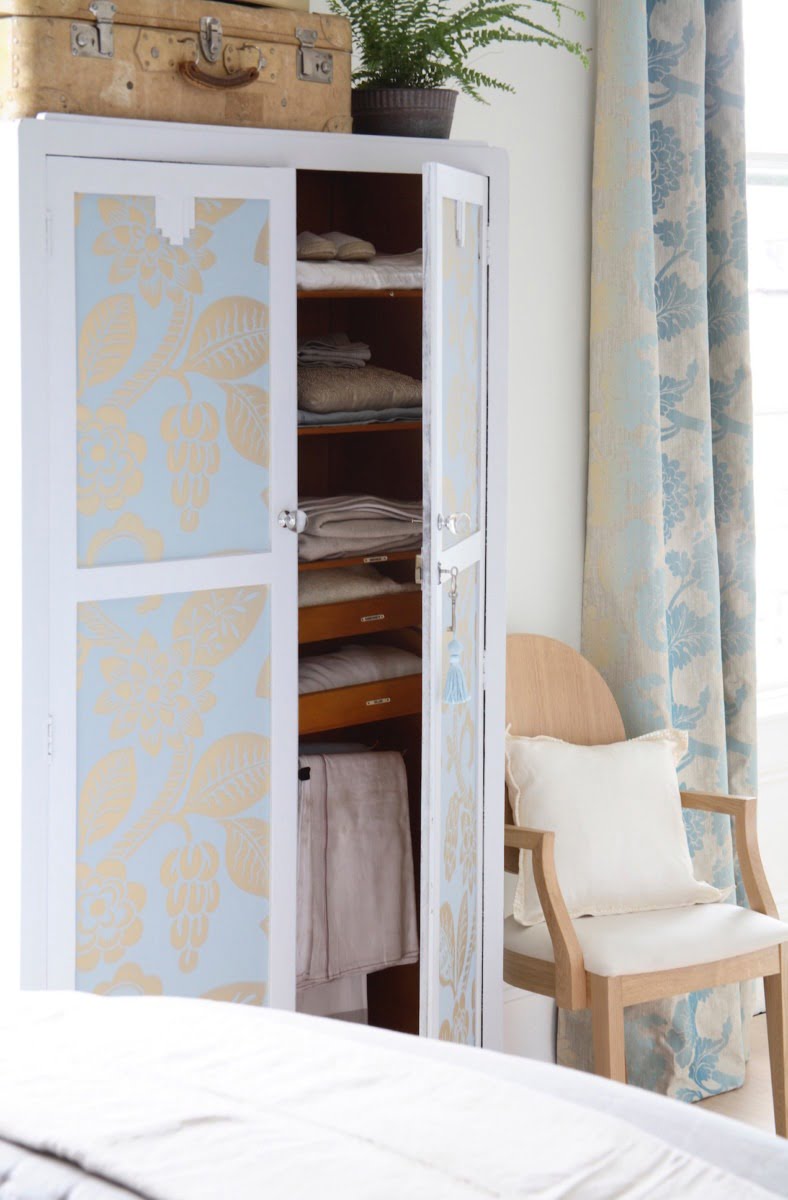 Tip 2: Add Flea Market Finds
The Boho Modernist spends weekends in flea markets tracking down a one-off piece of furniture. If you're not one for car boots, then let's cut to the chase…see the plant and the vintage suitcase up above? It's a clear sign we're entering a Boho-Modern bedroom. That's all you need – suitcase you can pick up from Oliver Bonas and a fern from your local garden centre. Our work is done here. Next!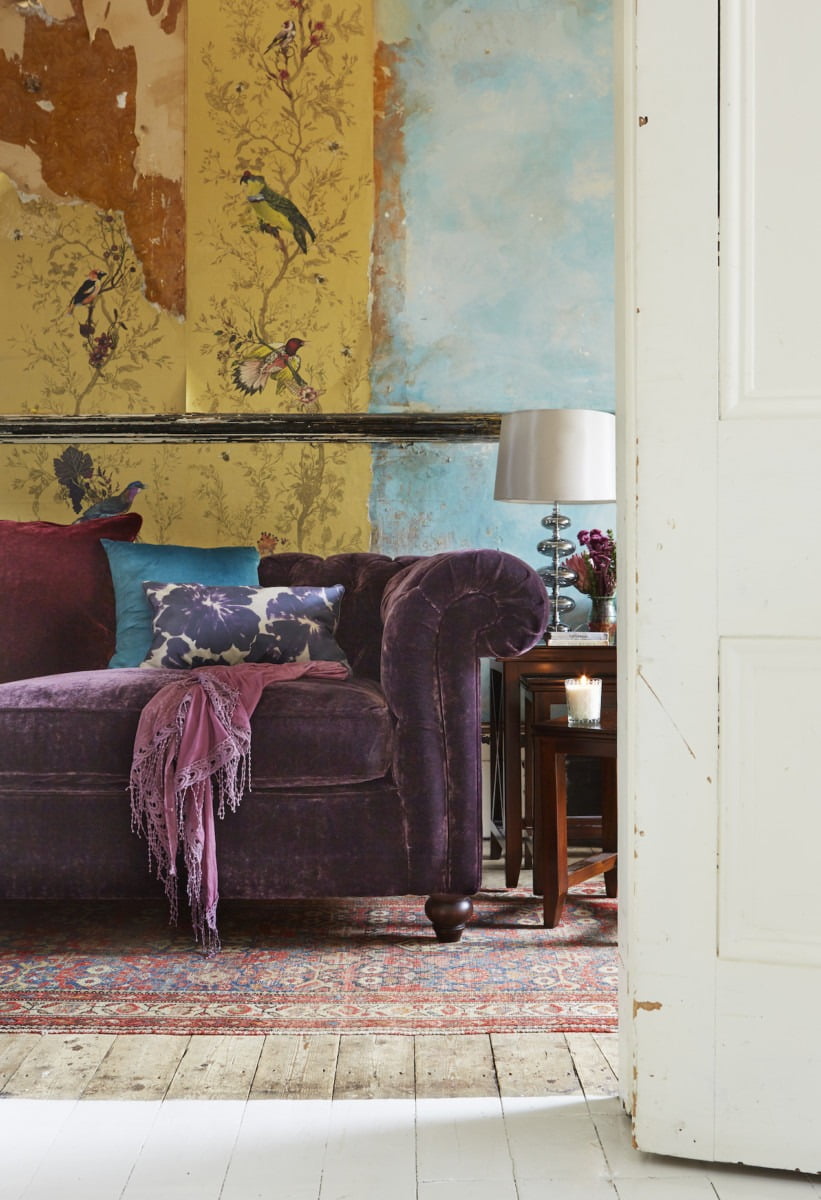 Tip 3: Hippy In The Lounge
Step into the lounge of a Boho-Modern lover, and you'll spot an old velvet sofa from New York, teamed with a table from the street markets Indonesia, mixed with a hand-woven rug from a recent trip to Tangiers. The high street is teeming with exquisite Boho Modern copy-cat pieces at a fraction of the cost. You don't have hop on a plane to get this look.
My pick of the best places to shop for Bo-Ho Modern
West Elm: Just got to love their rugs. Anthropologie: the home of Boho-chic fresh from the states. Urban Outfitters: Great rugs and hangings. H+M Home: Dress your bathroom in ethic patterns and prints. Lombok; Rustic wooden furniture with curvy shapes. Design Vintage: My one-stop-shop in Brighton. Decorator's Notebook: For hippy gifts with a fair trade slant. Society 6 + Lumitrix: quirky art for your walls
Just think of the air miles you've saved.
Tip 4: Up-Cycle Through This Trend
If you love an up-cycle project, then this look is a walk in the park for you. See that, sideboard? It was an ugly brown plywood 1970s one bought for £15 from Brighton Car Boot. Paint it, wallpaper it – boom – you've got a bespoke piece. Frames on the wall? All from charity shops. Paint 'em and stick 'em to the wall – there you go! You see this look not about how much dosh you have to splash on your home; it's about being creative with what you have. Throw in a few bargain buys from TKmax and HomeSense, and your home is giving out kick-off-your-shoes-and-relax-good-vibes.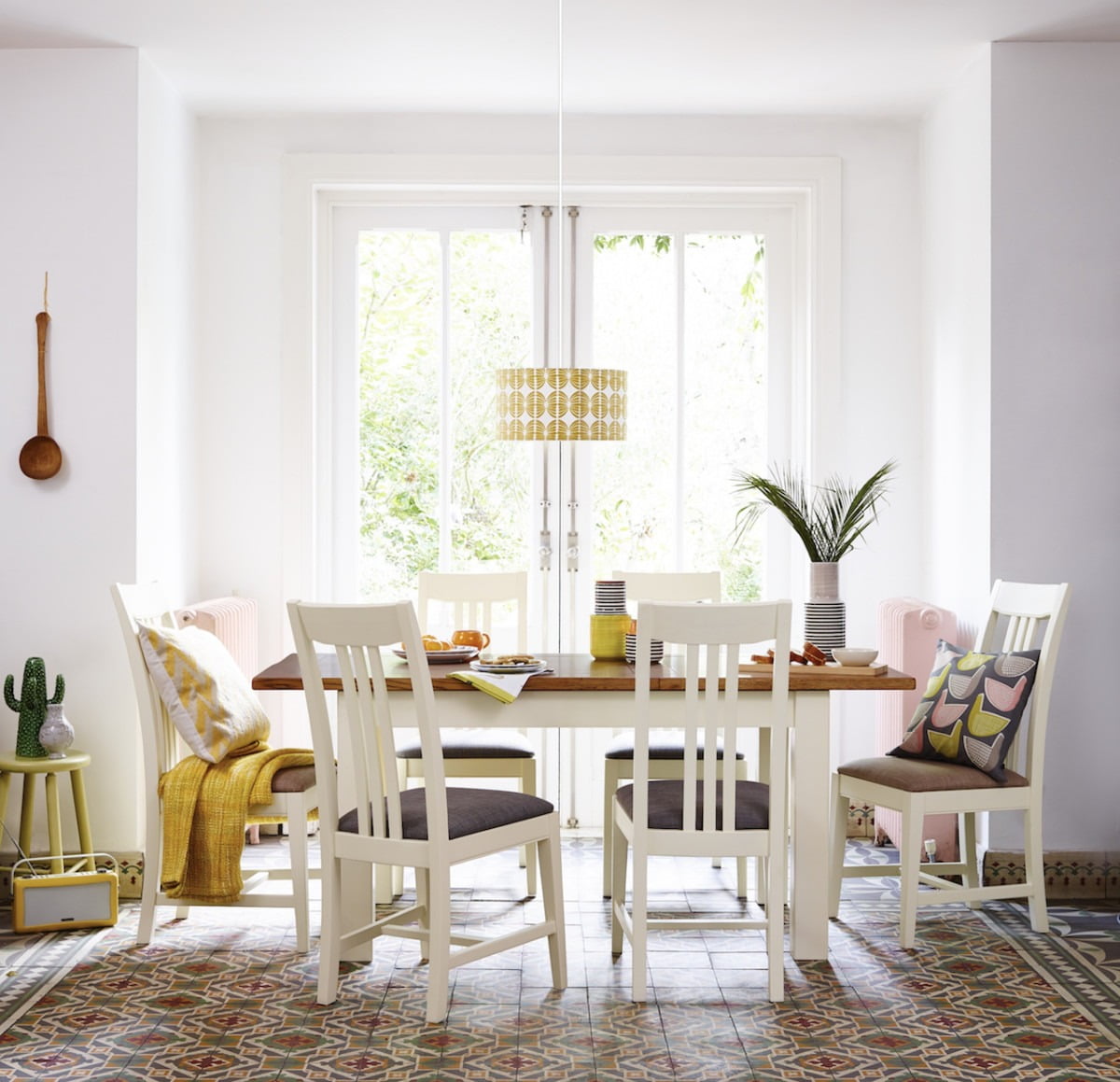 Tip 5: Mix It Up In Your Dining Rooms
Okay –so you have fallen in love with the Boho Modern style. This doesn't mean you have to chuck away all your old furniture and replace it with something new. You can be clever about this by adding Boho Modern prints and fabrics into your existing room.
Swap your plain shade for a patterned one, brighten up your chairs with odd cushions in bold prints (Habitat are my go-to), dress your tabletop with vases filled with palm leaves. There – your all-white Scandi-look has been ruffled up a bit to look all Boho Modern. Lovely.
More confident with this Boho Modern look? Then pick a tiled pattern floor for your home's next big improvement.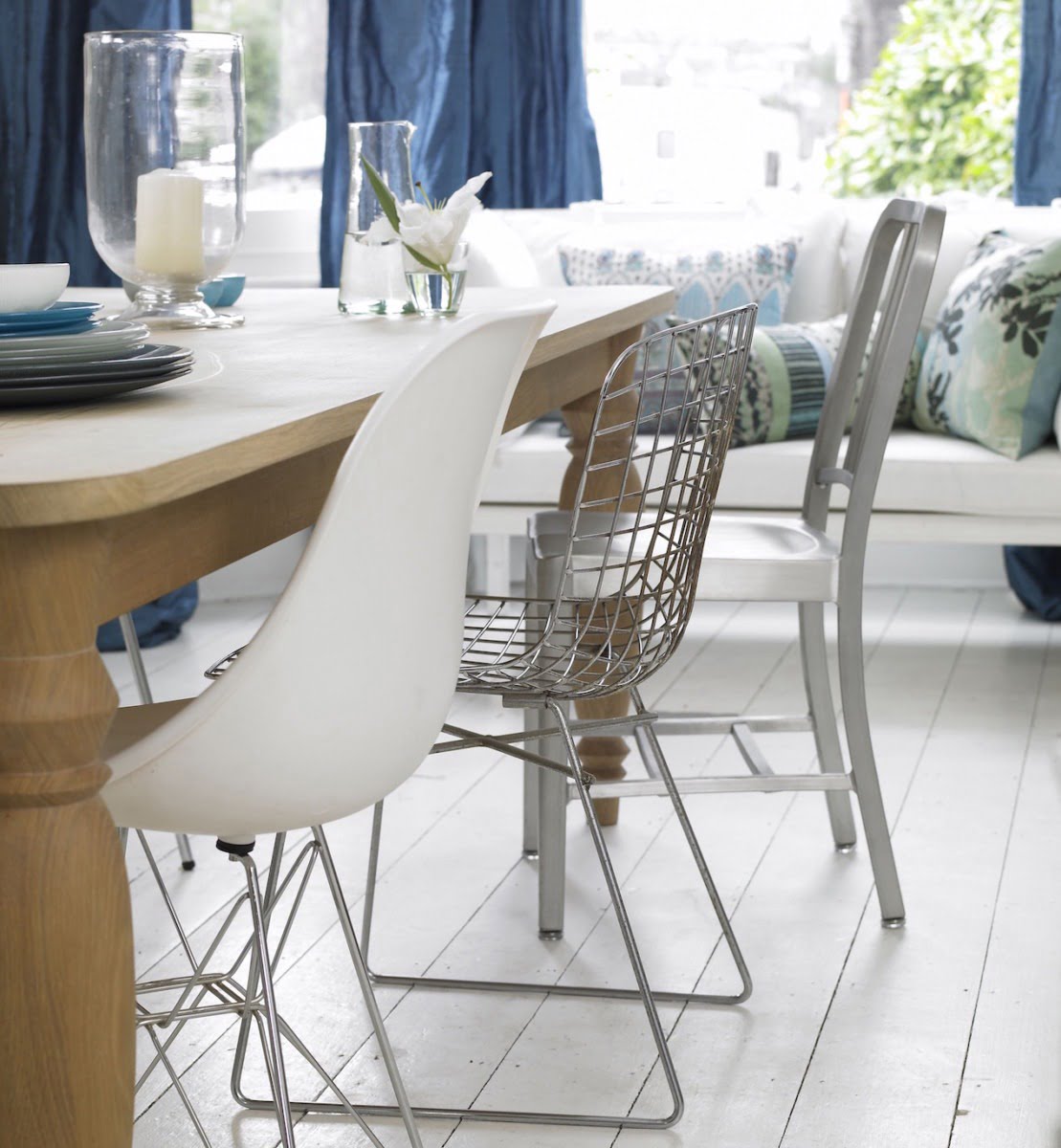 Tip 6: Mix It Up
Nothing in the Boho home has to match. Repeat! Nothing has to match. That means your tables and chairs can all be odd. In fact, it is almost required. The key is to choose one colour pallet and stick to it to make the odd furniture look like they are meant to be. Once you have mastered this look, start adding more colours as you grow in confidence.
Well, there are my 6 ways to nail the Boho Modern look.
(Confession…I think I've managed to sneak way more than six ideas in this post past you. Did you notice? Oopsy)
I reckon you are ready to add a bit of Boho Modern to your home. What do you think? Let's add these touches to your home bit-by-bit.
•• Disclaimer, this is a sponsored post. As always, these are my opinions, my photos and my thoughts.